To be more correct, the bungee jump at Bloukrans Bridge is the "highest commercial natural bungee jump in the world," at 216 meters (709 feet) of free-fall. Rivaled only by the jump in Macau, the tallest overall commercial jump in the world but has regulated speed so that you don't slam into the building, and Verzasca Dam, 2nd tallest overall, but same idea except not slamming into the dam. This term "commercial" means you could privately go take your own bungee and jump off of something taller, but I don't have one of those, so this sounded like a nice alternative.
I've been searching for something over the past few years that will really get my adrenaline going. I found getting a tattoo to be really thrilling (in fact I went and got three more!), but the feeling of my stomach hitting my throat wasn't involved.
I like that feeling.
I thought maybe I'd get it by running off a cliff and hurling myself into thin air when paragliding in Nepal, but honestly, it was boring. Yep, boring.
Would bungee jumping give me that feeling I've been seeking? That 'holy-shit-I'm-alive-and-so-in-this-moment' feeling of plunging face-first towards the ground? There was only one way to find out.
Somewhere around day 12 of the road trip between Johannesburg and Cape Town, Callum (my road trip buddy) and I naturally passed through the town where the jump is located. It seemed a waste of an opportunity not to give it a try.
We talked about it casually in the days leading up to reaching the bridge. I said I'd do it without really thinking about it. One afternoon, as we made our way through relative nothingness on the endless road, I had time to think about it. I started to feel anxiety, blamed it on having too much caffeine (does too much coffee do that to you, too?), and put it out of my mind. I had to forget about it until the moment of launching, or I knew I'd never jump.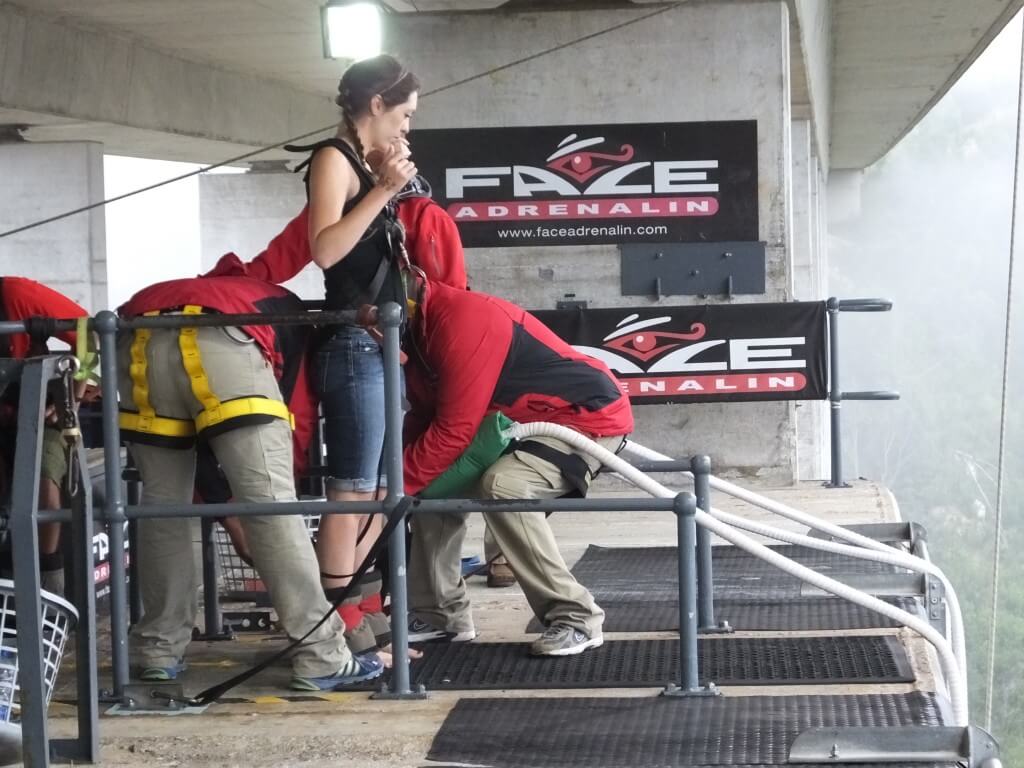 What really helped was the music played at the top while we each waited for our turn. It made it feel like a party atmosphere and the employees were all so relaxed, it translated well to the rest of us.
I was oddly emotionless when my turn came. I was trying mentally to be somewhere else, electing not to consider that I was about to defy logic and basic human instinct by taking those steps and jumping off of a bridge. I'd always said I could skydive, but not bungee. If you skydive, someone else does the scary jumping part for you, but with bungee jumping, it has to be you. I always found that to be a terrifying concept.
I'm not sure how or when my mind changed regarding this.
Now I won't say my heart wasn't thumping. However the 100% safety record calmed me a bit. As long as I didn't look down, I was feeling alright.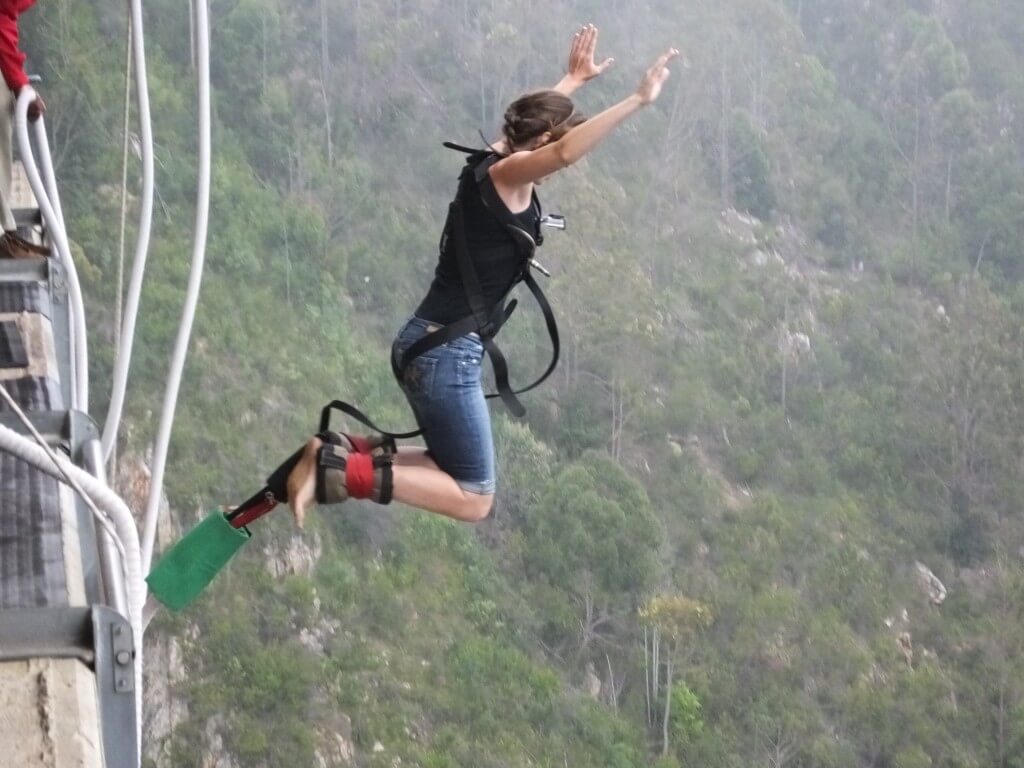 The initial launch felt surreal. I had been denying it and avoiding it so much that my body only seemed to realize that it was headed with all deliberate speed towards the ground a few milliseconds after the jump.  A surge of adrenaline coursed through me and quickly left as I hit the bottom, then reappeared as the elastic brought me back up for another go.
Then, an odd peace came over the whole experience. It felt so freeing to be down there, and the experience was mine alone. It wasn't what I expected, but it was a welcome feeling.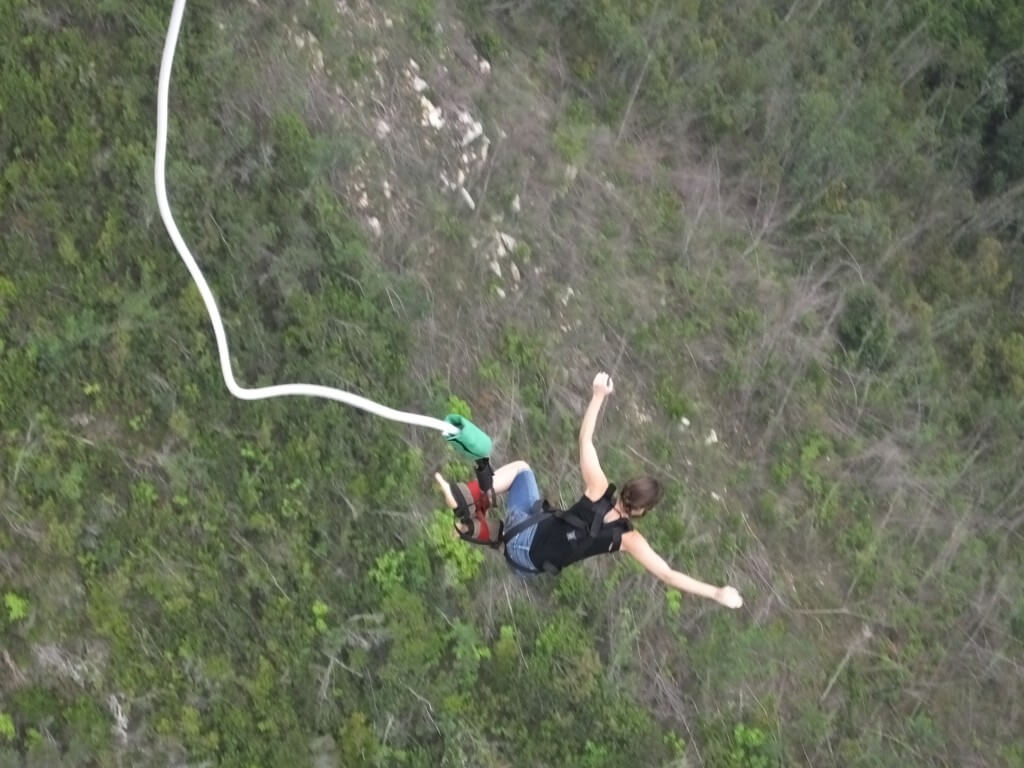 So basically this is the tallest natural bungee in the world, I've done it, and now I can probably stop jumping off of bridges.
Perhaps airplanes should be next!
Stay tuned, I think I'll go ahead and manifest that.
Have you bungee jumped before? Would you do this one?