Have you ever felt truly alone? Not in the sense of lack of solidarity with your fellow man (or woman), but alone in the sense of pure, sweet freedom? Nothing around you, nothing encumbering you, what seems like the entire world at your feet as nothing obstructs your view in any direction, and not a soul around to destroy the beautiful moment unfolding before you?
It's a rarity, to be sure. That kind of infinite space and the beautiful feeling of being the only human on earth, even though deep down you know it's not really true, creates the kind of euphoria that I haven't often experienced.
This overcame me as I stood at the center of the rock labyrinth on the Kingwill farm known as "The Rest" near Nieu Bethesda in the Karoo, South Africa. The clouds rapidly danced around the mountain peaks surrounding me, culminating in sweet desert rain right as I reached the end of the maze. It was the kind of coincidence I think they call, 'fate'.
Paula had told me that if I went into the labyrinth with a question, perhaps I'd come out with an answer. I was skeptical. I didn't go in with anything in mind. I elected to try to make it meditative, but even that proved difficult. Eventually I just started looking around me and walking.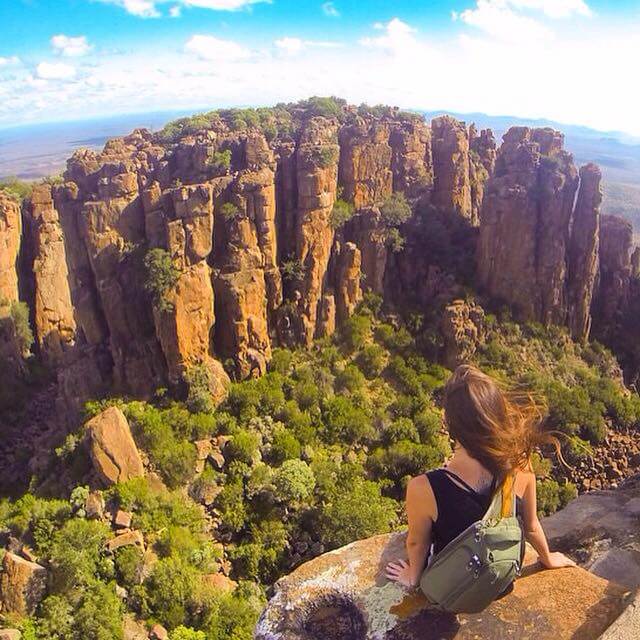 It was so naturally beautiful, it quieted my mind. Around halfway through, odd emotions welled up in me that I didn't expect. Suddenly I looked up at the mountain before me and felt like I had an answer, even though I hadn't known the question: I just want to create something beautiful. I just want to help rather than harm. My purpose is to live simply and fully.
I couldn't believe she turned out to be right.
The Karoo is known locally as the African bush, but I would call it a desert.
The thing about deserts is, most people skip right over them thinking they couldn't have much to offer.
No trees? No beach? No little blended drinks with paper umbrellas!? How is that a vacation?
That's why it's such a well-kept secret. That's why you won't see sunburnt tourists clouding your nature. It's the best kind of vacation there is – complete desolation, if you can handle it.
…and I think you can.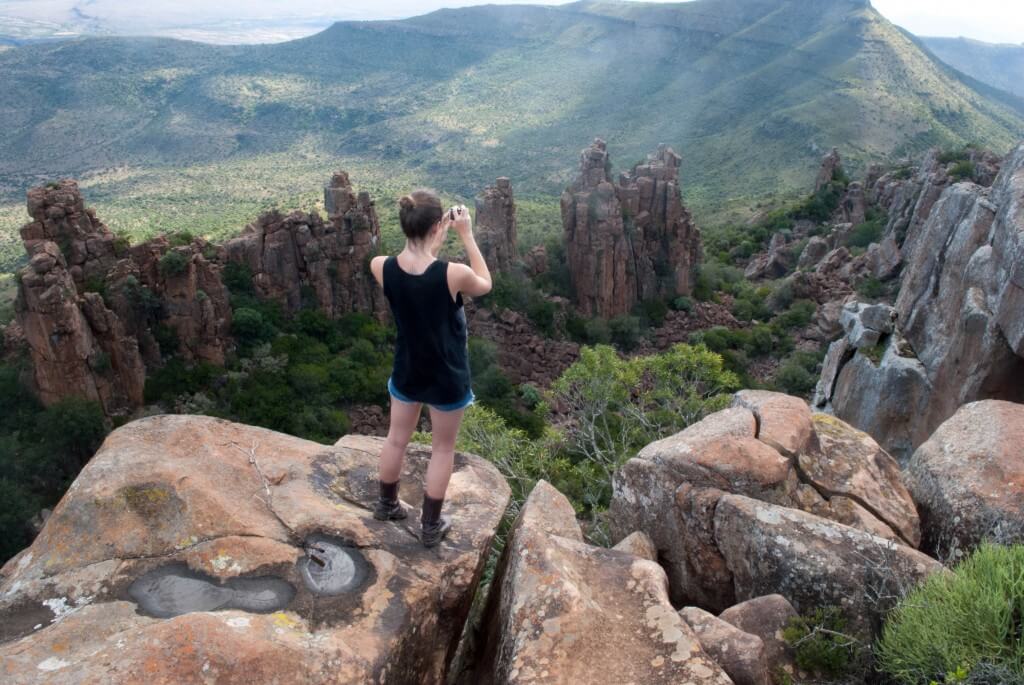 Paula and her husband, E, took over her family's farm when it was on the brink of a sale when her folks advanced in age, beyond the ability to herd the cows (happy, free-roaming cows!) that make up the family business.
Leaving a city life behind in Cape Town five years ago where she worked as a drama therapist, and her husband in film, they took on a monumental task: learning how to handle livestock with practically no agricultural education or background whatsoever. She had left the farm for schooling when she was young, and therefore did not grow up agriculturally inclined.
What was it like at first?
"Climbing up a vertical rock face with no safety harness," says Paula.
Who is one of few people in the world who can say she survived a black mamba snake bite, by the way.
Basically, she's badass. Ask her to tell you the story when you visit her.
I was a bit hesitant when I arrived because I was there to not only experience the farmstay, but also participate. I had received an email the day prior asking if I wanted to go cattle herding. On foot.
You're really asking a Los Angeleno to go cattle herding?! Well, okay then! We're both in for a surprise I'd say!
"Is it difficult?" I wondered aloud.
"How's your common sense?" Paula asked. "If you just use common sense it'll be easier than you think."
I told her I'd like to think I have all sorts of common sense but if you simply look at all the scars on my legs you'll see how clumsy I am. I think they say common sense isn't all that common for a reason.
Yet it turns out cattle herding is actually fun. We dropped down and snake-crawled under electric fences, jumped over streams, and tiptoed around marshes, using sticks in either hand to appear as a moving fence. I was shocked the cows fell for it, and each time one would look at me suspiciously, as I edged closer, she'd go in the direction I wanted, just like that.
My short stay on the farm could easily have turned into weeks. To really get away from it all and to disconnect actually helped me to reconnect with my purpose and reevaluate what is important to me. I had the time, space, and silence to think about it.
That's so important to do every now and then. Wouldn't you agree?
When you go to South Africa, even if you're just passing through, will you see the Karoo? There are mountains, beaches, lions, and zebras to see in the rainbow nation, but a girl who has traveled the world has this to say – few things in life have affected me as profoundly as the Karoo did.
I wish I could articulate the butterflies in my stomach, the overwhelming feeling of peace, the sudden lining up and organization of things in my mind that were previously running amok, and the peace of mind I emerged with better than I am right now.
I guess all I can say is it's the real deal.
Do it yourself: 
Drive in as part of a road trip. It's almost impossible (or rather, highly inconvenient) to get there any other way. The closest town to The Rest is Nieu Bethesda
Check out some of the workshops at Paula's farm. I actually built her website for her because I wanted to contribute in some way given how much I felt The Rest had contributed to my South Africa experience. (Let me know if you like it!) 
Explore more of the area after you leave the farm. Do some hiking in Graaff-Reinet and check out the Giant Flag (I talk about that in the next post!) When in GR definitely stay at Buiten Verwagten Guesthouse and eat at Pioneers Restaurant for Springbok and Ostrich Carpaccio