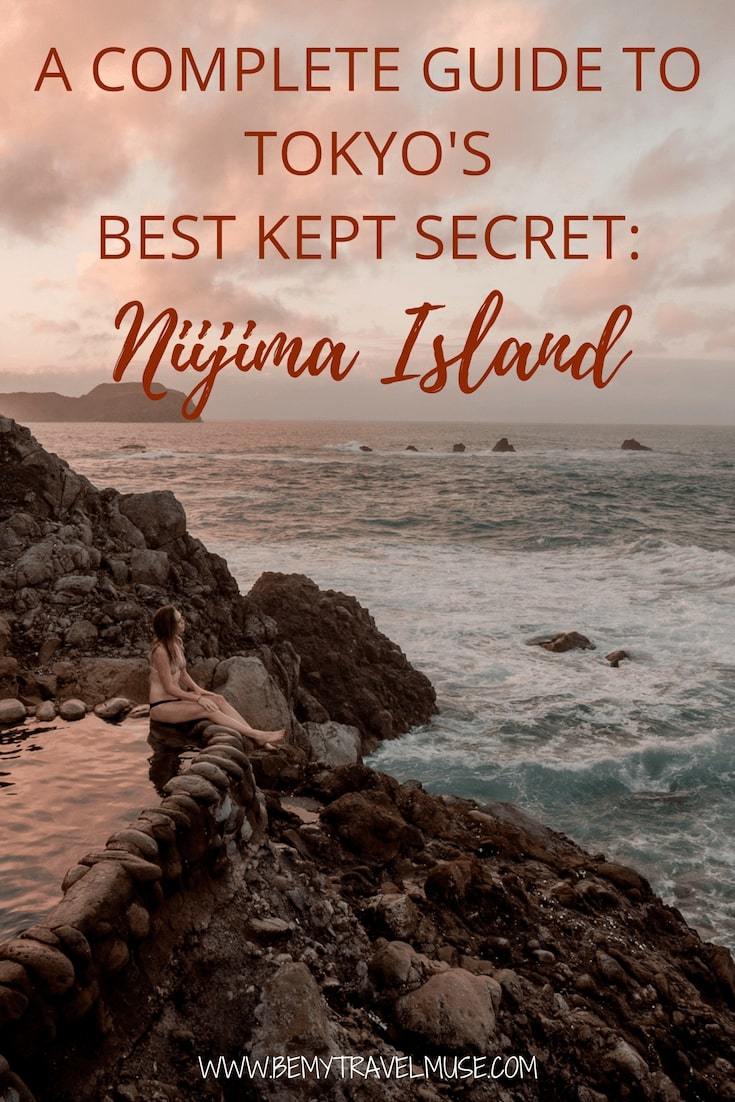 Watching the turquoise waves roll over the gray shoreline, a perfect combination of fine white and black volcanic sand, I kept thinking to myself that if it were in Southeast Asia, this island would be crawling with tourists.
This was the last week in October, still perfect beach weather, on the island of Niijima near Tokyo.
The water color looks like the tropics, with light blue merging into a deep sapphire. The temperature is pleasing for us Goldilocks types: not too warm and not too cold. Even though this is the surfer's island there are plenty of ways without crowds on them. It's the Holy Grail for those who hunt waves.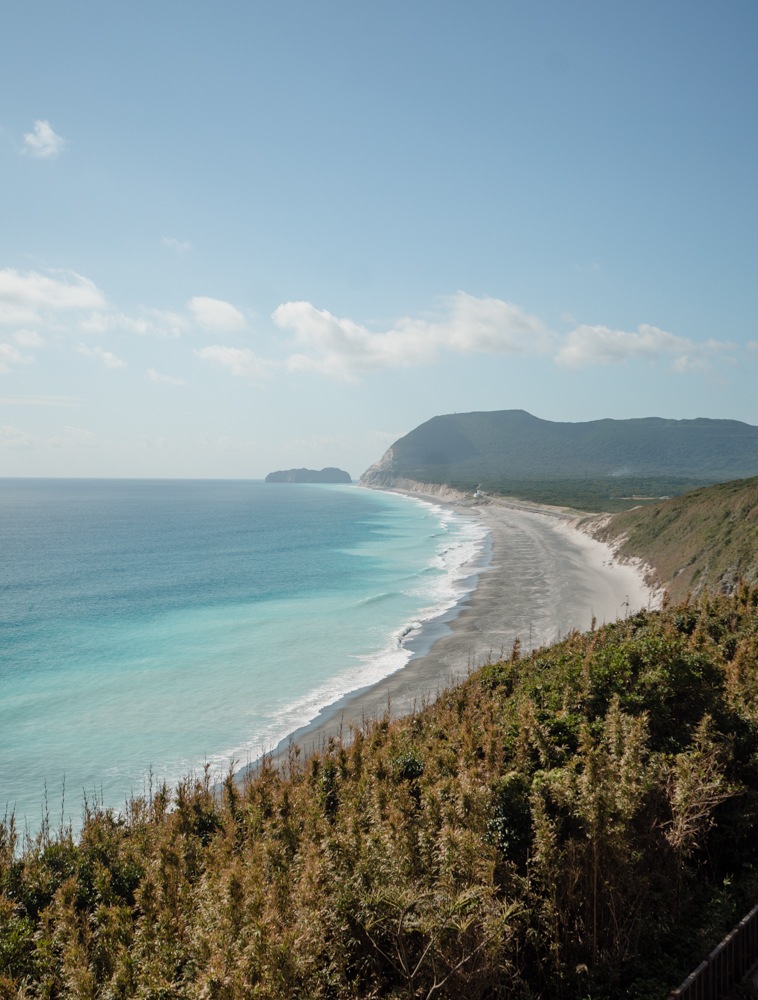 Even more astounding, it's just a stone's throw from Tokyo.
I went there as part of an Instameet (which is what it sounds like – photo geeks who meet up to take photos together), with the intention of exploring parts of the island that were beautiful and interesting. This was easy on Niijima, a perfectly chill island where I really could get a beach almost entirely to myself. These were a few highlights:
The Outdoor Onsen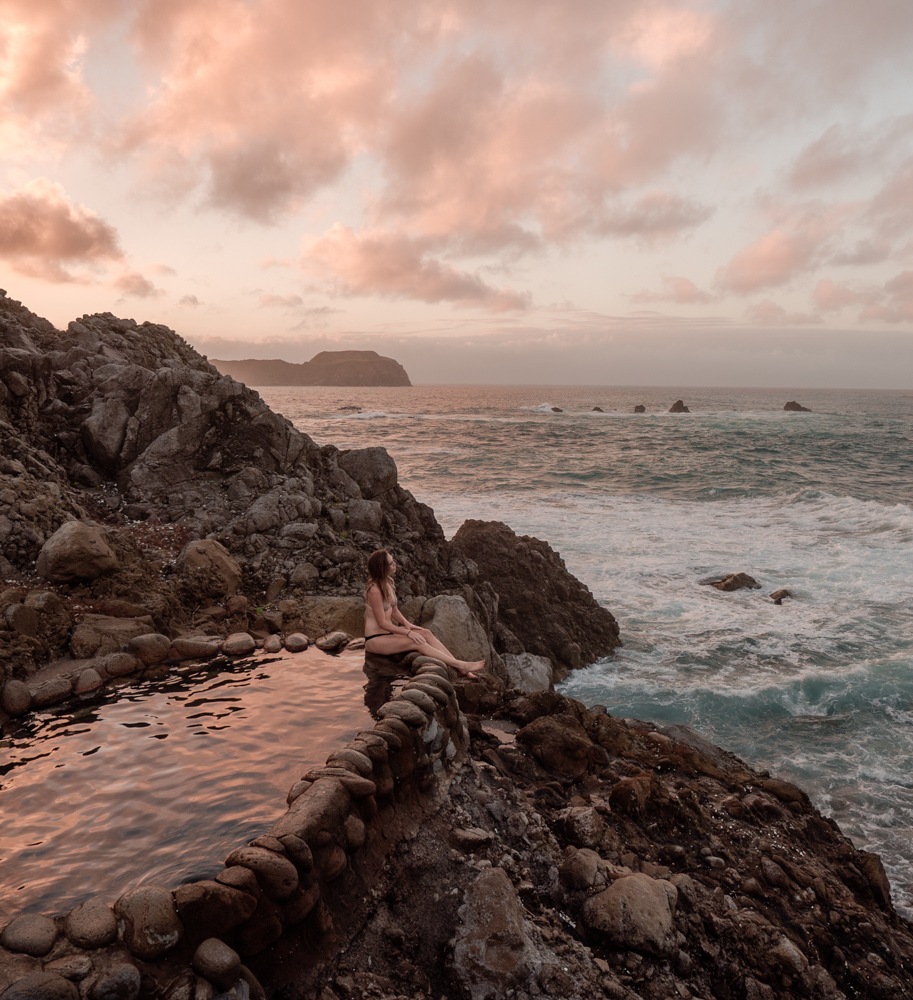 This onsen was my favorite part of Niijima. I read before that those with tattoos are often denied entry to onsens because of the association with gang culture in Japan – though I understand that is slowly changing.
The outdoor onsen on Niijima Is completely free, is open for 24 hours a day, and even if you have tattoos like me that you couldn't possibly cover up, you're allowed in! Though it looks like there are other pools under construction, at the time of this writing there are five pools of varying temperatures that seem to increase in order of how one would naturally approach them, with the highest at the top of the stairs near the Greek ruin columns running the warmest. I estimate it to be at about 40-43 degrees C.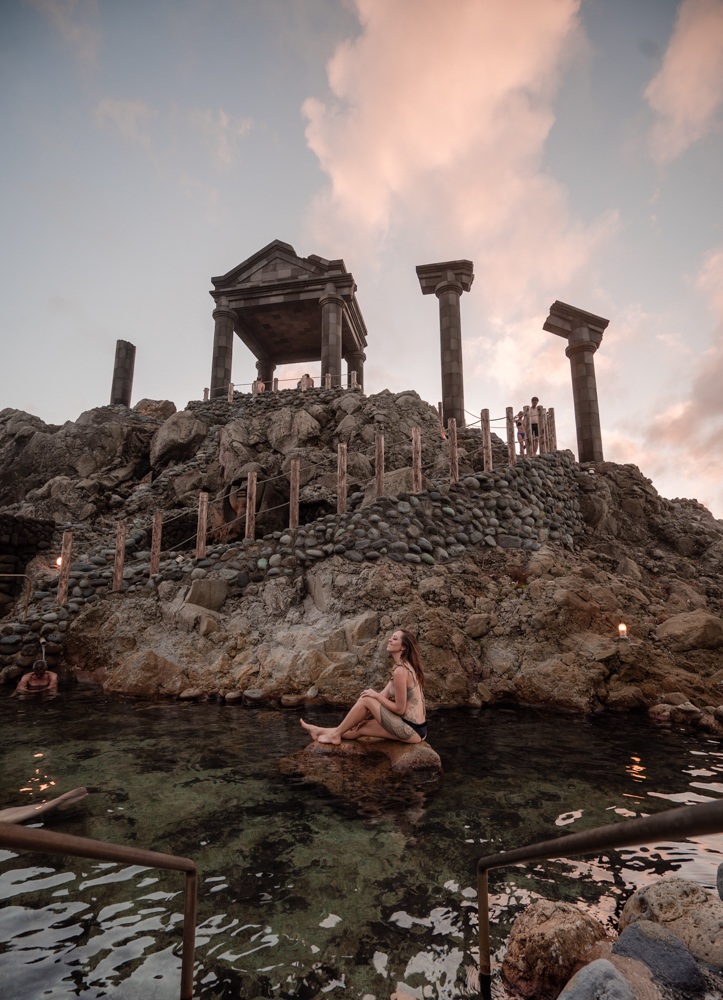 The onsen is beautiful, perched on an outcropping of rocks right over the ocean and from the top, it has a perfect view of one of the island's gorgeous features.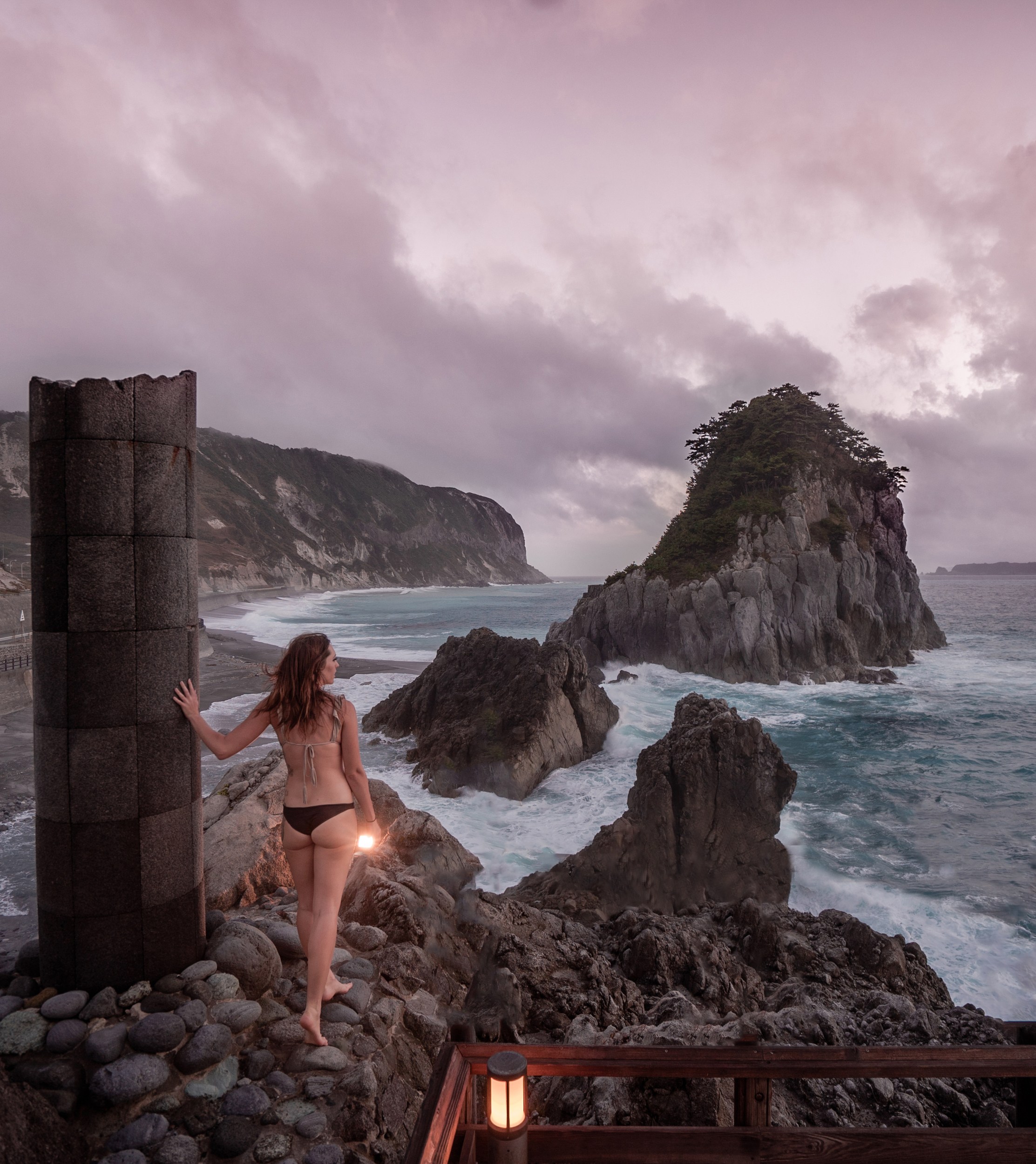 It was so nice, I went twice!
The Shinto Shrine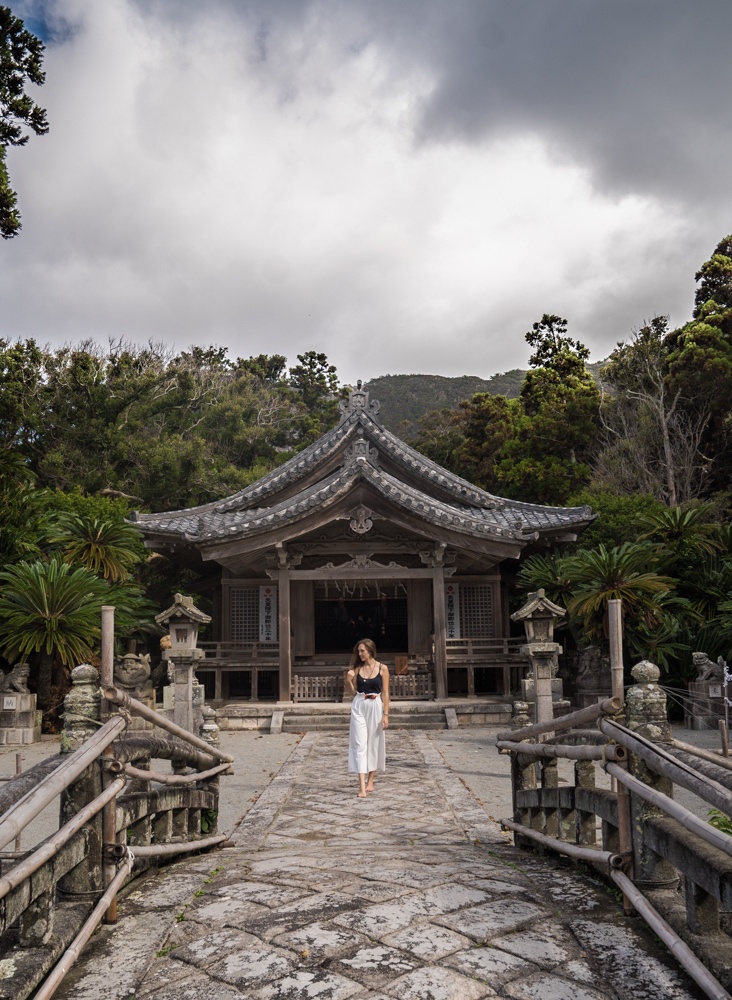 Another free place to visit, this shrine has several smaller structures along the pathway leading up to the main shrine, all of which have their own unique charm.
There's a picturesque little walkway through these up to the shrine, with a mountain dramatically rising up behind the main structure.
This is easy to access from the main town either by foot or bike and worth stopping by for 30 minutes or so.
The Water Park
While this might not seem incredibly exciting at first, I loved the waterpark for stargazing. Because there is so little light pollution on Niijima, the stars can be quite dazzling. You'll find street lights along some of the other main features on the island but the waterpark only has a few little lights so it's easy to see the stars.
There are some archways right when you enter the park that makes for the perfect little photo op.
Niijima Beaches
There are lovely beaches all around the island though there are two in particular that I visited that were particularly dreamy, and were also popular with surfers:
Habushiura Beach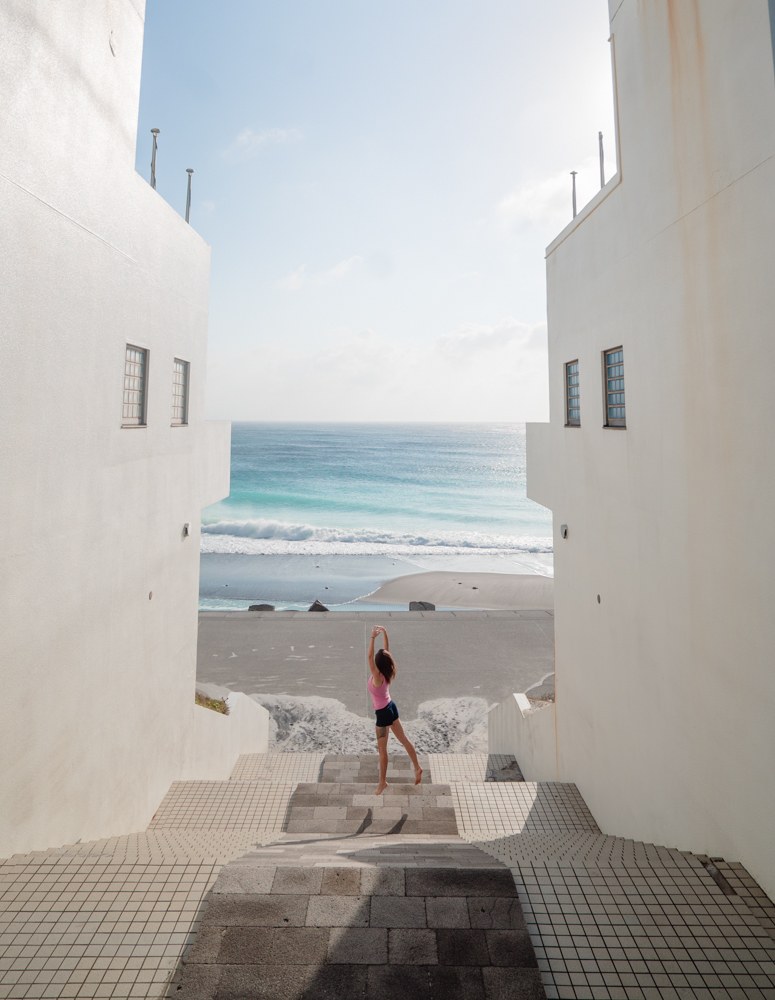 This gate is one of the main features of the island and has a parking lot nearby where you'll see surfers waxing their boards and running into the water. There's also a large park just behind it, and across from there you'll find a campsite where many visitors to Niijima end up staying. If you're there to surf, it would be perfect positioning.
Secret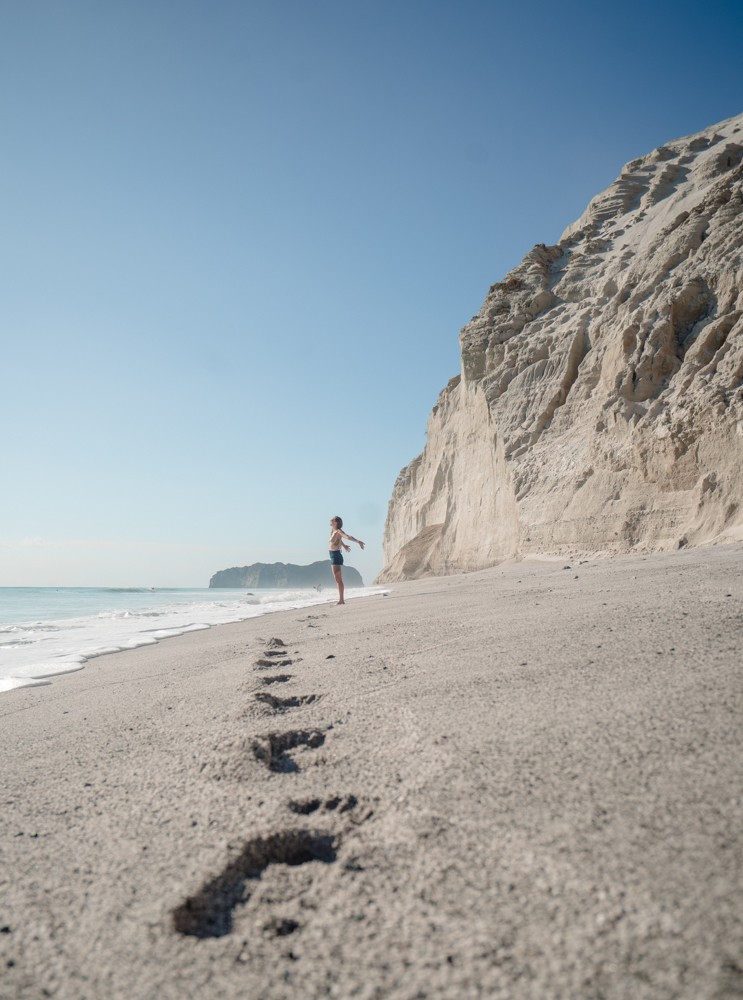 Though I don't think this beach is that big of a secret, especially since there's a sign pointing to it, there still aren't that many people around and the white cliffs are a magnificent sight that'll make you question if you're really still in Japan, especially in the early morning hours and sunrise.
This is another one that's popular with surfers so if you're looking for good waves, apparently this is a great place to go.
Niijima Gendai Glass Art Center
I learned that Niijima is known for the quality of the rock on the island, formed by volcanoes millions of years ago. You'll see little Moai statues around, reminiscent of Easter Island, carved out of it.
Niijima is the only place in Japan where they do not add dye to the glass, only using what naturally occurs in the sand. That same slate gray sand turns into a soft green color when made into glass that is iconic to Niijima. All of the items are created by glassblowers on the premises, and you can sneak a peek when you walk through the gallery and museum. The pieces are quite high end and priced to match, although there are necklaces and keychains with leaf designs that are only 1000 yen – the perfect souvenir for a vagabond girl like me.
The Hills
There are also several lookout points and hiking trails all around the island, which for such a small island is quite hilly. Some are near the Daisanoshi Shrine and others are accessible via car or a serious bike ride. Famous viewpoints include Omine, Ishiyama, Mt. Miyatsuka, and the Habushiura Observation Deck (which is where the photo at the beginning of the post was taken).
Eat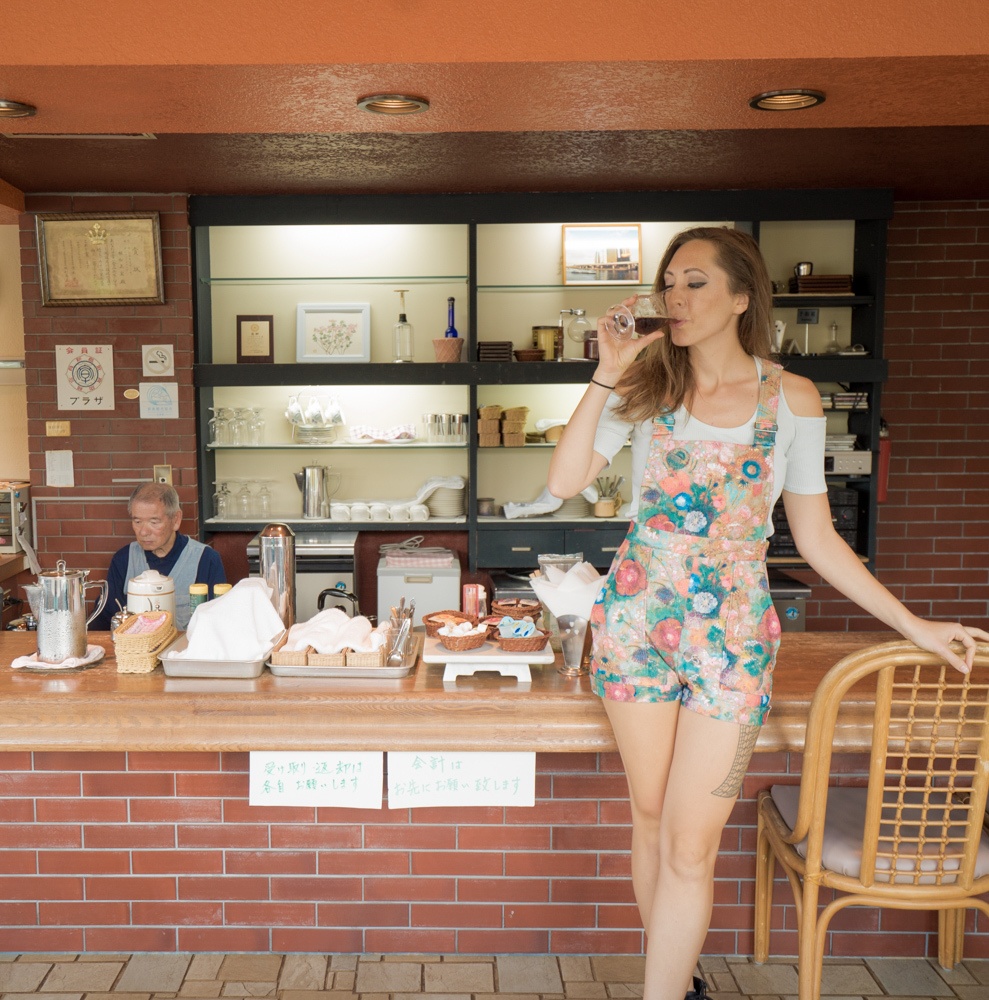 This adorable coffee shop serves up juice, pasta, curry, tea, and coffee, both hot and iced.
The owners are friendly and accommodating, even if he didn't want anything to do with smiling for the photo!
Pool
This popular café has delicious lunch sets with different items each day. When I was there they had a poke bowl, a lunch set with a little bit of salad, quiche, meatballs, and rice, and seafood fried rice.
Grocery store
Since some of the accommodation options have little kitchenettes, I recommend stopping by the grocery store to stock up on breakfast items and other essentials to cook for yourself. Since it's such a small island with only a few food and drink options, depending how long you stay, you might want to switch it up and cook for yourself.
Here's a map with all of the places mentioned above to help you plan your trip:
Getting There and Around
To get to Niijima from Tokyo, you can either fly or take the ferry. There are two ferry options, one of which is the fast boat which takes about 2 1/2 to 3 hours, or the long boat which is 8 hours. A flight only takes 35 minutes and you can book that here.
The souvenir shops in town rent bicycles which is a perfect way to get around. Though some of the island is pretty hilly, for the most part it's pretty easy to cycle and with so little traffic, it's relaxing as well.
For accommodation, the local tourism website has some great recommendations. You can also camp, which is popular on Niijima.
I recommend giving the island a good 2 to 3 days, or more if you want to surf, to explore it all at a leisurely pace.
You'll soon come to love the laid-back beach vibes, something quite unique to find in Japan.
When I visited I felt like it was the perfect combination of city when I explored Tokyo on the surrounding days, and laid-back beach. I hope you come to enjoy this little slice of heaven as much as I do, and to appreciate how lucky we are to have it almost all to ourselves.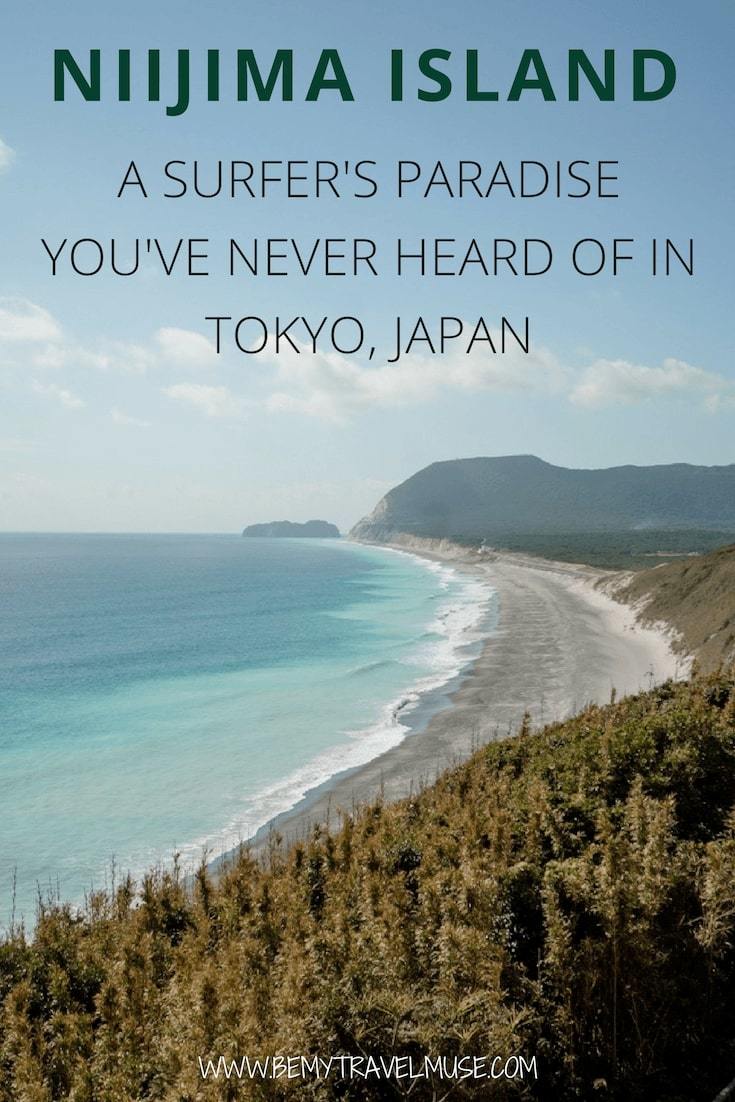 *This post was brought to you in collaboration with Tokyo Metropolitan Government. All thoughts on Niijima are my own and the itinerary was designed by me.