The world-famous volcano rises up like a giant over the island, the iconic slope wearing a hat of snow. Visible from the north end of Lake Kawaguchi, I know I've picked the perfect place to watch Mt. Fuji from. My days are spent relaxing, eating amazing food, and watching the stunning view.
Kawaguchiko (Lake Kawaguchi) in Japan's Yamanashi prefecture is a dreamy escape just a couple hours away from Tokyo. It's peaceful, full of Fuji views, and home to Ryokans with delicious food and onsen, making it a perfect stop on your Japan itinerary. Here's everything you need to know about visiting Kawaguchi Lake:
What to do in Lake Kawaguchi
Although I think one of the best things to do is just chill while gazing at the amazing Mount Fuji, there's plenty to do and see in Kawaguchiko from hikes to pagodas and more. These were our favorites:
Tenku no torii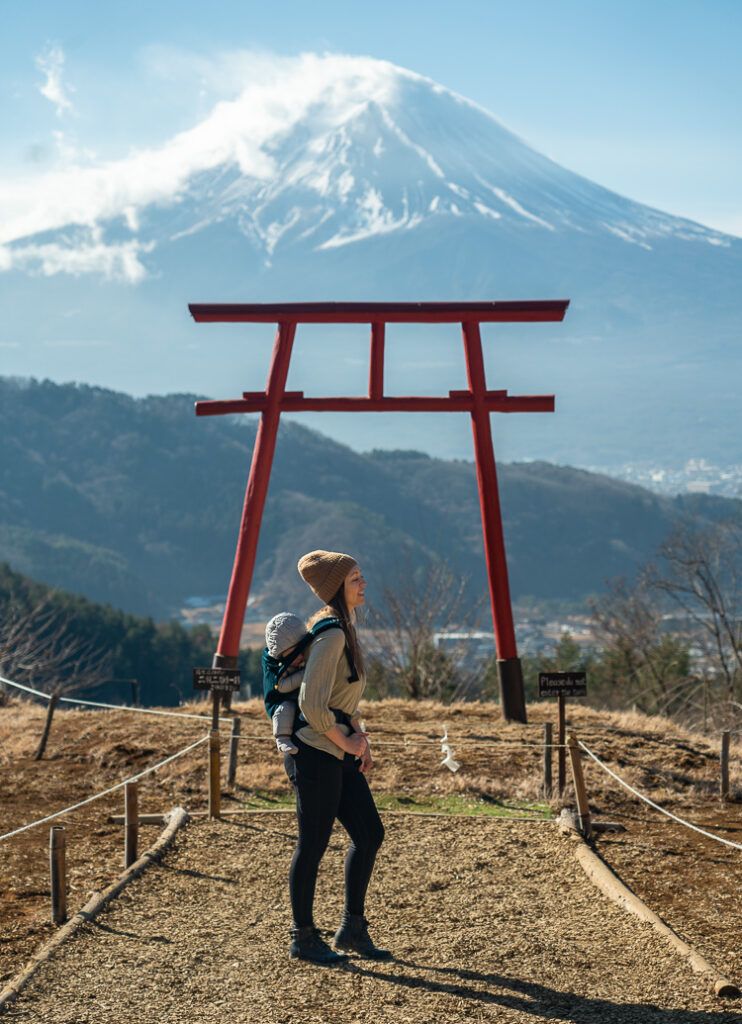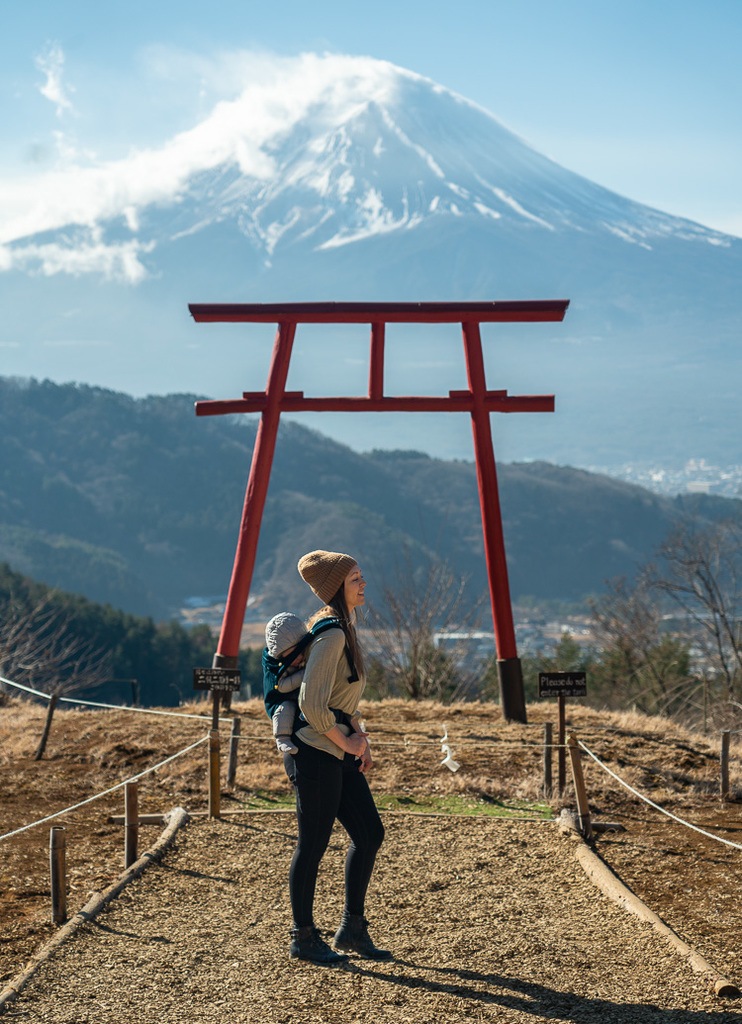 I had seen photos of this iconic torii gate framing Mount Fuji and had to see it for myself. It turns out it's more like an Insta shot opportunity that costs ¥100 maintenance donation. But despite waiting in a queue for our turn to take a photo and that being all there is to it, they are still some of my favorite photos from the whole trip.
It's possible to take a bus most of the way and hike 30 minutes or so up, or in our case, take a taxi to the top, walk down, and bus back into town in order to save time. You'll find the gate in the Kawaguchi Asama Shrine area.
Oishi Park
Oishi Park is a famous place to take photos of Mount Fuji with the lake in front. The gardens can be beautiful throughout the year, with different plants in bloom at any given time. Since we visited in the winter, it was the least exciting possible foreground, but I'd definitely visit in the spring or summer. Walk the short walking trail and enjoy an ice cream (I was shocked at how much ice cream we had – Japanese soft serve is delicious!) and coffee. General admission is free.
Chureito Pagoda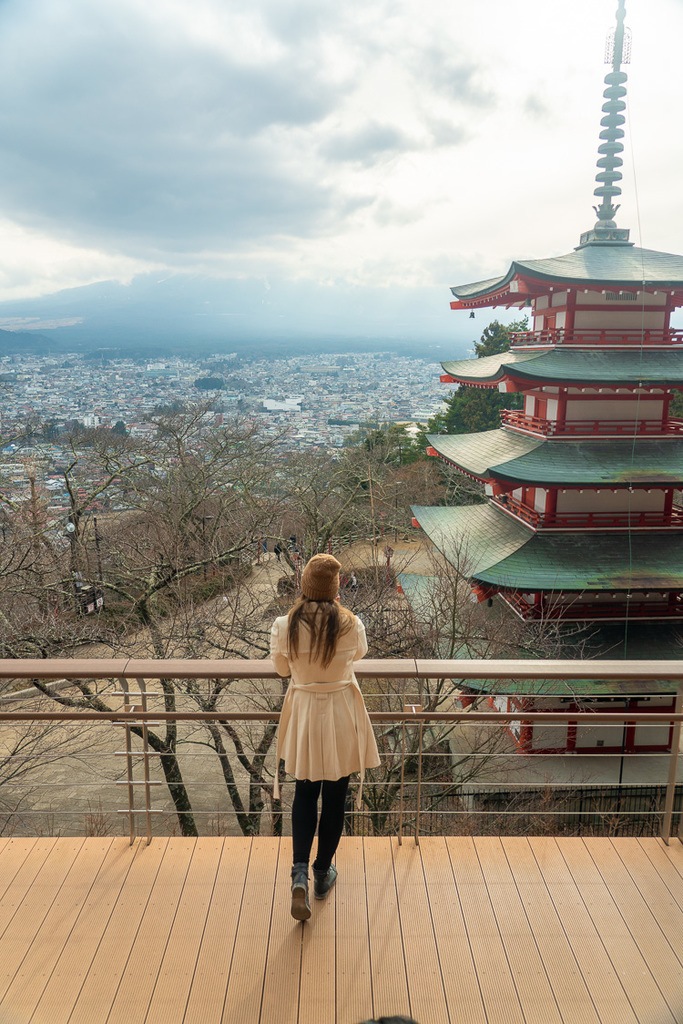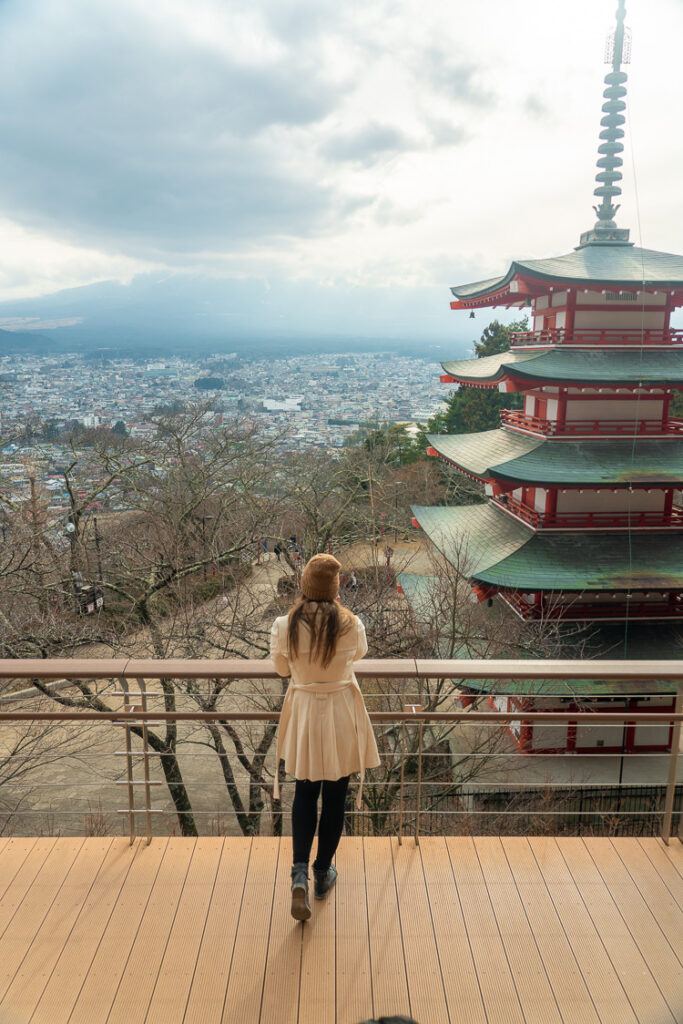 One of the most iconic views of Mount Fuji in the area, or potentially the whole country, the Chureito Pagoda in Arakurayama Sengen Park is a must-see. In the autumn months, the trees have colorful changing leaves and in the spring, they're brimming with cherry/sakura blossoms.
In the winter months, the trees will not be decorated with foliage, but the winter is typically the best time to see Mount Fuji without clouds. Ironically, the clouds moved in for the only time during our whole visit right as we reached the viewpoint.
It was not crowded when we visited in early February (a big reason why we chose to visit Japan in the winter), but I've heard that the queue to take photos can be hours long during cherry blossom season. Keep in mind that in order to get there, after exiting the train you'll need to climb quite a few stairs to get to the top, passing through several torii gates on your way up.
North Lake Shore Walk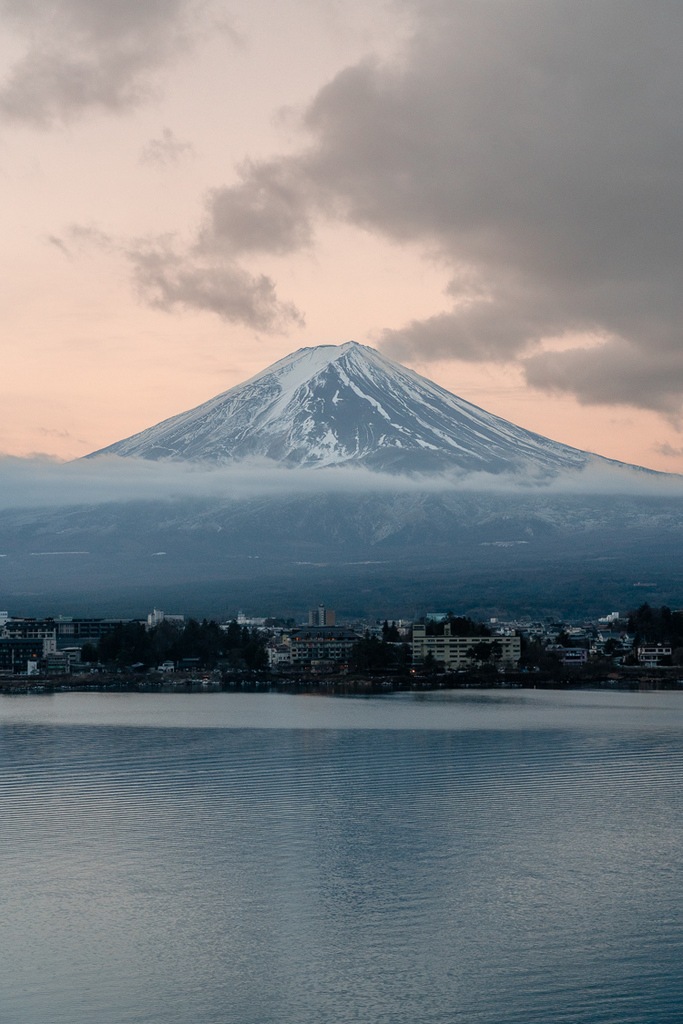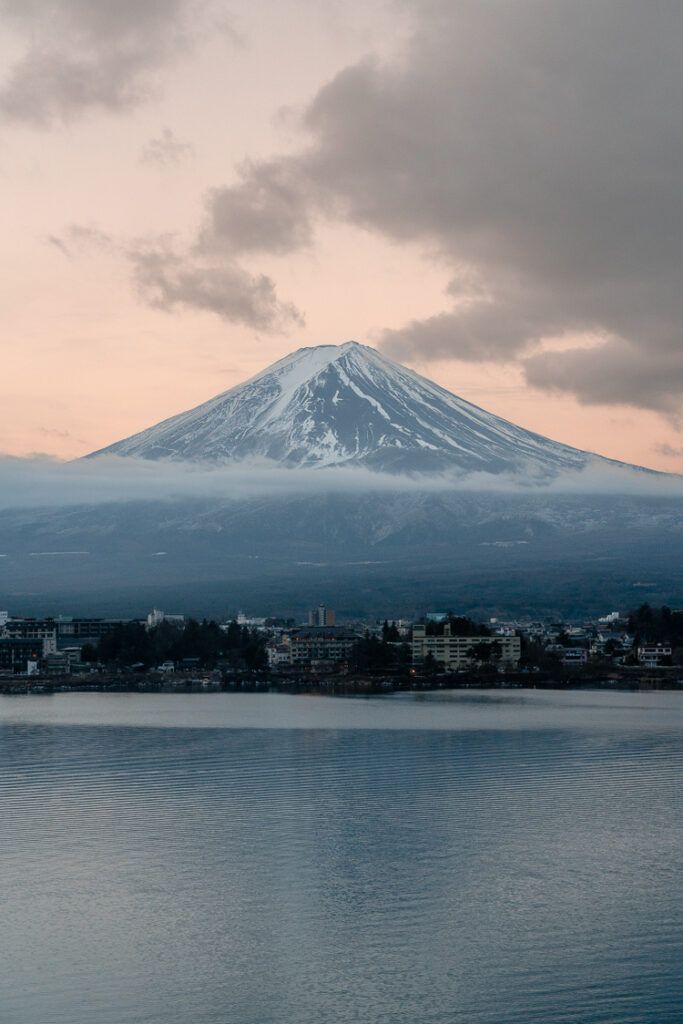 There's a lovely walking trail along the north shore of the lake with some of the best views of Mount Fuji. It's easy to walk in or out of it at any point and catch the bus which runs clockwise and counterclockwise back to the main station. One of the best views is in front of the ryokan where we stayed – Kozantei Ubuya (more on that below).
Mt. Fuji Panoramic Ropeway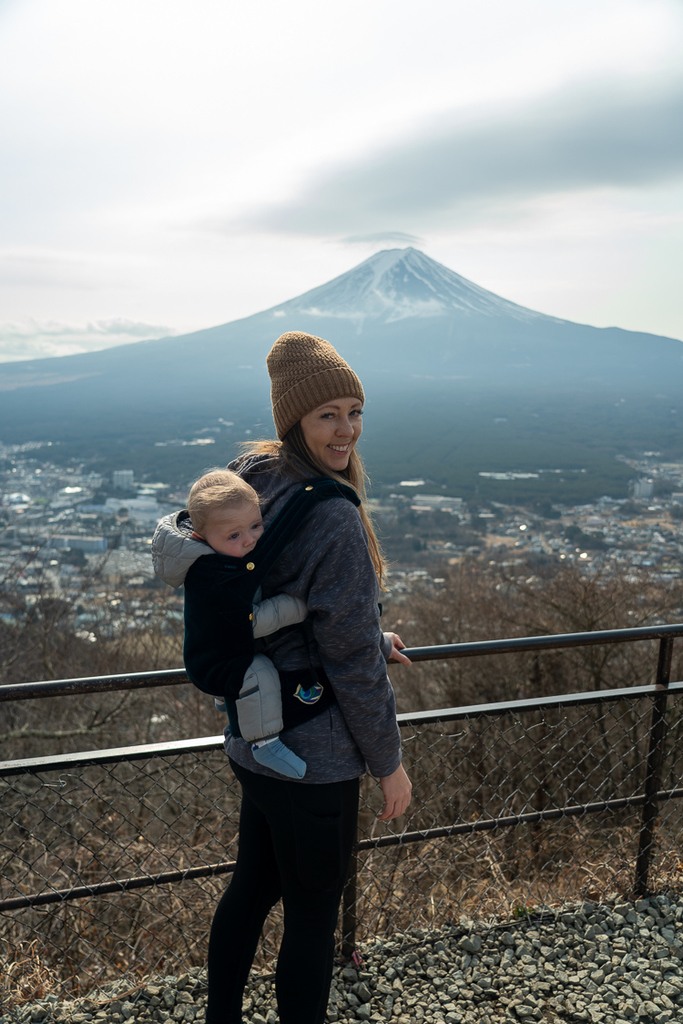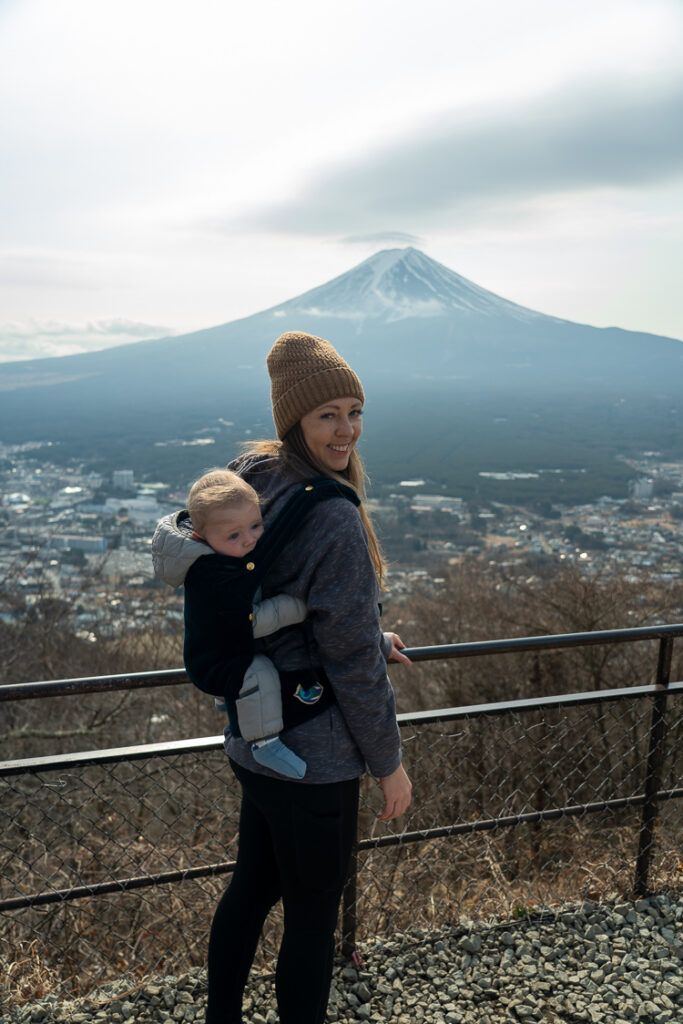 The Mount Fuji panoramic ropeway is one of the most popular things to do in Kawaguchi lake. You'll ride a small cable car up to the top — or you can hike if desired — for this view of the volcano. It costs ¥900 per person round-trip.
There's also another iconic photo opportunity swinging on a swing sit in front of a nice view of Mt. Fuji. You'll also see a queue for the opportunity to get on the swing and it costs ¥500 extra. I didn't want to do it badly enough and had a baby on my back, but the photo opportunity could be great.
I was honestly underwhelmed by the overall view from the top, which featured a chainlink fence and views of the city buildings in front of the mountain, and feel the views along the north shore of the lake are better. If I could do it again I'd skip this one.
Fuji-Subaru Line 5th Station
Heading out of town, the Fuji Subaru line 5th station is famous for views of the surrounding area from the base of the mountain. This is a popular place to start the hike to the top of Mount Fuji during climbing season. Although you won't get views of the mountain, because you'll be on it, you will see the sweeping views of the surrounding area. There are also souvenir shops and restaurants.
It takes about 50 minutes to get there via direct bus from Kawaguchiko station.
Oshino Hakkai
Located about 30 minutes from Kawaguchiko, Oshino Hakkai is a village named for its eight clear spring water ponds at the foot of Mount Fuji. The charming village is the most photogenic, and popular, during the spring months when the trees are full of cherry blossoms. It's also a beautiful spot in the fall months with the changing leaves.
Fuji Yurari Onsen
Onsen, or hot springs, are one of the best ways to enjoy Japan during the cooler months. The Fuji Yurari onsen allows day visitors and features several indoor pools as well as two outdoor pools with views of Mt. Fuji.
Since all of the onsen I could find in the area ban tattoos, I ended up booking a room with its own private one (see below), but if that's out of your budget, this is a great place to visit if you have no ink.
Where to Stay in Lake Kawaguchi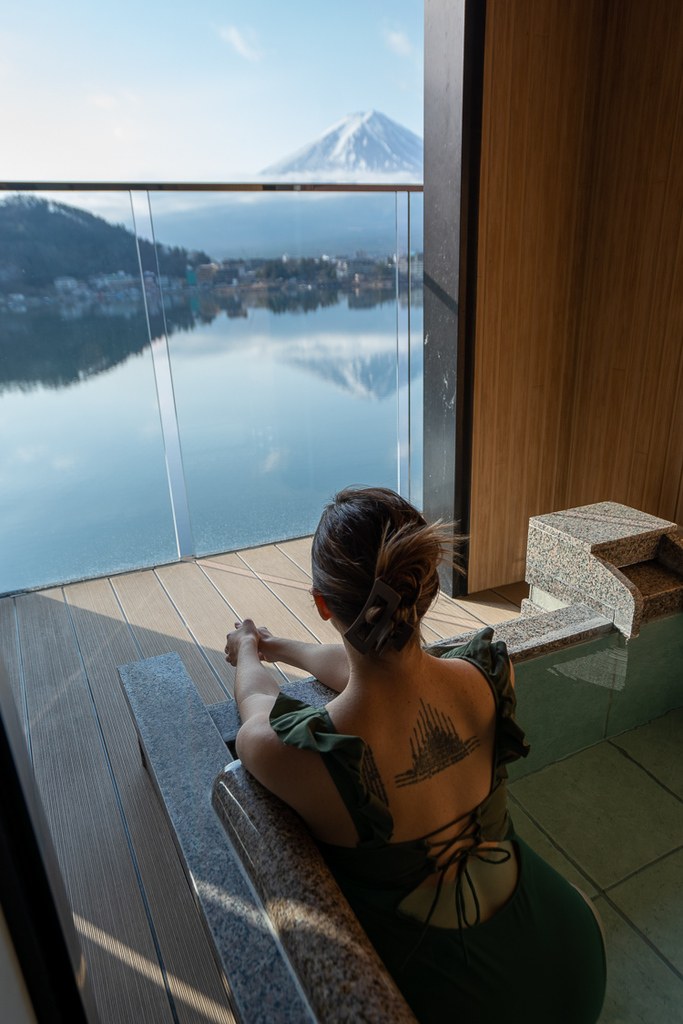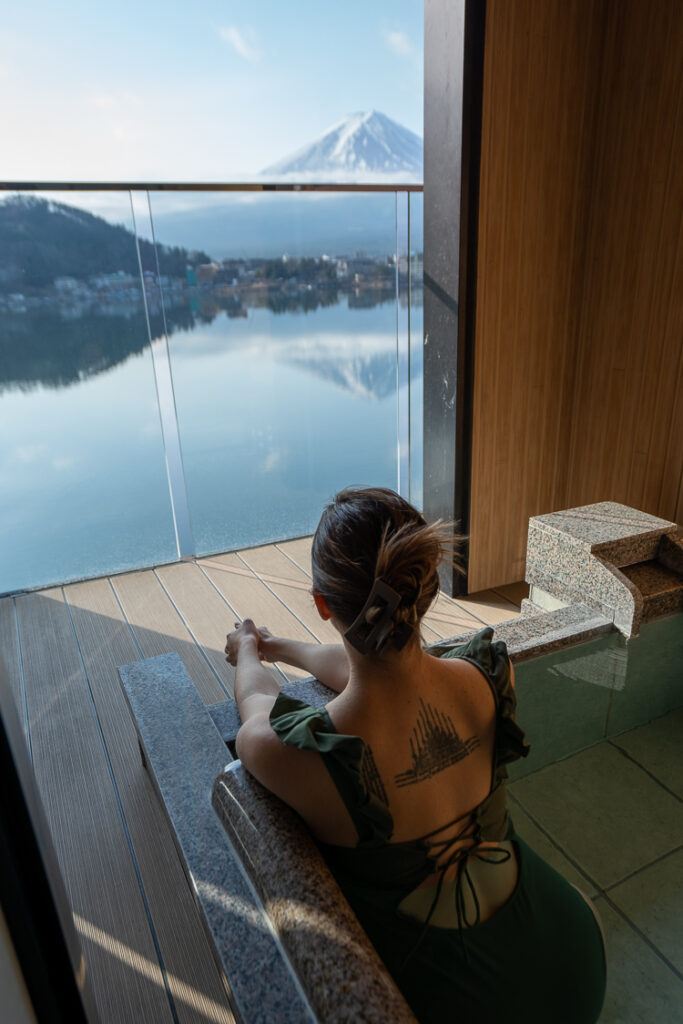 We had quite a variety on our trip in Japan beginning in Kyoto and stopping by Takayama prior to heading to Kawaguchiko and finishing in Tokyo. We had very different accommodation at each stop, and I knew I wanted to stay in a traditional Ryokan at least once during the trip.
From all my research, which took hours, Kozantei Ubuya came out on top. It was consistently rated highly by guests, featured the best views I could find, and many rooms have their own private onsen on the balcony.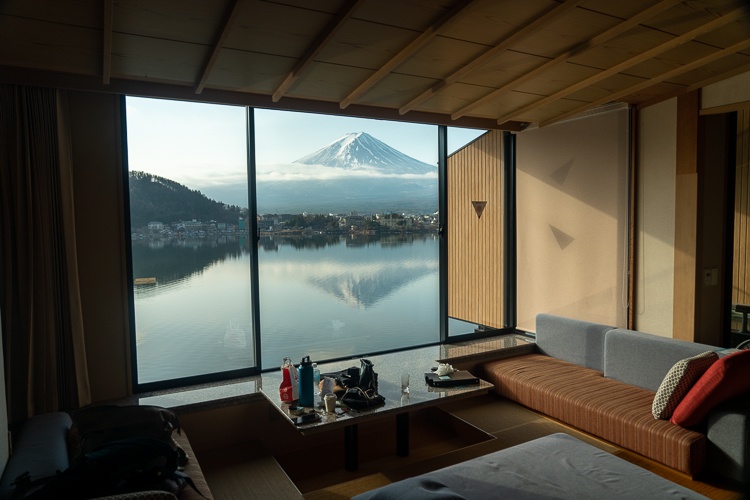 We booked the Superior room, which was quite large for Japanese, and really any hotel, standards. It's one of few places where enjoying a green tea and a snack in your room is an experience. Dinner and breakfast are also included, and we were even given our own private room to dine in.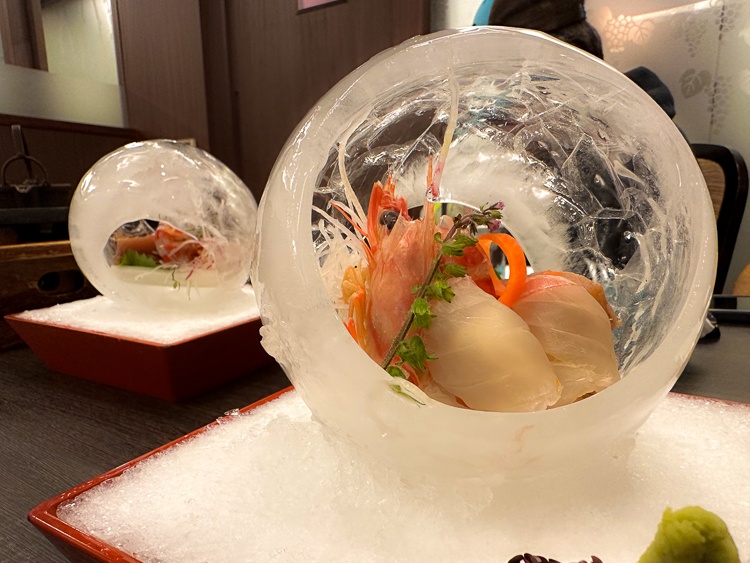 We enjoyed a Kaiseki (multi-course dinner you can read more about here) each night with delicious, fresh seafood and always featuring tender, marbled beef.
Although it is a pretty penny, it was worth it. The hotel books out pretty far in advance, so if you know you want to go, book well ahead of time!
How to Get to Lake Kawaguchi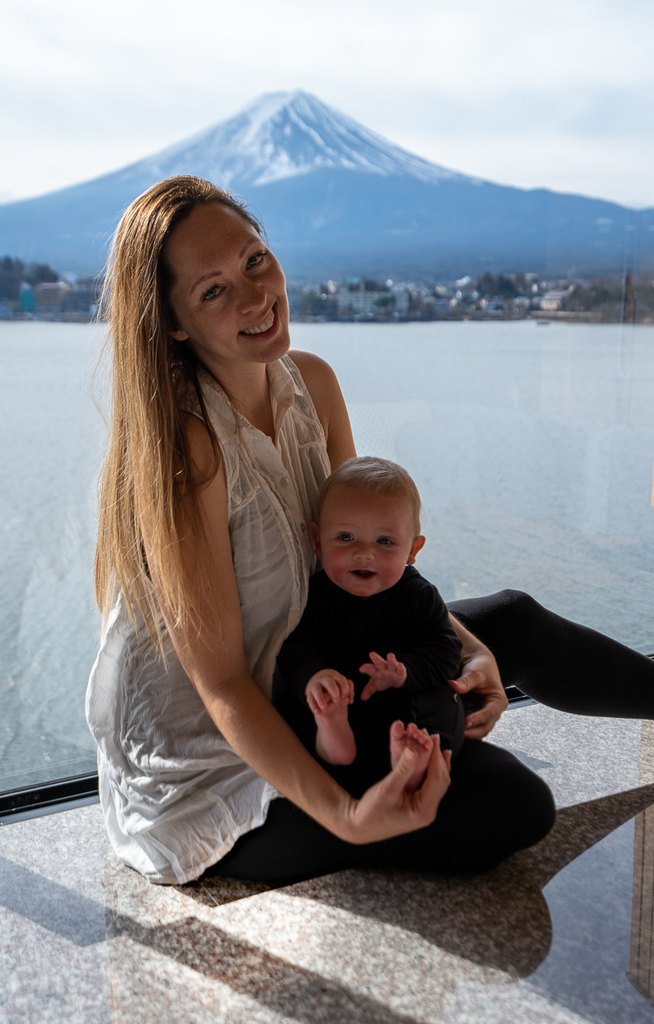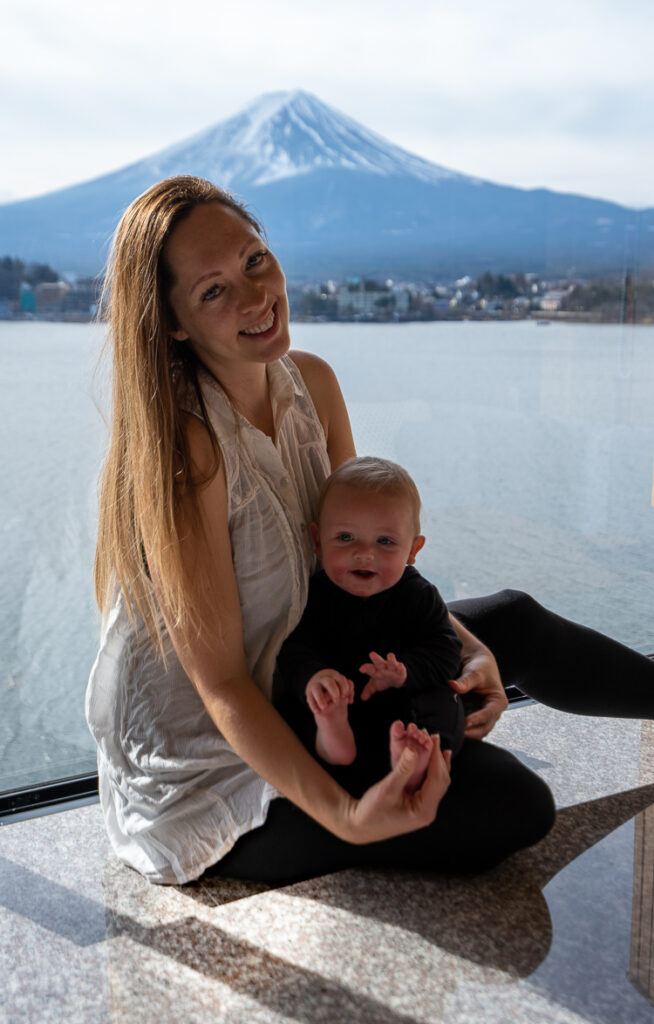 Getting to Kawaguchiko for us meant busing in from Mishima station via Nagoya en route from Takayama. For most visitors, it will probably mean coming from Tokyo. Here are the options:
From Tokyo Station: Fujikyu and JR Kanto Bus operate 1-2 direct buses hourly between Tokyo Station (Yaesu South Exit) and Kawaguchiko Station. The one way trip takes about two hours and costs ¥2000. Reserve a spot ahead of time.
From Shibuya station: Fujikyu operates approximately one bus every two hours between Shibuya, Fuji Q Highland, Kawaguchiko Station and Fujisan Station. Reserve a spot ahead of time.
From Shinjuku station: Take the JR Chuo Line from Tokyo's Shinjuku Station to Otsuki Station (about 70-100 minutes depending on the line you take). From Otsuki, take the Fujikyu Railway Line to Kawaguchiko Station (55 minutes, ¥1170 one way).
There are also a few direct limited express trains per day between Shinjuku and Kawaguchiko in each direction (about 2 hours, around ¥4000 yen one way, seat reservations are mandatory).
How to Get Around Lake Kawaguchi
Getting around Kawaguchiko is fairly simple and straightforward. From Kawaguchiko station, you'll find buses going in just about every direction in the five lakes region, including around the lake in both directions. Amazingly, you can tap your credit card when getting off the bus to pay for fare, which made it so easy!
There is also a train from the same station that can take you to the Chureito Pagoda. Consider getting the Fuji Q highlands pass for local buses, or the Hakone pass for transport around the whole area, including the famous Hakone area, which also has stunning Mt. Fuji views and includes transport to and from Tokyo.
Lake Kawaguchi ended up being one of the highlights of our Japan trip for the beauty and relaxation. For those looking for a city escape from Tokyo, I can't think of a better place!