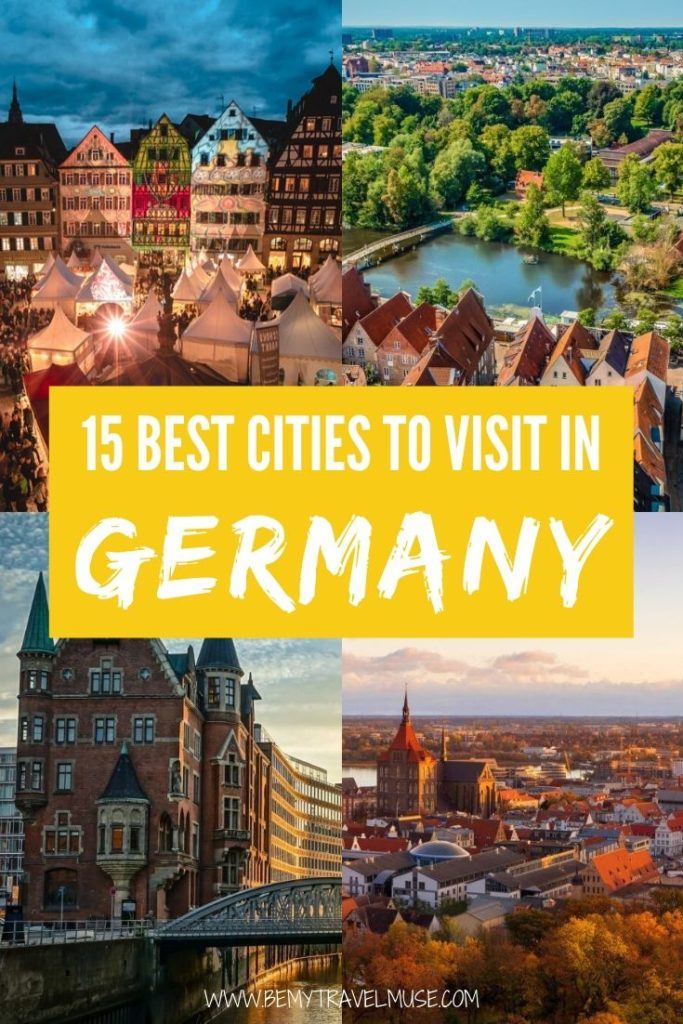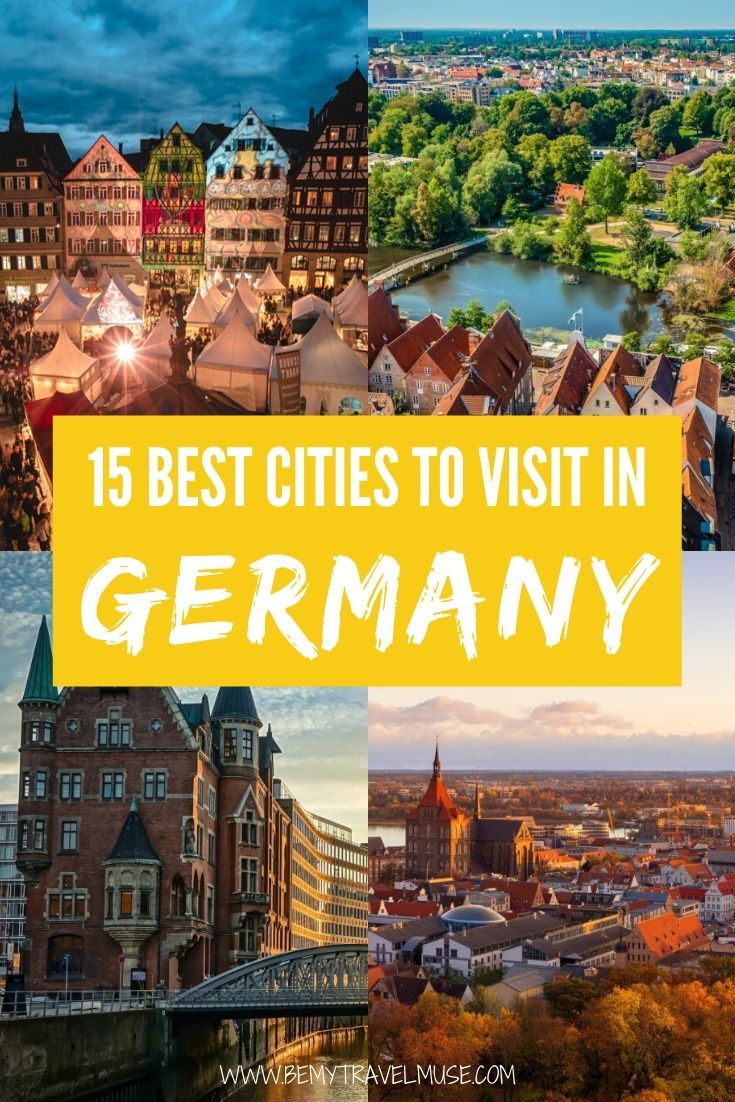 I will always have love for my home away from home of nearly five years – Germany. From the cooler than cool streets of Berlin to the beautiful castles in Baden-Württemberg, Germany has so many cities worth visiting, a trip to Germany alone is more than worth it.
The following are 15 of the best cities to visit in Germany, with some major cities and smaller towns sprinkled in for the perfect variety:
1. Berlin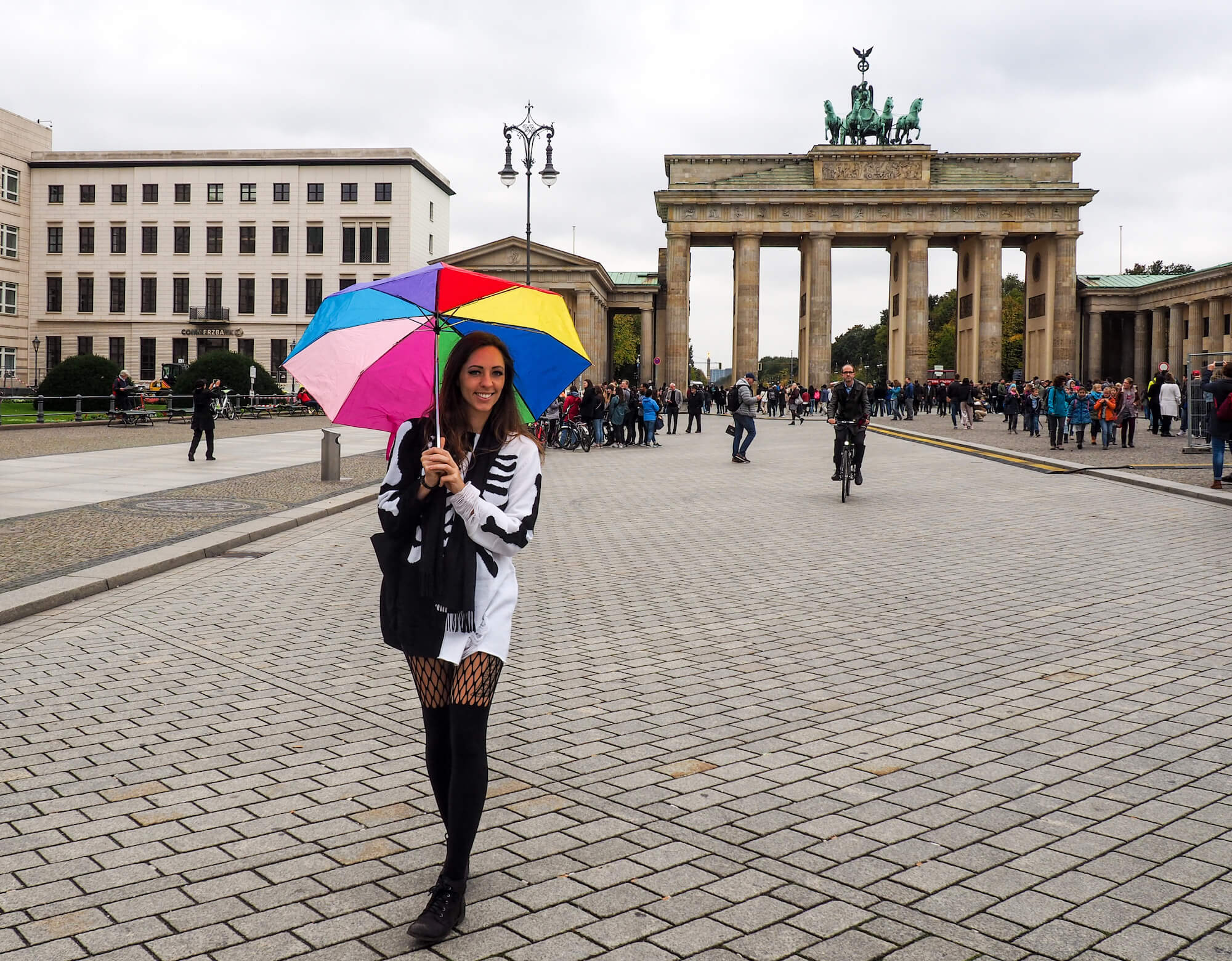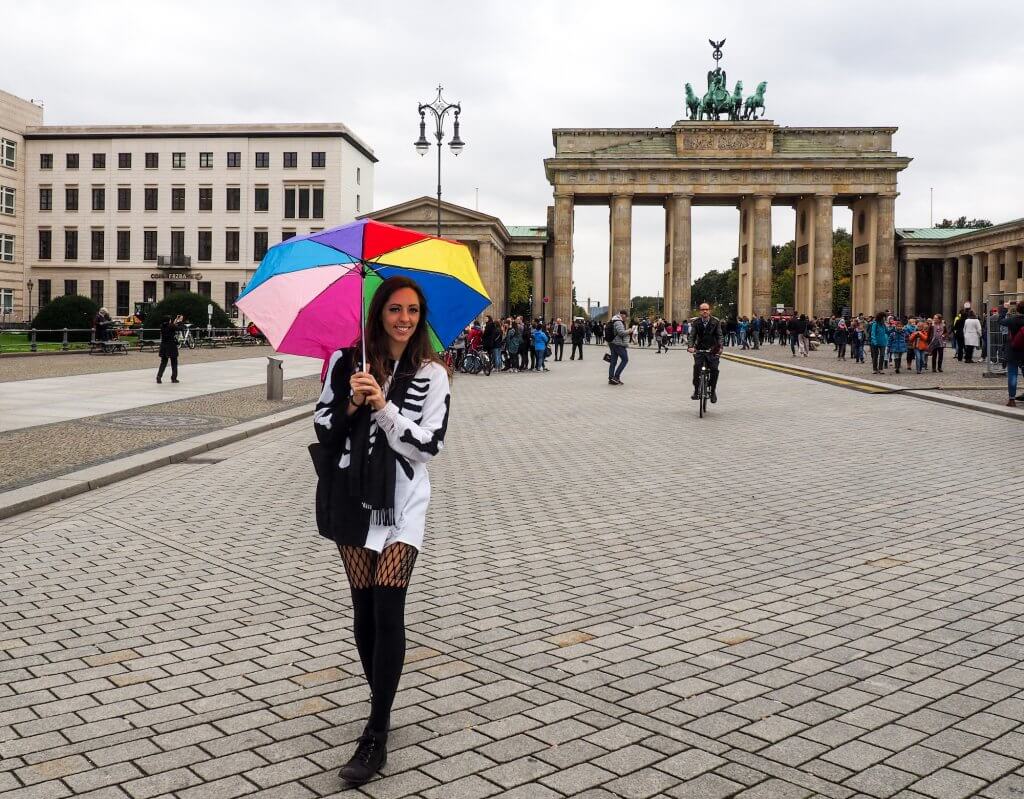 As someone who lived in Berlin for over 4 years, naturally this takes the first spot on my list not because it's the most charming nor beautiful city in Germany – far from it – but because of its soul. Berlin is enigmatic, has a colorful counterculture history, and is full of artists and street art.
Berlin has things that no other city can offer, like Teufelsberg, a crazy spy dome-turned art paradise, and Tempelhofer Feld, the largest inner city open space in the world, and nightlife that can keep you going all week long. Read more about what to do in Berlin, where to stay, and how to love it in the winter, too.
2. Potsdam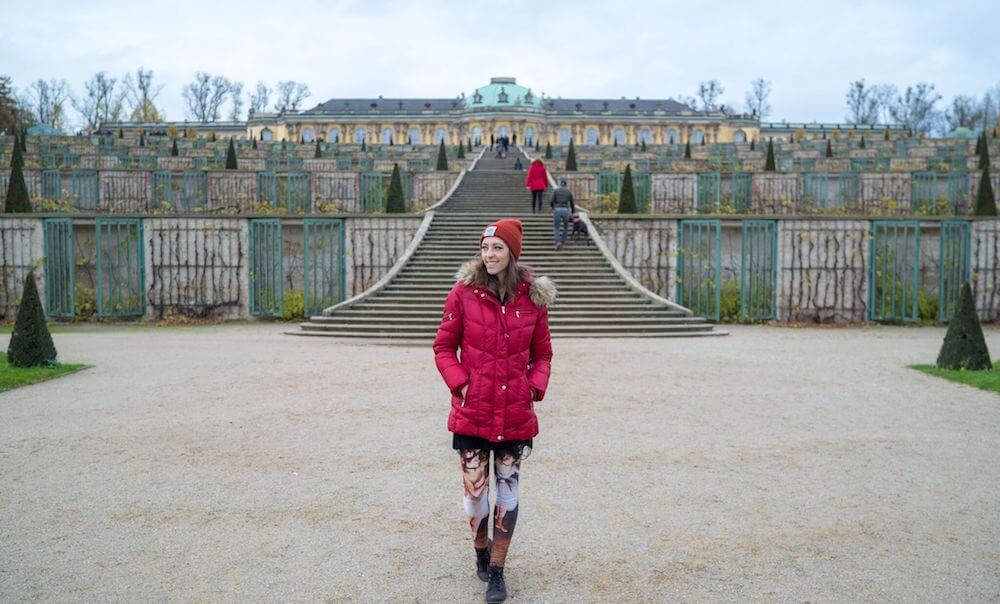 On the border of Berlin, Potsdam feels like a page out of a storybook. A large part of the town hosts a sprawling UNESCO World Heritage Site which is home to Schloss Sanssouci castle, which is often referred to as the Versailles of Germany. Kings and kaisers lived in Potsdam until the 20th century, so the whole town is brimming with German history. Three of the five original city gates still stand and are worth checking out not only for their sheer age but for their architecture, and two historic market squares still exist.
Interestingly, Potsdam has some unique neighborhoods that reflect history which isn't German: the streets in the Dutch Quarters are lined with 18th-century Dutch-style brick houses, while the wooden houses of Russia Town make you feel like you've temporarily stepped out of Germany. Potsdam is sure to make a charming trip, whether for just a day or for a long weekend!
3. Stuttgart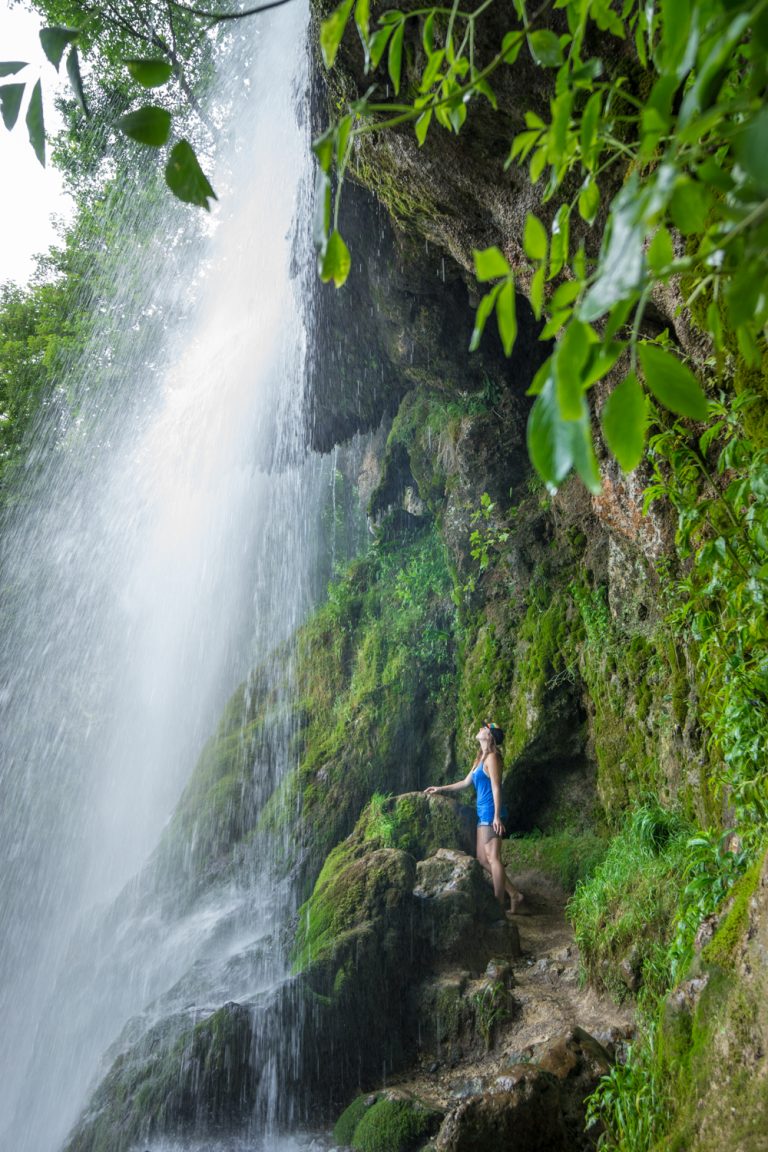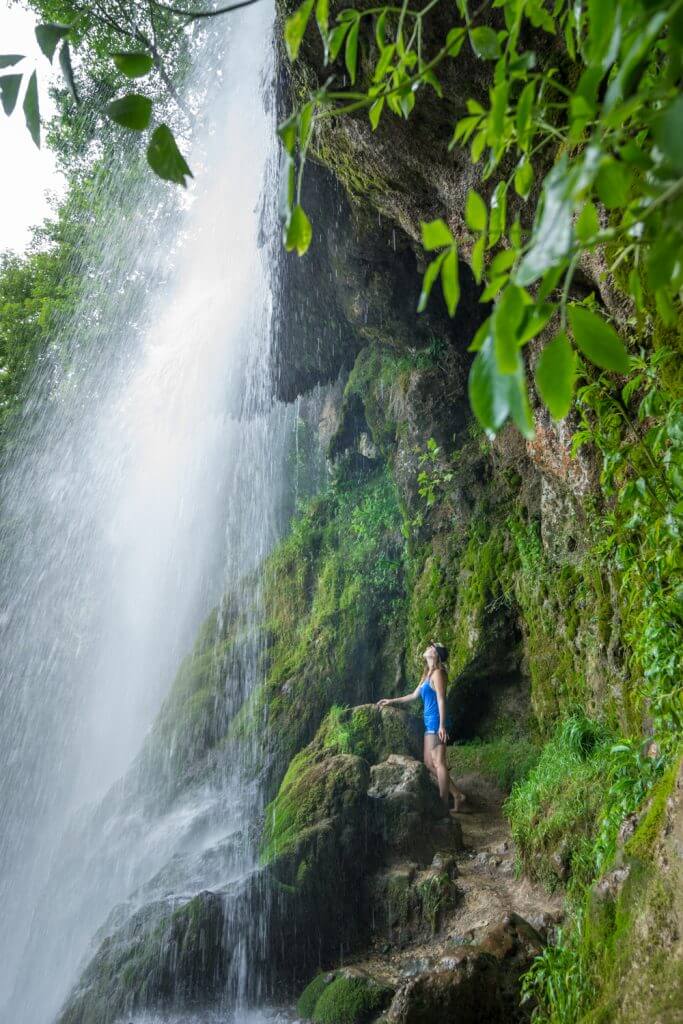 Baden-Württemberg is my favorite state in Germany for castles, waterfalls, the famous Black Forest, and delicious food. Stuttgart is the perfect jumping off point for a magical road trip through all of the aforementioned, and is perfect at any time of year.
For car lovers, this region is home to Porsche and Mercedes, and for those who want a more charming feel than one can get from, say, Berlin, Stuttgart is a lovely spot to base yourself for your Germany adventures. You can read more about the best day trips from Stuttgart here, and the best regional Christmas markets, too!
4. Hamburg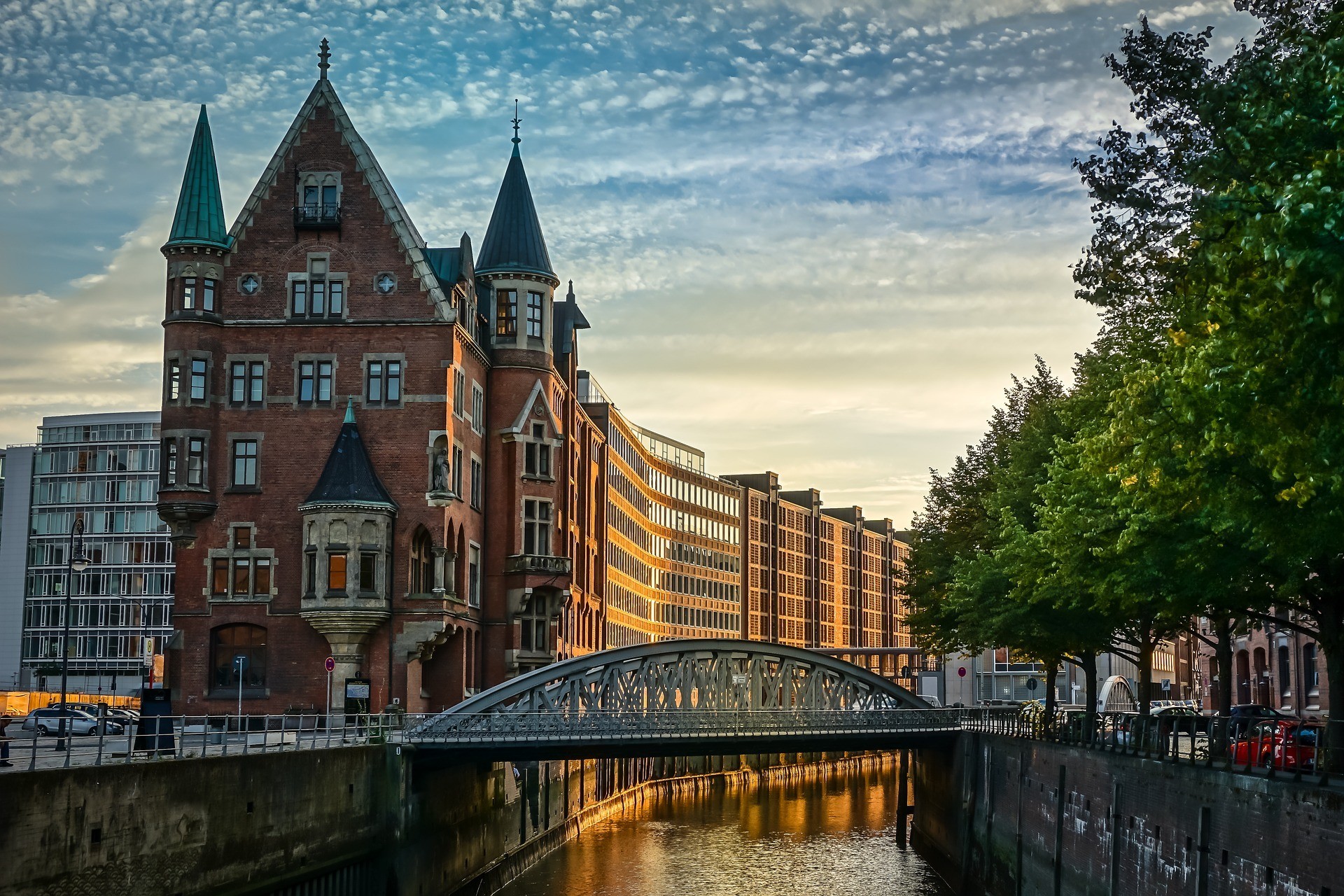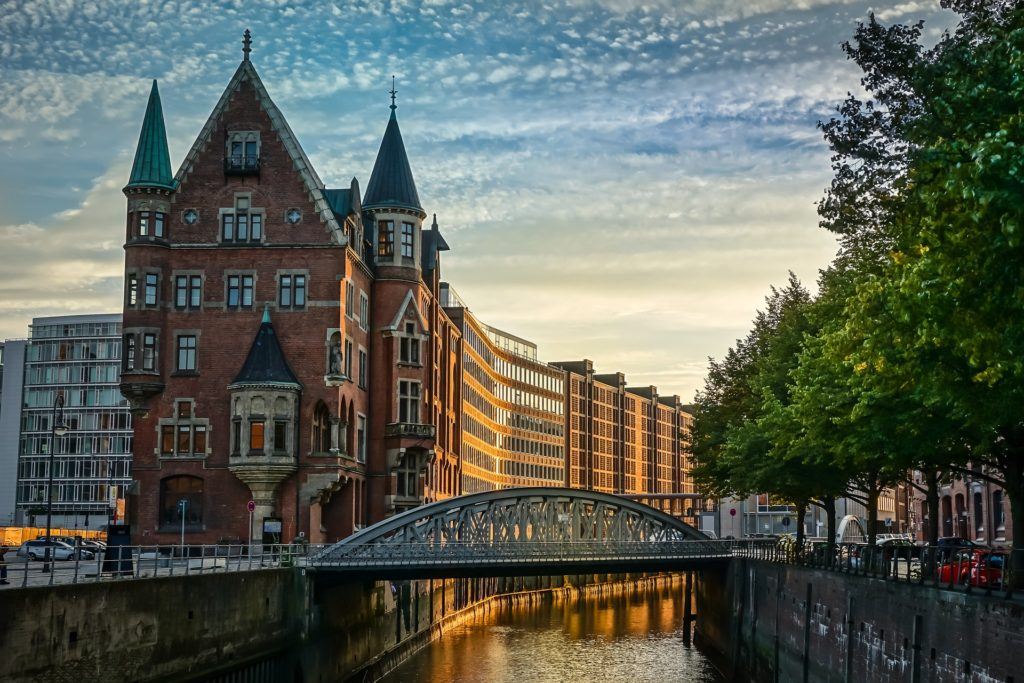 The second largest city in Germany, Hamburg is situated on the Elbe River in northern Germany and has its own unique modern-meets-classic style. At the same time, it is reminiscent of Paris, London, Venice, and Amsterdam: small islands splitting the river, tall clock towers rising above the rooftops, hundreds of canals, and rows of skinny brick houses on the water seem to pay homage to these other famous European cities.
Start by exploring HafenCity, a new urban part of Hamburg which includes Speicherstadt — a UNESCO World Heritage Site — and the modern Elbphilharmonie concert hall with its 360-degree viewing platform at the top. Check out the street art in the Schanze and Karolinenviertel neighborhoods, or stroll through the Sunday morning fish market by the Elbe. You can even explore the city from the water by renting a kayak, canoe, or stand-up paddle board!
5. Bad Schandau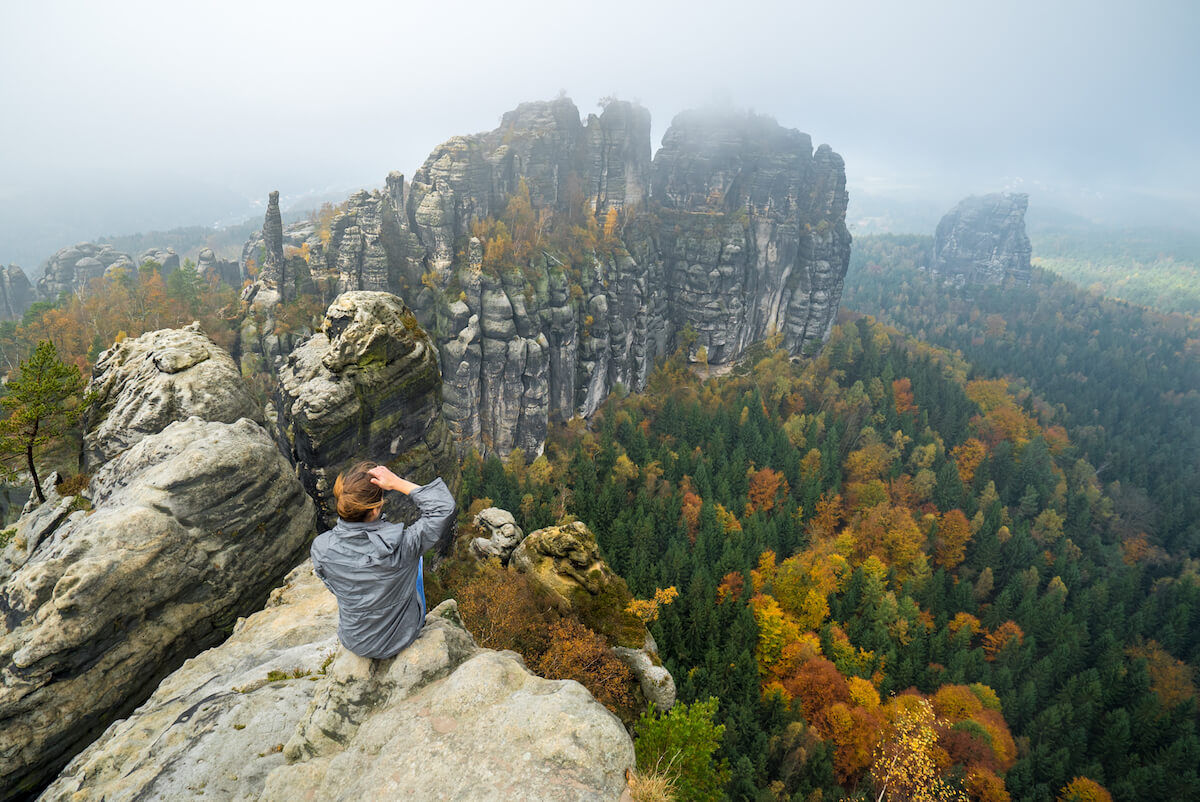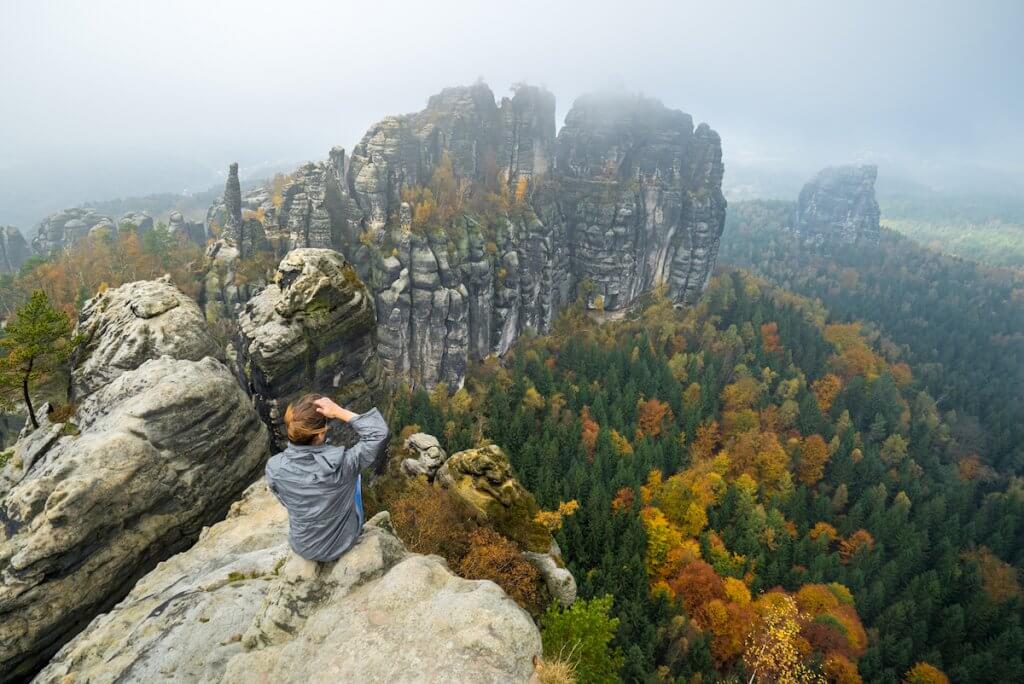 Bad Schandau is a charming town on the outskirts of Saxon Switzerland, a national park that is not really near Switzerland, but shares a border with the Czech Republic.
The park is characterized by sharp sandstone rock formations, carved by the Elbe River. There are several day hikes, a few multi-day hikes, and some rock climbing routes as well. The famous Bastei Bridge is another sight worth seeing in the park, and Bad Schandau is the perfect place to base yourself while you explore. Read more about Saxon Switzerland here.
6. Lübeck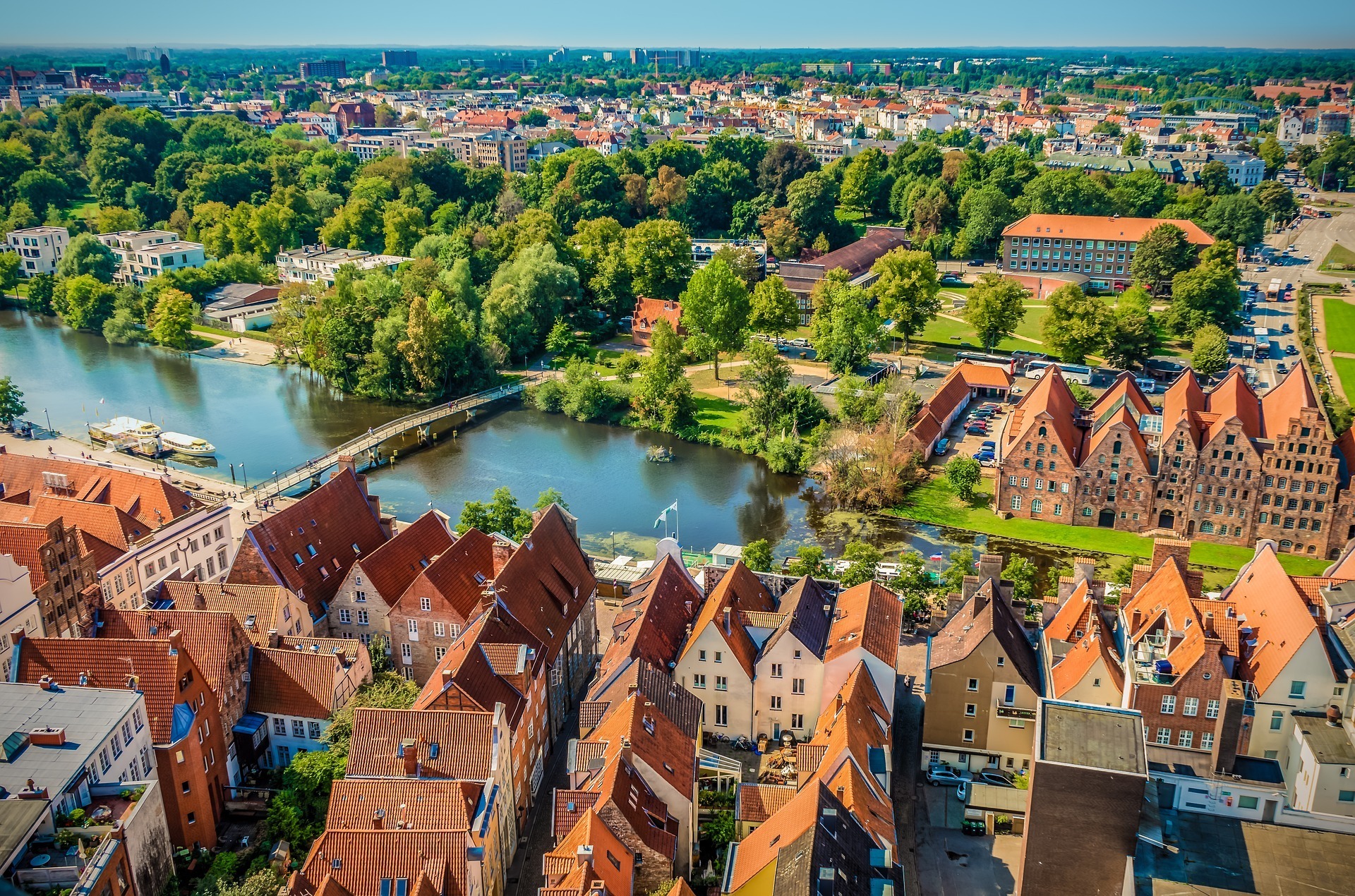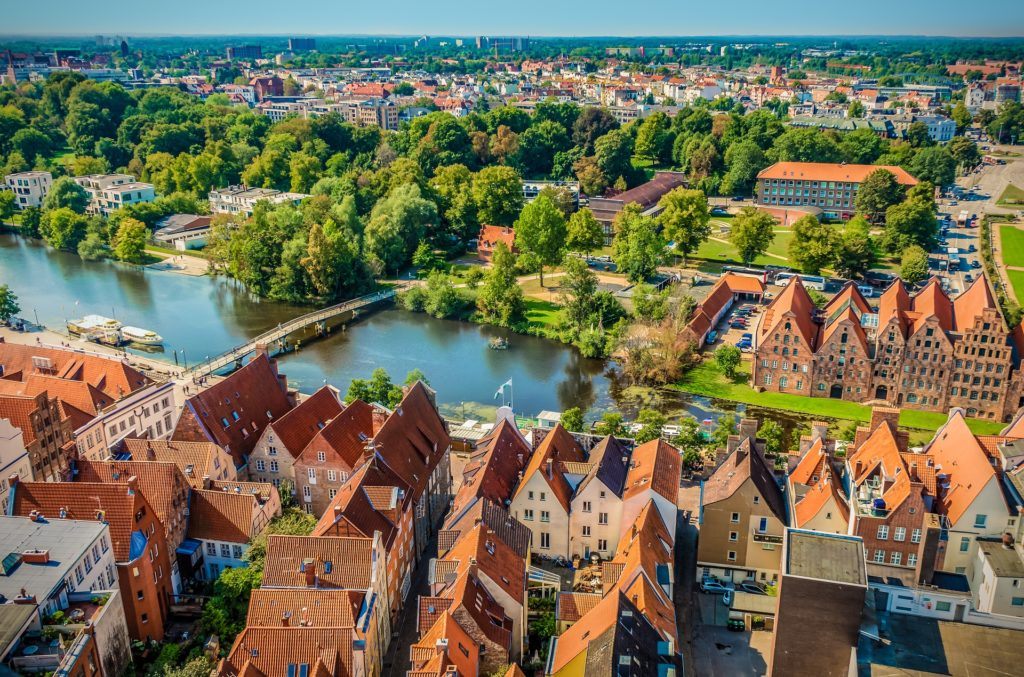 Lübeck, a quaint town of red brick and tiny winding alleyways in northern Germany, is over 850 years old! The first thing you'll see in the city is Holstentor, or the gate to the city with two huge cylindrical towers. (It almost looks like a mini castle!) Walk around and explore the UNESCO World Heritage Old Town, visit the Marienkirche (church which was built somewhere between 1250 and 1350), and wander through the St. Annen-Museum to view some of Germany's most prized artwork.
Climb the tower at St. Peter's Church for awesome views of the whole city, like in the photo above. Finally, eat some marzipan! The sugary almond treat was created here, and they have countless shops full of it and even a museum. All in all, Lübeck is sure to deliver on quintessential German charm.
7. Rostock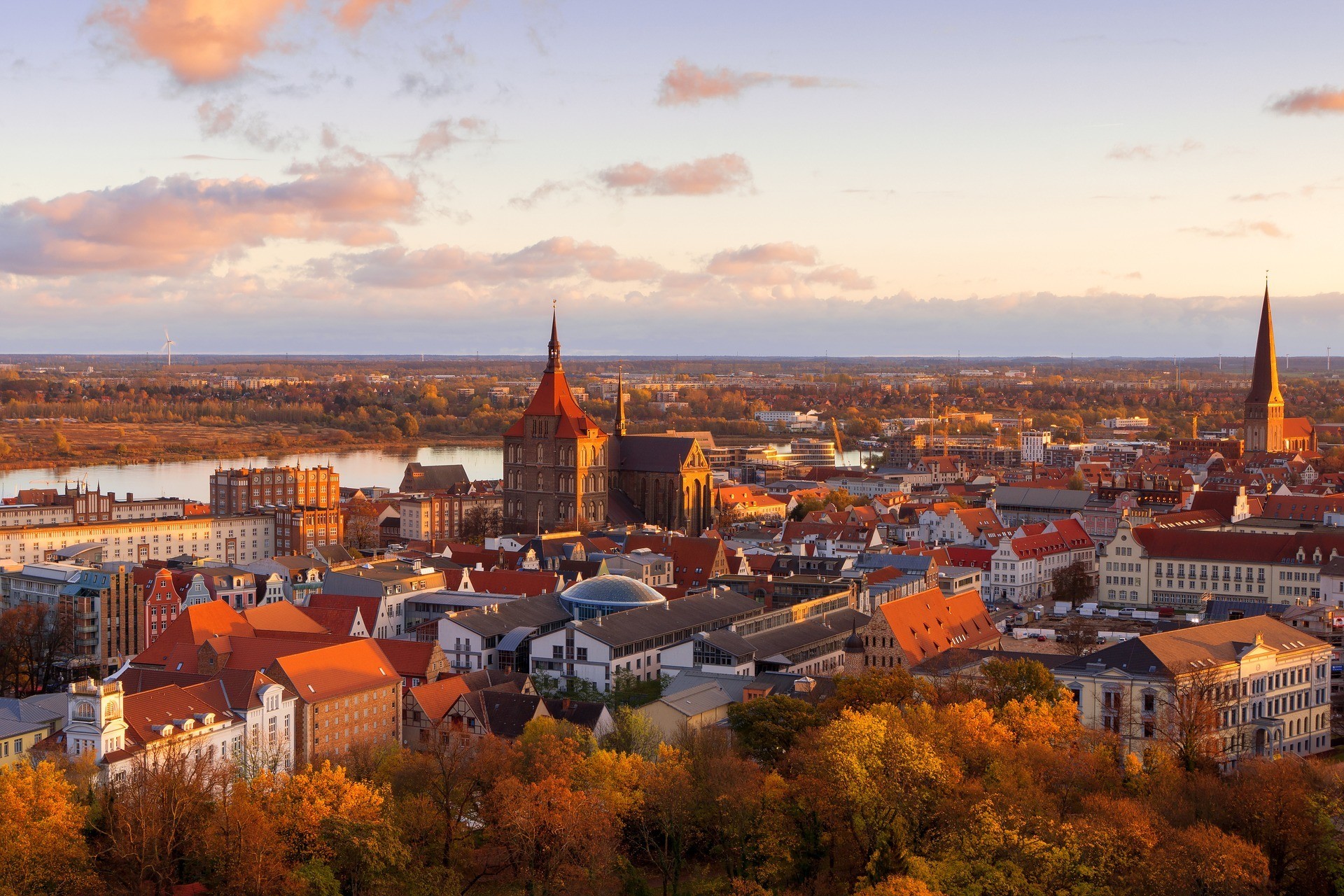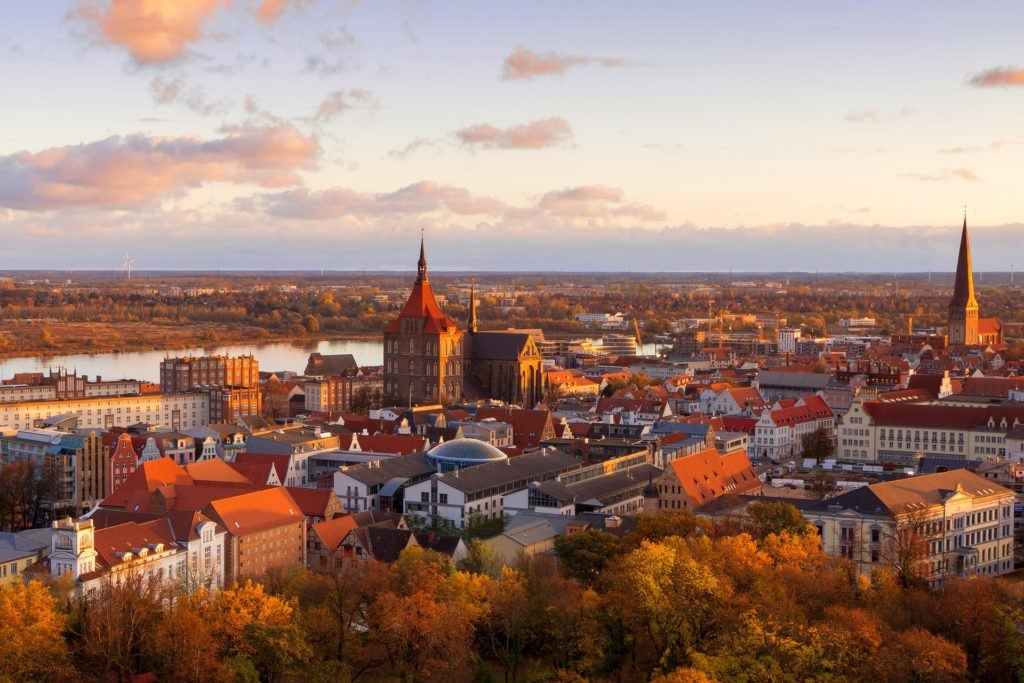 The city of Rostock sits on northern Germany's Warnow River. Home to the oldest and largest university in northern Europe, Rostock is recognizable by its colorful gabled houses and brick Gothic architecture.
While there, explore St. Mary's Church, which dates back to the 14th century; be sure to take a look at its intricate astronomical clock and elaborate stained glass windows. After, stroll the city's main street, the Kropeliner Strasse; check out the Dutch paintings at the history museum; and see the Baroque-style town hall built in 1270, which is pink! Kick back and take in the sights by taking a tram through town, or hop on a river cruise to see the old harbor and small neighboring villages. Finish your sightseeing with a German beer and bratwurst!
8. Stralsund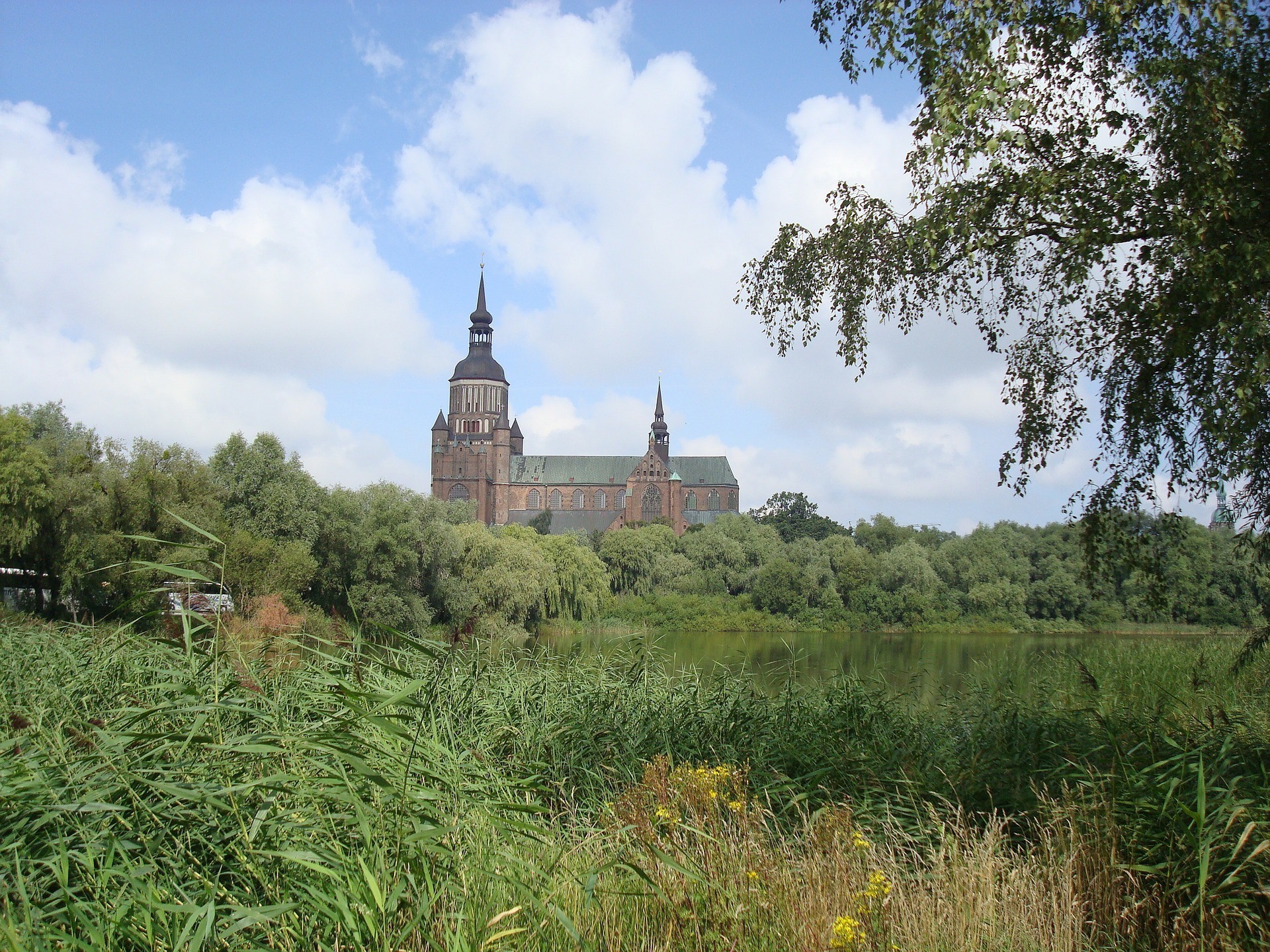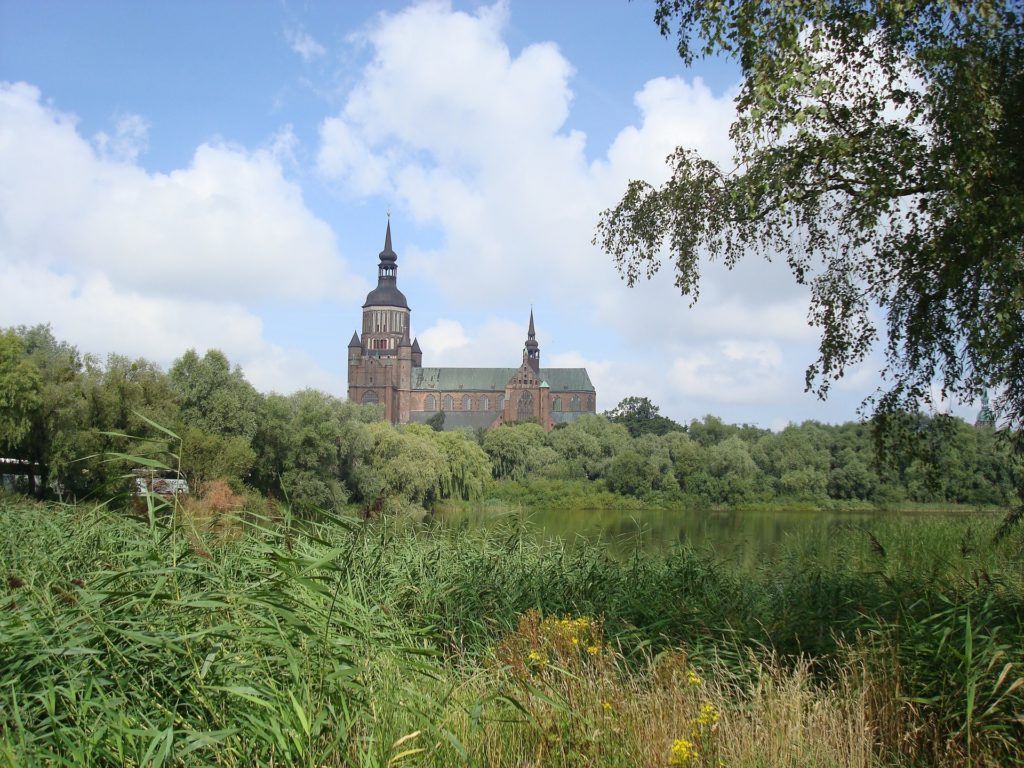 Less than 50 miles from Rostock, the historic town of Stralsund on northern Germany's Baltic Coast is a UNESCO World Heritage Site thanks to its medieval origins. (The town dates back to the mid-13th century!) Like nearby Lübeck and Rostock, Stralsund is known for Gothic red brick architecture; the seven-spired town hall and elaborate St. Mary's Church are two of the best examples.
The old-world flare in Stralsund is unbeatable, and a visitor could easily spend an afternoon exploring the waterfront and strolling the streets lined with colorful shuttered houses. If you notice a building that does not fit in with its surroundings (its curved white facade screams modernity amongst a sea of weathered Gothic brick), it's the Ozeaneum, a huge aquarium of Baltic fish! Another quirky Stralsund attraction is the playing card factory — playing cards have been manufactured here since the mid-18th century. Before you leave, climb to the top of St. Mary's steeple for views across the city and sea.
9. Binz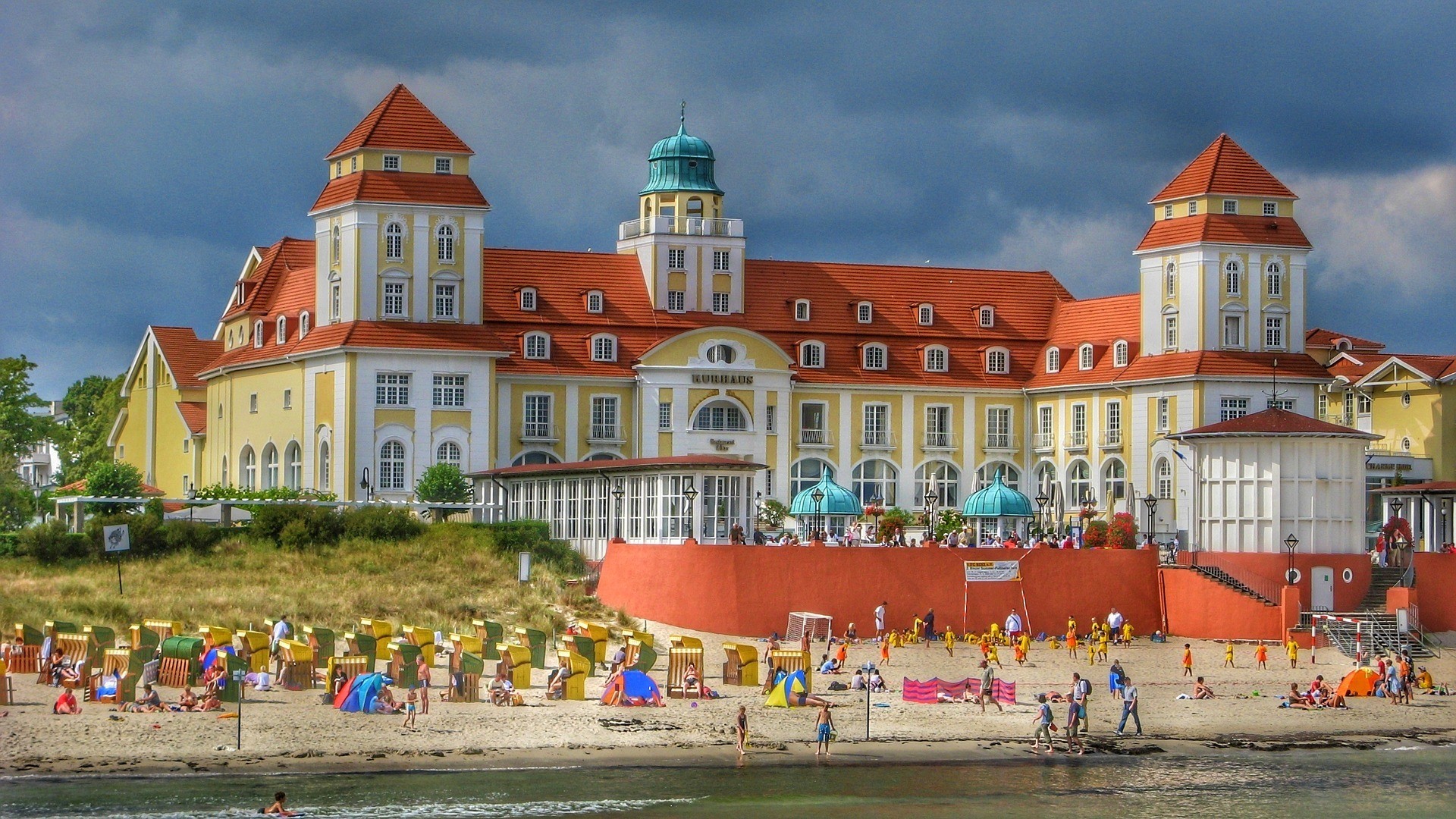 Germany's largest island, Rügen Island, sits off the country's northeastern coast. Here, you'll find Binz, an old fishing town turned seaside resort. White villas are scattered all around the island, but their Victorian flair is what makes Binz different from your normal beach town.
In some ways, Binz resembles Coronado Island in San Diego, especially thanks to its massive beachfront hotel pictured above. While in Binz, stroll the oceanfront Strandpromenade, lounge in a beach chair on the white sand, shop around downtown, and grab a bite to eat at a table outside one of the restaurants. Walk along the pier at sunset, and then do it all over again the next day!
10. Nuremberg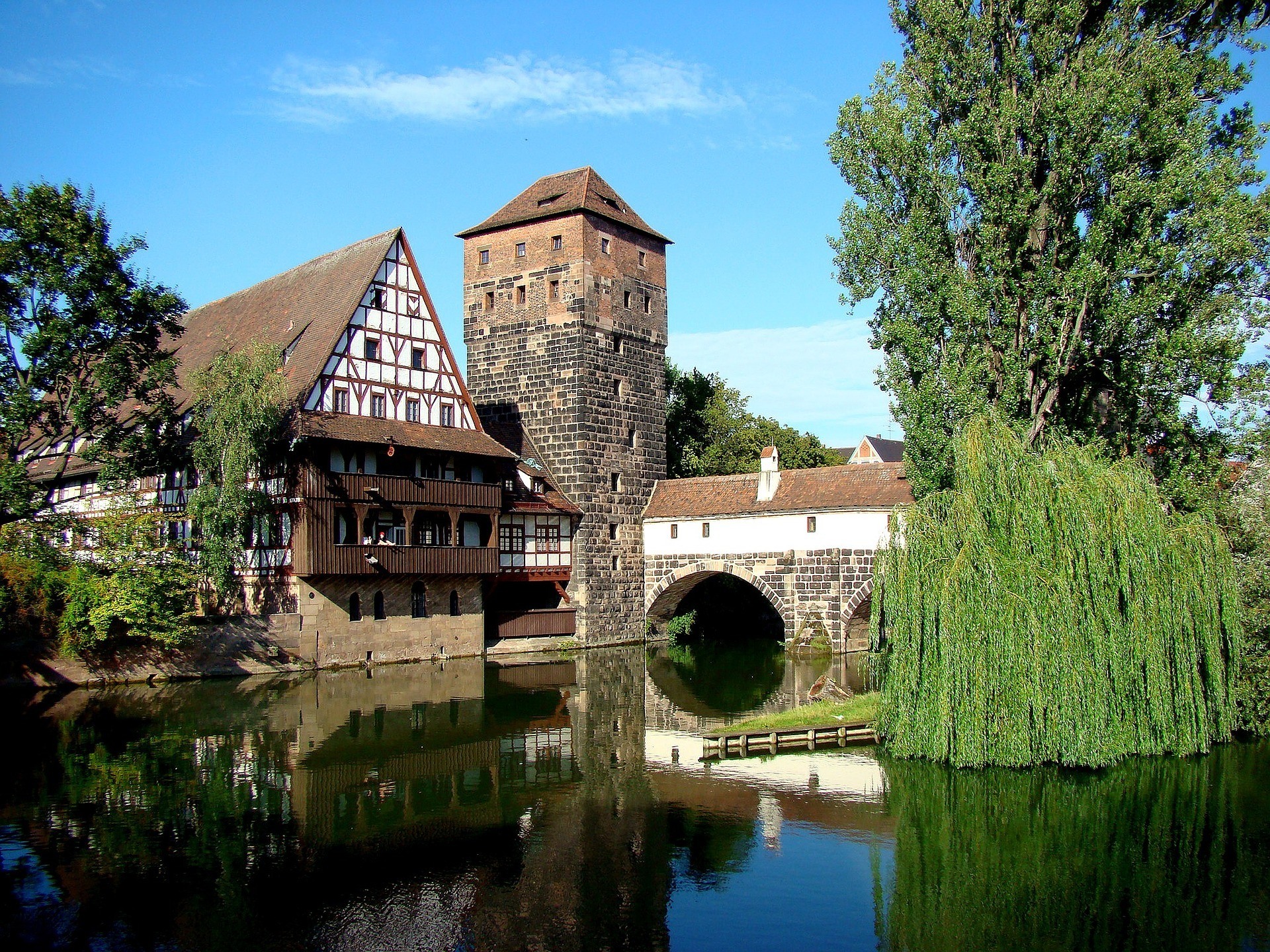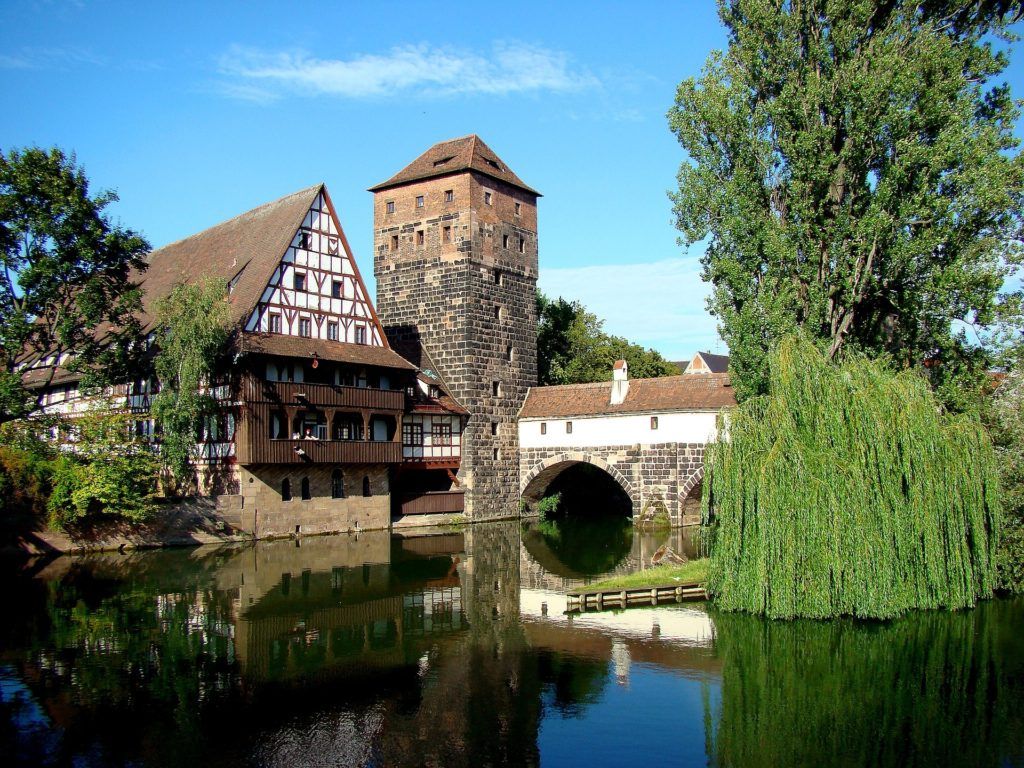 Nuremberg, a name which you likely recognize from the Nuremberg Trials, the post-World War II military prosecutions sentencing Nazi leaders for their war crimes and crimes against humanity, is located in Germany's Bavaria. Today, Nuremberg is a charming fairytale-like city which is home to the Kaiserburg castle. Visitors can take advantage of its Sinwell Tower for views of the whole city.
The Germanisches Nationalmuseum (Germanic National Museum) contains more than 20,000 exhibits on the culture of the German-speaking world, while the St. Sebaldus and St. Lorenz Churches, which date back to the 13th century, are worth marveling at. Something you won't see anywhere else is Nuremberg's over 60-foot Gothic fountain from the 14th century, Schöner Brunnen. Nuremberg even has its own special kind of bratwurst (Nürnberger Bratwurst) that is only produced in the city!
11. Munich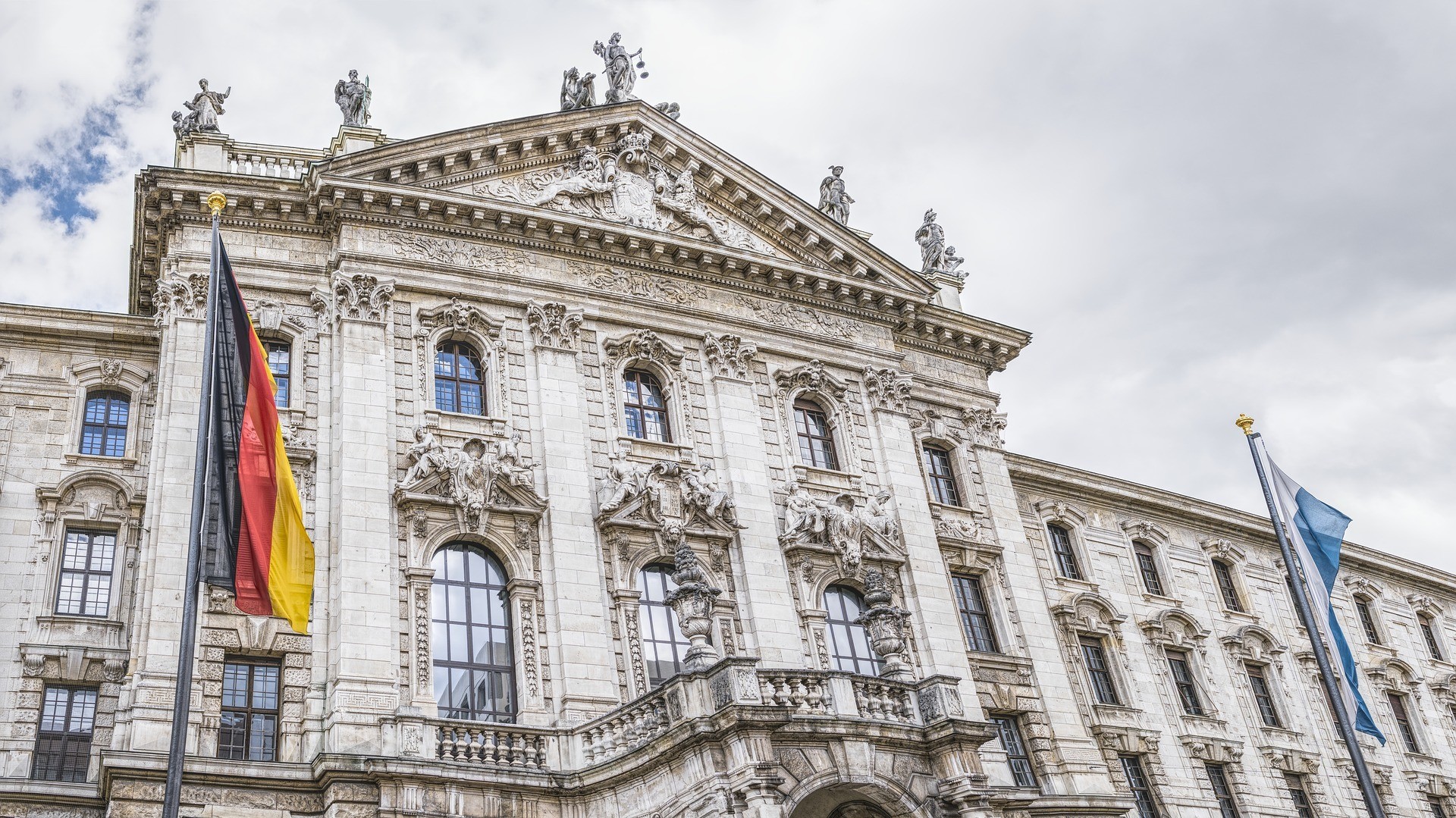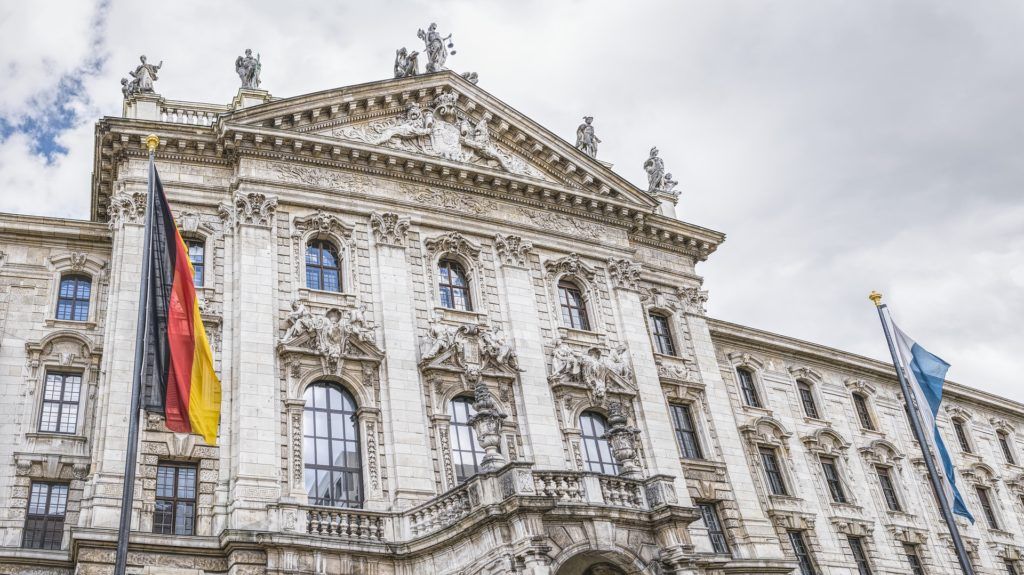 The capital of the German state of Bavaria, historic Munich, contrasts the modernity of Berlin and is best known for — you guessed it — Oktoberfest. As the home of this world-famous beer festival, Munich is full of biergartens, including the famous Hofbräuhaus dating back to the 16th century.
The city also displays intricate architecture of all different styles: the Neo-Gothic town hall at Marienplatz (Munich's central square) is famous for its elaborate Glockenspiel clock, complete with dancing characters which pop out every so often, while the two Gothic towers of the Frauenkirche (a church) are visible high over Munich's rooftops. Other things to explore in the city include the lush English Garden (a city park which is even larger than NYC's Central Park), St. Peter's Church where you can climb to the top of the tower for amazing views of the city, and the sprawling Nymphenburg Palace – the summer estate of the old Bavarian monarchs.
12. Garmisch-Partenkirchen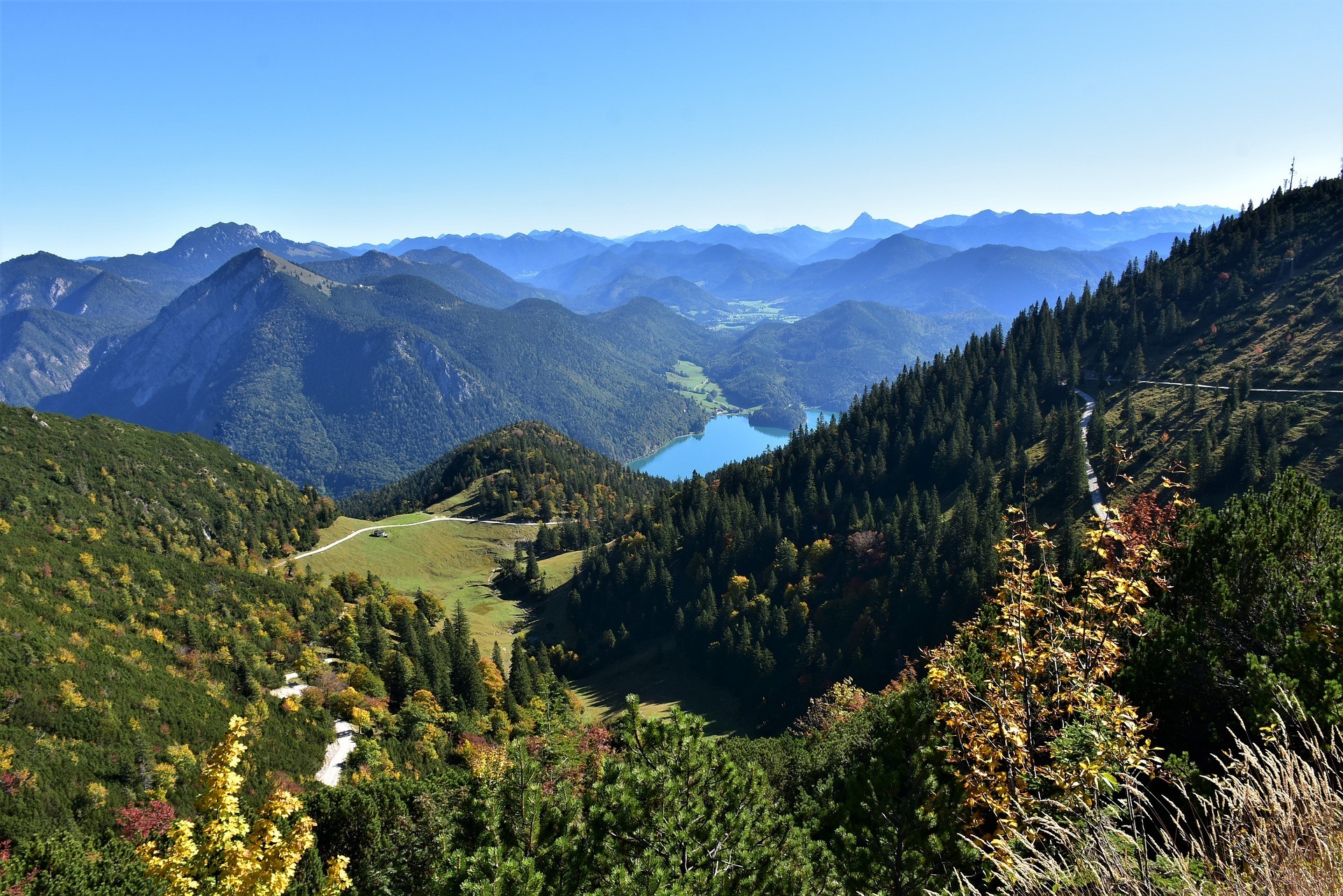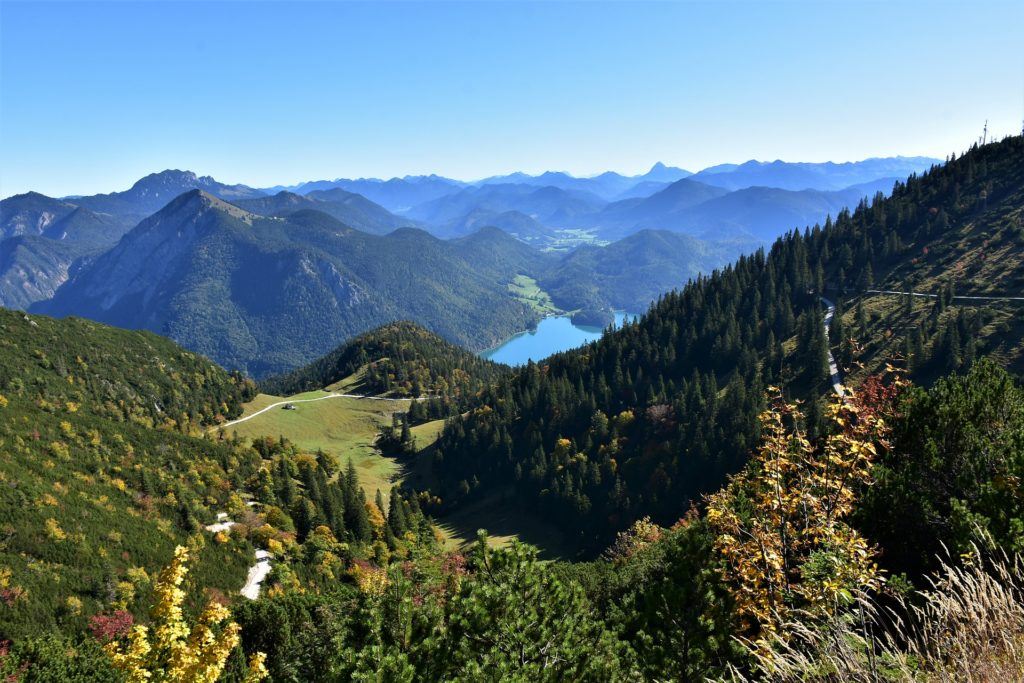 The Bavarian Alps stretch for more than 200 miles along the German-Austrian border. The towering mountains are breathtaking and the many mountain towns nestled among them look like something out of a picture book. Zugspitze, Germany's highest mountain peak, reaches a height of nearly 10,000 feet.
One of the best mountain towns to visit is Garmisch-Partenkirchen, which actually used to be two towns that united to host the 1936 Winter Olympics. Today, it is a hub for both skiing in the Alps and a charming taste of old Bavaria. While there, visit Eibsee Lake, which sits about 5 miles south of Garmisch-Partenkirchen. The scenery of the gorgeous blue water against the massive mountains is unbeatable. In the region, picturesque Füssen lies near two castles, Neuschwanstein and Hohenschwangau; beautiful Lake Walchensee remains largely un-touristed; and Berchtesgaden is home to a national park and a mountaintop restaurant with panoramic views (which, interestingly, was built as a birthday gift to Hitler in 1939).
With any of these, you can't go wrong! Like Munich, many towns have beer halls where locals eat, drink, and socialize, which makes up an important part of Bavarian culture. No matter which town you choose as your home base, be sure take a cable car up one of the mountains for jaw-dropping views of the whole region.
13. Lindau & Lake Constance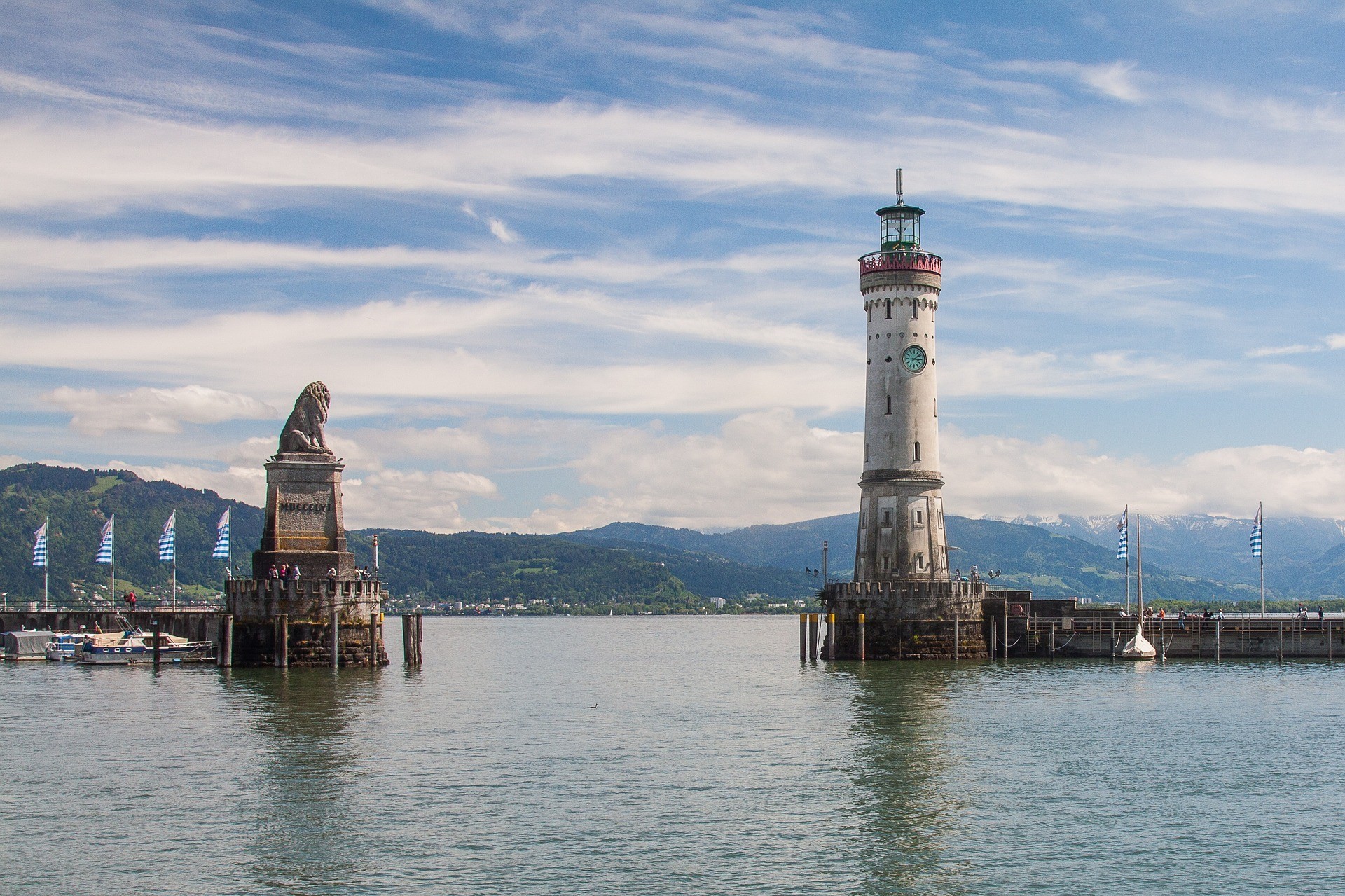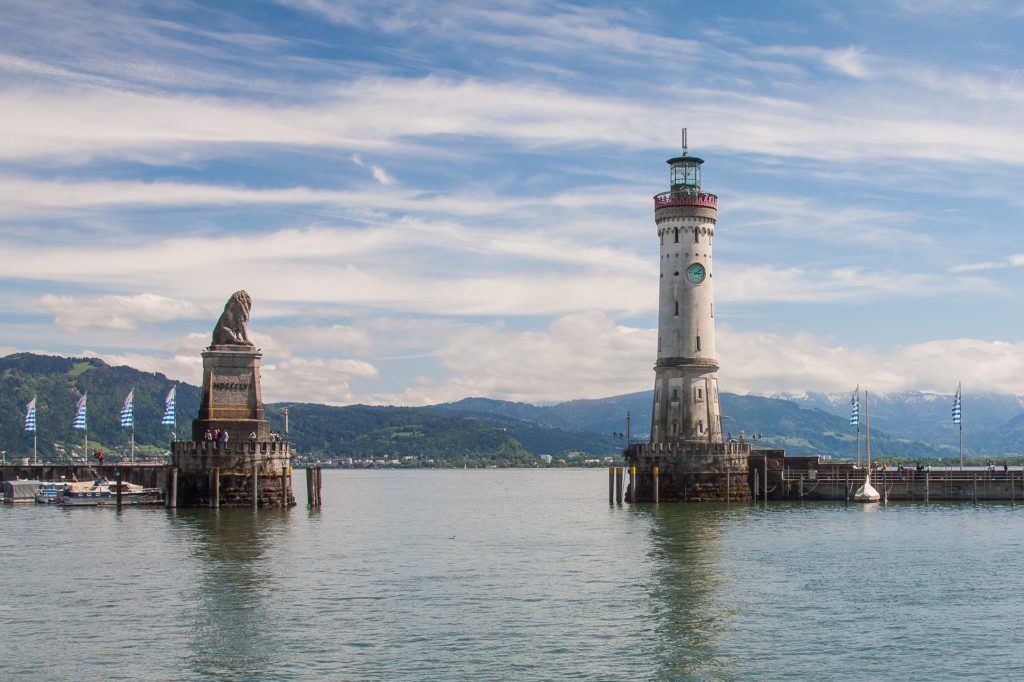 Lake Constance in the south of Germany is split between the regions of Bavaria and Baden-Württemberg, with countless picturesque towns scattered along its shores. One of these towns, Lindau, sits on the eastern Bavarian side of the lake and is made up of both an island in the lake and a mainland.
As a whole, Lindau is a great spot for outdoor adventure and water sports, as well as history and German culture. Medieval cobblestone streets, elaborate lakefront villas, charming gabled buildings, and stunning views of the mountains across the lake are sure to make Lindau a crowd-pleaser. Historic sights include the colorful Thieves Tower, frescoes at the Church of St. Peter, the 12th-century Mangturm Tower, and the grand Old Town Hall.
14. Tübingen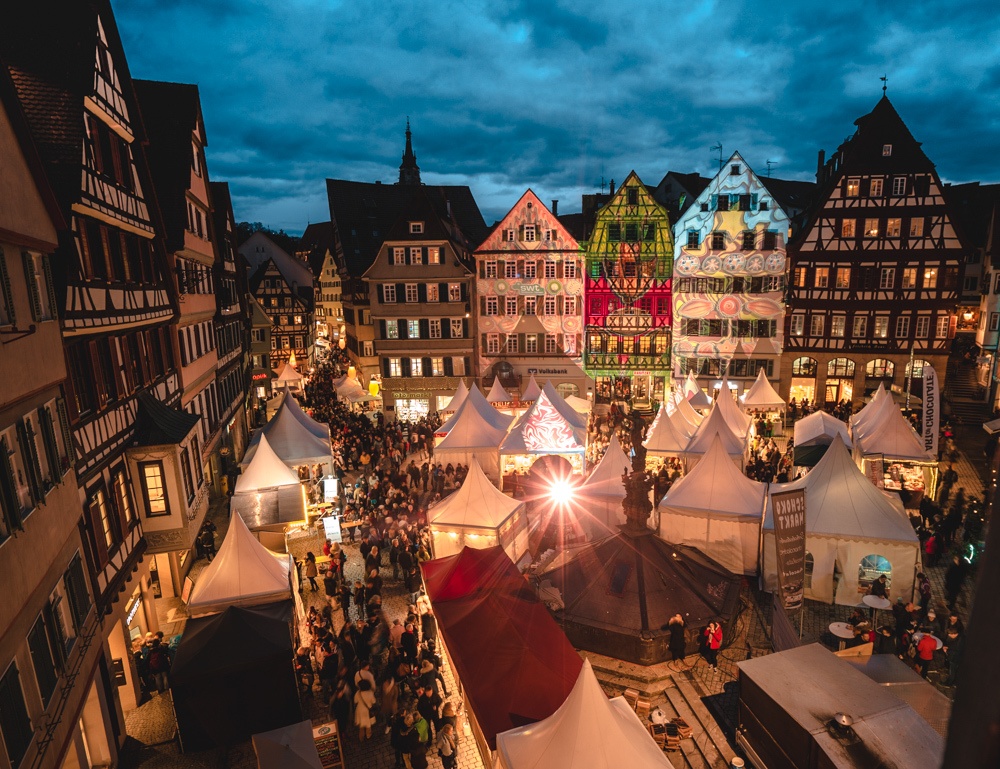 To me, this is Germany's most charming town, with architecture of the 'olden days' and a town square that looks straight out of a fairytale book. I love it so much, I've returned in each season to see it.
This university town also plays host to one of the best Christmas markets in Germany, the chocolART festival where you can get chocolate in nearly every imaginable form for 5 days each. Read more here.
15. Cologne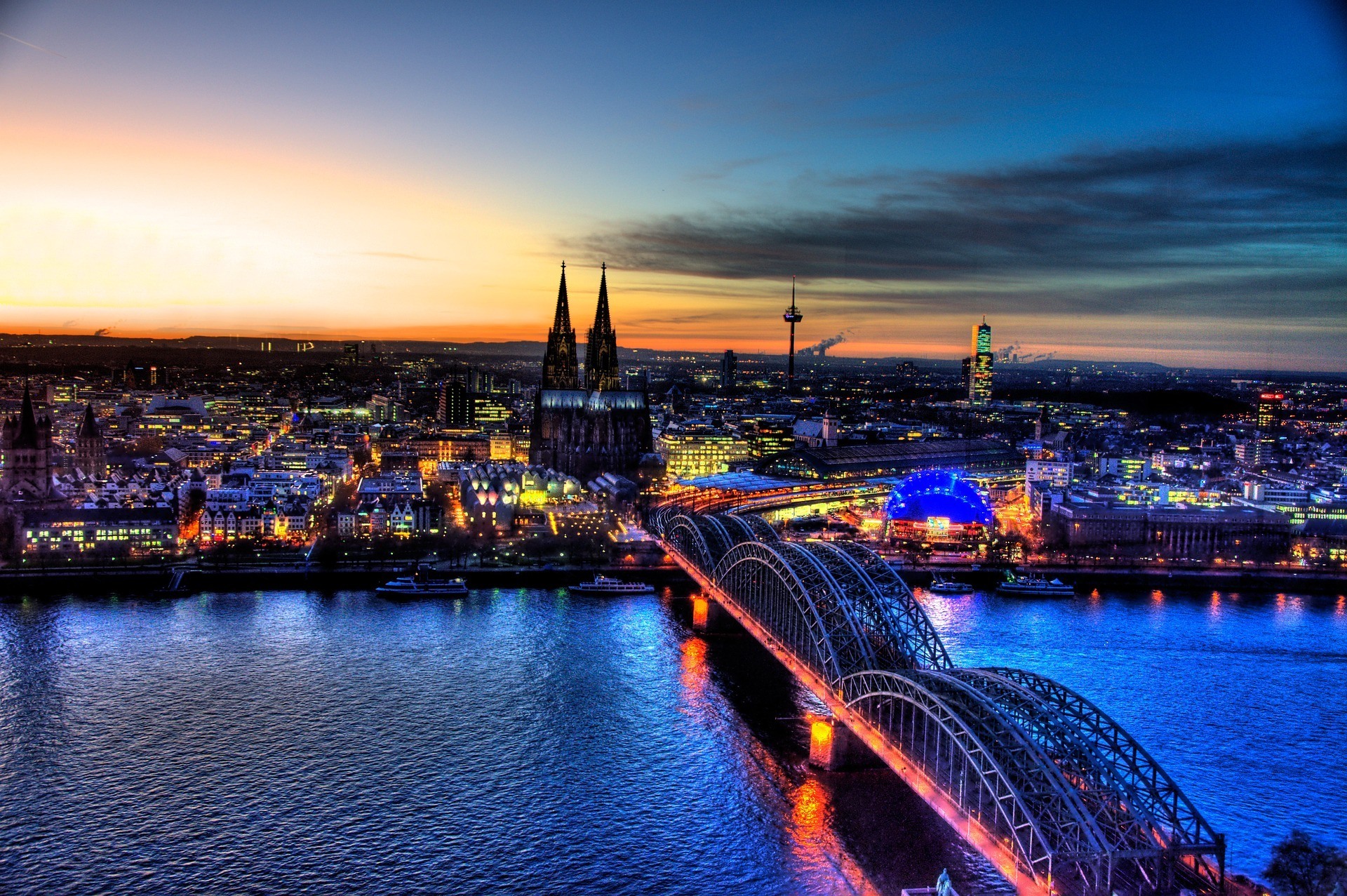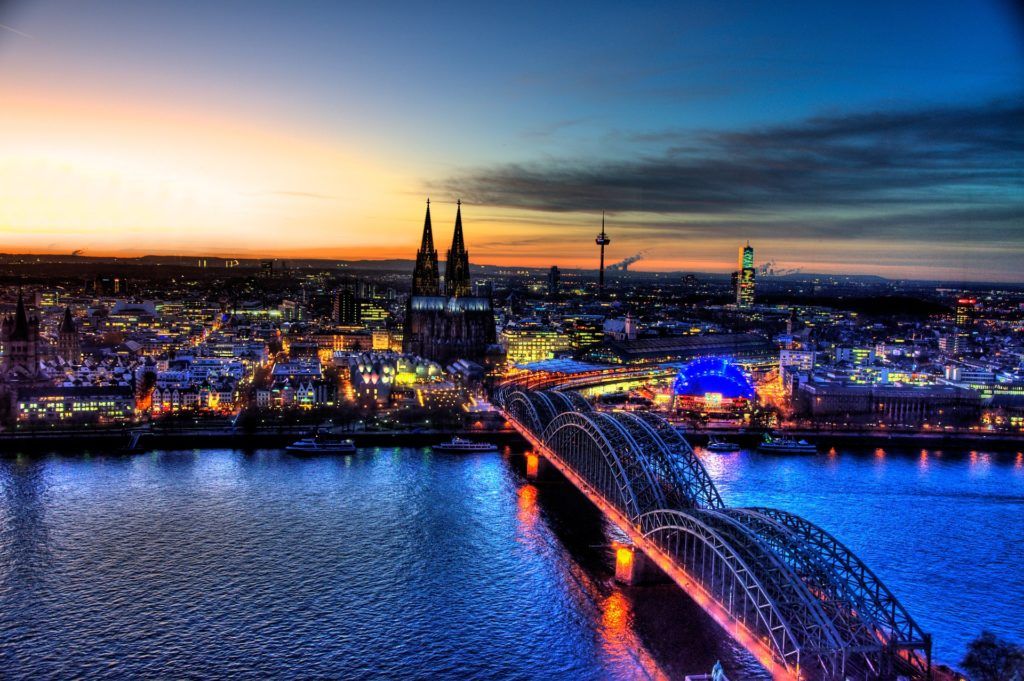 In western Germany, Cologne is considered a cultural hub with high Gothic architecture and Rhine river setting. It's Germany's fourth most populous city and boasts one of the country's most beautiful cathedrals, the Kölner Dom.
For those seeking the medieval architecture that parts of Europe are so well known for, Cologne delivers. Unlike much of Germany, which was hastily rebuilt following the Second World War, Cologne retained much of its architecture. This is also a great city for those who love shopping, and if you're a festival lover, the Cologne Carnival is one of the largest street fairs in Europe.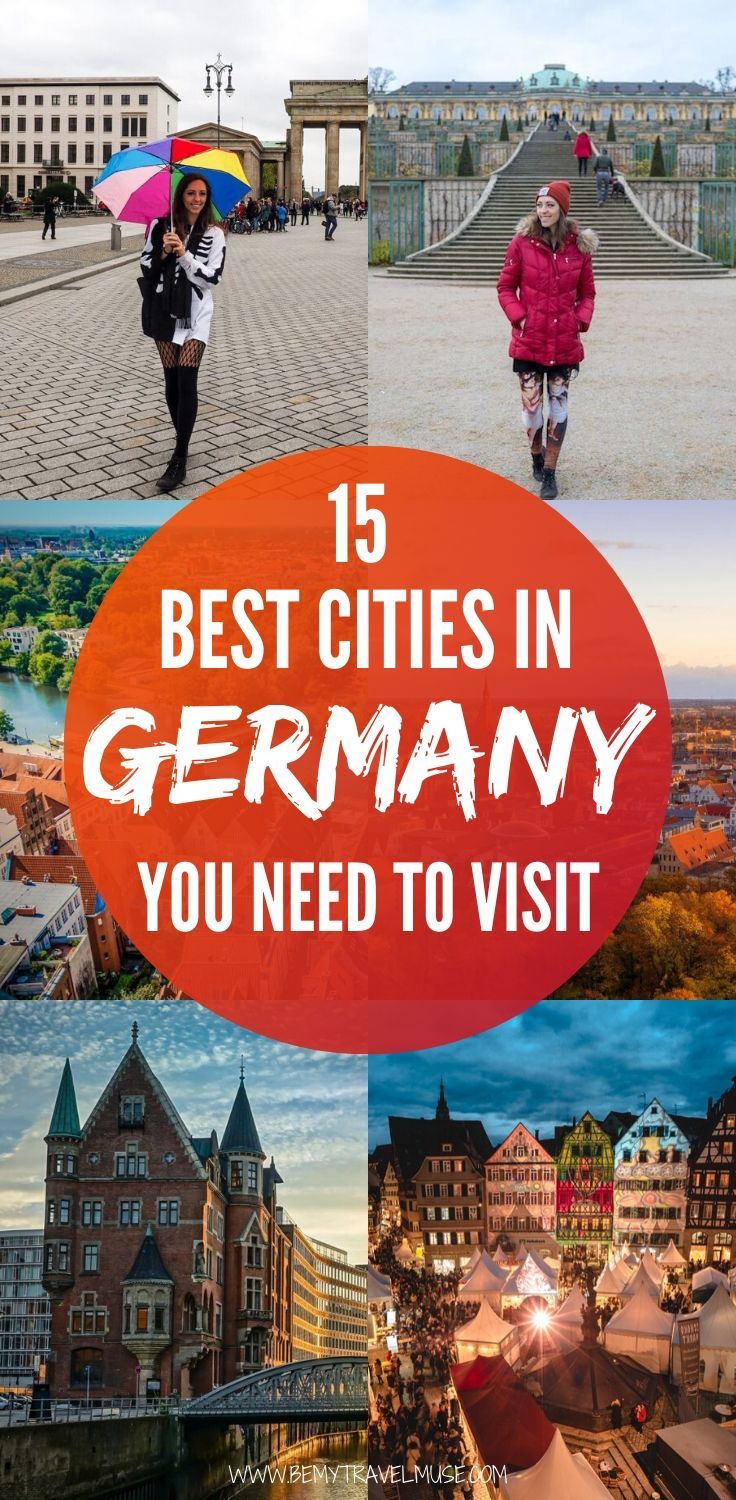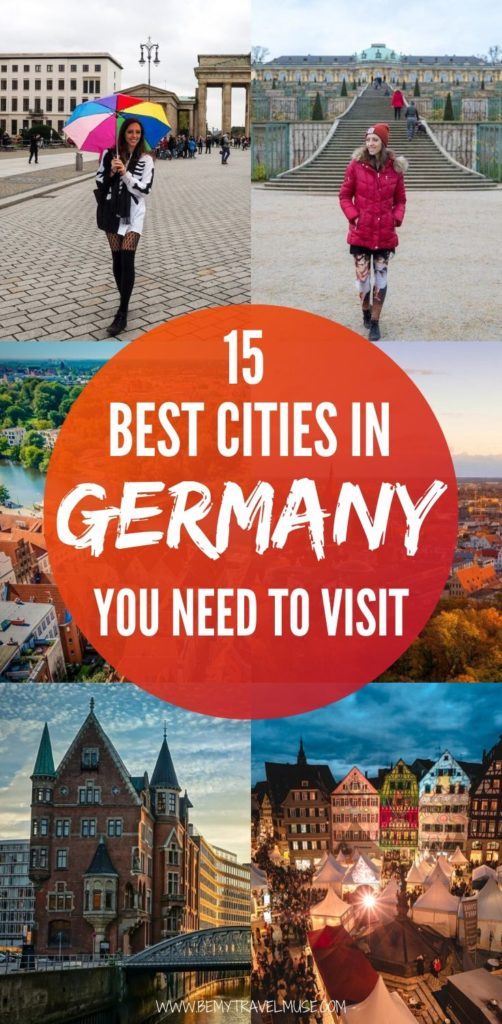 Though there are many other lovely German cities, like Heidelberg, Leipzig, Dresden, Freiburg, and countless others, the ones on this list each have something unique about them that I think you'll love.
I hope you come to enjoy Germany as much as I do!