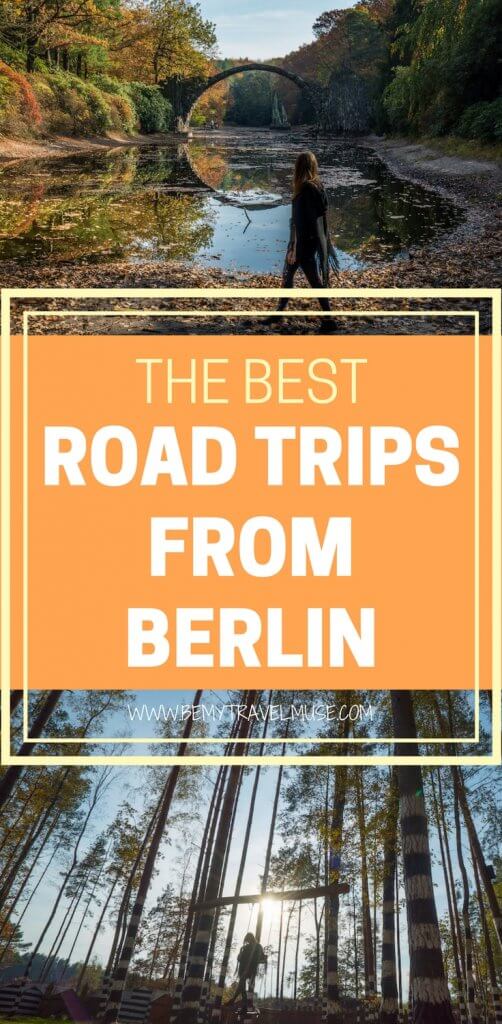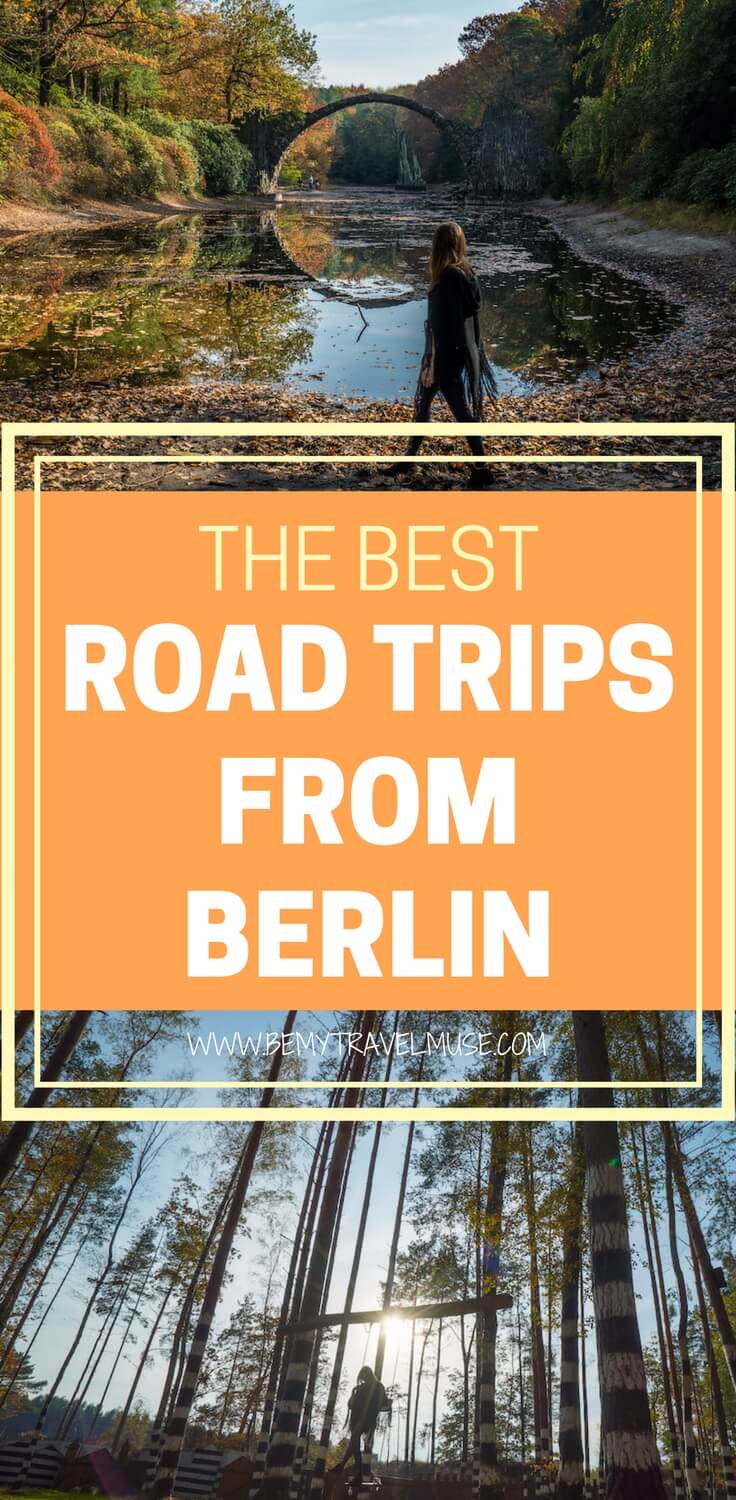 Lately I've been spending more time in Berlin and it's been so lovely, but since I can't sit still I have been ardently searching for little road trips as well.
You know, ones that don't take you away for too long but that give you a completely different experience and environment?
I find that most people when visiting Berlin forget that there are amazing things outside of the city, too, so I urge you to leave enough time to visit some of the surrounding places in Brandenburg and Saxony. It's totally worth it and far less crowded than the other parts of the country!
I'm sure you've already heard of Dresden and Leipzig, so I'll focus on some of the under-the-radar gems that you might not have known about.
I'm all about the curious, the quirky, and the beautiful.
Compare prices and rent your car here!
Let's hit the road:
Spreewald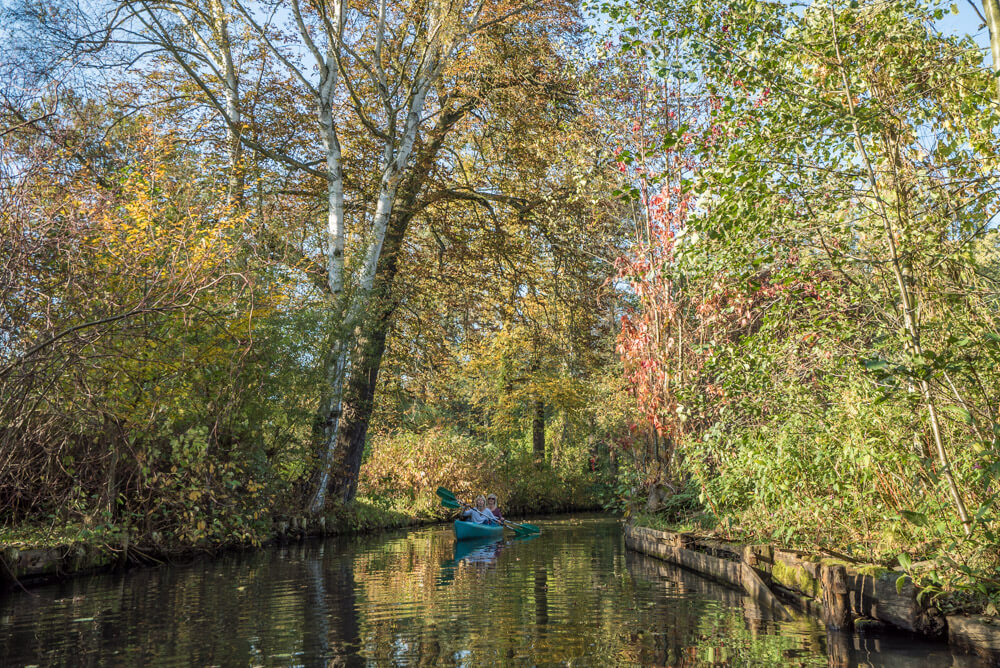 Even though Berlin is an incredibly green city, with half of the city devoted to parks, no park can compare with getting fully into nature.
The nice thing about Berlin's location in rural Brandenburg is that it doesn't take long to be in quiet, natural areas.
Spreewald is a popular weekend getaway for locals, but I find that by going during the week and especially during the shoulder or off seasons, and by heading away from the main tourist areas, I can kayak down the rivers in peace and silence. Bonus: The kayak rental only costs €10 for two hours.
It's only an hour away from Berlin and with a car, you can access the more remote areas. It's also easy to reach on public transport. Check out my guide here.
Rakotzbrücke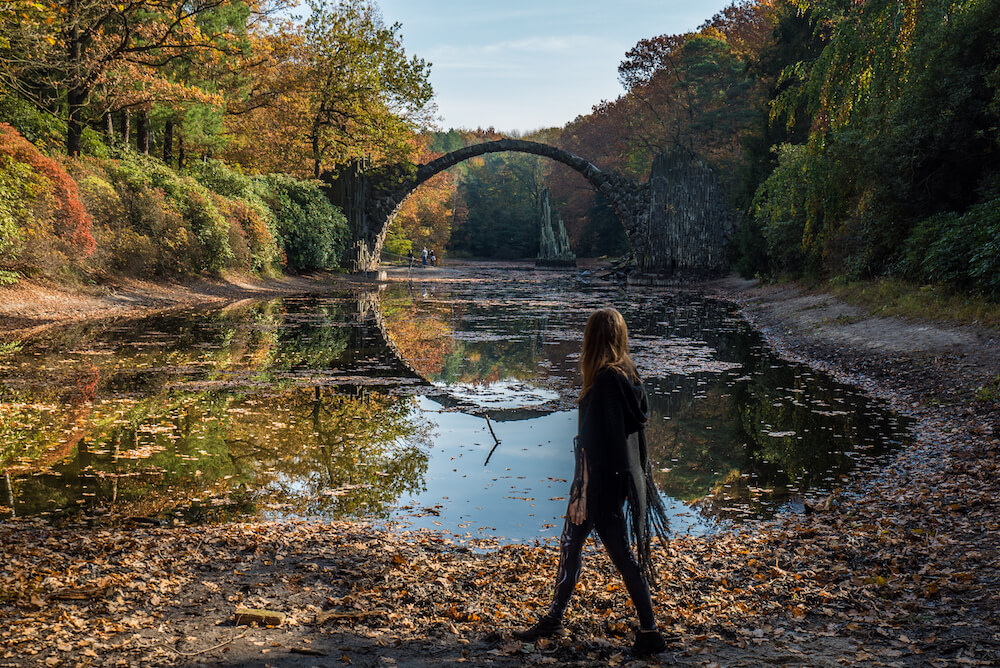 Maybe you've seen this dreamy bridge on Instagram and Pinterest. It's been making the rounds as of late.
Its name translates to Devil's Bridge thanks to its strangely round shape and sharp, jagged rocks. From almost any direction, it forms a perfect circle reflecting on the water below.
It's just a 2-hour drive away from Berlin and though it's in the middle of nowhere, it's a perfect stop on your way to or from Saxon Switzerland (more on that below).
I should warn you that you can't walk on the bridge anymore, but it is still quite striking to see in person and I highly recommend it for those who love all things artsy and quirky. Read my full guide here.
Kulturinsel Einsiedel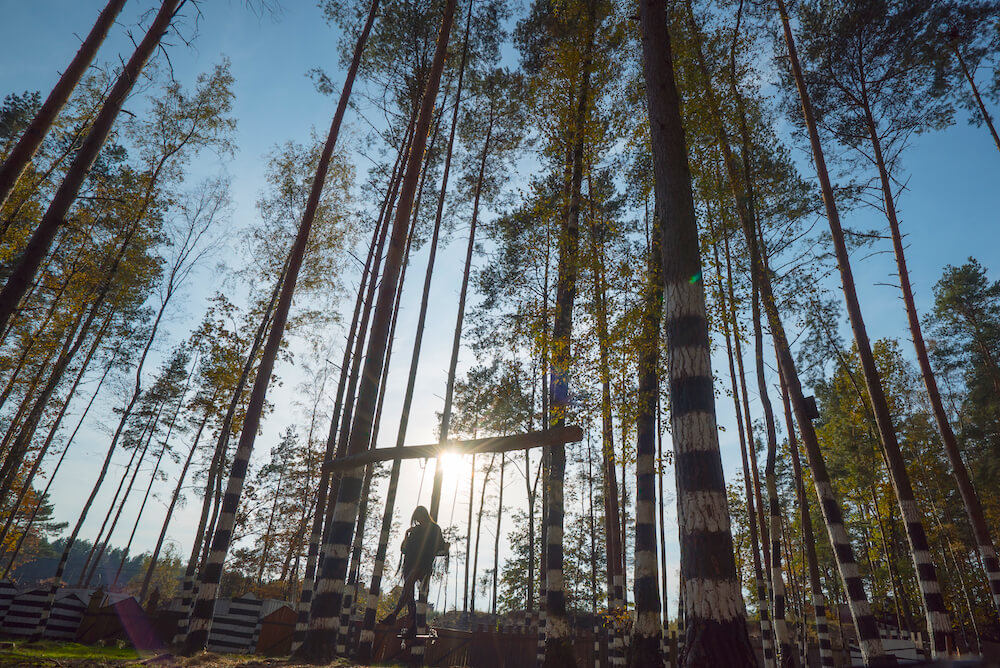 While we are on the topic of quirky, if you dig that kind of thing, you absolutely must stop by this curious amusement park.
I saw a photo of these painted trees on Instagram and wanted to stop by purely for that, unaware that it was actually a full-on cultural "fun" park.
When my friend and I first pulled up, we walked in and inquired about exploring. The girl behind the desk said that we could have 90 minutes for free and if we wanted to stay any longer, she would keep a €15 deposit (€9 during low season) from us. It sounded like some kind of test, can you possibly bear to leave this place after 90 minutes?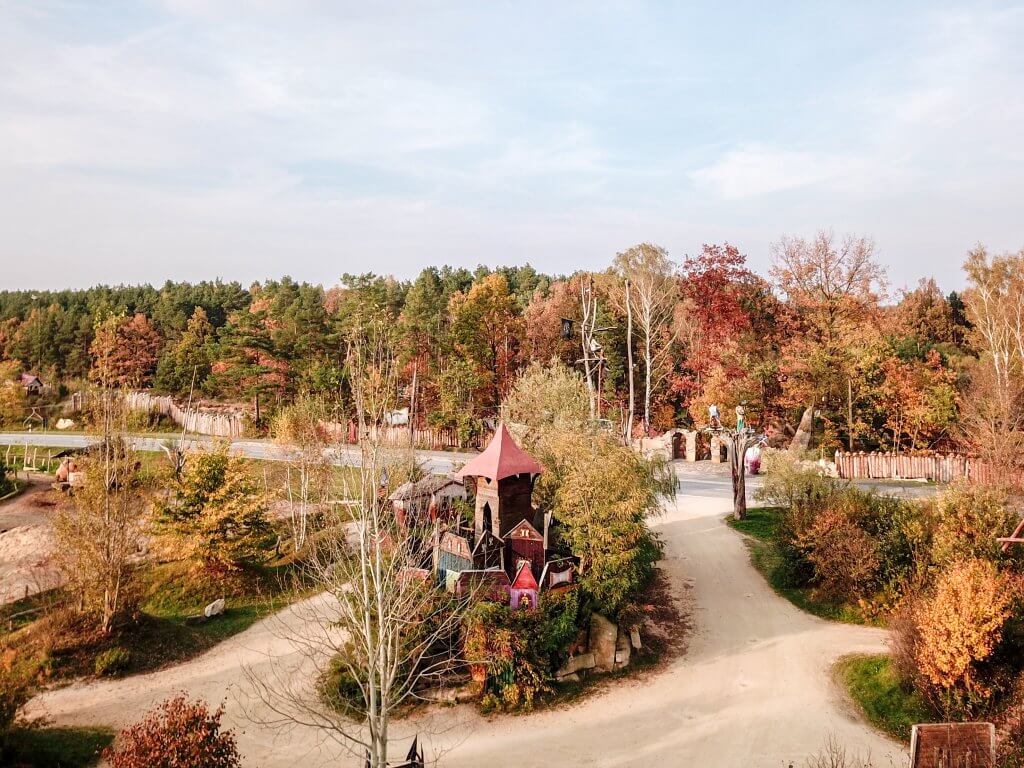 It turned out to our delight that we absolutely could not. I walked back in after 20 minutes and told her to keep the money.
Kulturinsel Einseidel is a labyrinth, with tree houses and mazes that take you underground into the dark and back out into the light, through tunnels and up chain links, down slides, on trampolines, and through secret passageways. It felt like I was in a 24/7 Halloween, though the real inspiration is drawn from the myths and stories from the people of Turisede. It's not just a fun park, but an homage to the people who used to live there and their culture.
This place is also a hotel of sorts. You can book one of the little cabins to stay in, and request that they do a boiling cauldron bath "spa" for you. I would love to go back and rent this whole place out with a bunch of friends and just see what kind of mischief we can get up to with glow sticks and walkie-talkies. You can find more on their website.
Saxon Switzerland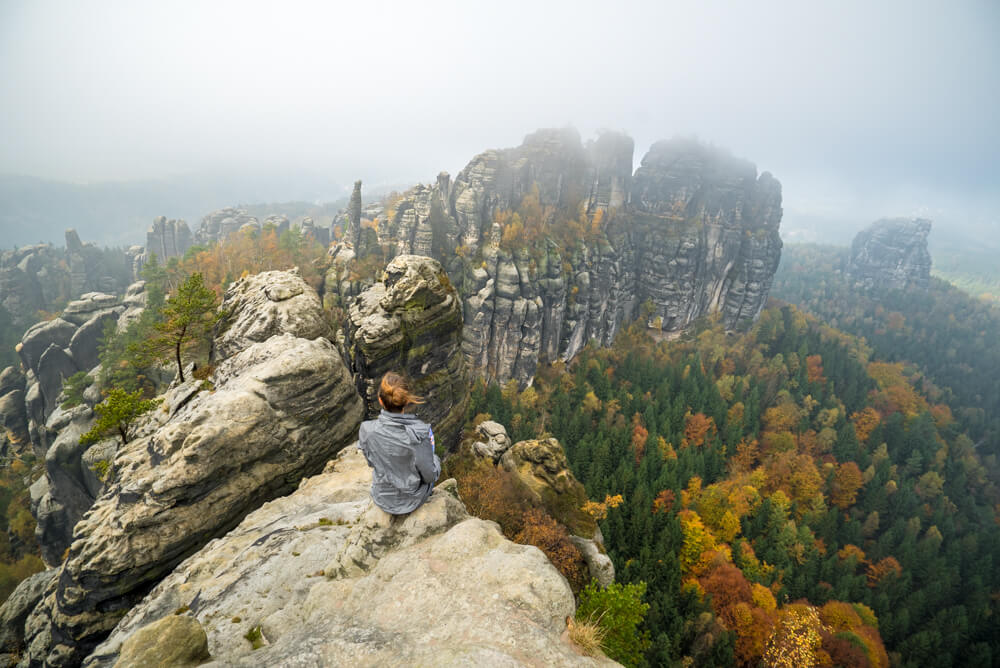 Further south, on the border with the Czech Republic, Saxon Switzerland is about three hours from Berlin and worth at least two days.
The sandstone rocks that rise dramatically upwards out of the trees are amazing for hiking, rock climbing, and free climbing.
Hikes range from the five-minute walk from the parking lot to the famous Bastei Bridge to upwards of a week for the Painter's Way. I have all the details here.
Moritzburg Castle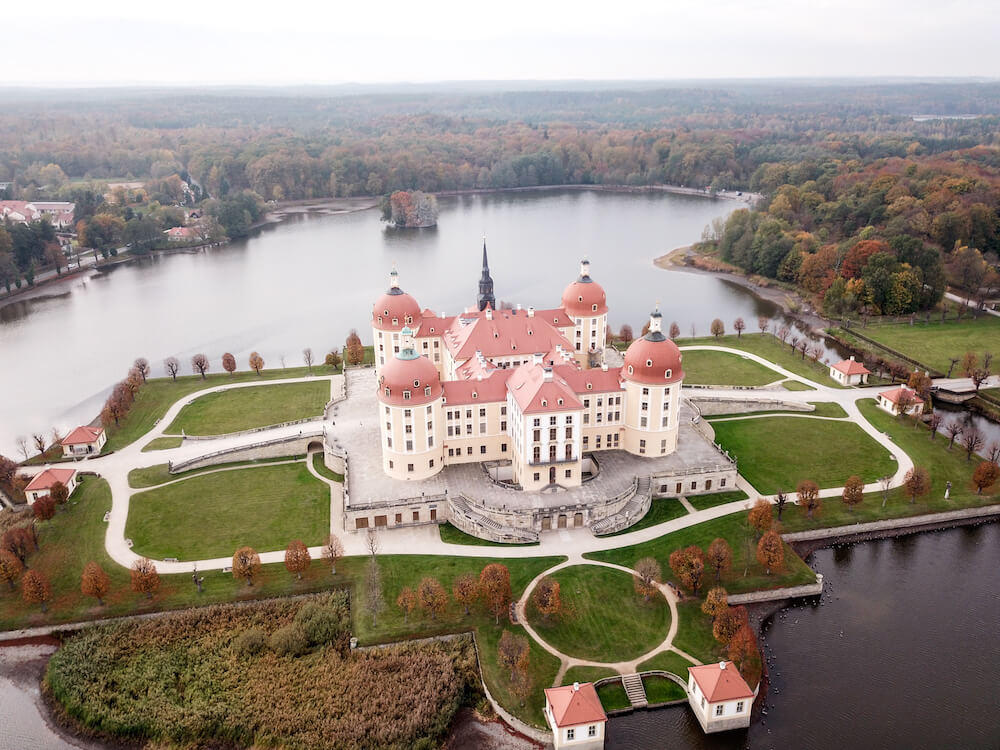 Full disclosure: I didn't go inside the castle, I just flew around it with the drone, but if you're heading back up north to Berlin from Saxon Switzerland anyways, via Dresden, you might as well see this castle surrounded by a moat.
It's a tiny little detour but I love castles and couldn't help myself. Could you?
Potsdam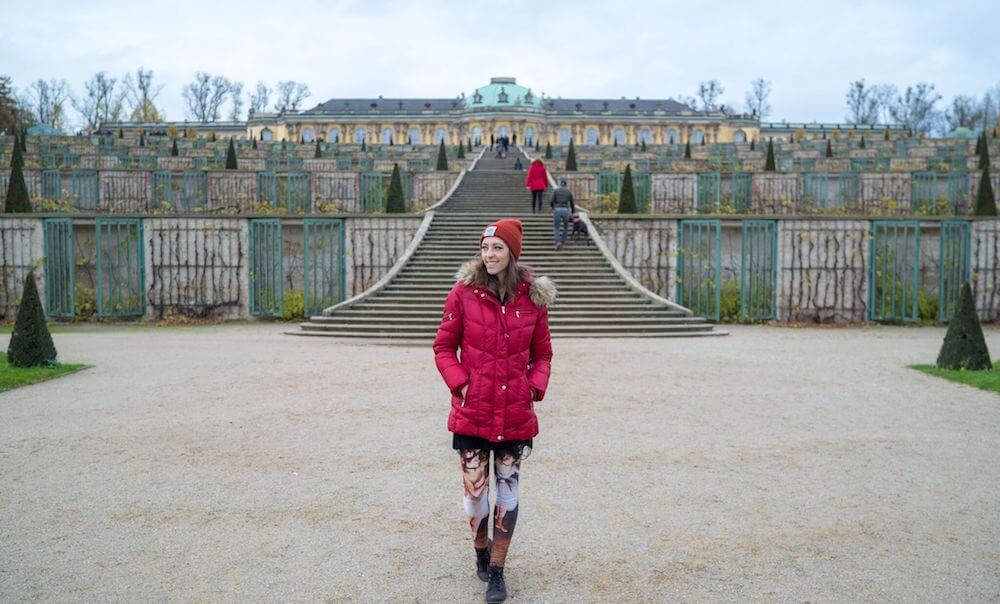 This university town about an hour outside of Berlin is famous for its castle and many lovely, tree-lined walkways. Since most of Germany's more famous castles are down south, it's nice to have such gorgeous gardens and buildings nearby.
I honestly found the inside of the schloss to be gaudy, but lots of gold and clashing marble colors was just the style for the times! It's worth going inside if you're a castle lover and want to see what it was like to live there back in the day. Otherwise, walking around the gardens and town are free to enjoy. It's an easy drive or train ride from Berlin on the S-Bahn.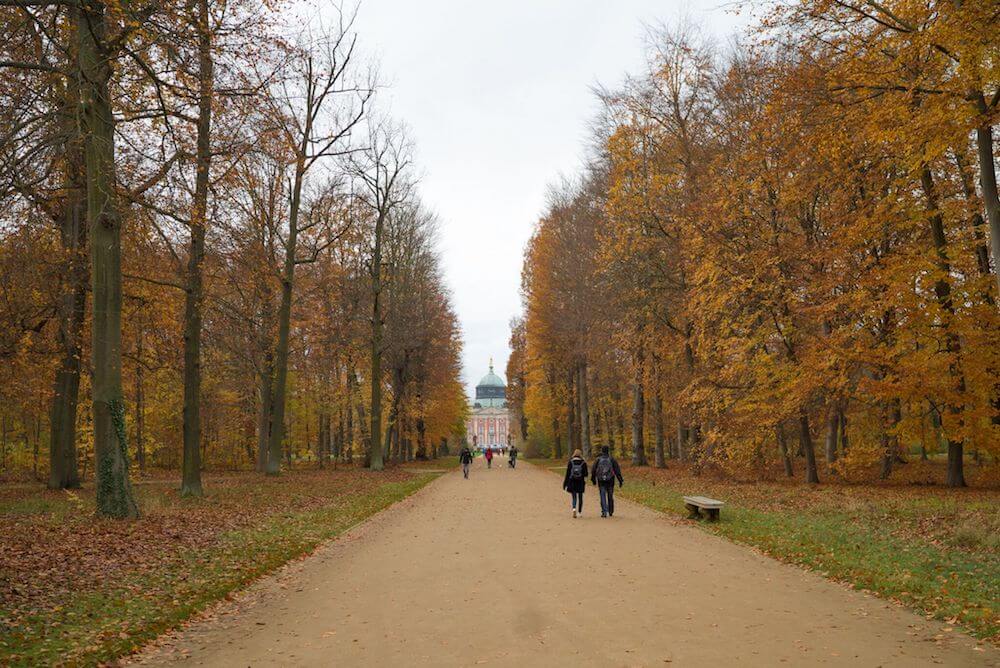 Do it yourself
To do this trip justice, I'd give it a minimum of four days, three nights.
Compare prices and rent your car here!
Here's the map:
These are just a few awesome stops, but there are many quaint towns along the way, like Gorlitz, where Wes Anderson's Grand Budapest Hotel was filmed.
Brandenburg and Saxony both have a long list of curious little places that are worth checking out – these are just a few that I've been to myself. I loved them all, and highly recommend each stop.
However as long as I'm a resident of Berlin my search is never-ending. If you have some favorites, let me know in the comments!