I bet you didn't know this about me, but I love the fringes of society. The girl who grew up in the suburbs, too shy to say a word to a stranger, and scared of her own reflection in the mirror, somehow grew up to be the type who sits down on the curb with local eccentrics on the Venice Beach boardwalk back home, only to end up at a fancy restaurant later with a good friend from my Washington, D.C. internship days. I'm a chameleon, it's true.
It's no surprise then, that when I arrived in Berlin, with its tattooed residents and broke artists, I immediately declared, "my people!"
Finding My Place
When I first arrived in Berlin I was fortunate enough to already have a beautiful flat organized in Charlottenburg. A friend was out of town for work and lent it to me for two months. While well-lit, nicely furnished, and in a squeaky-clean and bougie part of the city, it just wasn't me.
When I returned to Berlin after a California visit, then popping around Malta, Bologna, and South Tyrol in the fall, I knew exactly where I wanted to be: Kreuzberg.
It fascinates me with its alternative bar scene, mountains upon mountains of delicious food, shady parks full of shady people and awesome street art. In comparison to my first flat, it's a stark contrast. In fact, it doesn't even feel like it could be the same city.
These are my favorite things about this part of town:
TeePee Land
To understand Teepee Land we need a bit of a history lesson: Berlin has a long history of artist types and anarchists taking up residence in abandoned buildings. After the wall came down almost exactly 25 years ago, those who lived in the former Soviet east vacated in droves, leaving behind painful memories. This left many homes abandoned and ripe for the taking.
A common way to see if an apartment was truly abandoned was to set a match at the door, if it was still there several days later, the place was clearly up for grabs. Most of the apartments in the former east were very basic, with bathrooms shared amongst the whole floor of residents, for example.
Though there's a lot to say about these areas, TeePee Land is not one of them – it just illustrates a long-standing culture of those living an alternative lifestyle finding a place in Berlin. Located on the Spree (river) that runs through Berlin (and actually in the former west, not east), nestled between two major nightclubs and just next to an abandoned ice factory, TeePee Land is a collection of teepees and yurts with a clear message: Everyone is welcome. That attitude has been essential to their survival.
As for the reasons for the teepees, according to a local resident, "teepees might not look strong, but they are. It's really solid and warm during the winter. We also didn't want to make trash houses, you know. We wanted to make Teepeeland good looking!"
Of his motivation for living there, he compared his past jobs to a donkey that walks in circles to turn a water wheel, happily repeating the same process day in and day out: "I don't want to be like that donkey."
Teepee landers are freegans and buskers who get by on the kindness of strangers and by eating what they consider perfectly good food that others throw away in trash containers.  In essence, they're expert dumpster-divers. Additionally, and perhaps the most surprising to me, is that Teepee Land holds a Friday night standup comedy show that is free to attend though donations are appreciated.
TeePee land was the closest thing I've ever seen to a year-round Burning Man camp, operating without money and dependent on a community of people who welcome all. The city council has promised them two more years on what is prime real estate. After that, I wonder what will become of them.
Punk Rock Village
I have pet-named this place the punk rock village (though the name is actually KØPI), and the message was different from TeePee land by a mile – stay out, no photos, and no judgement. This is our home and we don't want you here. Unless you attend one of the parties or live music jams. That's cool, but still no photos.
It's another squatter settlement which is very close to my place, straddling the line of Kreuzberg, but actually located in Mitte which is in the former east. It's populated by pierced and tattooed punk rockers. The size is much larger than Teepee land and this time, they occupy an actual building.
I walked in there with a local tour guide and 13-year resident of the city, who said to me before entering, "you might want to put your camera away for this one."
I did, and I tried to resist taking photos, I really did, but it was just too cool. The mountains upon mountains of bikes, crazy art hanging from the walls, wine glasses that had been sitting on the outdoor bar likely for months, piles of things like left-over barbecue grills lining the walls to keep outsiders out, and strange metal door guards were just too peculiar to resist.
If you want to see it, it's on Köpenicker Straße 137. But put the camera away. I got yelled at.
Neu West
Neu West is an arts zone on Köpenicker Straße 55. It's only a few months old, but already full of super cool street art and a few slabs of the old wall.  I was taking a picture of a Berlin Kidz street art piece on the side of one of the buildings when I heard someone shouting from a window. Afraid I had stepped on toes again by taking photos, I put the camera down only to see a man next to the painting hanging out of the window, posing for photos. I immediately liked the place.
The building has a restaurant, several exhibition spaces, studios for rent, and even holds ashtanga yoga classes from time to time.  Over 40 artists have already displayed their works there.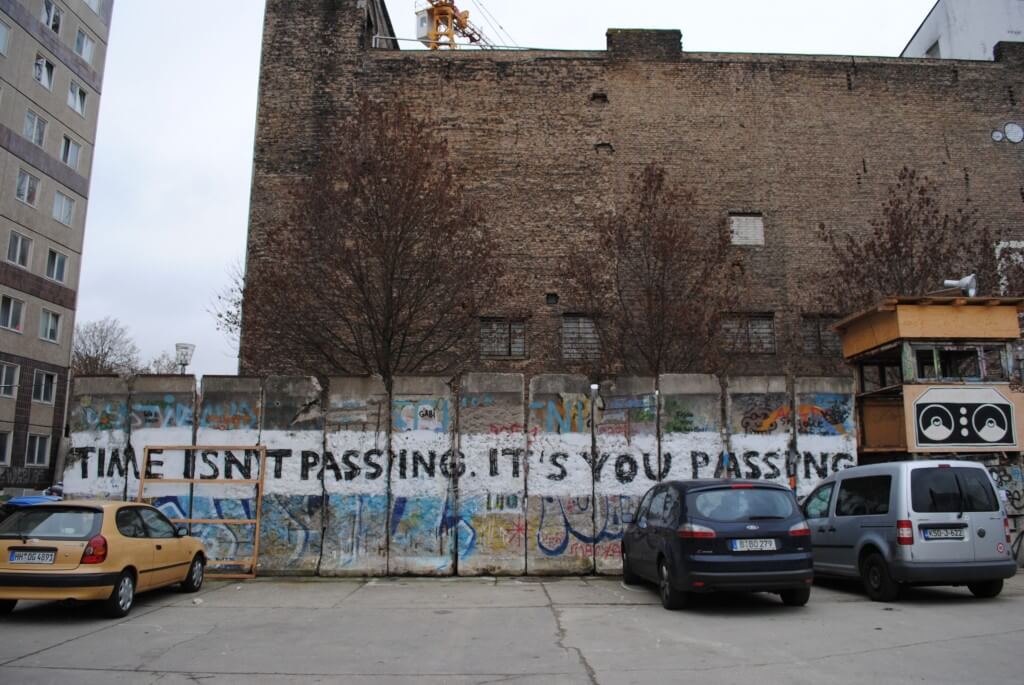 It's places like these that make Berlin what it is and to me – quirky and completely different from anywhere else I've been. This is why I dig my neighborhood so much and, I suppose, the same reasons why others find it dirty and repulsive. My reasons for loving it are perfectly summed up by Jack Kerouac, who I'll close by paraphrasing a quote from:
"The only people for me are the mad ones, the ones who are mad to live, mad to talk, mad to be saved, desirous of everything at the same time, the ones who never yawn or say a commonplace thing, but burn, burn, burn like fabulous yellow roman candles exploding like spiders across the stars."
Where in the world are your favorite alternative spaces? I love things like this, and I need to see more!