The following post is by Rachel Chiu:
A pigeon shat on my head while I was in Salta. I was just walking down the street, minding my own business, when suddenly – splat! It was my first solo trip and of all the things that could have gone wrong this weekend, cancelled flights/missed buses/hostel robberies etc., this was really the only causality. Maybe solo traveling wasn't so bad after all.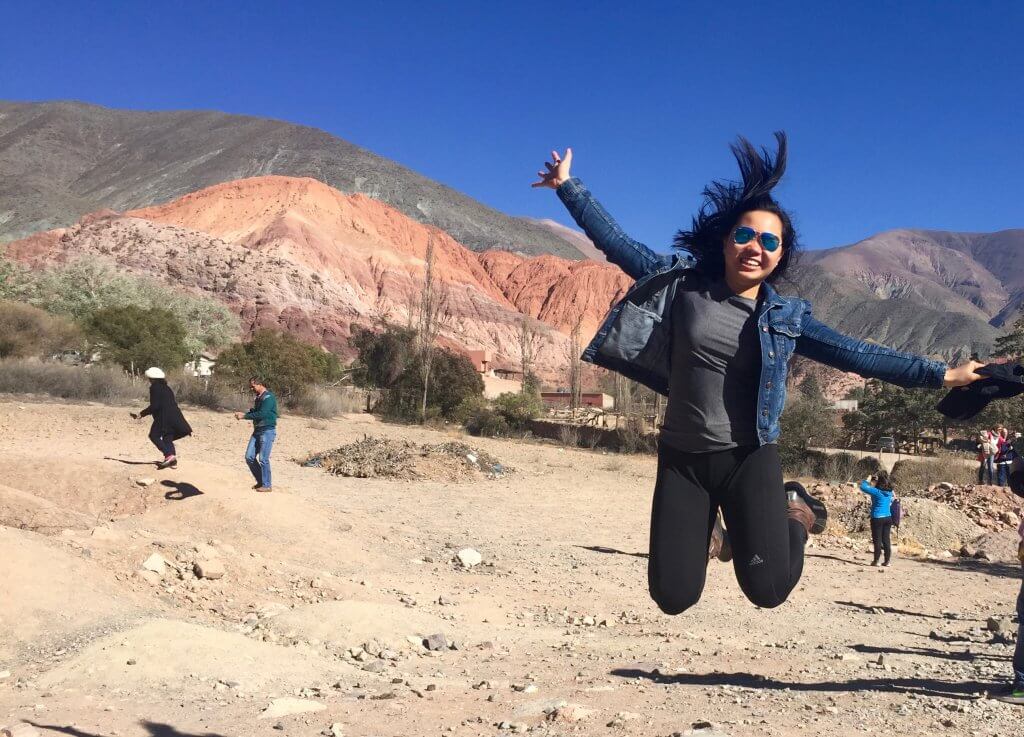 I'm Rachel, a current junior at Harvard College, originally from Hong Kong. I grew up in Asia and have always loved to travel. Now that I'm in college, I've started to dabble in solo travel as well and I'm loving it so far. This summer, I worked at a women's rights organization in Buenos Aires. It was an incredible experience and it also allowed me to travel all over Argentina. That's how I ended up doing my first solo trip to Salta and Jujuy in the north of the country. It truly was an amazing trip but it certainly wasn't without incident…
I couldn't help but laugh after the pigeon incident. I cackled like a crazy person and hunched down on the sidewalk until my sides hurt. I was nearing the end of my first solo trip and I wasn't going to let a little airborne feces get in the way of my female empowerment. Once I finally stopped laughing, I walked over to the nearby fountain in the square, cleaned myself up, and continued to explore the city.
As I walked around Salta la Linda (Salta the Lovely, as the locals call it), I reflected on the past four days of my life. I came to Salta with the following goals: explore the amazing landscape of Northern Argentina, see llamas, eat empanadas salteñas, and do it all solo – just me, myself, and I. Well, I came, I saw, and I ate. I have always been inspired by solo female travelers. And though my trip was short, I think I can now say that I have joined their ranks. Here's a little bit more about being solo in Salta!
Getting around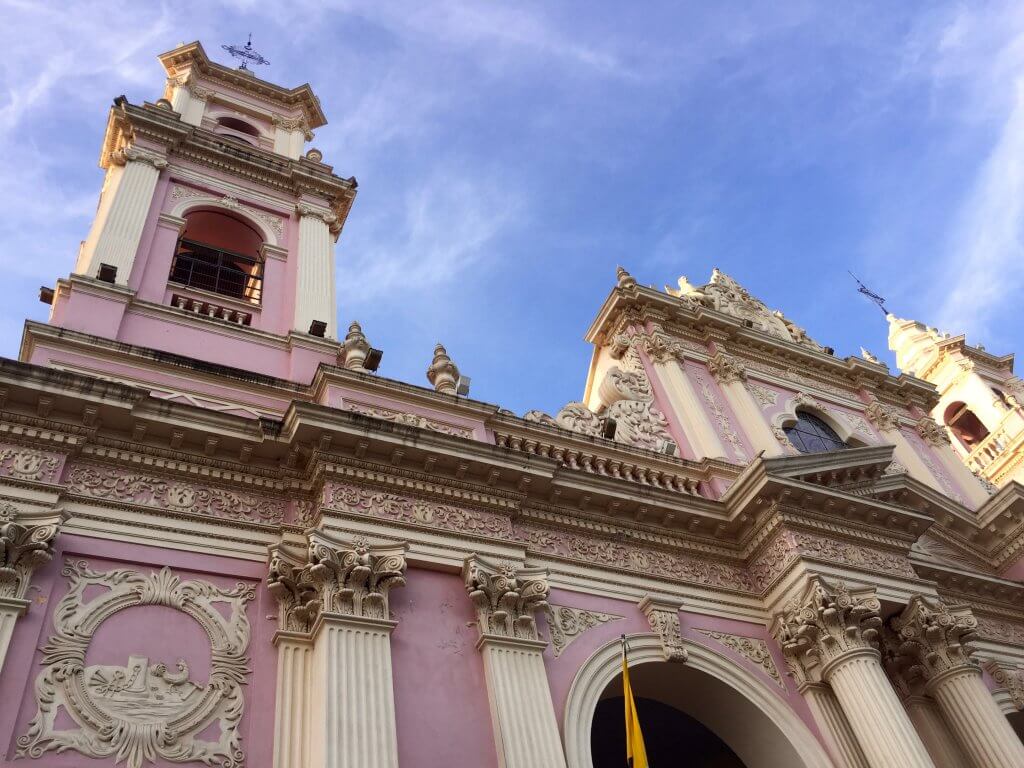 The city of Salta is the capital of Salta province in northwest Argentina. It is located in the Lerma Valley right at the foothills of the Andes. It is a small but beautiful city full of a unique mix of colonial architecture and Incan influence. Many people use Salta as the jumping off point to explore the stunning landscape of the neighboring province of Jujuy (pronounced "hoo-hoo-ee"). Jujuy is right on the border of Chile and Bolivia and is the llama and cactus capital of Argentina. The beautiful canyons, giant salt flats, and rainbow mountains are absolute must-sees.
I'm currently living in Buenos Aires working a summer internship at an Argentine women's rights organization. For my penultimate weekend, I decided to fly up to Salta to explore all that the city and Jujuy has to offer. There are daily flights from Buenos Aires to Salta on various airlines. I recommend using despegar.com to find cheap flights. Taking a 17 hour or so bus from Buenos is also an option. Given my limited amount of time, I did a lot of research beforehand and decided that I wanted to see the following things: the Jujuy town of Purmamarca, at the foothills of the Hill of Seven Colors, the Pucará de Tilcara (ancient fortress of Tilcara), the Quebradra de Humahuaca (Humahuaca Canyon), and the Salinas Grandes (the giant salt flats).
I'm a total city girl so I don't know how to drive, let alone drive stick which is virtually the only sort of rental car available up north. Because of this, I ended up booking bus tours online before getting here. Of course, there are pros and cons to being on a bus tour. If you speak Spanish, the guides are a great way to learn more about the region and you don't have to worry about navigation whatsoever. On the other hand, they can sometimes feel a bit rushed and you can't stop whenever you want. That being said, I was really happy with both of the tours that I went on via Viator. However, you definitely don't have to book beforehand as most hostels offer excursions and as there are hundreds of tour agencies around the Plaza de 9 de Julio (the main square) once you get to Salta. As of writing, prices range from 700-1400 pesos ($40-80 USD) for day-trips so you can definitely find something within your price range.
Purmamarca, one of the little towns amongst the mountains of Jujuy is two to three hours north of Salta. From there, you can also visit the Salinas Grandes. If you keep heading north from there, you'll hit the towns of Tilcara and Humahuaca. If I were to do this trip again, I would have chosen to stay in Purmamarca or Tilcara for one night instead of returning back to Salta. If I had more time, I also would have tried to hit up the towns of Cachi and Cafayate which are to the south of Salta. Definitely check these out as options if you're planning on heading up there!
My experience
But enough of the logistics. Here's a bit more about my experience. My weekend trip was a whirlwind of folclórico (traditional folk music), stunning views, hostel quirks, and kind strangers. It was also one of many intense mental highs and lows.
I have stayed in many hostels before but none quite as cheap as the Sol Huasi which cost me about 160 pesos ($9USD) a night. I remember lying awake in my little bunk bed on my first night feeling super on edge, what with the smelly bathroom right next door and the freezing temperatures. I was part thrilled that I was out here all by myself, but also part terrified that I was out here all by myself. Being surrounded by snoring men also did not help the nerves. Neither did the fact that one of them thought it was totally ok to 1) sleep through an alarm no less than five times at 4:00 frickin' AM and 2) proceed to turn on the lights at 4:30 AM when he finally decided to wake the fuck up (come on man, that's just rude). And so, I went into my first full-day of my trip rather sleep-deprived and still a little nervous.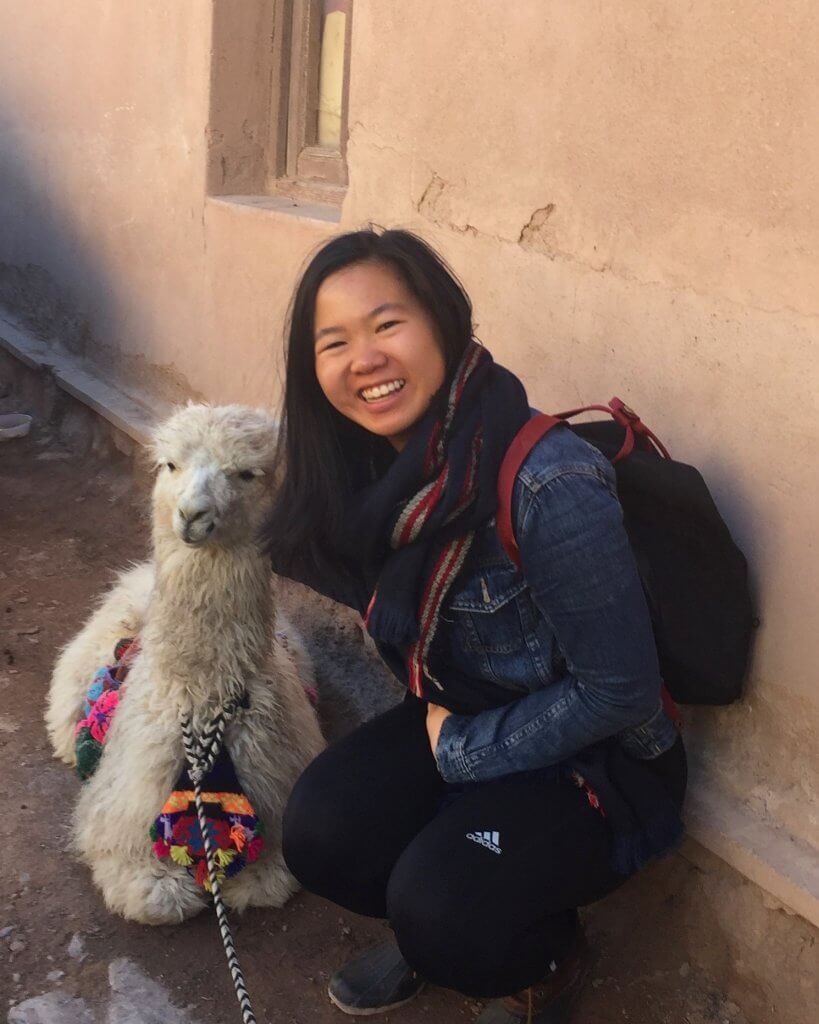 Fortunately, the nerves faded as I boarded my bus for a tour of the Salinas Grandes. We left Salta at 7:00am and were treated to a beautiful sunrise across the Andes. The views only got more stunning as we drove further into Jujuy. The landscape here is known for incredible cerros (hills) of rich colors produced by years of sedimentation. The dry land is perfect for cactuses of every size which pop up everywhere. We first drove through the Quebrada del Toro (Bull Gorge) and along the same route as the famous Tren a las Nubes (Train to the Clouds – another option in Jujuy although I've heard it's a tourist trap).
I happened to be on a bus full of mostly old couples. They were all very surprised at the presence of me, a random Chinese girl (I was literally the only Asian I saw my entire trip), and even more surprised that I could speak Spanish. I in turn, was very surprised by how kind they all were to me. As we drove amongst the jagged hills, we kept gaining altitude which was hard on some of the older folk in our group. One of the abuelas offered me hojas de coca, a type of leaf that locals leave in their mouths to deal with altitude sickness – something I was unaware of before leading to a funny "lost in translation" moment.
"¿Qué es esto? (What is this?)" I asked the lady.
I misheard her response and thought she said "Es cocaina para su cabeza" – it's cocaine for your head. Perdon? Did an old lady just offer me hard drugs on a bus in the middle of the Argentine desert? Seeing my confused look, she then showed me the leaves and explained that they were coca leaves that alleviated headaches. Haha! Luckily, I didn't need them, even as we climbed to 3000-4000 meters (9,800-13,000 feet) above sea level.
After navigating some rickety roads, we finally arrived at the Salinas Grandes. They took my breath away. They were a giant expanse of white as far as the eyes can see – almost like a field of snow but hard and with textured ridges that crisscrossed the ground in a geometric grid. They pure white contrasted against the beautiful blue sky looked infinite. It was here that I perfected the art of shamelessly asking strangers to take photos of me. Pro-tip, always ask young people who are taking tons of photos with many different poses. Other millennials will know how to capture your perfect shot!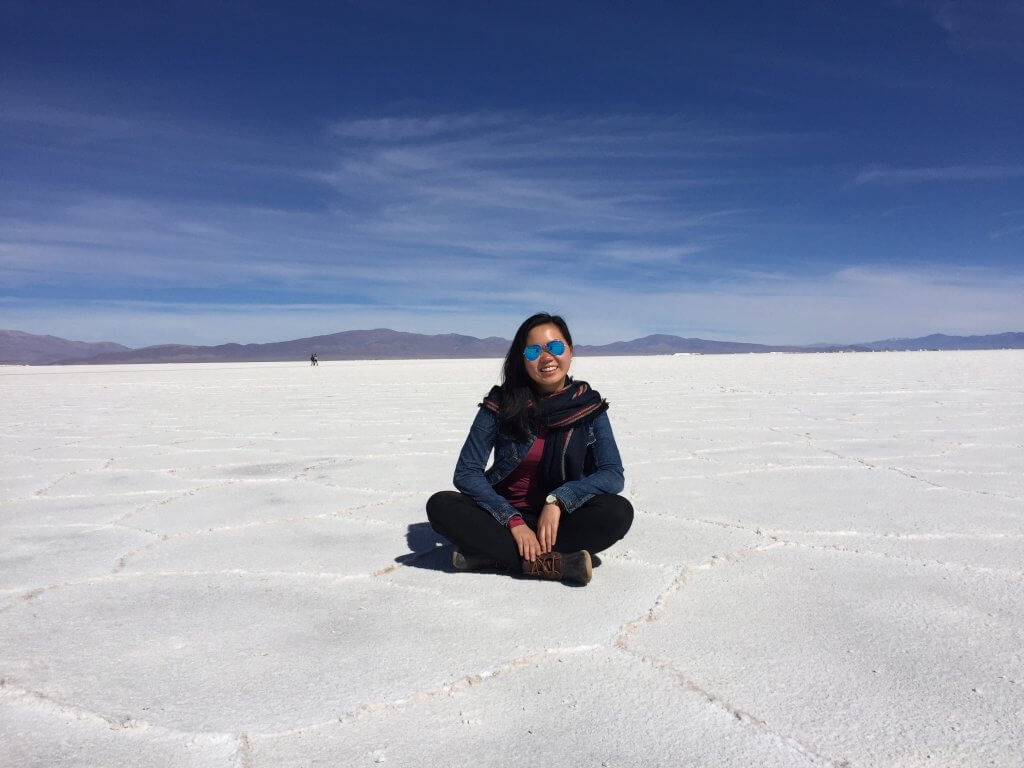 On the way home, our driver blasted traditional Argentine music and the bus turned into an impromptu geriatric choir as everyone sang along. Now this is a road trip! I returned to Salta at around 8:00 and made some friends at the hostel. We went out for dinner where I had the world's best sangria which also helped my sleep through the night despite the arrival of more snoring men at the hostel.
The next day, I headed out at 7:00am again to tour the pueblos hidden amongst the canyons of Jujuy. At Purmamarca, I marveled at the Cerro de Siete Colores (Hill of Seven Colors), a rainbow hill next to an equally rainbow town filled with artisanal crafts and local vendors. In Tilcara, I climbed a pre-Incan fortress that might as well have been a shrine to the mighty cactus. And in Humahuaca, I feasted on locro, a classic Northern Argentine stew of corn and beans, and also shopped at the local market.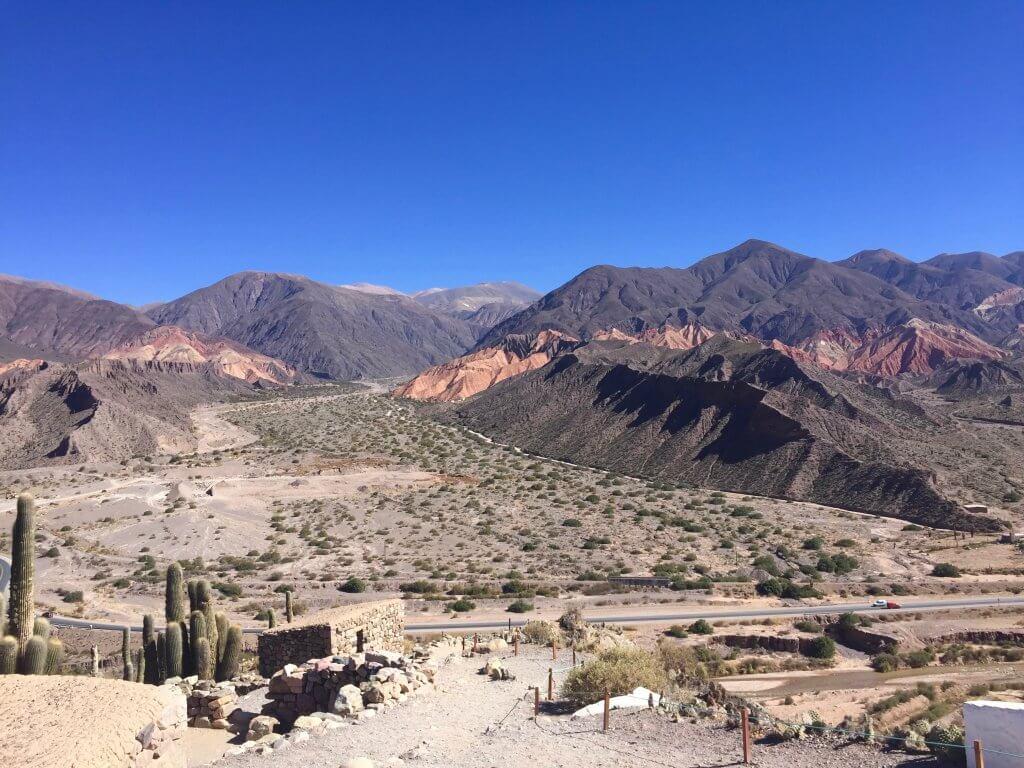 Again, I was so surprised by the kindness of strangers. One of the women on my bus was traveling with her seven-year-old son. I think her mom instincts kicked in when she saw that I was by myself because she insisted that I use her sun screen to protect my skin. Mothers, even when they're not your own, really do know best! The brilliant sun shone relentless on all the beautiful canyons that we drove through really highlighting the rusty red hues. In Humahuaca, I ran into some of the people from my tour from the day before. They all greeted me with besos (kisses) and hugs as though I was a long-lost grandchild. It reminded me that sure, I was alone, but I was certainly not lonely. In fact, I also made a bunch of four-legged friends (insert llama photos). I was thoroughly exhausted but also content by the time I got back to the hostel.
I spent my last day wandering around Salta by myself. I climbed up the hill of San Bernado and tried to convince myself that I was out of breath because of the altitude and not because of the amount of empanadas I had consumed. I also walked around the city's many squares and plazas just taking it all in. Of course, that's when the treacherous pigeon decided to take a dump on me.
When I finally got back home to Buenos Aires and told my host-mom about my experience, pigeon poop and all, she laughed.
"¡La gente dice que eso es buena suerte! (People say that that's good luck!)" she told me. And while I'm not looking to get shit on again any time soon, I can't disagree with the fact that yeah, I am one lucky girl. Lucky to have experienced the beauty of Northern Argentina, and lucky to be a young solo female traveller.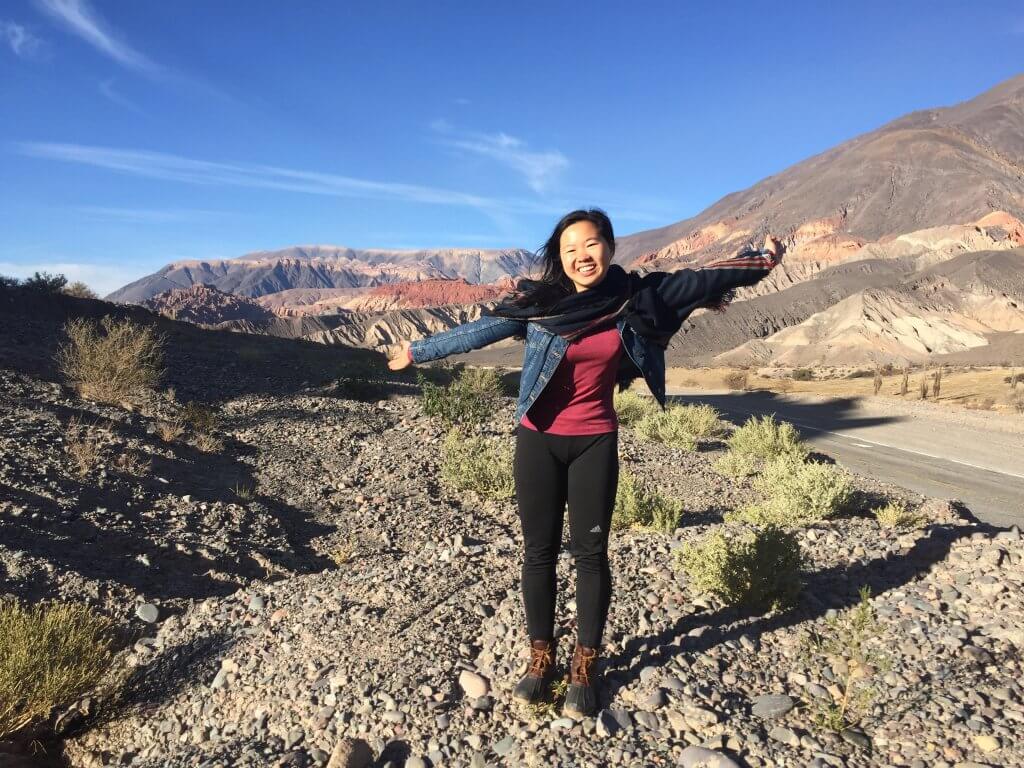 About The Author: Rachel is a current Junior at Harvard University studying Women and Gender Studies and Romance Languages. She is a proud Hong Konger who now splits her time between Hong Kong and Cambridge, MA.