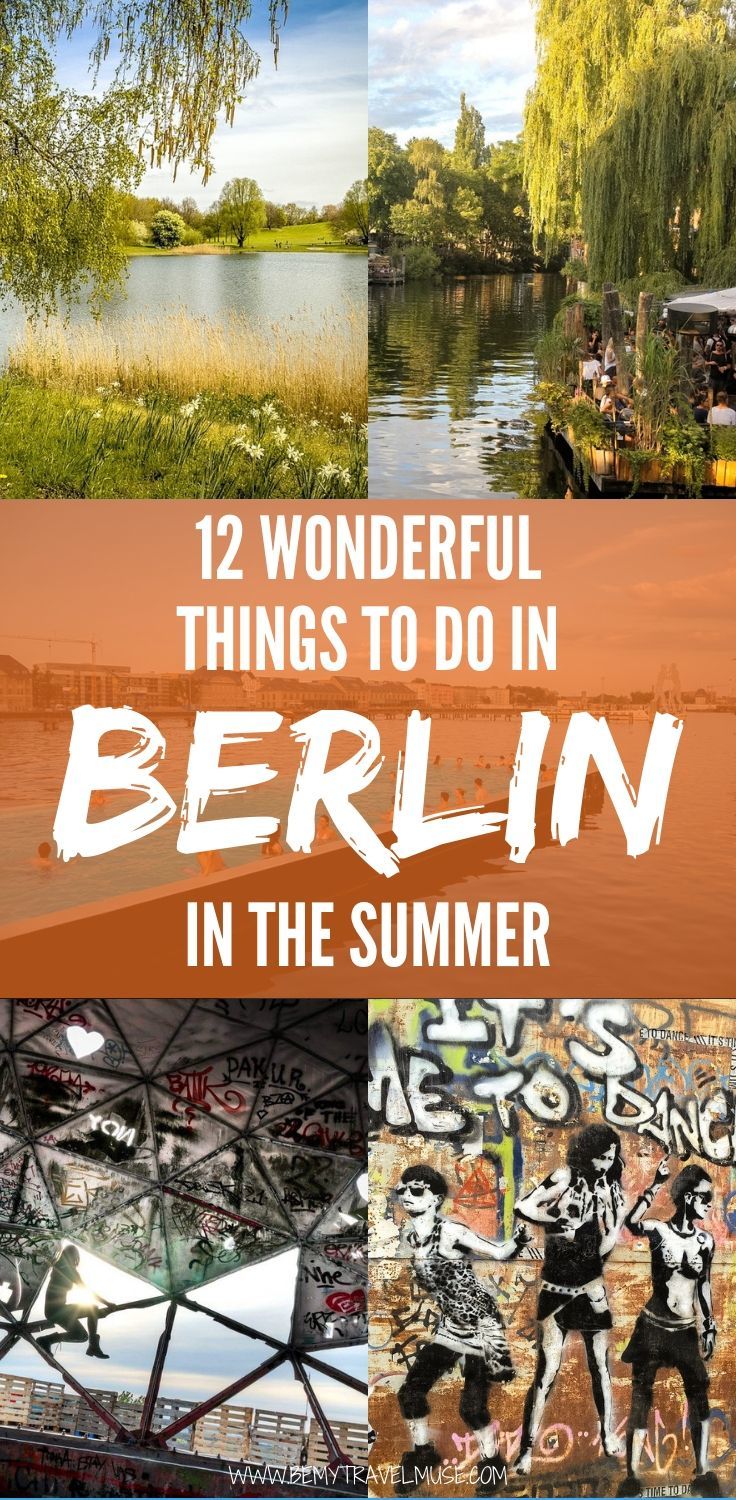 Berlin undergoes one of the biggest transformations of any city I know as the seasons change. In the winter it feels like Gotham City to me, always dark and a little bit gloomy, but in the summertime it blooms like a flower. The parks are full of people sunning themselves and picnicking, the energy starts buzzing like a swarm of happy bumblebees, and there's nowhere better to be than outside.
I based myself in Berlin for nearly 5 years, always sure to give myself a good chunk of summer in the city. The following are some better-known options along with some very local suggestions for the best things to do in the summer in Berlin:
1. Sunset on the Canal (Admiralbrücke)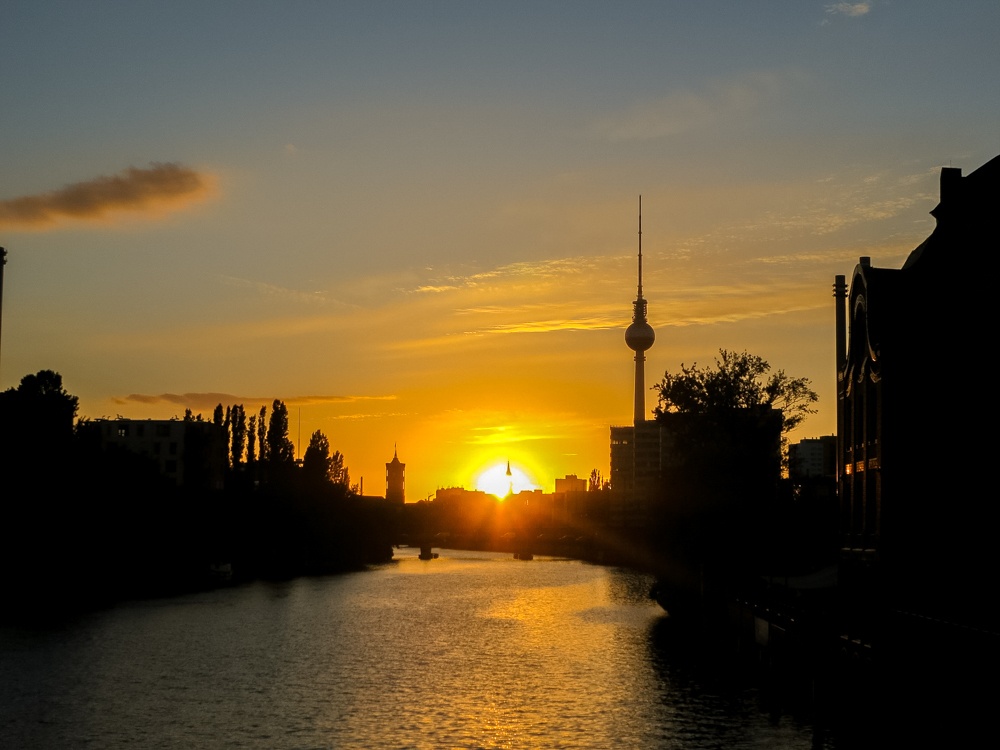 I used to live directly on one of the canals in Berlin precisely because my favorite summertime activity was sitting on the edge, my legs dangling over while the swans swam by, eating cherries and listening as my friends strummed guitar.
There are several canals running through the city, but the biggest grassy area is near Admiralbrücke in Kreuzberg. You'll find a mix of locals and tourists there speaking all kinds of languages while they drink beverages from the nearby Späti (corner store). It's a free activity that I love.
(FYI, the photo above is from Bethaniendamm, a different bridge in the city that isn't a great hangout spot, but I must've been in the moment so much each time at Admiralbrücke, because I don't have any photos from there!)
2. Tempelhof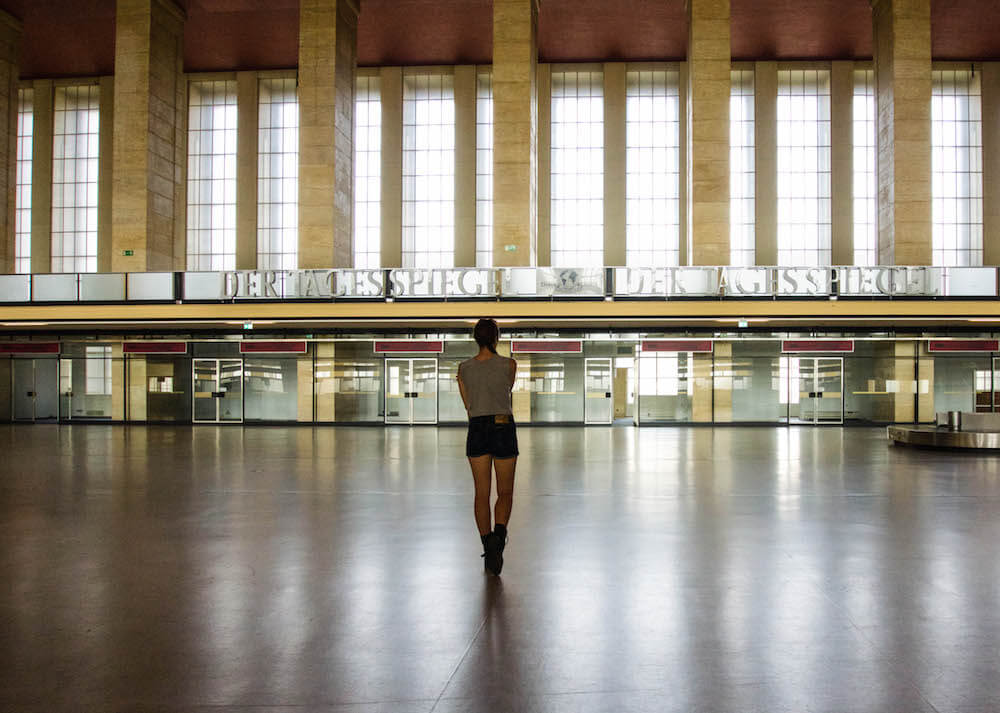 One of the things that makes Berlin so Berlin is the fierce protection of public space. Tempelhof is a former airport that stopped running flights in 2008, and though a series of apartment buildings were slated to go in, the locals pushed back so hard that they won and now it's one of the largest public parks in Europe.
It's open year-round, but summertime is when you'll see people using the public space as a garden, for windsurfing along the tarmac, and barbecuing. You can also take tours through the old airport and find that it's largely unchanged. It's kind of creepy and interesting at the same time. You can read more here.
3. Klunkerkranich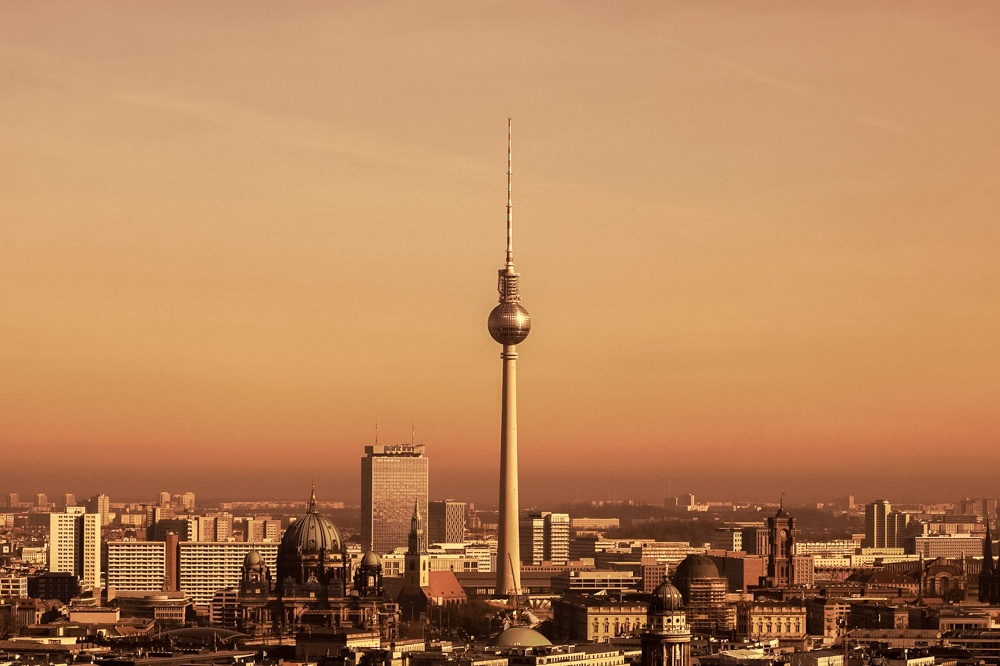 More of a local suggestion, this used to be my favorite hangout spot in the summer – but you've got to know where to go to find it. It's located on the top of the Neukölln Arcaden, and you'll need to take the elevator to the 5th floor and out to your left up the parking lot ramp to get to it. If you start seeing funky decorations you're on the right track.
There's almost always live music, tons of art that is ever-changing, a funky garden, and even a sandbox. It's the perfect daytime hangout when the weather is nice, and don't forget to stay for sunset for an amazing view over the city. Entrance is €3-6 (depends on the act that night, and the garden area is free) and the drinks are reasonable.
4. Badeschiff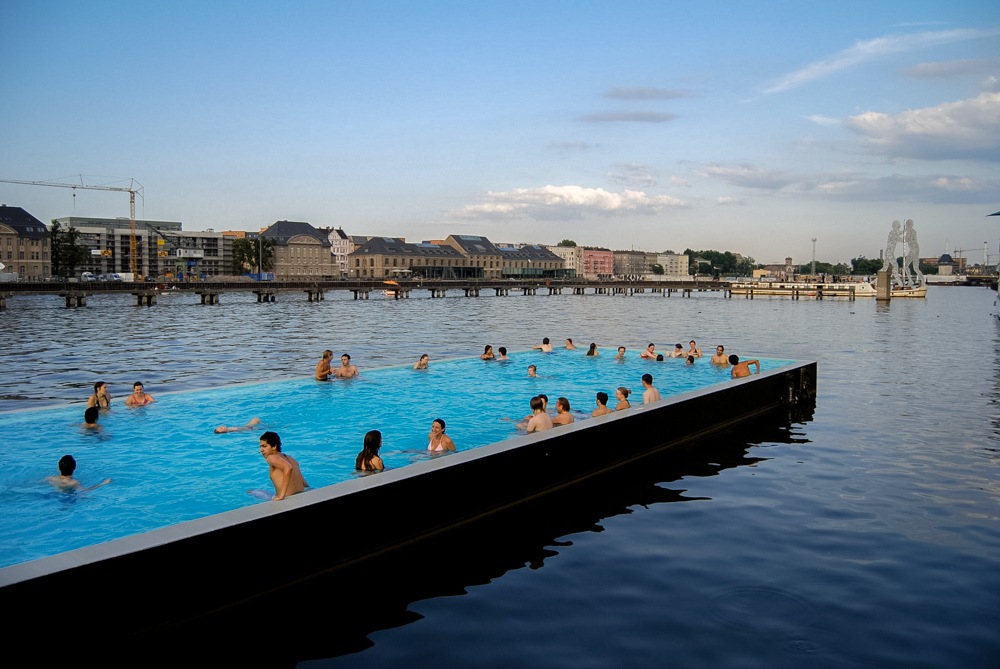 Badeschiff is a floating swimming pool on the river Spree that is touristy but also can be fun.
Berlin can get boiling hot at times, and there's a dearth of AC units and places to cool off, so sometimes the only thing you can do is go for a swim. If you're not keen to leave the city for a nearby lake, then Badeschiff is a nice option. Entrance is 5.50€ and it's located right on the Spree.
5. Street Art Walking Tours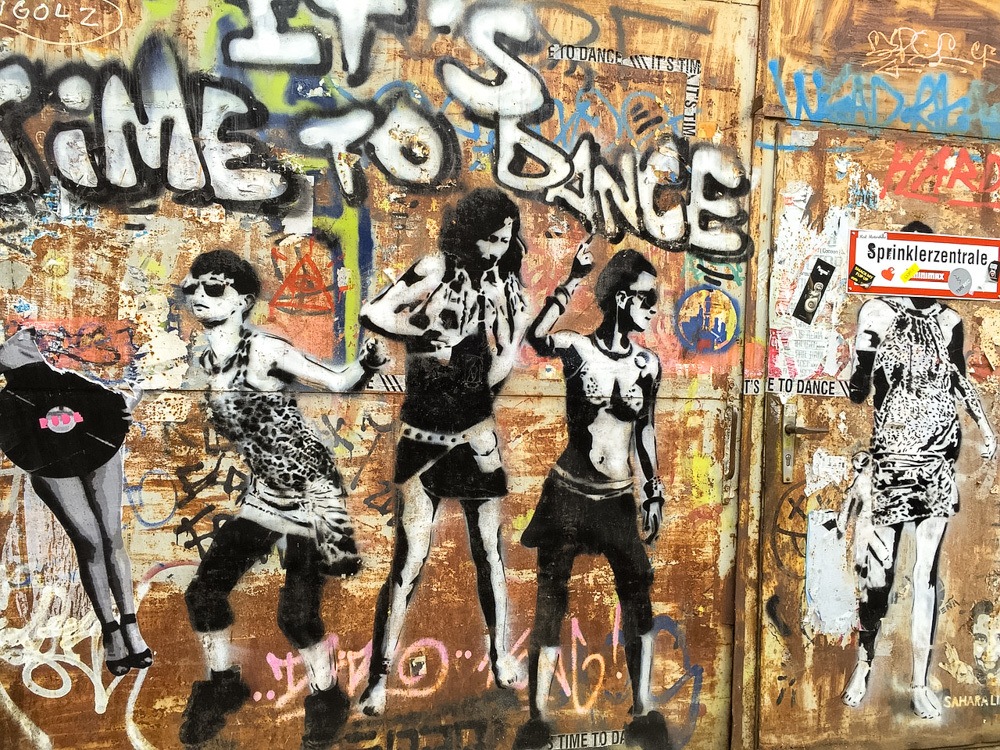 Berlin is the best city in the world for a street art walking tour because there is such a rich counterculture history that is so beautifully illustrated by the art. It's a great way to get a lay of the land while also learning about the unique story of the city. To me, nothing can give you a better sense of what Berlin is all about.
You have a wide range of options for the walking tours. Some are free and others cost money, but it all evens out because the free ones expect a donation and €15 is appropriate, which is about the same price as a paid one. This is the one that I did and I thought it was so great, I suggest it to everyone who visits.
6. Teufelsberg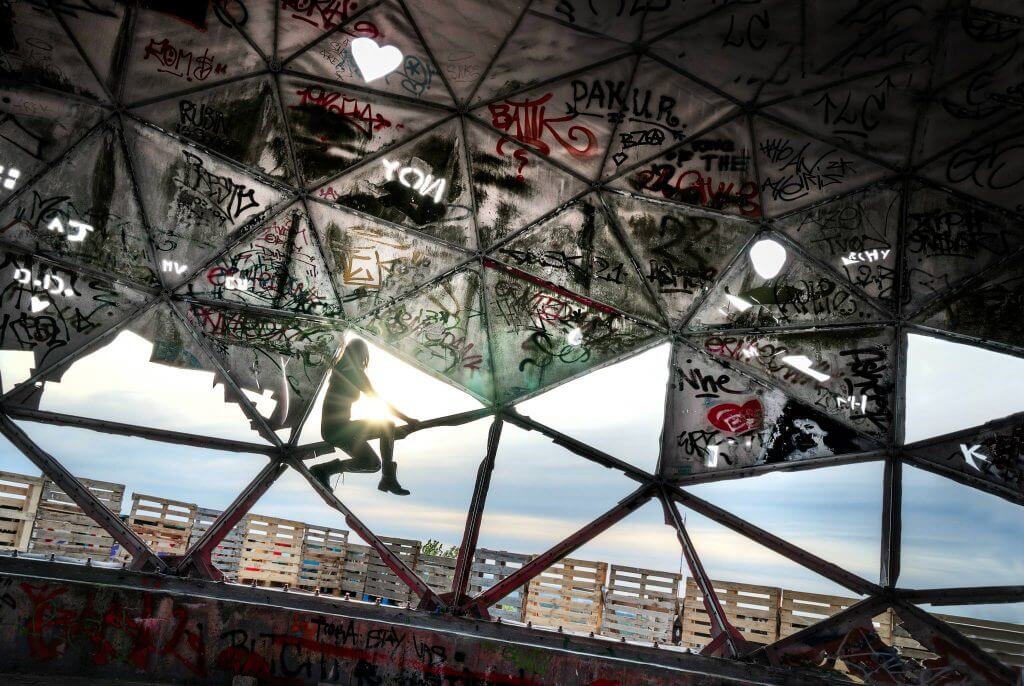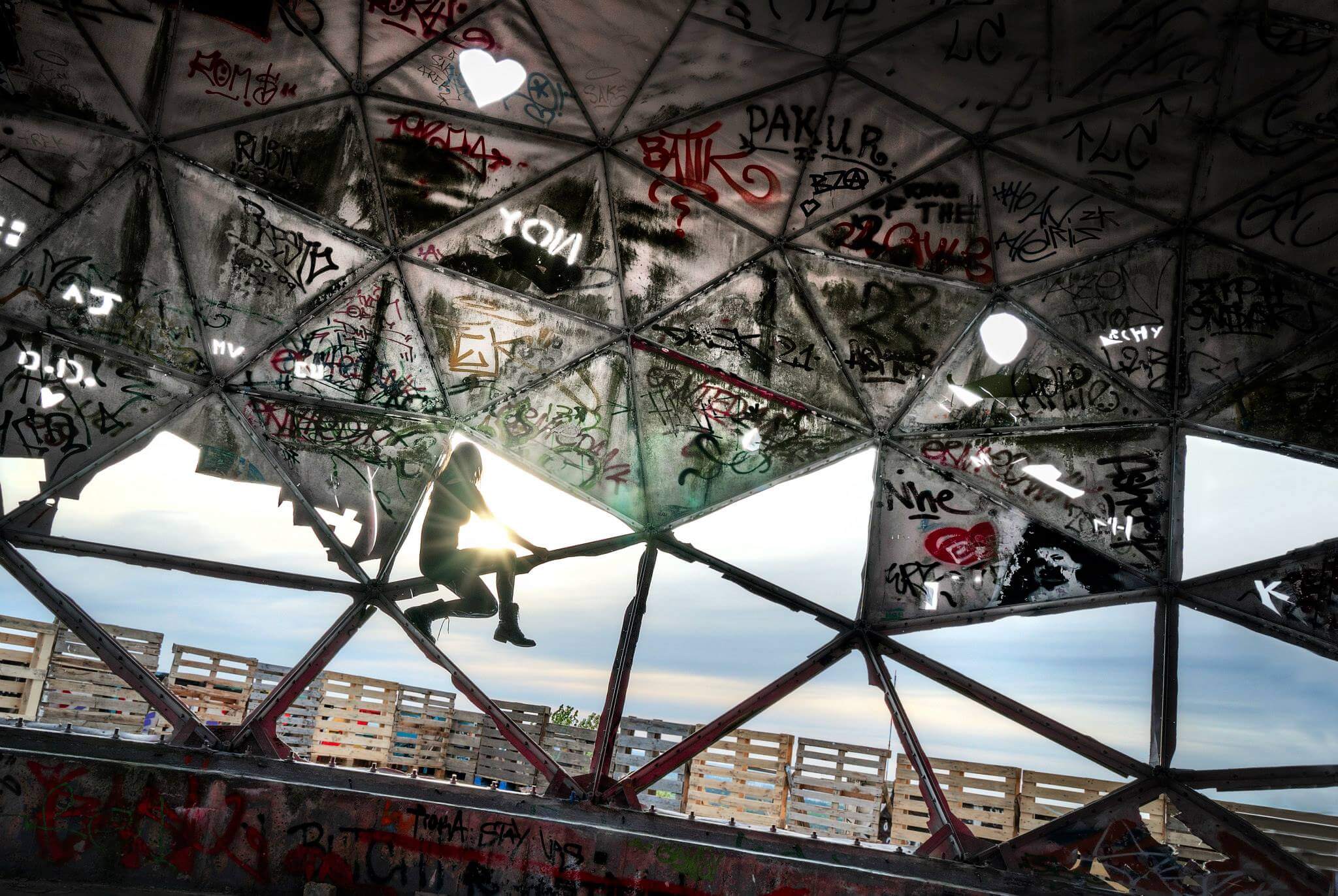 Teufelsberg, or Devil's Mountain, is another one of my favorites and a spot that I suggest to absolutely everyone who visits Berlin. It is the hands-down coolest place for street art enthusiasts.
A former spy station, now this urban space plays host to the most famous and talented street artists in the world. Their work is thought-provoking, skilled, and there is so much of it that you can spend hours there. Ownership keeps changing hands but usually you do have to pay entrance and take a tour to see it. You can read more here.
7. Vabali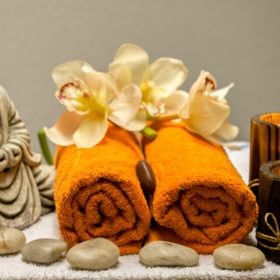 This spa and sauna is one of my favorite things to do in Berlin, both in the winter and in the summer. Now that I have moved out, I really miss it!
Vabali is a naked coed spa. You're not even allowed to wear a bathing suit! At first I found this scary, but now I think it's very healthy to be in an environment where everyone is naked and it's not at all sexual. I find it very freeing. It's also quite a classy place with five different swimming pools and 10 different saunas of varying temperatures. This is the perfect rainy summer Berlin activity – and it does rain a lot.
8. Visit a Lake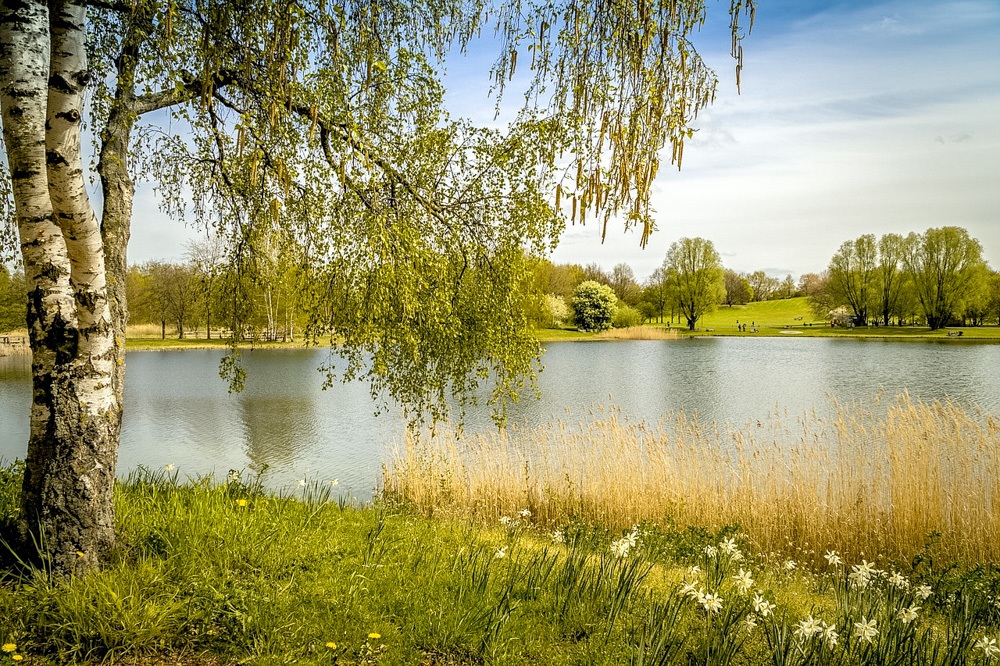 Berlin is surrounded by the state of Brandenburg, which is brimming with lakes. Most of them you would need a car to get to, which you can rent off of Europaplatz if you're keen, or you can get to Krumme Lanke and Wiesser See by public transportation.
The former is not very touristy and it has nice, clear water and a nude beach option, which is pretty common in Eastern Germany. The latter is a bit more touristy and accessible and has a five euro entrance fee as well as sunbeds, boat rentals, and food available.
However there are literally hundreds of lakes to choose from in the area and my best suggestion is to ask a local, if you know any, what their favorite is. Otherwise, take a drive until you find one that you like!
9. Spreewald
The city of Berlin is surrounded by forests and is actually located in quite a rural part of Germany. It doesn't take long until you're out of the city and surrounded by greenery.
One of the most beautiful places for some nature is Spreewald, where you can rent a canoe or kayak and take yourself through the rural backwaters of Germany's former East. How far you go is up to you, but make sure that you remember the way back! You can read more about how to get there here.
10. Sunday Karaoke at Mauerpark
A much-beloved Sunday activity, the Bearpit Karaoke at Mauerpark, the biggest flea market in the city, is one of the most supportive and lively spots in the city.
The flea market itself is a bit touristy and overpriced, but the karaoke is free and if the weather is fine, it's an awesome summertime activity.
11. Bite Club
If you love pop-up restaurants and want a local feel, head to Bite Club, which takes place on the Spree on Fridays. There's often music, artisanal burgers, beverages of course, and a lot of fusion foods available. Find info here.
12. Nightlife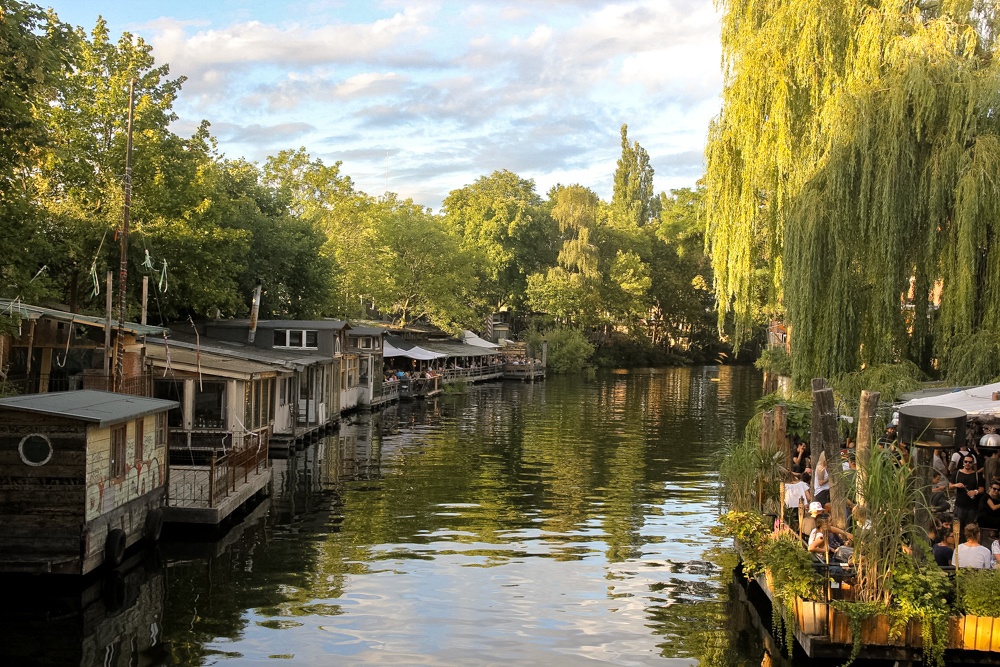 I could dedicate an entire blog post just to the nightlife in Berlin, but these are a few of my favorites:
Club der Visionäre: Just a stone's throw from my old apartment, this floating bar on the Spree is a great place for sundowners.
Berghain: This infamous club that you almost have to pretend you don't want to get into, even though you do, is rumored to be the toughest to get into in the world. My tips are to wear black, dress down, and go at around eight in the morning on Sunday and dance all day. I find it so much more fun that way, and there's almost no queue!
Kater Blau: Check the DJ Lineup because when the music is good this place is a somewhat small and intimate but thumping party. I'll never forget dancing to Acid Pauli for two hours straight in the middle of the dance floor, with such a nice vibe around me. I was buzzing by the end despite being totally sober.
Ecstatic Dance: Unfortunately, all of the aforementioned places are very smoky and most people there are drinking and/or drugging. However if you would like to be surrounded by a different vibe, I highly recommend Ecstatic Dance on Thursday nights and Sunday mornings. It's a sober and silent dance party where you're encouraged to dance however you want and whatever you feel. I find it's very playful and my favorite kind of nightlife these days. Ecstatic Dance events are all over the world but Berlin's is something special. Find the lineup here.
Finally, you'll notice that in the summertime, many of the Spätis put out tables and chairs and people use it as a makeshift bar and hangout spot. If a soccer game is on, they'll often put out a TV as well for people to watch. I haven't seen this in other cities around the world and consider it a true Berlin experience.
This list is full of all of the things that make Berlin so special and unique. Berlin does also have museums, a cathedral, and a lot of the usual things that you will find in Europe (you can read more about those here, along with great places to eat), but if you really want to get a true taste, the things on this list will give you a real Berlin experience.
Enjoy your time in Berlin, there's nowhere in the world like it!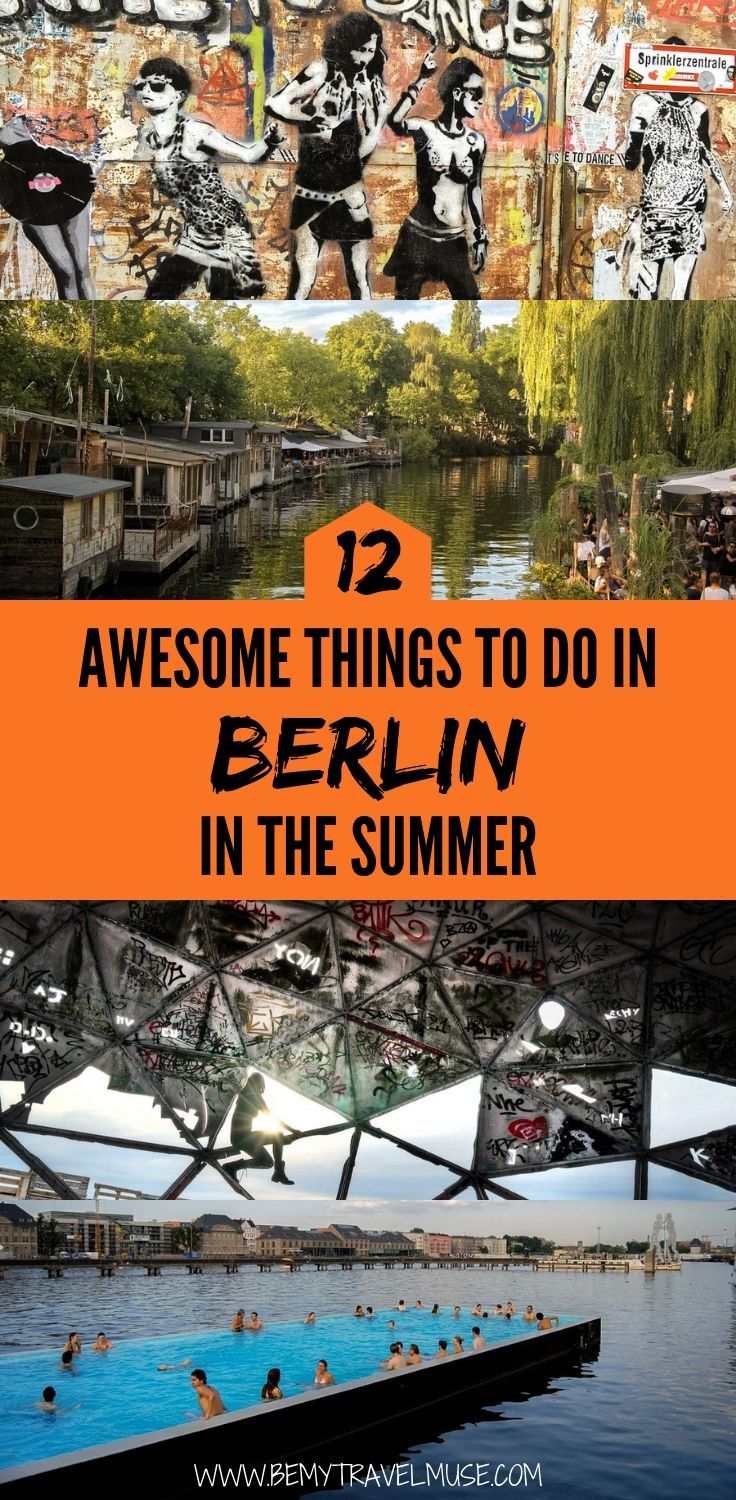 Read Next: