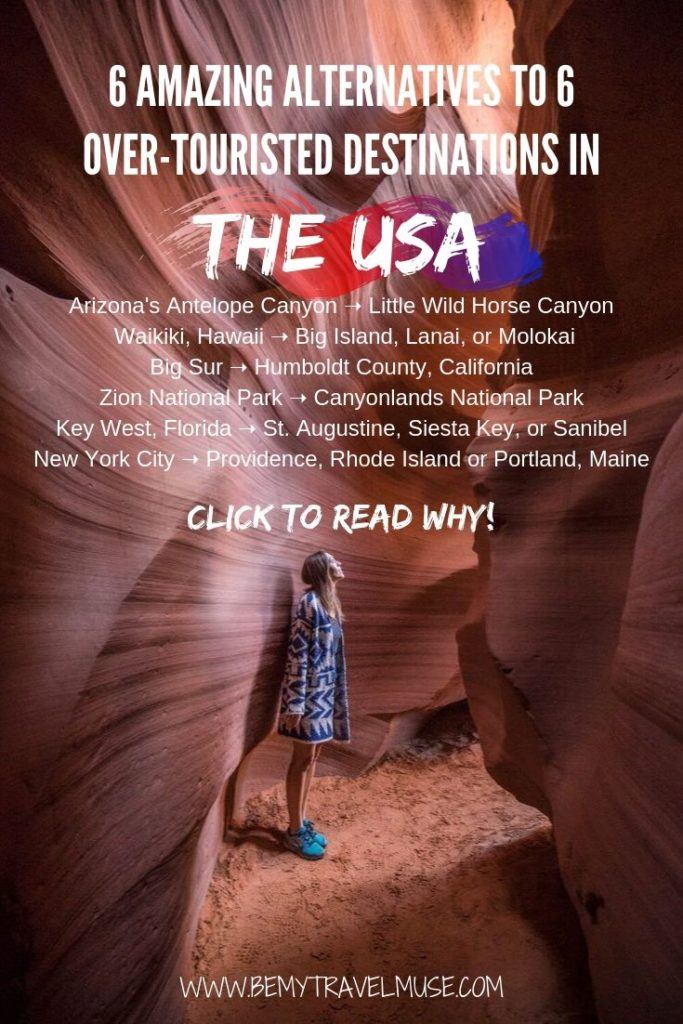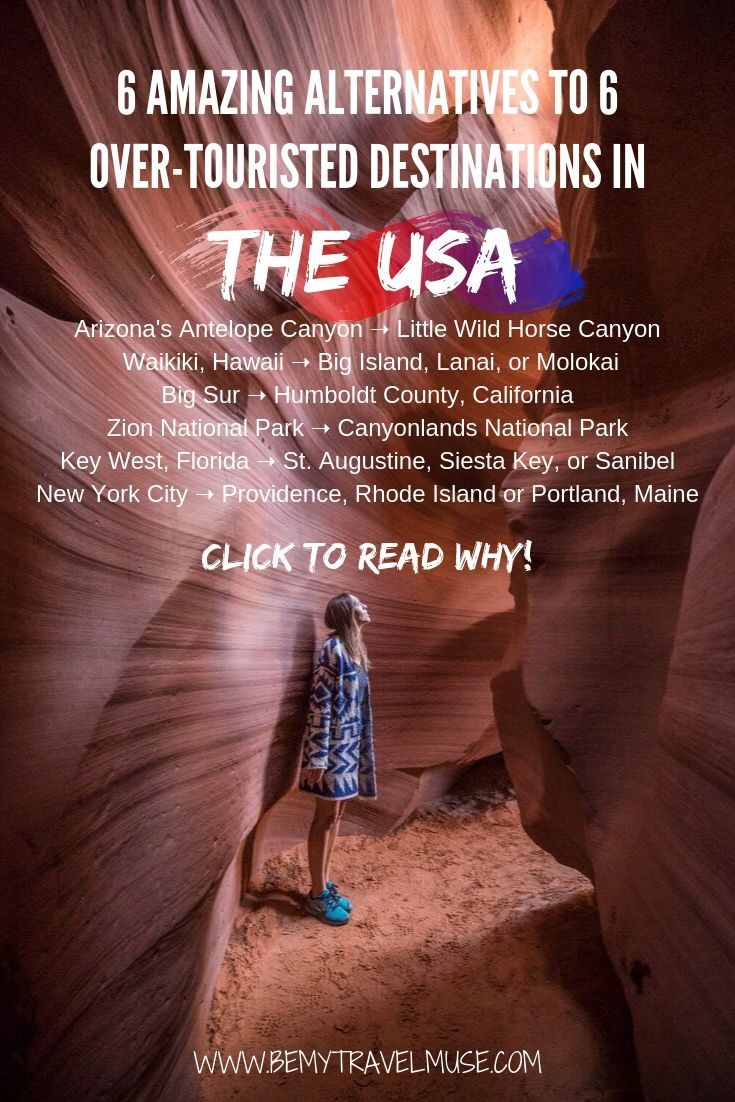 Overtourism is a somewhat new term these days, used to describe the influx of travelers around the globe, particularly congregating in certain spots. Unfortunately, this day in age has brought its own unique set of challenges regarding travel, and if we don't begin focusing on the effects our travel has on the places we visit, tourism simply won't be sustainable in many of our favorite destinations.
In 2018, the United States saw almost 80 million visitors, an all-time record, making it the third most visited country in the world. And that number only counts international tourists, disregarding the enormous part domestic travelers play in overtourism, too. The following are six of the most popular tourist destinations in the United States, paired with some fantastic spots to visit instead to help combat overtourism in the U.S.:
Skip: Arizona's Antelope Canyon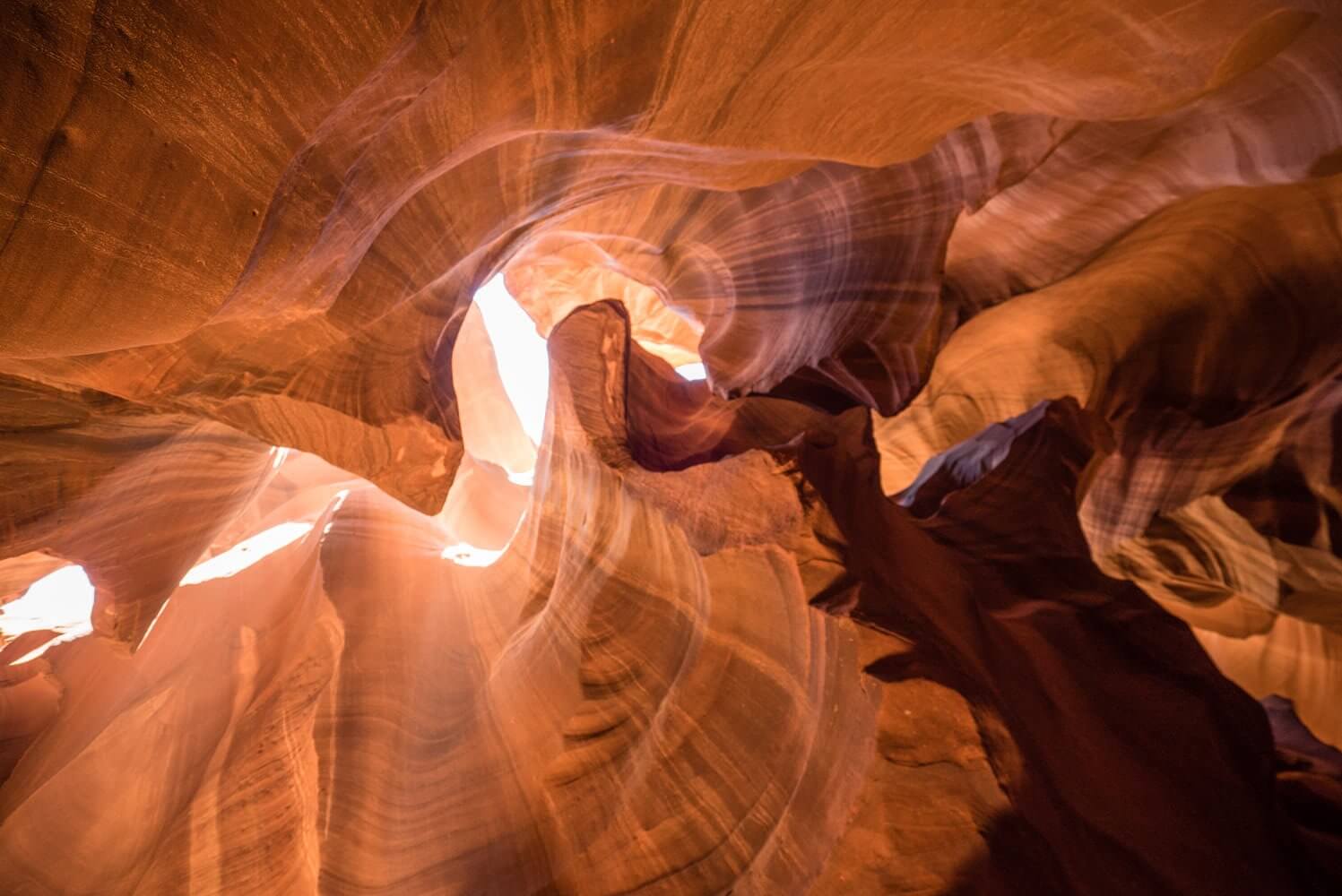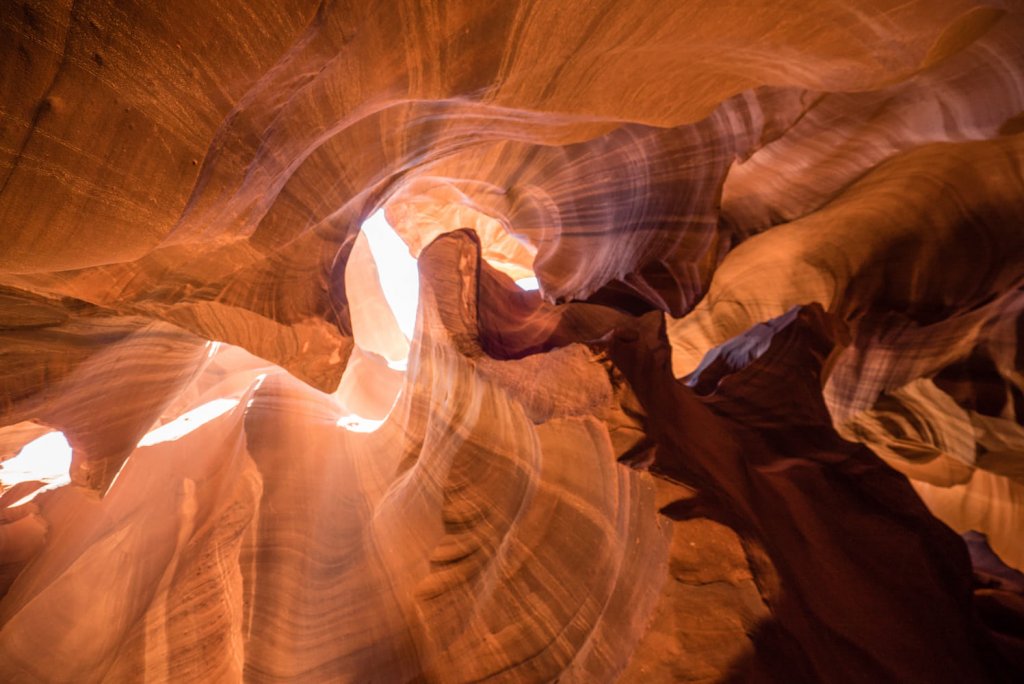 The way the light streams through this slot canyon has caused tourists and photographers alike to flock to Antelope Canyon in Arizona. One of the most photographed slot canyons in the world, it is estimated conservatively that 2.3 million people visited Page, AZ in 2014-2015, with almost a million (41%) visiting slot canyons like Antelope, according to statistics from a Page tourism survey from that time period.
Antelope is really made up of two canyons, Upper and Lower, but both have grown in popularity so much throughout recent years that visiting is a fairly claustrophobic experience; after all, the canyon is only 8 to 12 feet wide on the ground. It is impossible to check out the canyon independently, as all visitors must go with a guided tour. The bottom line: the canyon is breathtaking, but touring it can be such a stressful experience because of the crowds and narrow spaces that it almost isn't worth the significant sticker price of a tour.
Visit Instead: Little Wild Horse Canyon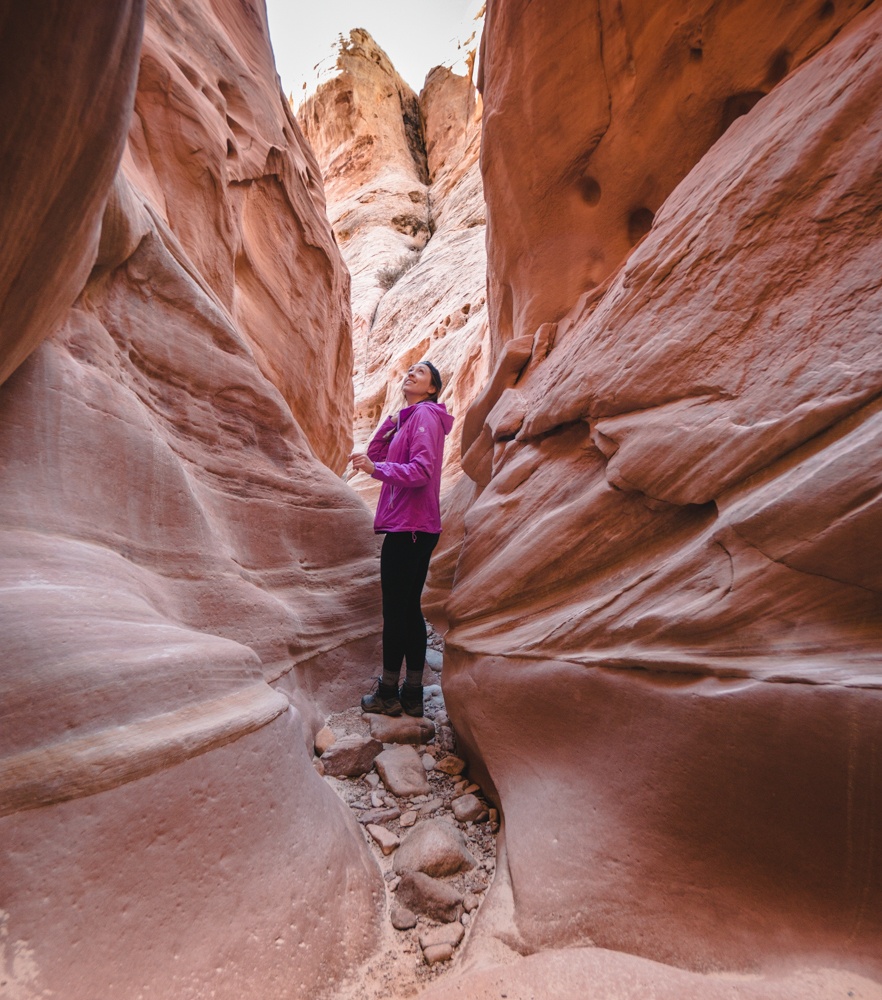 There are actually tons of slot canyons all over the American Southwest, particularly in Grand Staircase-Escalante National Monument. If you don't have a 4×4 vehicle, Little Wild Horse Canyon in south-central Utah provides a viable alternative to Antelope.
You can explore it on your own, and navigating the narrow slot canyon poses an exciting adventure. Plus, the red rock here is still gorgeous, not to mention that the visit is free! In terms of independence, personal space, and affordability, Little Wild Horse is the winner.
Skip: Waikiki, Hawaii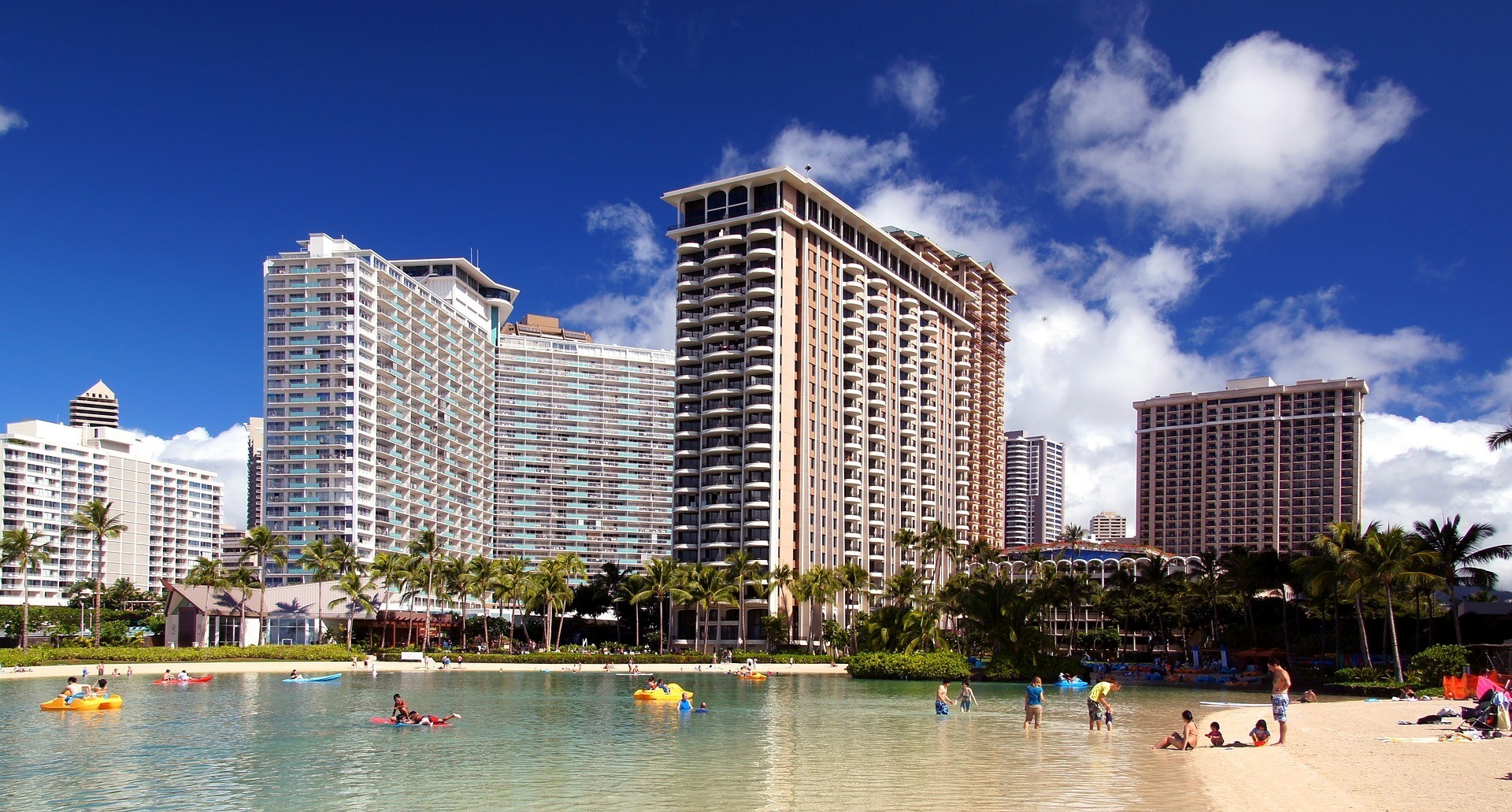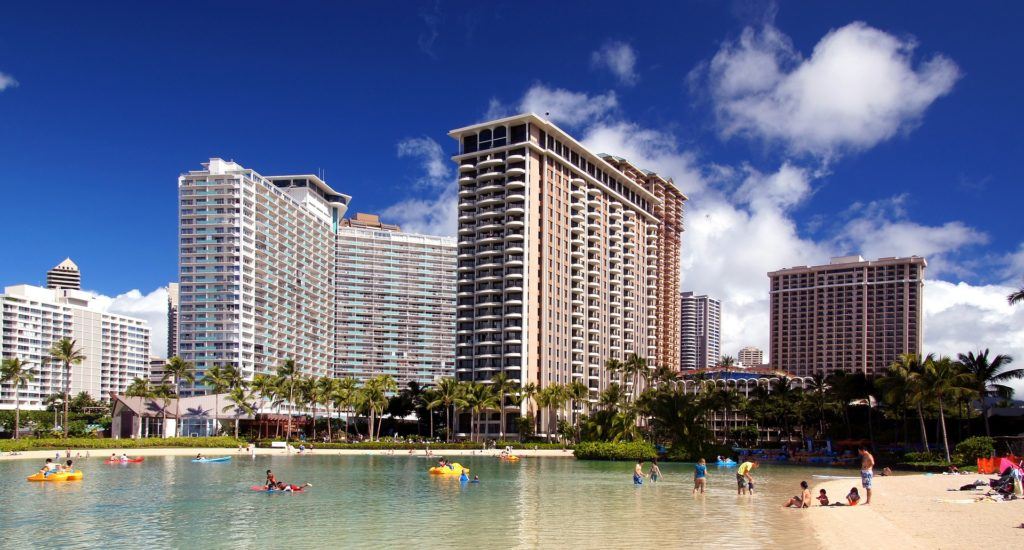 In 2018, the island of Oahu alone accounted for half of all of Hawaii's tourism, with close to 6 million people visiting the island, largely because of Waikiki. Beautiful though it may be, Honolulu's Waikiki Beach might just be the most touristy spot in all of Hawaii.
Oahu's main hotel and resort area, Waikiki has grown inauthentic too and out of touch with Hawaiian culture. Some even argue that its high-rise hotels, designer shopping, clubs, and bars make it the Vegas of Hawaii. Skip the tourist gimmicks for a more realistic (and likely more affordable) taste of Hawaiian life elsewhere.
Visit Instead: Big Island, Lanai, or Molokai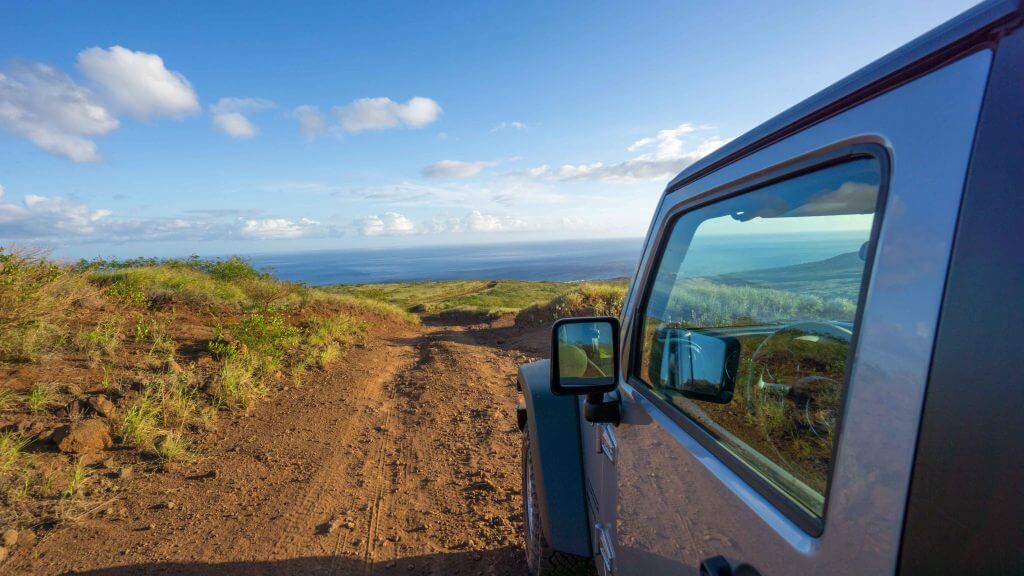 The Big Island is certainly named appropriately, as it so dwarfs the other islands that they could all fit inside it more than 1.5 times, yet the island sees 70% fewer tourists than Oahu. Volcanoes, waterfalls, and black sand beaches spread out across eight different regions of the island make the Big Island an adventurer's paradise.
Lanai is so infrequently visited that it's usually not even included in mainstream tourist counts! 400 miles of unpaved four-wheel-drive trails make Lanai a great option for the traveler who wants to take the road less traveled — literally! The three regions of the island offer plenty of marine life spotting, tide pool exploring, sunset chasing, cliff chilling, beach lounging, and more. I barely saw anyone else while I was out adventuring there.
Not only does Molokai boast a three-mile stretch of white sand beach, it is home to the highest sea cliffs in the world at Kalaupapa National Historical Park. Other unique attractions include the United States' longest continuous fringing reef, the waterfalls of Halawa Valley, and the iconic Kapuaiwa Coconut Grove. Most importantly, though, Molokai remains authentic to traditional Hawaiian culture with only two hotels on the whole island.
Skip: Big Sur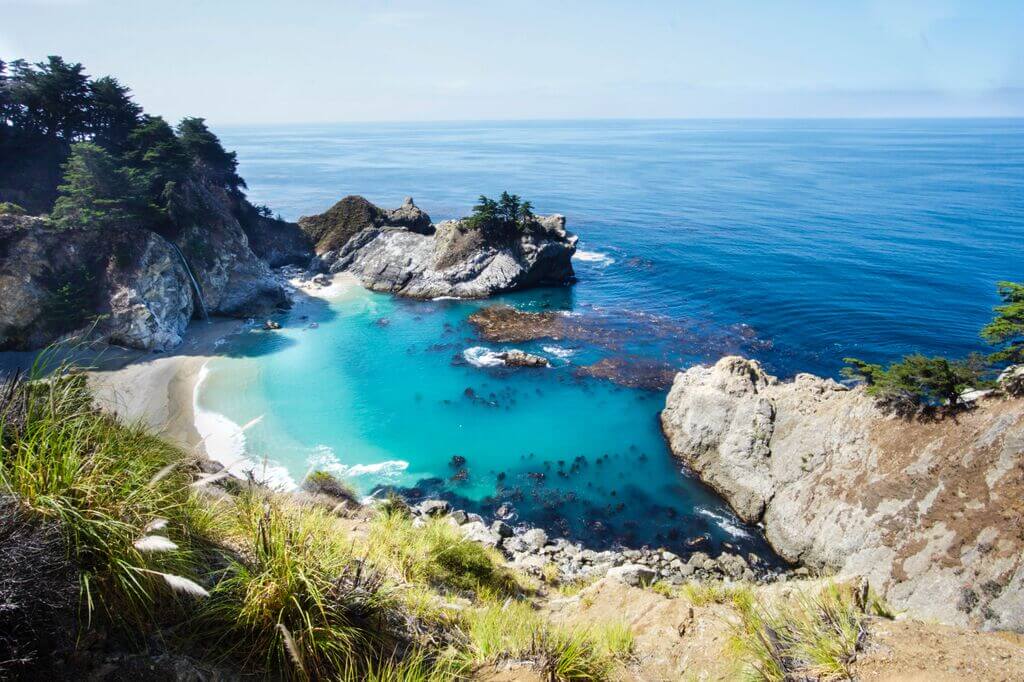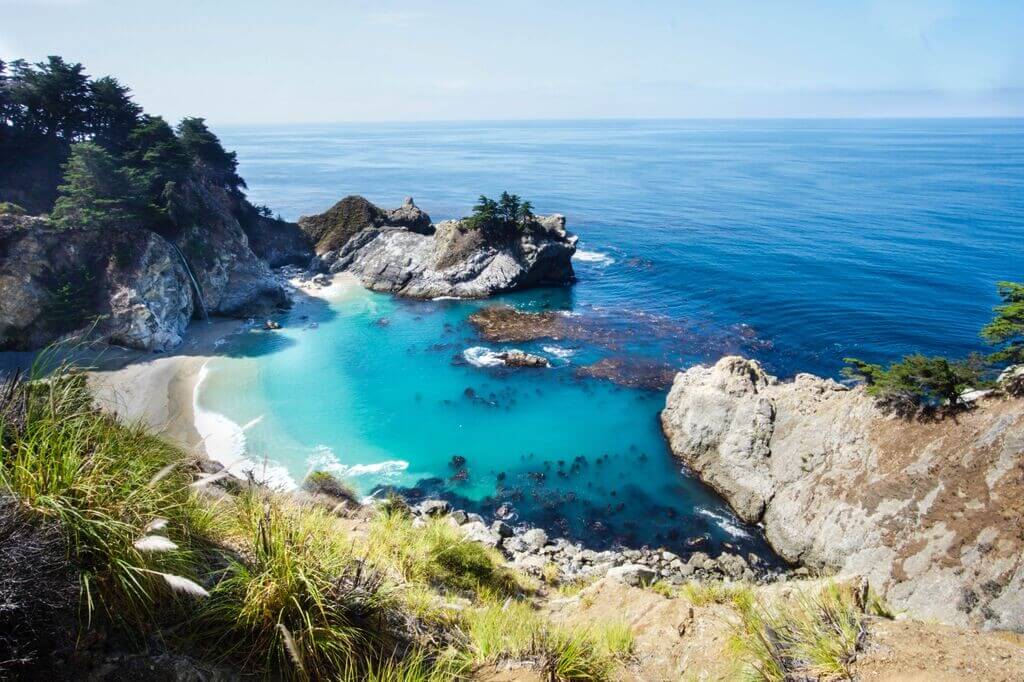 Recently, traffic around Big Sur has grown so heavy that locals printed and hung a banner reading "Overtourism is Killing Big Sur" on Highway 1's famous Bixby Bridge. Frankly, they're not wrong.
One local stated, "I've seen it change more in five years than in my 30 years of being here," according to Monterey County Weekly. It is estimated that Big Sur sees nearly 6 million visitors yearly. While the area is, of course, unique for its awe-inspiring natural beauty, it is not the only coastal spot in California with oceanside cliffs and tall redwoods.
Visit Instead: Humboldt County, California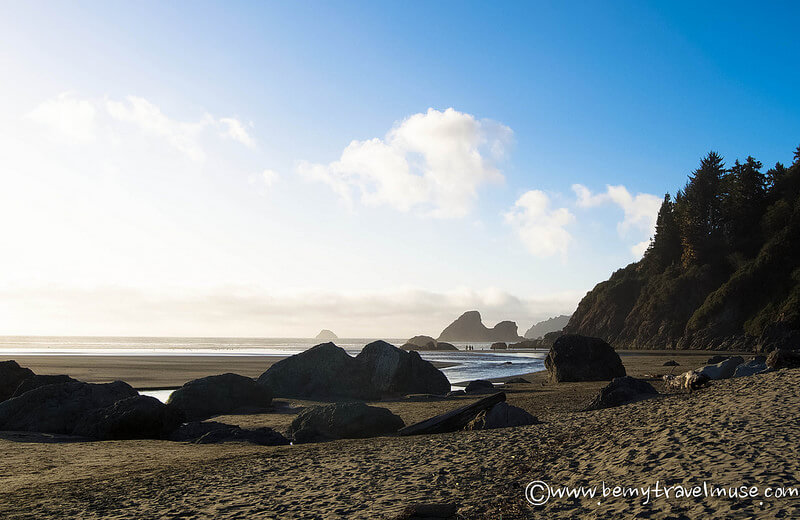 Skip the crowds of selfie-snappers and pick a different spot on the Pacific: Humboldt. One of the last truly peaceful spots of its kind, Humboldt is home to completely empty stretches of beach. In fact, the area is nicknamed, "The Lost Coast," for its sheer lack of visitors.
Not only are the lonely beaches breathtaking, Humboldt boasts towering redwoods — some of the tallest on Earth. Miles of trails through the forest provide ample opportunity to unplug and connect with your serene surroundings.
Skip: Zion National Park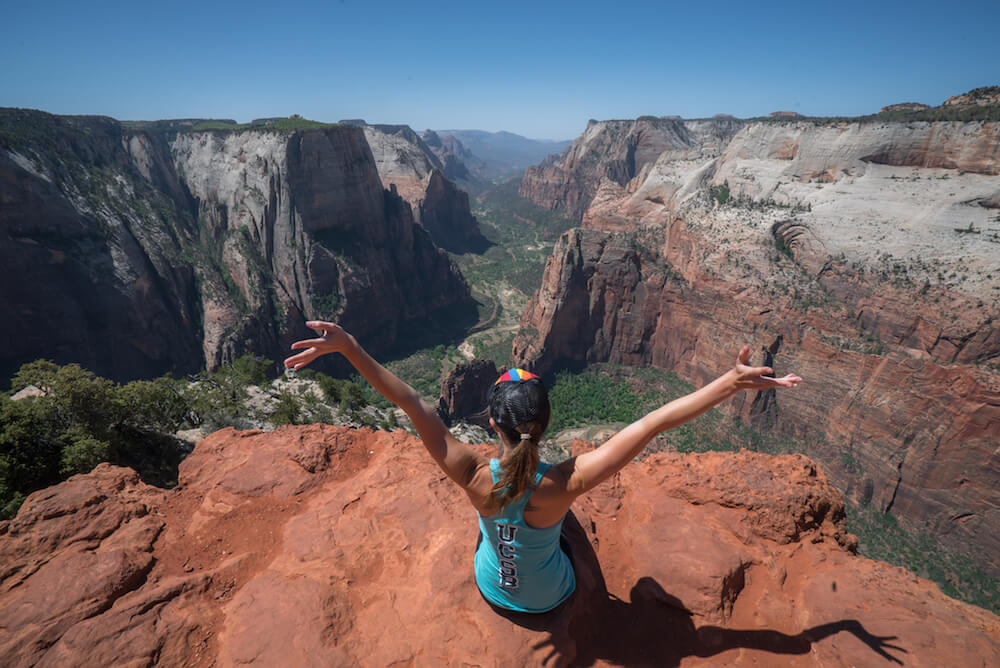 I remember hiking Angels Landing back in 2007. I was the only one at the famous viewpoint when I made it to the end. These days, it looks quite different.
In the five years from 2008 to 2013, the number of visitors to Zion National Park increased by 117,000 people. In the five years from 2013 to 2018, the number increased by 1.5 million. The numbers speak for themselves, pointing to overtourism above all else. Zion sees more tourists per year than Yosemite, Yellowstone, Grand Teton, or Glacier.
Of course, the park is popular for a reason, as the challenging hikes lead to breathtaking views, but the official park isn't really to thank for the natural beauty: the state is! Utah's stunning red rock formations don't exist solely at Zion, and there are countless other places throughout the state to take in the gorgeous scenery without the absurd crowds.
Visit Instead: Canyonlands National Park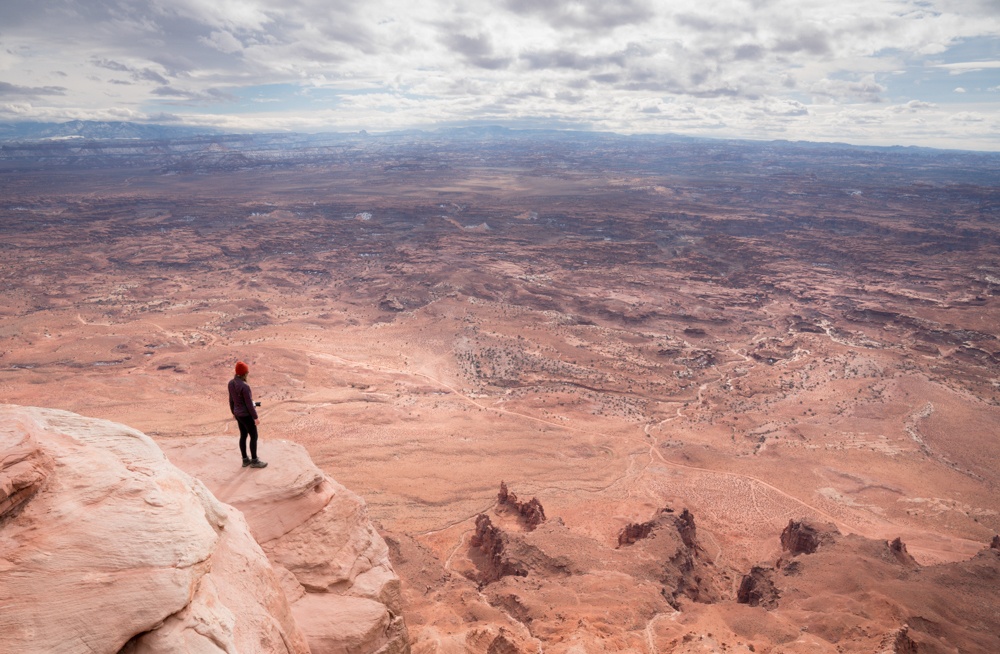 One of these lesser-visited places is Canyonlands National Park in southeastern Utah. In 2018, Canyonlands saw roughly 740,000 visitors — that's a little over fifteen percent of the tourism Zion sees. It also covers a huge area of land, so you don't have to share the trails with too many other visitors.
While there, catch a sunrise at Mesa Arch (fair warning, this is the park's most popular feature and is very popular at sunrise), head to Needles Overlook, and check out The Loop, which, interestingly enough, is reminiscent of Arizona's Horseshoe Bend. Or, hike throughout the park for amazing views without the hoards of photo-takers you would encounter at Zion!
Skip: Key West, Florida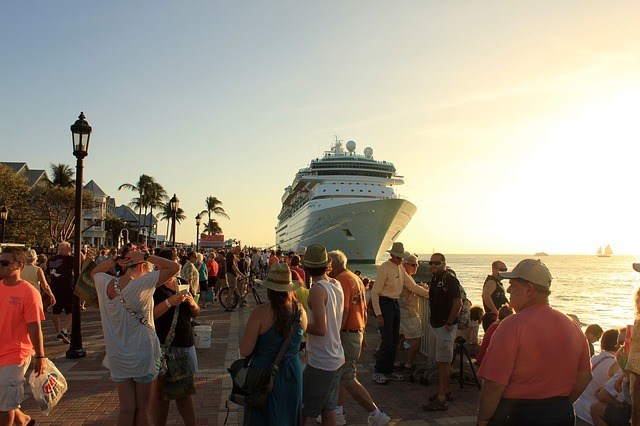 Key West, the southernmost island of the Florida Keys, is a popular cruise ship stop, vacation spot, and snorkeling destination. The island only covers an area of 7 square miles, which simply is not enough space to accommodate the several million tourists which visit it every year. 2013 brought 2.7 million visitors to Key West, and for an island with a local population of approximately 25,000, that equates to more than 100 times as many tourists as actual residents. (To put that in blatant terms, that's like each Key West local having to host 100 visitors over the course of the year — no thanks!) 379 cruise ships stopped at Key West in 2018 alone.
The reality is that Key West locals are sick of the absurd number of tourists, and the tourists themselves are sick of annoying crowds and the tired old tourist traps on the island.
Visit Instead: St. Augustine, Siesta Key, or Sanibel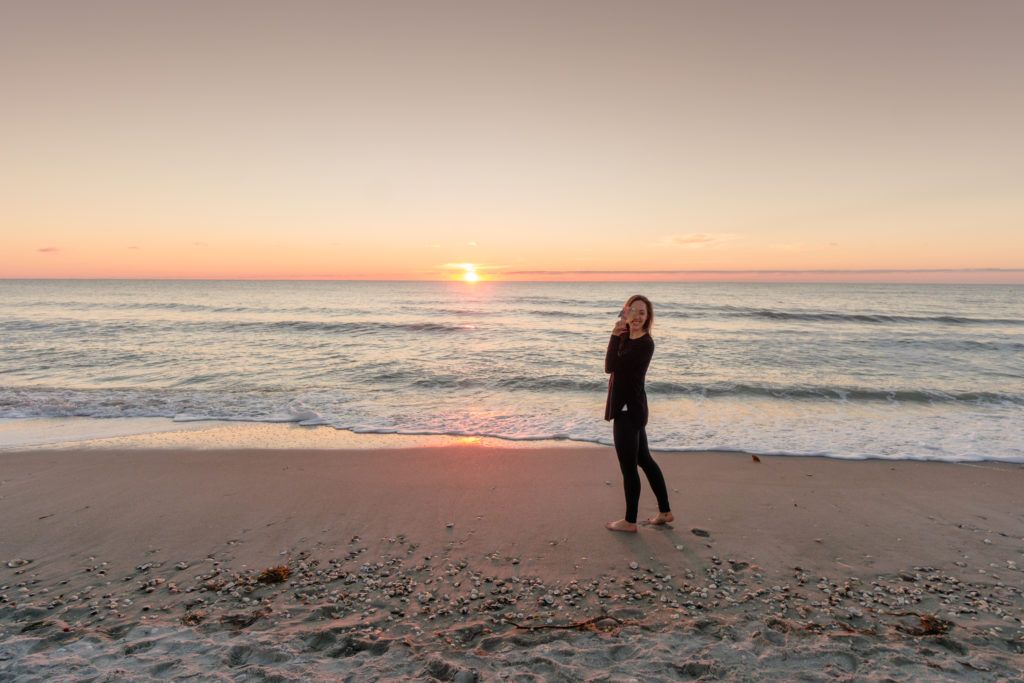 St. Augustine, a city on the northeastern coast of Florida, is the oldest city established by settlers in the U.S. and North America, dating back to 1565. It certainly has the Spanish colonial architecture to back it up. The city is home to multiple historic landmarks, but more than that, the beautiful beaches make it a great alternative to Key West. Oceanfront restaurants, outdoor activities galore, and lots of sunshine are sure to make a great Florida vacation.
Siesta Key is a small barrier island off the central western coast of Florida in the Gulf of Mexico. In 2017, TripAdvisor named the island's main beach, Siesta Beach, the best in the United States, and it came in at #2 the following year. The accolades can be attributed to clear turquoise waters and a huge stretch of pure white sand which never gets too hot. Ditch the traditional Florida Keys for a different Key: Siesta Key!
Southwest of Fort Myers, Sanibel Island boasts beautiful sunsets, a wildlife refuge, state parks, and countless outdoor activities – including sailing! The island is also adjacent to Captiva Island, making it a perfect spot to go island hopping. The islands offer miles upon miles of gorgeous beaches and bike paths, as well as ample opportunity for kayaking and stand-up paddle boarding. You can even go beachcombing on Travel & Leisure's top rated beach for shells!
Skip: New York City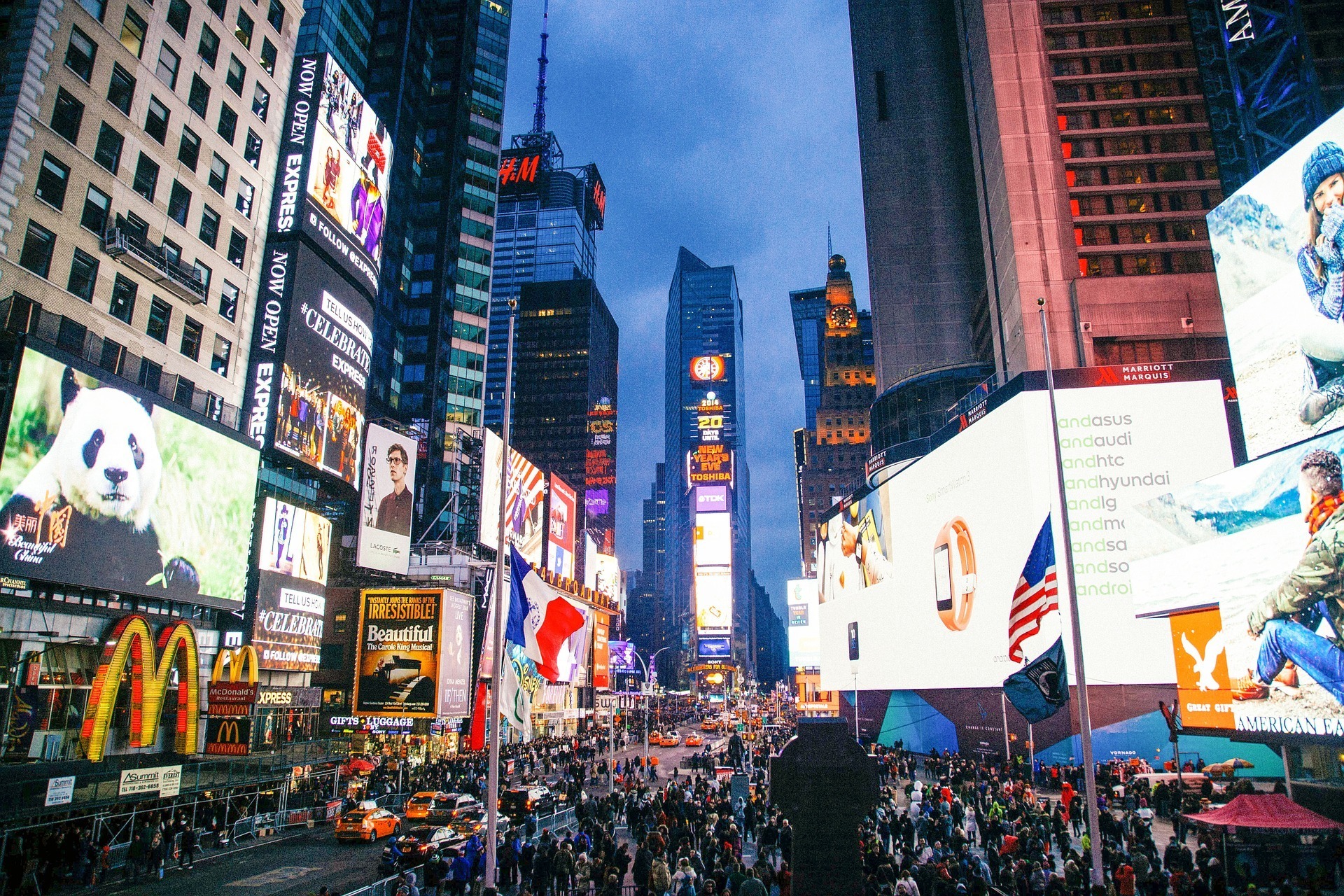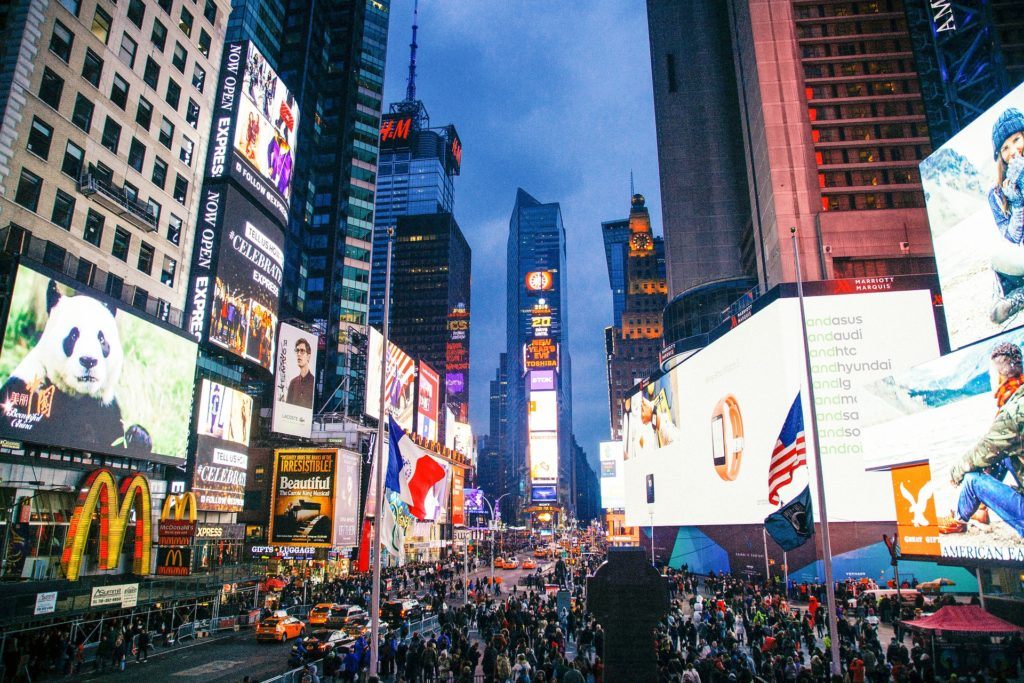 Ah, good old New York City — the most popular tourist destination in the entire United States. The city saw a whopping 65 million visitors in 2018. (To put that into perspective, NYC alone saw twice as many tourists as the entire country of Greece.) If that isn't overtourism, I don't know what is!
To be fair, New York is probably one of the greatest cities in the world for its diversity, arts & culture, food scene, creative opportunities, and overall intrinsic spirit, but a lot of other cities offer those same things. Sometimes it feels like people choose to visit The Big Apple simply because it's, well, The Big Apple, without much thought to anything other than New York's "must-do" status.
Visit Instead: Providence, Rhode Island or Portland, Maine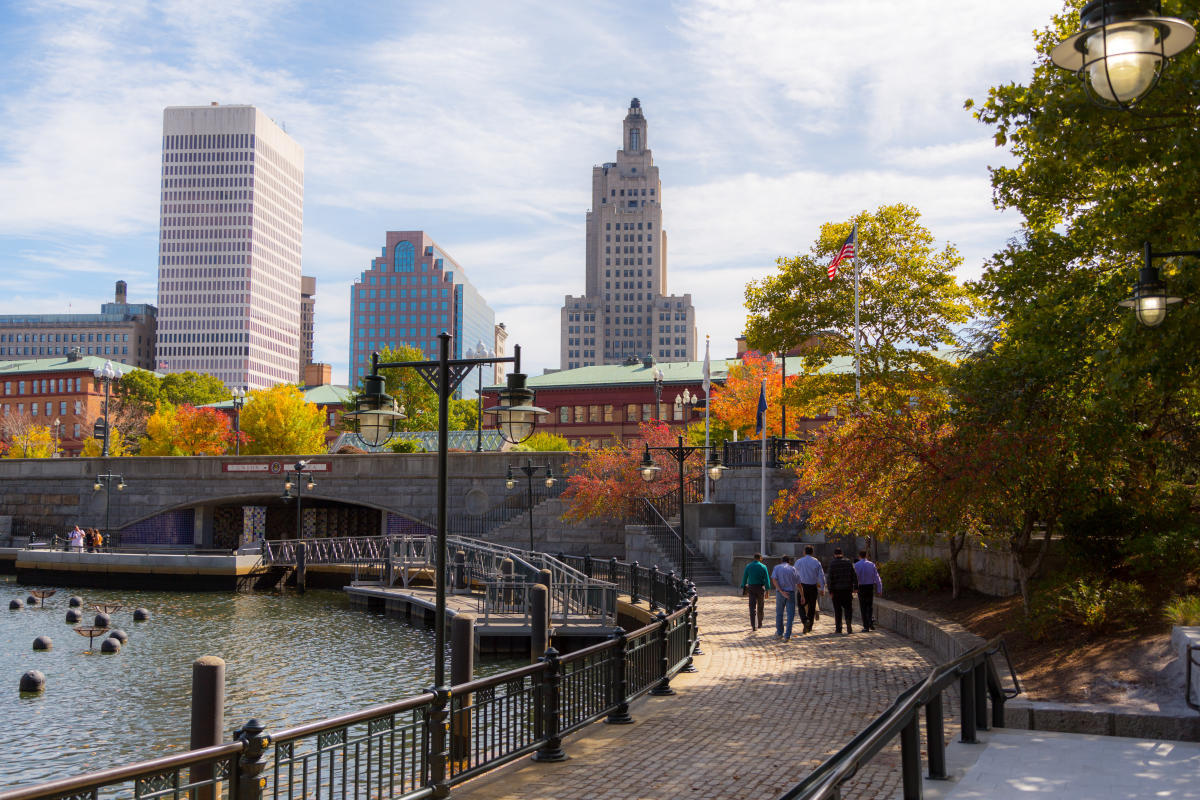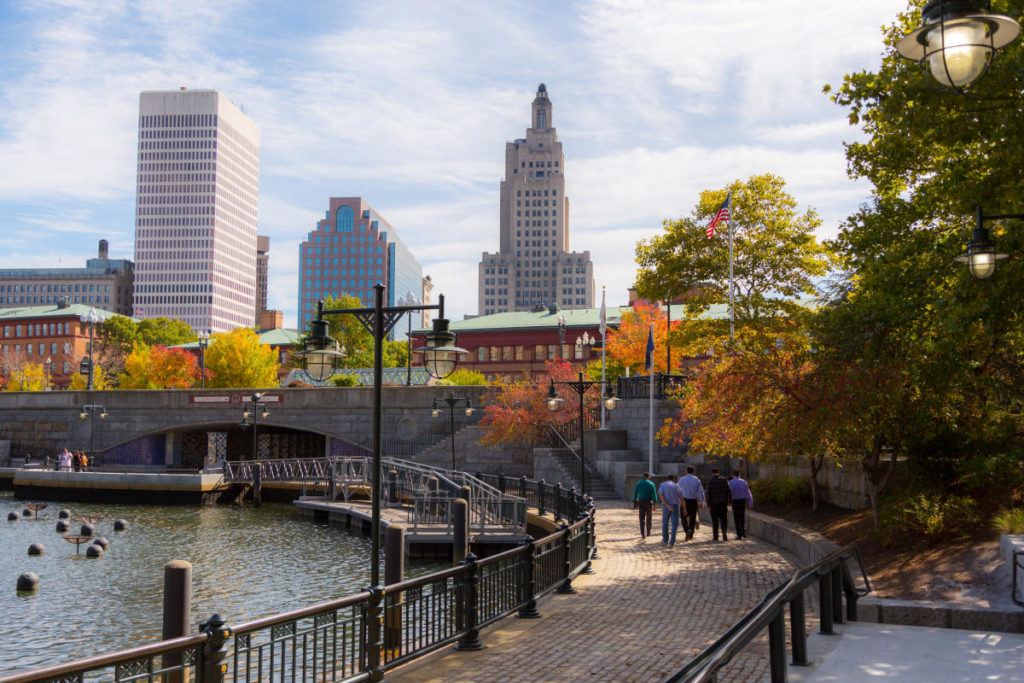 Looking for city life that's a bit more bite-sized? Head over to Providence, Rhode Island, which was was founded in 1636 and therefore has much of that old-school charm that NYC is so famous for. Eight universities throughout the city mean that Providence is full of young people and a major hub for arts and culture. Lots of shopping, glamorous hotels, a buzzing and diverse food scene, and cool events year-round make Providence a fantastic alternative to New York.
Roger Williams Park — 435 acres including Victorian gardens — even acts as the Providence equivalent to Central Park! "Providence combines the friendliness of a small town with the culture and sophistication of a big city," states Visit Rhode Island, which explains why Providence made the top five in Travel & Leisure's "America's Favorite Cities 2016.
Meanwhile, as Maine's largest city, Portland has a lot to offer. From hundreds of independent stores to shop through to year-round farmers' markets offering fresh local produce, this seacoast town has a cosmopolitan persona big enough to rival most large cities — even New York. Named one of the "The Best Cities for Food in the United States" in 2016, Portland has a diverse culinary scene which focuses on sustainable local seafood and farm-to-fork principles.
What's more, restored historic buildings and art galleries scattered throughout town add character to this already charming New England gem. Like NYC, Portland boasts tons of unique neighborhoods, including its Arts District and Old Port Historic District. Interestingly, Portland excels most where New York lacks: in its seaside culture. The nearby beaches are superb!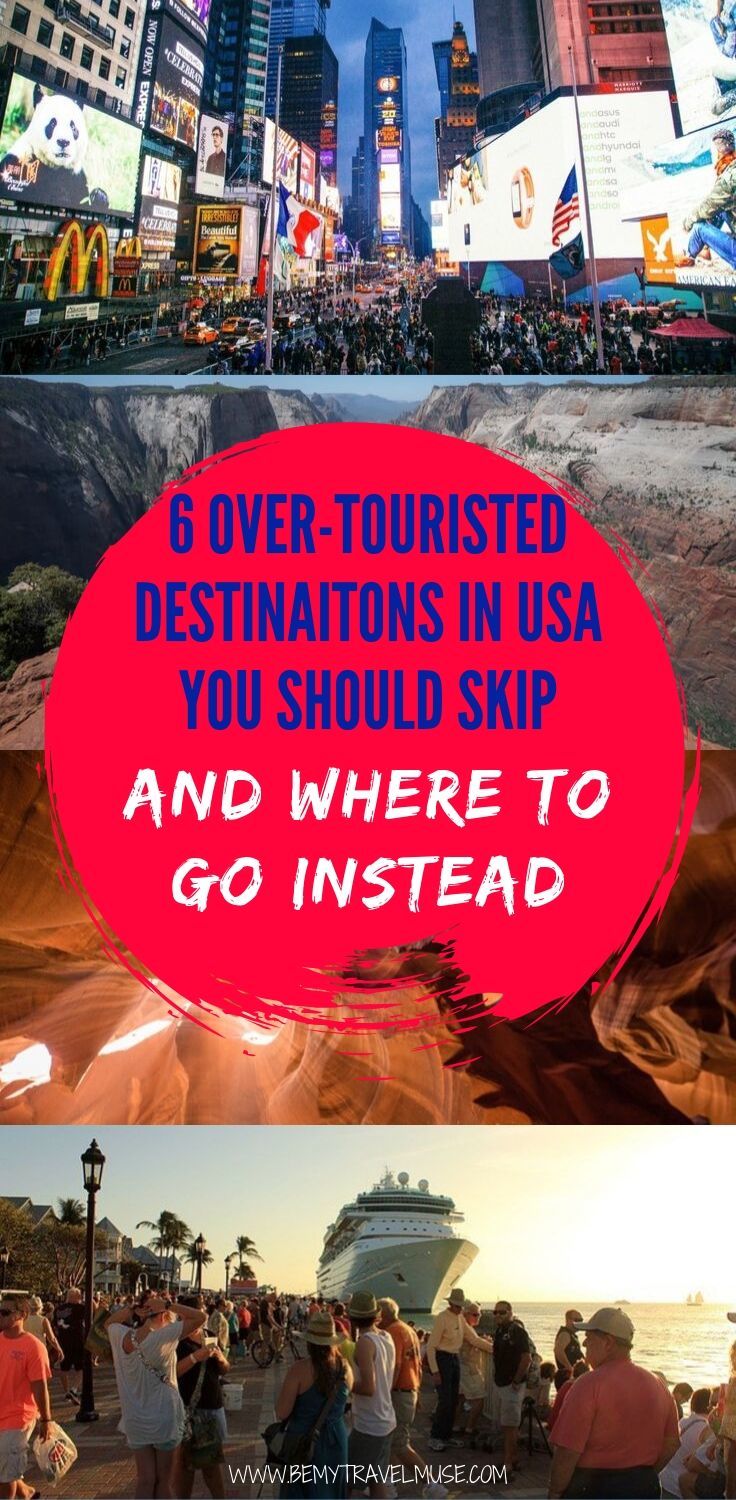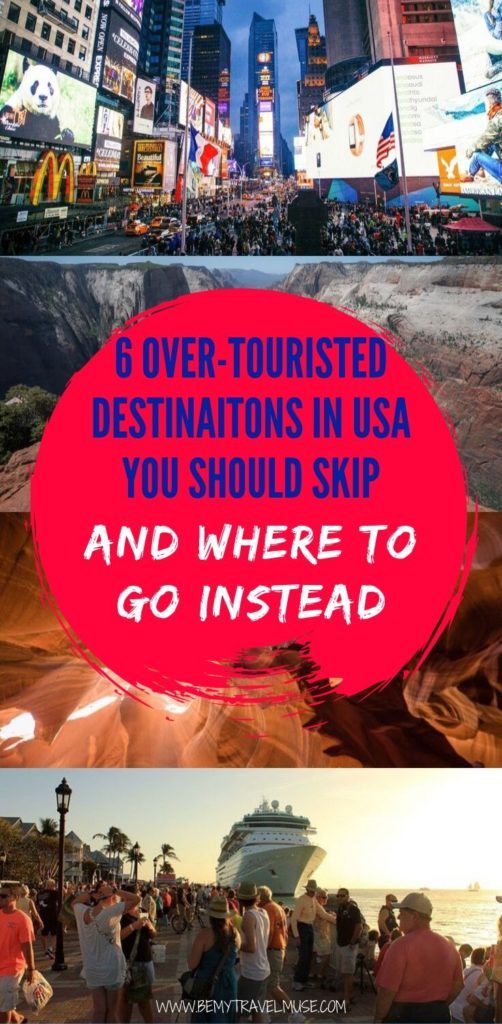 The reality is that we all must become mindful travelers who care about the ways in which we enjoy the privilege of seeing the world. And sometimes, that means taking a rain check on a popular destination in favor of an alternative for the sake of both the destination and our own travel experience.
Still dying to see these popular spots? Consider going during the off-season, if there is one, or make it a quick stop before exploring the other destinations on this list more thoroughly. Besides, it's way more fun when you don't have to share it with crowds!
What are some of your favorite underrated places in the USA?