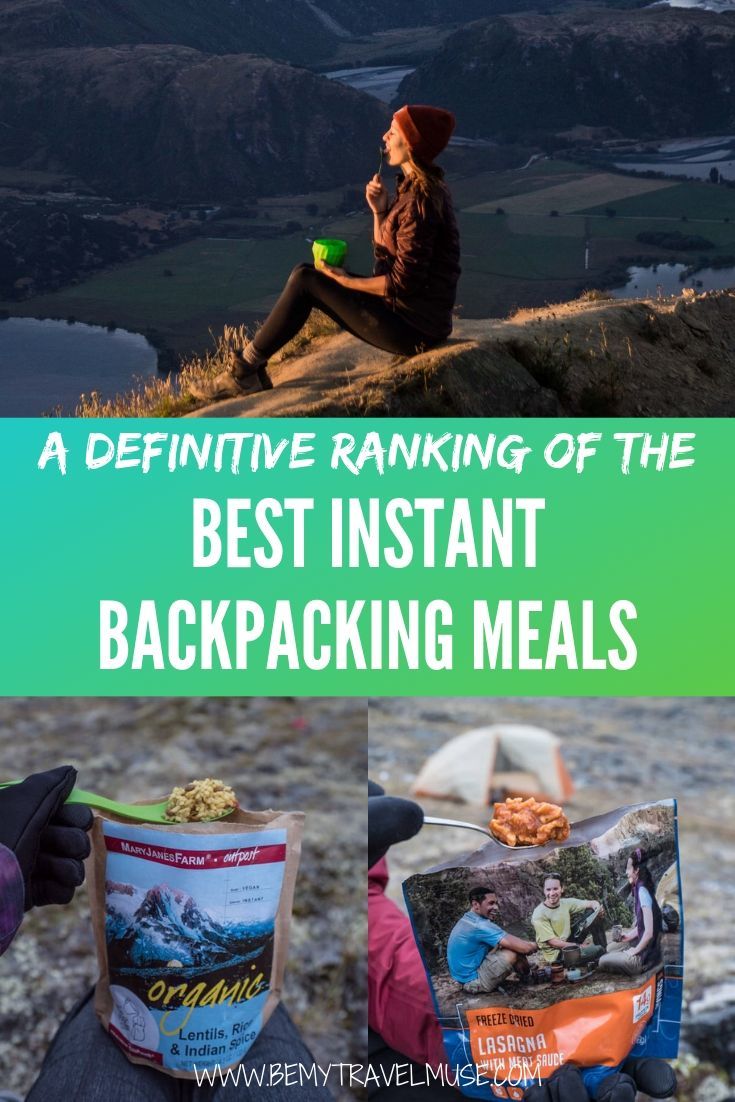 Let's talk about just-add-water backpacker's cuisine. It's fast, simple, requires no clean up, chopping, or prep of any sort, and if you play your cards right, it can also be quite satisfying after a long day of hiking when all you want to do is stuff your face and pass out.
Just to manage expectations, this isn't going to be the finest cuisine you've ever had, but it is seductively convenient. All you need is some boiling water and in 10-20 minutes, you're in business.
With that in mind, here are the rankings in terms of deliciousness with 1 being, "This is disgusting and I'm only eating this so that I don't have to carry it anymore" and 10 being, as my friend Pete put it, "food I would be only slightly disappointed eating at a restaurant."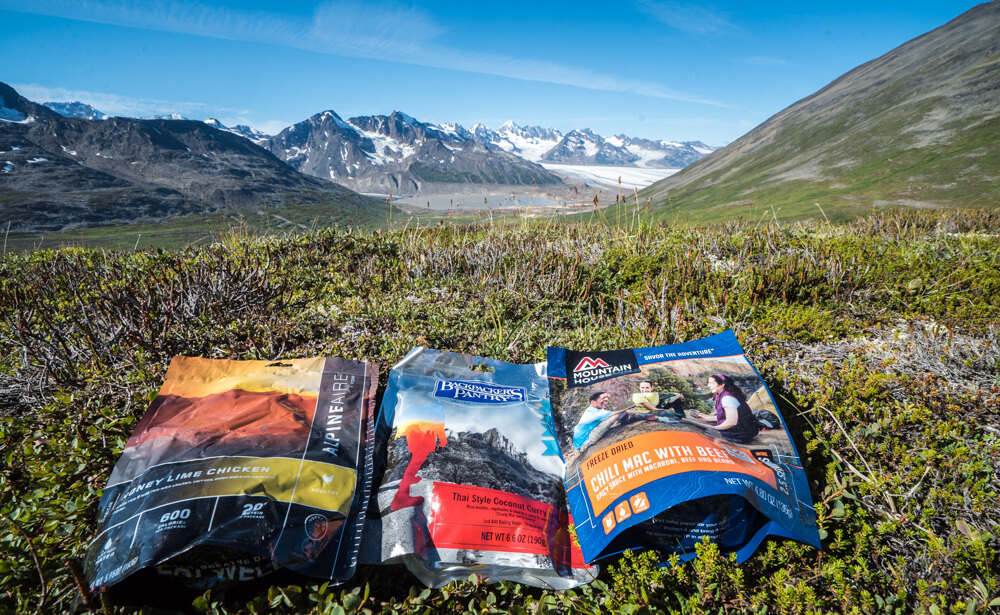 These are the meals my friends and I have tried and our combined, averaged rankings, from best to worst:
MaryJane's Farm bare burrito:
Deliciousness scale: 10
Satisfaction scale: 7
I love MaryJane's Farm for being the only company I could find that makes organic hiker's food, and that appears to be run by a woman. Double win. This vegetarian bare burrito is my favorite backcountry meal to date. I only wish it were greater in portion size. MaryJane's meals are tiny compared to the other brands. Why, MaryJane, why? Get it here.
Mountain House Chili mac
Deliciousness scale: 10
Satisfaction scale: 10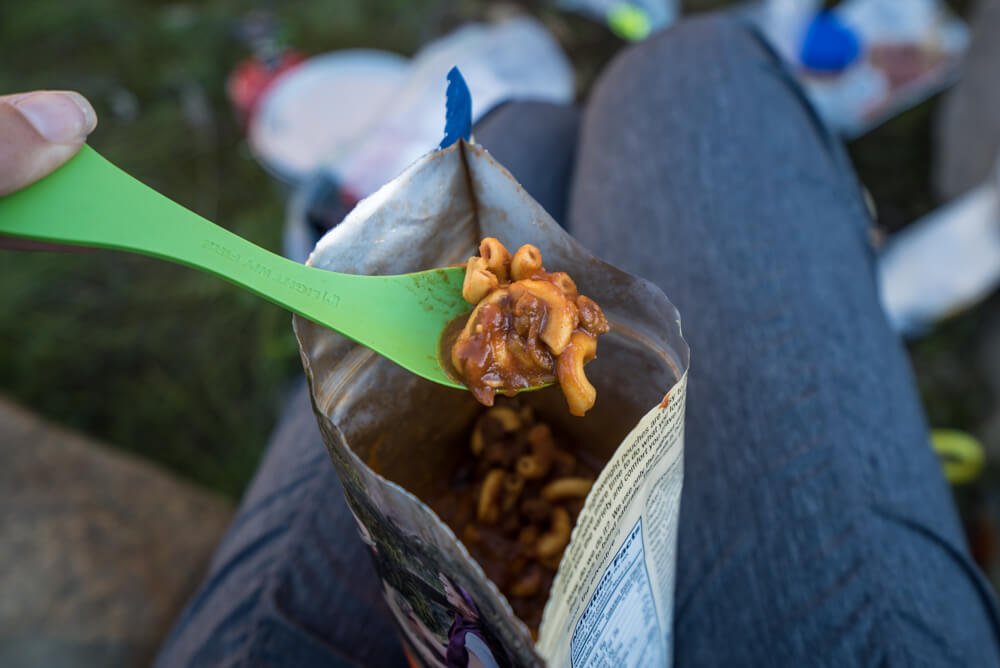 This is like Hamburger helper, but better. Those fine little pieces of beef, the creamy red and cheesy sauce, plus those generously robust noodles had us all in heaven. Get it here.
MaryJane's Farm shepherd's pie:
Deliciousness scale: 10
Satisfaction scale: 7
Once again Mary Jane showed her skills with the creamy potatoes and bacony little chunks of meat in the shepherd's pie. This was the second best meal I had of the whole trip in terms of taste, I just wish there was about double the portion size. At 375 calories, it's just not enough after a full day of hiking. Still, I'd even eat this at home in a pinch. Get it here.
MaryJane's Farm mac and cheese:
Deliciousness scale: 10
Satisfaction scale: 5
This would have been such a nice meal had I not been hiking for the previous 8 hours over a glacier and then bush whacking uphill in the rain. The organic white cheddar and elbow noodles were like something you'd made at home in college, but why such small portions MaryJane!? At only 400-ish calories, I was heading to bed hungry. Get it here.
Mountain House Chicken Fajita bowl
Deliciousness scale: 9
Satisfaction scale: 9
The flavors married nicely and Mexican inspired cuisine is pretty much always a good idea. I think I would have liked the vegetarian version of this better, though. Freeze dried chicken is a little odd no matter how you slice it. Get it here.
Backpacker's Pantry beef pho
Deliciousness scale: 8
Satisfaction scale: 7
I personally loved this one while Pete was less of a fan. Soup in the backcountry with its own little sriracha packet? Yes! Having to wait 20 minutes for it to be ready when a standard meal requires only 10 minutes? No! (But I'd buy it again). Get it here.
Backpacker's Pantry Thai style coconut curry
Deliciousness scale: 7
Satisfaction scale: 7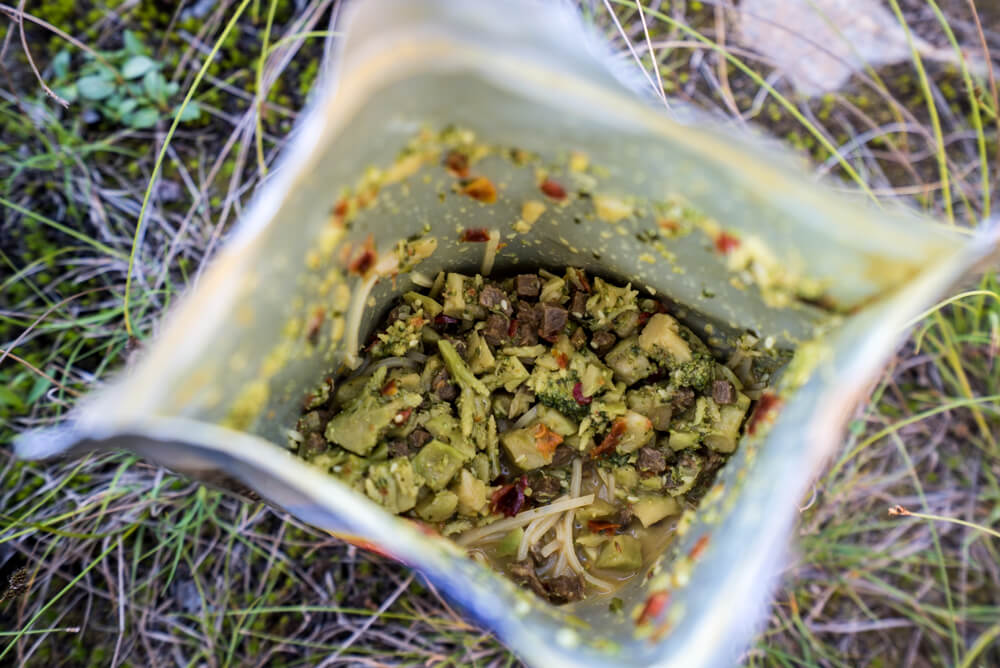 I had high I hopes because this one smelled so good, but after waiting for 20 minutes I wasn't wowed by the flavor. I still give it a 7 because it's better than some "Thai style" takeout I've had.
Mountain House chicken and dumplings
Deliciousness scale: 7
Satisfaction scale: 7
This one reminds me of chicken pot pie filling, which on a cold day, is so nice and satisfying. It just gets a bit old eating bite after bite of it. Get it here.
Mountain House lasagna
Deliciousness scale: 7
Satisfaction scale: 9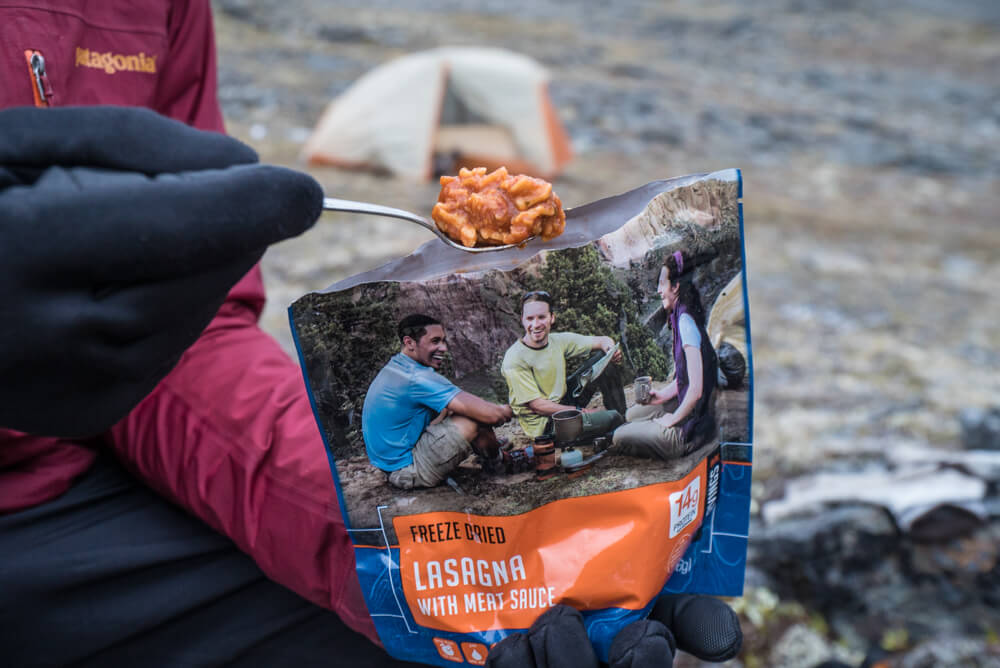 The boys loved this one but I thought it tasted a little fake, like Chef Boy-ar-dee. Pete said that was an insult to the delicious lasagna because he thinks Chef boy-ar-dee sucks. I think it just tastes like childhood. This dish was also sticky as hell. You be the judge and let me know if you like it because we're a hung jury on this one. Get it here.
Backpacker's Pantry Chana Masala
Deliciousness scale: 7
Satisfaction scale: 6
I wanted to love this, and I did at first. The first bite is nice but chickpeas and rice just get old as a main dish after a few bites. Plus this one also requires 20 minutes to be ready and my patience runs out after roughly 7. Get it here.
MaryJane's Farm Lentils, Rice and Indian Spice
Deliciousness scale: 6
Satisfaction scale: 5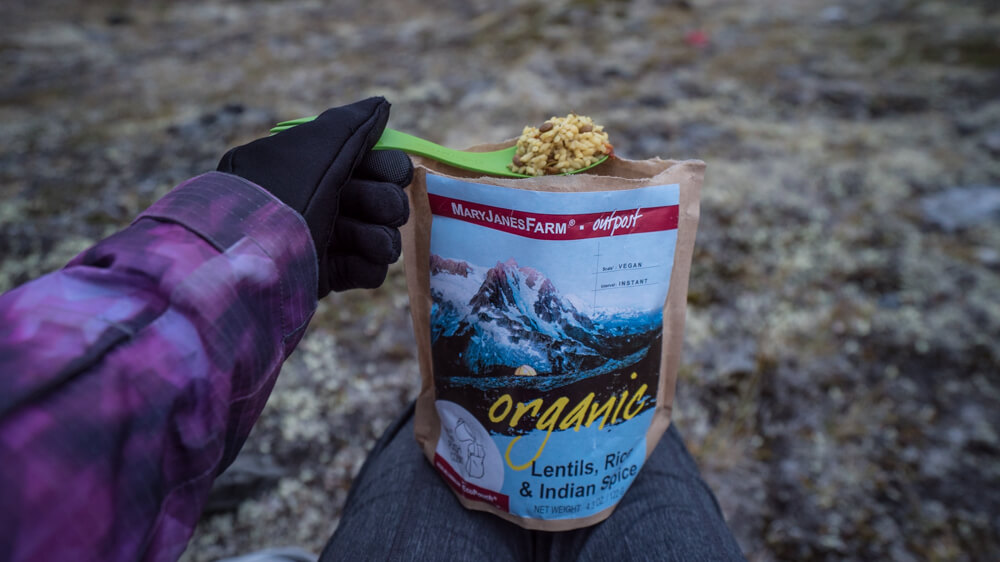 I liked the flavors for a few bites, but again was left hungry. The portions are just tiny if you're out exercising in the backcountry all day, which you probably are if you'd choose to eat freeze dried food. This was a bit bland as well, even for this lentil fan. Get it here.
AlpineAire pineapple chicken
Deliciousness scale: 1
Satisfaction scale: 1
To call this Chinese food is an abomination. This tasted like a fruit juice explosion and not in a good way. We all struggled to choke this down just so that we wouldn't have to pack it out. I strongly suspect nobody even taste tested this monstrosity. I'd rather have a tick on my eye than eat this again. I doubt you'd want to, but you can get it here.
AlpineAire honey lime chicken
Deliciousness scale: 1
Satisfaction scale: 1
This tasted like someone poured a bunch of Mr. Clean into a bag of rice and shook it up and jokingly labeled it as food. I felt like I was choking down chemicals just trying to procure nourishment as I shivered and told myself that it did at least have the redeeming quality that it was warm. Does anyone at this company taste the food? If you really hate your hiking buddies, get it here.
The Verdict
In the future, since MaryJane's meals were good 3 out of the 4 times I ate them, I will probably buy extra and just combine them in a larger bag. I love that there aren't a bunch of fake ingredients in the food and that the flavors are so nice. But Mary Jane, if you're listening, please put more food in there! The people want more!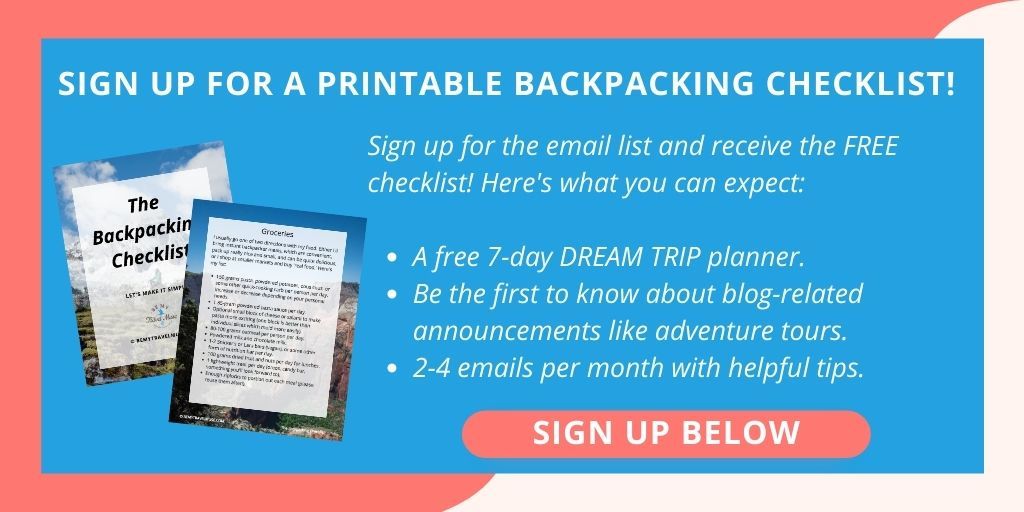 In closing, I know that my quest is not over. There are a great many more just-add-water dishes out there just begging to be sampled. I know that as a human guinea pig in the art of camp food, I have many more surprising delights and bitter disappointments in my future, but hey, someone's gotta do it.
Because the mountains are always calling, amiright?
What are some of your favorites and must-avoids? Tell me in the comments!
*By the way guys, these are affiliate links. Any purchase you make through these links helps to support this site at no extra cost whatsoever to you. Thanks for reading!