Summertime in Alaska can be a place of contrasts. One moment you'll be looking at an eagle amongst the bright pink fireweed on a sunny day and the next you'll be standing on your balcony in the mist, bundled up while looking at a glacier.
So how do you pack for an Alaska cruise when all kinds of weather is possible? Here's everything to bring, and how to pack light:
Light Rain Jacket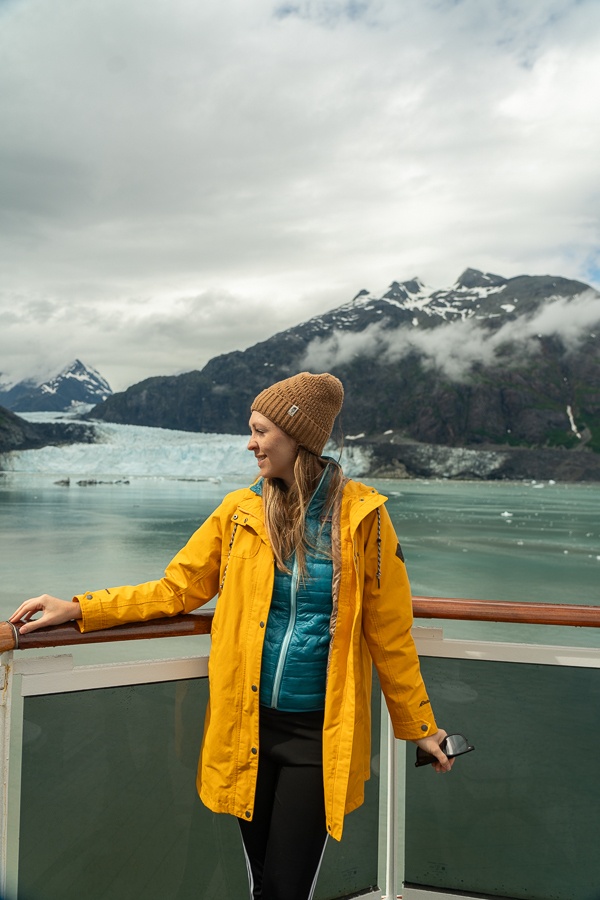 It would be fair to say you can potentially experience all seasons in one day on the deck of your cruise ship in Alaska. However, it's not the Alaskan winter, so a super heavy jacket is going to most likely be too warm. I highly recommend bringing a rain jacket that can also double as a windbreaker. I love the bright yellow of my rain jacket, particularly when set amongst the icy backdrop of the glaciers.
I wore my lightweight puffy vest as well, which provided a nice extra layer without being too heavy. The combination was perfect for our day spent cruising Glacier Bay National Park where we had intermittent rain and sunshine.
Hoodie and Leggings Set
It's great to have layers since things can feel warmer in the southern areas and get cooler as you head north. I'm all about comfies that don't necessarily look like comfies as much as possible on trips.
My hoodie is actually the Men's adidas Adicolor since I like an oversized fit, and women's high-waisted leggings. Felix is rocking an adidas hoodie, too! I love that we got to match, and how comfortable yet stylish we looked in them.
Swimsuit and Gym Clothes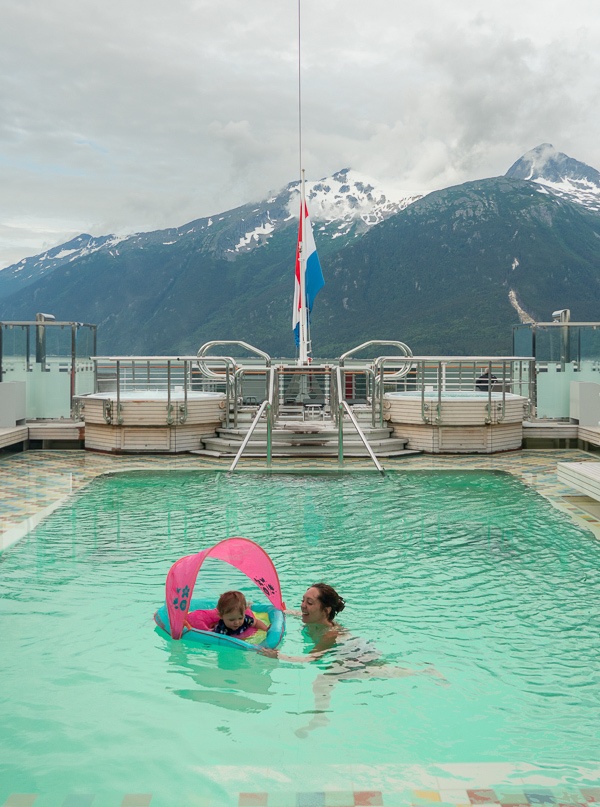 Even though you're not cruising to the Mediterranean or Bahamas, you might still want to get in the pool or especially the hot tub! I was impressed that the outdoor pool was heated enough during our Alaska cruise with Holland America (read my review of it here), that we could even swim outside!
There is also quite a nice gym on board most cruise ships, and they even offer yoga and Pilates classes! If you want to get some exercise in while you're on the ship, bring some gym clothes along with you as well. Our ship also had a jogging track, which was wonderful for evening stroller walks.
The Rest (Layers)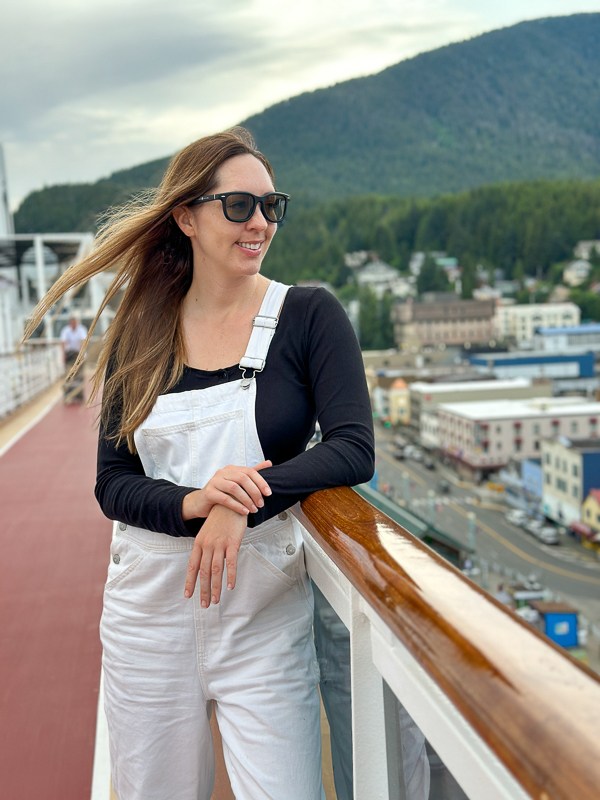 The best thing you can do to prepare for your cruise is to bring layers. Generally, I pack for a week's worth of travel at a time. Most cruise ships will offer a laundry service, although it can be pricey. But you can always bring along a sample size of detergent and wash in your sink as well.
Here's what else to bring:
3-4 long-sleeved shirts
2 T-shirts
2-4 pairs leggings or pants
2 outfits for dressy nights on board
1 Beanie (I prefer lined ones. Here's my favorite)
1 sun hat
1 pair slide-to-dim sunglasses
1 pair sneakers
1 pair dress shoes
1 pair hiking boots if you'll be hiking
Jammies to sleep in
Enough socks and undies for the trip
Consider gloves if your hands get cold easily
The ship will usually provide bath robes, enough towels for your stay, and will be warm enough onboard to dress in a light shirt and pants. Be sure to bundle up if you'll be spending lots of time on the decks and balcony, which I highly recommend doing!
Photography Gear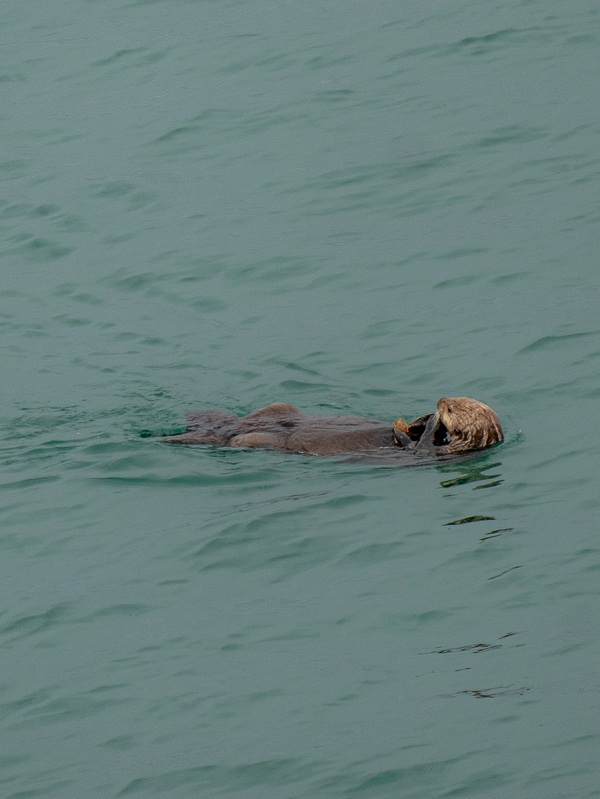 If you're into photography at all, I definitely recommend bringing a camera that has a long range lens. I brought my Sony A7III and telephoto lens that could zoom to 300mm and for my next scenic cruise, I'll probably rent an even better, longer range lens.
The darker lighting of Alaska plus the movement of both the boat and the photographer can make getting the shot challenging. Most of my wildlife shots came out a bit blurry, but thankfully there were a few, pictured above, that turned out perfectly! If you're new to photography, I recommend learning all you can before you go, getting out of auto, and not just relying on a phone for photos and video. The animals will just look like tiny specks. Learn more in my photography course.
Other Considerations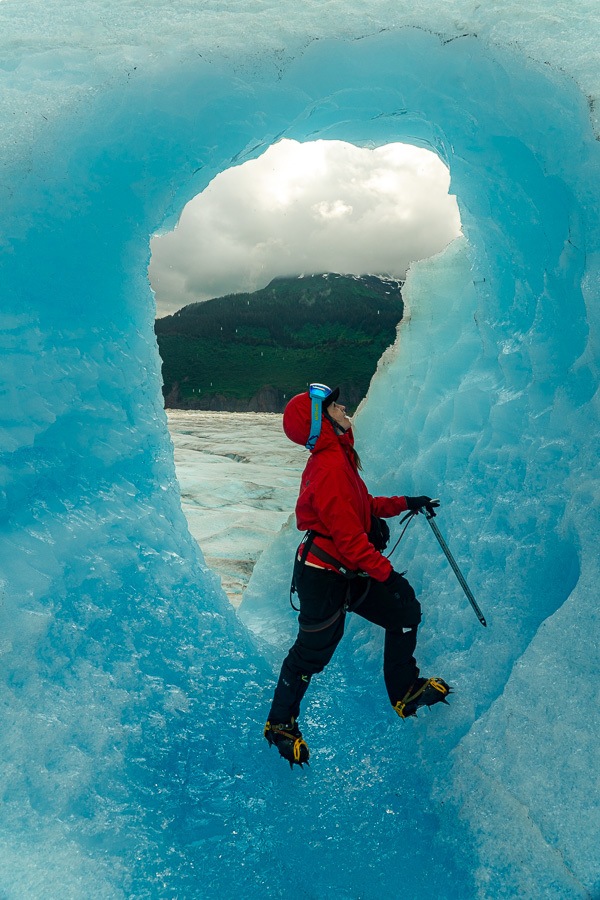 If you plan to go on any excursions that have a specific packing list, make sure that you read what you need to bring ahead of time. This may be the deciding factor for you as to whether you need hiking boots or not.
Since my excursions were mostly scenic flights and the White Pass Railway in Skagway, I didn't end up actually using my hiking boots. The only excursion where I thought they would be necessary, they provided us with footwear and all the gear since we were trekking on a glacier.
Apart from packing some fancy clothes for dressy nights, the vibe was pretty casual on board, and being able to prep for your cruise without bringing a ton of gear and clothing is totally possible.
Enjoy the beauty of Alaska!
*This list was brought to you in partnership with adidas, who provided our track suits for Alaska.