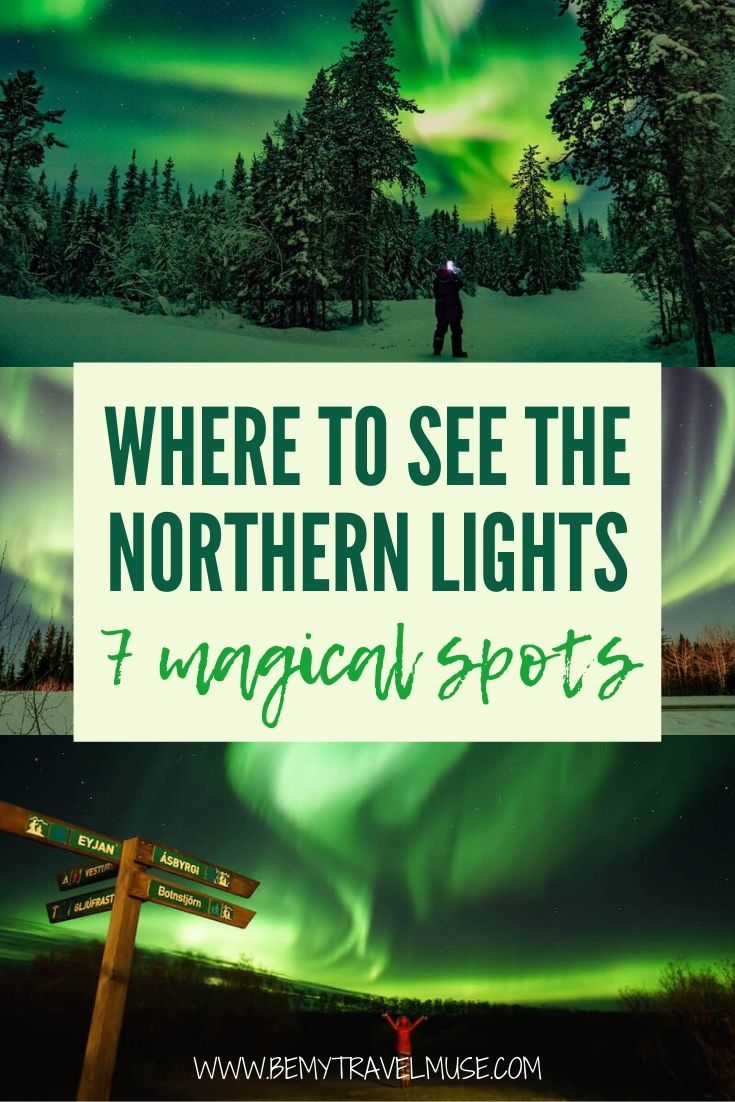 Ancient myths and legends have interpreted the northern lights to be spirits, a firefox's tale, and even a battle of dragons. These days we know that the aurora borealis is actually disturbances in the magnetosphere caused by solar wind, but after seeing the lights in person, it's easy to understand why so many legends have been made about its existence.
To see the colorful night sky is an experience so breathtaking that you'll question if what you're seeing is actually real. The mythical magic of the lights draws thousands of tourists every year.
Planning an aurora hunt is more than just going north and waiting for the night. The northern lights are never a guarantee; you have to consider weather, place, season, and a lot of other factors in your destination. That's why I decided to list the seven best places in the world to see the northern lights (and if you read until the end, you might find some recommendations for the southern lights too!)
A Little Bit of Background on the Northern Lights
To fully appreciate these lights, it's good to know a little bit about them and why they actually happen. The northern lights, or aurora borealis (literally northern dawn in Latin), is the result of highly energized solar particles that come into contact with the Earth.These particles collide and excite nitrogen and oxygen atoms in the Earth's magnetosphere to create rainbow-colored hues in the sky.
The likeliness of seeing an aurora depends on the sun's activity. When the Sun's activity is strong, you can see the northern lights from places as south as England/France/Germany in Europe and the northern continental US. Scientists have noticed that the lights operate on an 11-year cycle of solar activity, with the last burst of strong activity in 2014. 2020 is actually near a "solar minimum", which means you will have to venture pretty far up to get a good view of the lights. A combination of location, clear skies, dark skies, and reliable tools like NOAA's 30-minute aurora forecast can help you maximize your chances of seeing aurora even during years of low solar activity.
The best places to see the northern lights are at latitudes above 60 degrees north. That doesn't mean you won't see the lights in more southern latitudes, though it will be rarer to see them during years where there is weak solar activity.
Even though the aurora happens year-round, you will most likely see them when it's winter. This is because the colder seasons are when places get dark enough to actually see the lights. Without further ado, here are some of my top places to see the lights:
Kola Peninsula, Russia – Just South of 70 Degrees North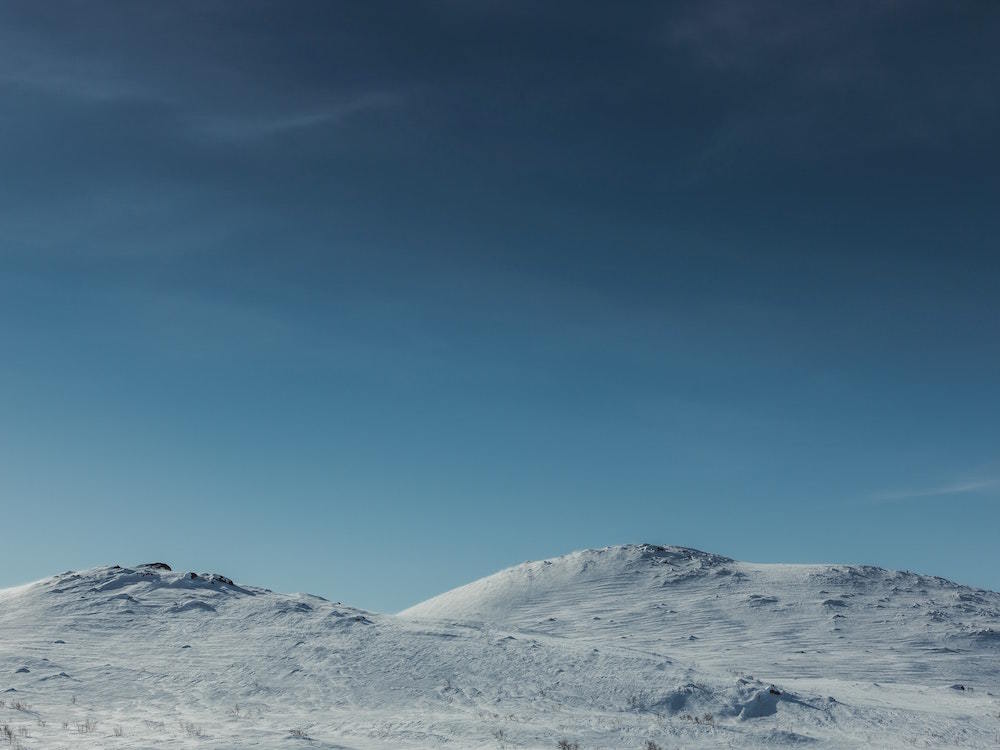 You'll want to find the darkest place possible to see the lights, and the extreme latitude of the Kola Peninsula ensures a lot of dark nights. The Kola Peninsula is a 2-hour plane ride from Moscow or St. Petersburg, which makes the peninsula both remote and accessible. Most northern lights tours leave from the city of Murmansk to surrounding natural areas for the prettiest viewing experience. Anytime between October and March would be the best time to visit, but make sure you pack well. The climate is very harsh as most of the peninsula is within the Arctic Circle—it's a Russian winter, what else can you expect?
Other things that make the area great: During the day, you can take advantage of your remote location by sledding with huskies or exploring the wilderness on a snowmobile. Cross-country skiing and 4×4 expeditions are other popular activities.
Hotel recommendations: The Kola Peninsula isn't exactly the most tourist friendly because of its location in the wilderness. Most hotels are concentrated in Murmansk, like AZIMUT Hotel Murmansk, Park Inn, and Congress Hotel Meridian.
Tromsø, Norway – 69.4 Degrees North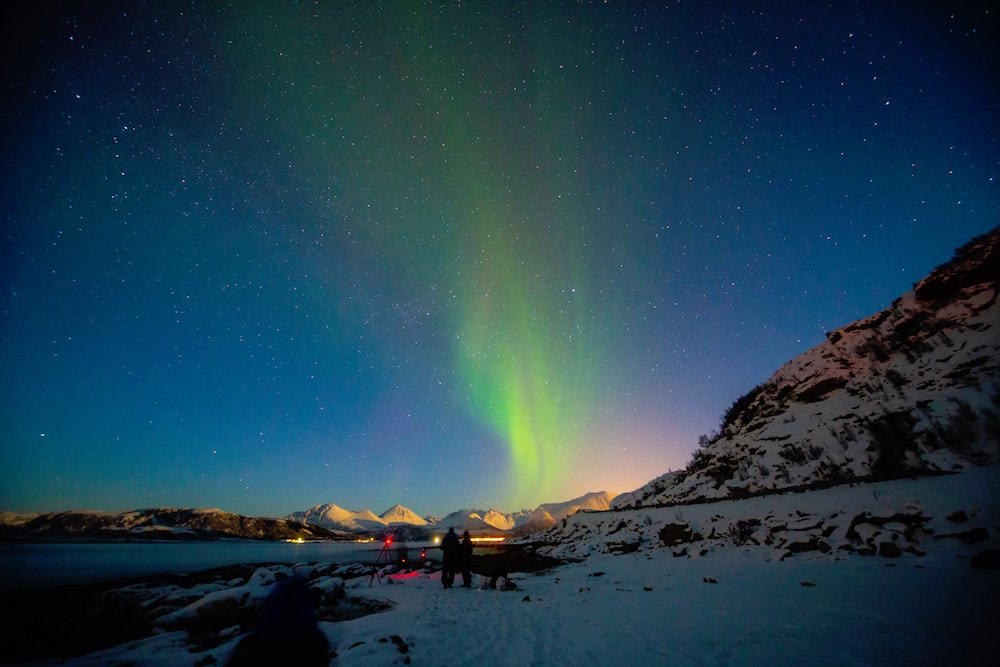 This small Manhattan-sized island is the third most populated city above the Arctic Circle. This city makes a solid base for your aurora trip, especially if you want your trip to be remote but not feel like the middle of nowhere. Tromsø can feel like a world of its own, but a thousand-meter bridge is all that stands between it and Norway's mainland. You can book a 4-hour cruise with jacuzzi here.
Other things that make the area great: There are a variety of activities to do in this relatively well populated area (about 75,000 people). Head over to the iconic Arctic Cathedral or take the cable car to the Fjellheisen viewpoint for a scenic panorama of the city"  Multiple tours will take you around the Arctic fjord and the surrounding wildlife. The Sámi people have deep ties to the area, which you can learn about while feeding reindeer. For the college student experience, visit the University of Tromsø—the northernmost university in the world—and then have a pint at Tromsø's oldest pub, Ølhallen.
Hotel recommendations: Some highly reviewed hotels include Radisson Blu Hotel and Clarion Hotel The Edge. For hostel accommodation, check out Tromso Activities Hostel and Tromso Activities Hostel. You can look at a complete list of accommodations from the Tromsø Tourism Board here.
Ylläs, Finland – 67.6 Degrees North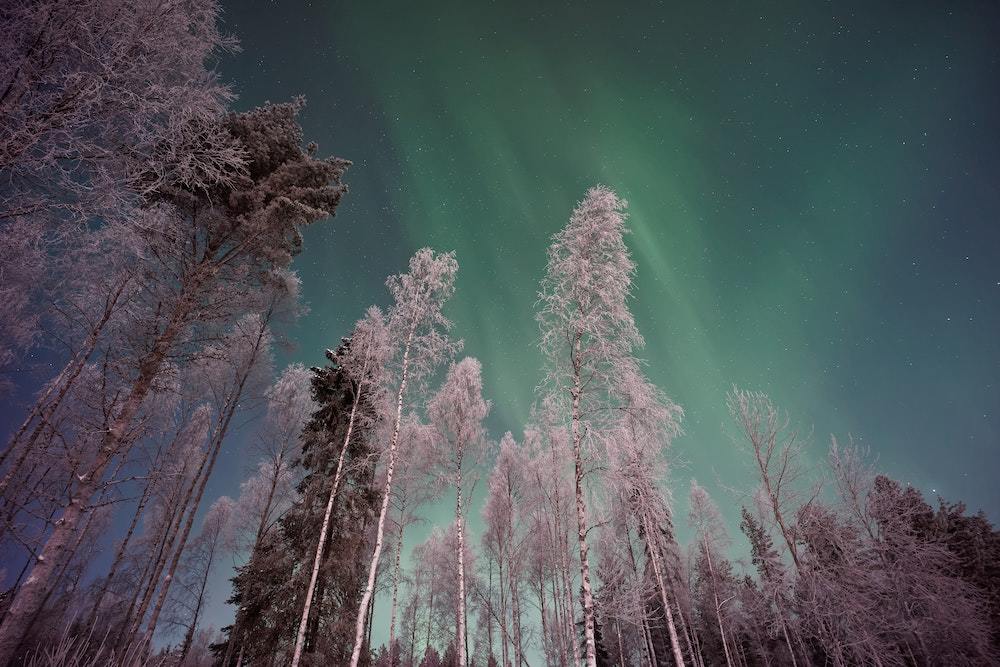 Reindeer rides, ice hotels, and Whoville trees coated with heavy blankets of fluffy snow characterize the town of Ylläs, Finland. It's one of the best places to see the northern lights while also getting a cozy introduction into sauna culture, a chance to ski nearby on nice, wide slopes, and even a meeting with Santa Claus a bit further south.
Other things that make the area great: Go to Finnish Lapland for the lights, but stay for the hospitality and wealth of things to do. The trees are lit up at night along a scenic drive in Ylläs, the ice hotel is fascinating to explore, skiing is plentiful, and you can even have a sled-dog experience. That way, if it's cloudy, there's still lots to occupy your time and make the trip worth it.
Hotel recommendations: It doesn't get better than the Aurora Estate, a locally owned hotel run by two women, with delicious food and their own sauna and iced over lake for dipping.
Vik, Iceland – 63.4 Degrees North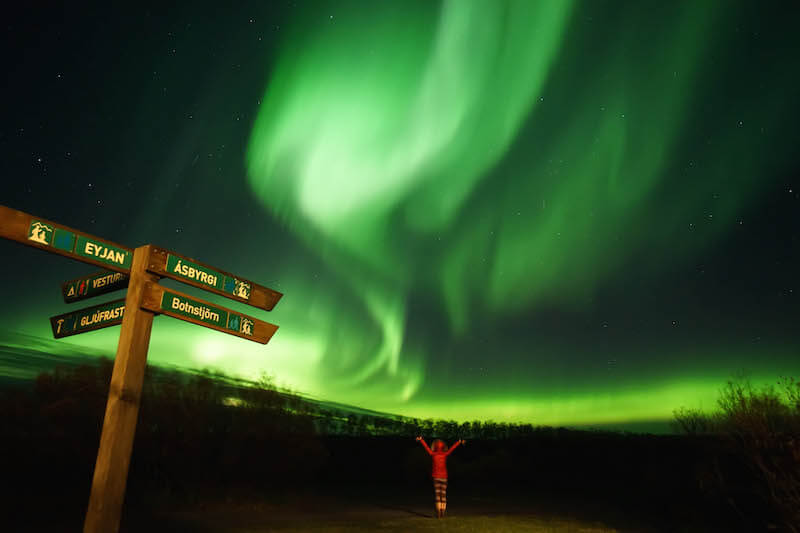 I've written multiple articles about the beauty of Iceland, but I would be doing you a disservice if I didn't mention Vik! Out of the entire list, Iceland is one of the most convenient countries to navigate. Tons of tours go from Reykjavik to all over Iceland for aurora experiences, so you can't go wrong with any spot on the island. Vik's location is an ideal place to see the northern lights if you want to see them contrasted against the ocean and the oddly-shaped rock formations offshore. I highly recommend driving your own car and using Iceland's own aurora forecast, giving you maximum flexibility to view the lights!
Other things that make the area great: Iceland's rank as the world's safest country, its high English proficiency, natural beauty, and wealth of things to do make it perfect for solo travelers wanting to see the lights. There are a ton of great hikes and road trips waiting for you here too. Check out my Golden Circle and Ring Road articles for some trip examples.
Hotel recommendations: Most of the best accommodations you'll find are in Reykjavik, including the Galaxy Pod Hostel, Loft Hostel, and KEX Hostel. For broader search options, Iceland's tourism board offers an accommodation guide.
Yellowknife, Canada – 62.5 Degrees North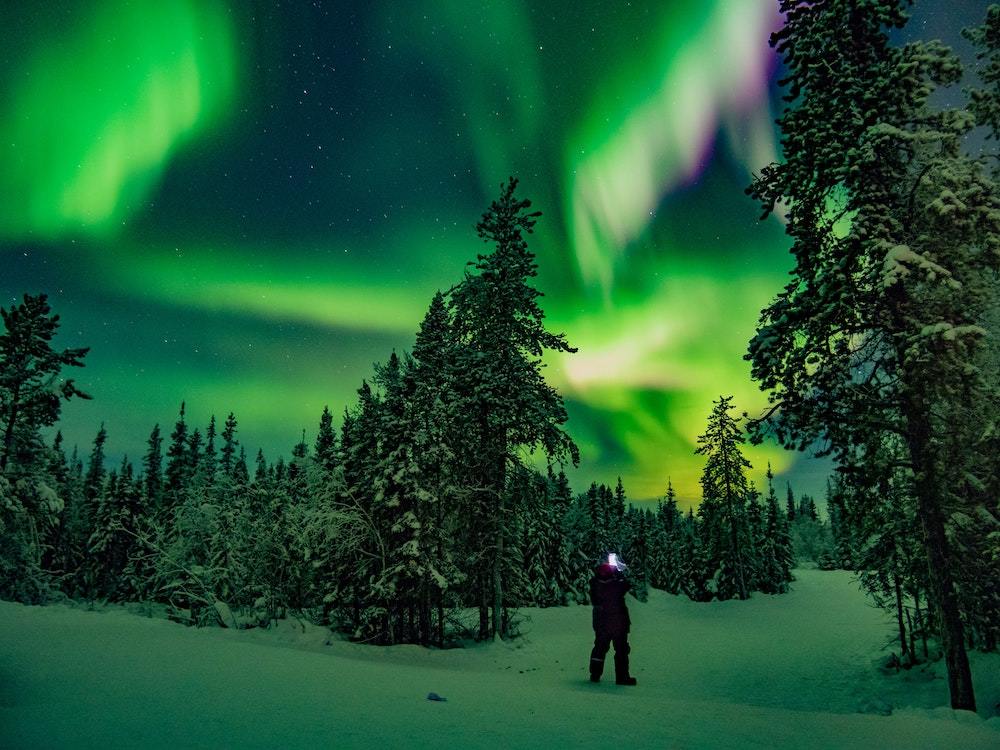 Head northwest of Churchill and you'll find Yellowknife, another one of Canada's best spots to catch the aurora. The northern lights are visible here around 65 percent of the year, so you're bound to catch the lights during its viewing season (end of August to mid-April). Plus, the non-profit Astronomy North creates Yellowknife aurora forecasts in partnership with the Canadian government to help you get a great view.
One unique place to catch the lights is on the Dettah Ice Road, which is actually a frozen part of a lake.
Other things that make the area great: Even though the northern lights take the spotlight here, there are other special winter activities like dog sledding and tobogganing to enjoy. You can look up different scheduled events and festivals here. Yellowknife is the capital of the Northwest Territories, so getting there is doable by car and plane (through the Yellowknife Airport).
Hotel recommendations: Hotels and B&Bs are the most popular options here, including the Explorer Hotel (which is eco-certified!) and Narwal B&B. Yellowknife has a webpage detailing all of its accommodations.
Churchill, Canada – 58.7 Degrees North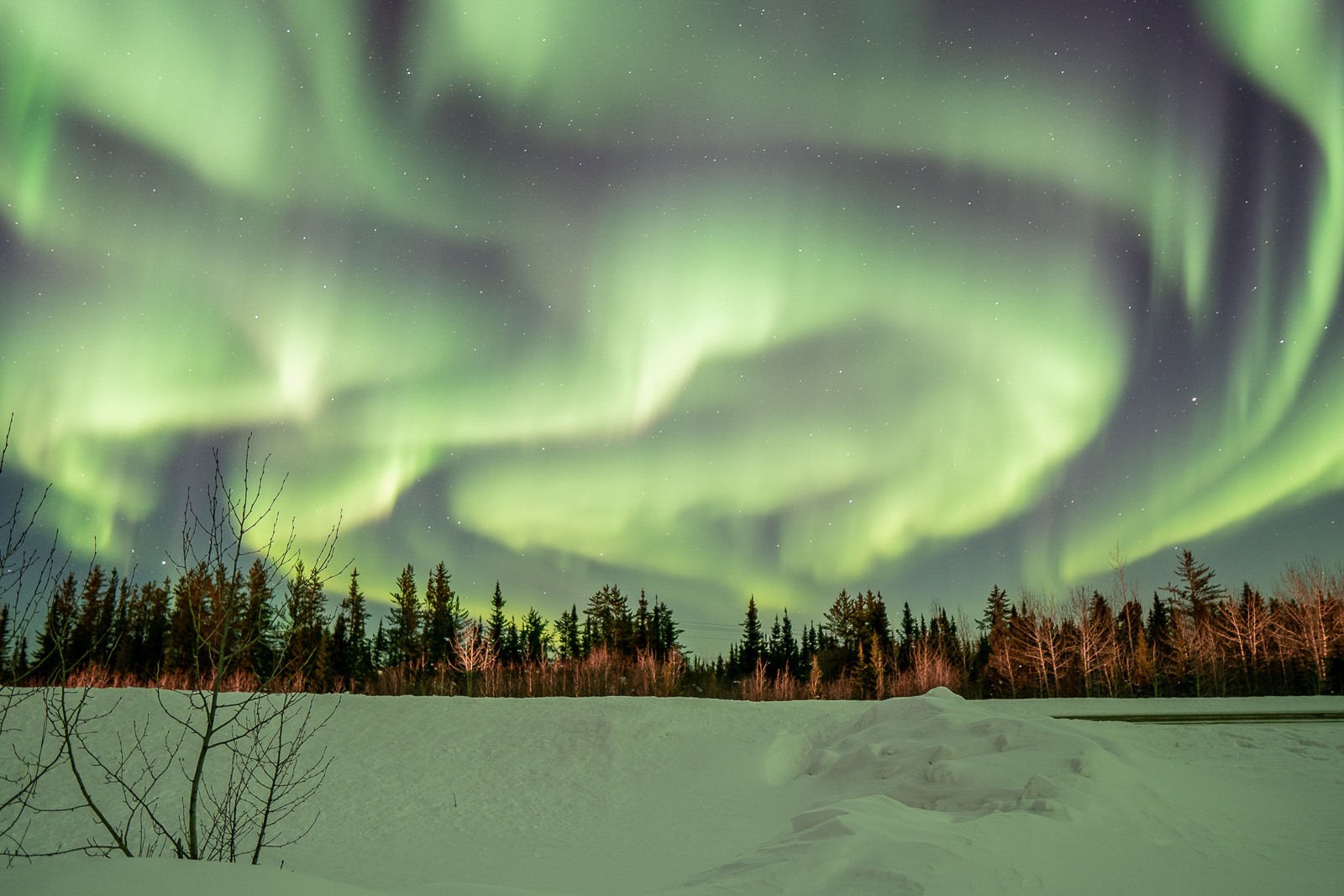 Listed by National Geographic as one of Canada's "50 Places of a Lifetime", this tiny town has earned itself a big reputation. Only around a thousand people live here, so you'll have no trouble with light pollution. Churchill calls itself the "Polar Bear Capital of the World", but when the winter rolls around and the bears are out on the ice, the aurora hunting is at its prime. Churchill boasts 300 nights per year with the potential to see the northern lights thanks to its location.
Other things that make the area great: To get a true sense of dog sledding culture in Canada, there's no better time than the snowy winter. Wapusk Adventures is a locally owned and run operation that gives you a peek into Canadian Metis culture as well. Be sure to join Beyond Boreal Expeditions for a snowmobiling adventure to the shipwreck as well. This company is owned and run by a local 23-year old woman, and she's incredible to explore with!
Hotel recommendations: The Aurora Inn is one of few hotels that operates in the winter.
Fairbanks, Alaska – 64.8 Degrees North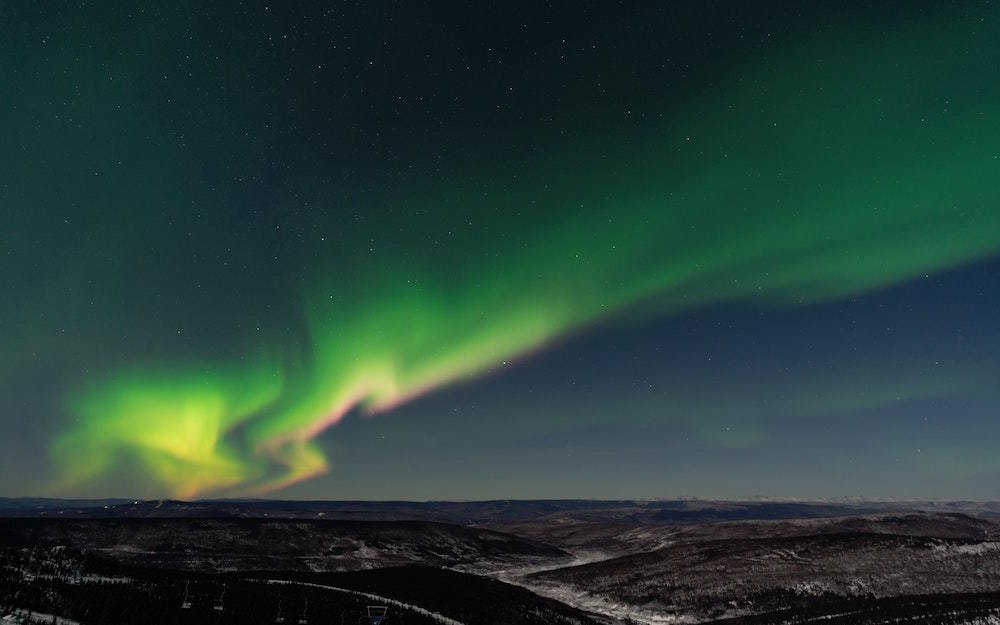 About this spot: As the only contender from the United States, Alaska makes a great spot for Americans who want to see the northern lights without a passport. The town is a seven hour drive north from Anchorage in the heart of Alaska. The town even has its own aurora borealis tracker to maximize your chances of catching it. You can book a 14-hour tour here.
Other things that make the area great: A 20-minute drive from Fairbanks is North Pole. No, not that North Pole. I'm talking about the Alaskan city, which displays Christmas decorations year-round.
Hotel recommendations: Explore Fairbanks has a complete listing of accommodations here.
BONUS: SOUTHERN LIGHTS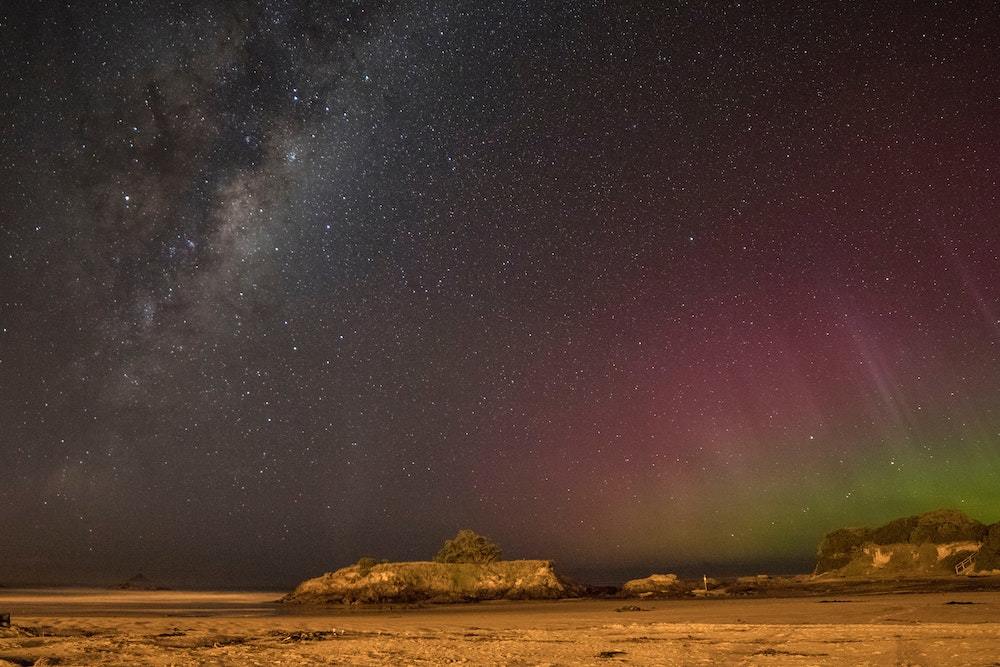 Of course, we shouldn't forget about the northern lights' equally cool counterpart: the southern lights! Although the South Pole is on land, but surrounded by water, there are a few places to see the southern lights. This part of the world offers you a different view of the night sky—including the Milky Way. If you decide the south is more your style, these are some great options:
Stewart Island, New Zealand – 47.0 Degrees South
Stewart Island is New Zealand's southernmost island, and the island's national park, Rakiura National Park, covers about 85 percent of the island. The island's undisturbed nature and intense darkness that comes with a national park is great.
Other things that make the area great: Stewart Island is only a 1.5 hour trip from New Zealand's South Island, so you can easily explore the country before and after your southern lights trip. New Zealand is a particularly popular destination for the adventure seeker, with activities like bungee jumping and skiing keeping you occupied between nights.
Hotel recommendations: Stewart Island offers a list of different accommodations here.
Tasmania Island, Australia – 41 to 43 Degrees South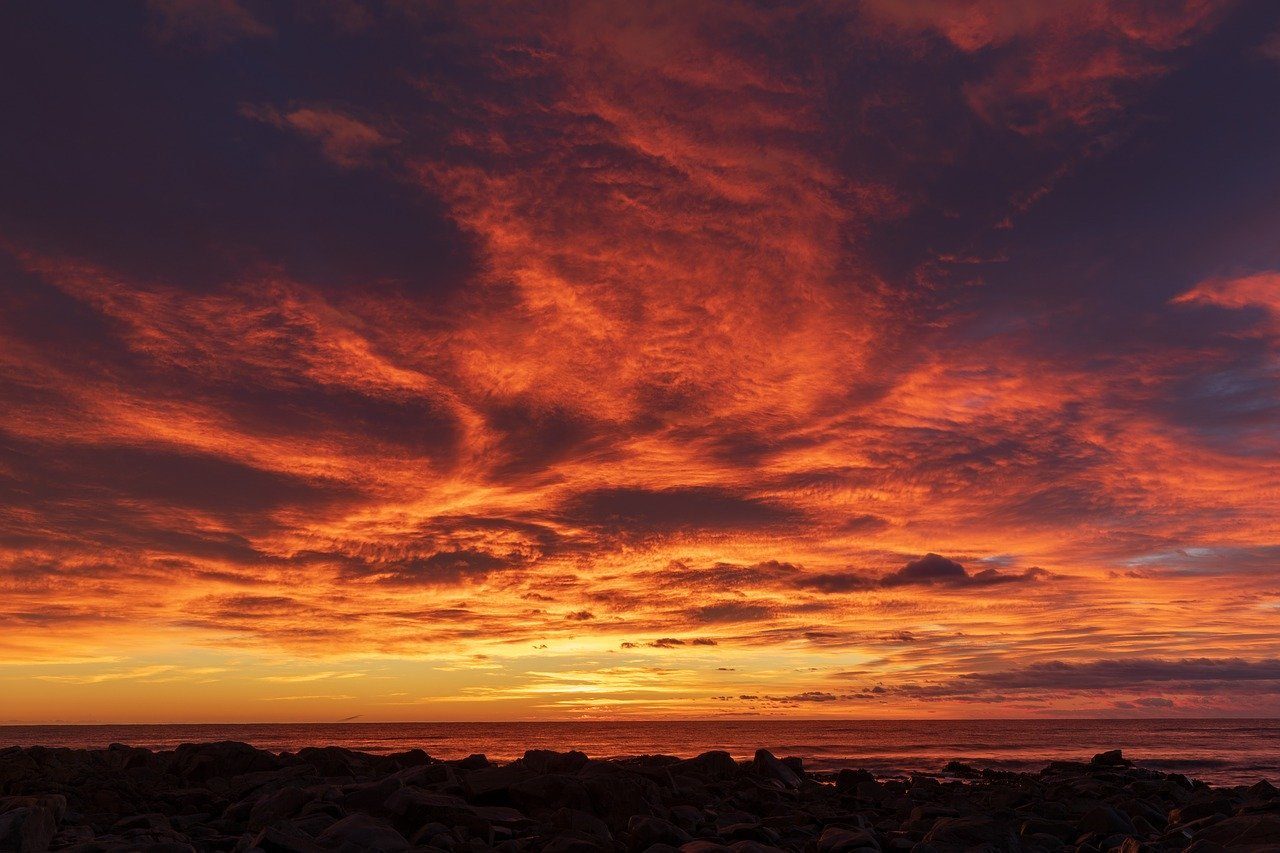 This small island off Australia's south coast is known for its vast, rugged wilderness areas, largely protected within parks and reserves. The island is camp-friendly, so you can make your way around the island at your own pace. Click here for a Google map displaying popular viewpoints of the southern lights. Tasmanian capital Hobart is only a 3-hour flight from Melbourne, making it an ideal getaway from the big city experience.
Other things that make the area great: Mount Wellington is a popular hiking point for aurora hunters and outdoor enthusiasts alike.
Hotel recommendations: From campervan camping to farm stays, Tasmania offers a ton of different accommodation options. The Tasmanian tourism board lists them here.
Falkland Islands – 51.8 Degrees South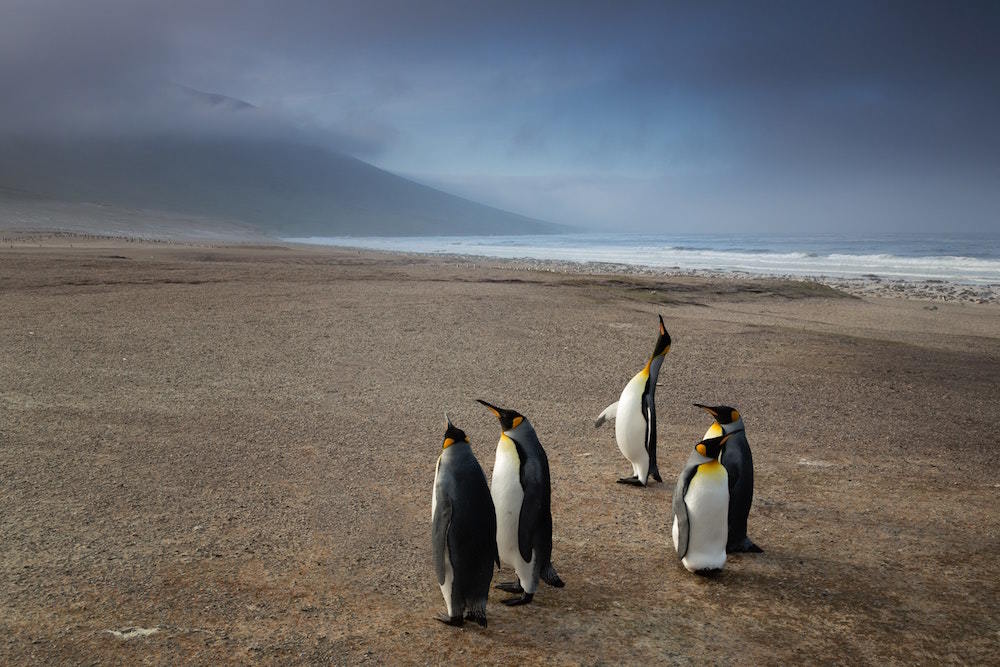 This group of islands off of Argentina's coast is overlooked on most South American trips, but makes for an intimate southern lights experience. Make it a point to stop by if you're going through Patagonia and you won't regret visiting this quirky place. To get from one island to the next, people often use plane and boat transportation.
Other things that make the area great: The few thousand people that live here are outnumbered by the wildlife, making it a great place to see some unique animals. Carcass Island is famous for elephant seals, penguins, and other wildlife that roam and inhabit the island.
Hotel recommendations: Because most of the hotels here are small businesses, your stay will have a homey feel. The Falkland Islands Tourism Board has a list of accommodation options here.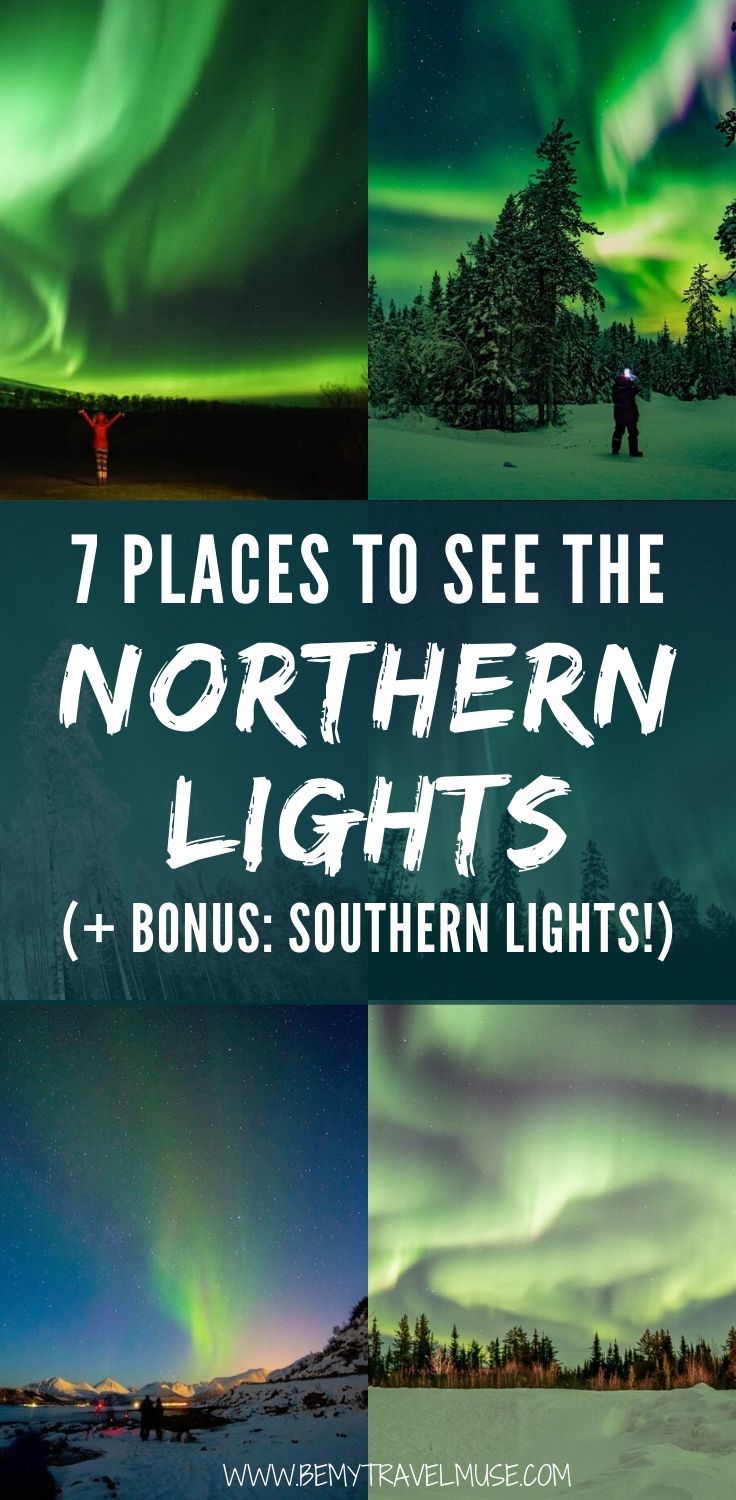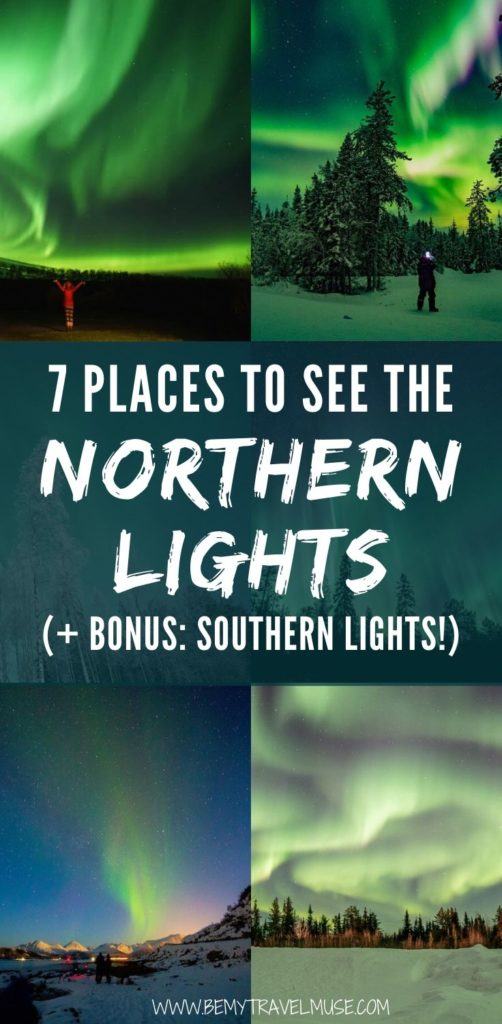 These are only a few of some great locations to view the northern and southern lights. But as long as you have an extreme enough latitude, clear skies, some KP, and darkness, you should be set for a night to remember. If this trip isn't on your bucket list yet, I highly recommend adding it as a must-do experience. It's the sort of trip that reminds you how weirdly awesome our planet can be.
Where would you want to see the Northern Lights?