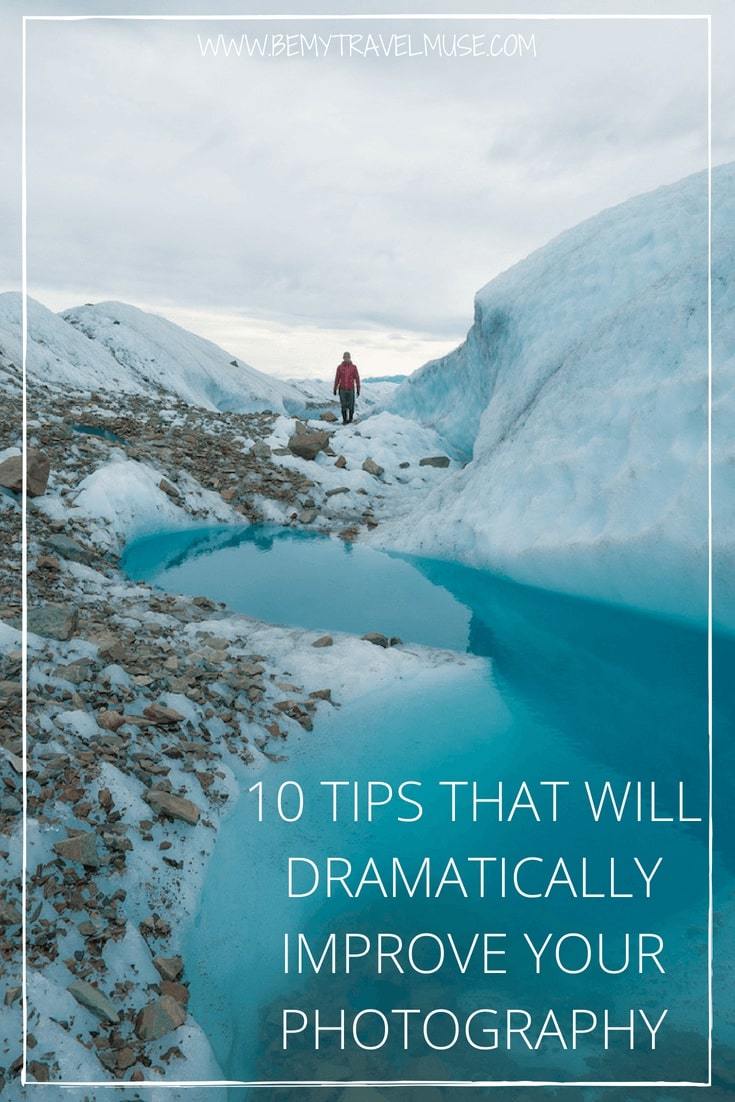 Over the past six years, photography has been my main way of leaving a place with souvenirs. I usually don't have room for anything in my bag except for the bare essentials and don't have room in my head for more than the situation at hand, so my photos have become a very important part of documenting and remembering my travels.
When I first started out, I loved some of my photos but couldn't figure out why most of them came out strangely or didn't reflect what I'd seen in person. In the years that followed I've watched countless tutorial videos and poured thousands of hours into getting better. It turned out that it was never about the equipment, it was about the photographer – me!
Photography has been hugely important for this blog and my career. Since I focus on travel, pleasing photos have been a major contributor to the growth of this website. I've also been hired for projects, like in Hawaii and Mexico, where I was told the style of my photography was what made them pick me for the job. It's been an indispensable skill.
Here are the main things I did to become a better photographer that you can implement easily, too, broken down into 10 easy tips:
1. Consider how the light is hitting you/your subject
Lighting plays a huge role in photography. It can be the difference between a grainy photo and a crisp, clear one. Or the difference between a plate of food looking beautiful and appetizing to yellow and unappealing. I'm sure you can think of a time when you tried to take a photo and it was just too dark or way too bright and nothing you did would make it look nice.
Conventional photography instruction advises not to shoot in the middle of the day when the light is the harshest and least flattering. However as someone who does the bulk of her photography on hikes which are a daytime activity, this is far too limiting and disappointing advice. So let's rewrite it: It's all about making light work for you.
If it's dark, is there a way to make light hit your subject in a flattering way? Is there the possibility of getting in the shade if it's super bright, or making the sun part of your photo? Golden hour (the hour before sunset), sunrise, and sunset are almost always going to be more ideal conditions than midday or cloudy skies, but as long as you have light hitting your subject in a nice way, it can still turn out beautiful.
2. Expose for highlights
Let's say you're shooting on aperture priority or manual mode and you've got dark and light parts of your photo. When we say expose for highlights, I mean shoot the photo for the brightest parts and then you can adjust the contrast and shadows later when you edit. However if the entire photo is too bright because you've exposed for the dark parts, then there's almost nothing you can do to fix it in editing later.
3. Remember that less is more
Which photos are the most pleasing to look at? Sometimes photos with a lot going on can be entertaining, but they can also be stressful, even if only on a subconscious level. Before you take that shot, ask yourself what you want your viewer to focus on. What kind of story do you want to tell? The fewer things competing with your story, the better.
It can be difficult to visit a popular or busy place without having other people around, but not impossible. Could you go very early in the morning? That's usually my trick, like in the photo above which was taken at one of the most popular cenotes in Mexico, however by going early I had it almost entirely to myself.
When the viewer doesn't have to decide what to look at, because it's already very clear from the photo, it's simply more pleasing to look at.
4. Get in your photos!
For the first couple years of my travels, I was absent from almost all of my photos. I came to feel kind of sad when I looked back at them and thought, "this could have been anyone's trip."
I started putting myself and my friends in the photos more and it made all the difference. Sometimes, a photo just looks way better with a person or animal in it. It shows scale, allows the viewer to imagine him or herself there, and allows you to come home with awesome travel photos. Besides, people want to know who they're following.
Though it doesn't look like it, my photos are mainly selfies shot with a timer, or are situations where I figured out exactly how I wanted it to look, and asked whoever I was with or a passer-by to hold it right in that position and take the photo for me. It's still my photo, I'm just in it more. For more tips on taking travel selfies I went into detail here. You can also join my 5-day selfie post challenge below, it's a lot of fun!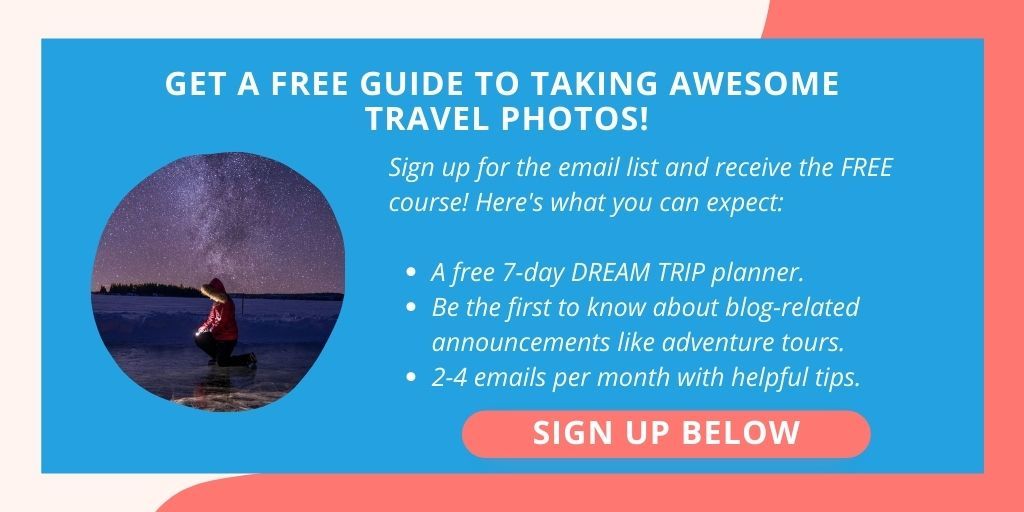 5. Do a little research first
Knowing what time to expect sunset and sunrise and knowing what part of the sky it's going to set/rise in can go a long way to help you to take better photos. For the example of Horseshoe Bend above, I just quickly googled whether the sunrise or sunset was better there and found out that the sun sets right behind the bend, which meant it was the perfect time to go and photograph it. Any other time of day would have still been beautiful but it would've been missing that special touch.
6. Don't cut your subject in half
Sometimes when you look back at your photos they're somehow off but you can't quite tell why, right? It could be that the person or the subject was somehow awkwardly obstructed by the horizon. In the example above, it would have been better if I could've gotten the water line above my head rather than through it. For this I would have needed the tripod to be a little bit higher (it was a selfie). It's still a nice photo, but it would've been much better without the horizon cutting through my head!
7. Examine your favorite photographers' photos
One of the best ways to improve is to pick some people whose work speaks to your soul and to examine what they do. I recommend selecting several different styles that you like and seeing how you can incorporate them to make your own style.
It's important not to outright copy anyone, but rather to draw inspiration while you're learning. Then at some point, the best thing to do is to focus entirely on your craft and stop paying as much attention to what anyone else is doing. That's how you really stand out!
8. Don't overdo new tricks and techniques you find
When you do discover a new technique, like how to shoot HDR, or in my case when I learned how to do a sunburst pictured above (which you can do at an f18+ in the middle of the day), it can be really exciting and you might want to do it all the time, but resist the urge because otherwise you'll have a bunch of photos that look the same or using a technique that is probably only appropriate in some situations.
9. Learn to edit
Trust me on this one: Learn how to edit your photos. I know this is a bold statement but I'd venture to say that there are no professional photographers out there who never edit their photos. In fact, editing usually takes even more time than the photo shoot. This doesn't mean that you completely change the photo and make it fake, it just means that you make it look more like it did in real life. The most user-friendly program I'm aware of is Lightroom and most of your favorite professional photographers are most likely using this program. I have a full tutorial here to help you get started.
10. Never stop practicing and experimenting
Never stop practicing! Perhaps you're familiar with the 10,000 hour rule, which states that for anyone to be an expert in any field, they must practice for at least 10,000 hours. Most of your favorite photographers were not overnight successes and the reason why they do so well is because they're passionate about their art. To get good at anything, you've got to put in the work, and photography is absolutely one of those mediums.
Thankfully photography is an art that anyone can get good at (trust me, scroll back to circa 2012 on my Instagram and you'll see how horrible and oversaturated my photos used to be!), and that anyone can keep improving upon. That's what makes it so much fun – you can always get better.
If you like posts like this, be sure to sign up for the newsletter for more photography-related content and announcements in the coming months!
Enjoy this journey, it's the most inspiring one I've ever embarked on.