That we leave our homes, that we step through our doors to the world, that we travel our whole lives not because we want to collect exotic T-shirts, […] but because it has the power to renew us—not the guarantee, not the promise, just the possibility. Because there are places our imaginations can never construct for us, and there are people who we will never meet but we could and we might. It reminds us that there is always a reason to begin again.
― Stephen Markley, Tales of Iceland 
It's a bit tough to put Iceland into words. Some call it the land of fire and ice, but they're leaving out a big part of it – the greenery, changing colors, wild seas, black sand beaches, rainbows, painted mountains, thousands upon thousands of waterfalls all over the country, and most importantly for me, the green lights in the sky.
It gets to the point as you road trip through Iceland that you finally just stop identifying another waterfall and learn that you can't pull over every time you see a photo opportunity because you simply wouldn't get farther than 30 or so kilometers in one day if you did. It's that stunning.
I visited Iceland in October, and it was the perfect time for several reasons: The weather was mild, the amount of daylight and nighttime was almost equal, and the fall colors blanketed the ground and covered the trees.
It left me wondering if I'd ruined the rest of the travels that lay ahead of me, simply because I might have already visited the most beautiful country on earth. Its official name is Iceland, but to me, it was Narnia.
Here are ten photos to prove it, along with the camera settings so that you can replicate them:
Spotting the Northern Lights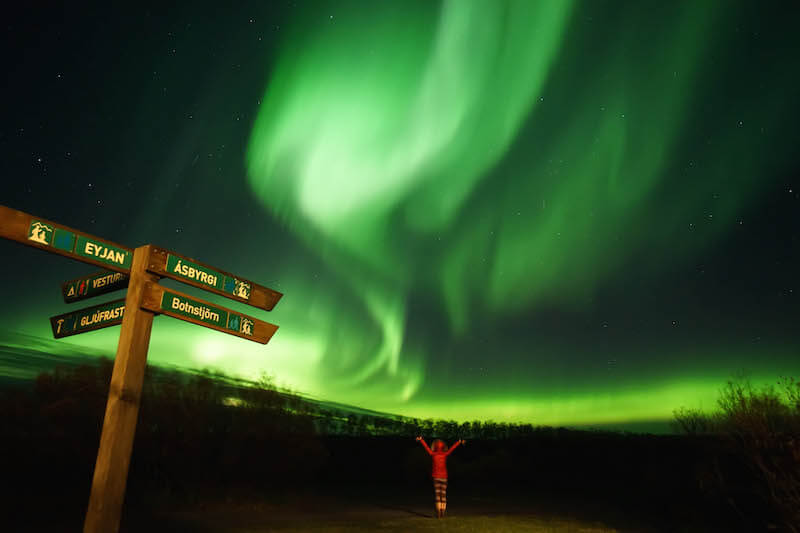 One big reason to visit Iceland in October was the opportunity to see the aurora borealis (northern lights). In the summer, there's hardly any darkness, and in the winter, there's hardly any daylight which really limits daytime activities. The shoulder season turned out to be a perfect combination of night and day.
Lifting some tips from Expert Vagabond, the plan was to have as much flexibility as possible. My buddy, Maksim, and I did this by renting a camper van and checking out the aurora forecast before we decided which direction to head in for our week-long Ring Road trip. We planned so that we'd have the best possible chance for clear and dark skies.
It paid off, and we got three nights of aurora activity at a level 5, which is high. The way it swirled and danced across the sky was spectacular, and it really was as bright as you see in the photo above.
The camera must be completely still for such a long exposure so get a tripod and remote, or use your phone as the remote. Also, keep in mind that a wide-angle lens is generally much better for night photography, as you can get much more of the sky in the frame.
Even if it's not as bright for you, with the right camera settings, you can still photograph it. If you see grey in the sky or slight movement, point your camera at it with the following settings and you may be able to capture it:
Camera Settings: f/4.5, 15-seconds, manual focus, ISO 2500
Equipment: Sony Alpha a6000, wide-angle lens, tripod, phone as remote
Marveling at the world's only glacier lagoons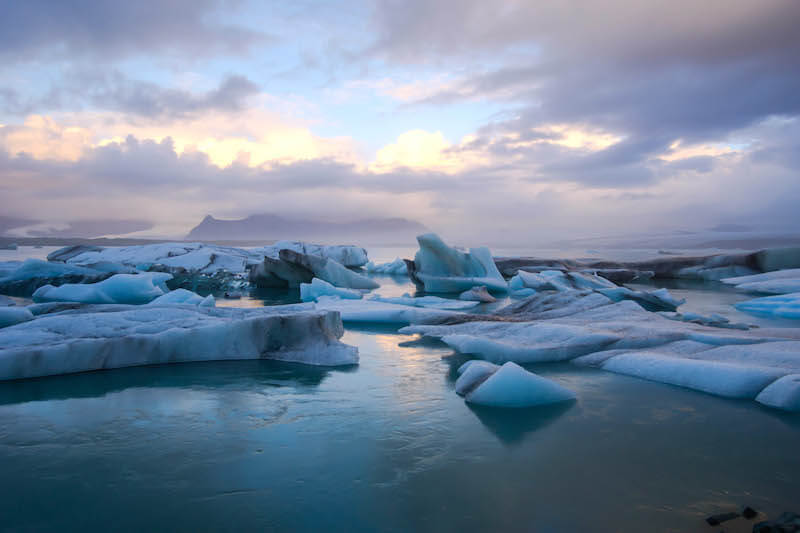 I peeked out the window from my camper van right as the sun rose over these floating bits and pieces of glacier. The Jökulsárlón Glacier Lagoon is one of the world's only glacier lagoons and an absolutely gorgeous one at that. I ended up with so many shades of blue and purple, it was surreal.
Camera settings: f/5, 1/160, ISO 160
Equipment: Sony Alpha a6000, 16-55m lens, hand-held
Exploring Iceland's largest Canyon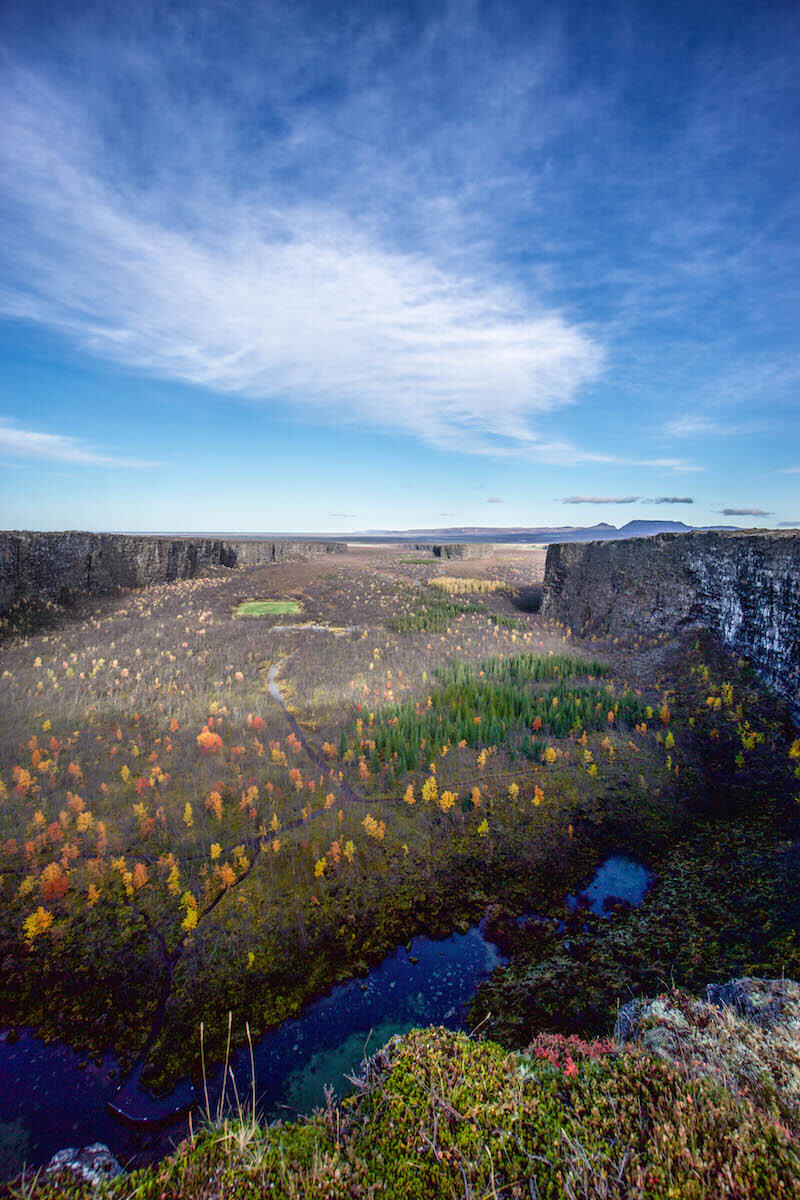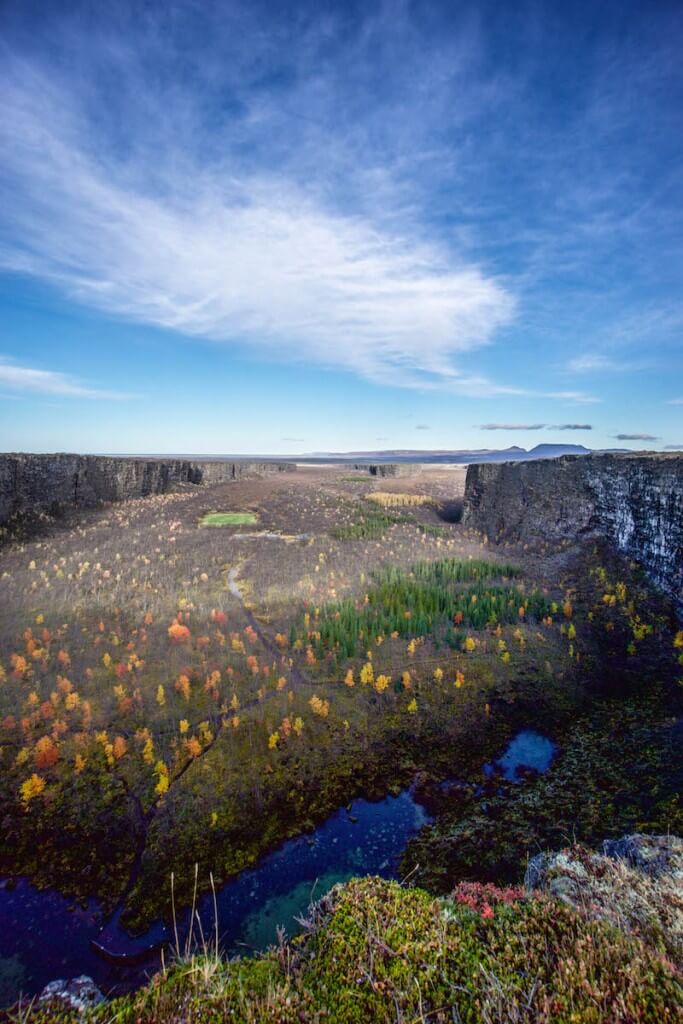 Asbyrgi is Iceland's answer to the US' Grand Canyon. While it's certainly smaller in scale, it looked so lovely with the fall colors popping up like little orange and red cotton balls from above, and it has a special beauty all its own.
Camera settings: Intelligent auto. While most of the time, I like to mess with my own settings, the Sony Alpha a6000's auto settings are often just as good if not better in normal lighting conditions, and it's a much quicker option for when you're hiking, like we were.
Equipment: Sony Alpha a6000, wide-angle lens, hand-held
Questioning if we were on the moon
Shortly after discovering the vista of the canyon, the landscape changed completely to brittle rocks and volcanic sand. It was the closest I've ever felt to being on another planet. Seriously, Mars movies could be (and maybe have been?) shot here.
Camera settings: Intelligent auto
Equipment: Sony Alpha a6000, wide-angle lens, hand-held
The kind of waterfall fairies use as a shower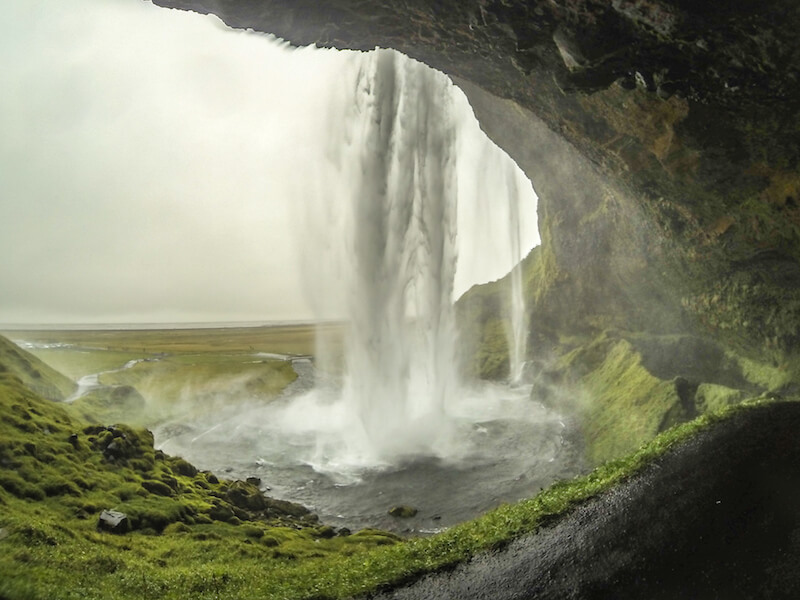 I've never seen a waterfall quite like this that had a full path to walk behind. I've stuck my face under the spray of a good many and slid down a few here and there, but this one didn't even seem like a waterfall. It looked like a bridal veil.
Like much of the other sights in Iceland, this seemed to be straight out of a storybook, and I questioned how something so perfect could actually exist.
Equipment: GoPro
A pony with a more magnificent mane than mine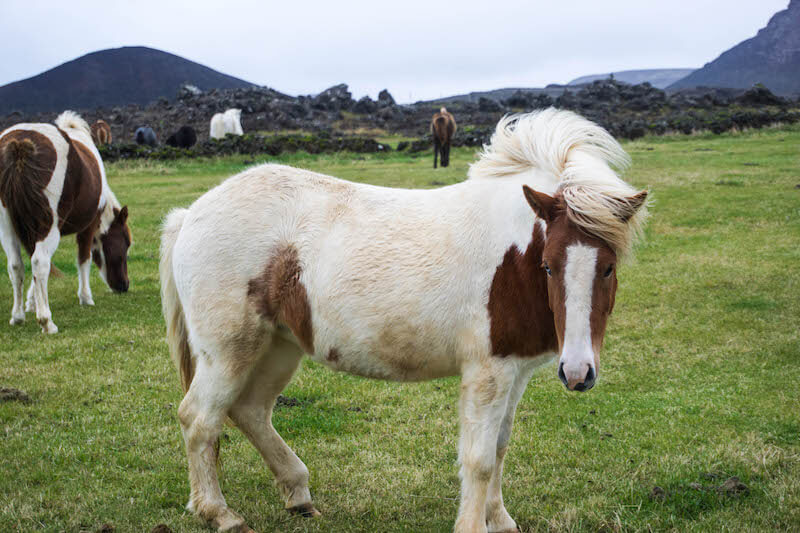 Icelandic ponies are famous for their thick, soft fur and long manes of flowing hair.
This one looks like in a past life it was probably a unicorn, with that gorgeous white mane and one blue and one dark brown eye.
Camera settings: Intelligent auto
Equipment: Sony Alpha a6000, 16-55m lens, hand-held
An enchanting waterfall adorned in gold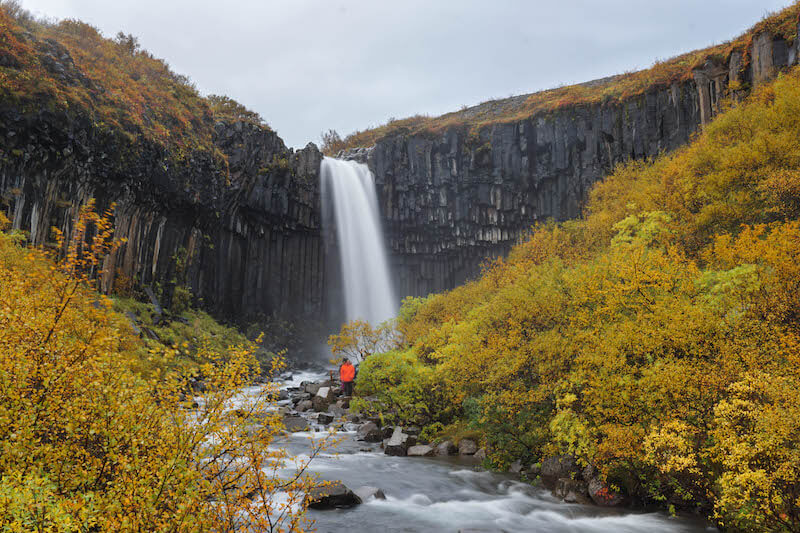 Svartifoss, meaning black waterfall, is amazing any time of year with its black, hexagonal basalt columns. The autumn, however, saw it covered from head to toe in golden leaves of change.
I saw thousands, literally thousands, of waterfalls in Iceland, but if I had to pick a favorite, it would be this one.
Camera settings: f/10, 1-second, ISO 100
Equipment: Sony Alpha a6000, 16-55m lens, tripod, filter, phone as remote
A waterfall wearing a cone-shaped hat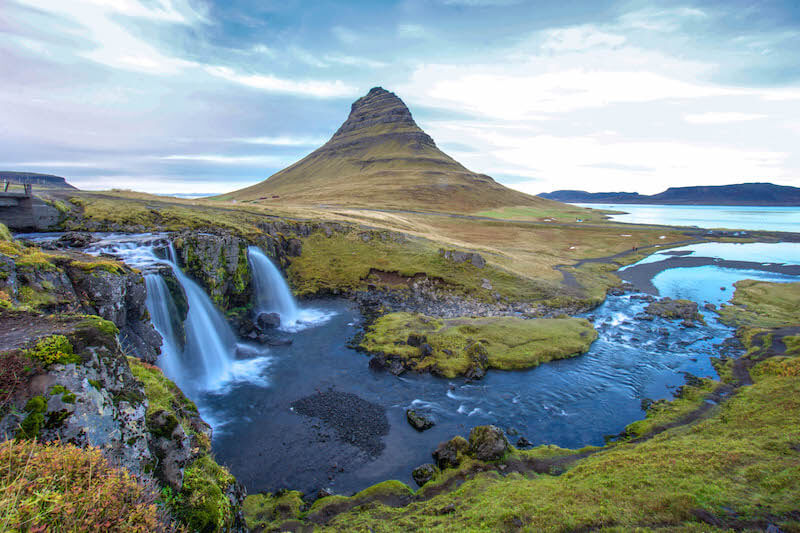 Even though it was a 3-hour detour from our Ring Road trip, when Maksim and I saw this waterfall in photos, we knew we had to get there.
It was definitely worth the trip, because it's so unique with its four falls and peaking mountain behind it. Even though it is popular with the tourists, I was able to get a shot without anyone in it by just waiting out the crowds.
Photography-wise, a wide-angle lens was the real game-changer here, as I was able to get the whole falls and mountain in the shot together without cutting off parts of the scenery.
Camera settings: f/10, 0.4 seconds, ISO 100
Equipment: Sony Alpha a6000,wide-angle lens, tripod, filter, phone as remote
A waterfall that almost comes full circle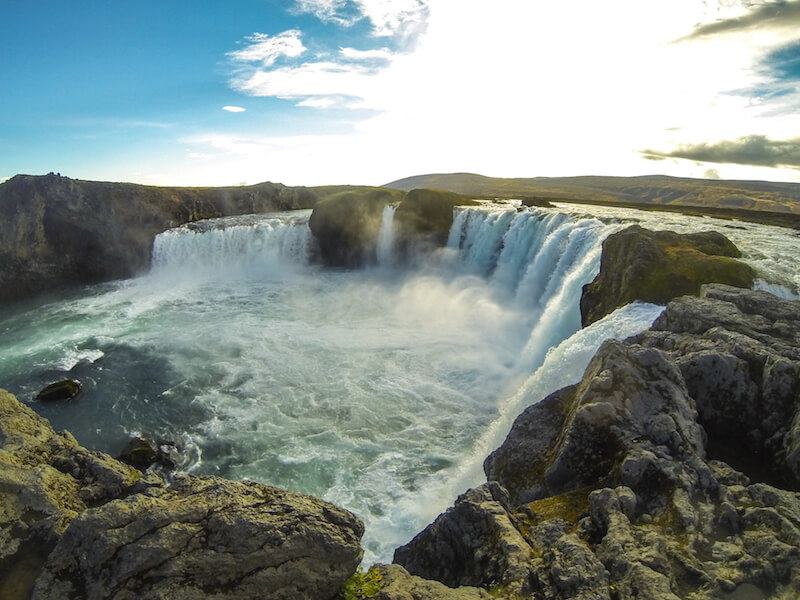 This rushing waterfall, Godafoss, was huge, and the way the sun decided to peek out from the clouds at that moment made it look golden, too.
Though my wide-angle lens did take pretty good shots of the waterfall, my GoPro was the camera that really captured the shape and even accentuated it.
Equipment: GoPro 
A lagoon as blue as glacial ice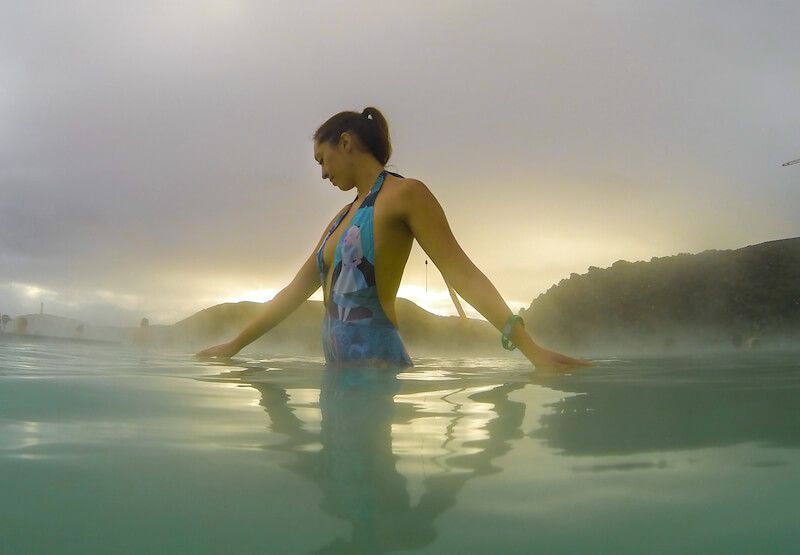 How can you talk about Iceland without talking about the Blue Lagoon?
Though bathhouses are common all around Iceland with heated pools like this one, what makes the Blue Lagoon stand out is obviously the color, and the mud masks you can brush onto your face to make it into a real spa day.
The GoPro was perfect for this as there's no problem getting these wet, and the way they take photos half out of water is pretty cool!
Equipment: GoPro 
Iceland is one of the most stunning and diverse countries I've ever visited. In one moment, you're standing on a black sand beach and the next, you're looking at hundreds of waterfalls at once.
If you get a chance to go, grab it with both hands and enjoy the wild weather, rugged landscape, and hopefully, gorgeous green lights in the sky.