"You don't make a photograph just with a camera. You bring to the act of photography all the pictures you have seen, the books you have read, the music you have heard, the people you have loved."
― Ansel Adams
Solo traveling is a gift. The voyage of self-discovery, overcoming fears, and cultivating independence are benefits that I hoped I would experience. What I didn't expect was that the interaction with local people would make the most profound impact on me, challenging me to embrace love in a different way than I'm used to, in the form of fleeting but impactful moments of generosity from perfect strangers.
At times it does get lonely striking off into the world solo, but then I realize that I'm surrounded by support in my everyday encounters. My life overflows with these little bits of perfection, given to me by the grace and kindness of others because they want to be a good host, don't understand why a girl is wandering by herself and feel she needs to be taken care of, or they have genuinely never met an American girl before and are curious.
Before the time of photography, it used to be that the highest esteemed painters were the ones who did portraiture and historical paintings. In the hierarchy of genres, landscape painting was near the bottom. Today I feel the same is true – photographing people is difficult business. First you have to ask and be prepared for a "no," then you have to somehow capture their essence in a single frame.
In the rare moments that I did have the courage, the result was beautiful:
Thailand
While exploring the ancient capital of Sukhothai, Thailand, I saw this monk taking a photo of me and quickly snapped a photo right back of him. I was so surprised he actually wanted to get a picture of me when I was so sure that he was the more interesting one between the two of us, but I guess that sort of thing is in the eye of the beholder.
Just afterwards we took a photo together, smiling at the camera. This was the first portrait I took during my travels that began almost three years ago, and it came about in the most curious of ways.
Borneo
These kids belong to the Bajau tribe, also known as sea gypsies, who live their lives on the water just off of the island of Mabul in Malaysian Borneo. I had the pleasure of seeing them when I SCUBA dived in Sipadan, sleeping, cooking, and living almost entirely on boats.
Some of these guys can free dive 20 meters down to go fishing, and their underwater eyesight is thought to be better than your typical human. Their profound connection to the ocean is something I can really respect, given how much I love to spend my time in and near it as well.
Maldives
One of the most interesting places I visited during my 2013 travels was the Maldives, not because it's a beautiful island nation that's famous for its resorts and white sand beaches, but because I went off the typical tourist trail and stayed with a family there.
This photo perfectly depicts what the experience was like – spearfishing and then BBQing with the family right on the beach. Pictured here is one of the brothers with a sweetlips fish.
Sri Lanka
The train in Sri Lanka was one of the most beautiful and rich with cultural interaction of all of my experiences in the country. The people on the train were incredibly friendly and curious about the foreign girl in second class, with them.
I loved this family in particular who smiled and waved every time the train turned, allowing them to face me as I stood in the door frame, hanging out over the rice paddies and tea plantations.
Philippines
It had been a lonely Christmas Eve in Camiguin, Mindanao, mainly for two reasons: tourists were told to stay away from Mindanao due to terrorist activity in the west, and because the Philippines had recently been hit by a hurricane. I saw no reason why either one should stop me from visiting Camiguin, unaffected by both situations.
When Christmas Day rolled around, the bungalow I stayed at was suddenly open with life, including a gang of incredibly friendly and adorable kids who asked if they could hang out with me. They asked me questions all about my family and what it's like where I'm from, posed for pictures, played with my camera and took some great ones themselves, and made me feel incredibly at home. Thanks so much guys, you're beautiful.
Vietnam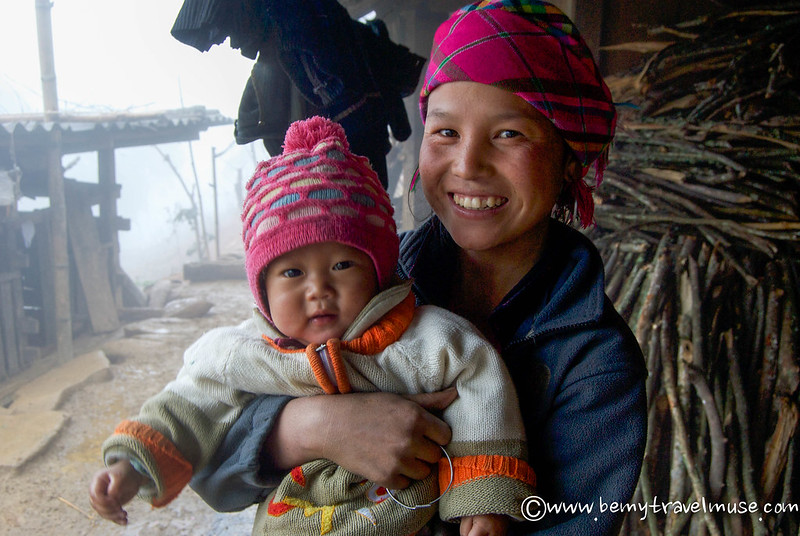 My last night in Vietnam was spent in the home of this Hmong woman in Sapa on Valentine's Day. Cuddled up with 15 new friends I'd made in the days prior, sleeping like sardines in the loft of the drafty house, it was the closest I've come to living, just for a day, how most of the world lives.
There were no floors, no heaters, and some homes didn't even have doors. What they do have is amazing beauty – both the people and the landscape.
China
Straddling the border of Yunnan and Sichuan provinces in China is Lugu Lake, a place generally populated by minority tribes from Tibet. When this man saw me stopping on my bicycle to take photos, he came over to say hello. I have since forgotten what we discussed, but remember his surprise and delight when I wanted to take a photo of him.
China is confusing and frustrating for a lot of tourists due to the language barrier and extremely different culture to what most of us are used to. However, my time there, spent mostly amongst locals and hitchhiking solo through the country is one of the most rewarding and daring adventures I've had yet. The incredible hospitality will come back to my mind every time I think of China.
Just north of the border with Vietnam sits Xinjiezhen, land of the Hani tribe who have built those famous endless rice terraces by hand and water buffalo over thousands of years. As I was photographing a particularly stunning sunset these kids ran by in their everyday attire – truly, this is not special occasion clothing – and agreed when I asked if I could take a photo of them.
I love the style of the women here – always decked out in bright colors and patterns. Hmong women have some seriously wicked style!
Nepal
The first stop on my trek on the Annapurna Circuit in Nepal was decided when, upon entering the tiny mountainside town of Ghermu, a little girl held out her hand to offer the two I was walking with and me some sea buckthorn berries as we passed by.
Next a goat came by and bowed its head for petting, and a farmer smiled and waved. It was so friendly and felt so welcoming that it's still fresh in my mind as a highlight of Nepal – a country full of beautiful, kind, and resilient people.
South Africa
While in Cintsa, South Africa on the Wild Coast, I visited the smallest township in South Africa. During apartheid, townships were forced settlements for black and colored (a non derogatory term for people of mixed race) citizens. These days, many people still live in townships without running water or electricity.
The backpackers I visited in Cintsa had brought a solar-powered mobile computer unit to the local school there, and while I checked it out, a few local kids came over to play. I handed my camera to one and this is my favorite photo she took – this little boy, who kept grabbing at the lens, either wanting a turn or unsure of how the camera worked. His perplexed expression only half makes this picture. It's those deep eyes I can't get enough of.
Malawi
The friendliness of Malawians is legendary. During my stay on the giant Lake Malawi, I experienced this first-hand when local people would walk along the beach with me, or enthusiastically ask me to take their photo.
They ask because they have no access to cameras or photo printers themselves. For them, their chance of having a photo to remember their younger selves by hinges on asking tourists who might take a photo and mail a print of it back. It was heartbreakingly beautiful.
Over the past three years I've learned that the world is fundamentally full of kind souls, and I'll never let negative news articles tell me any differently. People in far-off places will be endeared to me, they will not seem strange or different. Though there is undeniably evil in the world, I'll remember that the vast majority of people are good, kind, and giving.
When I pause and appreciate these memories, I stop feeling like anything is missing or in some way not whole. This is because of them. They all gave a part of themselves to me to take on the journey and by lamenting this lifestyle I indirectly undervalue them. I pledge not to do that anymore.
Thank you to the people who I will probably never see again, who took it upon themselves to make me smile, to show me the way when I was lost, to pick me up when I was down, and to fill me up when I was empty.