I never saw this issue coming. I didn't realize that there is one big thing standing in the way of me traveling forever. It's not money, homesickness, or a desire for routine.
It's the absence of a partner in crime, a significant other, a love.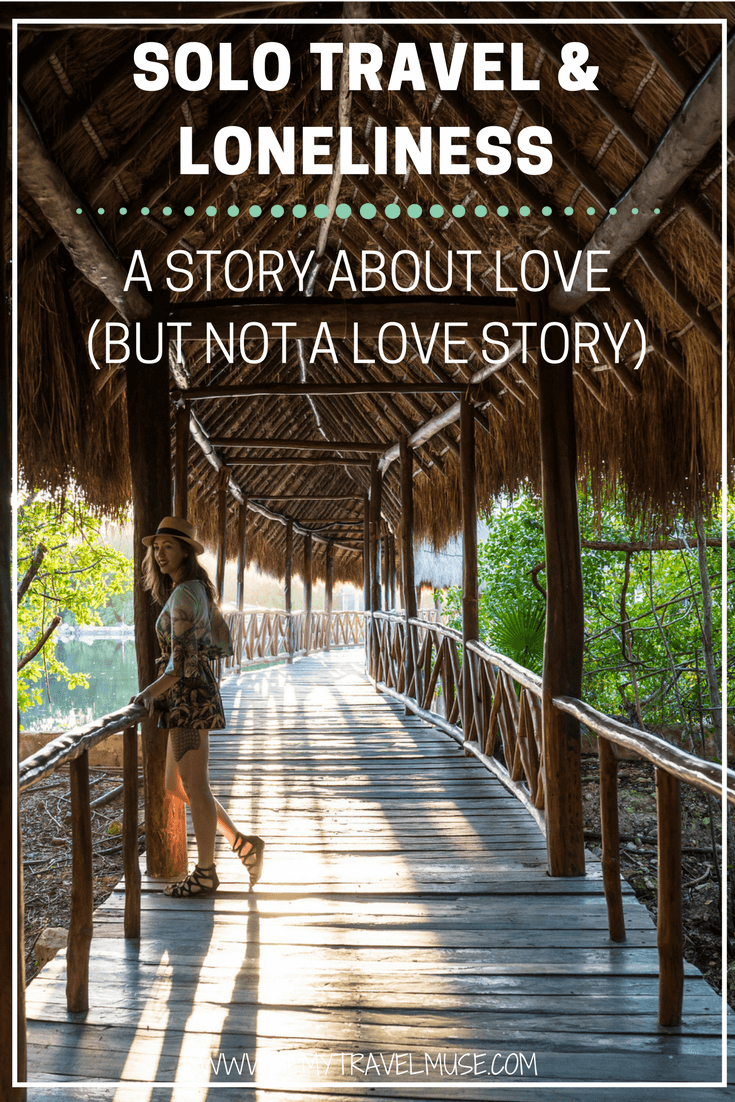 When I tell people that I've been traveling solo for almost two years, one of the most common responses, other than asking how I afford it, has now become: wow, that must be really hard, not having a real, long-term type of relationship with anyone.
I admit that, yes, it makes a significant other a complete impossibility. Unless I found someone who could travel with me, it's just not going to happen.
While we're on the topic of relationships, I'll let you in on a little secret: my decision to travel long term was made much harder by the fact that I had a long-term boyfriend I had to leave in order to make my dream happen.
I never told you this, mainly out of respect for him. Now that a couple of years have passed, it seems alright to talk about it.
We had been together for almost four years and it seemed as though we were all but confirmed to be together for many to come, except for one thing – he didn't want to travel long term and I did.
The thing about dreams is, they're personal. You can't force your dream on someone else.
Traveling long term wasn't his dream, and I knew that.
I had always spoken of a far-off notion of traveling the world. I dropped it casually at dinner. I talked about it in the way that someone might talk about joining the circus, learning to play cello, or taking a French culinary course. A nice thought, but one few people act on.
But the thing about me is, I usually do what I say I'll do – even the far-fetched, ridiculous things.
He couldn't imagine traipsing around the world, pretending like there weren't advanced degrees to study for, retirement funds to contribute to, and a career ladder to climb.
These were his perfectly reasonable life goals. They were responsible, hell, they made sense. Beyond that, we had an enviable life: solid jobs, a lovely apartment near the beach in California, friends nearby, stability, and a routine.
It's obvious now which path I chose, but my mind drifts back to my old life from time to time.
Would I have been happier if I had held onto it?
I can't lie and say a piece of me doesn't feel like it's missing, experiencing everything as one instead of two.
I miss being in love, and I hate being torn away from someone amazing I've met, whom I could have had something really special with. It's not likely to ever change as long as I keep living this nomadic lifestyle.
It's the one thing that pains me the most about being a traveler. I love everything else about it — the constant adventure, the ever-changing landscape, the sun-bleached hair, the sand in my backpack, the smell of the ocean, the look of the rice paddies as I ride by, the smiles and waves from strangers, the mutual good energy we send to each other, the tastes, smells, and spices — it all keeps me in pure ecstasy. Everything is always changing, I'm always on my toes, and I learn new things about myself and the world constantly. What's not to love about it?
Except the fact that there is no long-term love in it.
I hate that I would have to give up something I love for the pursuit of love.
With each passing month, it becomes a little bit harder.
I sometimes thought to myself, "I hope my future husband knows that I once slept in a shantytown," while walking across a rickety bridge to a bamboo hut over stilts in the Philippines.
"I hope he knows I slept on concrete and I didn't care about the spiders, I hope he likes that about me," I thought in Thailand.
"I hope someone someday appreciates that I will try almost any food, sit on the floor in the train and be happy, make friends with almost any child around the world, and, once upon a time, only took transport taken by locals, alone as a female."
"I hope that matters to someone, someday."
But in the moments that I truly allow myself to be present, I realize something:
The most important thing to come out of my nomadic days, by following my dreams and not letting anything get in the way, is that I have earned my own self-respect. That has to exist before any healthy relationship can. I honestly wouldn't have done half of the adventurous things I have done if I wasn't solo.
The beauty of this world wouldn't have graced me in the way it has. I wouldn't be as brave as I am now. I might have love, but I might always long for adventures I wouldn't have had if I were chained to a job, husband, and children.
Life is a trade off of things you do and things you wish you could do. You can't have it all.
Maybe the void left by such a lifestyle will close in time.
Maybe for now, my life is about running free, even for just a little bit longer.
Do you travel solo? Do you find that it gets lonely after time?
—