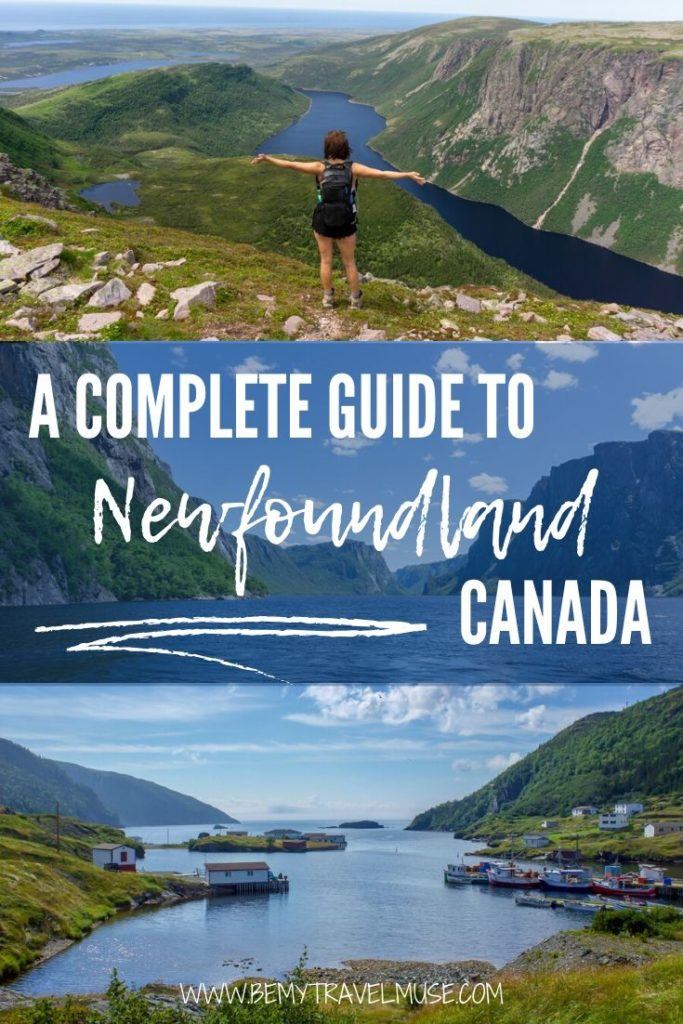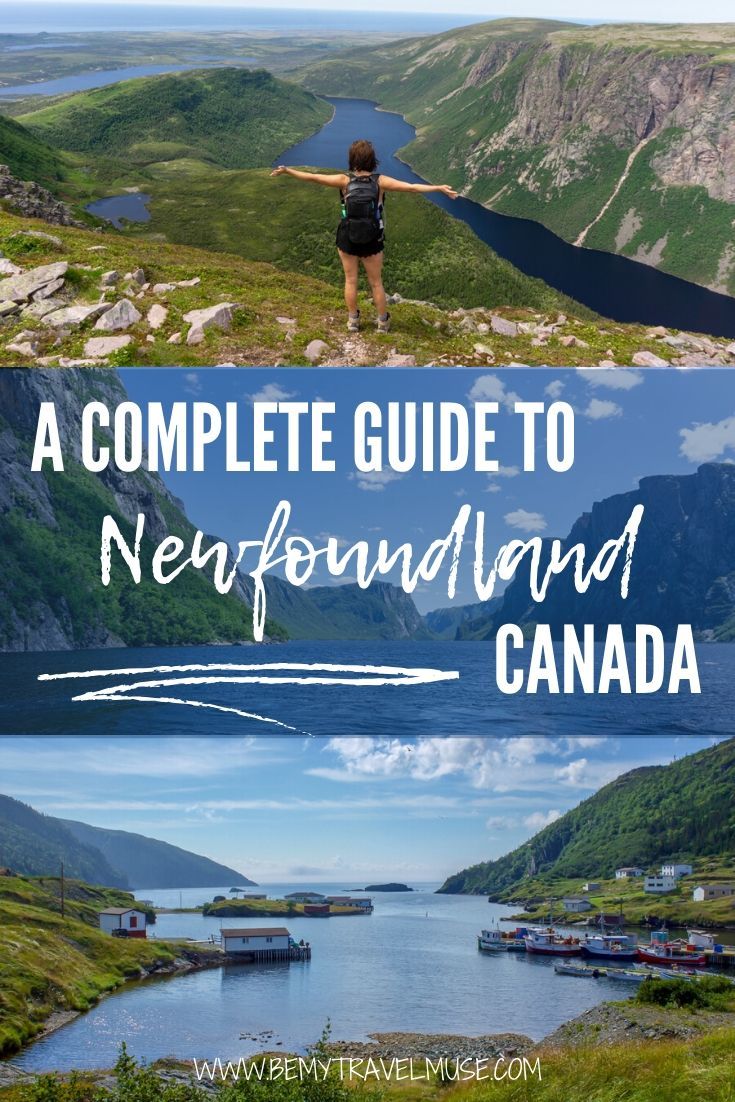 While it's not the most common tourist destination in Canada, there's a reason everyone who makes it to Newfoundland falls in love. Unspoiled wilderness, breathtaking hiking trails, whale watching, icebergs, and colorful communities make Newfoundland easy to fall for.
From a Newfoundland local, this post will help you plan a perfect Newfoundland itinerary:
Top Things to Do in Newfoundland
The best things to do are listed below going from east to west, but you could also do this itinerary in reverse if you're coming in on the ferry to Port aux Basques.
While planning your trip, it's important to remember that Newfoundland is a big province and takes 10 non-stop hours to drive across. To give everything in this itinerary justice would take two to three weeks, so if you have a shorter time frame just pick the regions that appeal to you most:
Eastern Newfoundland
St. John's is the capital city of Newfoundland, located on the eastern coast. While the city is quite small in population compared to other capitals in Canada, it has a lively atmosphere with lots of fun things to do.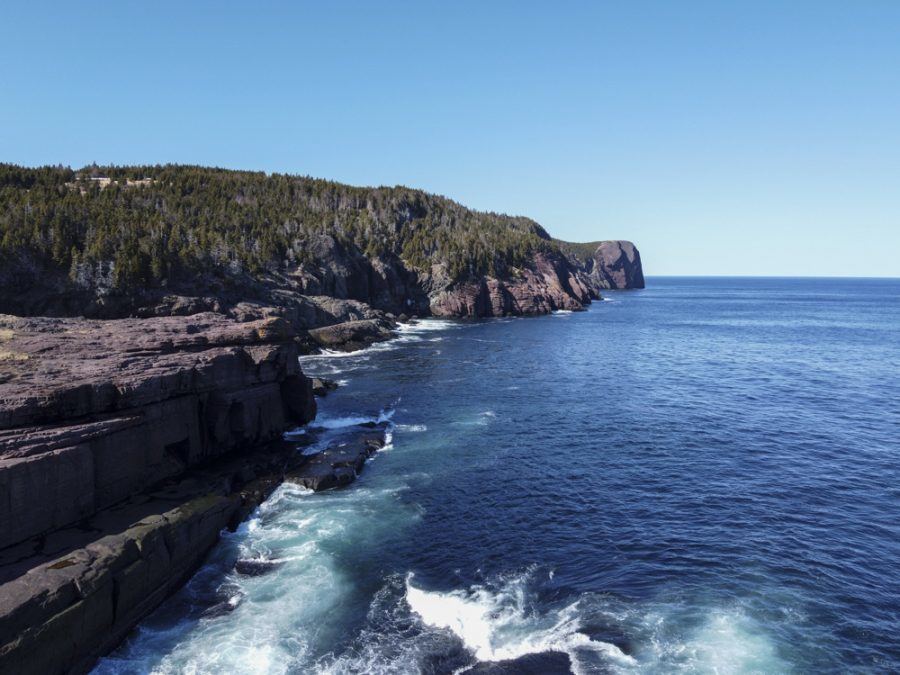 East Coast Trail: This beautiful 336 km trail stretches along the Eastern coastline of Newfoundland, linking several communities with each other. The path is well maintained and broken down into 25 wilderness trails, most of which can be done in one day.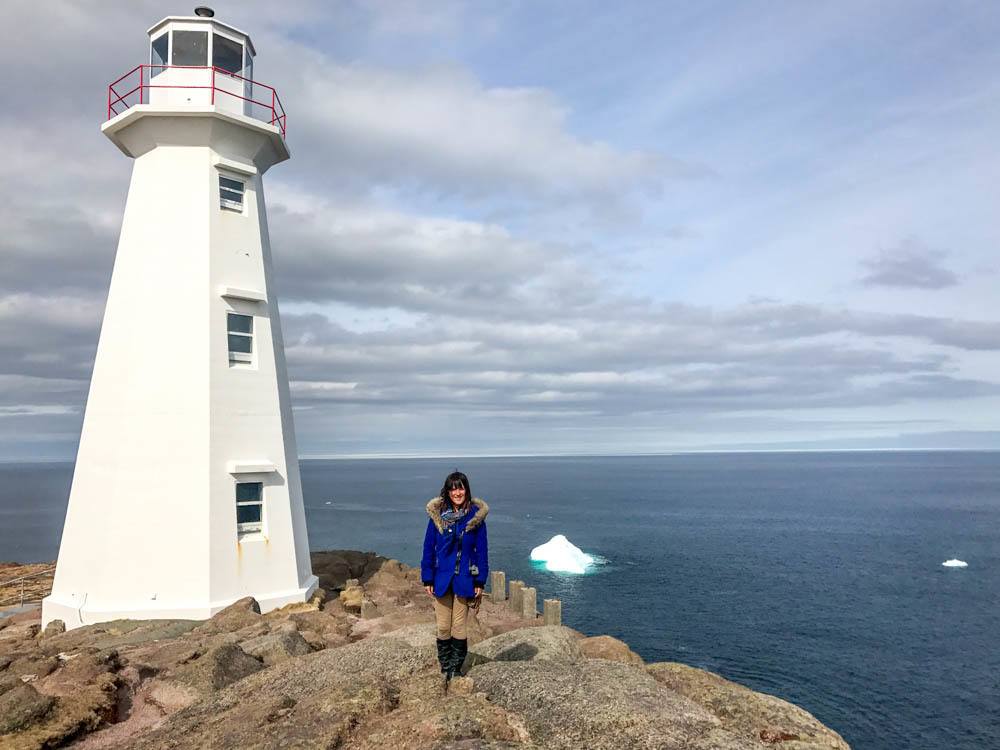 Cape Spear Path: This is the most easterly point in all of North America. It has a beautiful historic lighthouse that you can visit inside during the summertime. On the path, you may see whales dancing in the ocean during the summer, and in the springtime, you can see icebergs float by.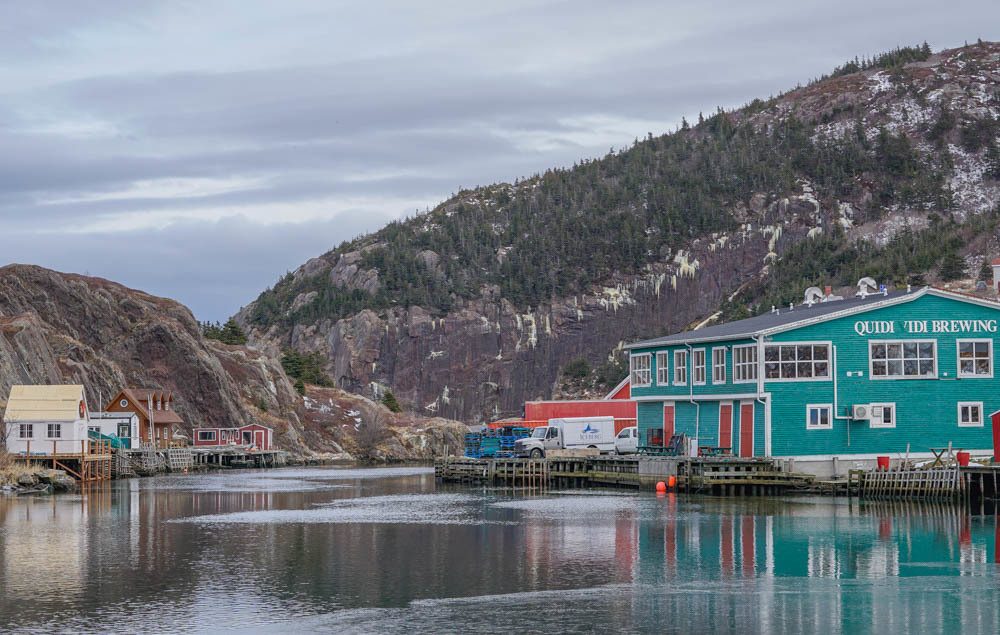 Signal Hill National Historic Site + Quidi Vidi village: Learn about the role the province played in the world wars as you get sweeping views of the St. John's Narrows. Afterward, head back downtown and take a stroll through Jellybean Row. This isn't one street in particular, but rather refers to the stretches of colorful townhouses downtown. Another colorful place to visit in St. John's is the picturesque fishing village of Quidi Vidi which is just a half-hour walk from downtown.
George Street: The main area for nightlife in St. John's is George Street, which has the most bars per capita in Canada. St. John's has a lively nightlife and great local music scene. As a visitor, you must get screeched in to become an honorary Newfoundlander. This is a ceremony that involves kissing a codfish and drinking the local rum known as screech. Christian's Bar on George Street is a perfect place to do that.
Witless Bay: There are some fun day trips you can take out of St. John's, especially for wildlife lovers. During the summer you can take a boat trip to Witless Bay Ecological Reserve to see humpback whales and puffin colonies. If you're a diver, you can join a diving tour to Bell Island to see WWII shipwrecks and some of the underwater marine life in Newfoundland.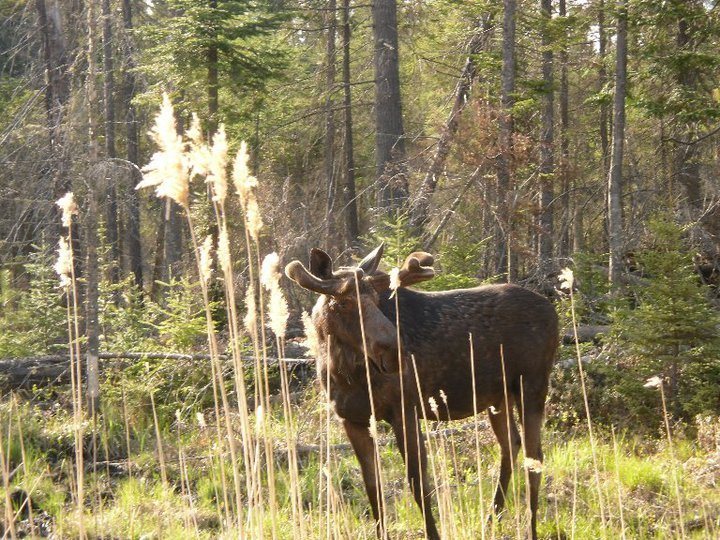 After a fun few days in St. John's, hit the road and start your road trip. There's only one highway that goes across Newfoundland, the Trans-Canada Highway One. Moose sightings are common so keep an eye out. 
Book your stay in St. John's here.
Trinity and the Bonavista Peninsula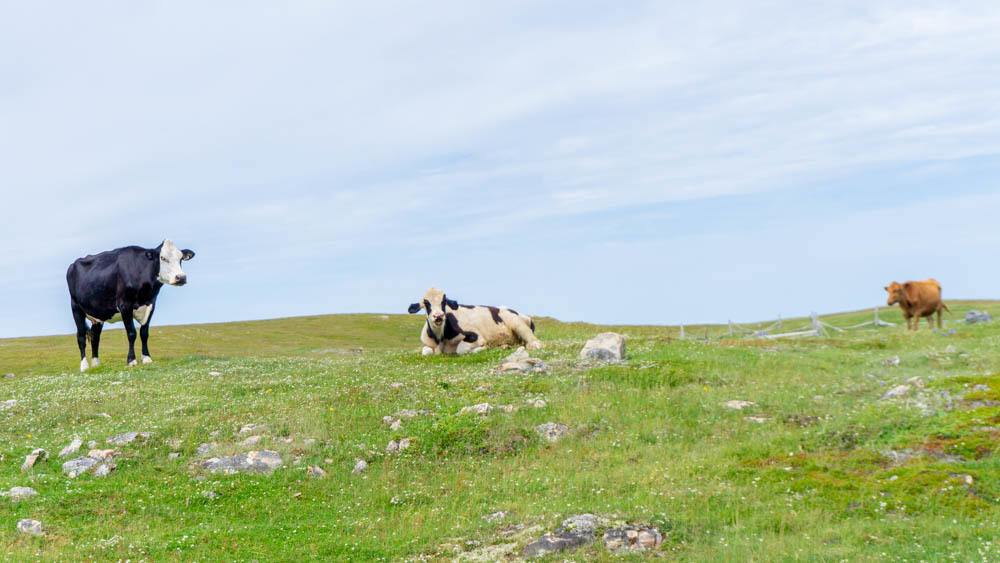 After about three hours of driving, you'll reach Trinity, which is one of the prettiest old towns in Newfoundland. Trinity is steeped in history, full of historic buildings that have been preserved since the 18th century.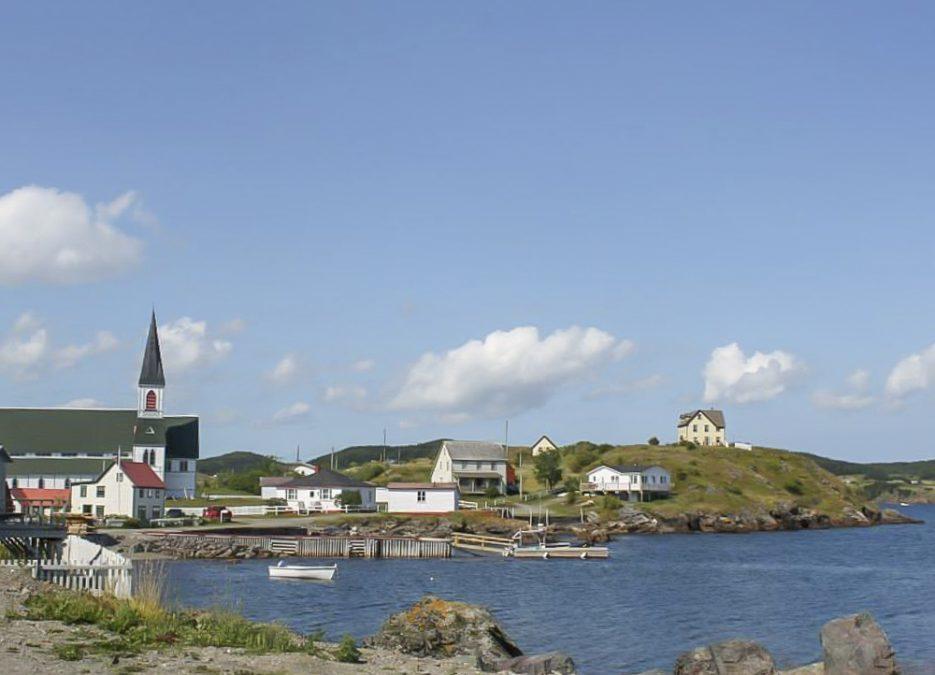 Skerwink Trail: Trinity is a great place for outdoor adventures. One of the best hikes there is the Skerwink Trail, a 4.7-kilometer loop with beautiful coastal views. It's also an excellent place to go whale watching in the summertime, when the world's largest population of humpback whales make their way to the coast of Newfoundland to feed.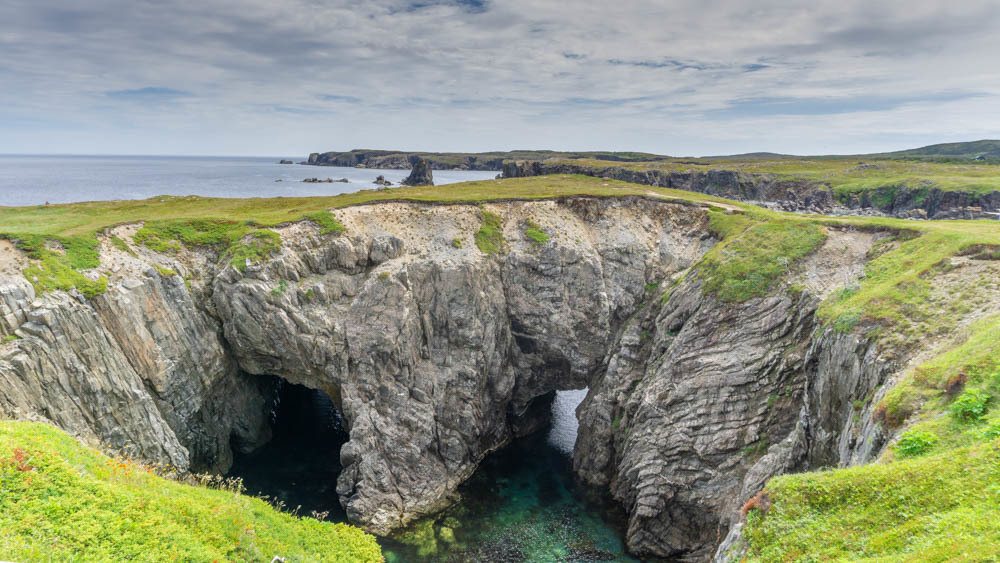 Bonavista: If you have the time, take the Discovery Trail from Trinity further down the coast to Bonavista. There you can visit Dungeon Provincial Park, where you can see a collapsed sea cave. Another place worth checking out nearby is Elliston, which is one of the best places to see puffins in Newfoundland.
Book your stay in Trinity here.
Central Newfoundland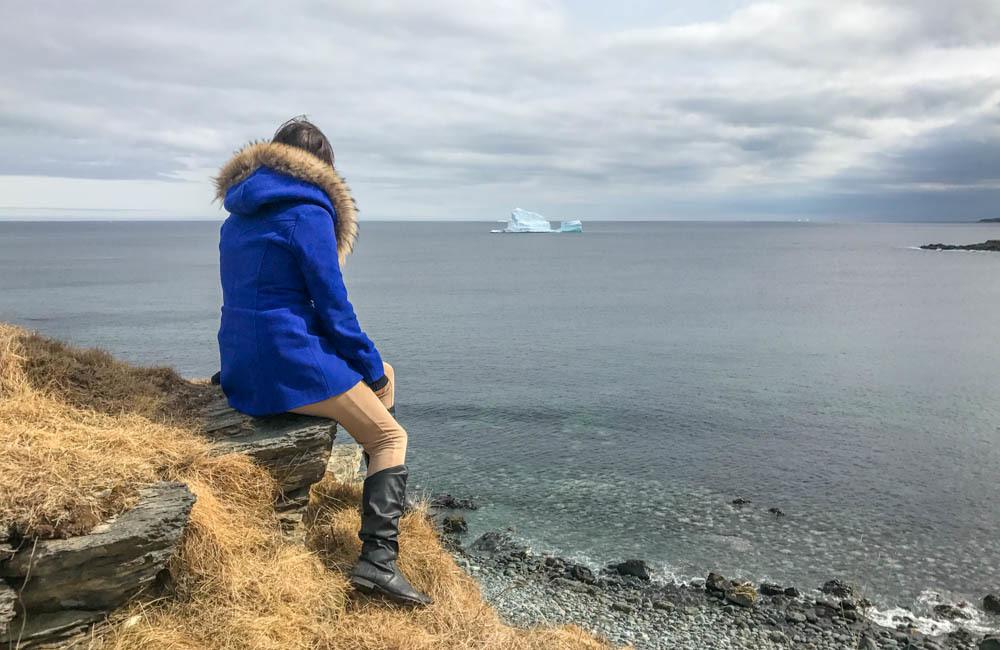 Twillingate: After leaving the Trinity area, get back on the TCH Highway 1 towards Central/Western Newfoundland. If you're visiting during spring consider taking a detour to the town of Twillingate. It's become known as the iceberg capital of the world, as icebergs make their way to Newfoundland starting in May until June.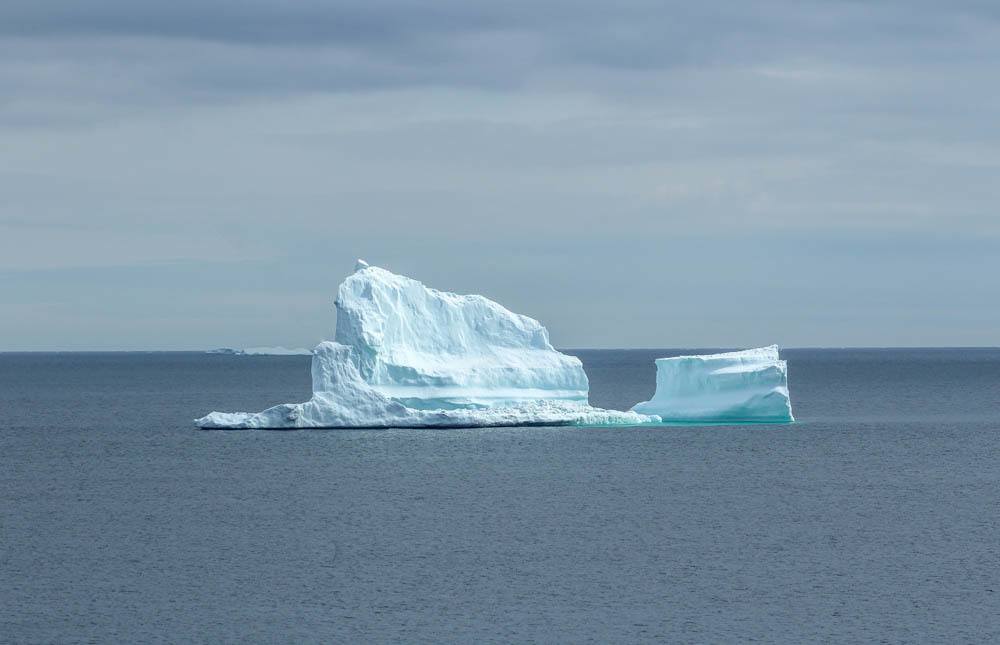 Twillingate is a charming town located on a series of islands in Notre Dame Bay. If you are coming to Newfoundland during the spring and want to see icebergs, this is the place to go. You can also go kayaking with icebergs here which is a perfect activity for outdoor adventure seekers.
Grand Falls: After leaving Twillingate, continue your drive across the island to the west coast. If you get tired of driving, the town of Grand Falls in central Newfoundland is the perfect place to spend a night. It's home to the Exploits River where you can go white water rafting.
Western Newfoundland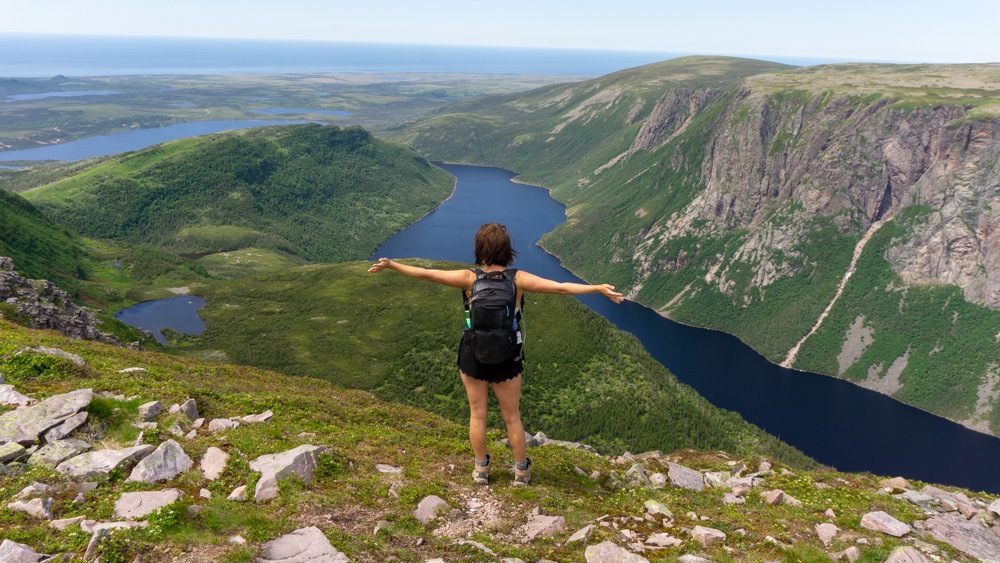 Gros Morne National Park: The main highlight on the west coast of Newfoundland is Gros Morne National Park. This UNESCO World Heritage Site is not only one of the most beautiful parks in Atlantic Canada, but also a perfect place for outdoor adventure.
Gros Morne is the perfect place for hiking, with over 100 kilometers of pristine trails. There are many different trails from easy one hour strolls along the shore to four-day backpacking adventures through the Long Range Traverse, which was named by National Geographic as one of the best hikes in the world. This is not for beginners – you must attend a backcountry briefing to receive a hiking permit for this trek.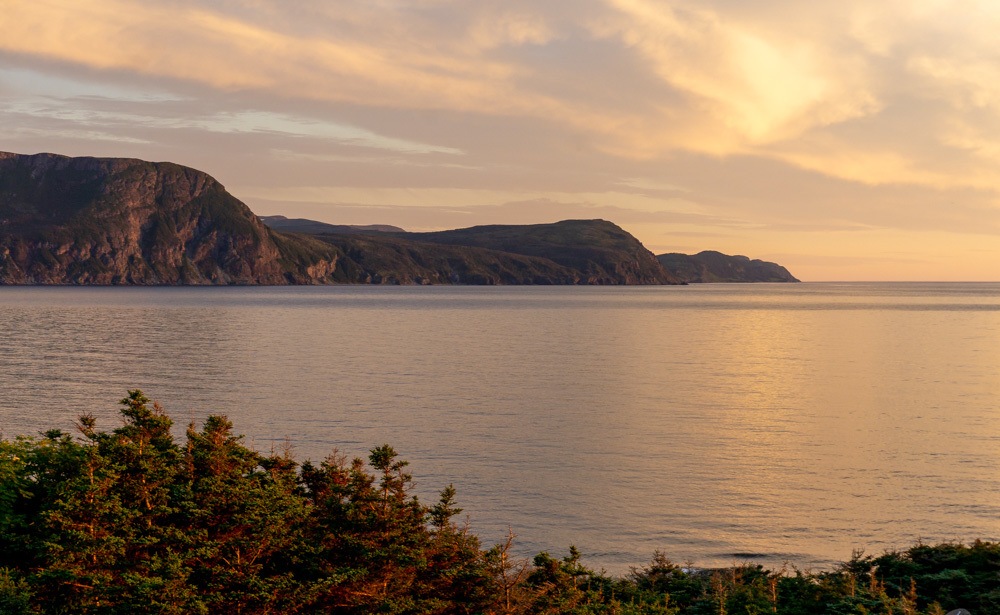 If you only have one day, tackle Gros Morne Mountain. This hike is not easy, it's 16km long and has an elevation gain of over 800m. The views at the top are worth it though when you see the Long Range mountains and Ten Mile Pond. It's an all-day hike that will take you between 6-8 hours.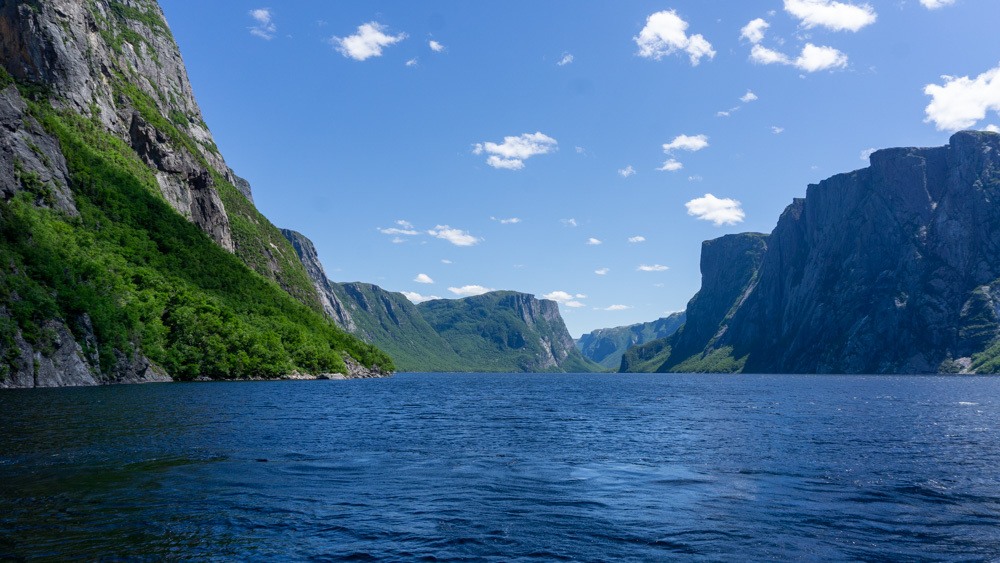 For a less strenuous activity,  try a boat cruise through the fjords of Western Brook Pond and marvel at the beauty carved out by the work of glaciers over thousands of years. While going through Western Brook Pond, you can see waterfalls at every turn which are some of the tallest in Eastern North America.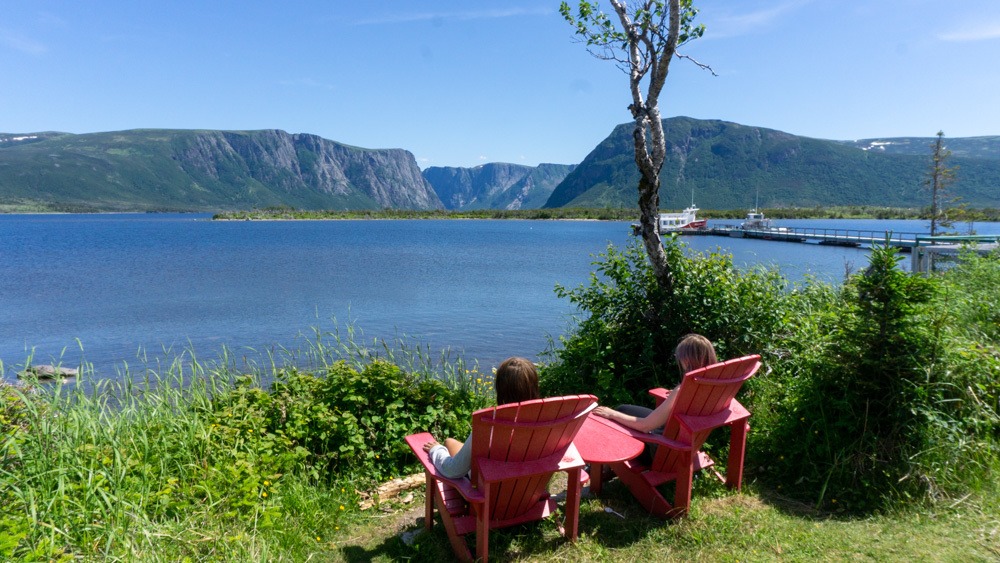 Gros Morne National Park is also a UNESCO World Heritage Site as it's home to the Tablelands, which is a significant geological area that helped confirm the theory of plate tectonics. Through the continental drift, the Earth's mantle was pushed to the top of the ground and now lies exposed at the tablelands.
Book your stay in Gros Morne National Park here.
Viking Trail to L'Anse aux Meadows: After visiting Gros Morne, an optional route is to continue your journey down the Northern Peninsula to the UNESCO World Heritage Site of L'Anse aux Meadows. This historic site tells the story of the history of the land, aboriginal people, and Vikings who landed there over a thousand years ago. It's the only Viking settlement in North America.
The Viking Trail is a beautiful drive along the coast where you can see endless bays and fishing villages, as well as the tallest lighthouse in Atlantic Canada.
Codroy Valley: If you're taking the ferry back from Port aux Basques it's worth stopping in nearby Codroy Valley, which is 15 communities tucked away in western Newfoundland. Sheltered by the Long Range Mountains, this area of Newfoundland has milder weather and is the perfect place for nature lovers to unwind.
How to Get to Newfoundland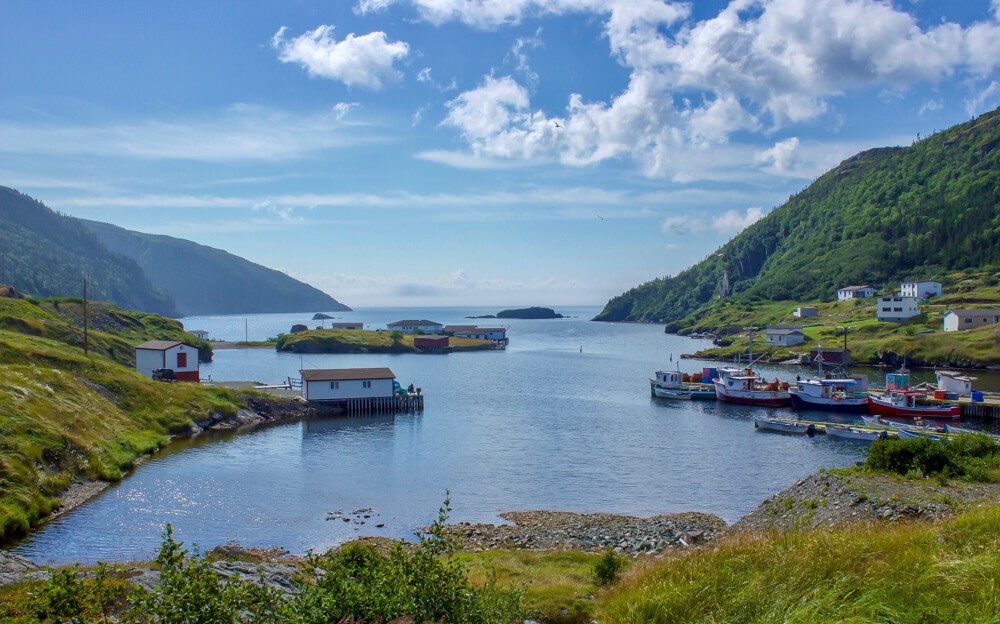 Since Newfoundland is an island, you either have to take a ferry here from Sydney, Nova Scotia, or fly in. The main international airport is in St. John's (YUL) on the east coast, but there is also a smaller airport on the west coast in Deer Lake (YDF). There are two overnight ferry options, an 8-hour ferry which takes you to Port aux Basques on the west coast, or a 16-hour ferry that takes you to Argentia on the east coast. The latter only runs during summer.
How to Get Around Newfoundland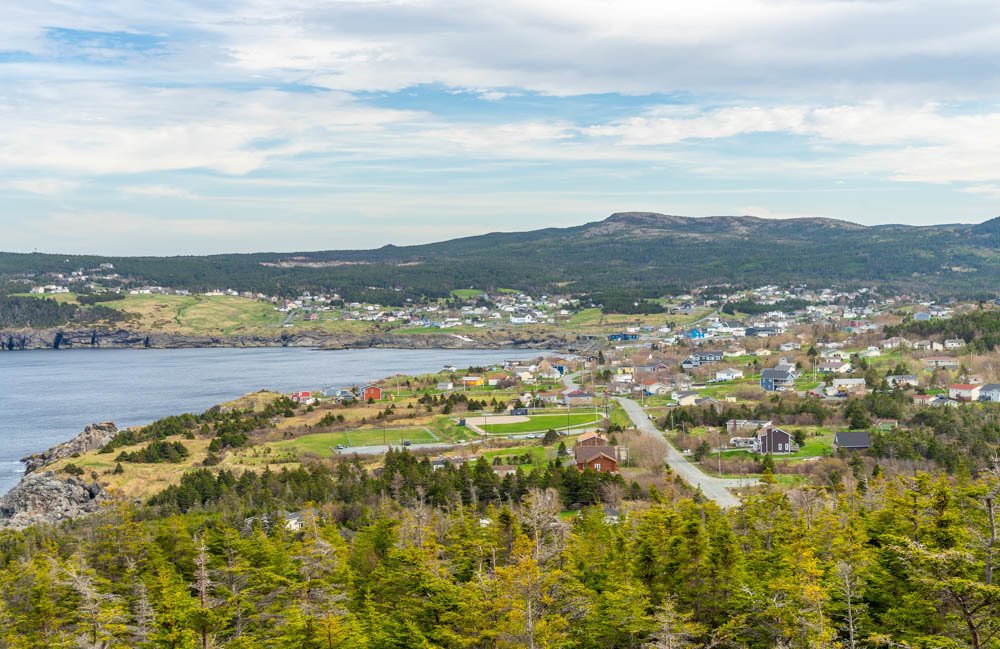 Whichever way you get here, if you want to explore different parts of Newfoundland then you'll need to rent a car. Getting around the province otherwise will be extremely difficult as there is limited public transit outside of St. John's.
If you are departing from the west coast, you can either take the ferry back to Nova Scotia from Port aux Basques, fly from Deer Lake or return back to St. John's. No matter what part of Newfoundland you choose to explore, you won't have trouble connecting to nature here. It's the perfect destination for those looking for a unique adventure into the wild.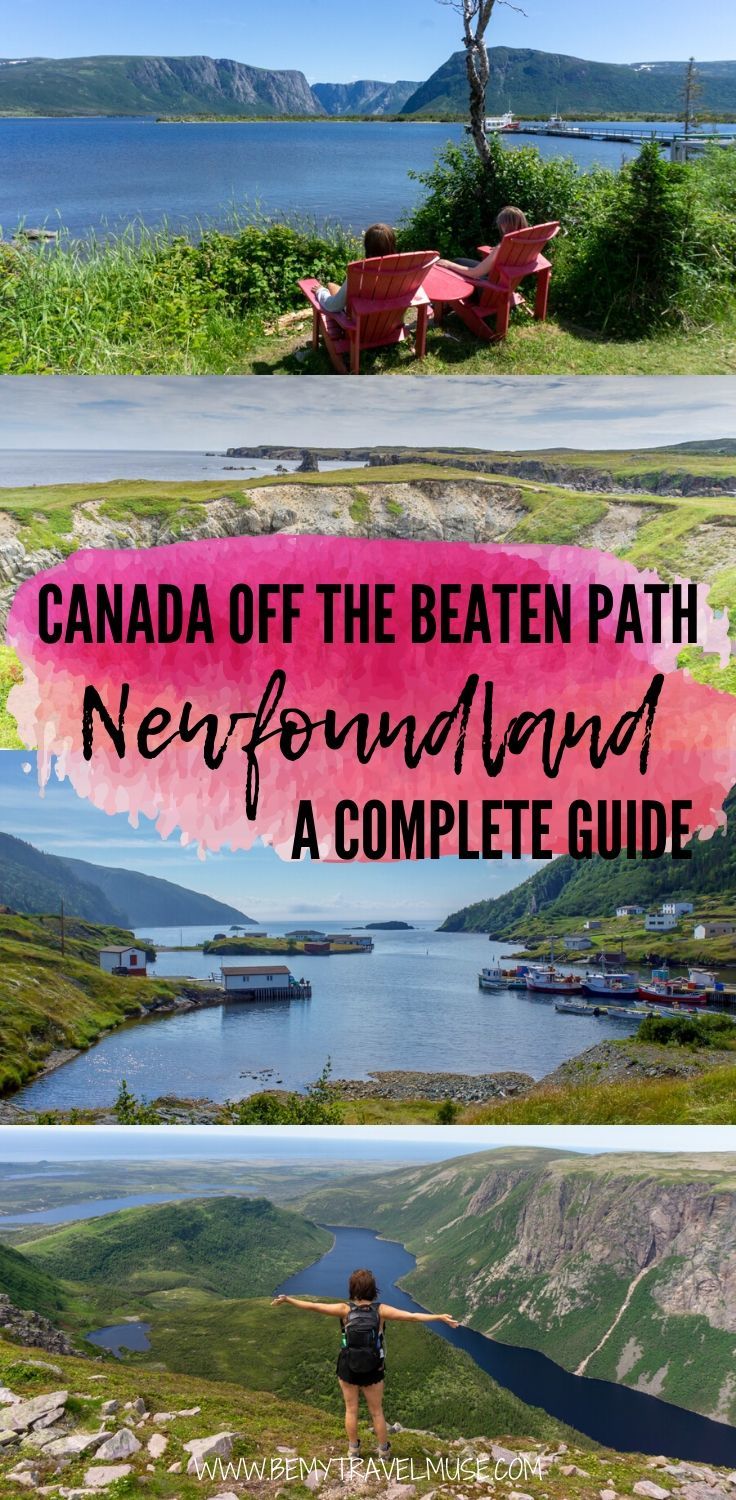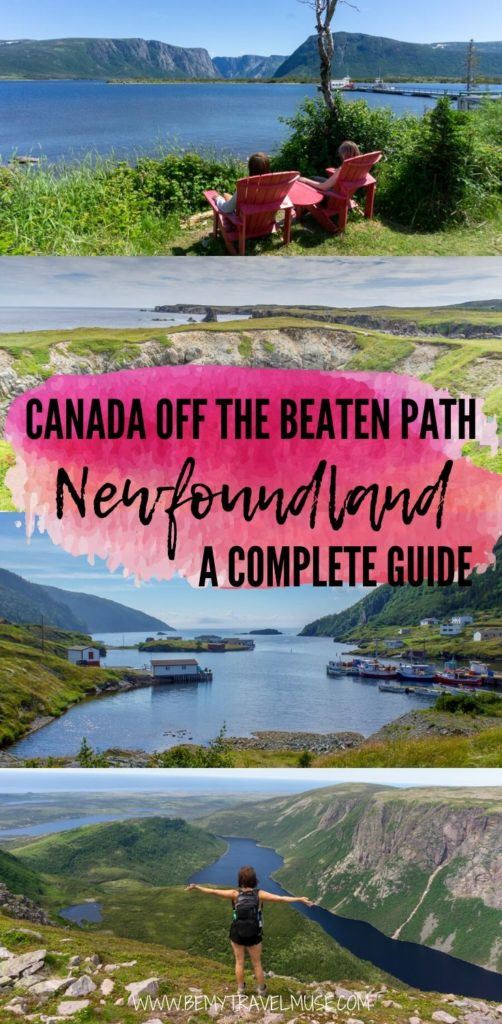 About the author: Lora is a solo female adventure travel blogger living nomadically around the world. Raised on a rock in the middle of the Atlantic Ocean, she has a deep love for nature and wildlife. Lora has traveled to over 55 countries and is on a quest to visit them all, seeking out the best adventures each one has to offer. For more outdoor adventure travel inspiration, visit her blog at Explore with Lora or on Instagram and Facebook.