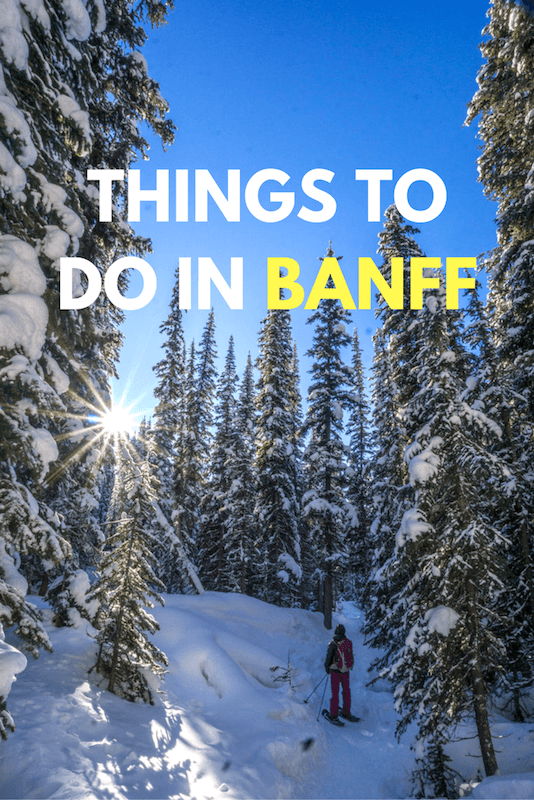 Canada, particularly Alberta, has been on my must-see list for quite some time. I mostly blame thank Instagram for planting the seed in my mind that I had to get to Canada after seeing images of Lake Louise popping up all over the place. Then Banff flooded my feeds and I started to wonder what other treasures might be nestled up north, just begging to be explored.
I came to find that there are tons of reasons to jet over to Alberta, from ice climbing to skiing to beautiful mountain views. An unexpected treat was getting a lot of these otherwise incredibly popular summer destinations almost entirely to myself in the winter.
As a solo traveler, I found Banff and the surroundings to be the perfect adventure destination with tons to do that didn't require a partner in crime, and that gave me plenty of opportunities to meet friendly Canadians and other visitors. If you're looking to check out Banff in the winter, here are some of the absolute best things to do whether you're stag or with others:
1. Go snow-shoeing to Chester Lake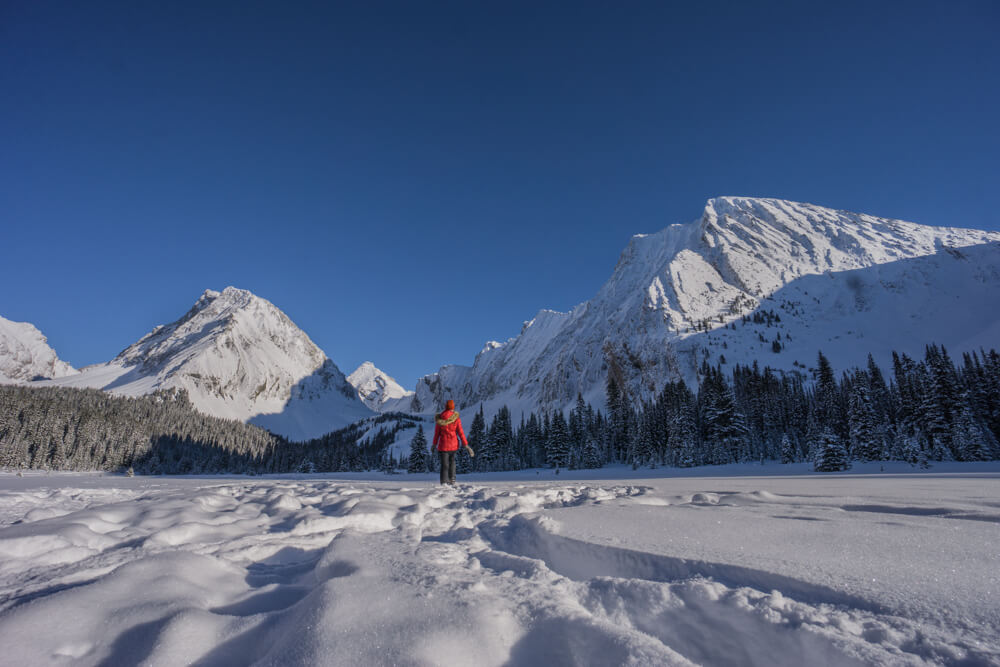 Since hiking can be made quite difficult by mounds and mounds of snow in the winter, snowshoes are the perfect solution.
By distributing your weight more, they help you to sink into the snow less and stay warmer and less snowy than hiking with just snow boots would be, opening up pretty much endless possibilities.
There are trails all over the Banff and Canmore area, but the hike I took to Chester lake was particularly lovely. It's about 10 km round-trip and even without the gorgeous hike, staying at Mt. Engadine Lodge nearby and just drive there along the picturesque spray lakes drive makes it worth it!
Consider this guided snowshoe tour, which is an awesome way to get the most out of the area.
2. Walk on the lakes around Banff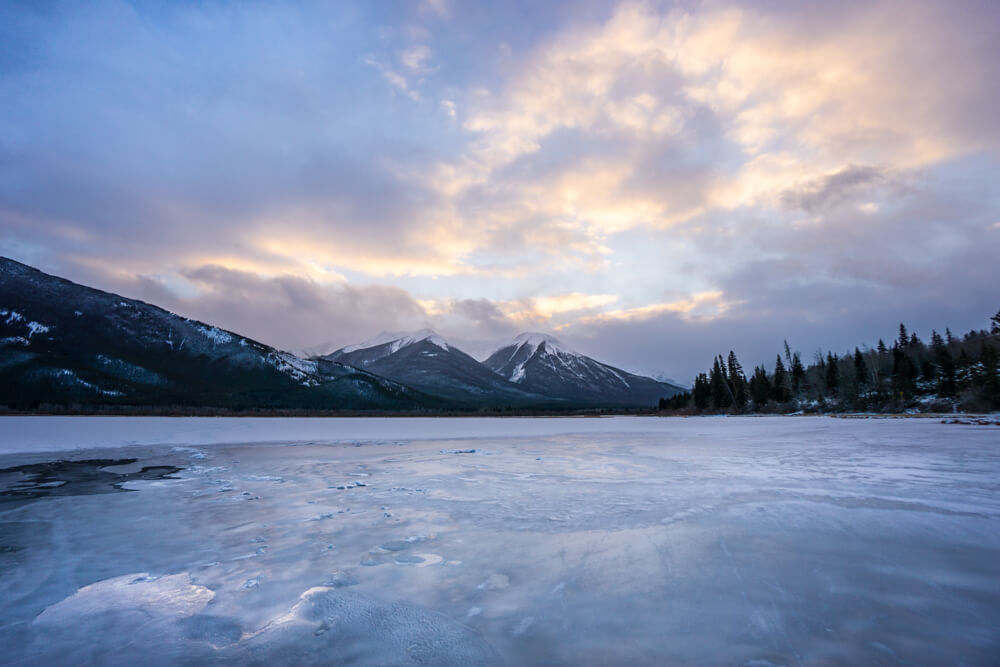 In the summertime, the lakes around Banff – Two Jack lake, Lake Minnewanka, and Vermilion Lake, are all pretty popular with tourists and photographers.
However in the winter, there are far fewer people around trying to battle with you for the best sunrise photo spot. All of these lakes also work pretty well for the sunset. Bonus: the sunrises are later and the sunset is earlier in the winter, so it's pretty easy to catch both!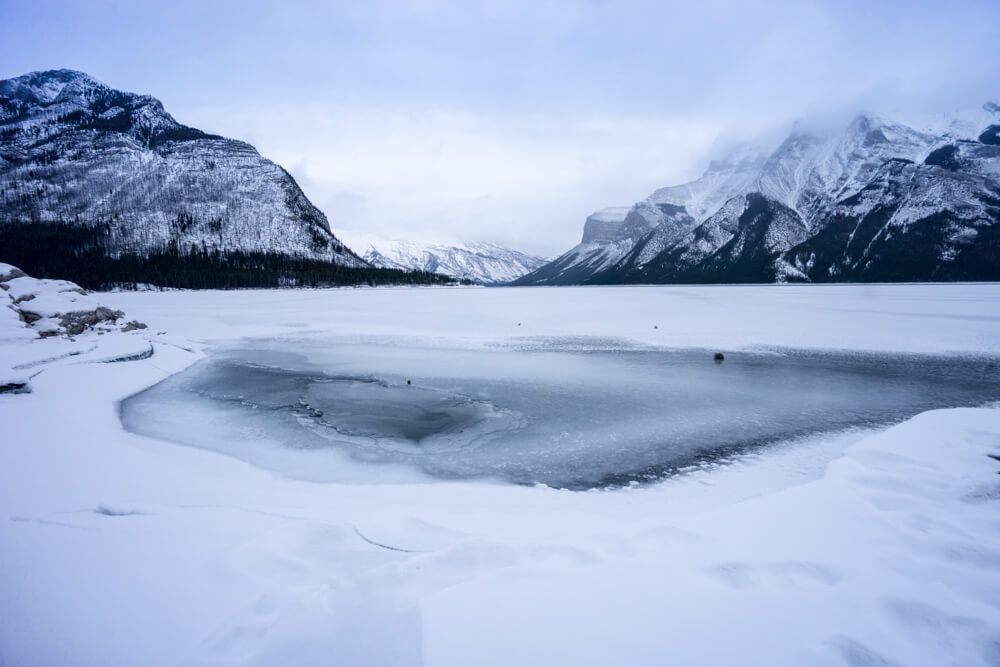 I love the way that the ice had cracked along the lakes and seeing people play hockey on the ice! It's certainly a quite different perspective than the typical photos you will see of these lakes.
3. Ski your heart out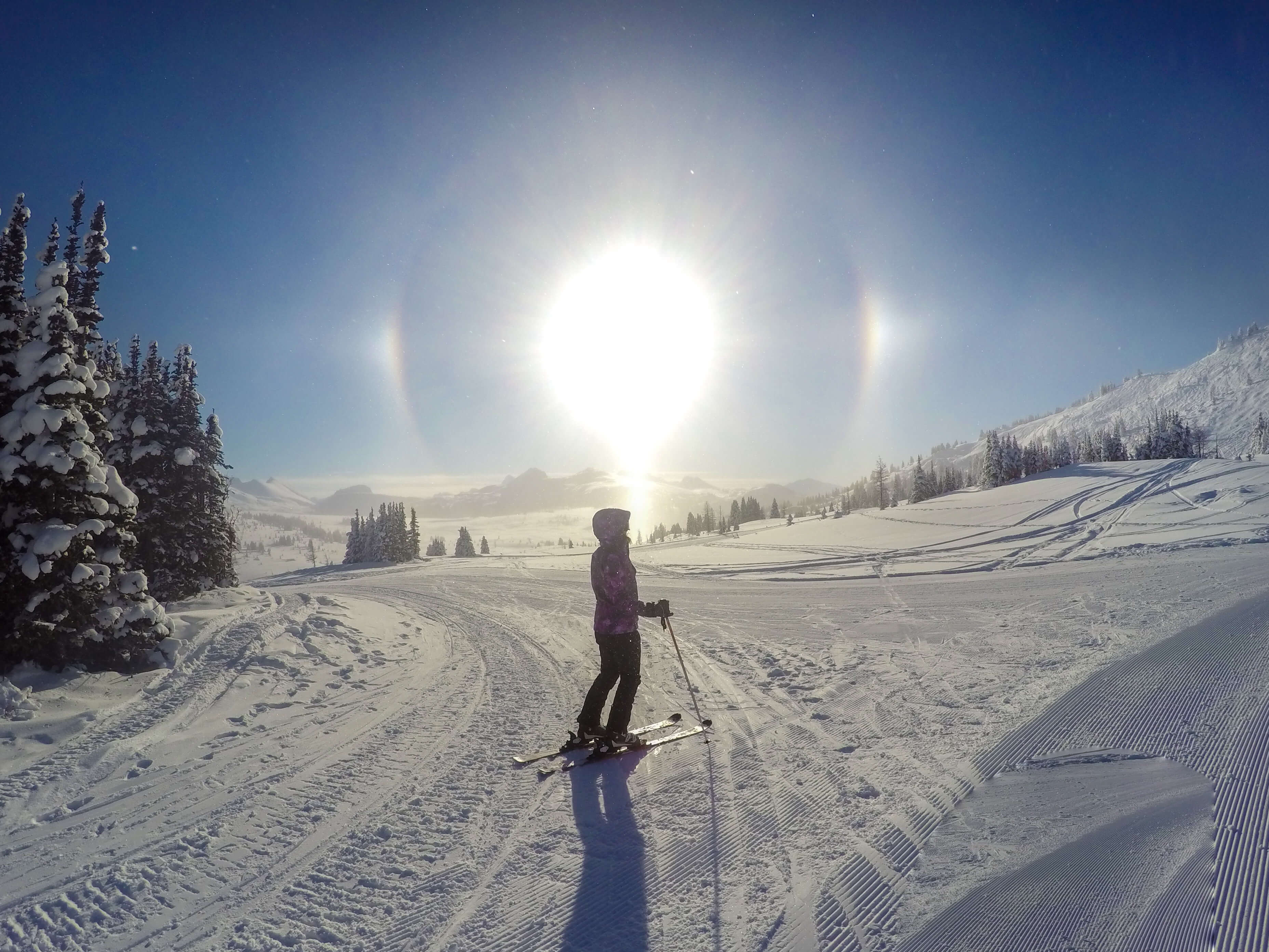 People who visit Banff in the summer probably don't realize that it's actually home to three ski resorts with excellent skiing in the winter! The main ski areas are Sunshine Village, Lake Louise Ski Resort, and Mount Norquay.
I skied at sunshine Village and Lake Louise, and went tubing at Norquay and enjoyed them all.
As a beginner I found Sunshine Village to be particularly great as they had plenty of green runs for me to perfect my technique on (a big thanks to Andrew who I'd recommend as an instructor!). I felt like there was a lot of ground for me to cover, but that was only about one third of the resort as the other two thirds have more advanced runs for those with experience.
Spending the night up on the mountain was also quite a treat! My room had a fireplace and I also loved the outdoor hot tub and delicious food at the ski-in lodge at Sunshine Village.
You can learn more about the ski resorts here.
4. Go tubing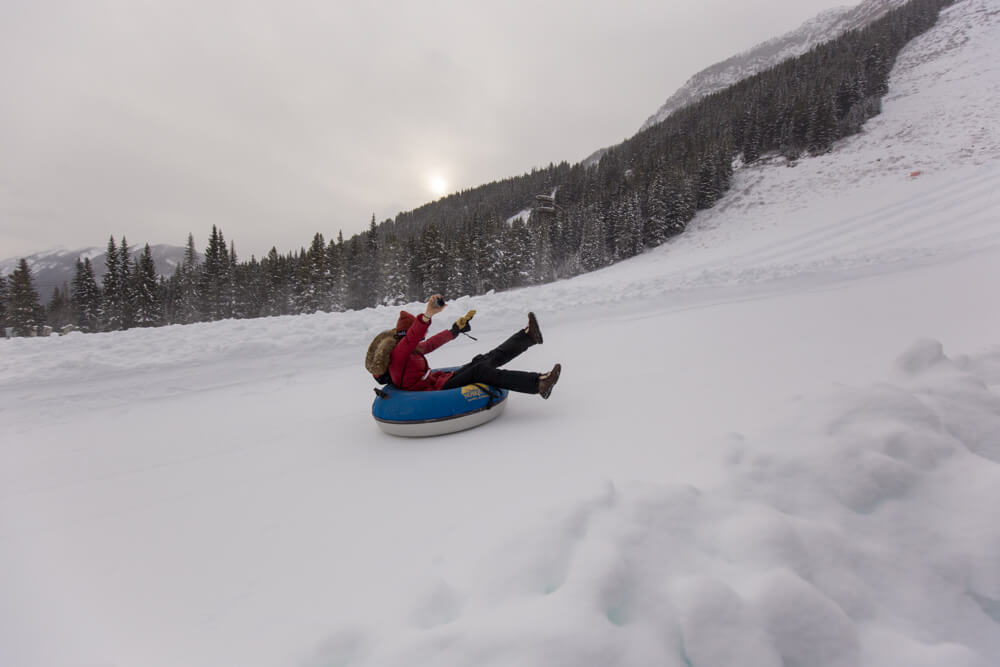 If you are not into skiing or snowboarding there is still plenty to do at the ski resorts. Most of them offer multiple alternative activities. I enjoyed a snowshoe hike after riding the gondola to the top of the lake Louise Ski Resort and Mt. Norquay also has tubing available for most ages.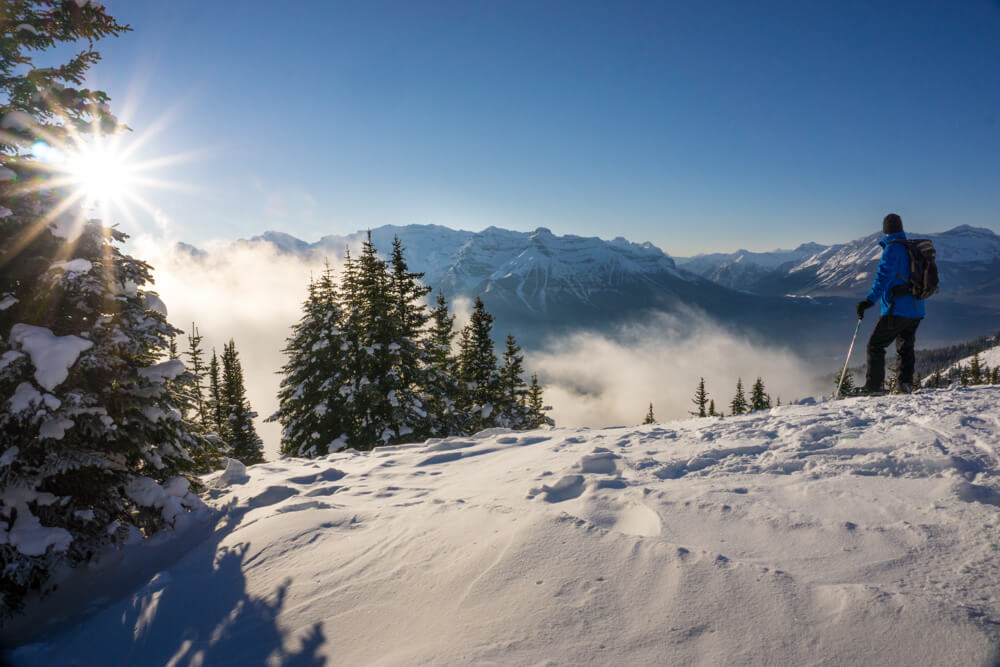 It's a fun way to get some adrenaline without exerting energy if you're sore, need a break, or just aren't that into skiing. I also loved the views from Mt. Norquay and Lake Louise!
5. Skate at Lake Louise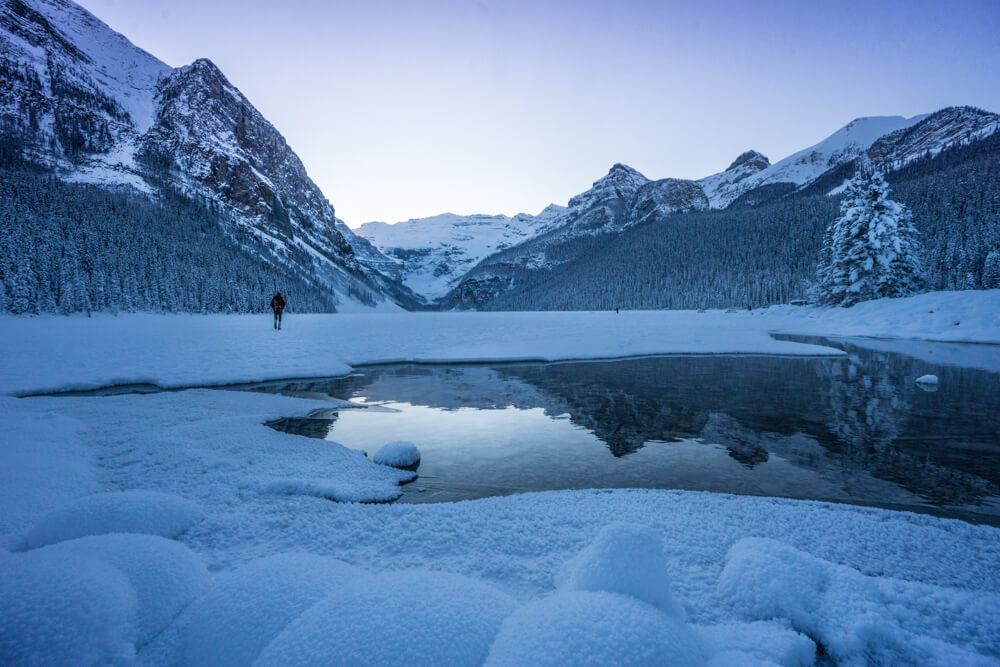 Probably the most famous lake in Banff National Park, and the one that made me want to visit so badly, is Lake Louise. It ices over in the winter time and turns into a whole different kind of magic.
Though the intense blue that made it famous isn't visible when it's iced and snowed over, the benefits include a much smaller crowd, a chance to walk on the famous lake, and even to play hockey or ice skate on it. Later on in the winter, they have ice sculptures as well!
6. Visit Johnston Canyon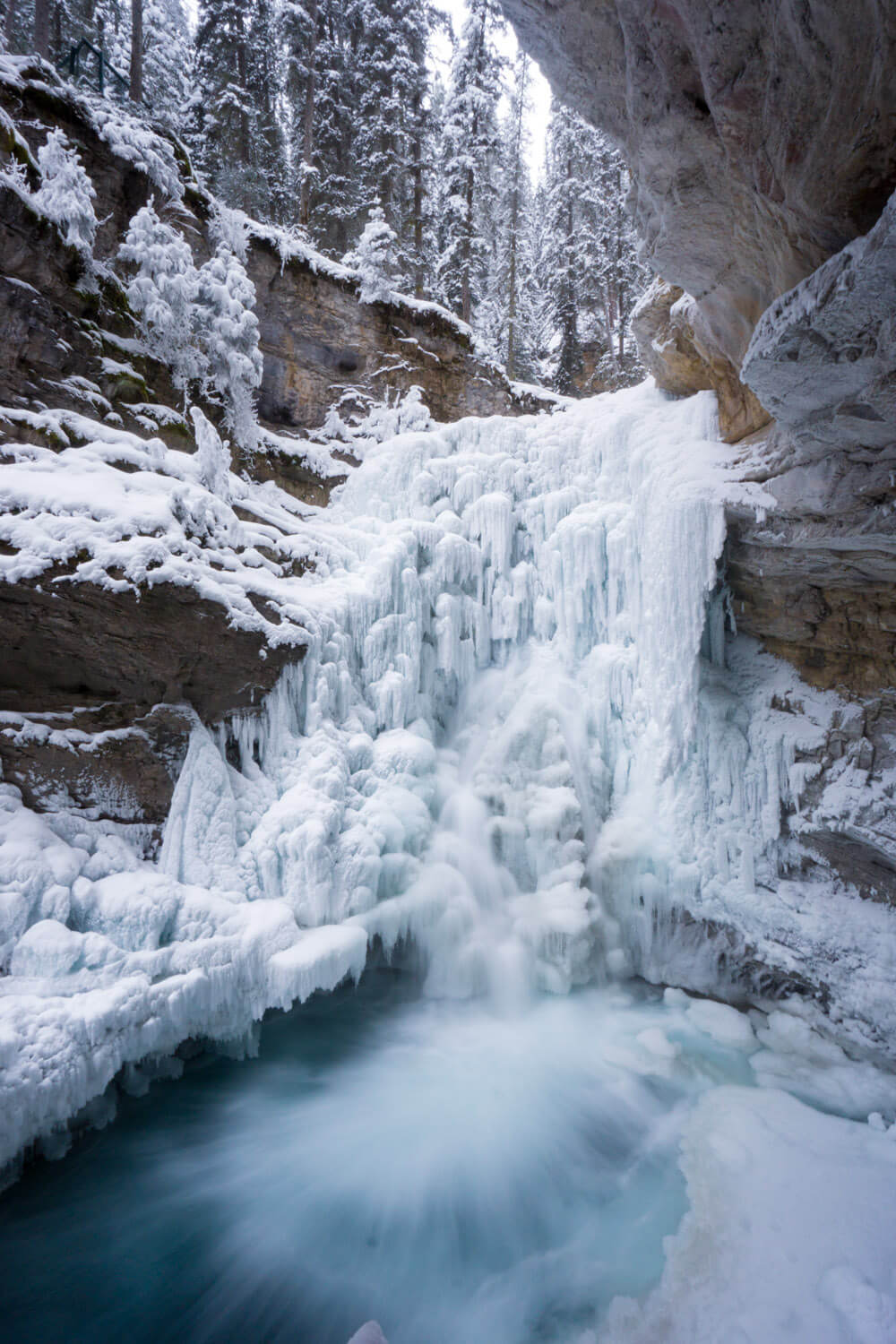 I just loved taking a walk through Johnston Canyon when it was covered in snow. The waterfalls were mostly frozen as well, which was somehow even more beautiful than when they are flowing.
There is a walkway that winds through the Canyon so you can go through without needing snowshoes. It does help to have ice spikes that you can wrap around your boots, but in lieu of that, just to make sure that you've got some good tread on your shoes.
7. Try ice climbing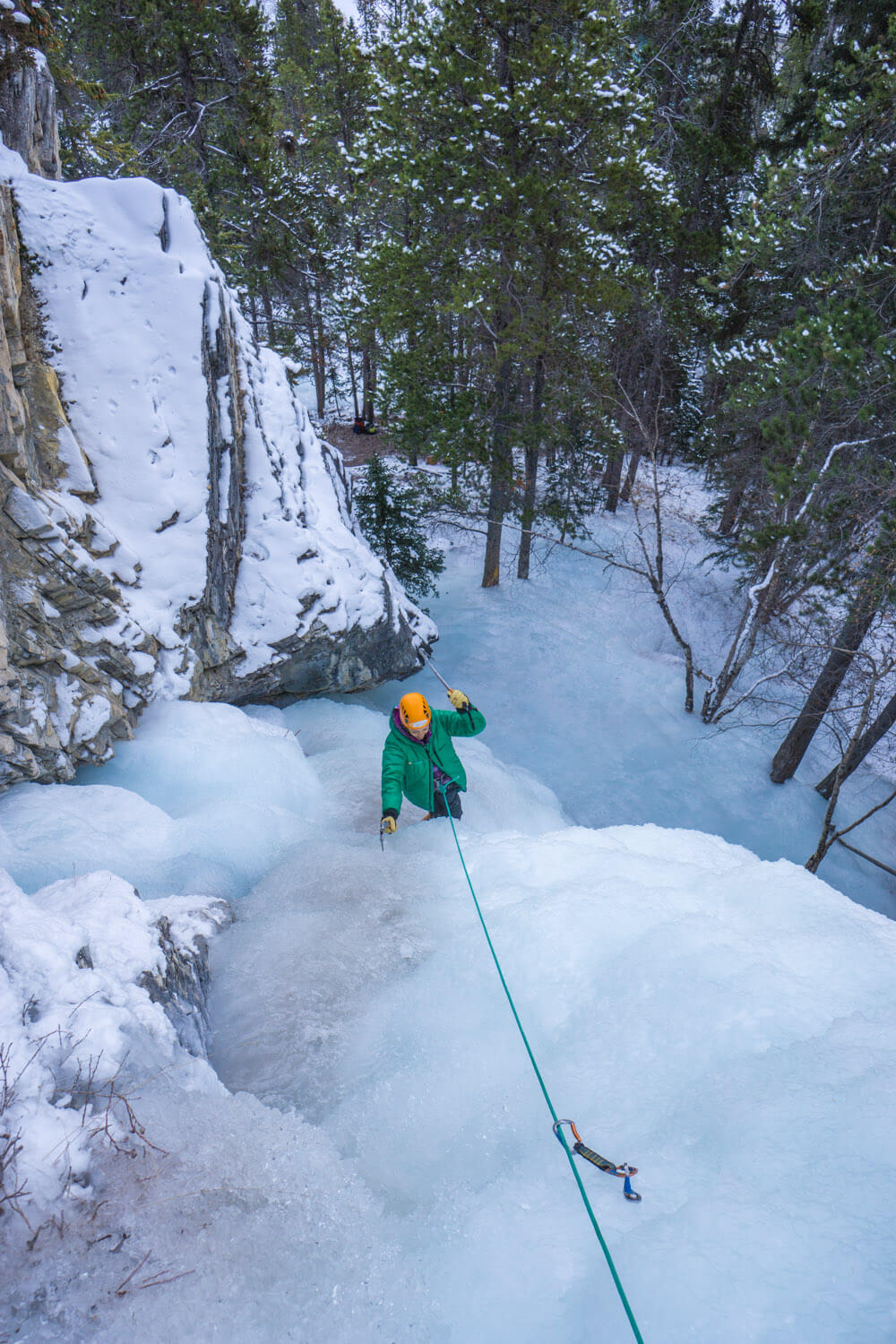 If you like rock climbing, or are just curious about what it would be like, then chances are pretty good you'll love ice climbing too.
An axe in each hand and long and lethal spikes on your feet, you start out by learning how to properly walk on the ice and then you get ready to climb. It's a dance of wedging in the ice axes and stomping the toe of your boot into the ice as you climb ever higher. The satisfaction from getting up there is pretty awesome, and guaranteed you will have sore calves and triceps for days afterwards!
I went climbing with Yamnuska Adventures and loved the professionalism of the guide and the quality gear we used.
8. Explore the caves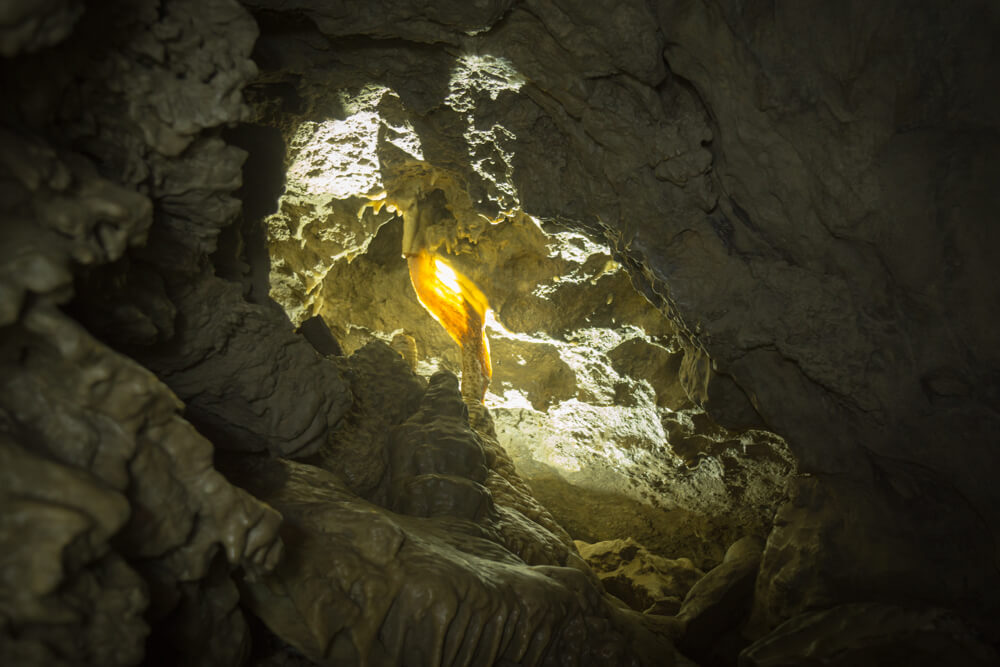 Caving totally brought out my inner child as I crawled and slid down the rocks and mud, rappelling short distances and marveling at the formations in the cave.
It was good for my claustrophobia to confront my fear of small spaces, and to find that I actually really enjoyed the feeling of crawling through the tunnels, feeling around in the total darkness when we turned off our headlamps for fun, and warming up in the cave which was nice and insulated on an otherwise absolutely freezing day!
I went caving with Canmore Cave Tours, who offer this activity year-round.
9. Check out neighboring Canmore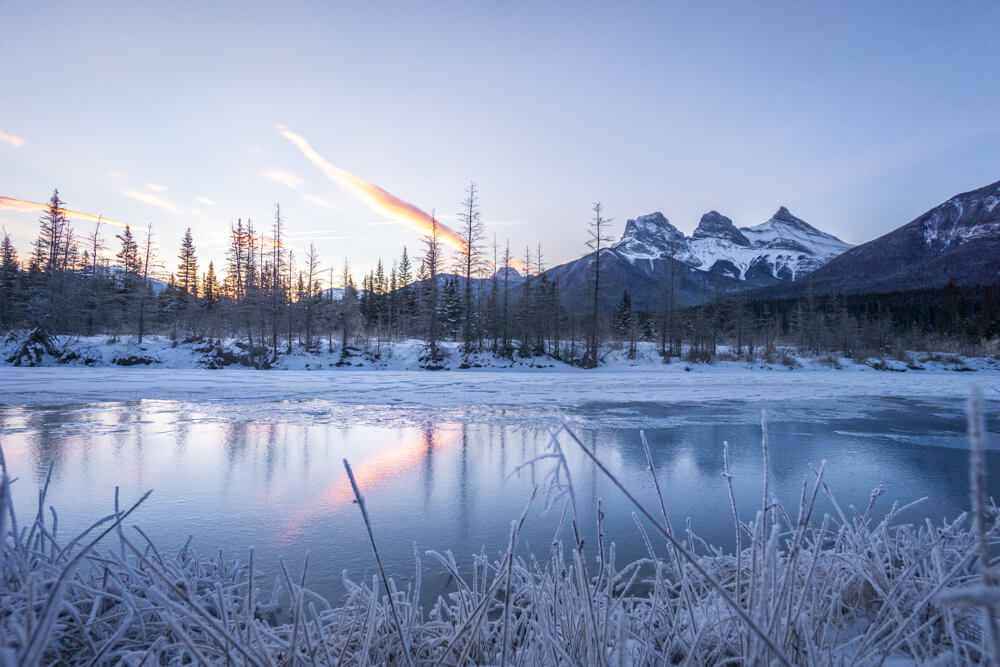 Just outside of Banff National Park, a 20-30 minute drive away, is the town of Canmore. Just like Banff, it's surrounded by the rockies and full of absolutely breathtaking photo ops in and outside of town. In contrast to Banff, it's a bit less touristy but still retains all of the small town charm and friendliness of the area.
I loved how many sweeping Rockies views there were from right in town, and enjoyed driving around the breathtaking surroundings as well. Definitely stop by if you're in the area (I recommend Paintbox lodge for the night)!
10. Take an avalanche skills course
If you're a Canadian winter sports enthusiast, getting certified in avalanche safety in Banff could be beneficial. The course lasts two days and will teach you how to travel safely in the backcountry. Not only is it a great excuse to spend some time in Banff's gorgeous wintertime backcountry, but it's also a great way to prepare for your next adventure here.
11. See ice bubbles on Lake Abraham from above
Lake Abraham is famous for having ice bubbles that form interesting shapes on its frozen surface. While you certainly can see them from the ground, the best way to take in the scene fully is by taking a helicopter tour over the lake. I mean, do you really need an excuse to fly over the Rockies?
***
These are a few of my favorite adventures while in Banff, which I'm glad to say not only met but exceeded my expectations. The dramatic Rockies, the crystal clear skies, the mounds and mounds of snow, and the limitless amount of activities has me wanting to go back and check out the other seasons too.
One thing's for sure, though: If you want Banff minus the crowds, check it out in the beautiful winter.
*This post was brought to you in collaboration with Travel Alberta. All thoughts and opinions expressed are my own, always.