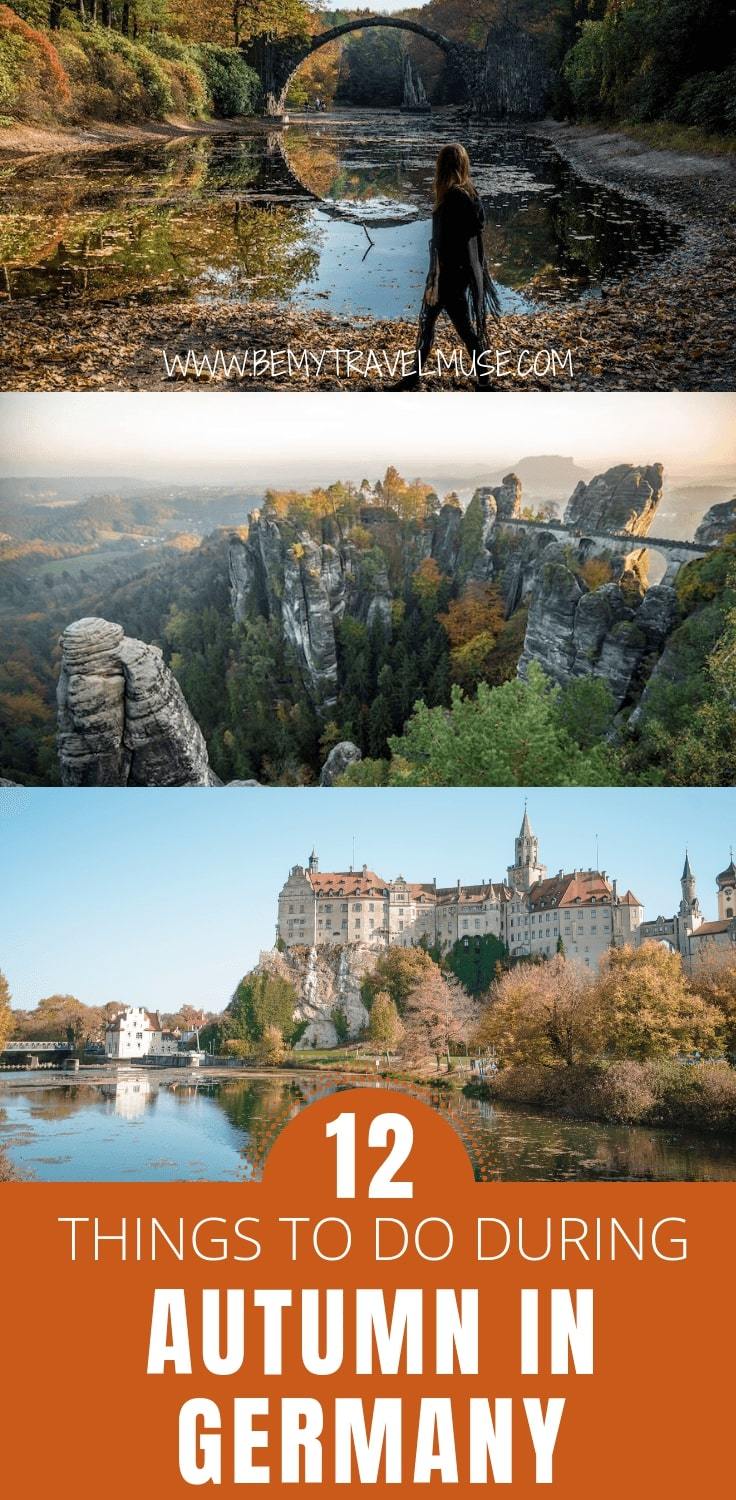 It's autumn in Germany and it's hard to think of a better place to be. The days are often sunny, a perfect match for the bright yellows, oranges and reds of the changing leaves. As a Californian it's a season I've only experienced a few times though it's quickly become my favorite.
Apart from the colors, evidence of fall abounds in the food, the festivals, and the things to do that are best enjoyed in the autumn months.
If you're a lover of the autumn, too, and if you'll be spending some of it in Germany, these are some of the best ways to enjoy it:
When to Go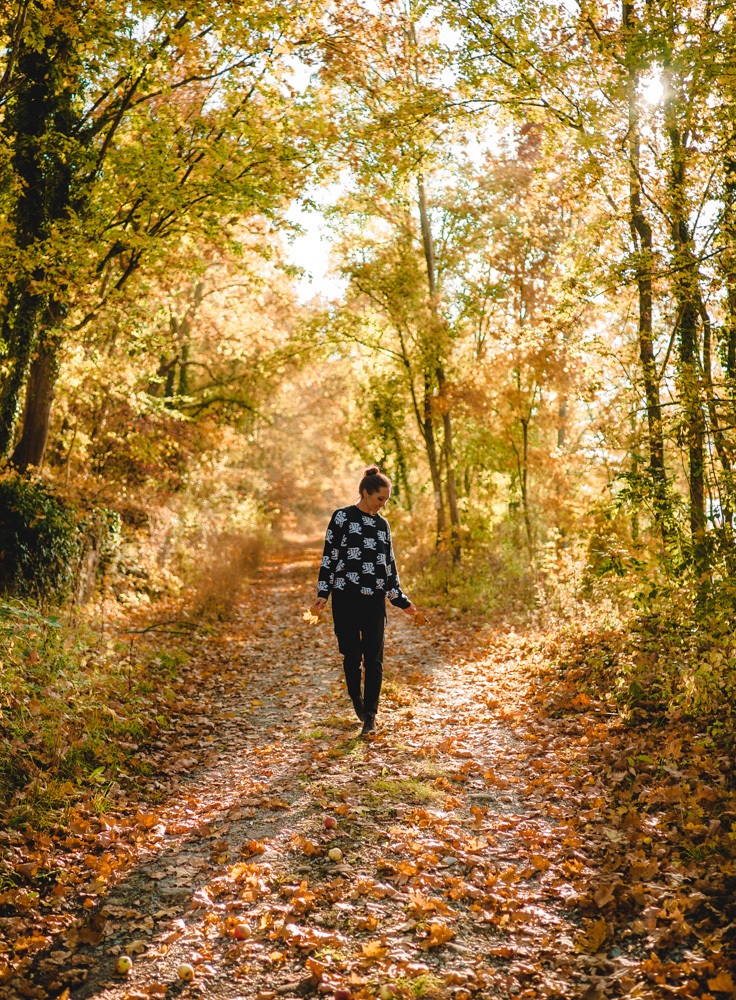 Though perfect autumn weather and foliage is difficult to predict, the leaves are usually at their peak colors around the middle to the end of October, depending on the year.
Though you can experience colder temperatures and rain, there's almost always a week or two of beautiful weather, particularly in the south.
The Best Places to Go
1. Hohenzollern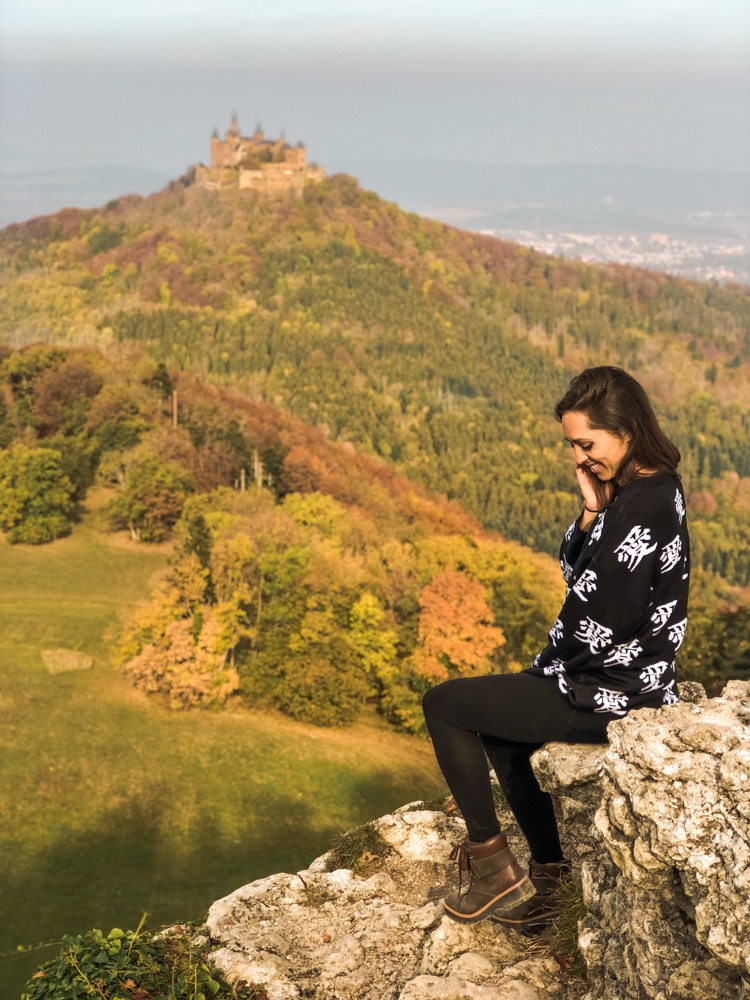 This castle is dreamy at any time of year. I should know, I've seen it in the winter, and the summer and the fall. However seeing the castle with changing leaves, and enjoying the walk to it, just make it a little bit more magical. You can go into the castle or take my personal favorite route, which is a little hike to a vantage point across from it. It can be as short as 20 minutes or you can turn it into a longer panoramic hike. You can find directions on how to do that in this post.
2. Hohenzollern-Sigmaringen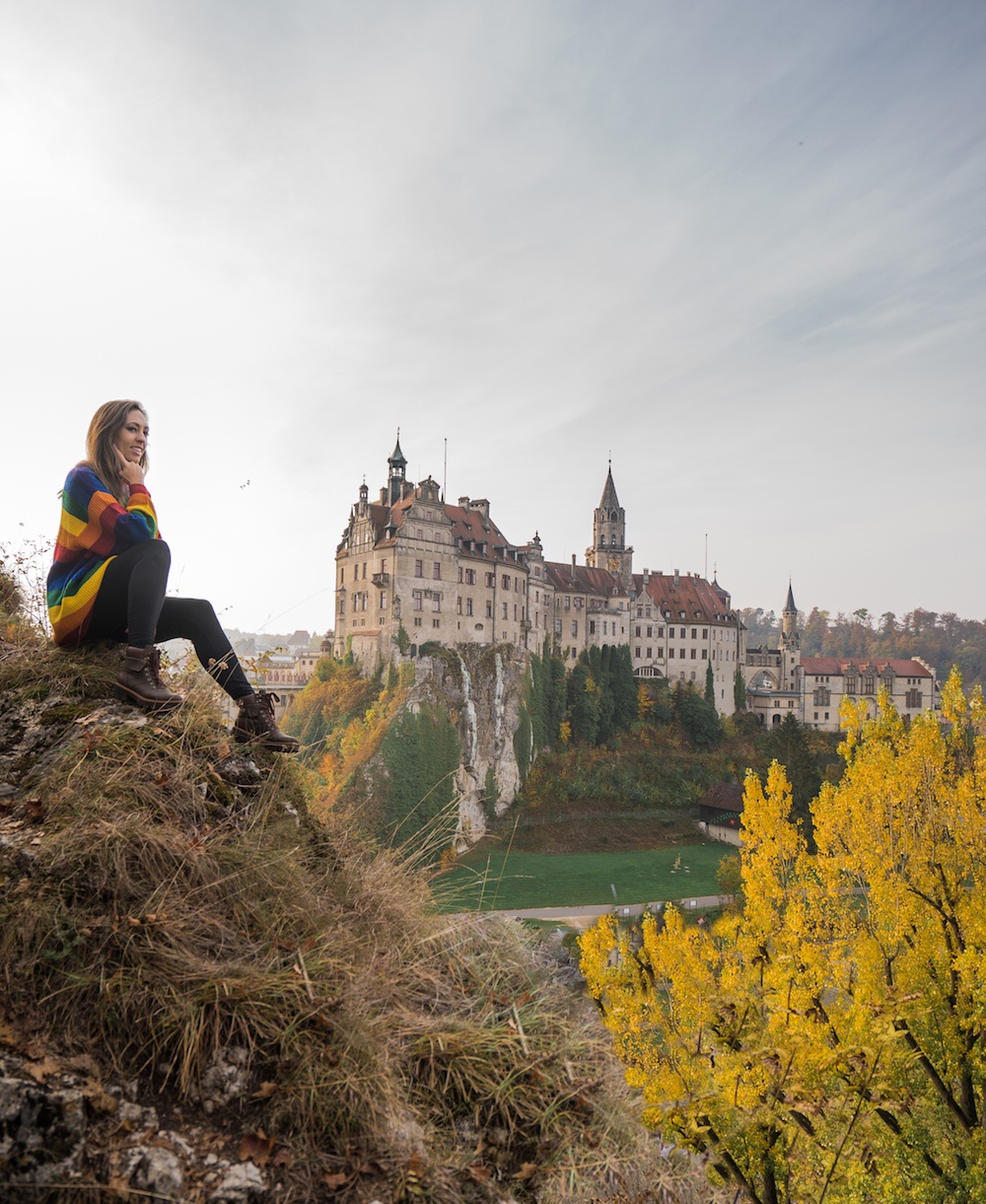 Keeping it in the family, there is another Hohenzollern castle which is slightly less famous but certainly no less grand and opulent. Hohenzollern-Sigmaringen is the biggest castle I've ever seen, perched high atop a rocky hill, and then surrounded by water and the town. Tours take place inside and there are several vantage points that are wonderful to take photos from as well, and it truly is beautiful with golden leaves around it! There's also a banquet which takes place every now and then inside the castle, including when I was there in October. Read all about it here.
3. Schlosshotel Waldlust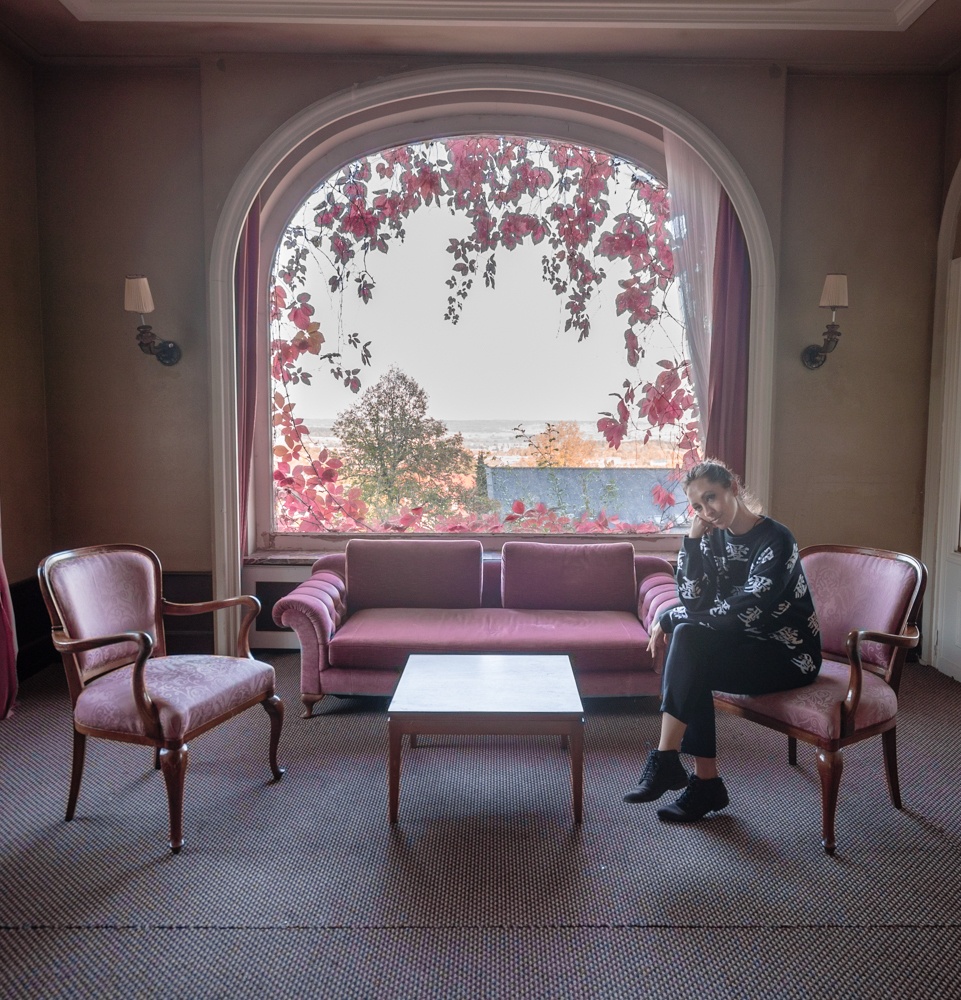 If you're like me and you immediately begin celebrating Halloween as soon as the fall hits, then you'll probably find this abandoned hotel to be irresistible. Though the hotel was officially abandoned in the mid-2000s, it looks like it's stuck somewhere between the 1920s and 1960s, with a very Wes Anderson-esque feel. You can still walk inside and see how the rooms were decorated, including the bedrooms and the attic. Some even say it's haunted. You can find it in Freudenstadt at the edge of the Black Forest, which literally translates to 'Joy Town'. What's not to love about that? Contact these guys for information about visiting. Though the website is in German, I was able to get a tour in English.
4. Burg Gamburg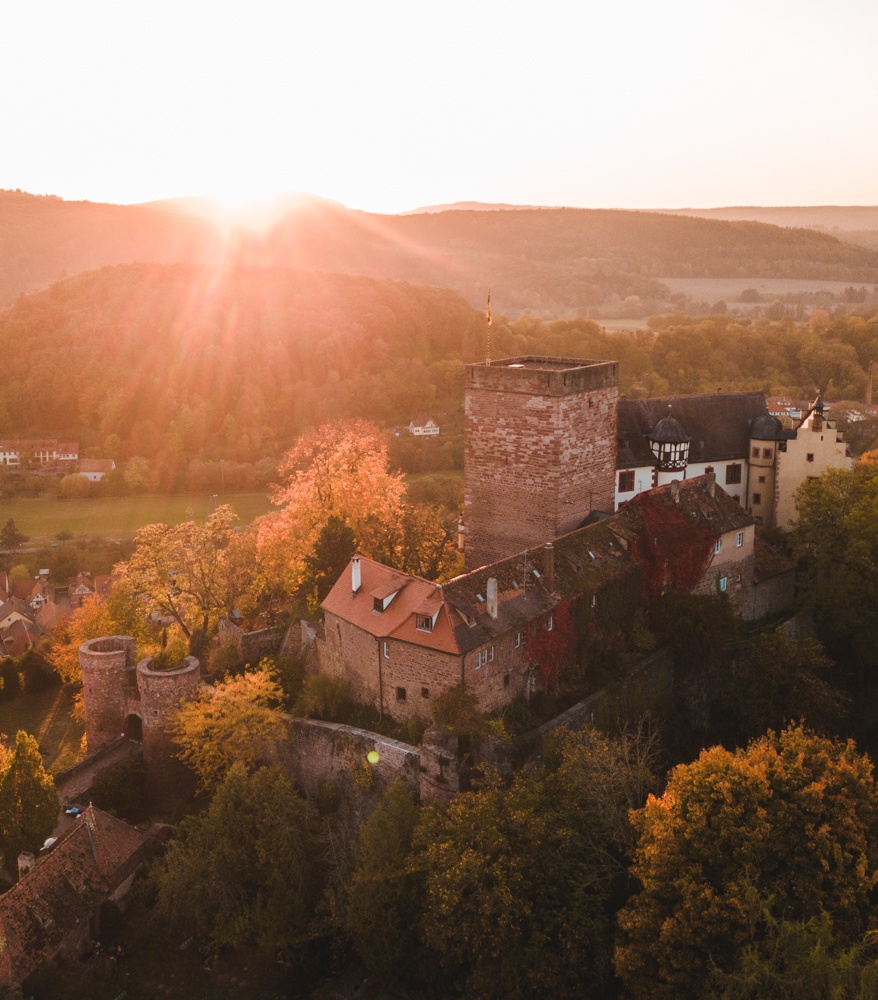 Another beautiful find in Baden-Württemberg, is a privately owned castle that the family still lives in. They conduct the tours themselves, taking you through the restored rooms and to one of the oldest non-secular paintings in Europe, dating back over 800 years. They're also known for their delicious cake, which I enjoyed with beautiful orange leaves fluttering down on me as I watched the sunset – a truly magical evening. The castle is also home to 21 friendly ghosts, and they offer ghost tours in the autumn in the evenings. You can find out more here.
5. Road trip in Baden-Württemberg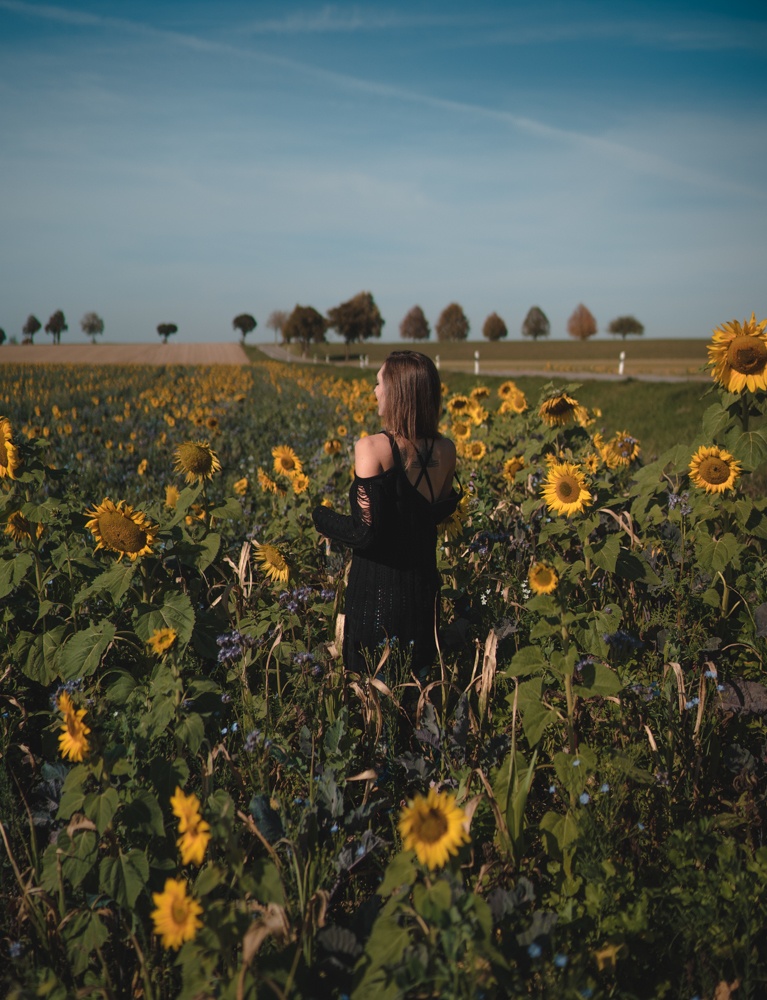 One of my favorite parts of Germany, Baden-Württemberg is perfect for road trips. It has it all from castles to waterfalls and stunning leaves. I also happened upon a field of sunflowers somewhere between the Black Forest and the Swabian Alps in October. It's hard not to love that! For more of the best day trips from Stuttgart check out this post.
6. Rakotzbrücke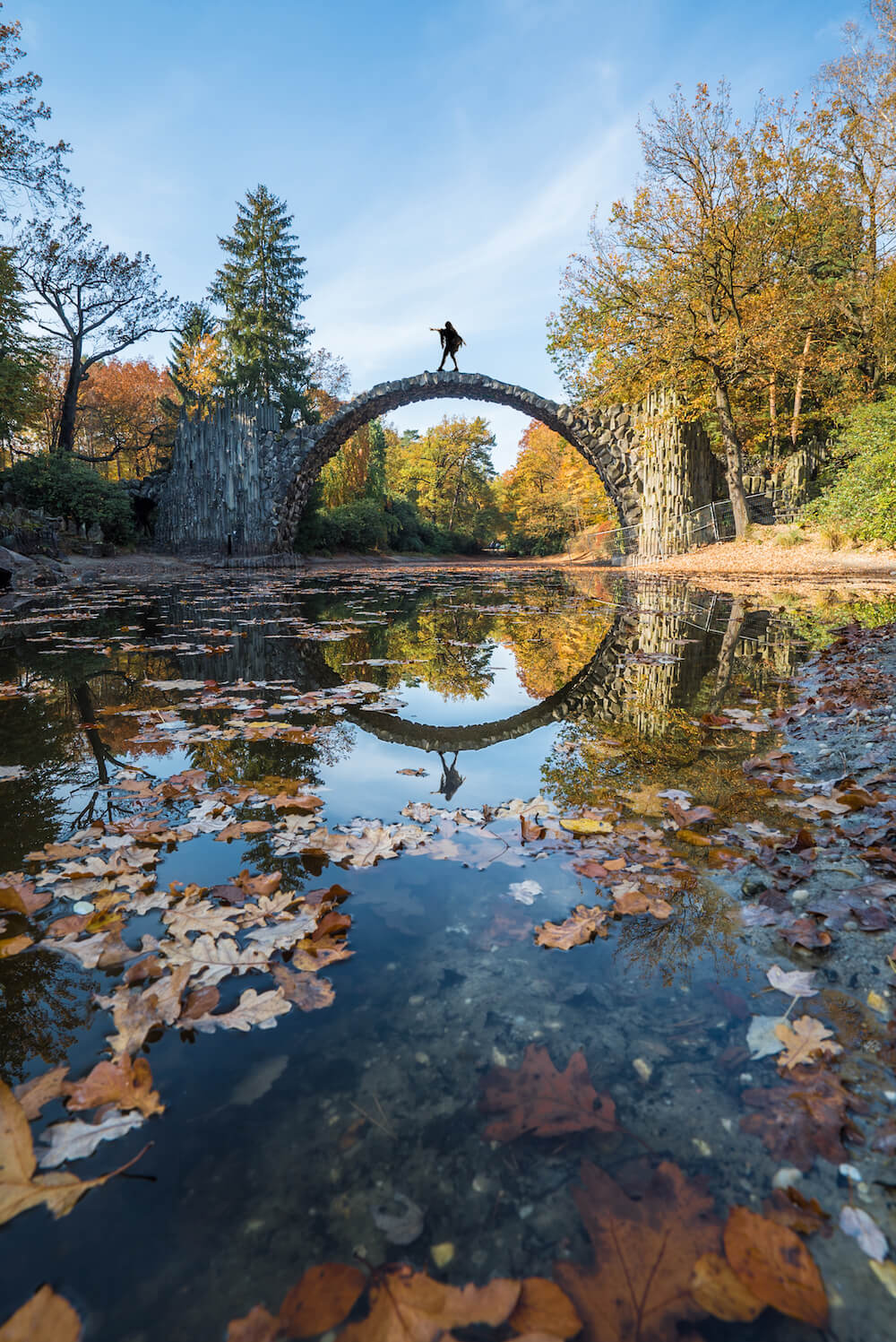 This strangely shaped, perfectly round bridge is located in the middle of nowhere, in Germany's Saxony. Its name translates to the Devil's Bridge and I love it in the fall for the beautiful colors, but also because the bridge is just inherently spooky with that shape and name. The best way to get there is to drive yourself, though there are public transportation options. You can find my full guide here.
7. Saxon Switzerland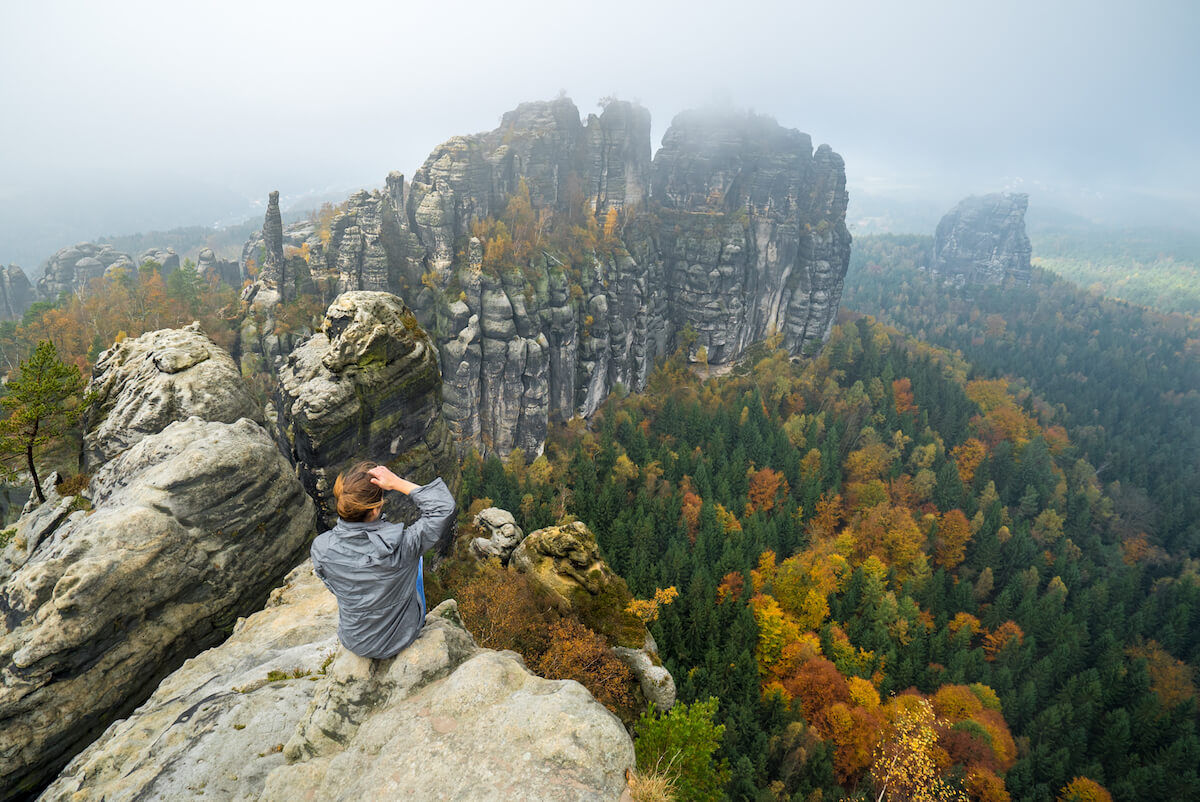 While we're talking about Saxony, you absolutely must stop by this national park and go for a hike, or several. The landscape is surreal, with sharp rock piles appearing seemingly out of nowhere. The park's main future, the Bastei Bridge, rests neatly within the rock towers, and is beyond beautiful at golden hour. And again, visiting in the fall is nice because of the foliage, but also because the crowds are smaller. You can read my full Saxon Switzerland guide here.
8. Kulturinsel Einsiedel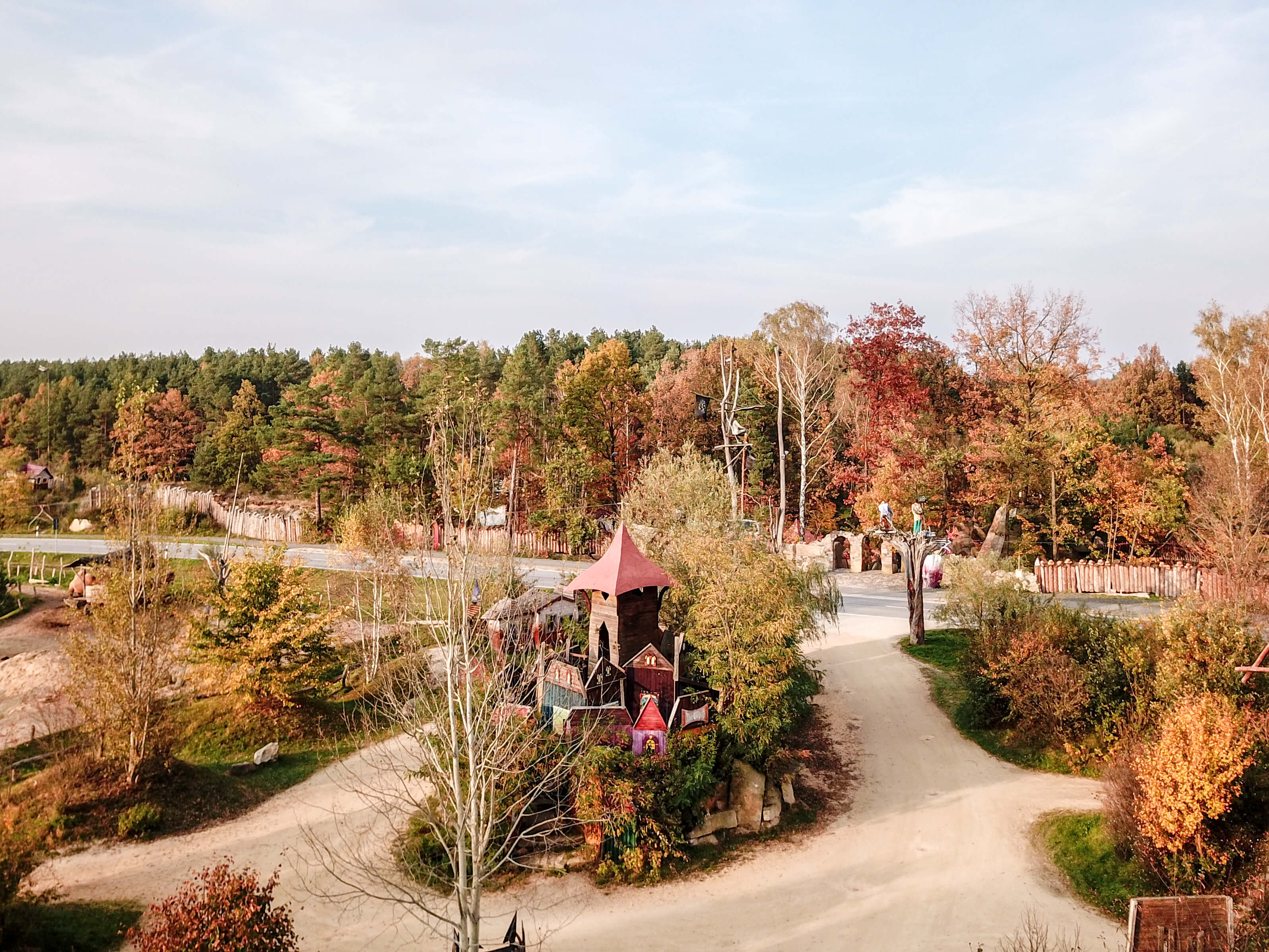 This place is kind of nuts. My friend and I stopped by during our Saxony Road trip on a whim and ended up staying for hours. It's like a theme park that you can climb through and all over and while that would normally seem like it's meant for children, it's actually the perfect overnight adventure. Though it's an ode to the culture of the people who used to live in this area, hundreds of years ago, the place just screams Halloween to me with its colorful structures and leaning spires on the roofs. Best of all, it never closes and you can even rent a house for the night to stay in, complete with bubbling cauldron bath. Read more on my Best Road Trips from Berlin post.
9. Munich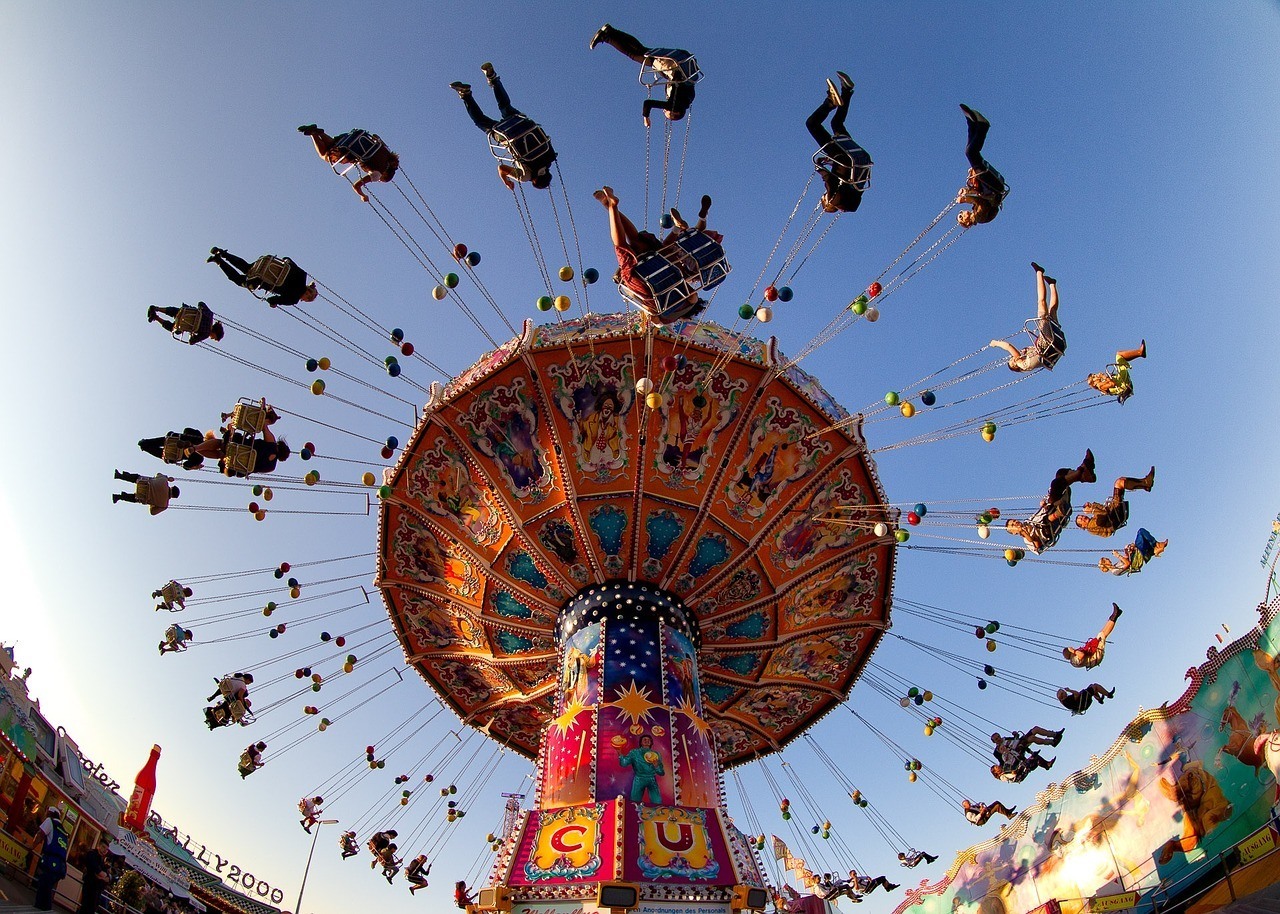 We can't talk about the autumn in Germany without bringing up Oktoberfest! If you're into beer, or just love the idea of the camaraderie of singing songs while wearing a Dirndle, check out Oktoberfest in Munich. Be sure to book your accommodation as soon as you know you'll be there, as it's the most popular time of year to visit.
10. Berlin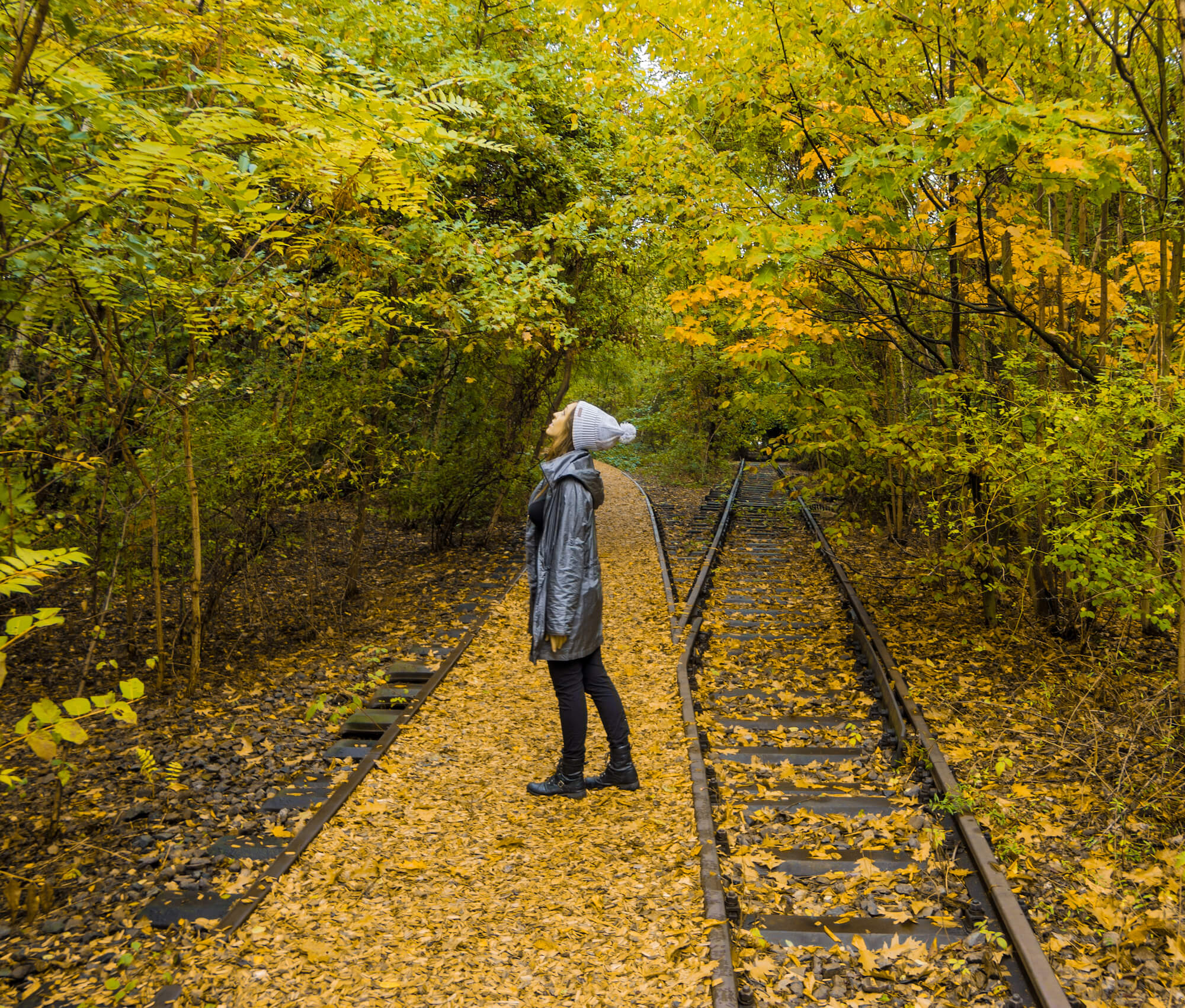 Anytime is a good time to hang out in Berlin, but in October you can see the festival of lights which illuminates some of the major buildings throughout the city. You can also get some truly beautiful, sunny, and warm days in October along with the changing leaves. It's a nice contrast to see the grittiness and street art of Berlin and the beautiful nature around it. After all, Berlin has an abundance of green spaces so you might as well enjoy them with some beautiful colors! Read my ultimate Berlin guide for ideas of what to do there, where to stay, and what to eat.
11. Potsdam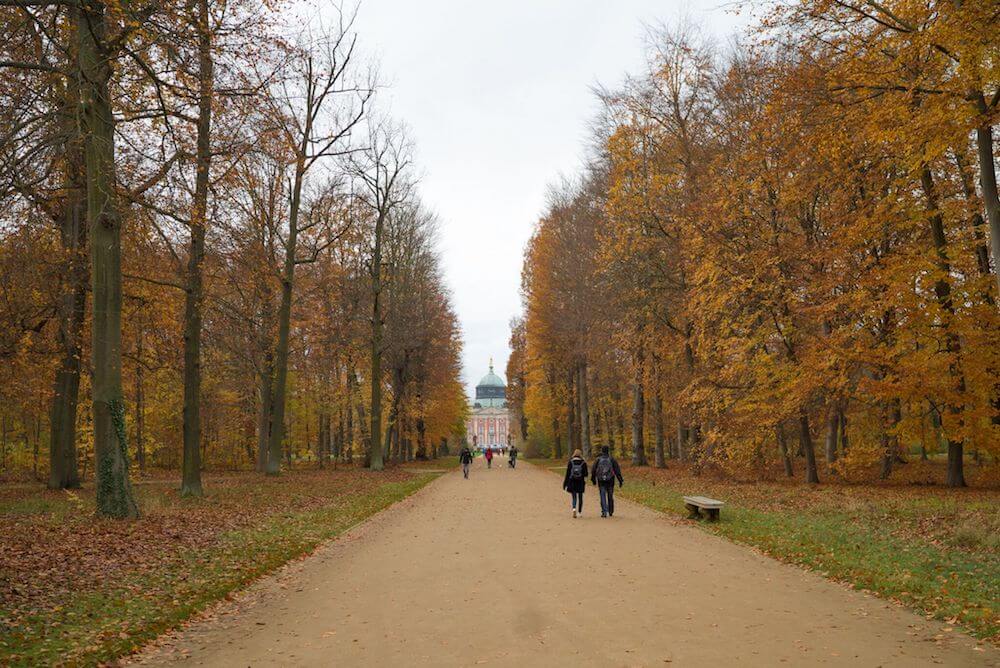 Sanssouci is the closest major castle to Berlin and also near a university town, Potsdam. While the castle is cool, what I love most about it are the grand, sweeping gardens which are particularly beautiful when the leaves change. They are also free to visit and easy to reach via train from Berlin. It takes about an hour to get to Potsdam, though I suggest several for enjoying it fully.
12. Spreewald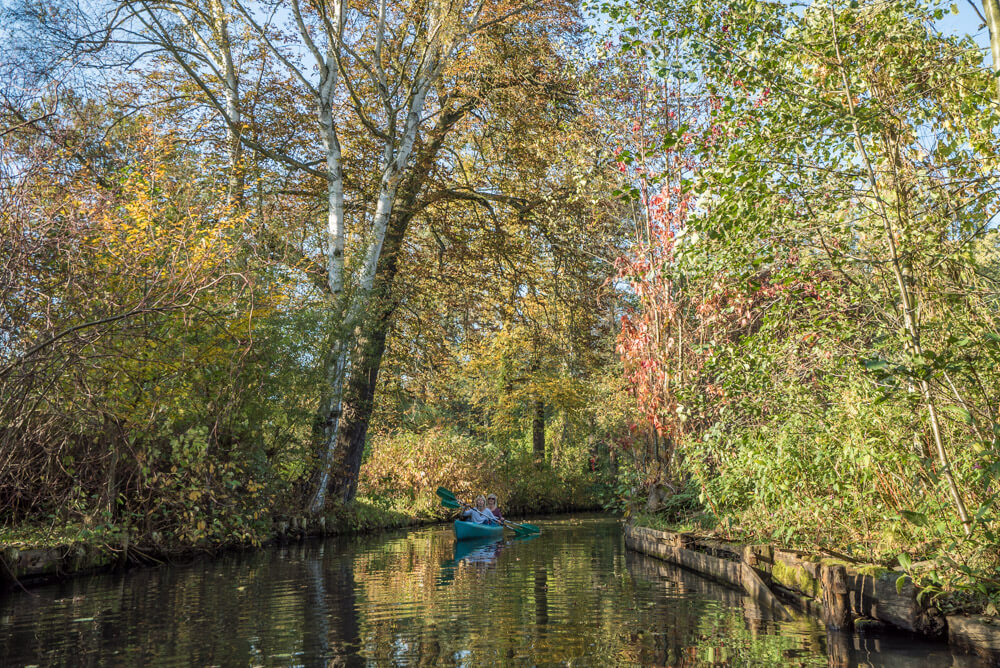 Finally, Spreewald is another beautiful day trip in Brandenburg – not too far from Berlin. It's easy to reach by train, and is famous for its pickles and usually-green tree tunnels over the water. However in the fall, it all changes color and it is stunning! It's also far less crowded than during the summer. Rent a kayak and take yourself through the gorgeous changing foliage and enjoy the peace and quiet. You can read more about enjoying Spreewald here.
Though I simply can't pick a time of year that is the best to be in Germany, because each has its own special beauty and festivities that go along with them, each year makes me fall more and more in love with the autumn.
You can pretty much always count on at least a week or two of sunny weather along with beautiful changing leaves, and smaller crowds. Those are some benefits that are easy to love!