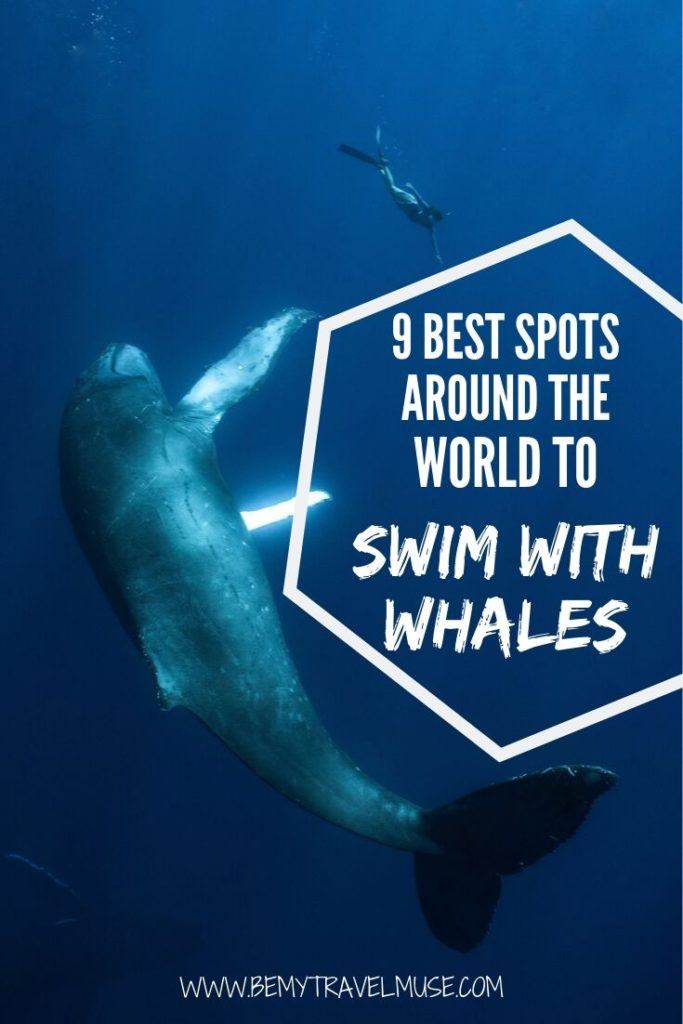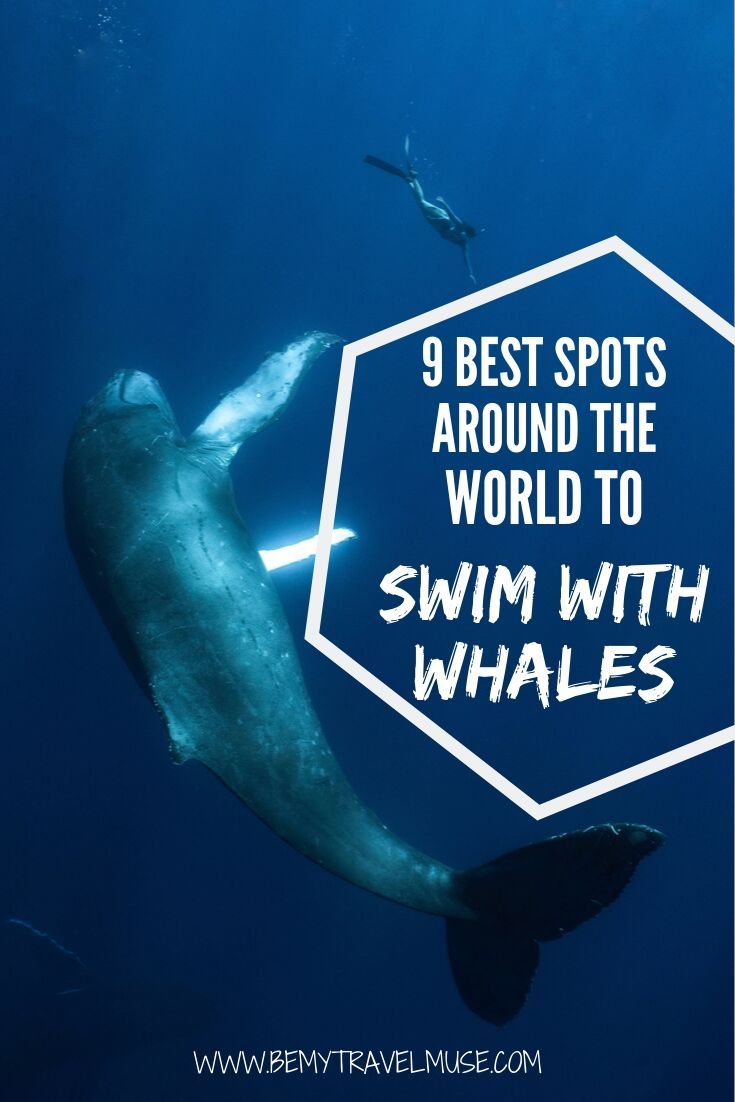 Ever dream of swimming with whales? In some parts of the world, it's possible not just to view them from the deck of a boat, but to jump in the water and swim with them!
From sperm whales to humpbacks and orcas (okay so they're in the dolphin family, but they still deserve a spot on this list, amiright?), these are the places around the world where it's possible to swim with whales:
Humpbacks
Humpbacks are famous for their mesmerizing whale songs, which can be heard by other whales many thousands of miles away. They grow to be 50 to 60 feet long and are such strong swimmers that they sometimes propel themselves completely out of the water and into the air, called breaching. They're often found near coastlines throughout their migration from the poles to the equator. Humpback whales are named for a small hump in front of their dorsal fin, and the underside of each humpback is unique in its pattern and pigmentation. Perhaps the coolest thing about humpbacks (besides their crazy water acrobatics) is that they sometimes blow bubbles in order to confuse and catch fish!
There are pretty tight regulations against swimming with these guys in much of the world, but there are a few places where it's possible. If you want to swim with these cool creatures, here's where to go:
Tonga
Every July through October, huge numbers of humpbacks travel north from Antarctica to Tonga to mate and calf. The best places to swim with the whales from my experience are the islands of Vava'u or Ha'apai.
Only a handful of boat operators receive permits to go near the whales each year, and each boat can only take a small number of people, so booking your trip early is important. Most excursions, which are easy to book online, are five to eight days long, and prices range from about $3,500 to more than $7,000. I went with and recommend Dance with Whales.
Tahiti (French Polynesia)
From August to October each year, humpbacks travel to Tahiti to birth their calves in the calm, warm waters off the island. Today, French Polynesia is a designated shark sanctuary and exclusive economic zone (EEZ) in order to protect its incredible marine life.
Tahiti and Mo'orea are the main spots to swim with whales. You can choose from swimming with them every day, or booking a day trip and enjoying the waterfalls, swimming with rays, and other activities on Tahiti and Mo'orea as well during your trip. Tahiti Lagoon Paradise is the best-reviewed operator in Tahiti.
I also run women's adventure tours to swim with the whales in French Polynesia. Though my trip has sold out, you can sign up for the waitlist here!
Western Australia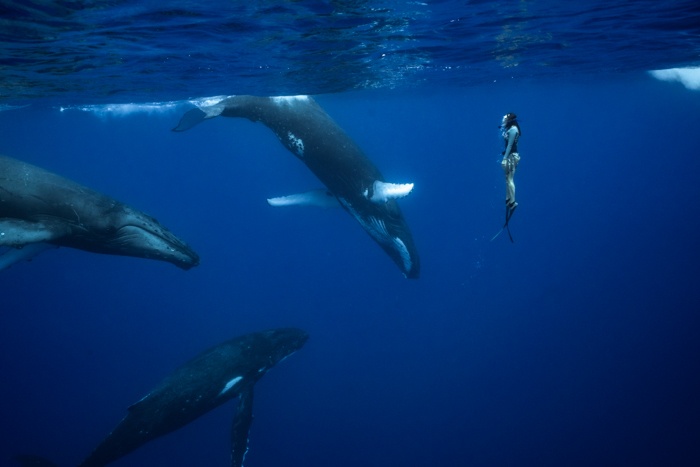 From June to November each year, approximately 40,000 whales migrate along the coastline of Ningaloo Marine Park, including Ningaloo Reef, in order to feed at the poles. Also referred to as Australia's coral coast, Ningaloo is the site of a thriving coral reef which is home to other marine life including dolphins, rays, and turtles.
Tours like these take small groups on full day excursions to swim with the migrating whales. Many are designed to have little to no impact on the marine environment in order to best support the incredible ecosystems at Ningaloo Reef. Tours are easy to book online, and prices tend to be around $300 to $500 USD.
Mozambique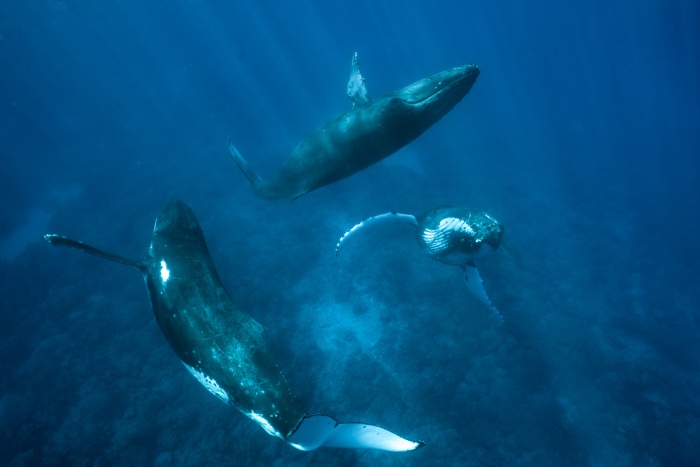 Hundreds of humpback whales travel to the coast of Mozambique each July through October to mate and calf in the Indian Ocean. The coastal town of Tofo, which is also known for its population of whale sharks, is a great home base, where you can both snorkel and dive with the whales, as well as the countless other marine creatures that call the area home.
The only bookings available online seem to be excursions on the more extravagant side, as a simple snorkeling or diving day trip is hard to come by. What is available, though, is a week-lon g, all-inclusive trip which takes care of accommodation, activities, and more. A trip like this costs about $3,000, and though it is a hefty price tag, you're paying for both ease and responsible, ethical travel in Mozambique.
That said, Mozambique is the kind of place that I've learned you're better off showing up to, and booking in person. You can read more about Mozambique travel here.
Dominican Republic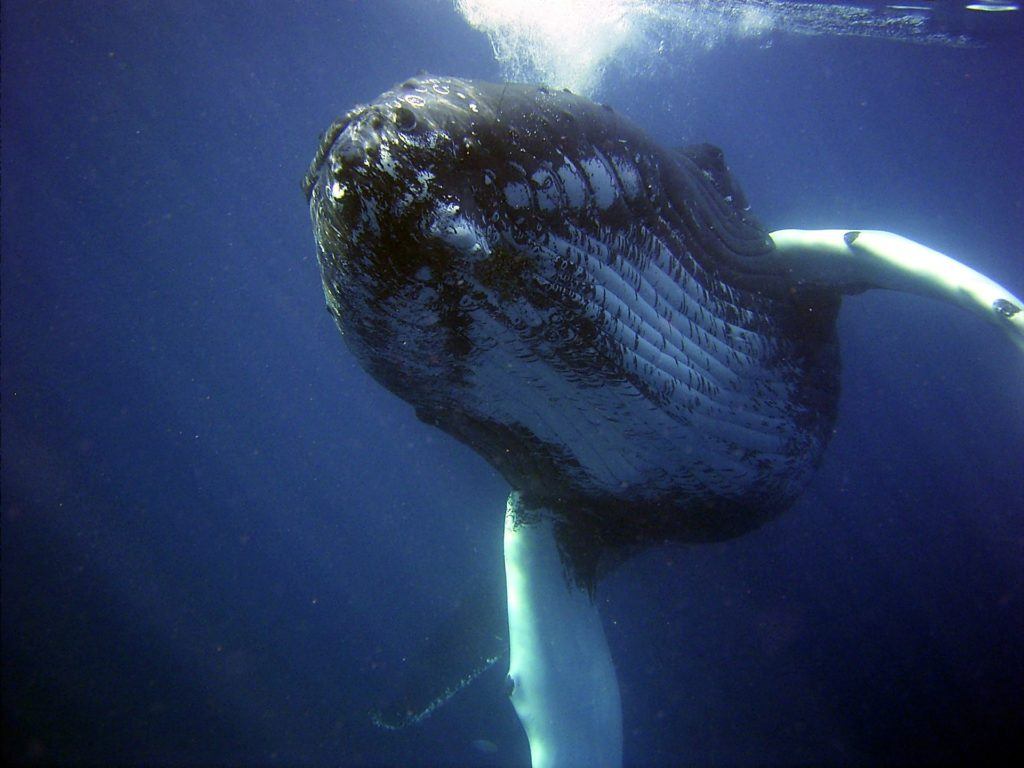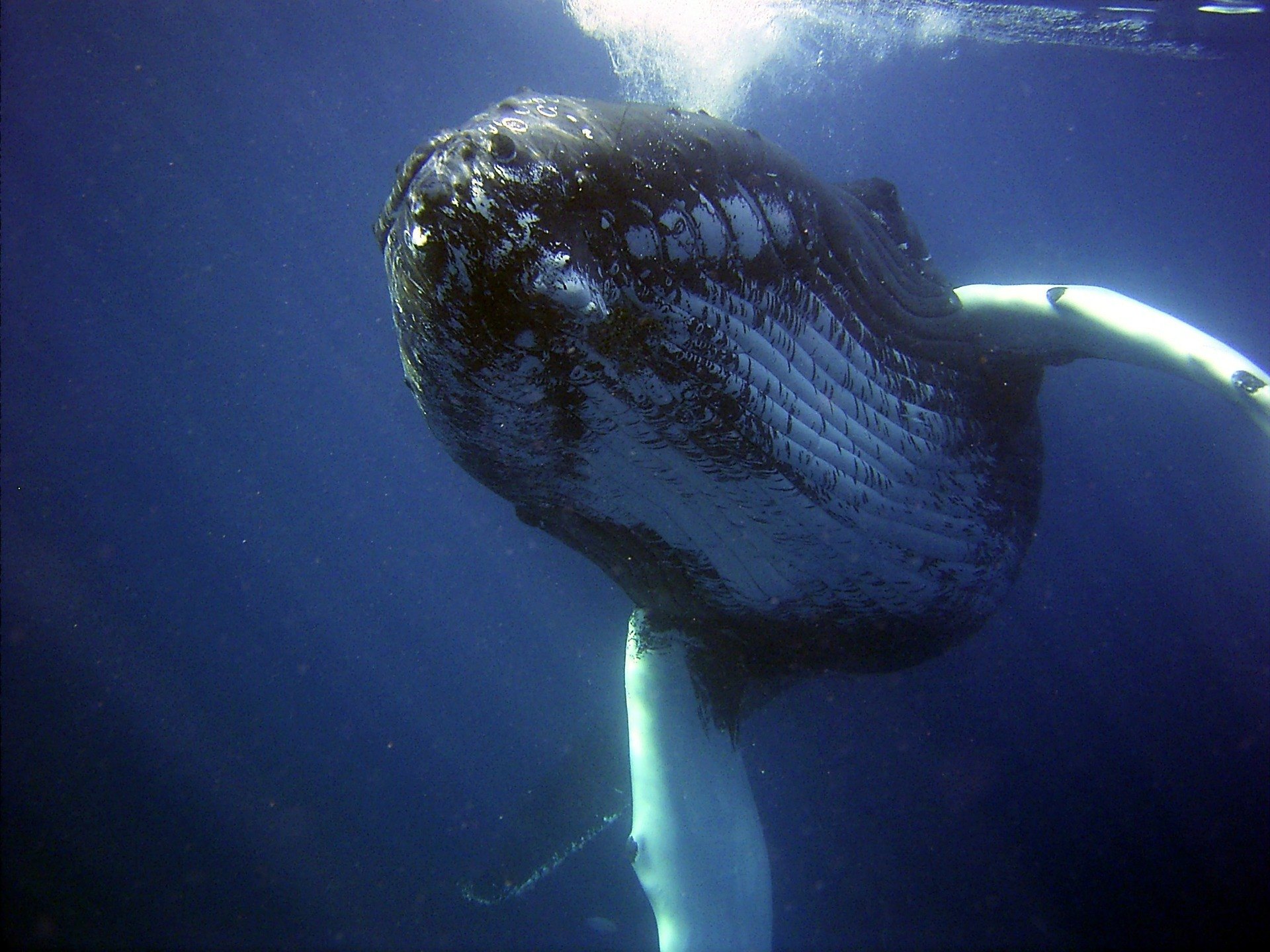 The Dominican Republic's Silver Bank is in a 650-square-mile marine sanctuary (now expanded as part of the "Sanctuary for the Marine Mammals of the Dominican Republic") located about 50 miles north of the island. A large population of North Atlantic humpbacks gather here each winter and spring to mate and calf from the months of January through April.
Any opportunities to swim with the whales in the Dominican Republic are week-long yacht trips to the Silver Bank, not day-trips from the island, because the journey from the mainland to the Silver Bank takes about ten hours each way by boat. However, choosing to visit the Dominican Republic to swim with the whales over the course of a week means you'll get many more chances to experience them than you would on a simple day trip. A week-long trip starts at about $4,000.
Sperm Whales
Sperm whales are the largest of the toothed whales, as they can grow to be nearly 60 feet long, and are recognizable by their huge, rounded foreheads. They can dive down more than 3,000 feet (deeper than nearly all other whales) and hold their breath for 90 minutes, which helps them in their quest to eat giant squid and 2,000 pounds of fish per day. Female whales and their calves travel in groups of 15 to 20, while male sperm whales usually travel on their own. Sperm whales are the loudest animals on the planet, as the clicking sounds they make reach such an intense frequency (more than 200 dB) that the whales can hear each other's clicks from thousands of miles away. (To a human, sounds over 110 dB can be painful, so sperm whale sounds could blow out your eardrums!) They're not just loud, though: they're highly intelligent. A sperm whale's brain is approximately six times the size of a human brain, making it the largest brain of any animal on Earth! (Another fun fact: the whale in Moby Dick is a sperm whale.)
Given that they dive down so deep and can be shy, the best way to swim with them is to find a group of 'standing' sperm whales, which is how they sleep.
Through and through, sperm whales are gentle giants who sometimes even take interest in interacting with humans. If you'd like to experience them for yourself, contact Vitamin Sea in Mauritius.
Dominica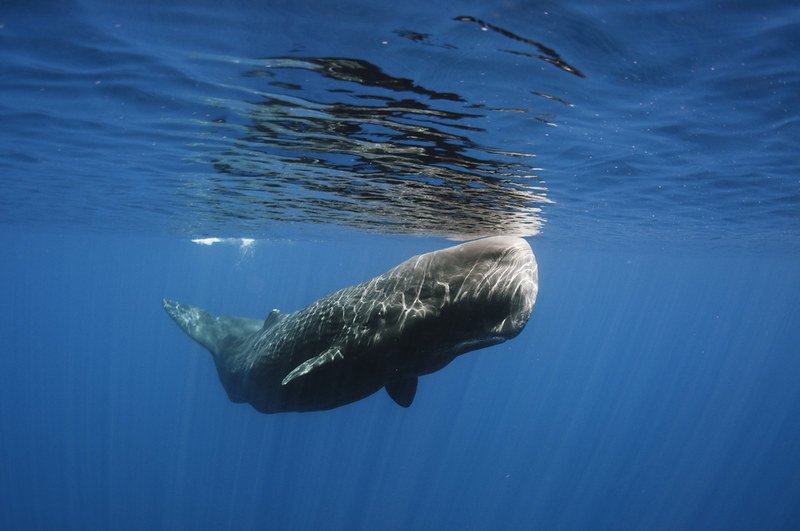 In the winter, females and their calves can be spotted off the shores of this Caribbean island nation, which is located halfway between the islands of Guadeloupe and Martinique. Swimming with the whales is not easy, though: permits are required, only snorkeling is allowed, and you must be accompanied by a licensed operator. What's more, the licenses are expensive, and the country issues only ten of them per year, so the chances of acquiring one are slim.
Another option is to book through a company which takes care of your whole trip, not just the swimming. However, this, too, brings a hefty price tag. It is not impossible to swim with sperm whales in Dominica, but keep in mind that this may not be an easy adventure to pull off. 
Sri Lanka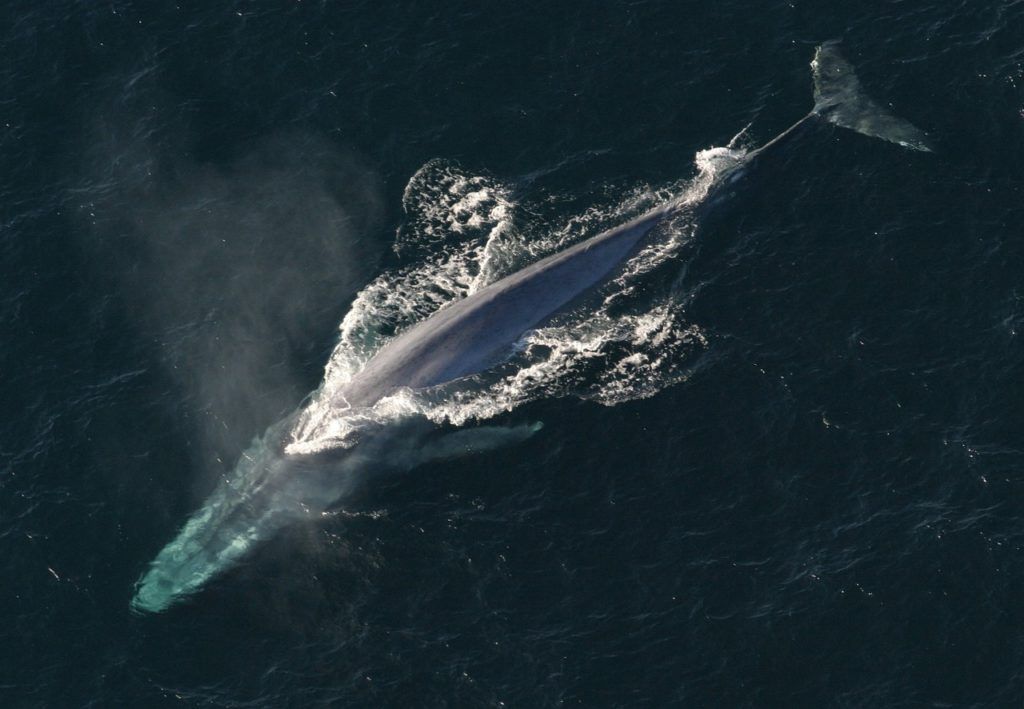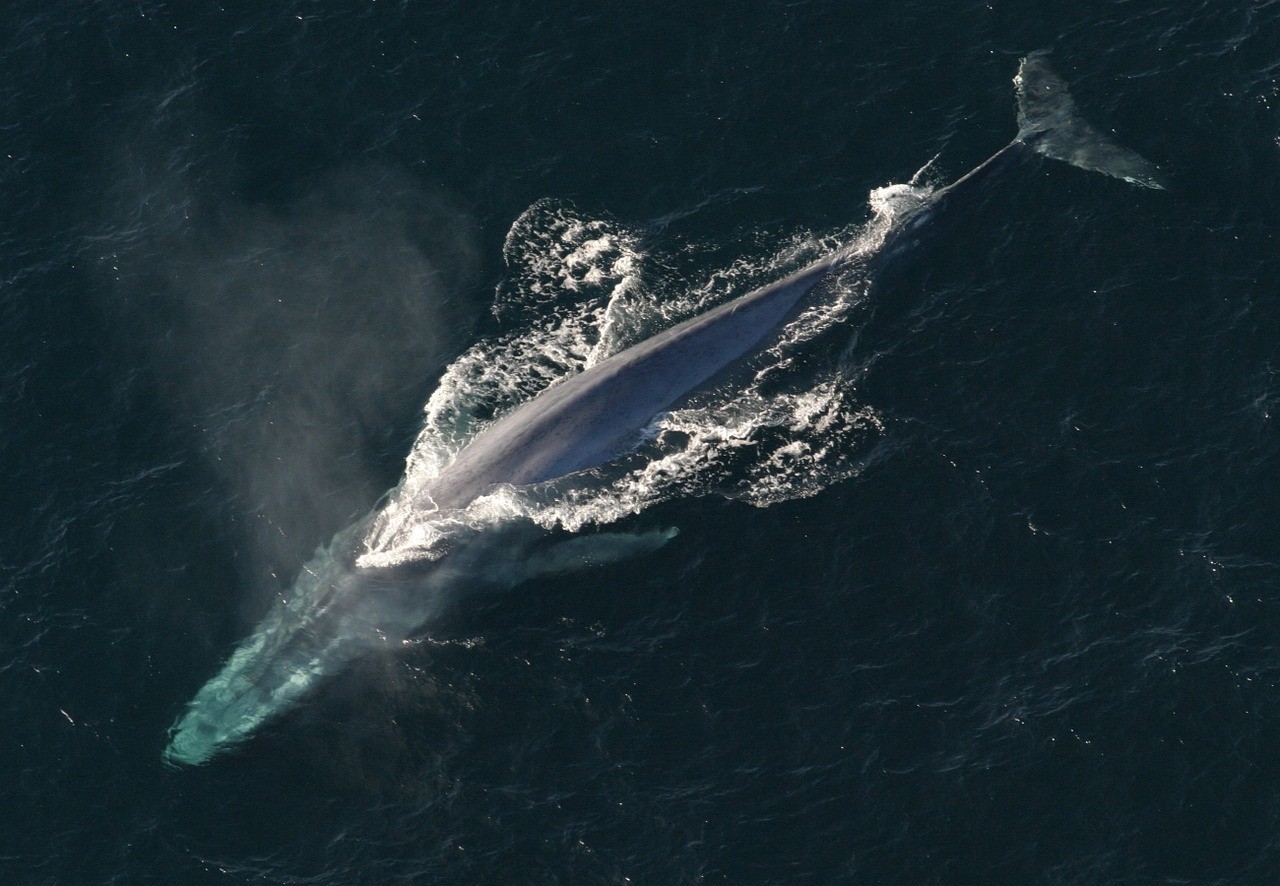 Off the northern coast of Sri Lanka, sperm whales can be spotted from February to April. Tour operators must obtain a permit from the Sri Lankan government, and finding an actual day trip to swim with the whales is a challenge, as most tours are just whale watching tours. However, there are a few here and there which focus around actually swimming.
Much like in Dominica, the easiest option is perhaps to book your entire trip with a company which works out all of the details for you, though such trip is not cheap. Be prepared to spend several thousand dollars for an all-out excursion like this.
Sri Lanka is also one of the only countries in the world where you can swim with the biggest mammal in the world, the blue whale. They aren't particularly interactive, so your best bet is to jump in the water as it passes by, like a freight train, underneath you.
Beluga Whales
Characterized by what looks like a permanent, ghostly smile, beluga whales are friendly, curious, and playful. They are the only marine mammal that is white in color, and have been dubbed the 'sea canaries' for their high-pitched calls. They have highly adapted echolocation, which allows them to live in areas with ice, like Canada! Here's where to see them:
Churchill, Manitoba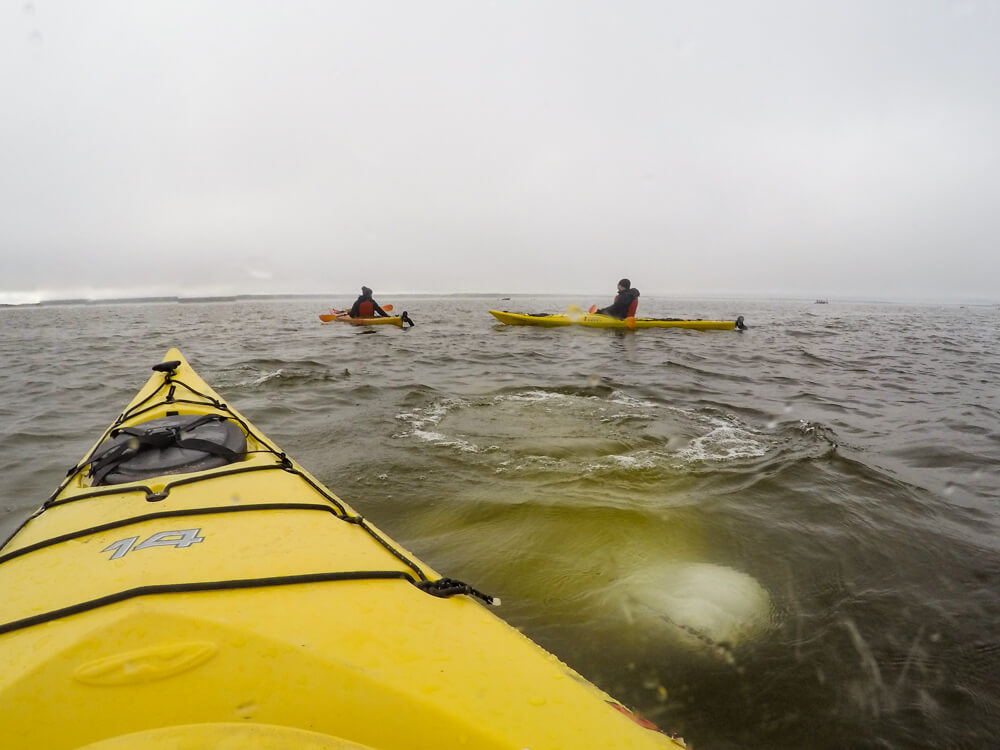 Each summer between June and mid-September, up to 60,000 of them swim into the brackish water of the Hudson Bay where the temperature is slightly warmer and more hospitable for their calves.
Summer trips here include kayaking, boating, and floating in the water in drysuits as the whales come and check you out. They're a joy to interact with, often coming up and bumping the kayak or swimming up to you while you float in the water. The water visibility isn't great, but the experience is magical. Trips also include looking for polar bears and dog sledding. You can find out more about the trip and how to book here.
Orcas
Often called killer whales, orcas are actually in the dolphin family, but they deserve a spot on this list because they're beautiful and amazing and would be a joy to swim with. They are also some of the deadliest creatures in the ocean. They are so successful predatorily not only because they have up to four-inch long teeth, but because they are smart! They use their intelligence and social ability to work together and outsmart their ocean prey. They can even hunt great white sharks!
Orcas travel in pods of up to 40, so if you see one, there'll be dozens more close by. Here's where to swim with orcas:
Norway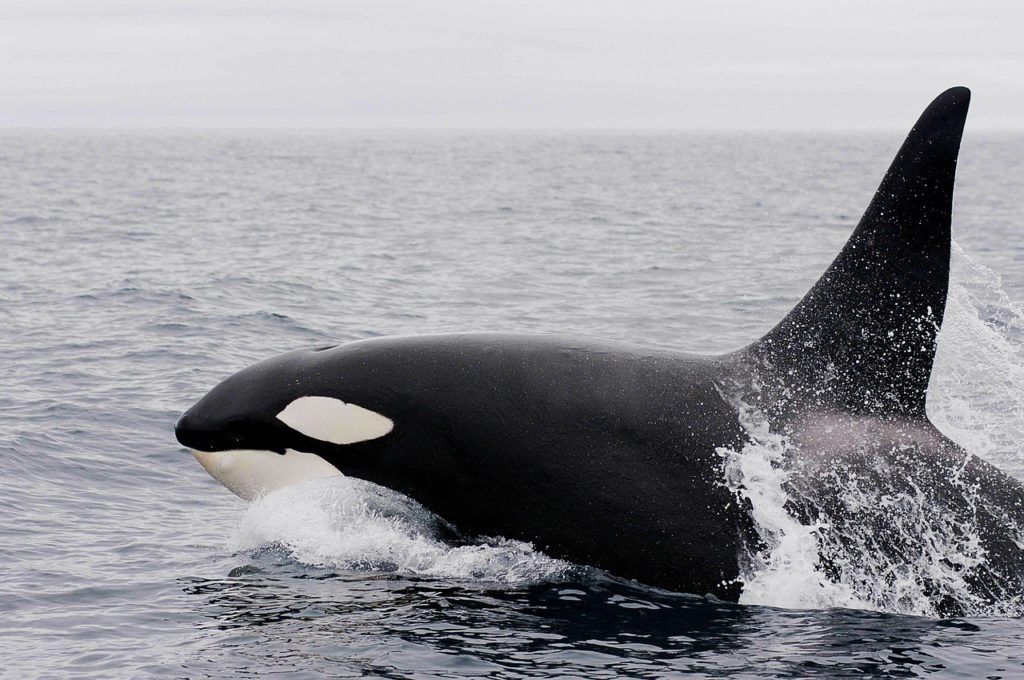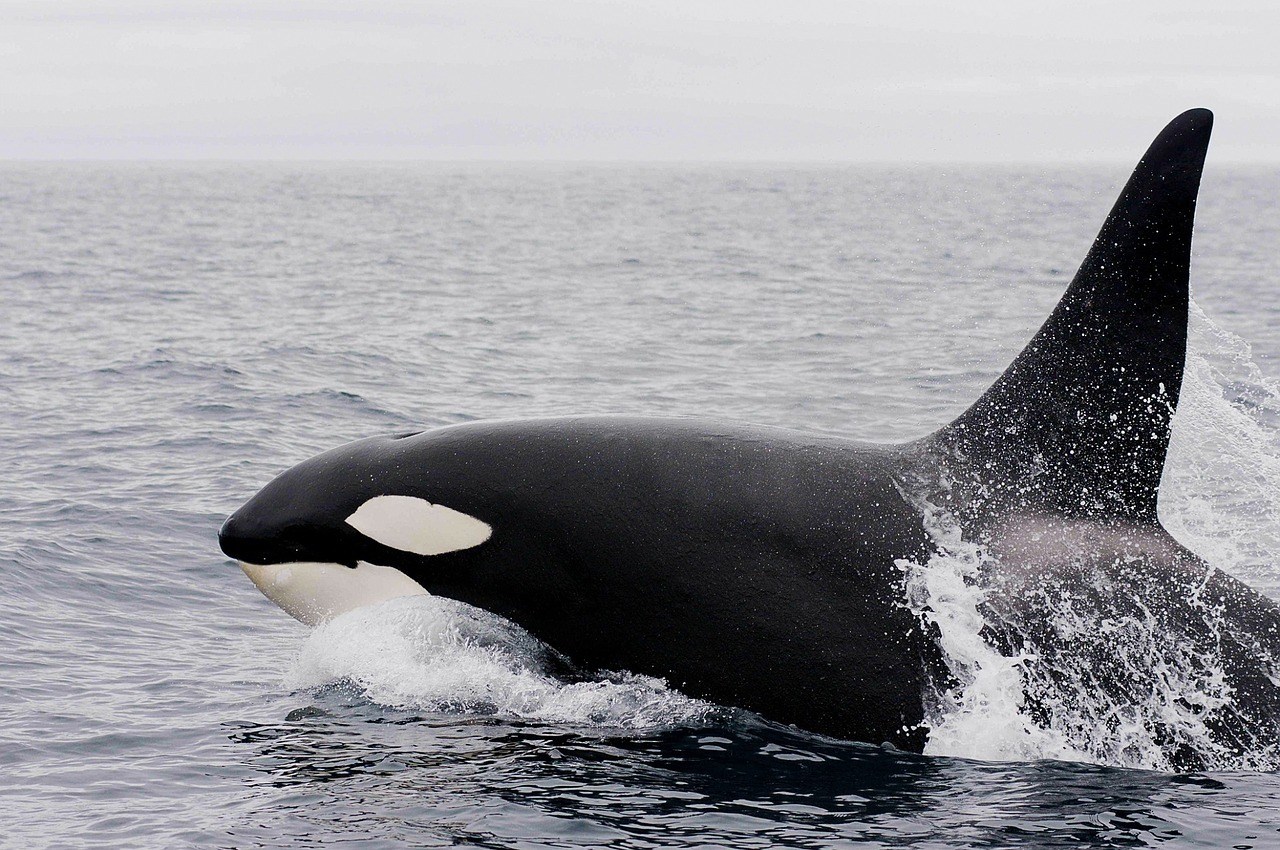 From the end of October to the beginning of February, the Tromsø region in the far north of Norway is perhaps the best place to see killer whales in their natural habitat, thanks to the high concentration of herring which brings thousands of orcas (and humpbacks, too) all to one geographical location.
Scuba diving typically is not necessary, as the whales remain pretty close to the surface, but snorkeling and swimming are common each winter. Luckily, the orcas are not on the hunt for anything but fish, so they won't take any interest in you; however, since orcas can be dangerous, swimming with them must be strictly organized and supervised so that participants are not at great risk.
A multi-day excursion in Norway and the Arctic Circle starts at about $2,500, while week-long trips climb to $5,000 with some even reaching $8,000. Because an adventure like this must be so tightly planned and regulated, spots are few and planning ahead is important. Booking online is easy, though, and there are many tours and excursions to choose from.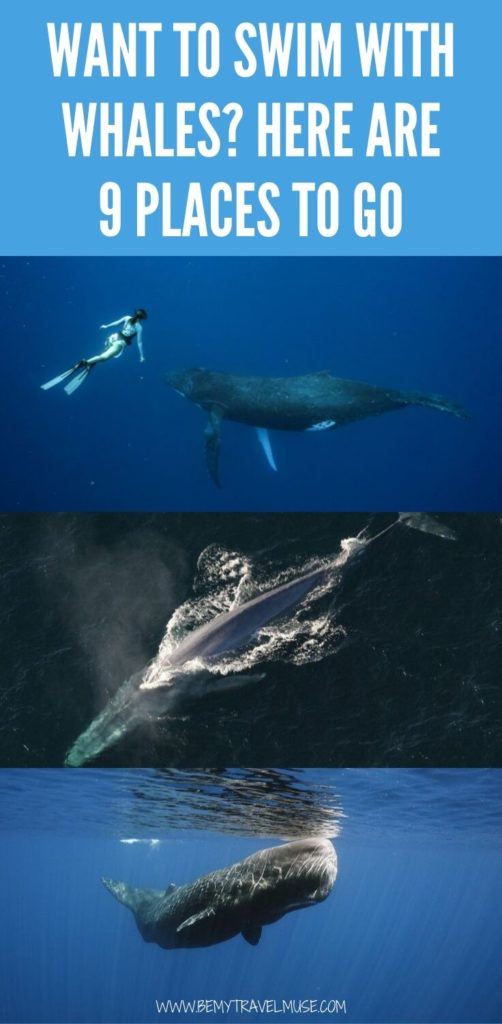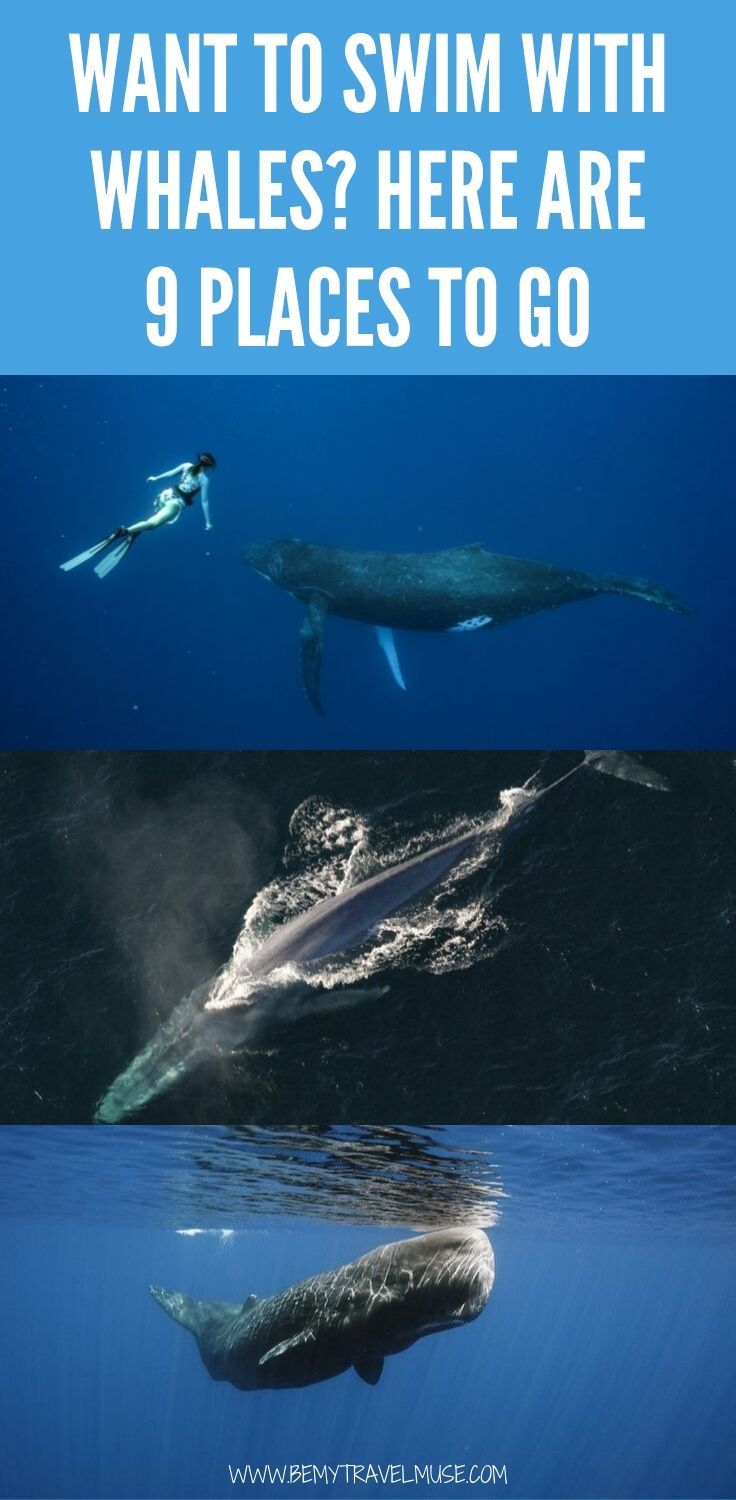 Ethics
Is it ethical to swim with whales? This is something we always have to consider when seeking animal encounters, and it's rarely a black and white answer. From my personal experience swimming with humpbacks, I can say with certainty that they choose to swim with us, coming back around over and over and locking eyes with us as we snorkel and freedive down with them. It's very easy for them to swim away, and we do not lure them, so they make the choice.
That said, it's important that they are respected, which is why Tonga offers so few permits. Tahiti on the other hand, sometimes sees many people in the water with them at a time. Hopefully there are eventually tighter regulations. Elsewhere in the world, they can be more elusive to find.
Another thing to keep in mind is whether or not the tour guide you're booking feeds the whales, which is unethical. Some people report having taken tours which used bait balls to lure the orcas, which is a red flag. Often, these practices disturb the natural patterns and habits of marine animals; this has also become a problem with whale sharks in the Philippines.
It's also important to respect boundaries with these wild animals. Never initiate touch with whales, as it can disturb their natural behavior, and we don't know how the bacteria on our bodies might affect them.
Ask questions before you book, and make sure you feel good about the answers you receive.
Swimming with whales is one of the hands-down, coolest things I've ever done, which is why I can't get enough of it now! I hope this post helps you to find an option that feels good to you, so that you get to experience this, too.