This post was written by Lora:
Antigua is the main island of the country called Antigua and Barbuda, located in the northeast Caribbean. This 108-square-mile island is most famous for its pristine white-sand beaches, with more than one for every day of the year!
But don't think that Antigua is all just lying around, working on your tan. While that's certainly an option, I find myself getting bored of sitting on the beach pretty quickly – you too? Luckily, there are plenty of fun and adventurous things to do in Antigua beyond the beaches. These are a few of my favorite things to do in Antigua:
1. Embrace the Sailing Culture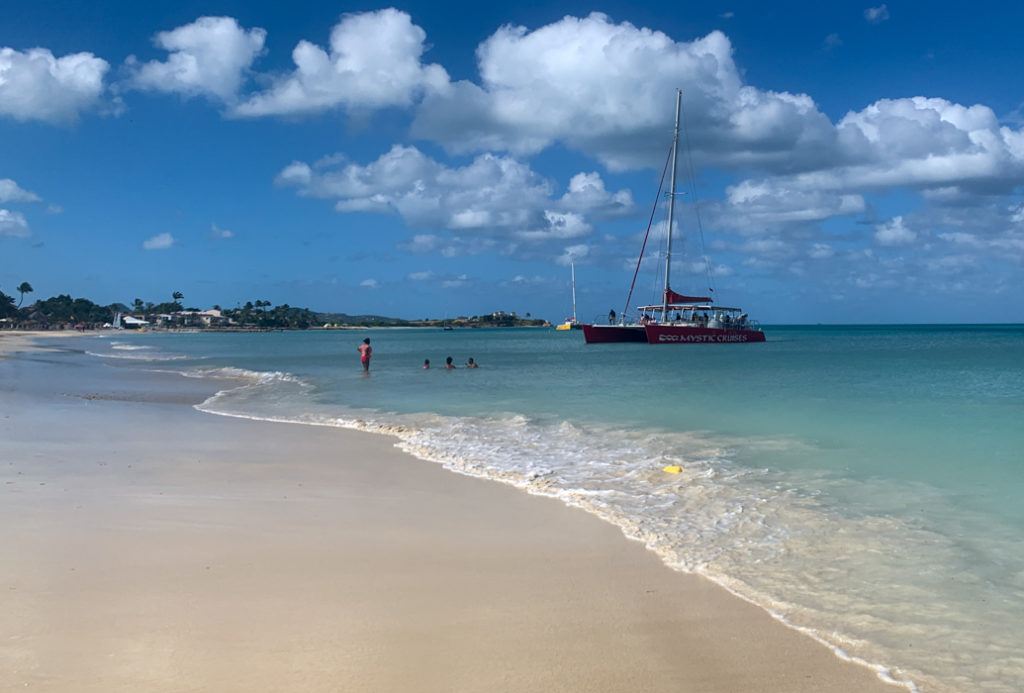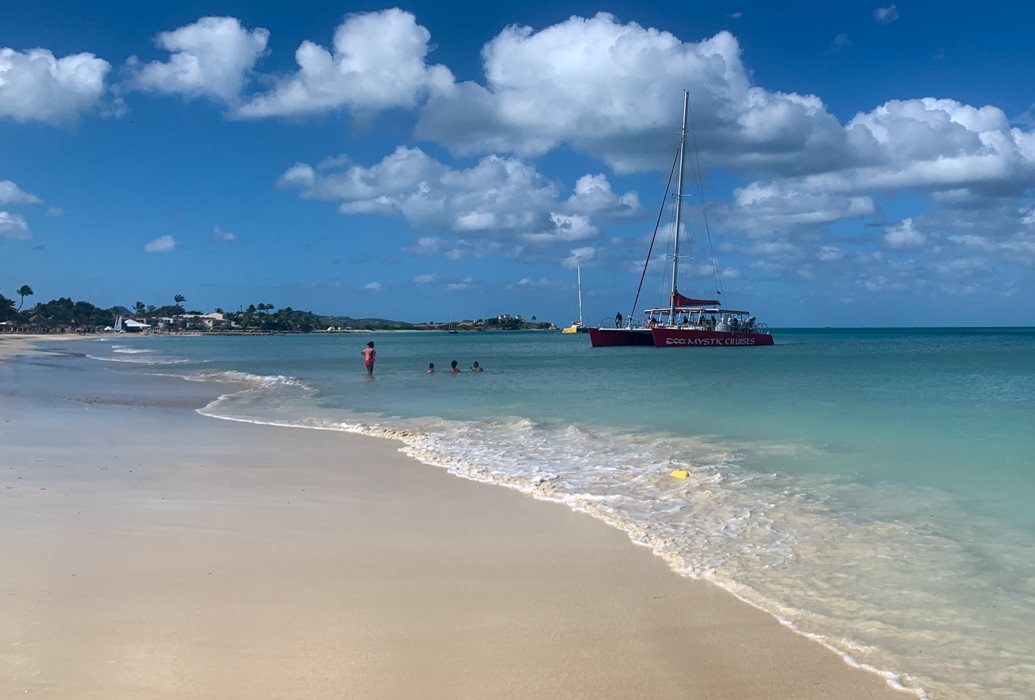 If you're interested in sailing, then Antigua is the best Caribbean island to visit. With calm harbors and a steady Atlantic breeze, it offers perfect sailing conditions, and its many harbors are home to some of the most expensive yachts in the world.
Many aspiring sailors come here to train and find work on boats. In fact, as a young traveler, the second question you'll likely be asked after meeting someone is what boat you work on. If you're interested in just trying it out, though, you can take a one-day sailing class with the National Sailing Academy.
Antigua even has a Sailing Week, the event of the year, during which sail lovers and professionals gather to compete in races. Of course, there are also lots of parties and gatherings during the week too. (While it didn't happen this year, it usually begins the last week of April.)
2. Walk Around Nelson's Dockyard National Park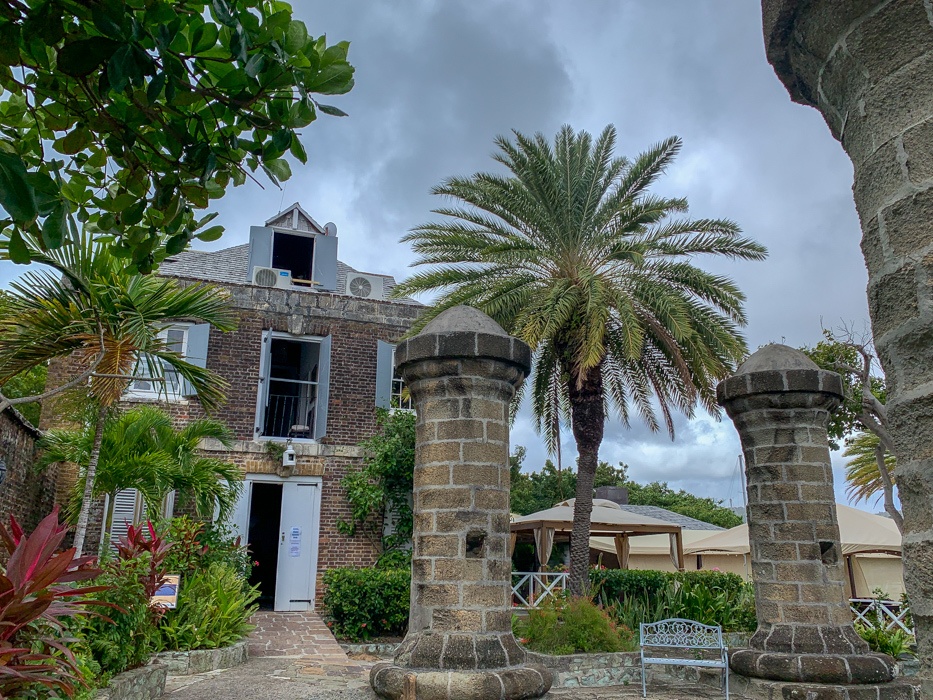 Nelson's Dockyard was once a British maritime hub and has since been fully restored as a working dockyard home to hundreds of sailing boats, as well as restaurants and shops.
The naval dockyard is the only UNESCO World Heritage Site in Antigua! Although it has been updated with modern facilities, its historic feel has been well preserved, making it a charming place to explore.
It's part of Nelson's Dockyard National Park, which also contains Clarence House and Shirley Heights. The park occupies 15 square miles of coastline and is Antigua's center for heritage and sailing. It's a great place to go for a walk and dream about what life on a yacht would be like. The boating culture here makes this one of the best Caribbean islands to visit in my book.
3. Hike with Goats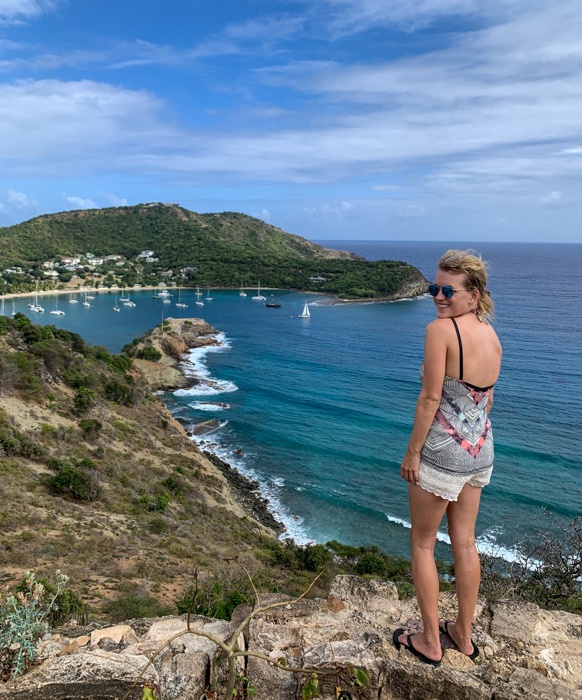 If walking among goats sounds like your kind of day, then you'll definitely want to check out Middle Ground Trail. While that's the official name, it's known locally as "the goat trail" due to the friendly animals you're sure to encounter along the way.
It's a one-mile trail that takes about an hour to hike, starting from Pigeon Point Beach and ending at Nelson's Dockyard (or vice versa). It climbs steeply at first and then levels out before descending down toward Fort Berkeley and the dockyards. At the top, you'll be rewarded with gorgeous panoramic views of both Falmouth Harbour and English Harbour.
Stretching more than 15 square miles along the coastline, the park is the island's center for sailing and heritage. It's a great place to go for a walk and dream about what life on a yacht would be like.
4. Watch the Sunset at Shirley Heights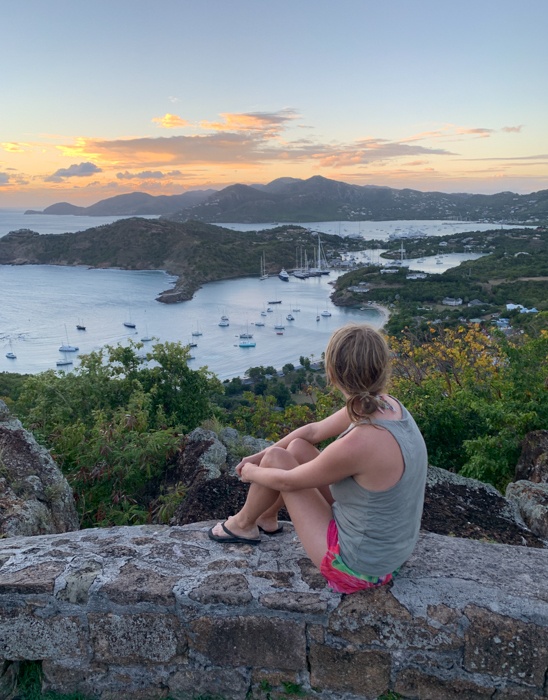 Shirley Heights is a retired military lookout 490 feet above the sea, offering an incredible view of English and Falmouth Harbours. It's famous for its Sunday parties at the restaurant with a BBQ and live reggae music.
Although the parties are not currently happening due to COVID-19 restrictions, it's still worth heading up here, as the views are some of the best on the island. It's the perfect place to watch the sunset. On a clear day, you can see as far as the neighboring islands of Montserrat and Guadeloupe.
You can drive straight to the viewpoint, but many visitors and locals walk or hike up from Galleon Beach. If you plan to do this, aim to go early in the morning or at sunset to beat the Antiguan heat.
5. Go Diving
Given that Antigua is surrounded by the ocean, it's no surprise that one of the best things to do here is explore the underwater world.
The main attraction of diving in Antigua is the well-preserved reefs, which are home to an abundance of marine life. What you'll see depends on the location and time of year, but you may spot sea turtles, eagle rays, barracudas, moray eels, and reef sharks. Antigua is also home to some shipwrecks you can explore!
Most diving tours depart from English Harbour or Jolly Harbour and will take you out to the warm Caribbean waters in the south of the island, with surface temperatures never dropping below 78°F (26°C). If you aren't certified to dive yet, Antigua is the perfect place to learn, with 5-star PADI dive schools readily available to teach you.
6. Visit the Pillars of Hercules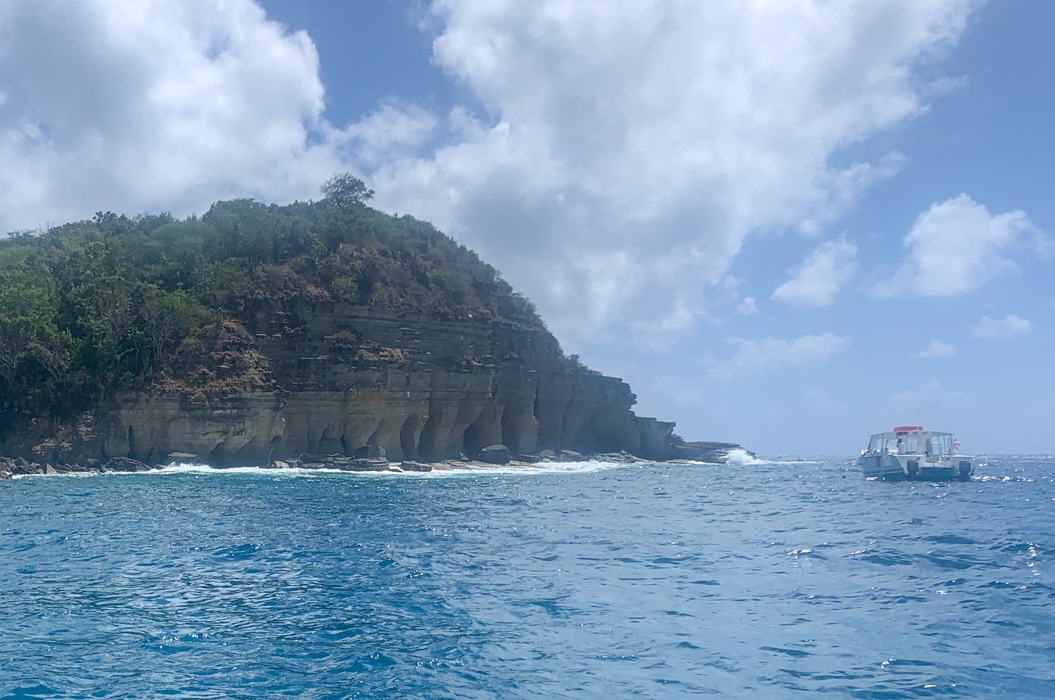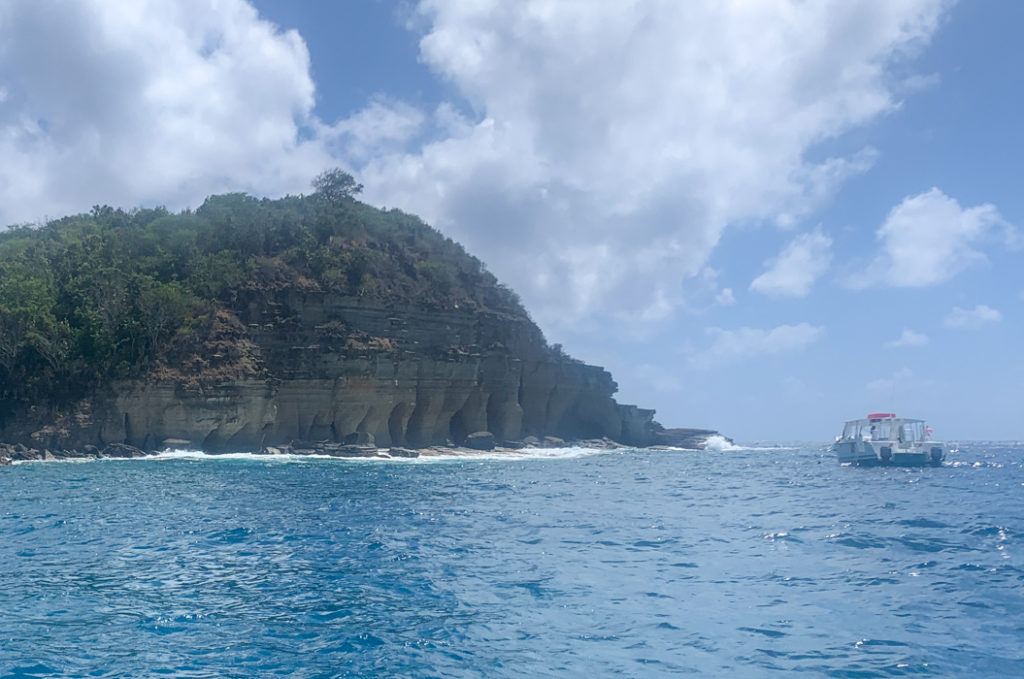 The Pillars of Hercules are quite the treat for geology geeks. These are naturally occurring limestone columns on the coastline that guard the entrance to Freeman's Bay and English Harbour.
These natural rock formations have been carved out by decades of rain, wind, and waves. The best way to appreciate them is from the sea. If you are taking a diving tour from English Harbour, you'll likely pass the Pillars along the way, as many of Antigua's top dive sites are nearby.
They can also be reached from a hiking trail from the end of Galleon Beach and then scrambling over large boulders.
7. Snorkel at Half Moon Bay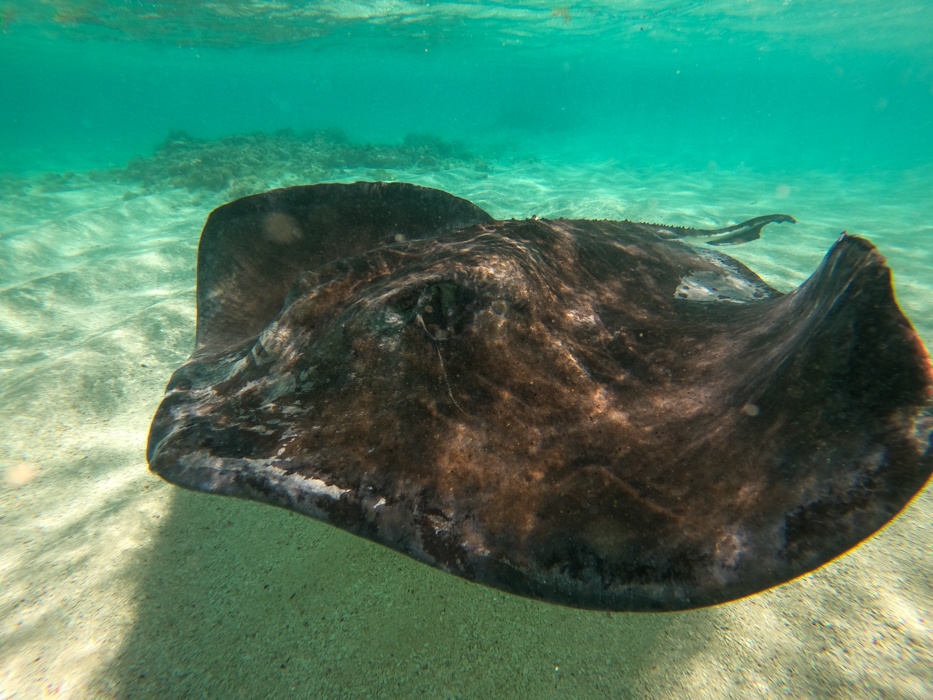 Half Moon Bay is a gorgeous white-sand beach that's so named because it's shaped like a giant half-moon. As you drive down to the beach from the road and see it suddenly appear, you can't help but stop and take a photo.
While this pristine beach is one of the most popular on the island, it also happens to be one of Antigua's best snorkeling and windsurfing spots. This is because it's located on the eastern side, facing the Atlantic. The beach is protected from the ocean's strong waves by a reef just off the shore, naturally creating a spot where you can easily walk off the beach and snorkel in calm and clear water. There isn't anyone renting snorkeling gear at the beach, so make sure to bring your own.
8. Walk on Devil's Bridge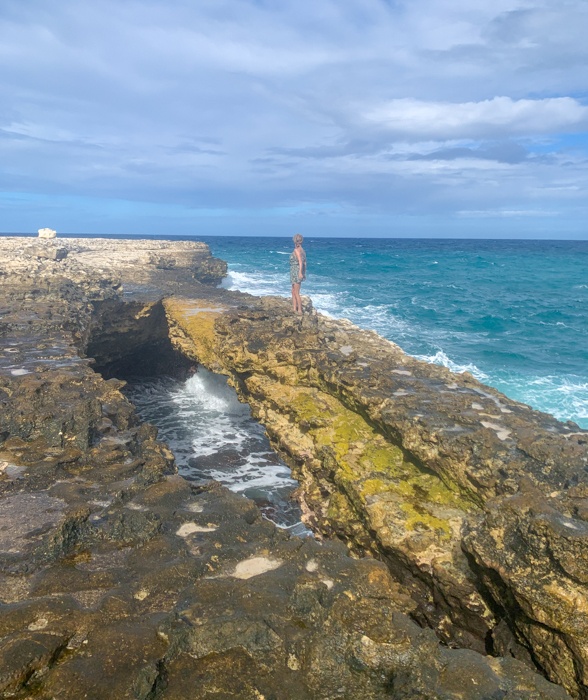 One of the most unique places in Antigua is Devil's Bridge National Park in the northeast part of the island. It's where the Atlantic Ocean and the Caribbean Sea meet, and powerful waves have carved a large limestone rock into a bridge. Natural blowholes surround the arch, making for a spectacular scene as the waves splash up.
If you're feeling adventurous, you can walk across Devil's Bridge, but be warned that the rocks can be very slippery, and it can be dangerous if the sea is rough!
9. Join a Catamaran Cruise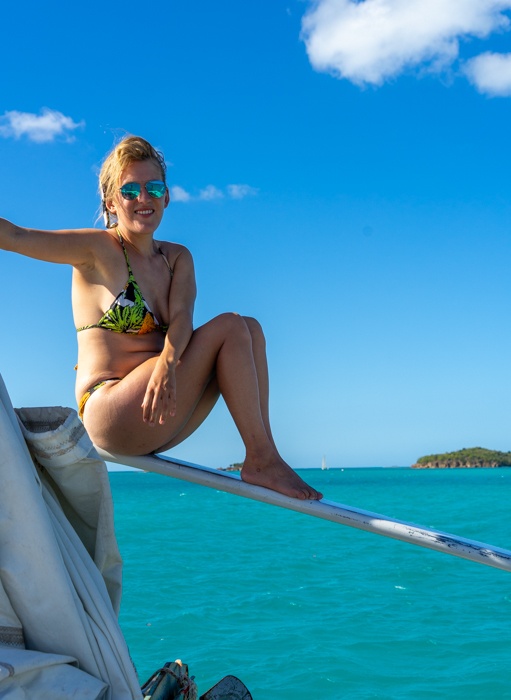 One of the most fun ways to spend a day in Antigua is to join a catamaran cruise.
From Dickenson Bay, you'll set off for a 360-degree circumnavigation of the island, stopping at some of the most beautiful beaches. Along the way, the catamaran will pass by Long Island, where you might spot some celebrities, as it's home to several million-dollar residences, including Oprah's!
From there, the boat will anchor for snorkeling, followed by a delicious lunch served near Green Island, where the water here is crystal-clear. The beaches on Green Island are full of soft, white sand to relax on. It's some of the nicest I visited during my time in Antigua.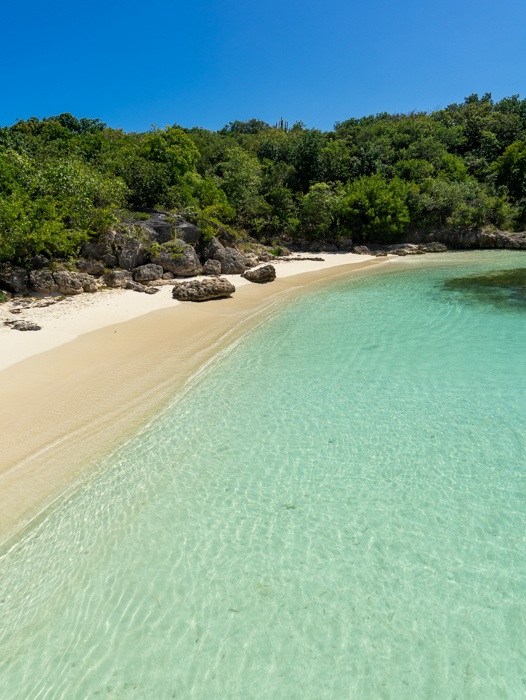 On the cruise back to Dickenson Bay, there will be plenty of rum included.
10. Rent a Car and Get Lost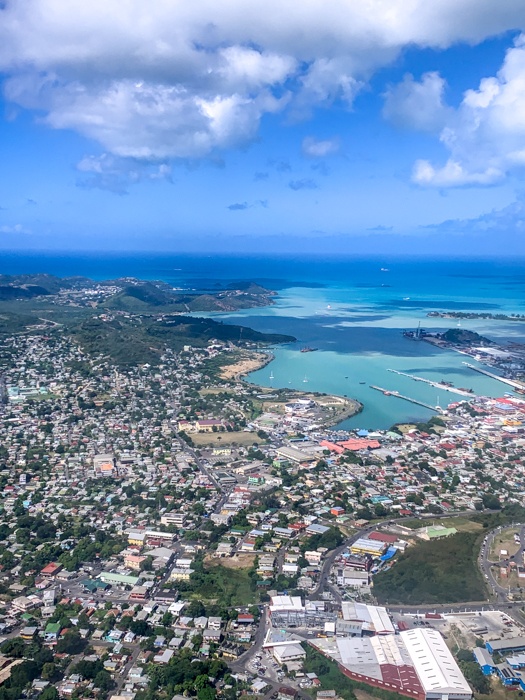 Renting a car and driving around is one of my favorite ways to explore a country, and Antigua is no exception. You can drive around the island in a single day, although there are so many beautiful places to stop that you'll need at least a few.
Since many of the attractions are spread out across the country, renting a car is one of the best ways to get around. Besides, local transportation is not that reliable, and the scenery along the coastlines is spectacular.
Be sure to drive along Fig Tree Drive, which goes through the middle of the island, giving you a chance to see the beautiful interior landscapes.
11.Take in the Views at Signal Hill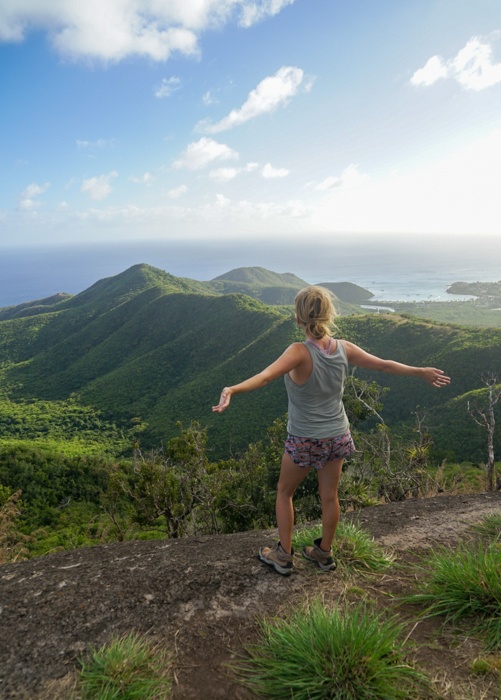 If you're looking for a rewarding hike, climb to the summit of Signal Hill. Starting from Wallings Nature Reserve on Fig Tree Drive, this trail takes you up through the lush rainforest. Along the way, you'll pass by Walling's Dam, a historic Victorian-era dam that's home to many kinds of plant life and wildlife.
The trail is steep, but in less than an hour, you'll be standing on the second-highest point in Antigua. From the top, you'll get to enjoy stunning 360-degree views of the island, including Carlisle Bay, Rendezvous Bay, and the capital city, St. John's. The trail is one-way, so plan to spend at least two hours on this hike.
Note: Several other trails cut through the rainforests from Fig Tree Drive, including one to Rendezvous Bay.
12. Explore St John's
St. John's is the capital city of Antigua and worth spending an afternoon exploring. Its streets are lined with colorful houses, shops, and restaurants serving delicious Antiguan cuisine.
Be sure to stop at the Saturday market, where you can find a rich assortment of fruits and vegetables. Keep an eye out especially for the famous tiny pineapples — they're adorable and as delicious as the ones you're familiar with. The market is also a great place to go shopping for groceries if you're renting an apartment.
If you're interested in learning more about the island's history, stop in at the Museum of Antigua and Barbuda, which is in a historic colonial house.
13. Glamp on the Beach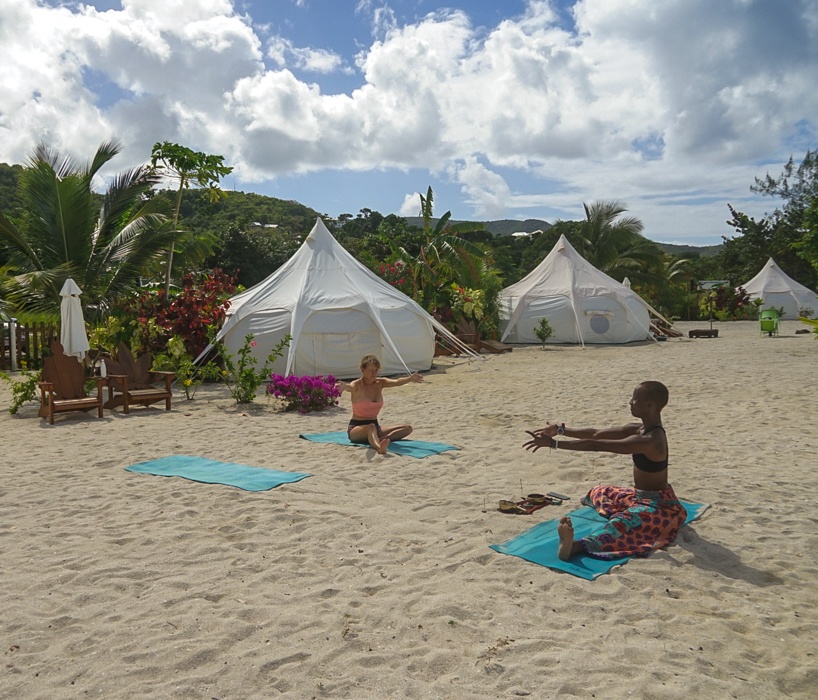 If you're looking for a unique place to stay, check out Wild Lotus. It offers six glamping tents set on a secluded beach near Jolly Harbour.
Staying here is an experience in itself — and you won't want to leave! The inside of the tent is furnished with a comfortable queen-sized bed and couch, along with a gorgeous outdoor shower surrounded by tropical plants. Everything here is entirely off-grid and sustainable, yet it still feels like you are staying in luxury. There are also yoga classes in the morning and campfire dinners, adding to the experience.
Of course, the best part is being able to step outside onto a gorgeous white-sand beach anytime you want. Yes, you can even go swimming under the stars!
14. Explore the Beaches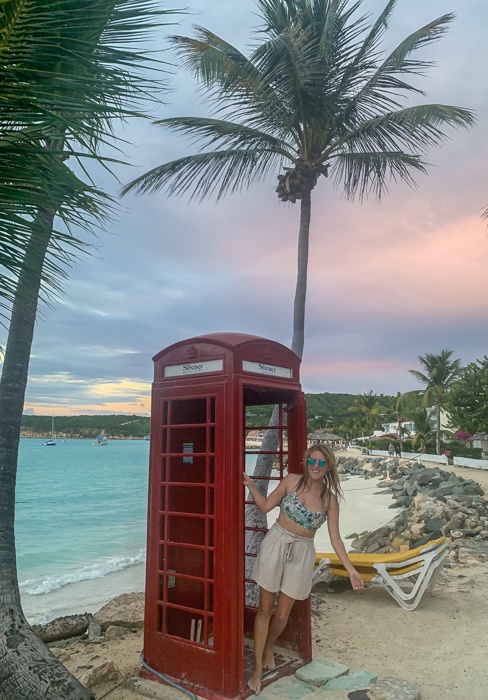 With crystal-clear turquoise seas and rolling hills as the backdrop, enjoying the pristine, soft white-sand beaches is undeniably one of the best things to do in Antigua. The sunsets are always spectacular, so this is one of my favorite ways to end a day there.
With over 365 to choose from, it can be hard to know which to visit. Some notable ones are Dickenson Bay and Jolly Bay, which offer amenities like restaurants, beach chairs, and umbrellas. Dickenson Bay is also home to a British telephone booth, which makes for one of the cutest photos in Antigua. If you prefer to get away from the crowds, adventure over to Rendezvous Bay, which is only accessible by four-wheel-drive or a footpath.
If, like me, you get easily bored of lying on the beach, rent a stand-up paddleboard (SUP) or kayak to explore the water. Or you can simply jump in for a swim!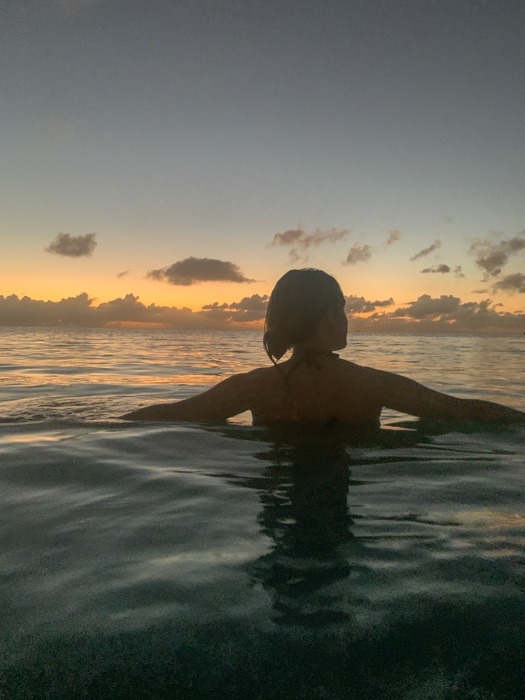 When I first went to Antigua, I wasn't sure if I would like it as much as the other nearby Caribbean islands, but after a few days, I started to fall in love with its friendly people, spectacular scenery, and active adventures. If you're planning a trip to the Caribbean, be sure to add Antigua to your list!
Pin me for later: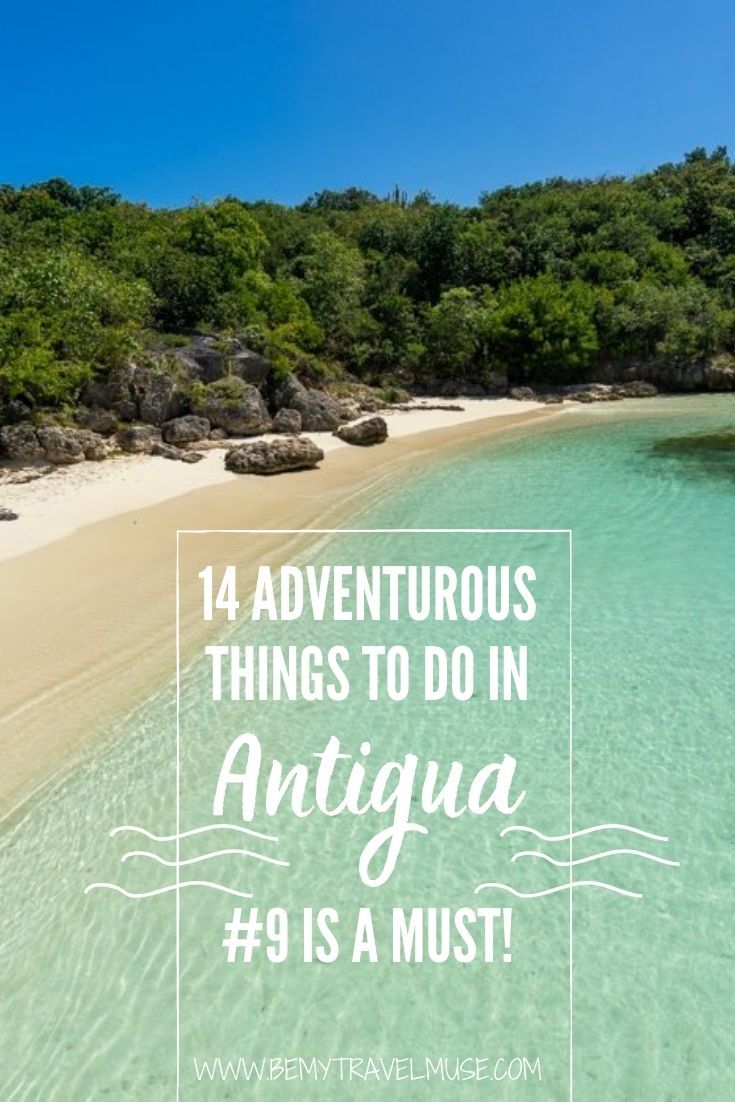 About the author: Lora is a solo female adventure travel blogger living nomadically around the world. Raised on a rock in the middle of the Atlantic Ocean, she has a deep love for nature and wildlife. Lora has traveled to over 55 countries and is on a quest to visit them all, seeking out the best adventures each one has to offer. For more outdoor adventure travel inspiration, visit her blog at Explore with Lora or on Instagram and Facebook.