This post was written by Emily Becker, a Costa Rica-based freelance writer for BMTM.
Situated at the foot of the Acatenango and Fuego volcanoes, Antigua is a magical destination in Guatemala best known for its friendly locals, colorful Spanish architecture, expansive coffee farms, and lovely handmade goods. I'd been itching to visit Antigua for a long time, and it did not disappoint!
If Antigua is already on your radar, this is your sign to finally book your trip. These are the activities that I loved the most, the best places I stayed, and a breakdown of how to get there:
Things to Do in Antigua, Guatemala
1. Hike up to Cerro de la Cruz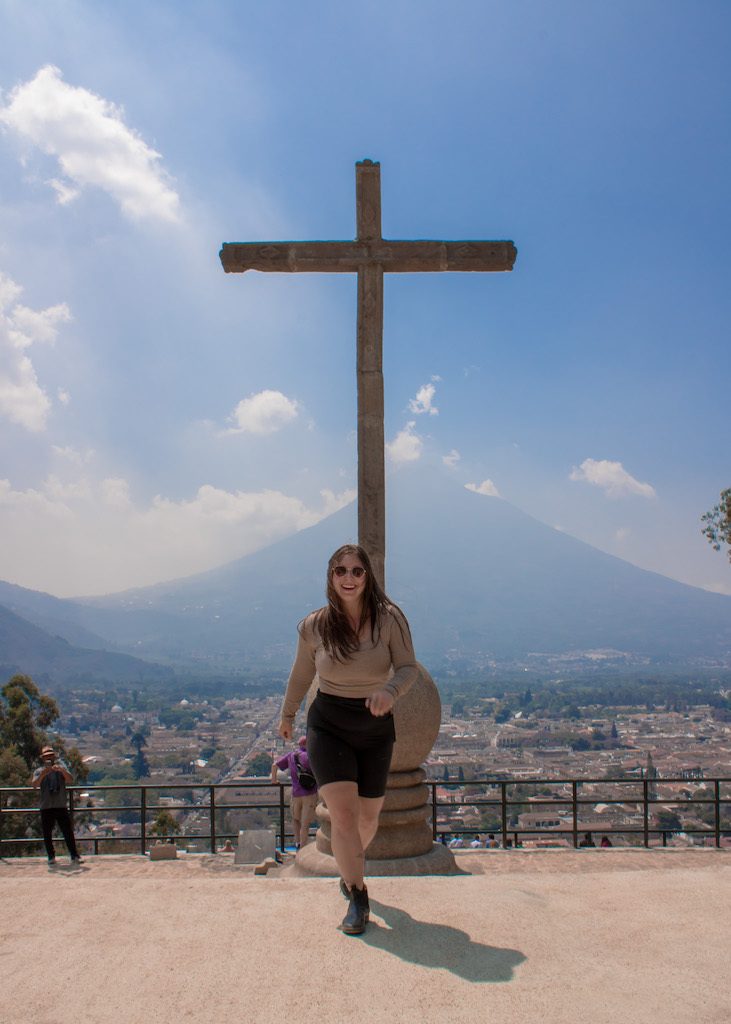 Start off your visit to Antigua with a hike to the Cerro de la Cruz viewpoint, famous for being the best view of the city below. Not only will you have a panoramic vista, but you'll also be right in front of the Acatenango and Fuego volcanoes.
You'll find the trailhead at the north end of Antigua, where 1a Avenida stops. If you have any doubts about getting there, you can ask a tuk-tuk driver to take you to the trailhead. The hike has 333 steps and takes about 30 minutes.
The trail is open from 10am to 3pm; muggings have been reported closer to the closing time. If you're traveling alone, you can ask for a free guided tour from the Antigua Tourist Police, who are located at the trailhead. Once you get to the top, you'll find free bathrooms and stands selling drinks, snacks, and fresh fruit.
2. Take a free walking tour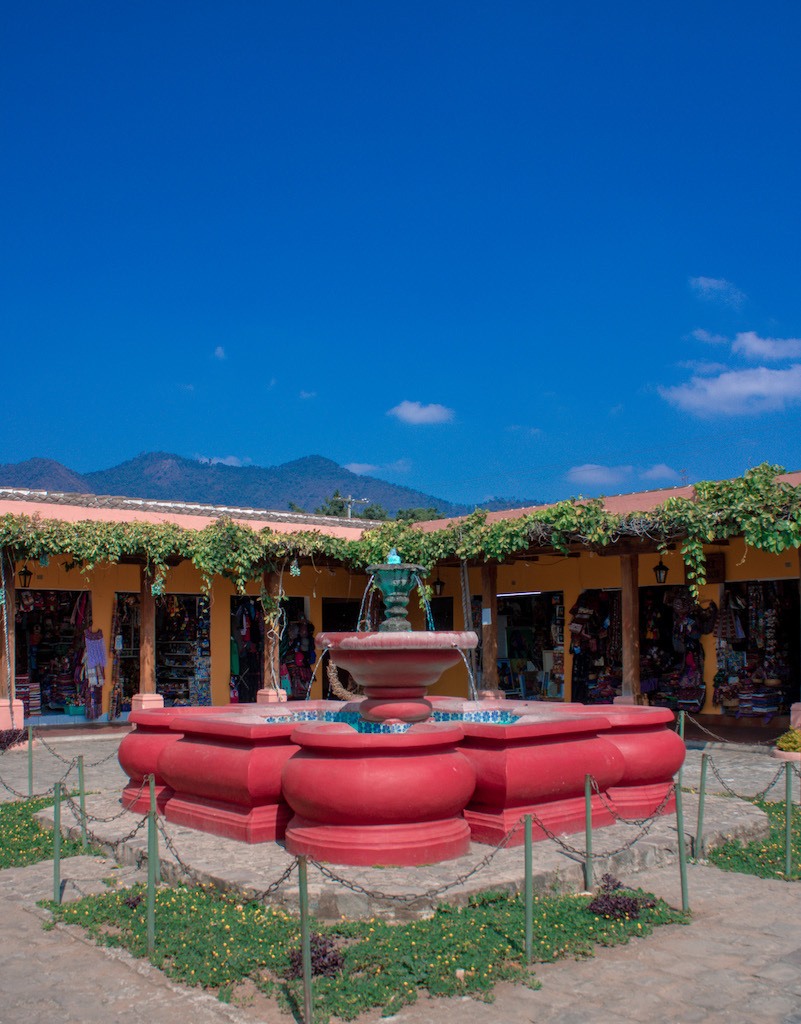 This is another fabulous way to kick off your visit to Antigua. You can do a walking tour of the city without spending a dime! There are a few options, but the highest-rated free walking tour is this one, which has hundreds of five-star reviews. You'll stop at landmarks like the Santa Catalina Arch, Mercado de Artesenías, the Parque Central, and more.
3. Snap a pic under the Arco de Santa Catalina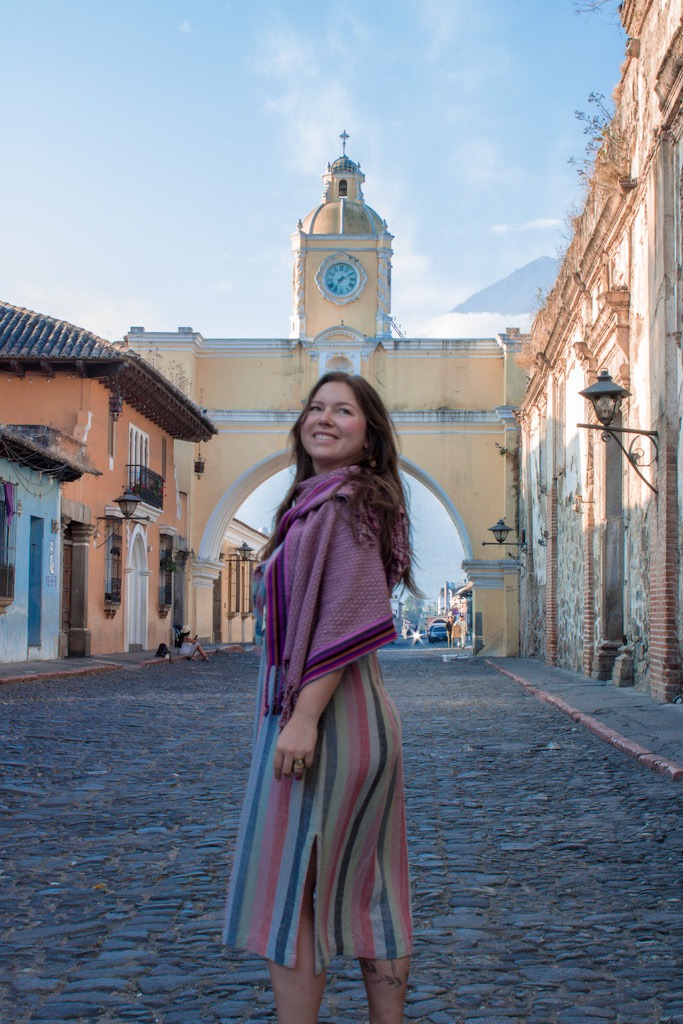 The Arco de Catalina is perhaps the most famous landmark in Antigua, as it's the only one of its kind. The cobblestone streets, colorful buildings, and volcano peak come together to make the perfect backdrop for a photo. Be warned, though! This is a very popular spot, so if you want to snap a pic without too many people in the background, you'll have to get there right when the sun comes up.
4. Hang out in Parque Central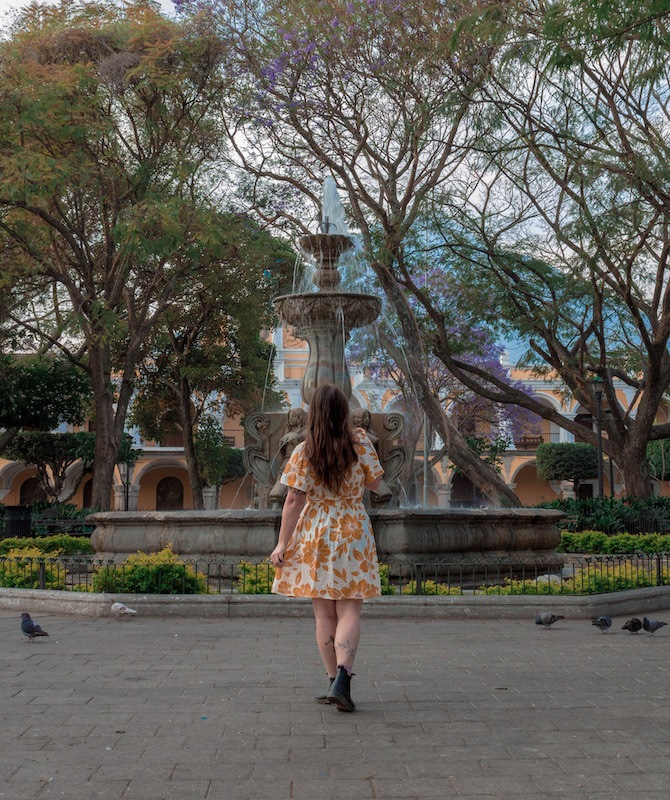 Most Latin American cities have a central park with governmental buildings and a church around it, but Antigua's stands out to me as the most beautiful one I've seen so far. First of all, the jacaranda trees were in full bloom (as they are every spring), and their purple flowers create a magnificent contrast against the yellow buildings around the park.
Parque Central is the focal point of Antigua, so it's almost always buzzing. That makes it the best place in the city to people-watch while enjoying a coffee.
5. Shop 'til you drop at the Mercado de Artesenías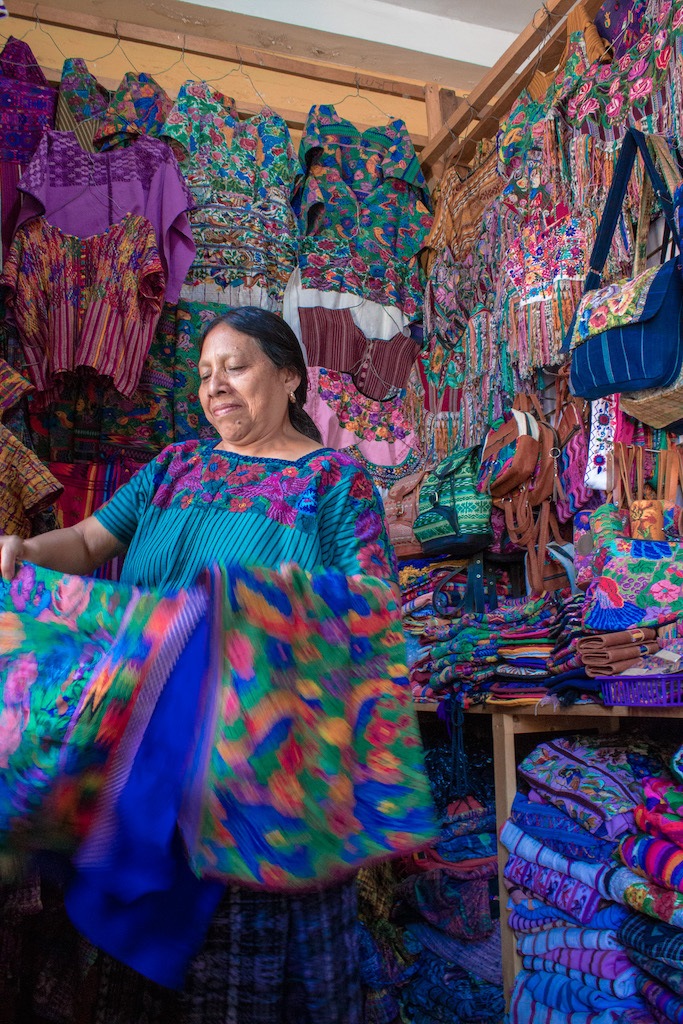 You already know I can't resist going handicraft shopping! Even after living in Mexico for three years, I have to admit that no place does handicrafts quite like Guatemala. The Mercado de Artesenías is a massive market full of everything you can think of, from traditional blouses to table runners, mugs, magnets, and much more. It's the best place in town to get souvenirs, and the prices are fair.
The best part of shopping here is learning about where the goods come from. Each textile pattern signifies a different small town in Guatemala, and so much care goes into each piece. This is also a great spot to practice your Spanish by asking the merchants about the pieces.
6. Learn about traditional fabrics in San Antonio Aguas Calientes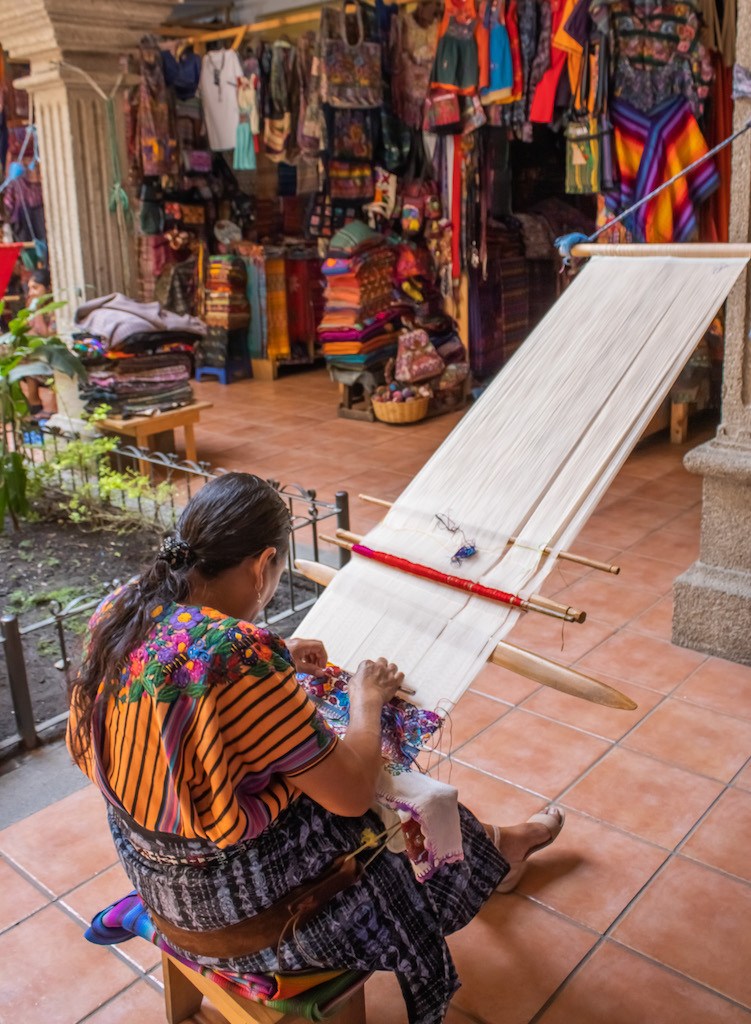 Speaking of textiles, an awesome way to learn more about the weaving traditions of the region is to venture out to San Antonio Aguas Calientes. This small town is famous for its technique using a traditional waist loom. Not only will you be able to see the care put into the textiles, but you can buy them directly from the women who make them. This is a stellar way to support local women while you travel.
To get to San Antonio Aguas Calientes, you can take an Uber from Antigua for about $10 USD, or you can catch a bus from the Mercado de Artesenías for 5 quetzales (less than $1 USD). Once you reach the town center, you'll see the artisan market to the right of the church. To get back to Antigua, you can hop on a bus right outside the market.
7. Rent an ATV
This was by far the most fun activity I did in Guatemala. I went on this ATV Mountain Adventure, which was a guided tour to a handful of places in and around Antigua. You can rent an ATV and go around on your own, but I thought the tour was totally worth it. First of all, having a guide made me feel at ease in case something were to go wrong with the ATV. Second, my guide Lestor was super charismatic and knowledgeable about the area, making it easy and fun to ask questions and learn more about the sites.
There are other ATV tours available in Antigua that I would love to do next time I visit, the ATV Sunset Tour and the ATV Coffee Tour in particular. There's also one that goes to several small villages that looks interesting. Since Antigua is such a small city, you can cover a lot of ground with an ATV, making it the perfect way to explore!
8. Learn Spanish!
Many Spanish learners say that Guatemala is the best place in Latin America to learn the language because of the slow and clear accent here. Since I came to Antigua already speaking fluent Spanish, I can't confirm that, but it makes sense! I also noticed an abundance of Spanish schools here, and there was even a group of language learners staying at my hotel.
Antigueña Spanish Academy is the highest-rated Spanish school in Antigua, and it stuck out to me when I walked past it while exploring. The grounds of the school are gorgeous, and you can even take a free class online before committing to a full in-person course.
9. Live Your Lord of the Rings fantasy in Hobbitenango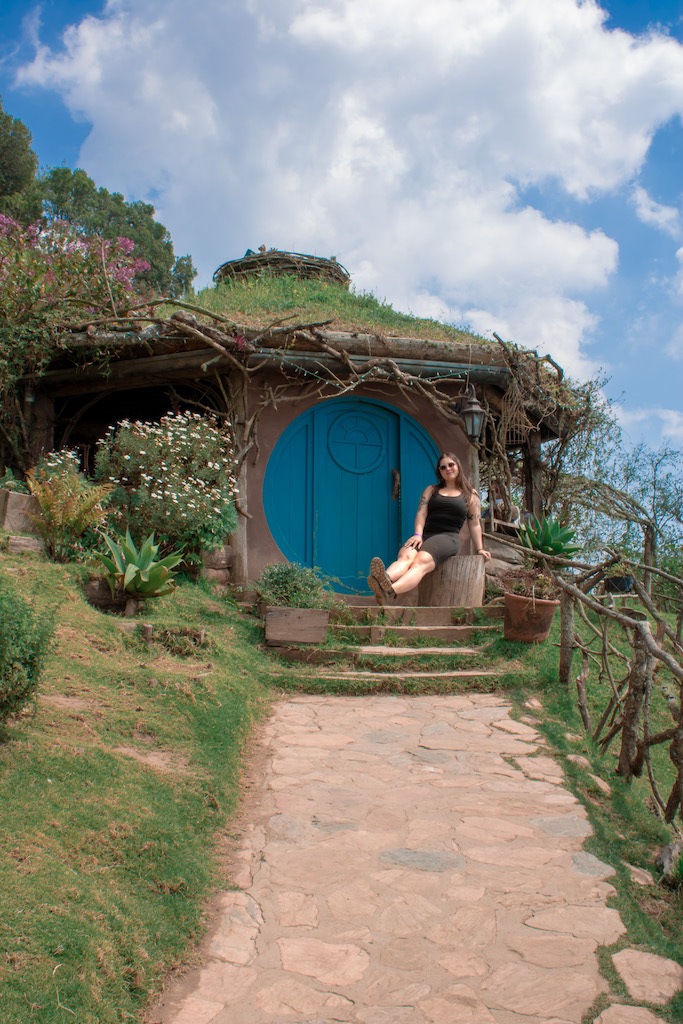 I was so excited to visit this place — and it did not disappoint one bit. Hobbitenango is a Lord of the Rings–themed eco-park on the outskirts of Antigua, created by two American and two Guatemalan mountain biking enthusiasts. The park has several restaurants, a coffee shop, several fair-style games, a giant swing, and so much more.
Sure, it's not the same as visiting New Zealand's Hobbiton, but it was enchanting nonetheless. From the small hobbit houses (which you can actually stay in!) to the awe-inspiring mountain views, the founders of Hobbitenango created a space that made my inner child so happy.
To get to Hobbitenango, you can take an Uber for about $15 USD. Many tours also include it as a stop, including the ATV Mountain Adventure Tour that I booked.
10. Try traditional Guatemalan cuisine at Rincón Antigüeño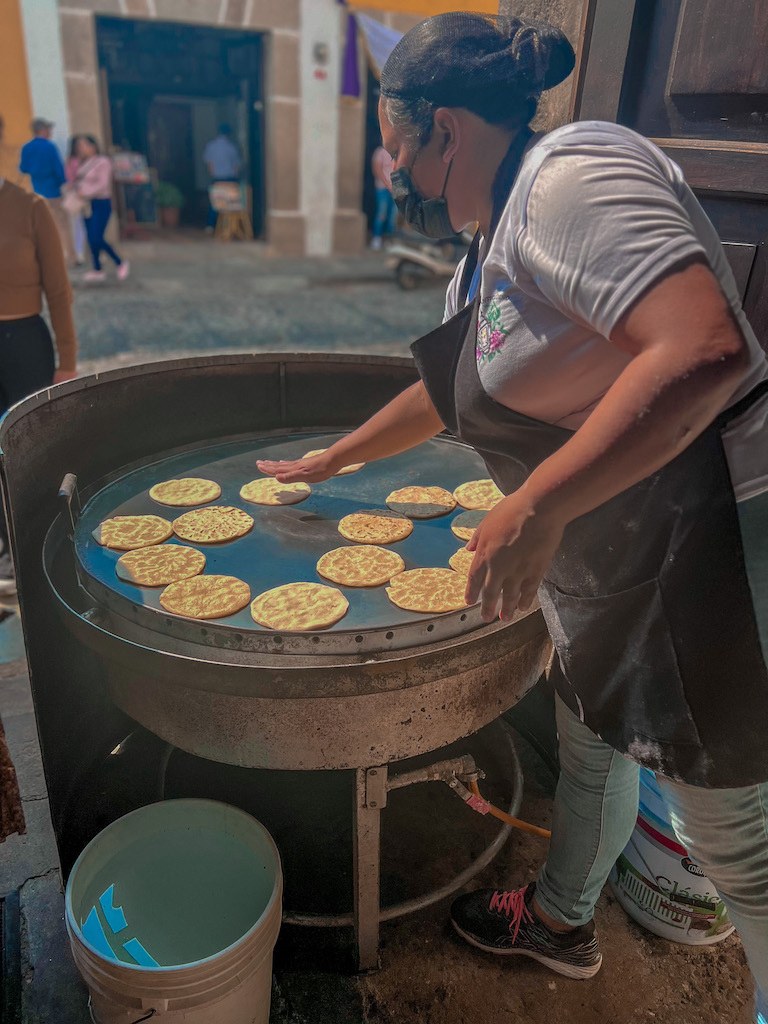 Foodies, rejoice! Antigua has a rich gastronomical landscape, with quintessential dishes that you must try. One of them that I always wanted to taste was pepián, which is a thick stew that has a meat (usually chicken or beef) and pumpkin seed base. If you're vegetarian or vegan, you can find it at many plant-based restaurants around town as well.
For meat eaters, one of the most legendary places to get a serving of pepián is at Rincón Antigüeño. This no-frills spot is popular and often has a line outside, but was totally worth it. it looks like it hasn't changed in decades, so my guess is that the recipe hasn't either. The food was bursting with flavor, and the fresh handmade tortillas made it even more iconic. There are plenty of other locations in Antigua where you can try this dish, but don't miss out on Rincón Antigüeño!
11. Visit Casa Santo Domingo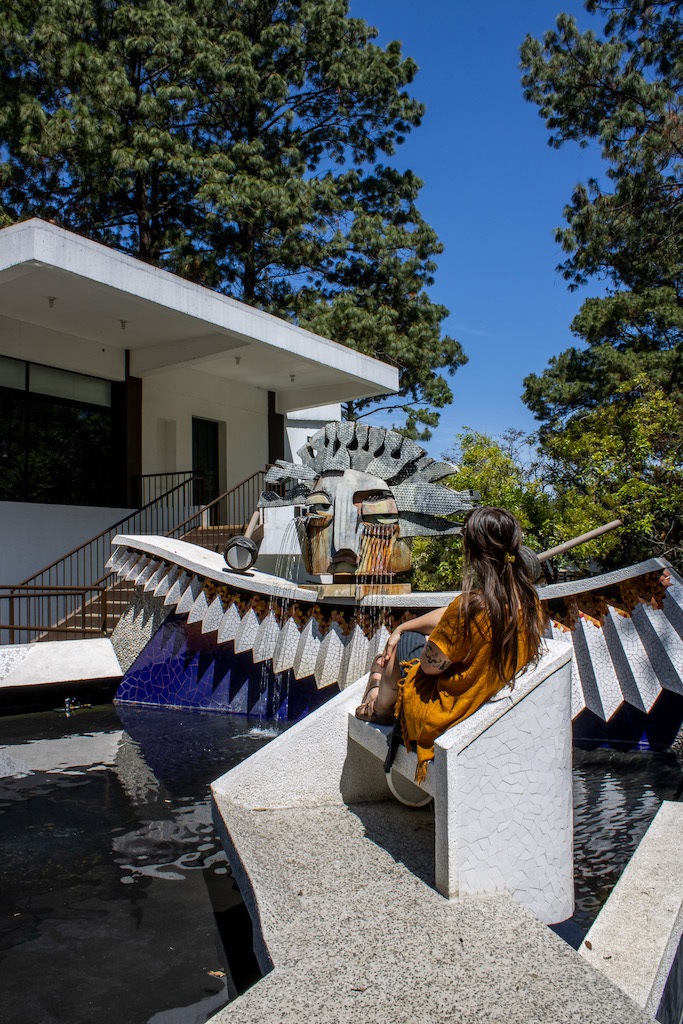 This was the biggest surprise for me. I wanted to visit Casa Santo Domingo to check out the Efraín Recino museum (aka Guatemala's Picasso) but was blown away by how cool this place was. Not only is it a hotel and event center, but there are a handful of quirky museums on the grounds, with beautiful viewpoints throughout. The whole property was like an outdoor museum, with random sculptures in the trees, plus thousands of orchids hanging above pathways and a gigantic event space reminiscent of a circus tent.
You can visit the grounds of Casa Santo Domingo any day of the week, but the museums are closed on Mondays. The property is on the outskirts of town, so I recommend taking an Uber, especially because otherwise, you'd have to hike up a gigantic hill to get there. The Uber was only about $3 USD each way from downtown Antigua.
12. Admire Guatemalan art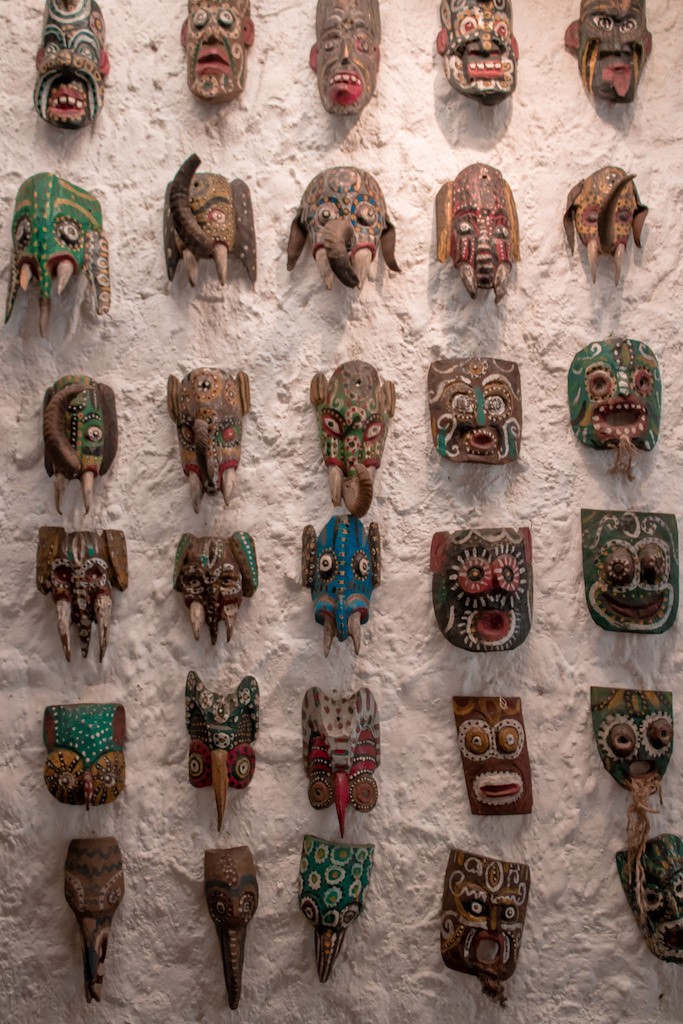 Artisans are abundant in Guatemala, and there's a rich history of artmaking here. One way to learn more about it is to check out Casa de Artes, which is a museum and folkloric art dealer. You'll see some of the finest textiles, hand-carved masks (like the photo above), jewelry, and paintings. Casa de Artes gave me a more in-depth understanding of the artisanry behind the beautiful handicrafts that I saw in the market — which only made me want to take more of them home, oops!
Another great place to see Guatemalan art is the Museo Arte Guatemala, which is right in the town square. Here you'll see more contemporary works in a variety of styles. I liked this museum, but wished it were bigger. Keep in mind that it, like most museums in Antigua, is closed on Mondays.
13. Take a day trip to Lake Atitlán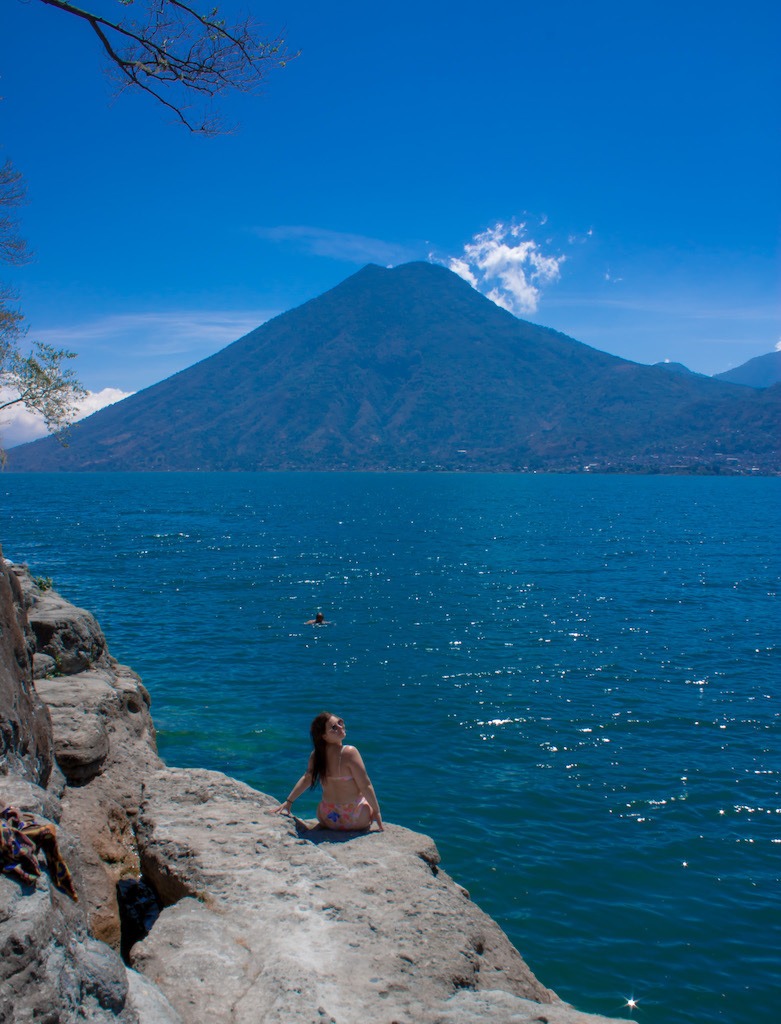 Lake Atitlán was love at first sight for me. The deep blue water is surrounded by three massive volcanoes and lined with quaint villages, making for a truly serene getaway. The best part? It's only three hours from Antigua, and you can book a shuttle for only $40 USD each way! Check out this post about my week in Atitlán for more inspo.
14. Dine on a rooftop
Antigua is full of cute rooftop restaurants and bars. You'll see plenty of places with a sign out front saying terraza, which is how to find them. Another way is to search for them on Google Maps, which worked well for me. My favorite was Vice, which is a trendy restaurant with delicious wood-fired pizzas and swanky cocktails. It has a stunning view of the Catalina Arch, which looks spectacular at sunset.
Another rooftop restaurant that I loved was Tartines, a French eatery with a great wine list and a unique view of the ruins of a 1540s cathedral.
Whichever rooftop spot you choose is up to you, but don't miss out on the experience of an Antigua sunset on one of them!
15. Hike up a volcano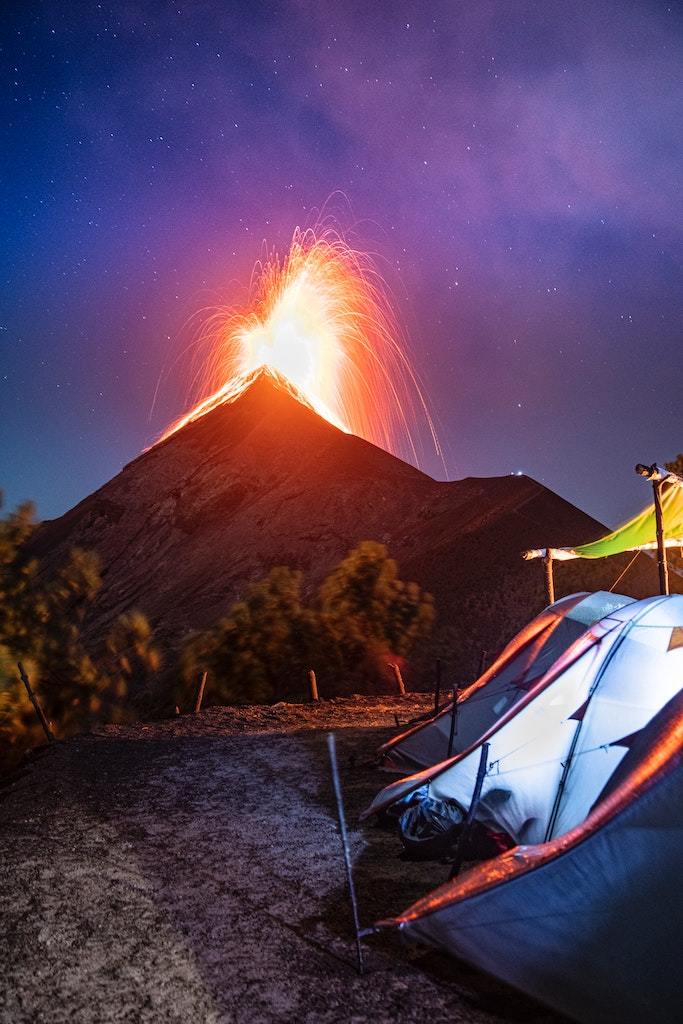 This is the part where I tell you a sad story. I wanted to climb this volcano so bad, and I booked it for the last two days of my trip. My tour was canceled, however, due to weather conditions, and it was too late to find another date. FOMO activated, am I right? I'll definitely do this hike next time.
The hike up Acatenango is a difficult one, taking about five hours to ascend. Most tours that start from Antigua are two-day adventures, on which you'll ascend the first day and stay at the base camp while watching Fuego Volcano erupt throughout the night. The next morning, you have the option to do a hike on Fuego to get closer, before hiking back down.
If you decide to go for it, I recommend booking it for early in your trip, just in case it gets rescheduled. Remember to bring plenty of warm clothes, as it gets very cold at the top of the volcano (sometimes dipping into the 40s Fahrenheit!).
16. Visit a coffee farm
There are countless coffee farms surrounding Antigua, so it's no surprise that they're a popular destination for tourists. Even if you aren't as obsessed with coffee as I am, learning about how it goes from a cute red berry to a delicious brew is fascinating. You can visit a farm on your own, but the best way to fully immerse yourself in the experience is to take a tour. I recommend this full-day coffee and culture tour, which has stops at other stellar landmarks as well.
Where to Stay in Antigua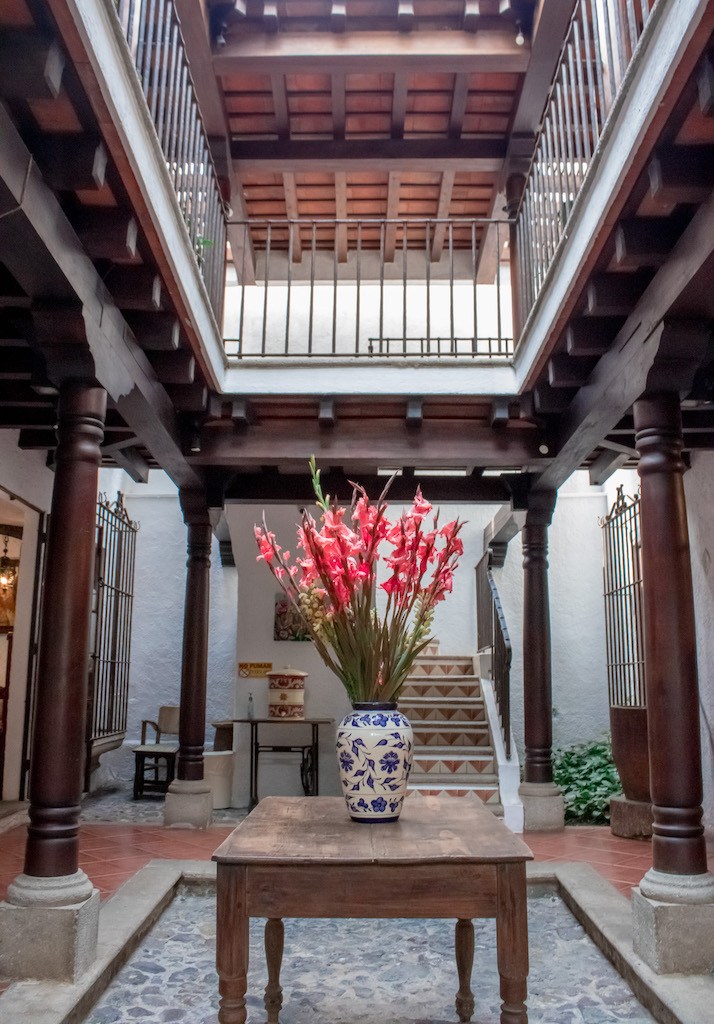 There are so many gorgeous hotels in Antigua that it can be tough to choose one. Here you can get a great bang for your buck on accommodation, which sweetens the deal. From the best-rated backpacker hostel to the ultimate treat-yo'self stay, these are my top picks:
Best budget hostel: Ojalá Hostel
If I were traveling solo, I would have chosen this hostel because of its chill yet social atmosphere and affordable price. Not to mention the gorgeous design and chic shared living spaces. Though Ojalá is a hostel, it has more of a bed-and-breakfast vibe and offers free breakfast every day. You can choose from private rooms, which start around $57 USD/night, or dorm beds, which cost around $23 USD/night. Considering you'll save on breakfast, this is a pretty sweet deal, as most hotels charge around double for the same-quality stays. Book here.
Best midrange hotel: Hotel Las Marías
I booked only one night at Hotel Las Marías because I was heading to Lake Atitlán the next day — and wished I could have stayed longer. This boutique hotel is in a quiet area of Antigua, far removed from the noise of downtown. There's a serene garden on the outside and a gorgeous courtyard on the inside, with all rooms opening onto it. The hotel offers free breakfast, which was absolutely delicious. Rooms start around $68 USD/night and it was 100% worth it. Book here.
Best luxury hotel: Hotel Casa Santo Domingo
If I wanted to go all out in Antigua, Hotel Casa Santo Domingo would be my first choice. I didn't stay here but visited the grounds to see the museums. The hotel is perched on a hill with views of Antigua and the surrounding mountains. Not only are the rooms stunning, but there's a spa and pool on-site to add to the luxury vibe. See what $240 USD/night gets you by booking here.
How to Get to Antigua
It's very simple to get to Antigua from the airport in Guatemala City. I took an Uber straight to my hotel for $22 USD, and the ride takes about an hour, depending on traffic. There are other ways to get there from Guatemala City, such as private transfers or arranging transportation through your hotel, but none were as cheap as Uber.
***
Do yourself a favor and make Antigua your next adventure. This postcard-worthy city has everything that makes Central America worth a visit: amazing landscapes, adrenaline-pumping activities, super friendly locals, beautiful art and handicrafts, and delicious food. Can you really ask for more?