This post was written by Emily Becker, a Costa Rica-based freelance writer for BMTM.
When I heard there was a Lord of the Rings park in Guatemala, I wasn't sure what to expect. I chuckled at the name of it, a play on words "hobbit" and the Maya suffix for town, "tenango." Many places in Guatemala end with this suffix: Quetzaltenango, Chichicastenango, Huehuetenango, and numerous others. However, none of them are quite like this place.
Hobbitenango has made its way onto many travelers' Guatemala bucket lists, though it's anything but traditional and not what you'd expect to find in the foothills near Antigua. I had an amazing time exploring this whimsical park.
Here's everything you need to know, so you can enjoy it as much as I did:
What is Hobbitenango?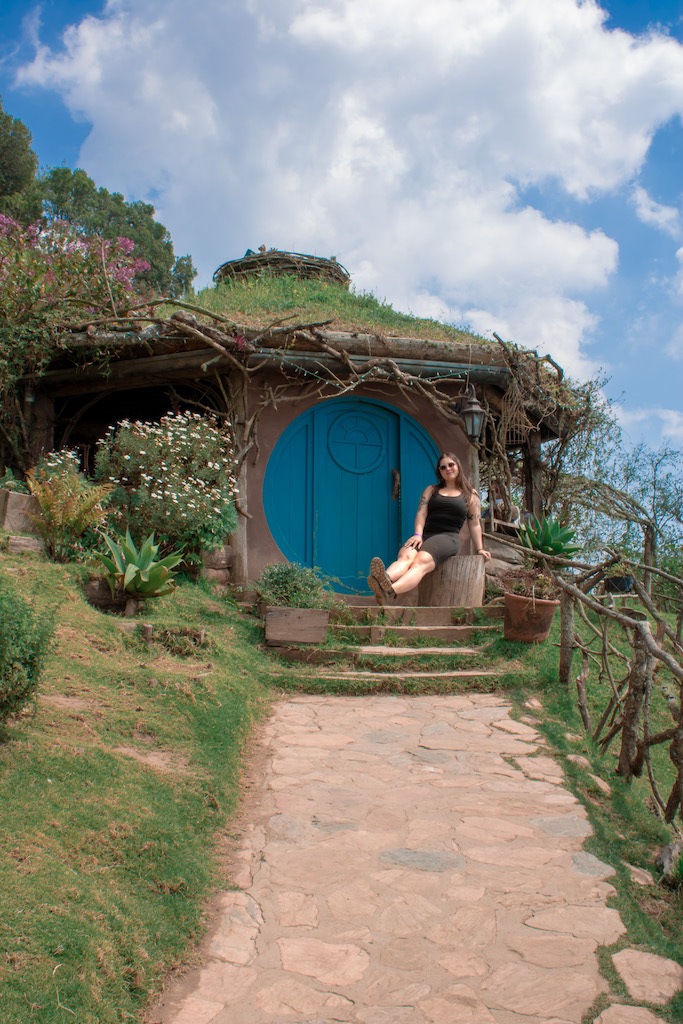 Hobbitenango is a 26-acre eco-themed park in the hills just outside of Antigua. The inspiration for it comes from Lord of the Rings, which is obvious as soon as you arrive. You'll find hobbit-style houses complete with round doors and living roofs, medieval-fair games, and all kinds of quirky treasures.
There are few places in the world exactly like Hobbitenango, though you can find LOTR-themed parks elsewhere. The most famous one is in New Zealand, and it's obviously more authentic, because the film series was made there. However, I thought Hobbitenango was extremely charming and whimsical, and it was one of my favorite places near Antigua.
Things to Do in Hobbitenango, Guatemala
I was pleasantly surprised at how much there was to do in Hobbitenango. I had thought it was just another tourist trap, where people came to take a cool photo and leave. However, I ended up staying for an entire afternoon, and I wished I could have stayed longer, because I felt like I had barely scratched the surface.
Here's what you can do at Hobbitenango:
Explore the trails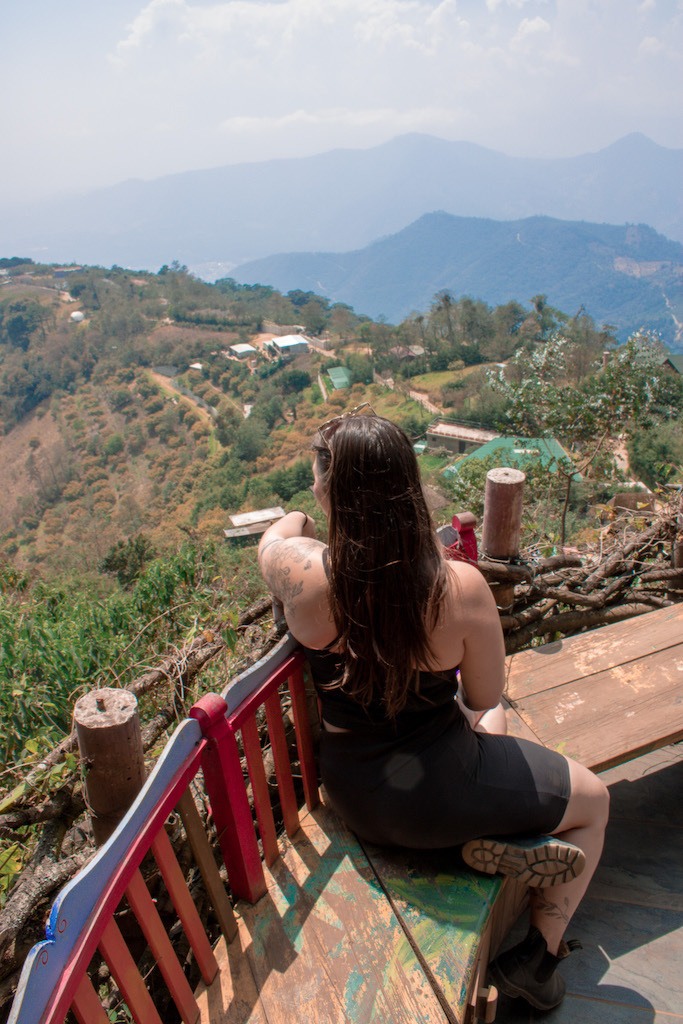 There are a few trails at the park that go through misty hills and lead to gorgeous viewpoints. One of them even leads to a cute little house that sells craft beer. They aren't marked very well, but if you have time to explore, they're definitely worth it. The day I visited was on a weekend, so it was quite crowded throughout most of Hobbitenango, but the trails were the exception.
Check out the fair games
The price of admission (50 quetzales, or about $6.50 USD) includes unlimited carnival games. These include archery and ax and machete throwing, among others. I especially loved the ax throwing!
Play putt-putt
A six-hole minigolf course is also included in the admission price for Hobbitenango. Though it's very small, the course is just off one of the trails, with beautiful views of the surrounding mountains. This isn't your average putt-putt!
Take a photo on the giant hand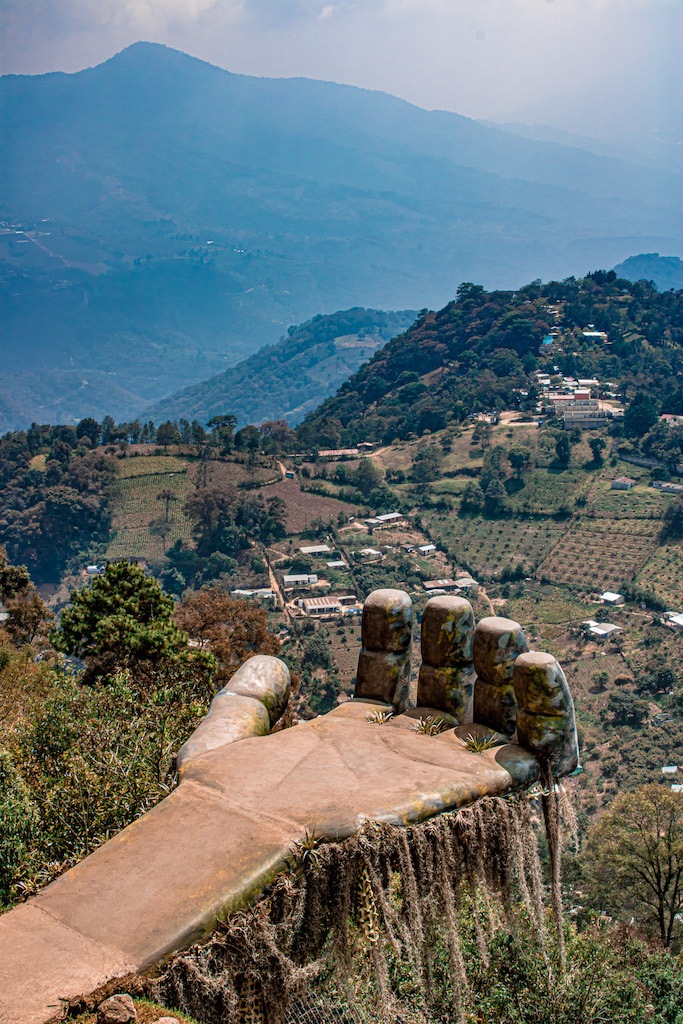 Hobbitenango is incredibly photogenic, and the whole place practically begs to be on your Insta feed. The giant hand sticking out from a mountain is one of the most Insta-worthy spots of all, and a great place to capture the magic of the park.
Since the hand is such a popular attraction, expect a line if you want to take a photo on it. When I went, the line was so long that I opted out entirely, because I wanted to see more of the park rather than waste time waiting for a photo. Next time, I'll arrive at the park first thing in the morning when it opens (8am) and make a beeline for the hand before a queue forms.
Swing like Tarzan
The rope swing at Hobbitenango is epic. It's on the side of a huge hill, so when the operator lets go, you feel like you're flying over the valley, with sweeping views of the whole park. This is the perfect opportunity for adrenaline junkies to get their fix.
Catch some live music
Sometimes on the weekends, you can listen to live music here. I was lucky to visit on a Saturday, when there was a band playing all afternoon. There's an expansive grassy area around the stage where you can chill out and enjoy the music and views.
Where to Eat & Drink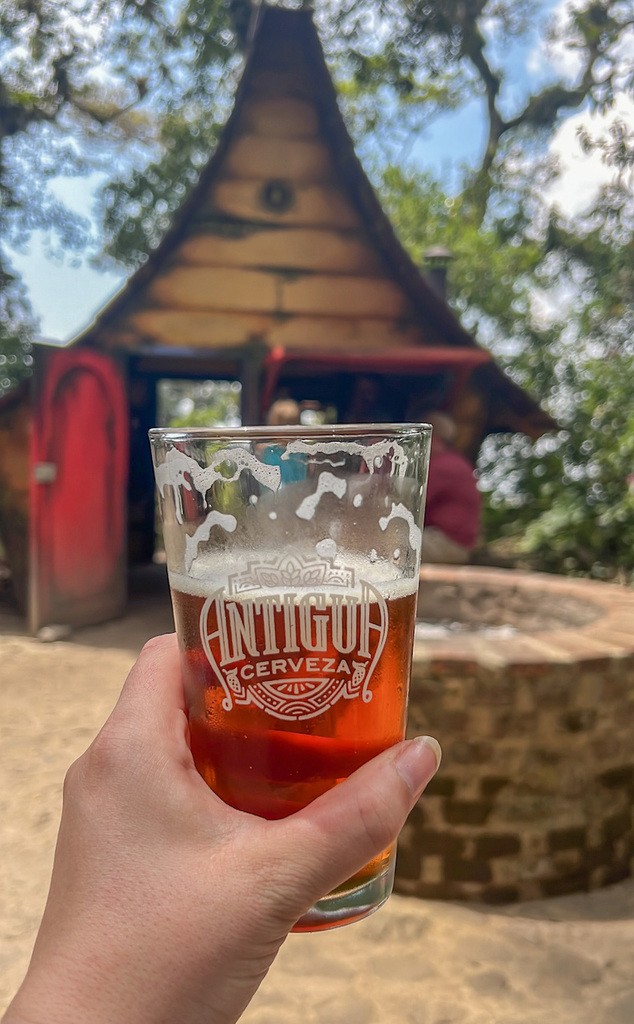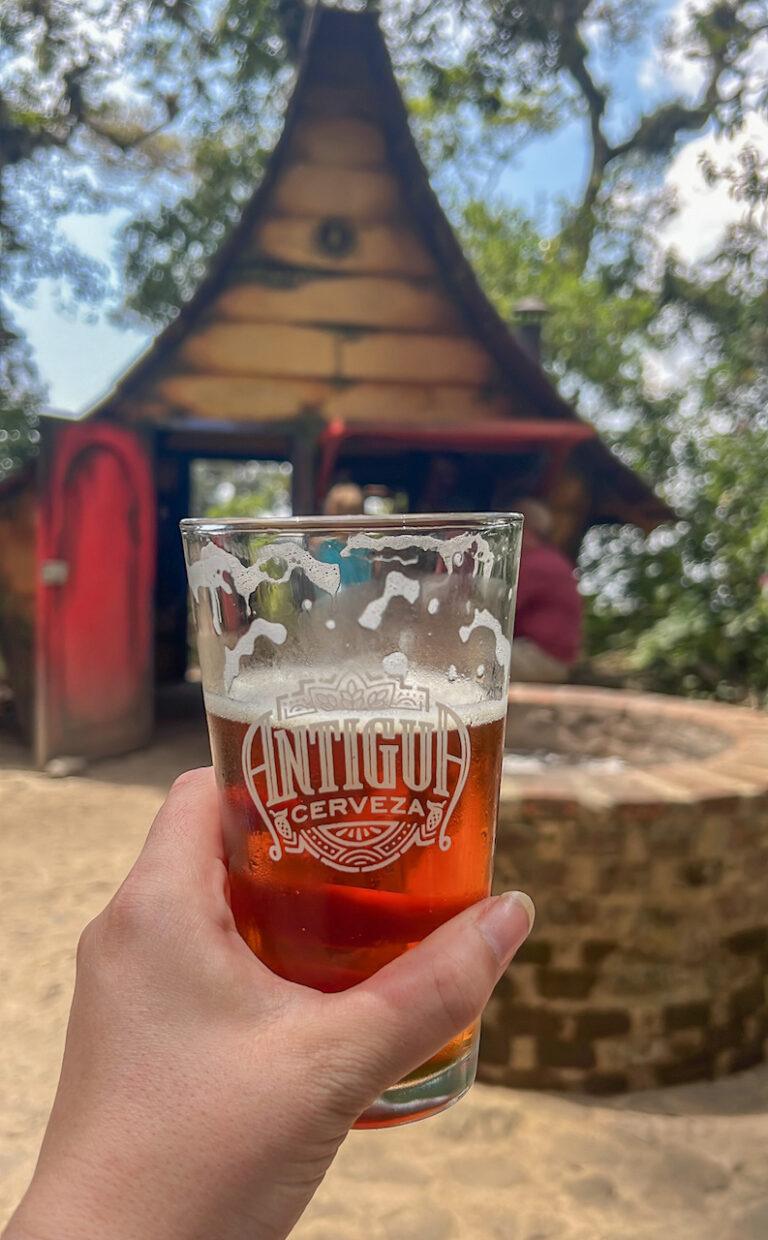 Usually, theme parks aren't exactly famous for their food (maybe with the exception of Disney), but Hobbitenango is an exception. There are two large restaurants, a coffee shop, and a tavern in the park. When I arrived in the afternoon, my friend and I went straight to the restaurants to see what was available. To my surprise, there were plenty of options to choose from, and deciding where to have lunch was nearly impossible. Hobbits love to eat, so you already know the portions are huge!
I ended up choosing my first love: pizza. It was made in a wood fire oven, and I was delighted at the quality. Afterward, we hit the trails and found a secret beer spot and sat down for a cold one. The craft beer selection was impressive, and all were locally made.
Where to Stay in Hobbitenango Guatemala
There are two choices for where to stay in Hobbitenango Guatemala: in a hobbit house on the property or somewhere off-site. Both have their pros and cons. Here's my take: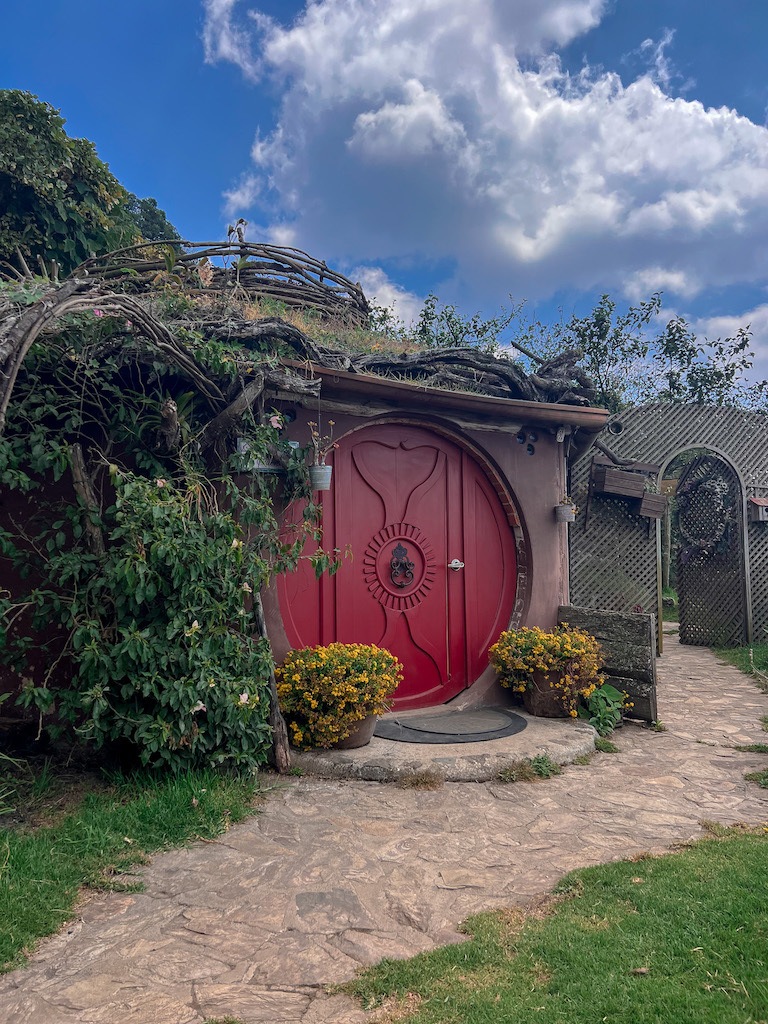 Staying in Hobbitenango
Upon arrival, I noticed that some of the hobbit houses were not open to the public, because they're actually accommodations. My mind was blown. You mean, I can sleep in one of those adorable houses?! I wish I had known. Initially, I assumed that the casitas were going to be astronomically expensive, as most theme park things are, but the rates are surprisingly reasonable.
To stay in one of the hobbit houses, you'll pay about $115/night, which is about the same as a luxury hotel in nearby Antigua. Act quickly if you want to stay in one of these, though, because they book up months in advance! Book your stay here.
Staying close to the park
Though you can easily reach Hobbitenango while staying in Antigua, you can also rent a place closer to the park if you want to maximize your time there and enjoy the Guatemalan countryside to the fullest. Two of the closest places to Hobbitenango are Earth Lodge and Finca El Tambor.
Earth Lodge is an awesome spot to connect with nature and has a stellar variety of lodging options, offering everything from a campsite to a full studio.
Finca El Tambor is also a fantastic place and offers a more luxurious stay than Earth Lodge, but with just as much nature to enjoy. You can book a full studio or a one-bedroom house.
How to Get There
Hobbitenango is in the hillside town of Vuelta Grande, just 20 minutes from Antigua, though it can be tricky to get there if you are not prepared. No matter which transportation method you choose, you'll only get as far as the parking lot before you have to catch a shuttle up the mountain to reach the park itself. This is due to the steep hill you have to climb, which only permits 4×4 vehicles.
Here are some different ways to get there:
Hobbitenango shuttle
Hobbitenango runs a shuttle service from Antigua, which you have to arrange ahead of time. It costs about $7 USD round-trip, which is about the same as an Uber would cost just one way. The shuttle departs from the park's office in downtown Antigua at 3a Avenida Norte #20A.
Uber
This is perhaps the easiest way to get to Hobbitenango, though it's the most expensive. Still, only about $7 USD each way is affordable, and you'll be able to come and go when you want to.
Public transportation
To get to Hobbitenango Guatemala via public transportation (aka chicken bus), you can catch a bus going to Vuelta Grande from the Mercado de Artesanías in Antigua. The ride only costs about 10 quetzales ($1.25 USD), but you'll have to then catch a taxi to get to the parking lot of Hobbitenango. Though this is the cheapest option, I don't recommend it, because it's unlikely that you'll find a taxi to take you back to Vuelta Grande to catch the bus to Antigua.
Bonus: How I Visited Hobbitenango, Guatemala
Another stellar way to get to Hobbitenango is by joining a tour. This is how I did it, and it was awesome!
ATV Mountain Adventure
The tour I chose was the ATV Mountain Adventure, which included Hobbitenango, Cerro La Cruz, and a chocolate factory. I absolutely loved whizzing around Antigua on my ATV with my friend screaming for her life on the back (no jokes, I'm not the best driver). This was such an adrenaline-pumping way to explore the city and the outskirts, and although we only had a couple of hours at Hobbitenango, it was completely worth it. Plus, admission to the park is included in the price of the tour, along with transportation.
I can 100% recommend this tour, because it was by far my favorite thing I did in Antigua. It's such a fun way to get to see Hobbitenango without worrying about organizing transportation. The only downside was that I didn't have a say on when to go and how long to spend there, and if I were to visit on my own, I would have arrived first thing in the morning and stayed all day.
Book your Antigua ATV Mountain Adventure here.
***
Overall, Hobbitenango was a 10/10 for me. I can recommend it to anyone visiting Antigua or Guatemala City, because it's truly a can't-miss destination.
Are you a Lord of the Rings fan? Let me know if you'll be adding Hobbitenango Guatemala to your bucket list!