From the pastel yellow Catalina Arch to the rolling green hills and vibrantly painted school buses, Antigua's colors make it one of the most memorable cities in Central America.
While many people advise solo female travelers to avoid this part of the world, Guatemala is an irresistible place to explore. Antigua is a can't-miss city, full of Old World charm, ultra-friendly locals, incredible mountain views, and so much more.
But is Antigua safe to visit? After spending a week there, here's my take:
How to Stay Safe in Antigua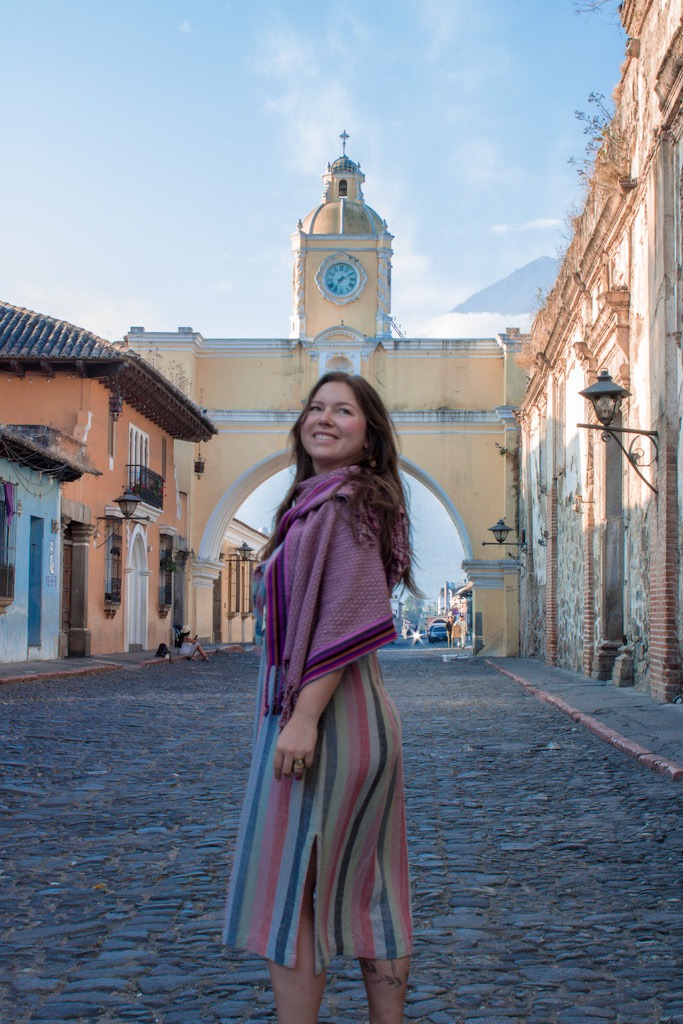 1. Skip renting a car.
Antigua is a small city where all of the streets in the downtown area are cobblestone. Renting a car isn't a great idea because of the bumpy streets that could cause damage, leaving you with a hefty bill from the agency. Though this isn't a safety issue, it could put you in an uncomfortable position, which is totally avoidable by opting out of renting a vehicle in the first place.
A rental car is also unnecessary unless you want to visit the towns surrounding Antigua, but even then, most places are easy and cheap to get to via Uber.
Another reason why I don't recommend renting a car in Antigua is that many roads in Guatemala, even in a safer area like this, are not very safe to drive on. They may be blocked at any moment by local groups and even gangs. There are very few reports that these roadblocks have turned violent for tourists, but I wouldn't risk it.
2. Be careful with street food.
While in Antigua, my friend and I got very sick to our stomachs, likely from street food. I'm usually savvy with that kind of thing, but how can a girl turn down a tamal when she's hungry? While not all street food will make you sick, some of it might. A good rule of thumb is to look for food stalls where there's already a line of people forming. This is a good way to tell that a stall has some notoriety and a higher turnover (i.e., fresher food), so it is unlikely to make you sick.
3. Don't drink the tap water.
This is a no-brainer, as it applies to most foreign countries. Even locals in Antigua don't drink tap water, so you shouldn't either. My hotel had a big jug of drinking water in the lobby for guests, and most other hotels do as well. Ice is usually fine, since most restaurants and bars make it with clean drinking water from bottles.
4. Be extra vigilant in crowded areas and markets.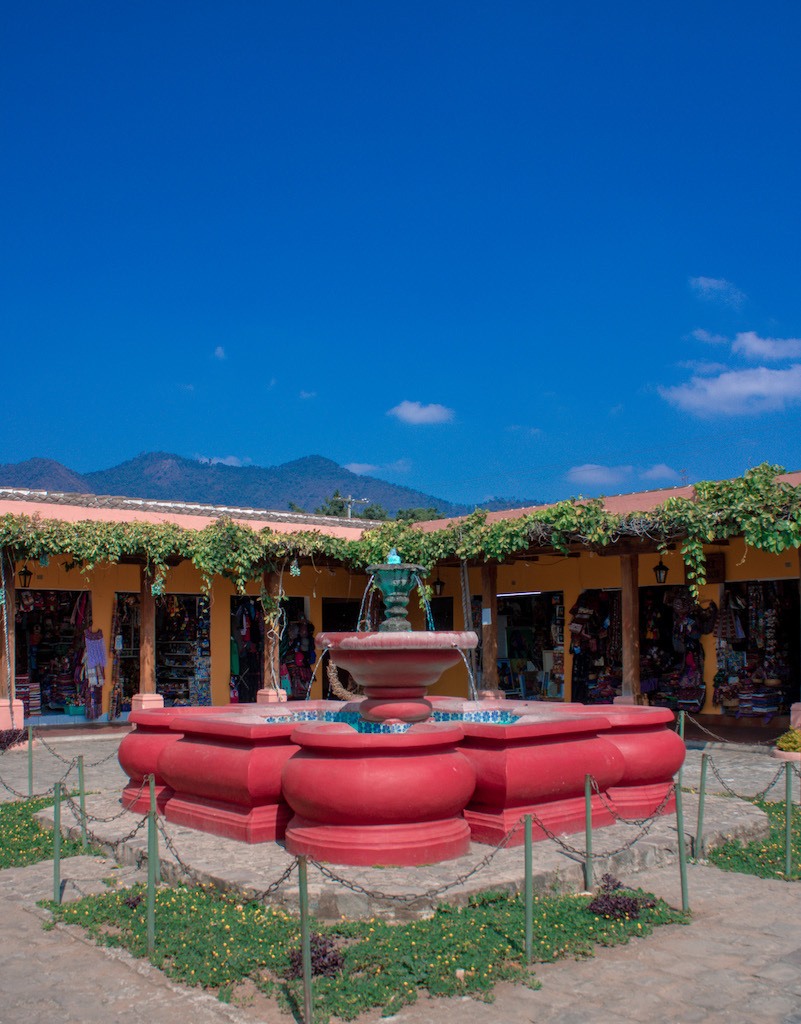 The municipal market and artisan market in Antigua are both amazing places to visit, but make sure you do so with caution. Pickpockets are very common in crowded places like markets and street festivals. Stay alert in these places and avoid looking lost, as that can make you more of a target.
You can also avoid most of the crowds at the markets by visiting early in the morning, right when they open. I went at 8am one morning, and all the stalls were open, with very few visitors.
5. Use a purse that locks.
For an added layer of security against pickpockets, consider bringing an anti-theft purse with a lock on it. I love this one from PacSafe, because it has a slash guard strap and a zip clip.
6. Avoid scams.
There are quite a lot of scams throughout Guatemala, and I noticed them more prevalently in Antigua. One of them to watch out for is the fake charity scam. There are lots of people who walk around the city with brochures for orphanages and schools that don't exist, asking for donations. It's easy to politely say no, and they'll move on.
Another I heard about but didn't see is the "picture scam." This one is where someone asks you to take their picture with a camera. Then, when you try to hand it back, they let it fall to the ground and demand you pay to replace it. It sounds ridiculous but apparently is quite common in Antigua and Guatemala City.
7. Use SPF!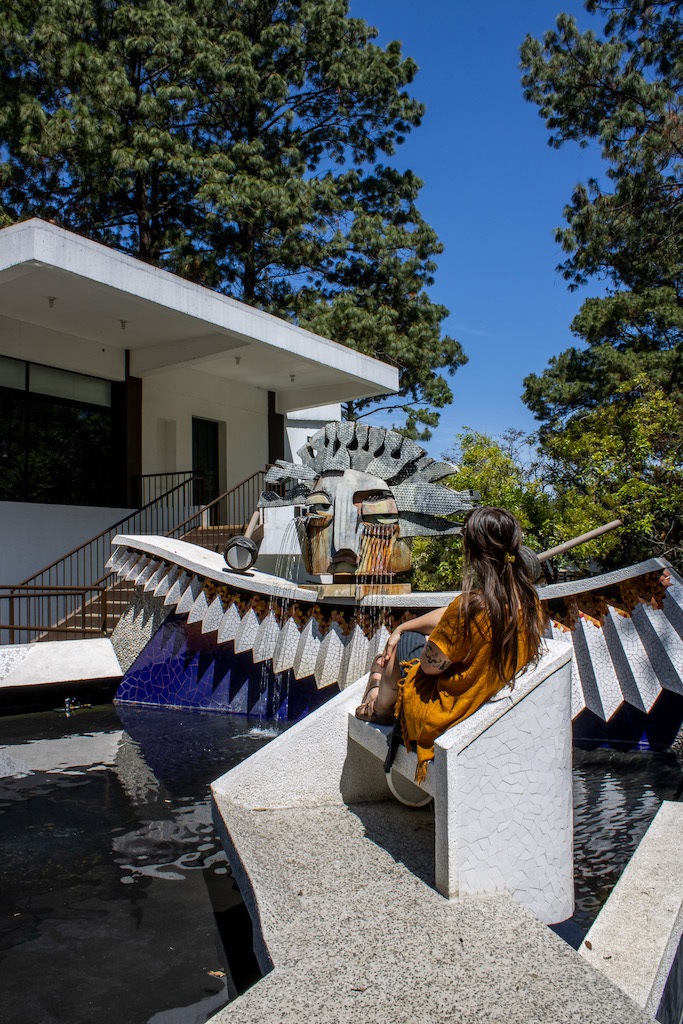 While it might sound silly that this is on a safety list, health is wealth, and you can easily jeopardize it if you skip sunscreen in Antigua. While the climate here is mild and even chilly at night, the high altitude means the sun's rays are quite strong. I was shocked one day when I forgot to reapply sunscreen and got super sunburned. Everyone's sun tolerance is different, but don't risk getting a horrible sunburn, because it can seriously dampen your day.
8. Learn (at least) a little Spanish before you go.
While plenty of locals in Antigua speak English, especially those who work in tourism, it's always helpful to know some key Spanish phrases in case you need to ask for help at any moment. You don't need to be fluent by any means, but a little can go a long way if you find yourself lost or in need of assistance.
9. Opt for Uber instead of taxis.
I had a couple of bad experiences with taxis in Antigua. One tried to rip me off by overcharging me by double, and another started taking me somewhere other than where I asked to go. If you do take a taxi and this happens to you, ask to get out immediately. This is why I recommend taking Uber. That way, if something sketchy happens, you can easily report the driver.
10. Don't walk around at night (unless you have to).
In general, I don't walk around anywhere at night by myself. However, sometimes it's inevitable, and Antigua certainly isn't the worst place to do so. I walked back to my hotel alone in the early evening a few times, and it was fine, but keep in mind that most crimes happen between 10pm and 3am. When in doubt, grab an Uber, even if it's just a couple of blocks.
11. Only take public transportation for short distances.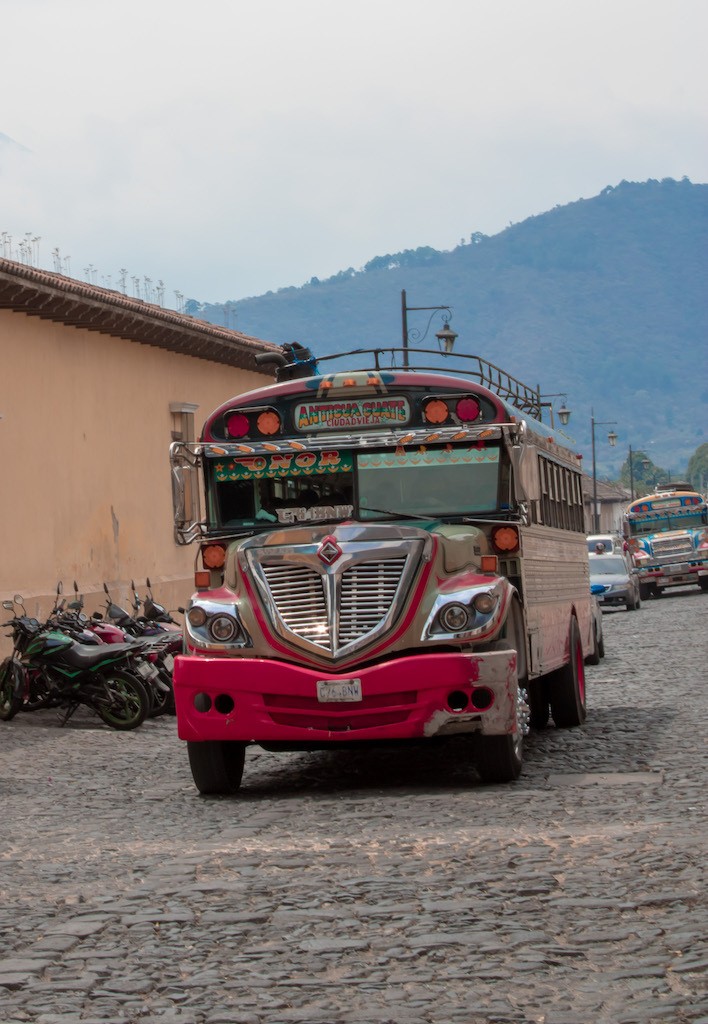 The chicken buses in Antigua are fun to look at but not always so fun to ride. They're converted school buses from the States, with uncomfortable seats and no seatbelts. In my experience, riding them long distances is a bit terrifying, as they wind around sharp bends in the mountains at top speeds. If you really want to have the experience of riding in one, I suggest taking on from Antigua to a nearby village, like San Antonio Aguas Calientes, which is only 15 minutes away, with no winding roads along the route.
If you want to explore outside of Antigua, I suggest booking a shared shuttle. They're affordable, much more comfortable than a chicken bus, and safer too.
12. Keep your drinks safe.
It's quite common in Antigua for people to spike drinks at bars and nightclubs. Never leave your drink unattended, and keep a napkin over it as an added precaution. I also don't recommend accepting drinks from strangers, as it makes it even easier for someone to slip something into it.
13. Party responsibly.
Antigua is known for its robust nightlife, and there are dozens of bars downtown. They typically close around 1 or 2am, so after-parties are very common. Not all of these are created equal, however. Most attract shady characters and simply aren't worth going to. Others, like the famous swimming pool rave, have bouncers and a good reputation for being safe.
Also, remember that you don't have to go out clubbing to have a great time in Antigua. There's so much to do there that it might not be worth it to stay out all night and risk being tired the next day.
14. Don't visit Cerro de la Cruz after sunset.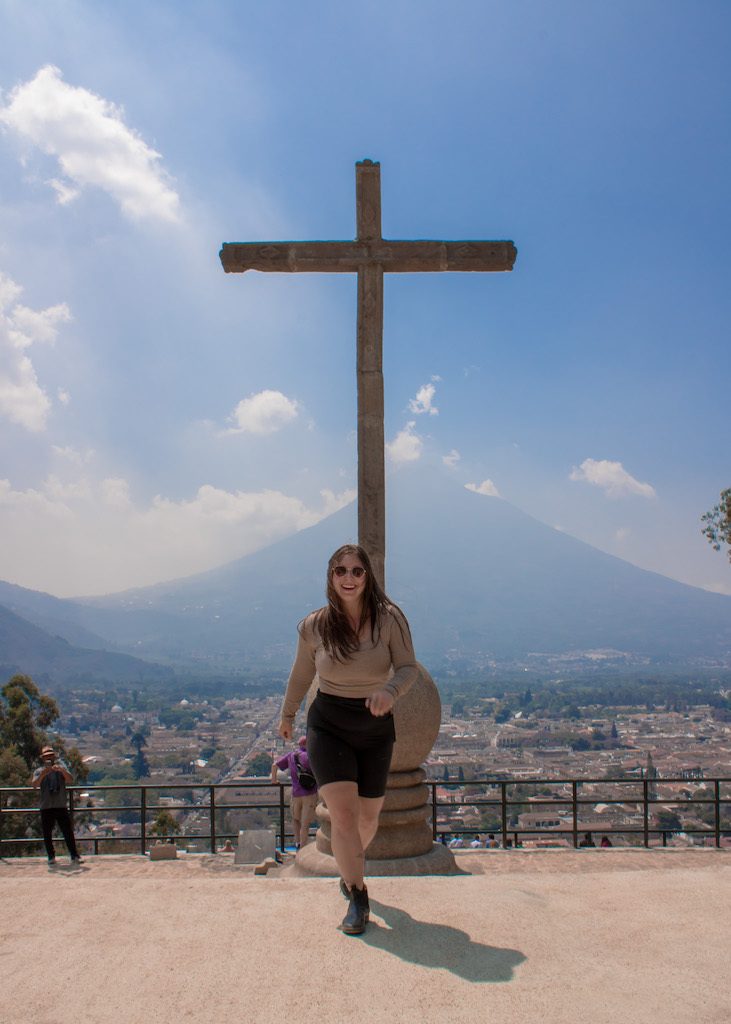 Cerro de la Cruz is one of Antigua's most popular attractions and usually visitors' first stop on their itinerary. There's no wonder why, as the view of Antigua from there is incredible. Most people hike to the top, and the trail is infamous for muggings at dawn and dusk. During the day it's safe, but sometimes people linger at the top to catch the sunset and then hike back down once it's dark, making themselves vulnerable to thieves. Avoid this by visiting mid-morning. If you do want to watch the sunset, however, you can request that the tourism police escort you down the hill.
15. Make sure you have travel insurance.
This safety tip applies to anywhere you travel to, but it's still worth mentioning for Antigua. Considering the number of outdoor activities, like climbing volcanoes and riding ATVs, make sure you're covered in case something happens to you while traveling. Some companies like World Nomads and SafetyWing even have plans that include injuries due to outdoor activities and sports, so choose the policy that best reflects what you plan to do in Antigua.
16. When in doubt, go for a guided tour.
Speaking of outdoor adventures in Antigua, many of them are much safer to do with a guide. While you can't climb Acatenango Volcano without one, the Pacayá Volcano is fair game for solo hikers. However, many people who hike without a guide near Antigua end up getting mugged. To me, the prospect of danger doesn't make a solo hike here worth it, so I recommend doing any kind of hike or climb with a guide.
Is Antigua Safe? My Verdict:
Antigua is one of the safest cities I've visited in Latin America, so I can 100% recommend it for solo female travelers. Not only is there loads to do there, but every person I met was incredibly friendly and accommodating (well, maybe excluding the taxi drivers). Just like any city, there are precautions to take, but Antigua stacks up quite similarly to those in the US and Europe when it comes to safety.
***
So, after reading these tips, what do you think? Is Antigua safe enough for you to visit, based on what you've read?