There I was in Emei Shan (Mount Emei), yet another sacred place, following Yubeng and Lugu Hu (Lake Lugu), two visually dissimilar places that had a similar significance as a sacred place for Buddhism in southern China.
Emei Shan is one of four sacred Buddhist mountains located in China. Located a few hours' bus ride away from the big city of Chengdu, it's a small town with a big meaning for those of the Buddhist faith, as well as a UNESCO Word Heritage Site.  For me, it was another mountain to climb.
Due to its significance and popularity, the Emei Shan hike has been paved with stairs, as is common with many big Chinese attractions. One can even skip the hike altogether and take a bus all the way to the top and a combination of cable cars and busses back down to the bottom.  That seemed silly to me, so I elected to use my feet, having heard that the lower portion of the hike is even more beautiful than what can be seen at the top.
I don't agree with that statement, though.  Not even a little bit.  Not at all.
I'm sure the layered mountains and beautiful trees are a stunning sight, if that is, you can actually see them.  Sadly, the pollution, I assume from Chengdu, is so bad that I could barely make out what I was seeing:
I started at Wannian Temple which is a 20-minute bus ride from Baoguo. It's a good place to start as it cuts out the lower first 20 or so kilometers and still leaves you with a steep 30 kilometer hike to the summit, which makes it doable in one day.
The trail is pretty easy to figure out, passing through several temples along the way up the seemingly never-ending stairs
I don't know if it's because I've had so many hikes since then, or if that hike truly was one of the most brutal, grueling hikes possible, but at fewer than 20 kilometers I still feel that Mt. Kinabalu in Borneo is the toughest hike I've done, and it took me even longer than Emei Shan which was a full 10 km longer.
A couple of enthusiastic snack vendors towards the top invited me to sit and have a rest while telling me all about how great the weather was that day.  Really? Even with all this smog?  
Given, I had read previous accounts of getting to the top and being unable to see a thing due to too much fog, made worse by the annoying monkeys, neither of which I encountered.
Which is good, because I don't like fog and I really don't like monkeys!
I guess I got lucky, because after climbing the last few icy stairs (losing my footing more than once, grateful there was a railing to cling onto), I finally ascended above the smog line and was rewarded with this at the 3,099 meters (10,167 feet) high summit:
I was lucky and ended up meeting a fellow American (and a Californian at that!) along the way who I was able to share a room with that night, given the hotels at the top charge a minimum of 300 RMB (USD $50) per room! I wanted to see the famed sunrise, though, and it seemed there was no choice but to pay it.
In the end I was glad I did, because although the monasteries 10 kilometers lower charged much less, I would have never seen this:
Do it Yourself:
Getting there:

Busses leave for Emei town regularly from the Xinnanmen Bus Station in Chengdu, or from Leshan, where another famous giant Buddha statue is located.

The ride takes about 3 hours with the earliest bus leaving at 6:30am.  There is also a train station in town

Once at the bus station in Emei town, it's pretty simple to walk across the street and wait for the local green number 8 bus. It's impossible to take it the wrong way because the bus route begins at the bus station and ends at the gate to Emei Shan, so you really can't go wrong.  The local bus costs 2 RMB and a taxi will be closer to 20 RMB

Stay: 

I stayed at the 

Teddy Bear Hostel

 which has decent rooms, good rates, and will let you leave your bag there while hiking. They are also located right next to the bus station that services the Emei Shan bus route.  Even better, they provide a very useful map of the Emei Shan hike (which is NOT included in the entrance or ticket price for Emei Shan!)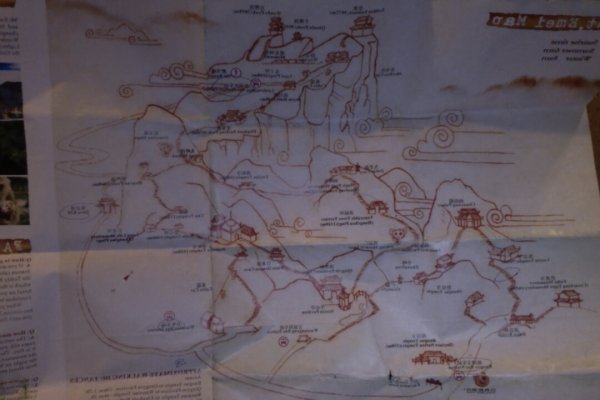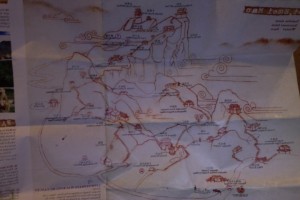 Hike: Definitely bring food and snacks for the hike as they are sold at ridiculous prices near the top
Bamboo walking sticks are sold at the beginning of the hike. It's a good idea to buy one to help with the climb and to scare away monkeys

There are many trail entrances where you can buy tickets for 185 RMB or 90 for students (although if you look like you could be the age of a student, try passing any ID as a student card and it'll probably work. I did so with my drivers license). I started at Wannian temple which is 30km from the summit. From there it is a doable one-day hike to the summit if you start early enough and are fit. Get to Wannian by buying a 40 RMB round trip bus ticket from the station next to Teddy Bear Hostel

If you end up staying overnight on the mountain, which you'll need to do if you're walking the entire way, keep in mind that the monasteries are the cheapest but you will not be able to stay at one at the top, where the cheapest rooms run a staggering 300+ RMB per night (without heating or even running water). However, if hiking during the winter, climbing to the peak in the dark for the sunrise can be dangerous and very slippery in the snow and ice, and the gondola does not start running in time to take you up for the sunrise, so it may be worth the expense. In the summer, I would stay a little farther down from the summit and hike up to the summit with a headlamp before the sun rises
Get back down by foot, gondola, or bus