I've sung Pai in northern Thailand's praises until I was blue in the face. Whenever anyone asks me where my favorite place in Southeast Asia is, I answer, "Pai," without even needing to stop and think about it.  There's so much to love about that hippie town, full of dreadlocked, tattooed, and pierced residents and visitors.
I certainly didn't expect that I'd find Pai's counterpart in China, but was pleasantly surprised to see dreadlocked and rock star-attired Chinese residents when I visited Dali in Yunnan province, about 4 hours outside of Kunming.
Dali is the kind of place that everyone likes, and unlike other old towns in China which have been completely manufactured and are fake, people actually make their homes and livelihoods in Dali.
What is it about Dali that makes it so amazing?  For one, the scenery is beautiful:
The town is surrounded by mountains for hiking and lakes for bicycling around.
For a rental fee of 30 RMB for one day, one can rent a bike and take it around the outskirts of town and around Er Hai, the massive lake outside of town.
I met up with a couple of guys I had first briefly encountered at my hostel in Kunming, and we hatched a plan to cycle along as much of the river as we could manage given our late 12- noon start.
Along the banks of the lake in a small town outside of Dali, we happened upon an enterprising woman who engineered an hour-long boat ride for us for about 40 RMB each – a bit rich but an adventure we felt like having, so we sprang for it.
About 20 minutes in we were rewarded with the incoming of fishermen with their cormorant birds – a symbiotic relationship where a string is tied around the bird's neck so that when it dives for fish, it's unable to swallow them.  The birds are given a fish as payment for their services after the fishermen have a satisfactory catch.
I had read about this before but didn't realize the method was still employed just as it had been hundreds of years in the past.  It was pretty exciting to see first-hand.
The lake itself is pretty easy to cycle around, with flat paths passing through a lot of little villages with various food and beverage offerings.
However, cycling around the lake still proved difficult because of the constant beautiful distractions, such as the busy people fishing in the lakes, tending to the fields of veggies and rapeseed flowers, and generally making Dali as picturesque as a little Chinese town can be.
The final distraction was shao kao, which I've waxed poetic about my love for in Kunming.  I was more than happy to come upon it again in Dali.
Alex was, too. He even made up a song about it that I still can't get out of my head, three weeks later.
He also felt compelled to push a Chinese man on a hammock.
Oh Alex, always giving!
The day finished with a brilliant sunset, which I climbed a roof to get a photo of: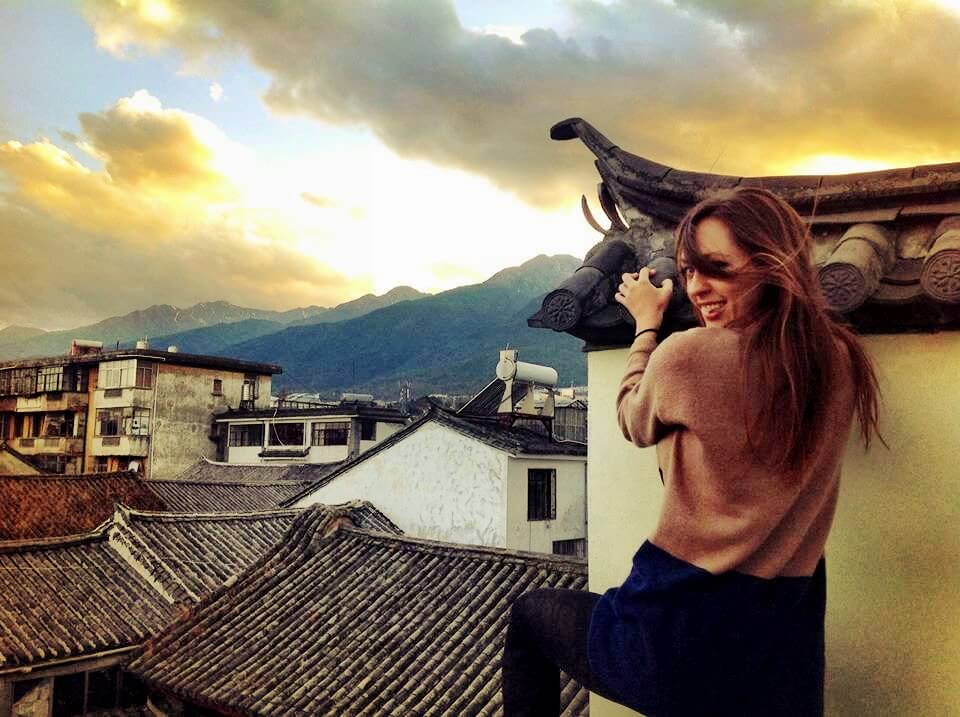 I stayed in Dali for three days, eating at little German coffee shops, discovering a beverage called exploding egg mango, drinking an amazing IPA at the Bad Monkey bar, making new friends, and making plans for the lesser-known parts of Yunnan, near Tibet.
I would be heading there next.
Do it yourself:
Busses leave from Kunming West Bus Station to Dali every 20 minutes or so.

One can also take an overnight train, but it takes 3 hours longer than the bus
Most busses actually go to Xiaguan, 15km outside of Dali old town. Busses bound for the old town can be taken from the parking lot in front of the bus station for 2.50 RMB. Ask to be dropped off at Honglongjing (红龙井), which is closest to the hostels

Rent a bike anywhere along the main walking street, Renmin Lu, for 30 RMB. 

They will request a passport
Follow the signs for Er Hai along the western road
Stay: I'm a big fan of The Lily Pad. It's super clean and a great value for the money with a western style bathroom – a treat in China!