After flying from California to Europe, then to Chiang Mai, to Sri Lanka, the Maldives, the Philippines, and then Vietnam, I'm tired of flying, and I knew that once I got to the top of Vietnam there was no way I would have interest in flying from there to China given they share a border.
Unfortunately, I found minimal information on getting a visa and making the land border crossing.
I read all kinds of forums stating that the easiest way is to go through a travel agent.  Numerous comments followed from people who only got 21-day visas because the agency had pocketed the extra money for the 30-day and only returned their passports to them with a 21-day visa.  Yikes!
Even if this wasn't the case, I still wouldn't go through an agency because, why do that when the embassy is right there?
Taking matters into my own hands, I found the embassy in Hanoi and did it all myself.  The whole process took about 5 days and just a few minutes per visit to the embassy.  Here's how it's done:
Getting a China visa in Hanoi
The embassy is located at 44 Hoang Dieu and is only open from 8:30am to 11am and only during the week.  The office also takes a long holiday for Lunar New Year. If visiting around this time of year, call first to confirm opening days

Print out copies of the inside of your passport cover page (with all of your personal info), Vietnam visa, and a confirmation for a hotel in China for at least your first night's accommodation (this doesn't have to be paid-for accommodation.  Book on a website where you can later cancel if you're unsure of your plans)
When you arrive at the embassy, you will be given a form to fill out with your first 4 planned destinations in China.

Again, they're not verifying any of this, so if you're not yet sure, pick 4 logical destinations off of a map or out of a guide book

I was also handed a sheet of paper asking for proof of travel insurance and onward passage, but I didn't bring these (I had read in the forums others hadn't, either), and wasn't asked for them when I turned in my paperwork. This may be luck of the draw with who takes your information so bring these along if you have copies already
You will be directed to a window where the agent will accept your paperwork and tell you when to return. She may ask that you return early to make sure that you're approved. If you have a Vietnamese cell number, ask to be called instead. If you don't, ask for a number so that you can call them. You will be given a slip of paper with your return date. Be sure to retain this
The visa takes 3-4 business days to process. Keep this in mind if turning in towards the end of the week as the weekend does not count toward the processing days
Return to the embassy when it opens on the allotted day and you will be given a slip that says you are approved.  You will be instructed to take this slip to a bank to pay the visa fee (for an American it is $140 – ouch). This bank also closes around 11 and does not reopen until 2pm, so it's best to get there early then return to the embassy before it closes for a same-day pick up
Now that I've typed that out, it does seem a bit involved, but I have a chip on my shoulder when it comes to doing things through a tour or travel agency, so I had to see if it could be done on my own.
All in all it really wasn't that bad, and took very little time with each visit to the embassy, though there were multiple visits which an agent would eliminate, though there is a risk of a 21-day visa and higher fees with an agent.
Crossing the land border into China
This was relatively straightforward, to begin with, at least.
Get to Lao Cai, whether via an overnight train from Hanoi or a minibus from Sapa, which I took in the afternoon at 5pm, arriving at Lao Cai just an hour later.
From Lao Cai get a xe om (motorbike) taxi for around 30,000 VND to the border crossing (which is open from 8am to 11pm, or 10pm if on the China side. Don't forget they're an hour ahead!)
First, exit Vietnam, walk over the friendship bridge, then enter the Chinese border station
Scan your passport in the machine next to the entry lanes and fill in the necessary info, then present to the border agent who will likely ask where you're planning on going – repeat the information you put on your application.  Then, walk into China!
It was pretty easy to head from Sapa to China, even after a day of trekking for about 10km.  I still had an amazing action-packed day and was able to get into China by nightfall.
I, personally, wanted to head to Xin Jie Zhen (Yuan Yang) first, which is a UNESCO World Heritage Site famous for its amazing rice paddies.
No, I didn't get enough in Sapa.  
For those looking to head to Kunming, it's possible to get overnight or daytime transport from Hekou.
There are no overnight busses there, which meant I'd be staying in the border town of Hekou for the night.
Luckily, it's a nice little town – for a border town – and nothing like the seedy ones I've seen in Cambodia, for example.
However, I ran into an issue when the only blog I could find on the border town subject turned out to be wrong about the ATM placement.  It appeared as though construction had replaced it with a concrete wall.  I ran around to all of the other nearby ATMs I could find – none of which would work for me. I had no Chinese yuan (RMB), and no money changers were open.
My only saving grace was my ability to speak Chinese, as English is simply not spoken in this town.  I was able to explain the situation to a hotel (after the first one waved me away) which thankfully took my passport as collateral and told me I could pay in the morning when the bank opened. The next morning they explained to me where to find it and I was on my way.  Luckily, the ATM there did accept my card and I didn't have to change any money.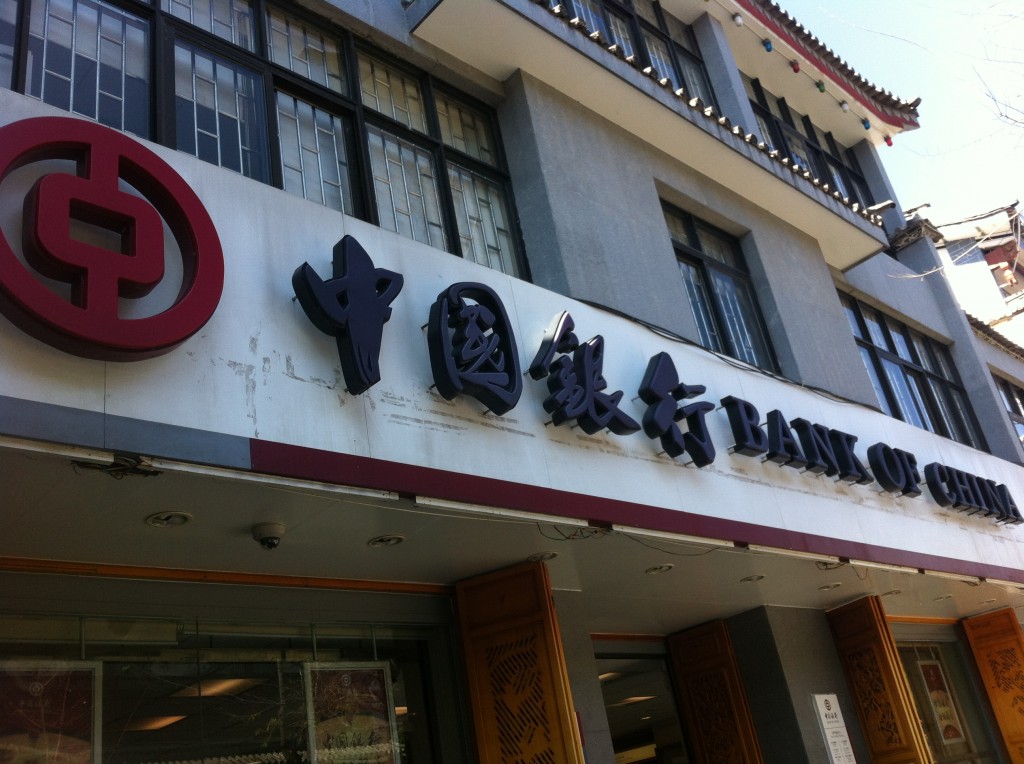 So, let me inform you that the ATM you need to find is now near the one and only (small) park in town, which looks like a long roundabout if consulting a map.  If you walk straight out of the embassy, you'll eventually reach said park.  Look for the Bank of China with a logo that looks a bit like a red target symbol.  Once you hit the park, make a left and you should see it.
After obtaining my cash, I caught a little green bus on the street that borders the river (you'll see green bus stops. Take one headed in the direction away from the border crossing) for 1 RMB and made the 15-minute journey to the main bus terminal where I caught the final 10:30am bus of the day to Xin Jie Zhen.  (Note the busses stop running after dark). There was some conflicting information here, too, as I had also read the final bus departs at 9am.  My guess is things change so rapidly in China that schedules, construction, and various other things make information obsolete after even a year or so.
One thing will remain the same: you absolutely can cross the border, take a mini green bus for cheap, and bus out of Hekou to your next destination if heading from Vietnam to China.
Share some of your craziest border crossing stories in the comments!