Day 231
The brisk mountain air greets me this morning and I feel at ease. The last time I found myself in the mountains was in northern Thailand, way back at the beginning of December. I hadn't realized how much I missed them until now.
I'm in Cameron Highlands and have found a little nook away from all of the hotels.  It's a small colonial chalet and has opened just three months ago.
Today is quiet, peaceful, and beautiful. Today is the day that I will walk around the tea plantations. But I won't be taking a car, I'll be taking my feet.
Tim, a new friend I met in Kuala Lumpur, and I trek through the jungle, narrowly avoiding mud, grabbing onto tree roots for support as we climb hand-over-foot, and wiping off the occasional spider web to-the-face as we gain elevation. I am astounded that I'm not covered in mosquito bites despite not wearing DEET and am profoundly grateful for the cool weather.
It has been months since I've felt comfortable outside. This time, I'm sweating from pure hard work rather than a heat-induced suffering.
After two hours climbing almost directly uphill, I look around at the apex of the mountain I've just climbed, and am rewarded with astounding beauty.
A familiar feeling creeps over me, and breathes life into me.
I'm happy again, I'm grateful again, and I'm in the moment again.
Passing by a strawberry farm, an enthusiastic fruit picker takes photos of us playing the giant strawberry game, then helps us pick a few choice berries, and squeezes fresh strawberry juice.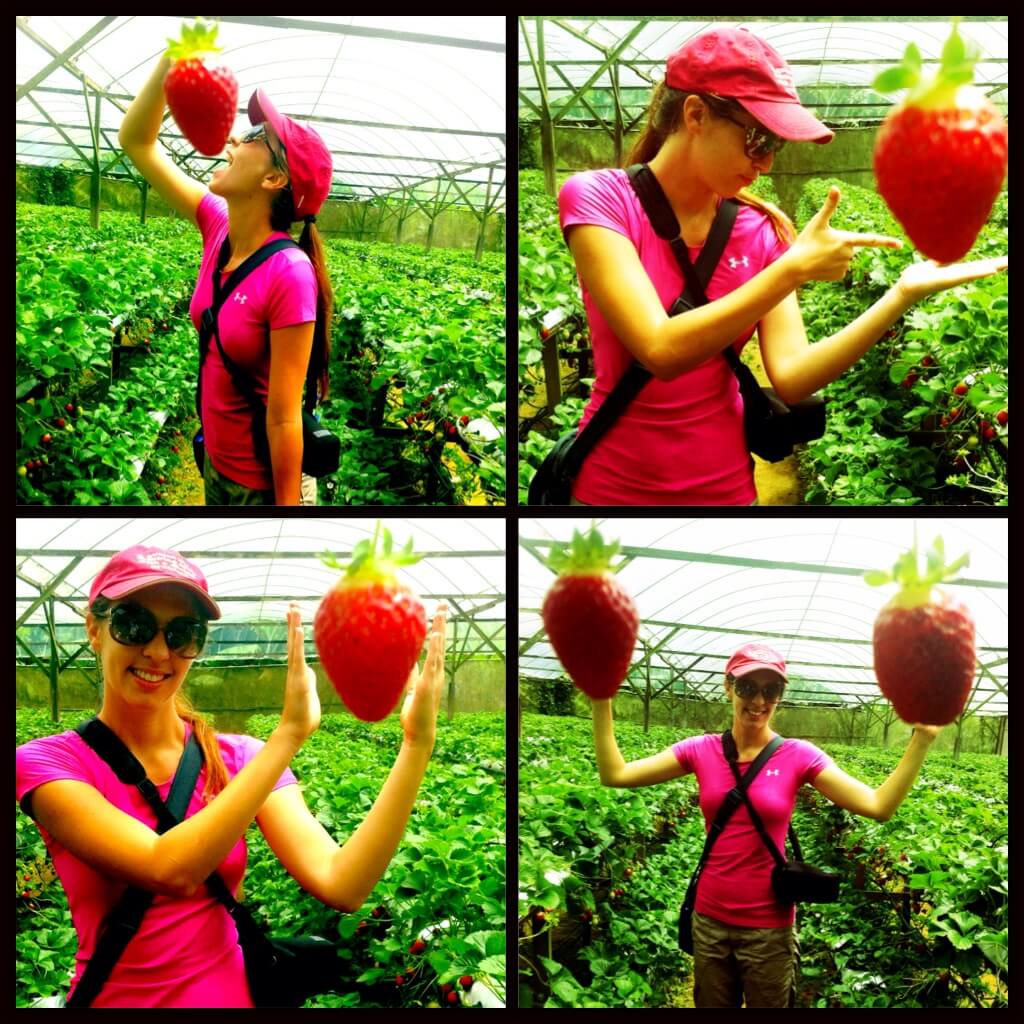 He explains that he's from Bangladesh and has been in Malaysia for about ten years, but sends almost everything back home to his family. We tip him a bit extra for his efforts and continue on our way.
The tea plantations provide a frame to a perfectly beautiful setting. The road is mostly quiet, giving Tim and myself a quiet and pleasant walk through the country roads.
Our terminus is found at the tea plantation where we watch a harvest take place in the distance and sip on rose and lychee tea while eating scones.
Something about this just feels so right, peaceful, and beautiful.
It might be the extremely friendly locals, the change of scenery, or simply switching it up enough to shock my system a little, but I'm glad to have my travel mojo back again after feeling as though I might have lost it.
Before I turn in for the evening, I finally feel like doing something I haven't done since January – I meditate.
It seems that a day hiking through the Cameron Highlands were just what I hadn't realized I really needed.
Do It Yourself:
Cameron Highlands can be VERY touristy, but the best way to have an off-the-beaten-path adventure like this one is to take the Gunung Brinchang Jungle Walk No. 1 from Brinchang town. 

This is a tough jungle hike lasting about two hours to the summit – but it's worth it!
Take pictures at the summit and follow the paved track to the mossy forest.

Stop if you feel like it, don't sweat it if not. You've seen similar fauna already on Gunung Brichang Jungle Walk No. 1.

Stop off at the strawberry farm on the way.  This was the least touristy of all the other farms I passed, which were quite commercial and had hoards of tourists. Myself and Tim were the only ones at this farm.
Finish at the Boh Tea Plantation.  Also less touristy than Cameron Tea (on the other side of town).