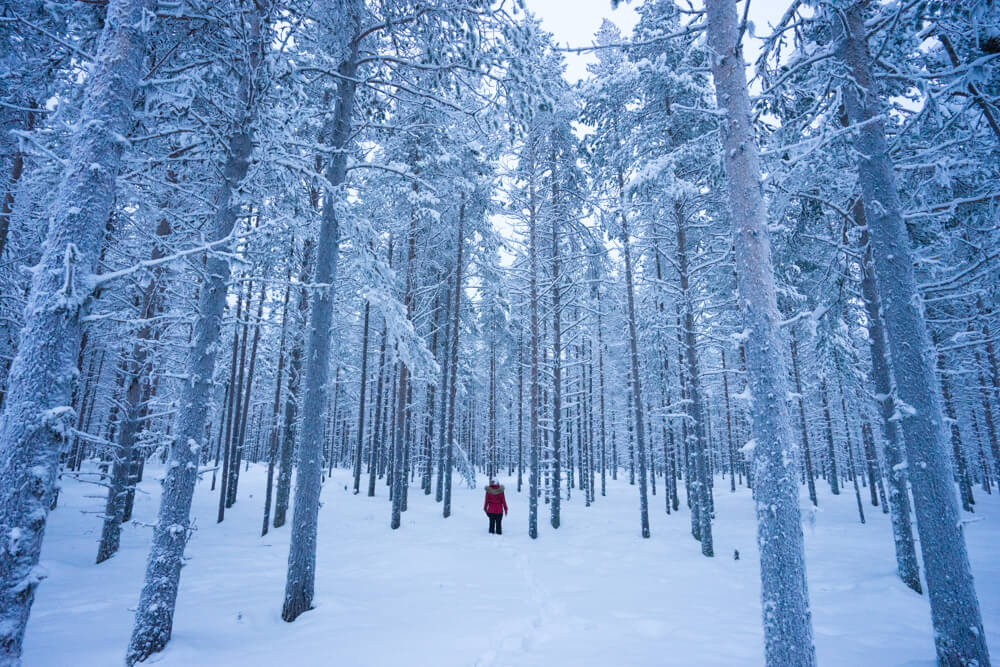 Finland is a rich country. What have they got? They got Nokia phones and plywood. How'd they get so rich? Because they're free.
P. J. O'Rourke
Welcome to the Arctic Circle. Specifically, I'm speaking of Äkäslompolo and Ylläsjarvi on opposite sides of the mountain where the Ylläs ski resort is located and in the Kolari municipality of Finnish Lapland.  The snow is of a different nature here. Each flake is perfectly formed and glitters when it catches the sun, or the beams of a headlight.
It billows down from the sky like a little flying seed from a dandelion – the kind that you blow on when you make a wish. It falls right into place as if it knows where it is meant to go.
The snowflakes come together to build little blankets of powdered sugar, layer upon layer, like the sediments of a lake bed. They do this all over the ground, on every tree, every rock, every rooftop, and every fence post.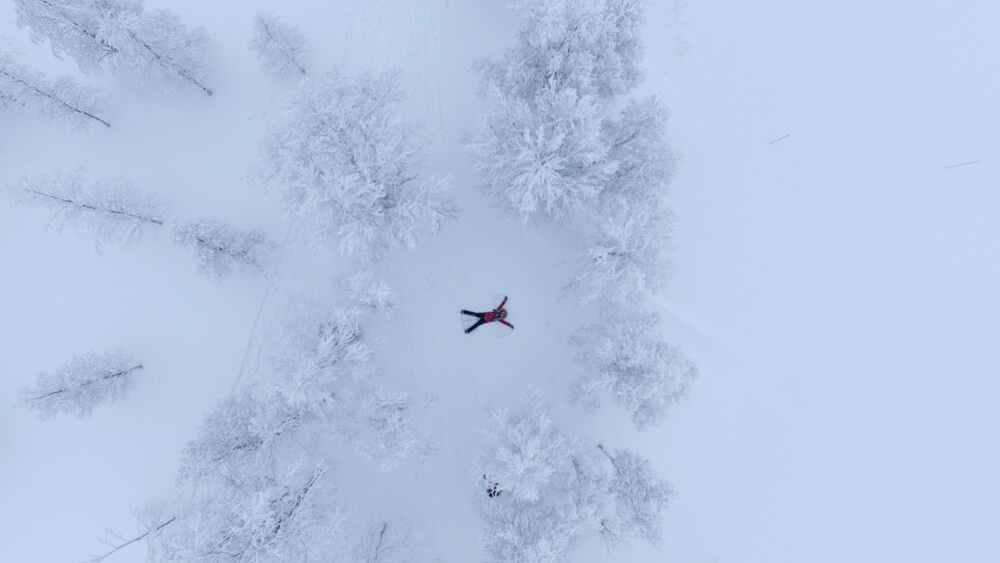 I marvel as they stick to my camera on their way down. "They really do each have their own shape," I keep saying in awe, "they're so beautiful."
How have I lived my whole life without a real winter? I suddenly feel deprived rather than thinking smugly that I had the superior end of the stick by avoiding winters while growing up in Southern California. Yet while looking at this, I can imagine a reality where I spend every winter in this snow globe world.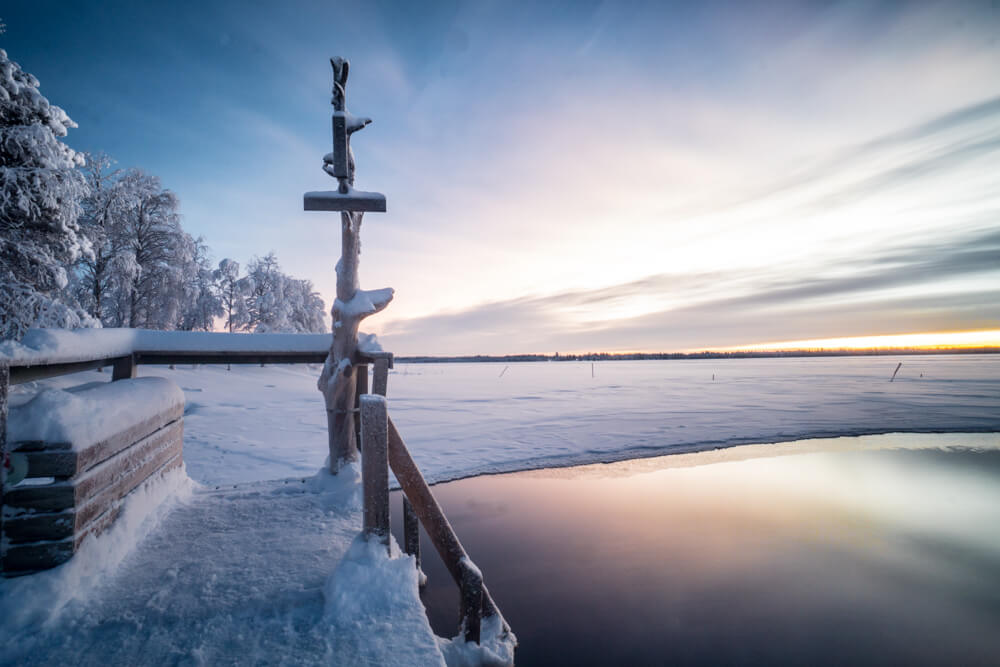 The winter in Finnish Lapland isn't just any winter, though. It's different from the après-ski parties and giant slopes full of gondolas in Austria – which I love, too. But for those seeking something a little different, this is the place.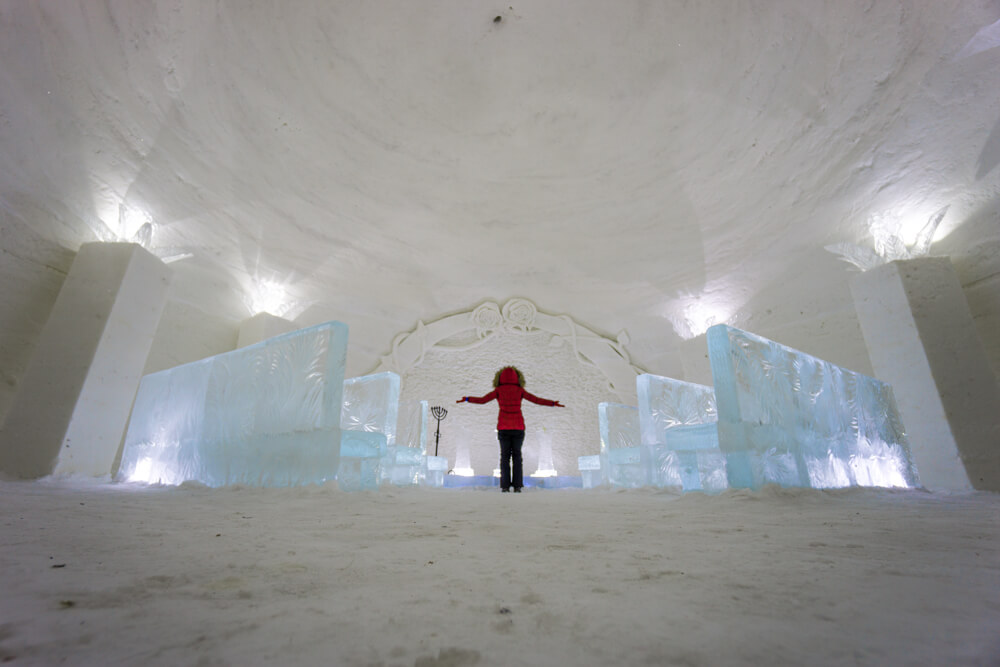 Finnish Lapland is special because it feels so incredibly secluded, so profoundly quiet, and so calmingly peaceful. It took coming here to understand what makes it so special, but I quickly realized that it's a silence you can't find just anywhere.
I feel it in the desolate desert, at the peak of a hiking trail that nobody else is on, and now, in the quietness of a frosty forest.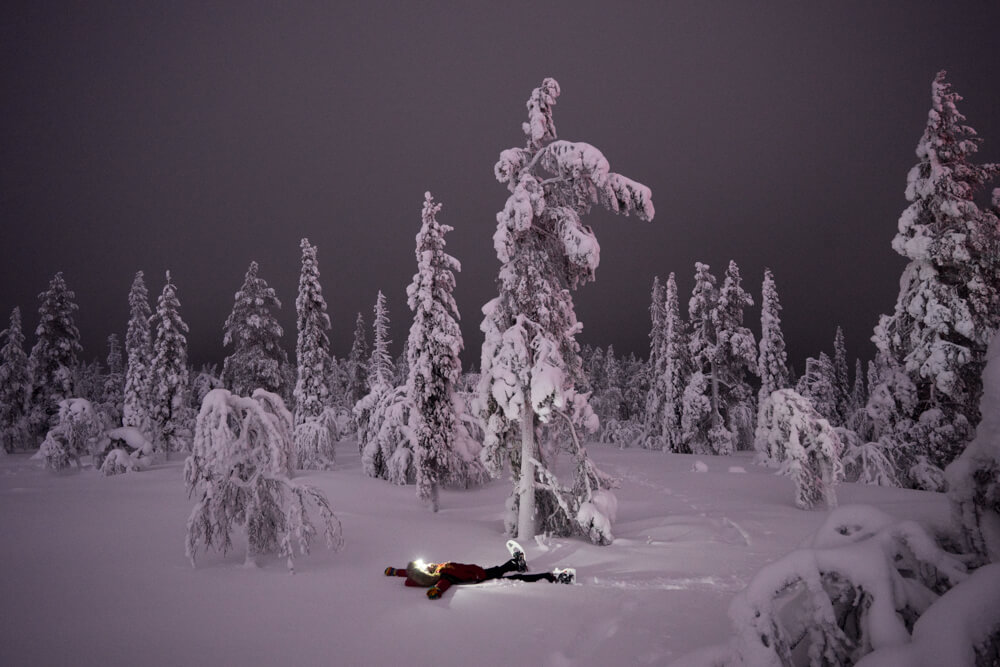 It's in the ski slopes at Ylläs that are coated in clouds of snow, the cotton candy trees, and the feeling of being the only one there. It's like a storybook fantasy world adorned in white and it's so calming, you wonder for a moment if you could happily just remain there forever.
I know that in some part of the world it's summer and there are warm beaches and sand so hot it burns your feet when you walk on it, but I don't yearn for that at all in this sparkling white paradise.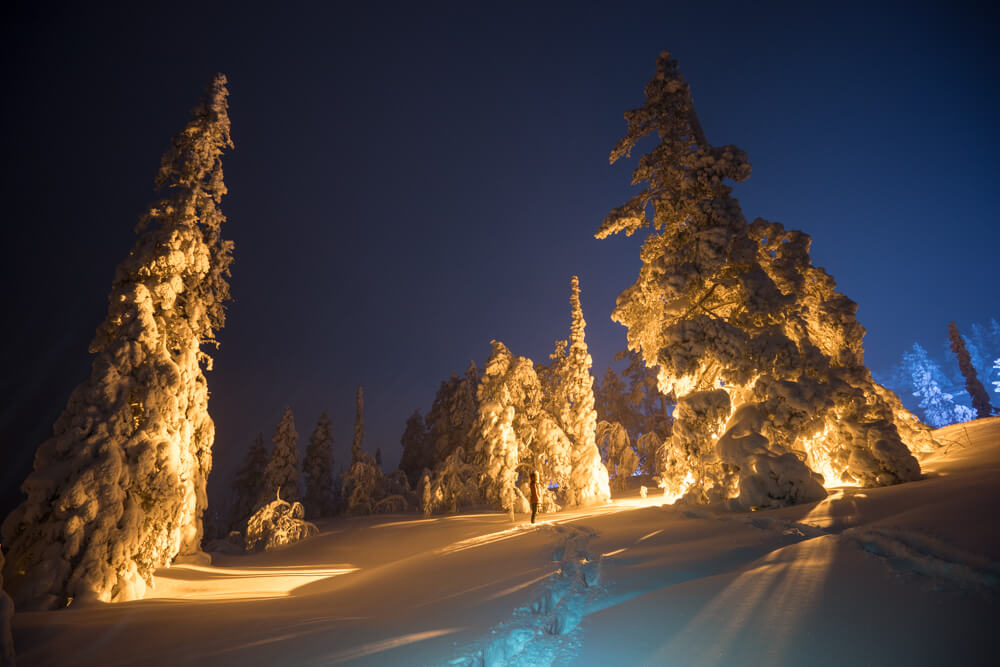 The areas of Ylläs, Äkäslompolo, and the surroundings are just like the documentaries about the Arctic that I used to watch on TV years ago and think to myself that nothing could be that secluded yet simultaneously accessible by humans. Now I know, oh but it can!
The very idea of -30 degrees used to be terrifying to me, but then I realized that it was just simple fear, and in actuality it's not that scary to be so cold. It's actually a blessing. Where else do you get the stillness, the crispness of the air, the indescribable pinkness of the sun, and the kind of snowflake that crackles like Pop Rocks on your tongue when you lick it? Enjoying it is not complicated with the right outfit choice. In reality, the snowy surroundings are yours without much discomfort.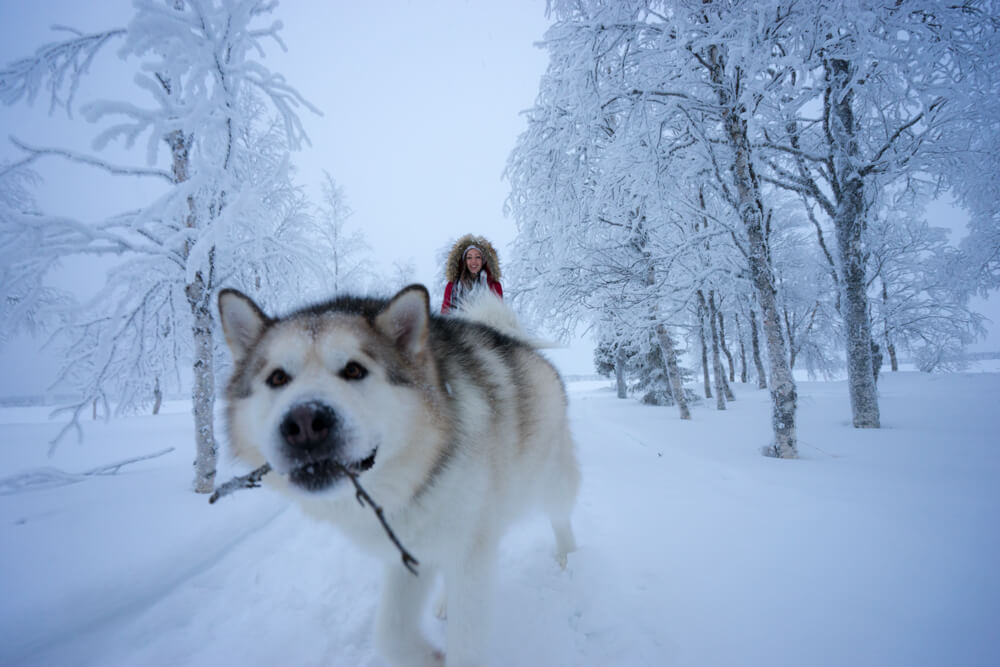 In most of the world, people loathe the winter, but here, locals will say it's their favorite season, and I can understand why. The Arctic winter offers a beautiful stillness and an endless sunset as the sun rests just on the horizon for hours, never fully rising.
Plus, there's an incredible amount of things to do there. You can Nordic ski, snowshoe (day or night, it's no problem), hunt for the northern lights, ride on the back of a husky or reindeer sleigh, go snowmobiling, or go with my personal favorite, Alpine skiing.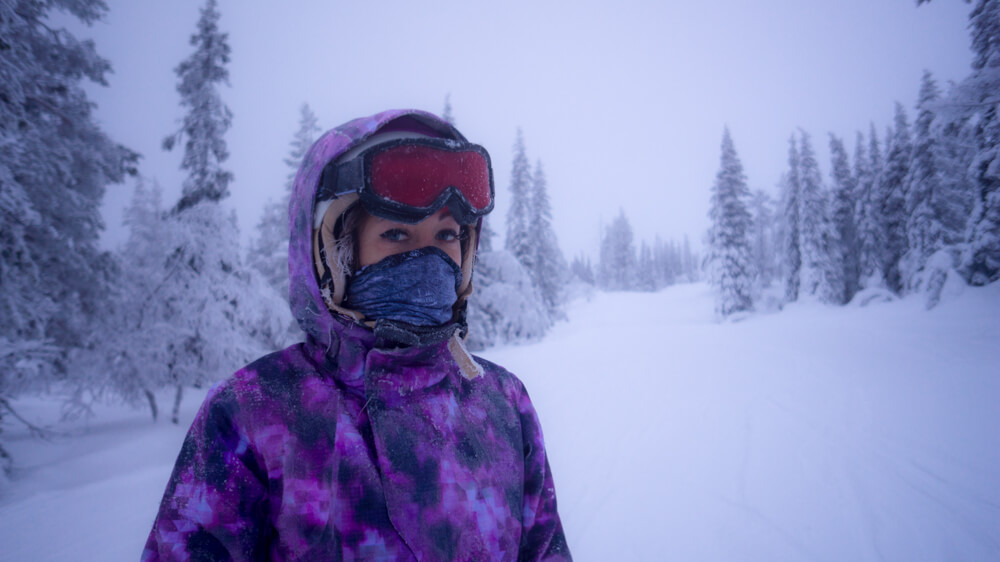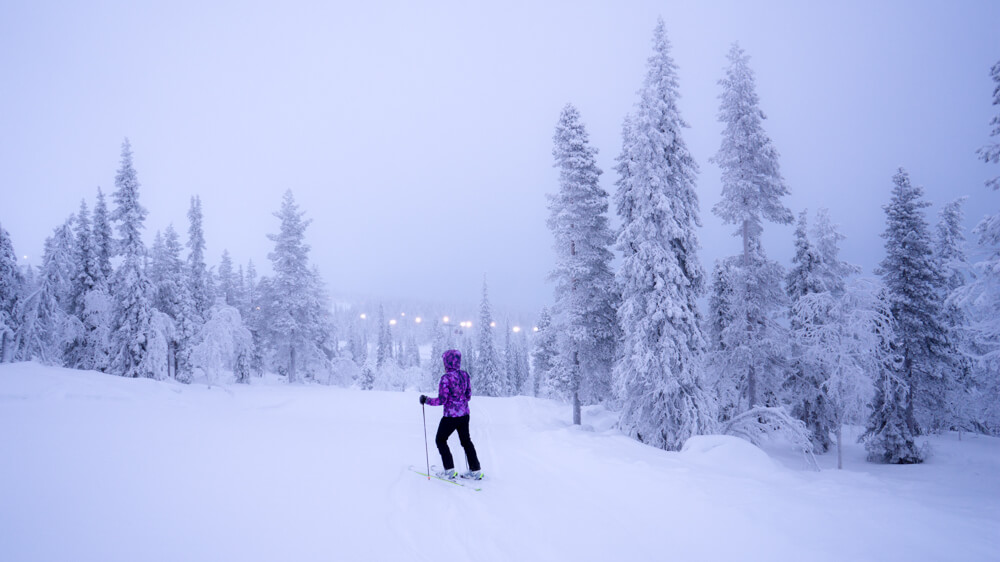 Then after it all, when you come home to a cozy BnB with a reindeer steak waiting for you, you realize winter brings with it some special methods of enjoyment.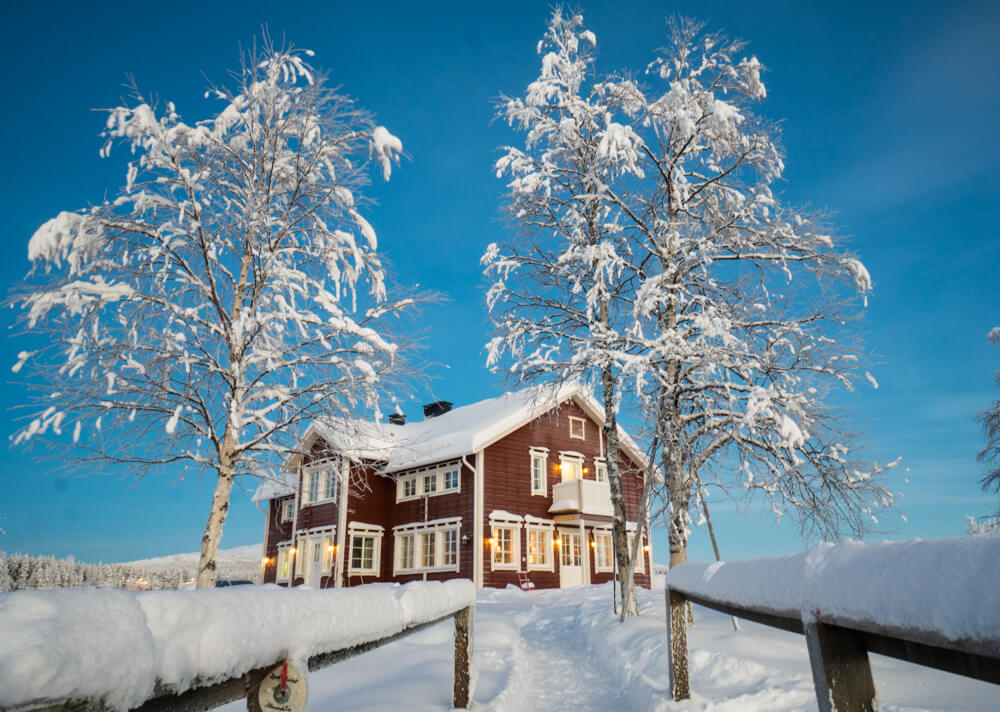 Like a sauna followed by a dip in ice water, and a glass of champagne in a hot tub thereafter. Where else can you fully enjoy 40°C-degree water while the stars come out and the snow falls around you?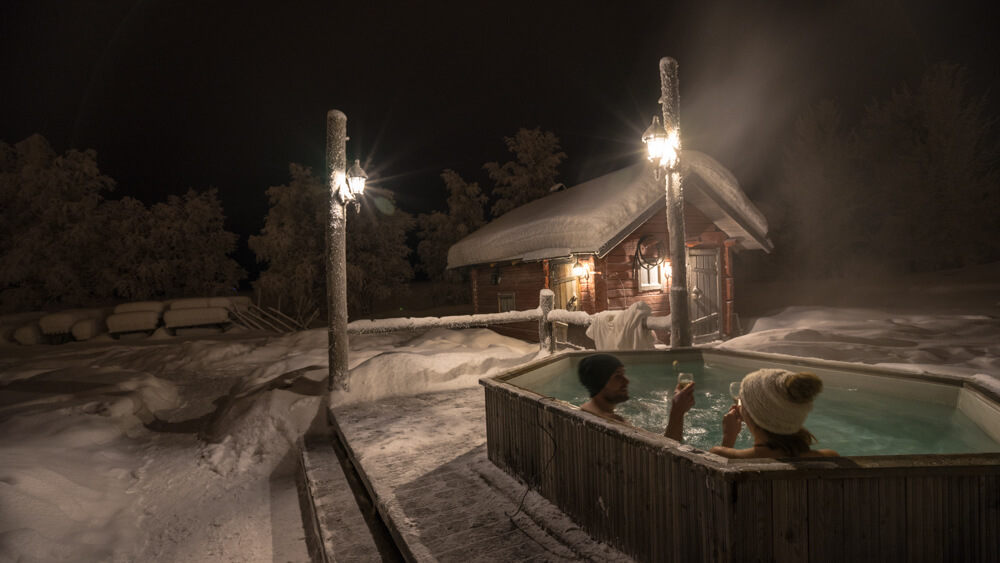 So if you're like me and the very thought of winter scares you, I bet this will change your mind completely.
Finland, thanks for showing me that winter is wonderful, too. You opened up my eyes to so many travel possibilities with just one trip.
Do it yourself:
Getting there: Fly into either Rovaniemi or Kittila via Helsinki. The flights are surprisingly convenient, especially through Helsinki.
Though there are busses and taxis, renting a car will give you ultimate freedom. Driving in that kind of weather is, shall we say, interesting but not impossible!
Eat: Reindeer and salmon are the most common offering. Besides the food at Aurora Estate, the best food I had was at Pihvikeisari where everything is local and homemade. 

It seems like it wouldn't be good because it has a big 'souvenirs' sign and appears touristy, but it's actually, delightfully, quite the opposite! 

Stay: I can't say enough positive things about Aurora Estate.

They just opened a few months ago, but the owners are two young entrepreneurial women with an absolutely beautiful location and very cozy BnB, plus the food is incredible.

Do: Check out my post on Awesome things to do in Finland!
Pack: Check out my ski trip packing list.
*"In the spirit of full disclosure, this post was brought to you thanks to VisitFinland and Visit Ylläs. The above thoughts are my own, and you can always trust that I will never promote something I don't love.