Figuring out what to pack is often my least favorite part of travel prep.
How am I supposed to know what I'm going to want to wear and what I'll end up using for the next week, month, or year?
A native Californian, I really feared winter. I figured none of the clothing I had would work for a cold German winter. Then, I took on a freelancing project around the Christmas markets in Germany and the time came to accept that I would have to rise to the occasion and face a real winter.
Everyone told me I would freeze. It would be horrible, it would be so scary!
But with one simple tactic, I found that they were all wrong: layering.
Besides, making snow angels is awesome: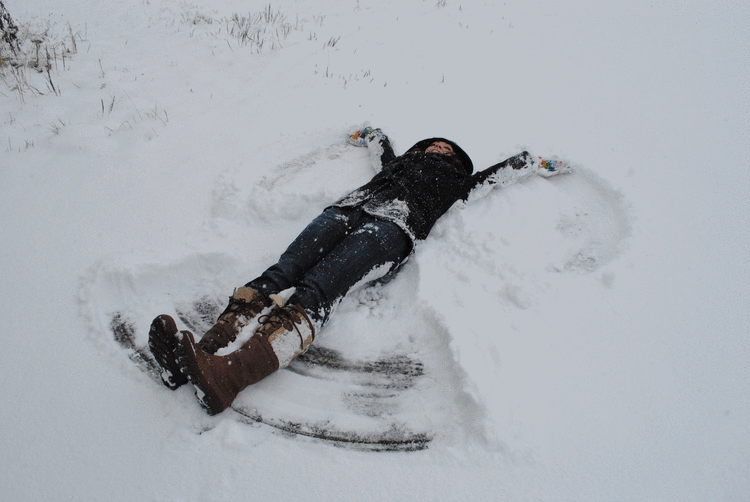 Per usual, I wanted to travel carry-on only. While everyone else struggles with heavy bags, I love the ease of walking around with my light bag, skipping baggage claim, having no worries that my bag might get lost by the airline, and easily taking public transportation rather than missing the fun of people-watching in a cab.
I traveled for an entire year previously in Southeast Asia with only carry-on luggage. I had believed that was because I was only traveling with light clothing, but as it turns out, it's also possible in the winter months, here's my exact list:
What's in my bag:
I still keep several cameras on me, a light computer, toiletries under 3 oz/ 100ml, and a small makeup bag, just like I did in Southeast Asia.
For the exact dresses and shoes pictured here as well as others I wore regularly, check out my winter European fashion guide.
As usual, the real secret is rolling and stuffing clothing into a quality packing cube
.
Otherwise, it's just about creatively layering and alternating, washing clothing regularly, and being choosey about what you bring and what you leave at home.
I've put together a video here to help show you exactly what I pack and how.
Hope it helps, and happy travels!
As you can see, it's still possible to travel carry-on only in the winter. Give it a try, and let me know in the comments how it works out for you!