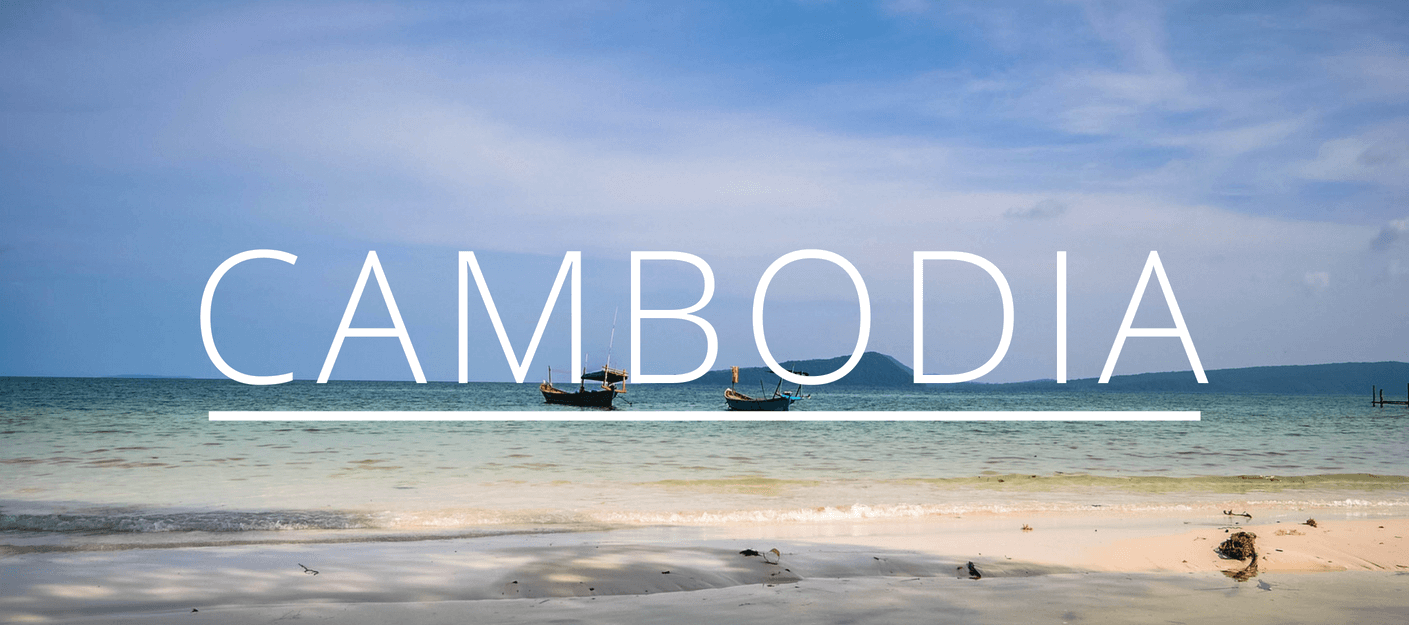 Cambodia is a country of extremes - an extremely dark past, extremely bright and friendly residents, and extremely pristine waters and white sand beaches. Cambodia is easy to fall in love with. It's still wild, money goes a long way here, and even more than Thailand, embodies the label, "the land of smiles".
Though still reeling from the genocide of the late 1970s and suffering from governmental corruption, Cambodia is a beautiful country with the wonder of the ancient world, Angkor Wat, beaches that are far less crowded and expensive than those in Thailand, and jungles that are still untamed. It's my personal favorite country in Southeast Asia, as just about every place I went still carries with it a special memory. Plus, I kept running into the same awesome travelers over and over there, which is always a treat for a solo traveler.
Quick Tips
'Hello' and 'Thank You' in Khmer: "Susaday" with hands together at the heart and head bowed, and "Akun"
Currency: US Dollar (seriously!) and Cambodian Riel (There is a fixed exchange rate of 1 USD = 4,000 Riel)
Visa rules: Generally $20 30-day visa-on-arrival (click here for your specific country's guidelines)
Safety rating: Ranked 89 on the Global Peace Index with a score of 2.07 (USA is ranked 128 with a score of 2.40).
Solo Travel Friendliness: Locals are friendly and curious, especially the kids! Don't be shy and say hello to them. However, nonviolent theft is common, especially in Phnom Penh. Keep belongings close and hidden, particularly in tuk tuks
Climate: Hot and humid year-round. Rainy season lasts from May to October
Best SIM card: Smart or Metfone - prepaid SIM card best purchased directly at store locations, available in most major cities (ask for locations at your guesthouse and bring your passport)
Modesty Considerations: Display of bare skin is generally frowned upon. It is polite, and sometimes required to cover your shoulders and knees when at temples such as Angkor Wat
Random useful tip: When buying smaller items such as a snack, ask if you can pay in local currency (Cambodian Riel), as it could sometimes be cheaper than paying in US Dollar
Accommodation
Low budget solo travelers ($3 - $5): Budget travelers rejoice, as accommodation will be the cheapest part of Cambodia if you work it right - just accept that you most likely won't have air conditioning or hot water, though free Wi-Fi and breakfast are provided by most hostels. Read my hostel recommendations across Cambodia here.
Mid budget solo travelers ($5 - $15): Private rooms are affordable, sometime even cheaper than staying in dorms if you can find someone to share a room and split the cost. On the islands, you can get a simple chalet that's right on the beach with about $15. Airbnb is rapidly gaining its popularity in major cities. More and more luxurious, huge hotel chains are on the rise, too – From poolside villa to hotels with in-house casino, Cambodia is ready if you are ready to splurge.
Food
Local & Street food ($1 - $5): At the local food markets which usually open both day and night, you can easily fill your tummy up with a big glass of mix fruit juice or draft beer and a plate of delicious fried rice with BBQ pork for less than $3. Go where the locals go, which normally are tiny food stalls by the roadside – it's always fun to squat on tiny chairs and amuse locals with your excellent chopstick skills. Go on an adventurous street food hunt which is not only fun but also cheap, though the catch is that you might not really know what you are eating…
Restaurants and Cafes ($5 - $15): Air-conditioned restaurants that serve Western cuisine costs about $5 - $15 for a complete meal. It is also easy to find quirky little cafes by the riverside serving baguette and good coffee, thanks to its French colonial history.
Unique Food to try: Fried insects are popular snacks in Cambodia. They are usually spotted at street markets or in a big basket on top of the seller's head on long distance buses and trains. Balut is a local delicacy I could not bring myself to try but if you are feeling really adventurous, keep a lookout for it on the street.
Transportation
Getting There: Most travelers land on the two major international airports, Phnom Penh International Airport, and Siam Reap Airport. There aren't any direct flights from the United States, Europe, Australasia, and South Africa, so you are very likely to stop over at one of the major airports outside of Cambodia first. Crossing the borders overland can be done from Vietnam, Thailand, and Laos, usually through buses or private cars. Make sure to check the Visa requirements for each border.
Getting Around Town: Tuk-tuks are everywhere – literally. Make sure to negotiate and confirm the price before you get on one. You can also easily rent a motorbike or bicycle from shops and hostels. I recommend doing this especially when visiting the magnificent Angkor Wat – a tuk tuk costs $20 for a day, a push-bike $5. Make sure to check the vehicle's condition and take pictures of any existing damages because while the rental and fuel is cheap, repair costs could make you drop your jaw. For solo travelers who can't ride a bike, there is an option of moto taxis.
Inter-city Traveling: Buses are surprisingly efficient and comfortable. They depart frequently from Siam Reap – Phnom Penh – Kampot – Sihanoukville and more, costing about $2 per hour. Giant Ibis is the expats' favorite long distance bus company. Buses depart on time, snacks and botted water are given out on all trips, and the drivers seem to know what they are doing. If you want to rough it out, minivans are a even cheaper option though expect to squeeze with 20 other people in a 15-person van. Hitch-hiking is not common but definitely possible.
Things to Do
Visit Angkor Wat: The largest religious monument in the world is probably the #1 reason why you are visiting Cambodia. Prior to my visit, I looked it up online and knew it was massive, and thought I was prepared, but still I was blown away. It. Is. Huuuge. Get the 3-day pass which costs $64 (as of 2017) and plan your routes properly. $64 is a lot of money but the price will only go higher, and you can't leave Cambodia without seeing this temple complex with your own eyes, can you? To save money on other things, rent a bike instead of hiring a tuk-tuk driver, and consider packing some food with you as restaurants in that area charge a lot higher, sometimes twice as much as restaurants in other areas.
Hit Pub Street: A great place to relax and rewind after a full day of exploring Angkor Wat. Think $1 draft beer, $2 manicure / pedicure, $2 massage, $2 fish spa, $1 fried noodles, $1 fruit shake, plus fun night clubs and pubs for those who want to dance the night away.
Live the Island Life: Beaches in Cambodia are slightly less crowded than its neighbors, though I am sure that they will not stay that way for any longer. Kep is a quiet beach town, Koh Rong a diving paradise, Rabbit Island secluded and serene, Sihanoukville great for partying, Otres Beach a special place in my heart.. just pick one, or all of them, before they turn too touristic.
Visit The Killing Fields & Prison S21: The country's dark, bloody genocidal past is clearly illustrated in these haunting places. You probably won't be able to skip your way out after looking at the photos, graves, and the massive skull tower, but it is a memorable and impactful experience not to be missed. I recommend spending the morning at The Killing Fields, before it gets too hot, and make your way to the Prison 21 in the afternoon.
Sail through a river village: Observe a life that's essentially built on water, with houses built on bamboo stilts, vendors selling food and drinks on wooden boats, and kids swimming and playing in the river. It has become a bit of a tourist trap but still worth a visit.
Chill at Kampot: Kampot is laid back and quiet, surrounded by Bokor Mountains. It is the perfect place to do absolutely nothing.
Cycle around in Kratie: …and feel like a celebrity while kids chase after you yelling "Hello!" 20 times! It is a simple and beautiful countryside filled with gorgeous rice field and cows.
Go on an epic road trip: With plenty of sleeper buses and cheap domestic flights, why not plan an epic road trip across the country? There's so much to see and do. If you have about 2 weeks, that's plenty enough to see the historical sites, explore hiking trails, beautiful beaches and little townships at a slower pace.
Apps to download
LebOOst Cambodia (local guides to all the cool spots in Phnom Penh), Phum Dictionary (accurate translations from English to Khmer).