March is one of the best months of the year to explore the American Southwest, because the cold of winter is behind us and the thick summer crowds haven't settled in yet.
In particular, Utah's otherworldly beauty is a sight for sore eyes, a nature enthusiast's dream destination, and one of the most spectacular places to visit this time of year. If you're looking for the best things to do in Utah in March, look no further:
1. Soak in Mystic Hot Springs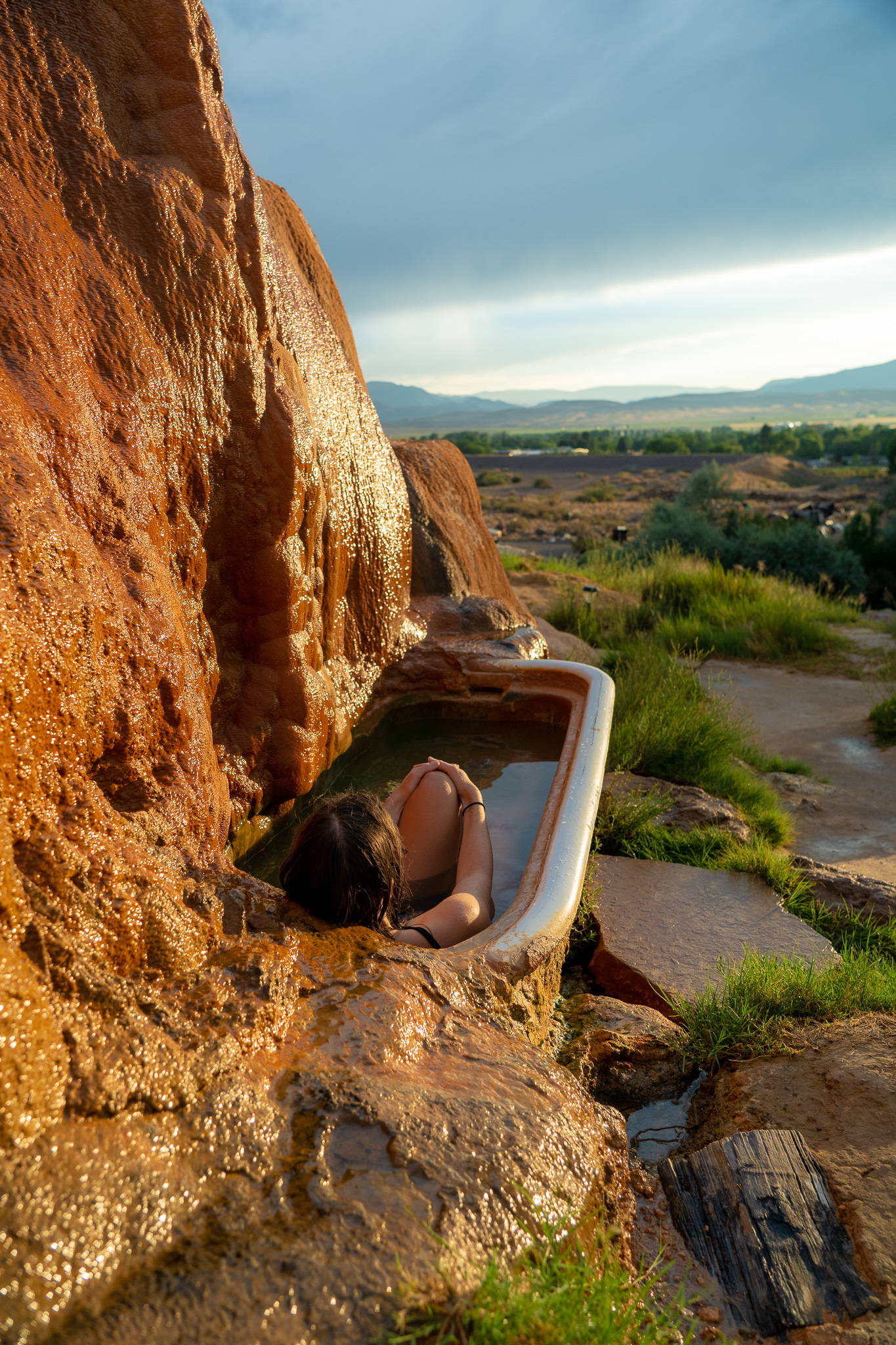 Known for its hippie vibe and no-frills take on accommodations, Mystic Hot Springs is one of the most special places you'll find in Utah. Here, the natural hot springs flow into vintage bathtubs, in which you can soak for hours at a time, enjoying views of the surrounding red rocks and unspoiled nature.
Mystic made our list of the best places in the USA in March because the weather this time of year is perfect for visiting the springs. The temperatures peak around the mid-50s and dip into the high 30s at night, making it chilly enough to fully appreciate the steamy springs but not bitterly cold.
Start planning your trip to Mystic Hot Springs and take advantage of this hidden gem before it explodes in popularity.
2. Hike to Little Wild Horse Canyon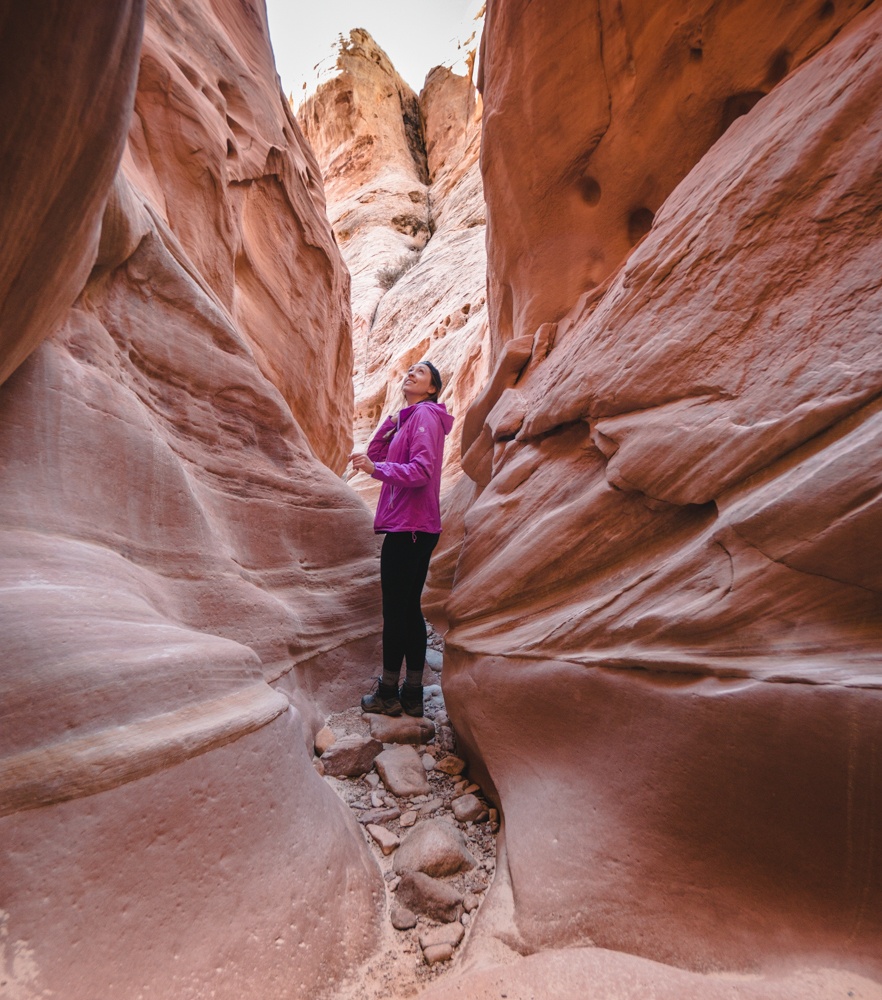 This gorgeous slot canyon, part of an eight-mile loop trail, is one of the best hikes in March, because the weather is mild and there likely won't be many other visitors. The trail is one of Utah's best kept secrets, so it's ideal for travelers who want to get off the beaten path and see more than just the national parks.
Little Wild Horse Canyon is close to Goblin Valley (another stellar place) and a great addition to any road trip. Parts of the trail are at risk of flooding in the summer when there are heavy rains, so March is the ideal time to take advantage of the canyons while there's a low risk of flooding.
3. Explore Coyote Gulch in Grand Staircase Escalante National Park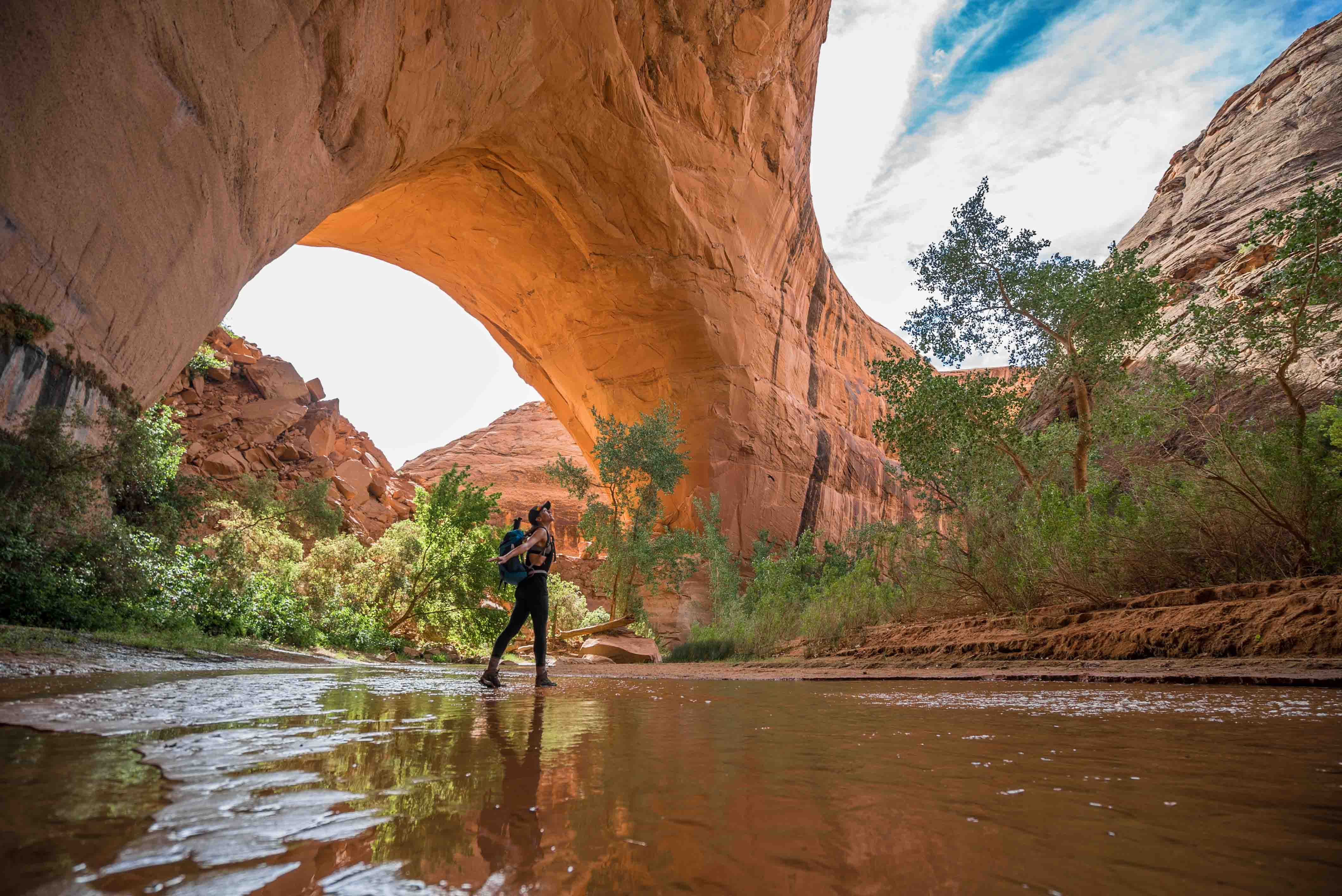 Sure, Grand Escalante National Park is uber-popular, but have you heard about the legendary Coyote Gulch hike? Orange rock arches, flowing rivers, and immaculate scenery around every corner await you there. The best part? It's more remote and has far fewer visitors than other parts of Grand Escalante, meaning you won't have to share the views with anybody else.
Though March is chilly, it's an awesome time to do the Coyote Gulch hike, because there's low precipitation and so less of a flash-flooding risk. As long as you avoid spring break, the crowds are almost nonexistent.
4. Take a scenic flight over Moab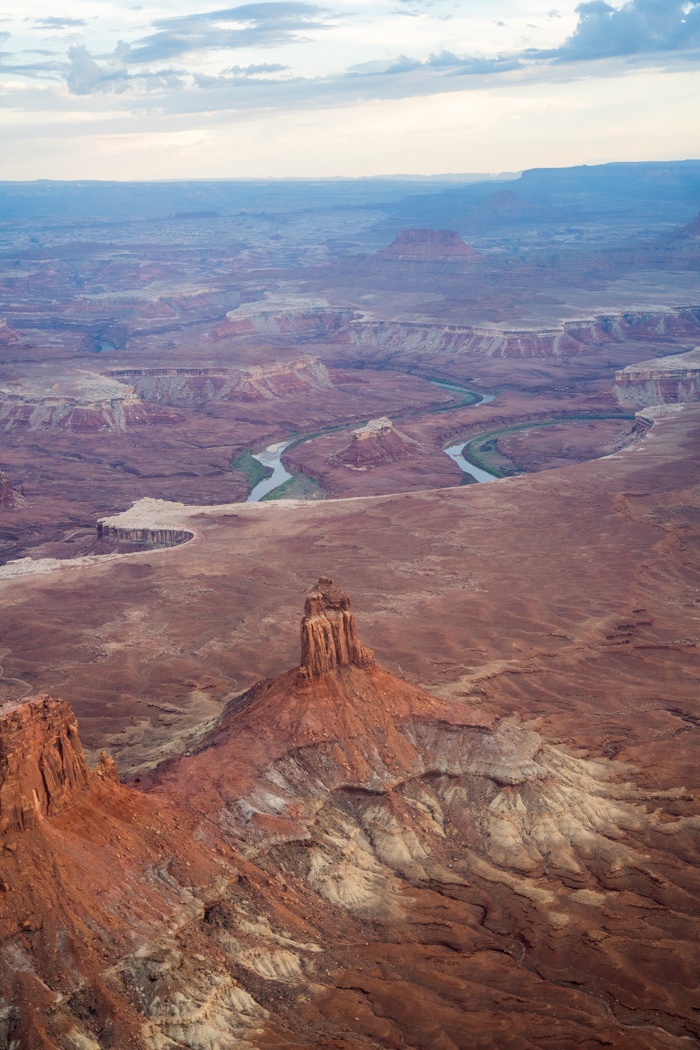 When it comes to visiting Moab, one of the most epic things to do there is to take a scenic flight over Arches and Canyonlands National Parks. From above, you'll get to see Moab's unparalleled beauty, and take in more of the scenery than you ever could on land. Since there might still be some snow lingering on the mountain peaks in March, it's an awesome opportunity to see a greater contrast of colors.
Scenic flights anywhere can be pricey, but the one over Moab is definitely worth it. Find out why — and where to book your scenic flight — here.
5. Do a national parks road trip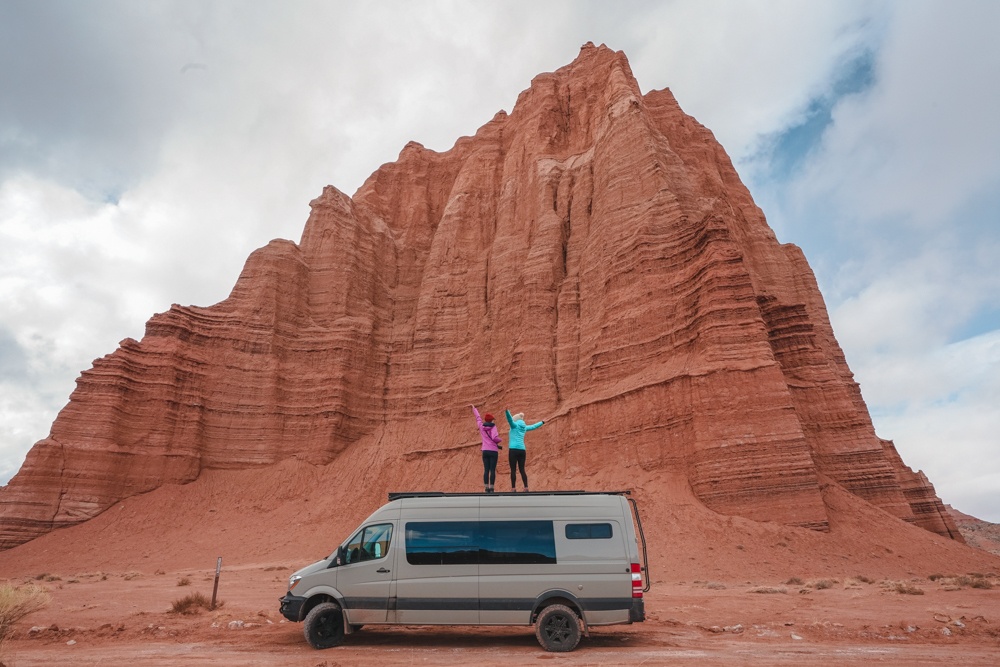 Utah is most famous for having some of the best national parks in the USA. Why not try to see them all on an epic road trip through the whole state? Sure, a road trip as grand as this one takes some tactful planning, but the payoff is huge. From the hoodoos of Bryce Canyon to the stunning formations in Arches and the mind-blowing views at Zion, prepare yourself for an unforgettable trip.
March is a fantastic time to embark on this adventure, because the weather is mild and dry this time of year. You won't have to worry about your whole trip being spoiled by monsoon-like rains or scorchingly hot temperatures. Plus, March's tourist numbers are quite low compared to the summer months, with the exception of spring break.
6. Go car-camping in the Valley of the Gods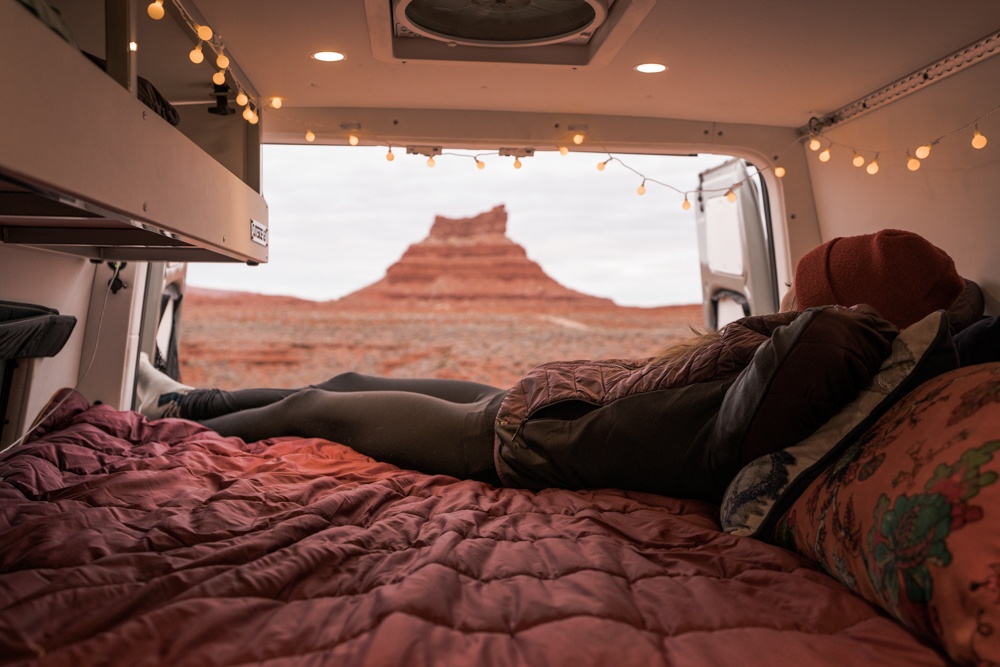 Want to take your Utah road trip to the next level? Consider car-camping so you can wake up to incredible views and enjoy a peaceful morning in the wilderness. Since there are literally millions of acres of BLM and public land in Utah, it really is your oyster for camping.
If I were going to car-camp in Utah, I'd choose Valley of the Gods, because it's more low-key, and there are some stunning views of red buttes.
March temperatures can be quite chilly at night, especially at higher altitudes and in the northern part of the state, so car-camping is a more comfortable than other ways to camp. We even have a handy checklist you can use to prepare.
7. See hoodoos in Bryce Canyon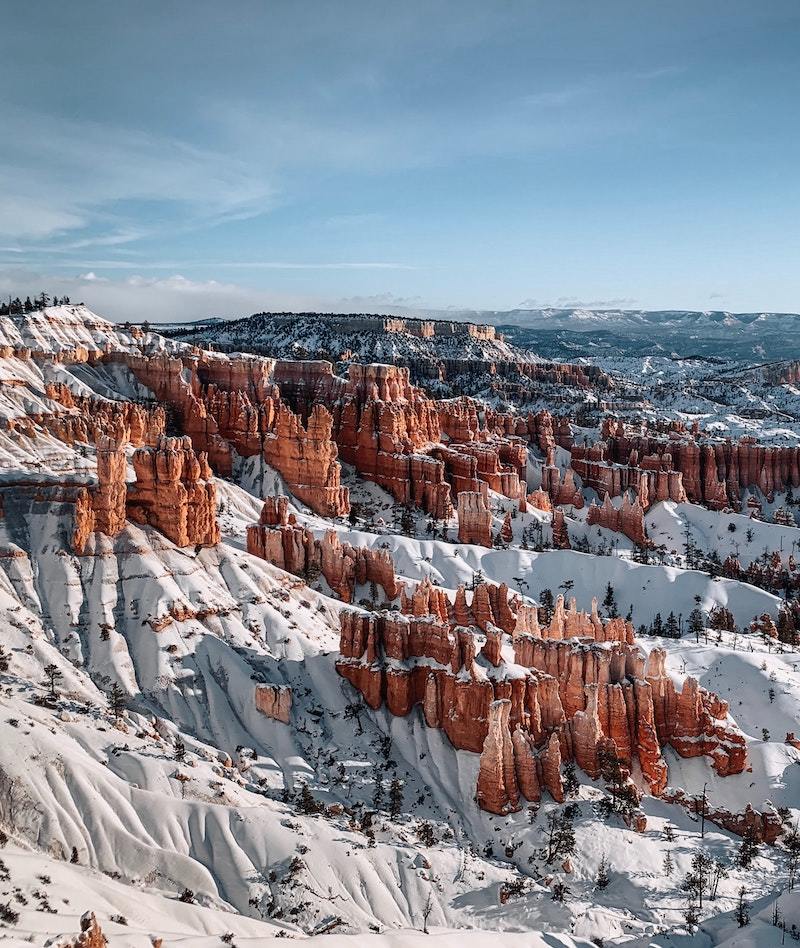 Bryce Canyon National Park is a treasure to behold and a must for anyone's Utah itinerary. It's most famous for its hoodoos, tall and skinny rock formations that jut out of the ground in clusters.
March in Bryce Canyon is typically cold and snowy, which might not sound like a springtime paradise, but hear me out. The hoodoos are quite special to witness when there's snow on the ground, because of the stark contrast of bright white and reddish-orange.
This is the ultimate March destination for travelers who are hanging onto winter, as there are plenty of snowy activities in Bryce Canyon. You can rent snowshoes, go on a snowmobile tour, or get around via cross-country skis. Plus, this time of year sees so few visitors that it will probably feel like you have the place to yourself.
8. Stargaze at Arches National Park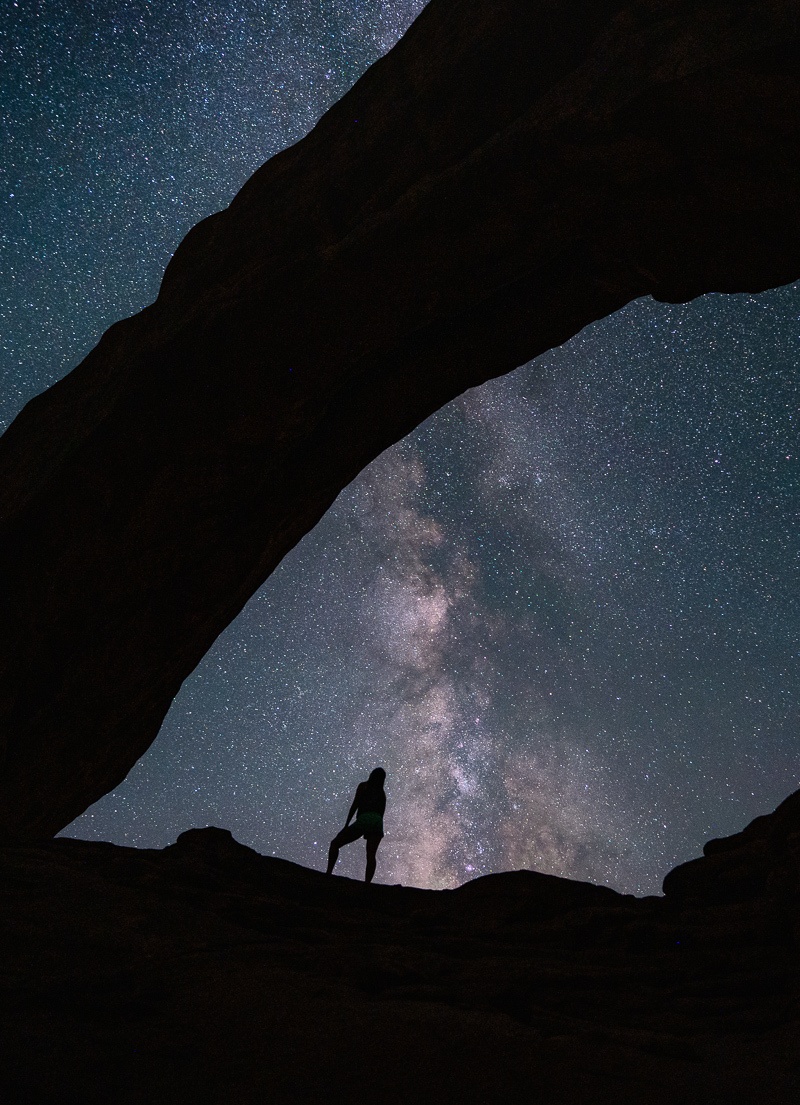 As one of Utah's most visited attractions, Arches National Park can get very crowded, putting a damper on the experience. That's why I recommend visiting in March, when tourist numbers are low and the weather is manageable. Winters can be frigid here and summers are packed, so March is the sweet spot.
Since Arches is relatively isolated from the bright lights of civilization, the night skies here are spectacular. The park even has an International Dark Sky Park certification.
Prepare for your evening gazing at the stars by packing lots of layers for chilly nights.
March Events in Utah:
9. Festival of Colors
Did you know that you can celebrate the Hindu holiday of Holi in Utah? Yep, that's right! In Spanish Fork, on March 25 and 26, you can dance, throw colorful paint, and be merry in the name of Holi. The lineup includes music performances, kirtan (a kind of singing) circles, workshops, and yoga classes, making for an action-packed festival.
10. 46th annual St. Patrick's Day Parade
This might be one of the most extravagant St. Patrick's Day events in the US. The parade has elaborate floats that rival those across the pond in Ireland, and the Siamsa Celtic celebration afterward features vendors selling Irish beer, food, and handmade goods; you can also catch performances by Irish dancers and musicians there. How's that for a party?!
11. Spring Beer Fest
Beer lovers, rejoice! The Spring Beer Fest in Ogden (March 25, 4-8pm) is the perfect addition to your Utah itinerary. Taste local brews, munch on artisanal snacks, and watch live music alongside other beer fanatics.
12. Skinny Tire Festival
Each year, cyclists gather at the Skinny Tire Festival in Moab. Since the area has some of the best road biking in the world, it's one of the most sought-after cycling destinations. If you love cycling, consider attending the festival with fellow cyclists (March 11–14).
***
Now that you have plenty ideas of the best things to do in Utah in March, let us know below which activity you're most excited about!