This post was written by Megan MacGregor, BMTM's national parks expert.
Utah, 1912: A young Boy Scout named Indiana Jones tracks a pair of treasure hunters across a desert, a spire of reddish rock curving up toward the sky behind him. This famous introductory scene of Indiana Jones and the Last Crusade, filmed in Arches National Park, showcases the epitome of Utah scenery.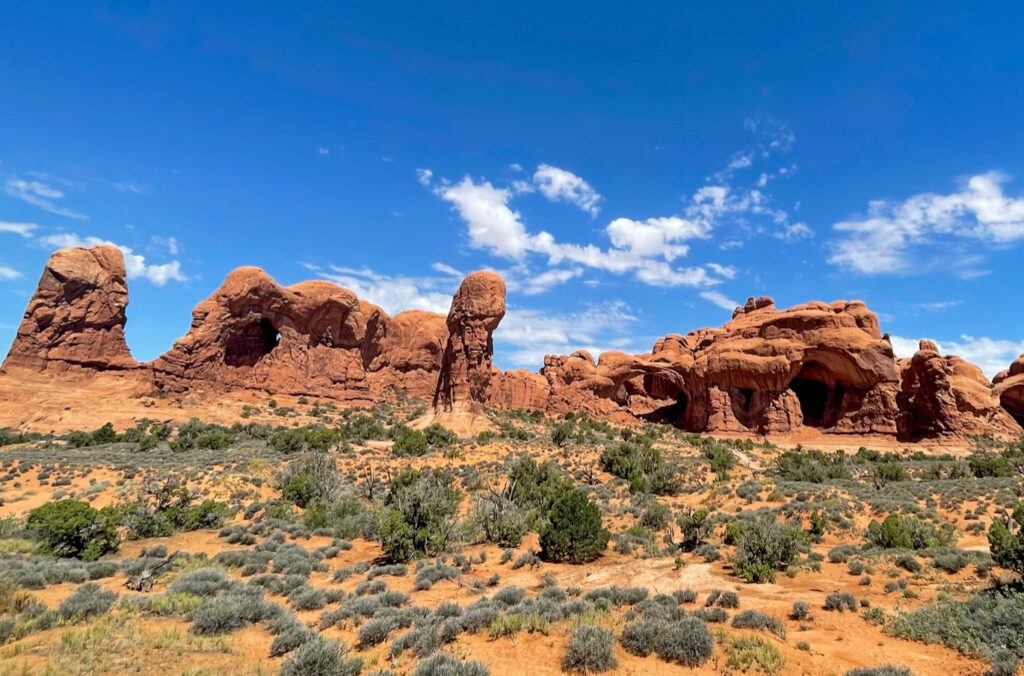 Known as a "red-rock wonderland," the national park garners its name from the 2,000 natural stone arches erupting from the desert across 119 square miles. While I didn't visit Arches intending to locate lost treasure like Mr. Jones, I did discover that this unique gem of a place was unlike anywhere I'd ever visited in the continental United States.
If you are planning to visit Arches National Park, here's everything you need to know to get the best out of your next adventure:
How to Get to Arches National Park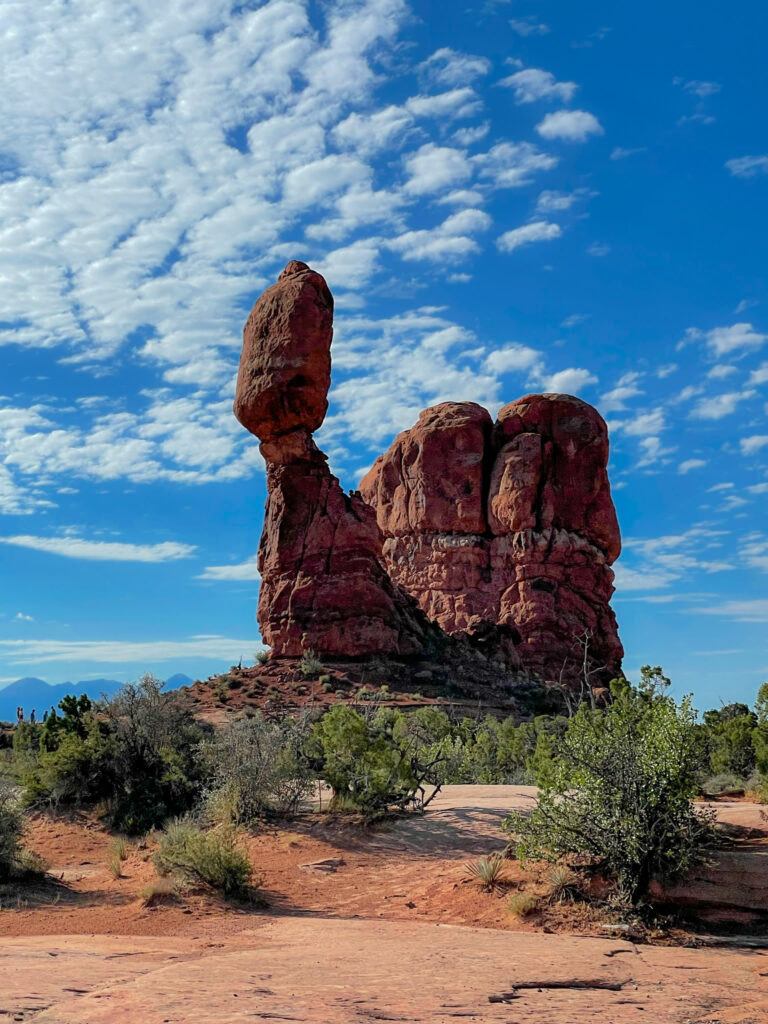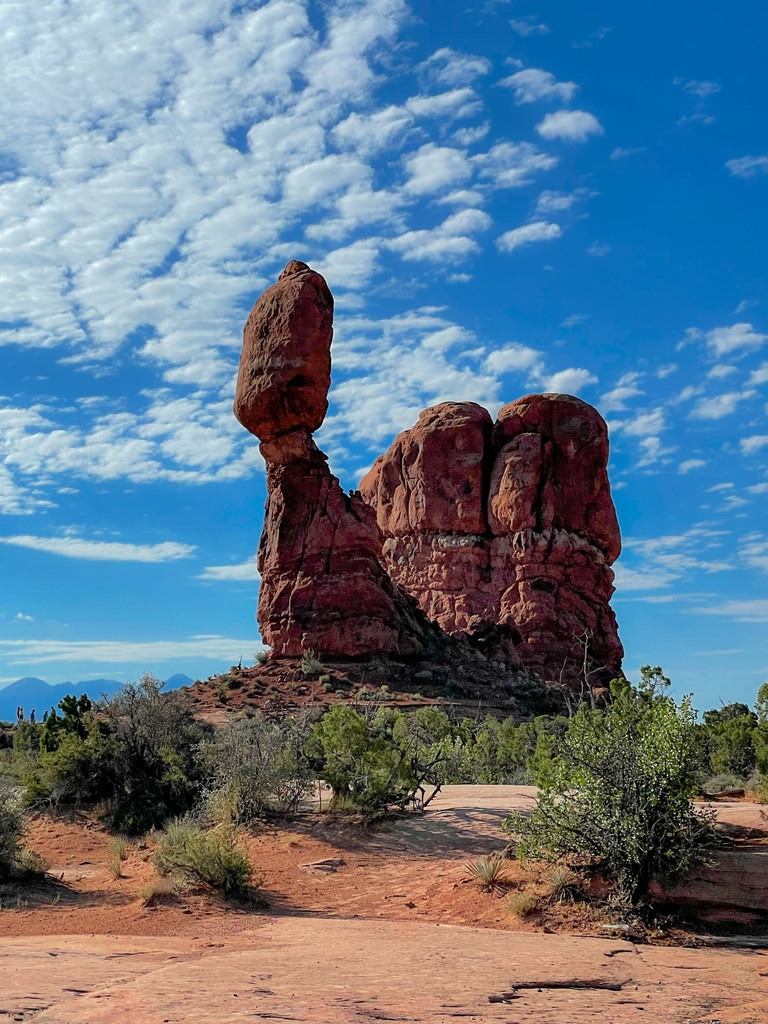 Arriving at Arches National Park is half the fun. Located 230 miles outside of Salt Lake City, the park runs parallel to Canyonland National Park and sits right outside Moab, a desert town centered purely around tourism and outdoor activities. While most people fly into Salt Lake City International Airport, Grand Junction and Canyonland Regional Airports offer closer but more expensive options.
When I planned this visit, I knew I wanted it to be a road trip (check car rental prices here). I guess the 230 miles from Salt Lake City wasn't enough, because I flew into Denver International Airport and made the 355-mile trek to Moab — in one day. The seven-hour drive took me through Rocky Mountain National Park, where temperatures dropped to 55 degrees Fahrenheit and then rose to a whopping 114 upon entering Moab.
I had two first impressions upon stepping outside: This was the hottest place I'd ever been in my life (and I'm from Florida, so that's saying a lot). And there is orange dust literally everywhere.
Anyway, I came for an outdoor adventure intending to explore both Moab and Arches, and I wasn't disappointed.
Entering the Park and When to Visit
For high season in 2023, from April 1 – October 31 between 7am and 4pm, there will be a timed-entry system in place to help spread out the crowds. You can apply for a permit here. Permits incur a $2 reservation fee in addition to the park entry fee of $30, or you can use your annual parks pass.
One hundred and nineteen square miles might sound vast, but Arches is actually one of the smaller national parks; the two-lane road from the entrance to the furthest trailhead is only 18 miles. The park is driveable in less than a day, although there are enough hikes that you can easily make your trip a multiday experience. You can also download an audio tour to play in your vehicle: much like a brochure, you can use this to learn about the background of the park without missing any of the views.
It was early August when I arrived, and I was surprised to find it wasn't super crowded. Upon stepping outside, I quickly realized why: 114 degrees is no joke — obviously — but to say the air is dry means that a single breeze is like being slapped by fiery sandpaper. I later discovered that people typically visit the park in spring and even winter!
June to September, the hottest months, bring fewer visitors to the park. If you prefer smaller crowds, then I suggest visiting during that period, but I can say from experience: you do not want to be on a hike in the middle of the day. The early morning hours are ideal for hiking, but early evening is even better. Even then, you'll need to make sure you're drinking water, before, during, and after.
Best Hikes in Arches National Park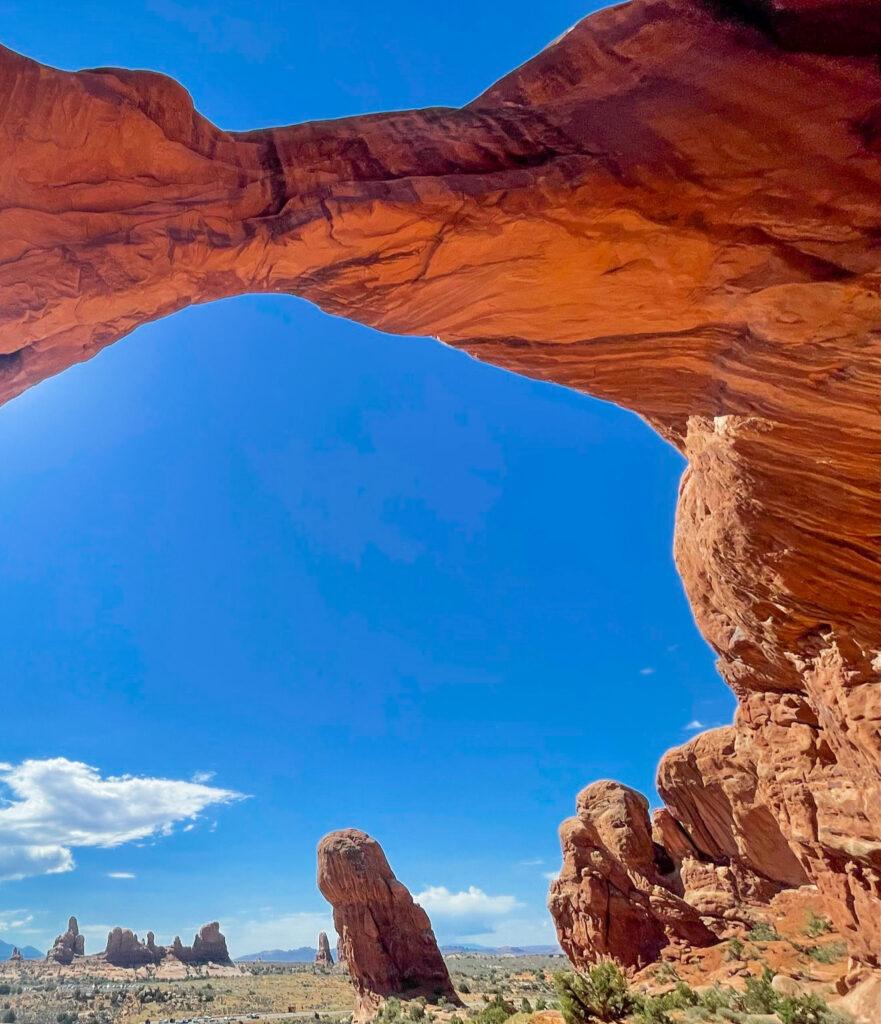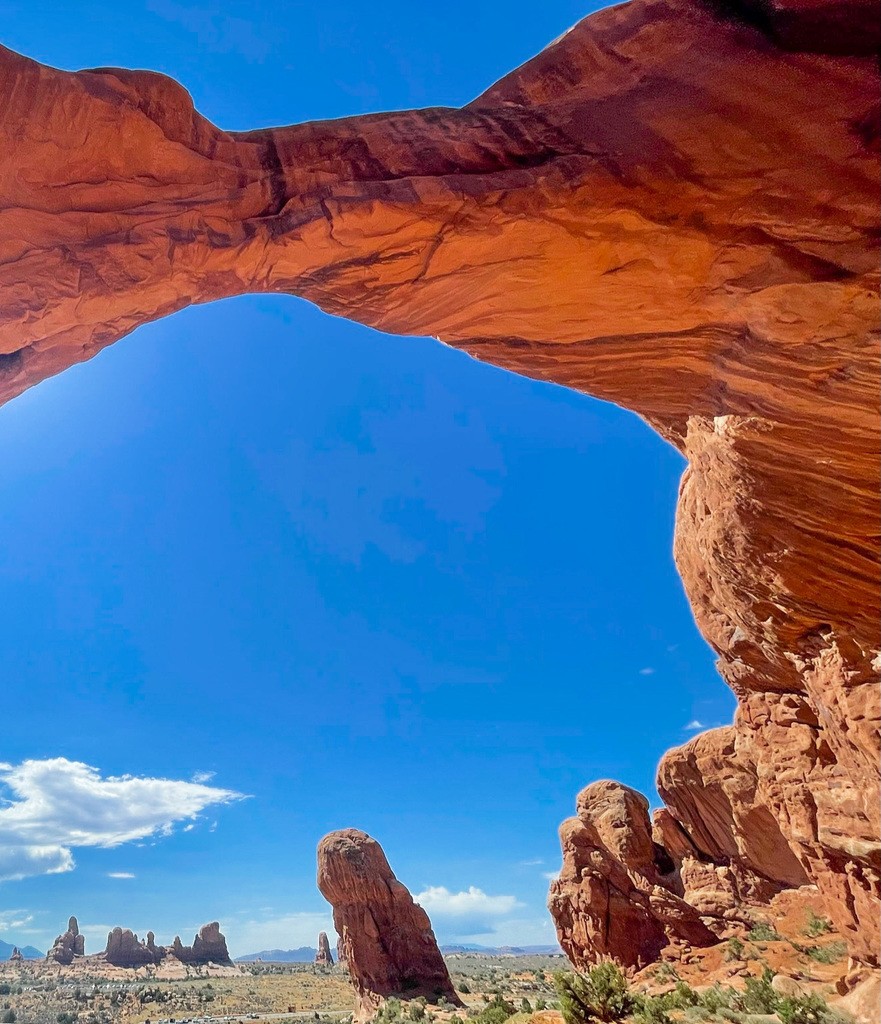 Arches is unique, because you can explore the entire park in a day or make it a weeklong experience. With 24 hikes ranging from easy to moderate and an elevation range up to 3,000 feet, there are options for everyone.
Regardless of what you choose, I highly recommend driving back through the park at sunset, and staying after the sun goes down. There was a meteor shower the first night I arrived, and although it was too cloudy to see much, traveling the park at night is a completely unique experience. While I definitely don't recommend doing extensive hikes at night, there are a handful of pulloffs where you can park your car and experience stargazing with nearly zero light pollution.
Below are the three hikes I did during my visit to Arches National Park.
Double Arch Trail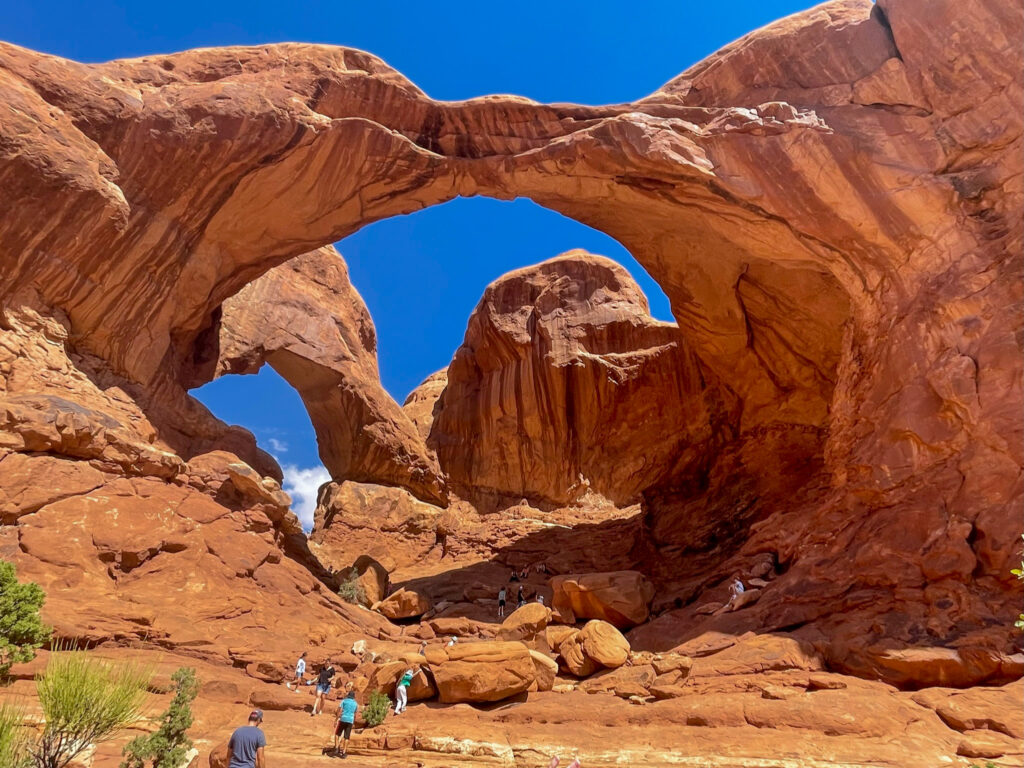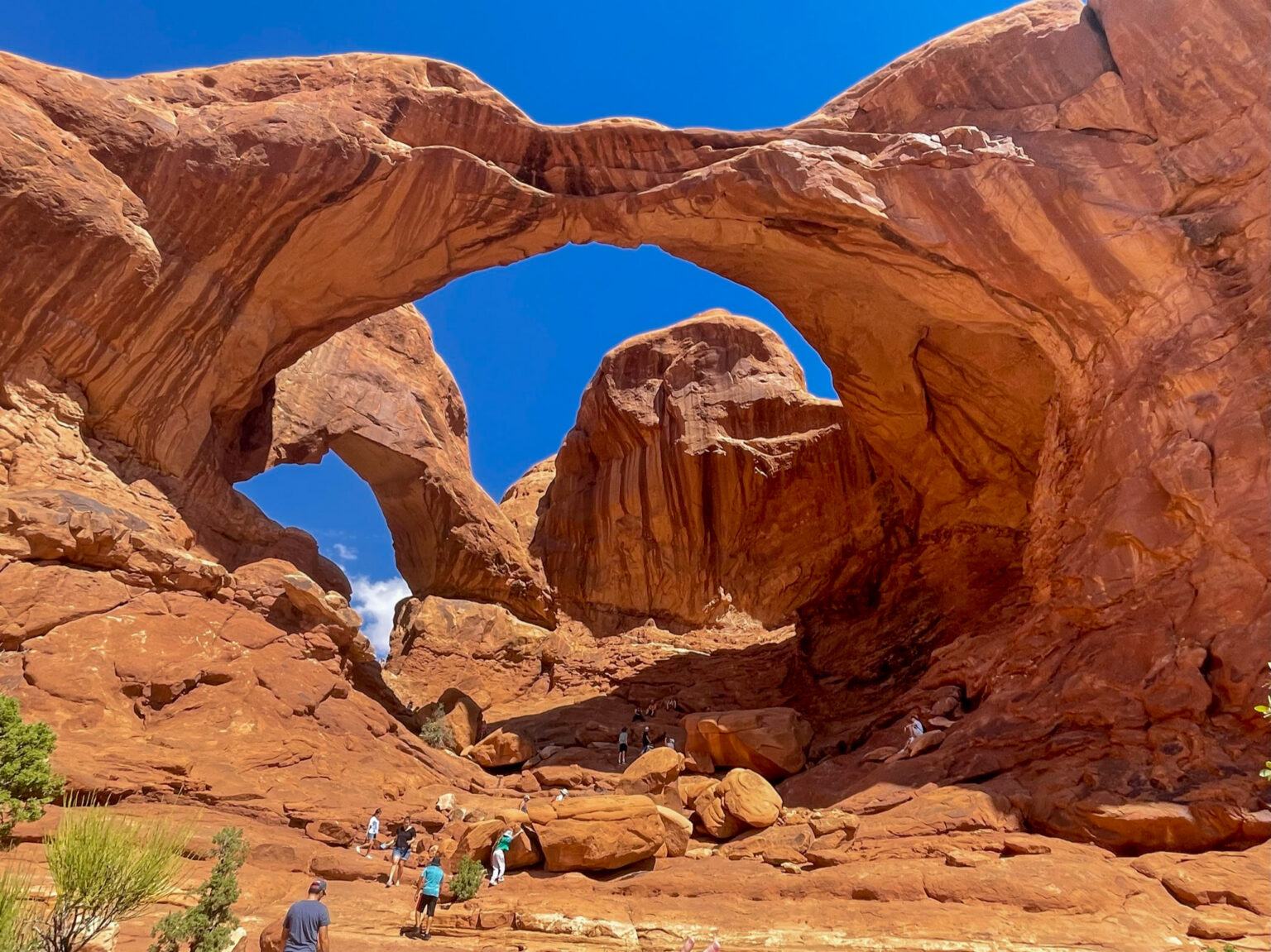 This family-friendly hike is where young Indy ventures in the beginning of Indiana Jones. It's a short, six-mile hike on mainly flat ground, with a mild elevation of 95 feet. The dirt path leads up to the base of the arches. You can admire the curving formation from here, or you can climb up onto the rock and sit in the shade beneath the arches, which is a relief. It's an easy incline to do the latter — children sprinted up it faster than me. The arches are massive, and being able to sit beneath the stone formations is a unique opportunity other hikes don't offer. Overall, this is one of the most accessible hikes in the park.
Delicate Arches Trail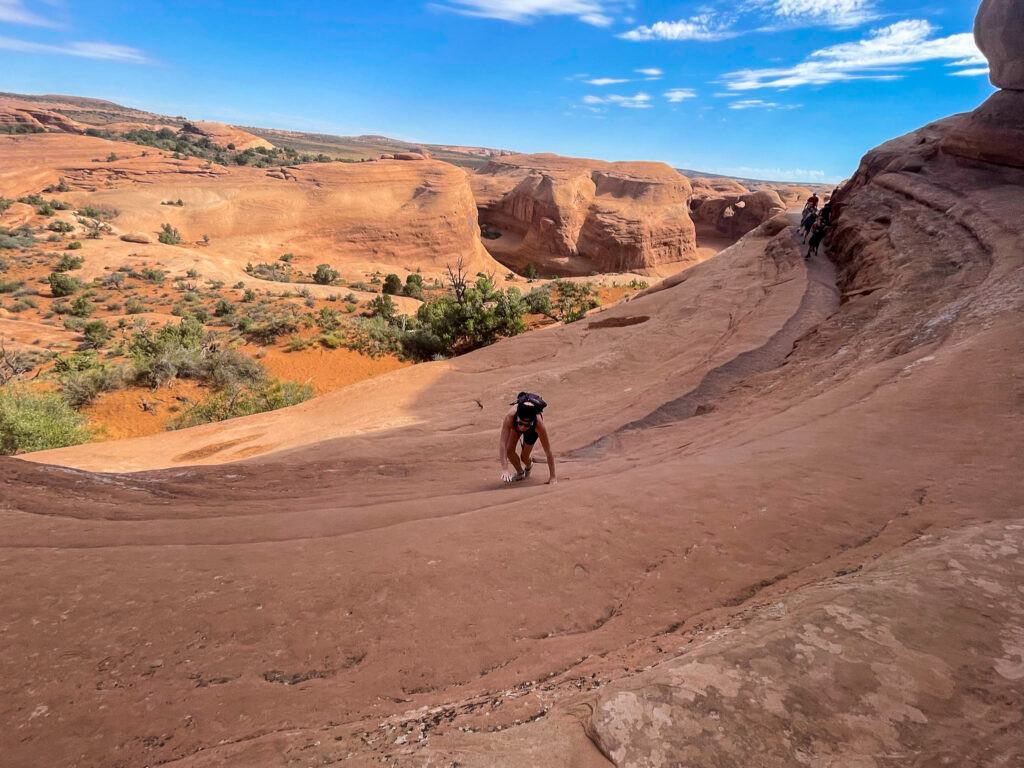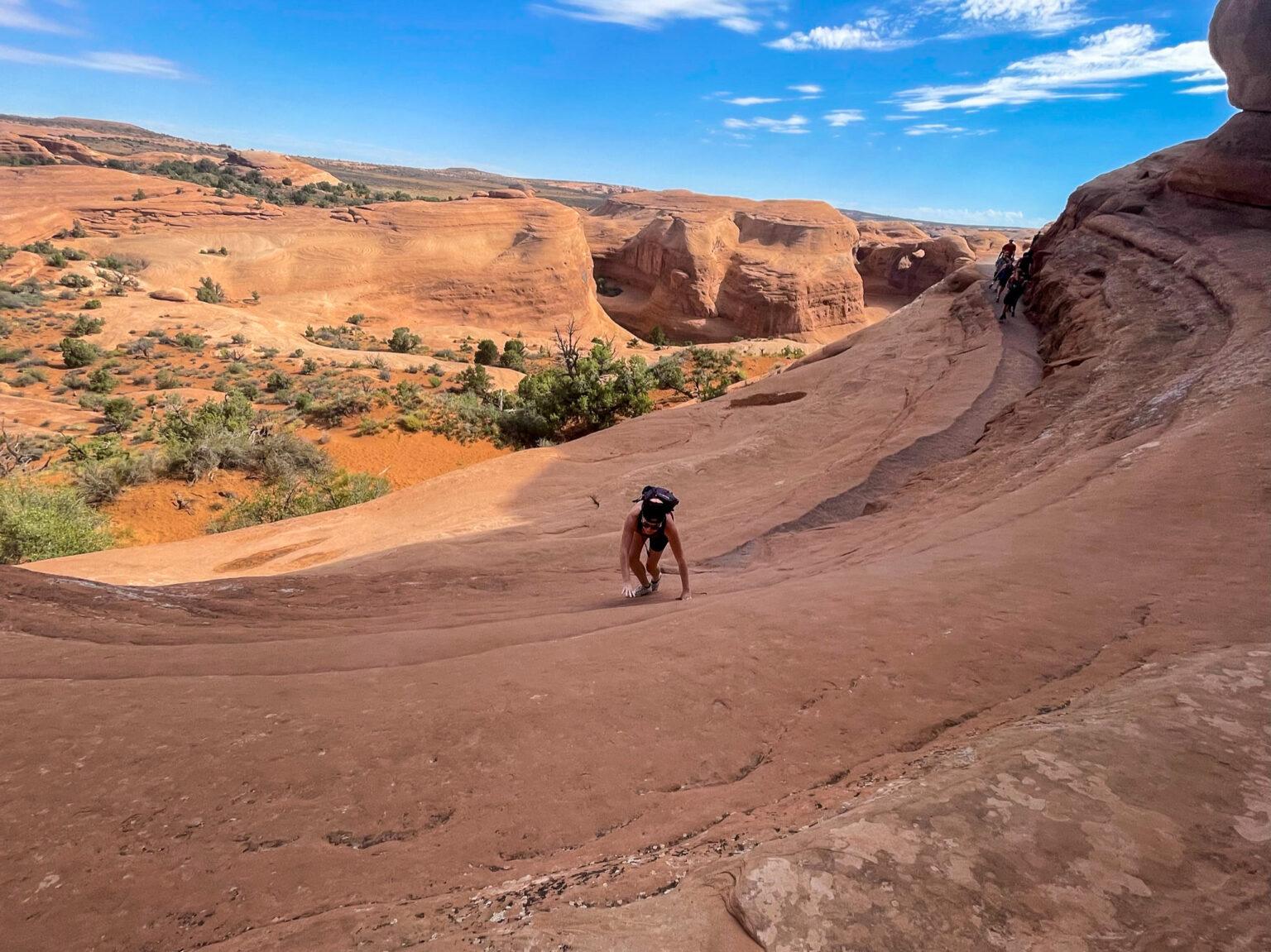 This is the most popular hike in the park and leads to the famous arch that graces almost every license plate in Utah. The trek to get there isn't easy, however. With an elevation gain of 629 feet and a round-trip distance of 3.2 miles, this trail is definitely not for the faint of heart. There's also little to no shade and a significant number of steep inclines, making this more of a moderate hike, but one worth the journey if you dare to try it.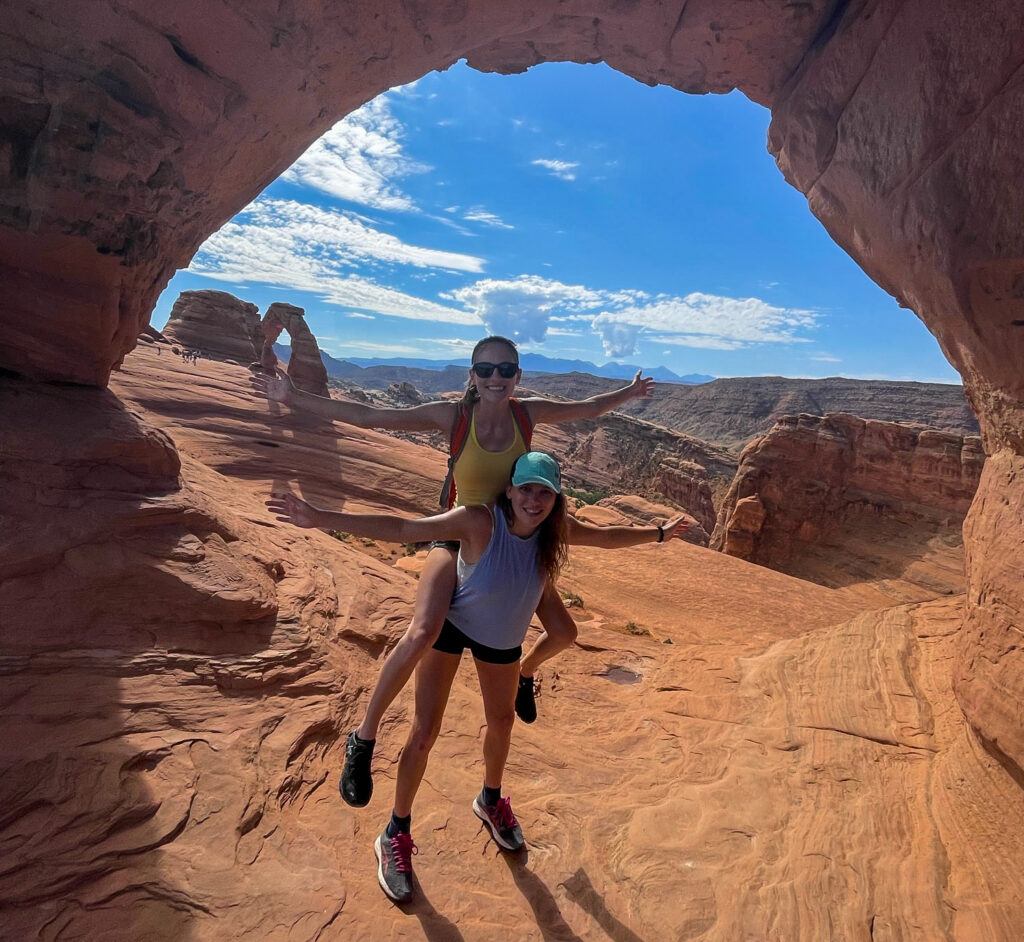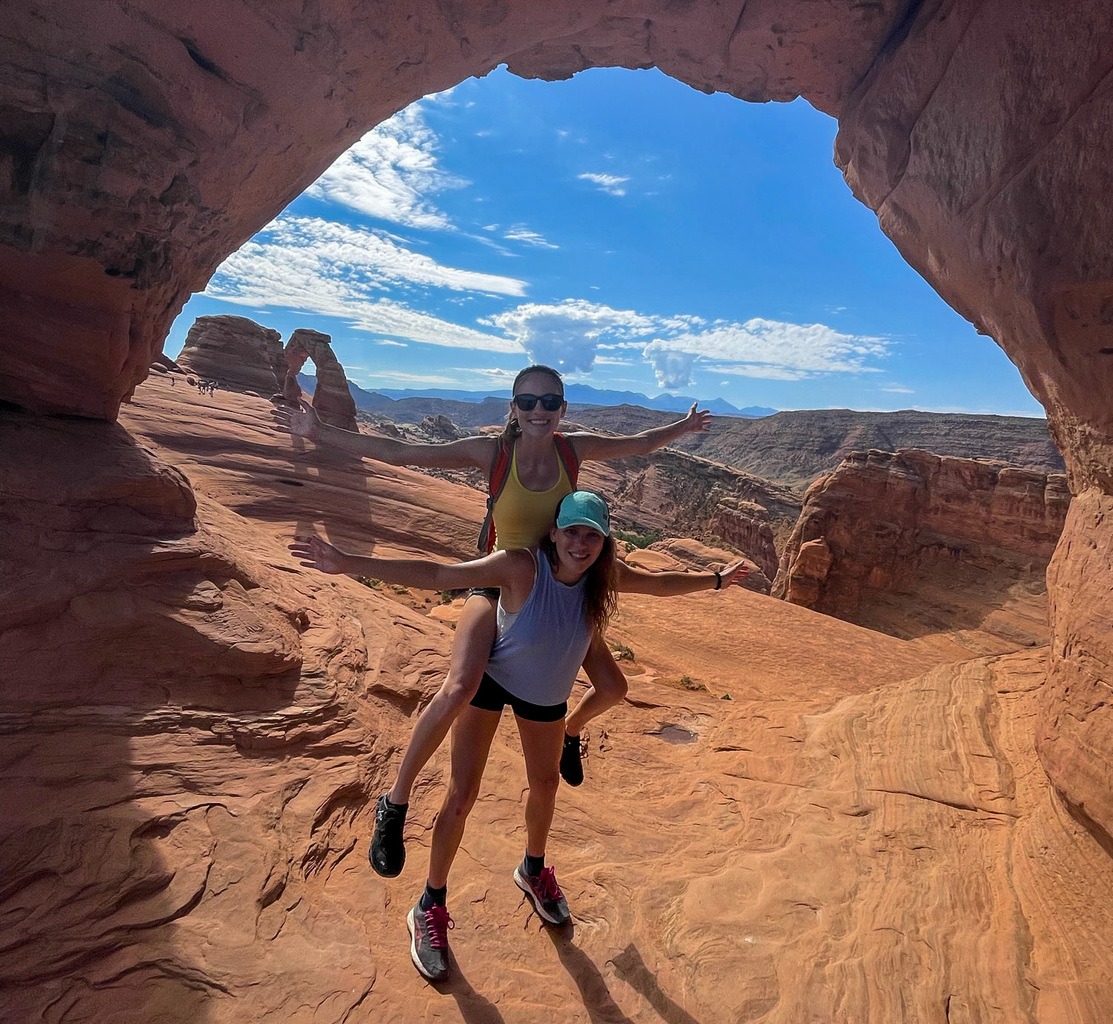 I'll be honest: reaching the destination wasn't some eye-opening, breathtaking moment. Because of its popularity, there was a significant crowd surrounding the arch, and a line of people waiting to walk up and take pictures beneath it. Also, compared to the rest of the arches in the park, it's one of the less impressive ones, sizewise. However, much of the hike to get there offered a 360° view that showcased the breadth, distance, and unique color striations of the surrounding desert.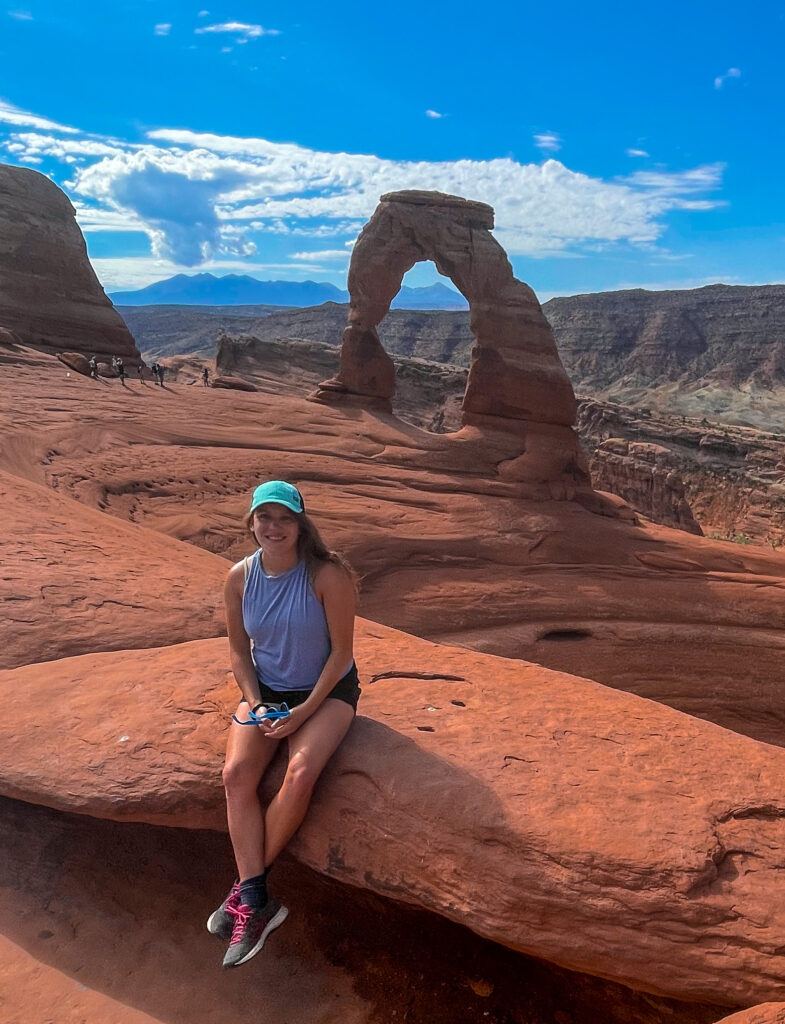 If you decide to take this hike and consider yourself to be in relatively good shape, there is a spot where you can step off the trail, right before you reach the corner that leads to the prime viewing spot for the arch. You have to climb up a flat, somewhat steep portion of rock, and then you'll be able to peer through another arch to see the major attraction off in the distance. There was a small line of people waiting to take photos, but overall, that point was much less concentrated than the final destination.
Windows Loop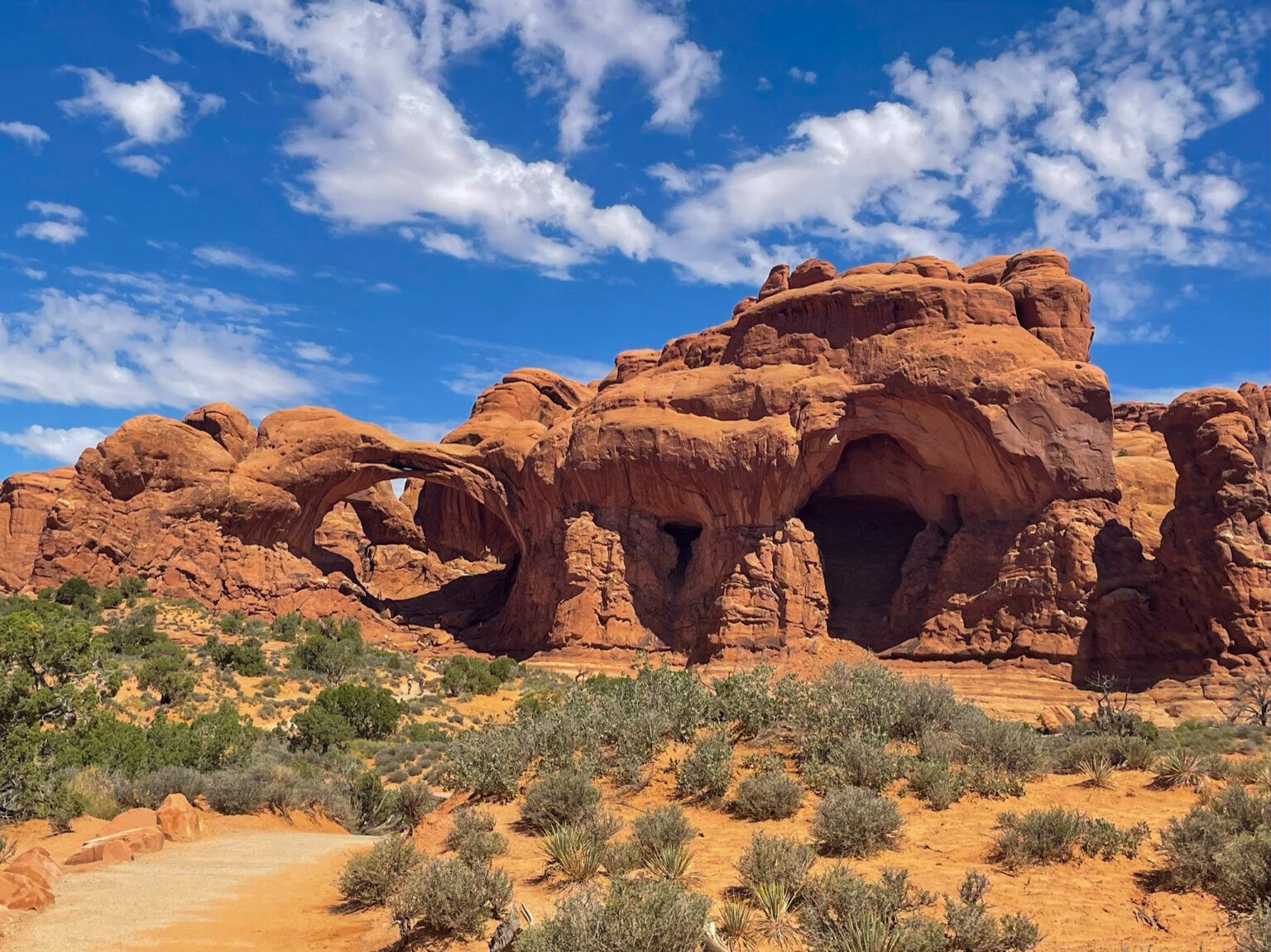 This 1.2-mile loop trail offers a pleasant hike for those who want to witness the expanse of the Utah desert without putting in too much effort. It's cConsidered an easier trail, with only a 194-foot elevation gain, so you'll be able to get similar views that the Delicate Arch Trail offers, without pinching that cramp in your side and wondering "Are we there yet?" At the end, you'll see Turret Arch, a free-standing formation that offers views of the rest of the park.
Stargaze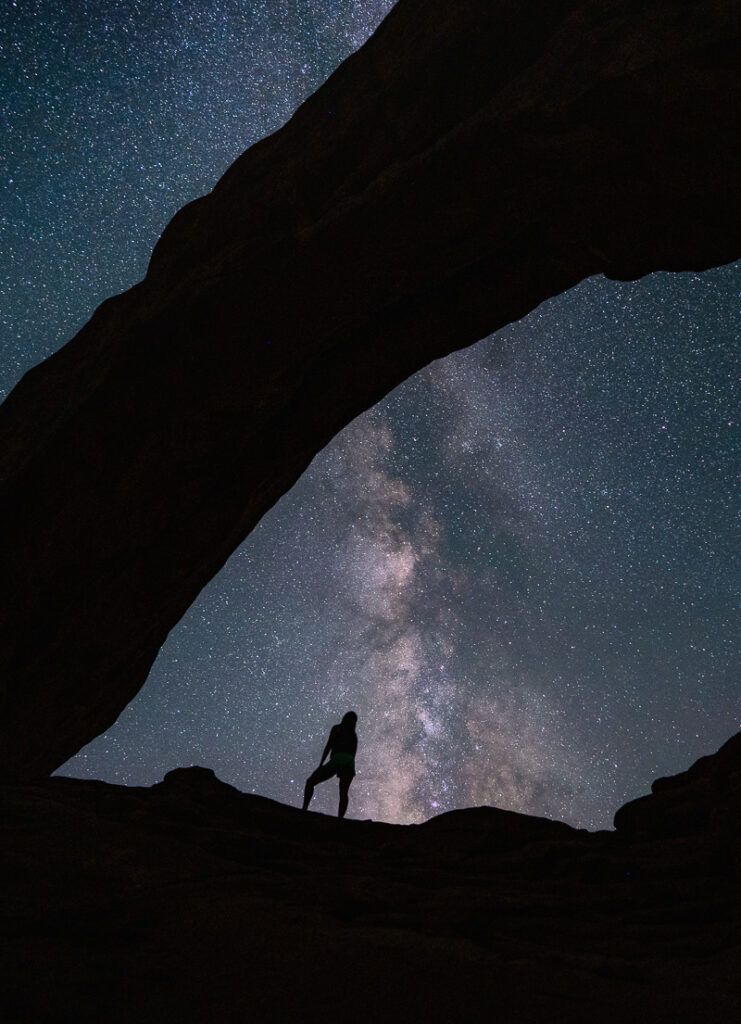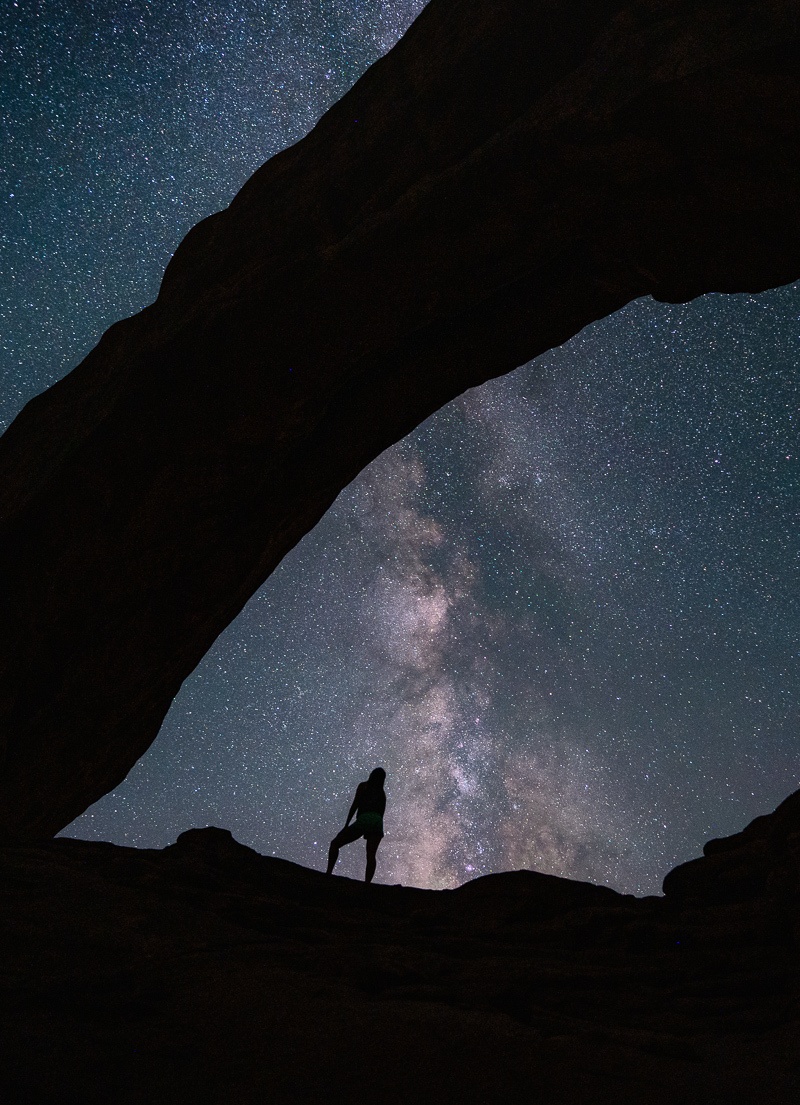 So much of the park is incredible after dark! If you're there during a new moon, and especially between the months of March and October to see the Milky Way core, head to the park at night and enjoy it without the crowds.
Things to Do in Moab
Moab is a small town with a little more than 5,000 permanent residents. Everything from the billboards to the gas stations advertise Arches and Canyonland National Parks and the variousvarying hikes and excursions you can experience. There's a quaint downtown where tour companies are posted on every corner and local shops sell hiking supplies and handmade gifts. If you'd really like to go all out, you can fly over both Arches and neighboring Canyonland National Park.
Canyoning
Canyoneering, or canyoning, is a unique way to explore both Arches National Park and the surrounding rock cliffs in greater Moab. The experience involves hiking uphill and then sliding into a harness and attaching it to rings embedded into the rock. From there, you rappelrepel down the cliff faces, ranging anywhere from 20 to 100 feet high.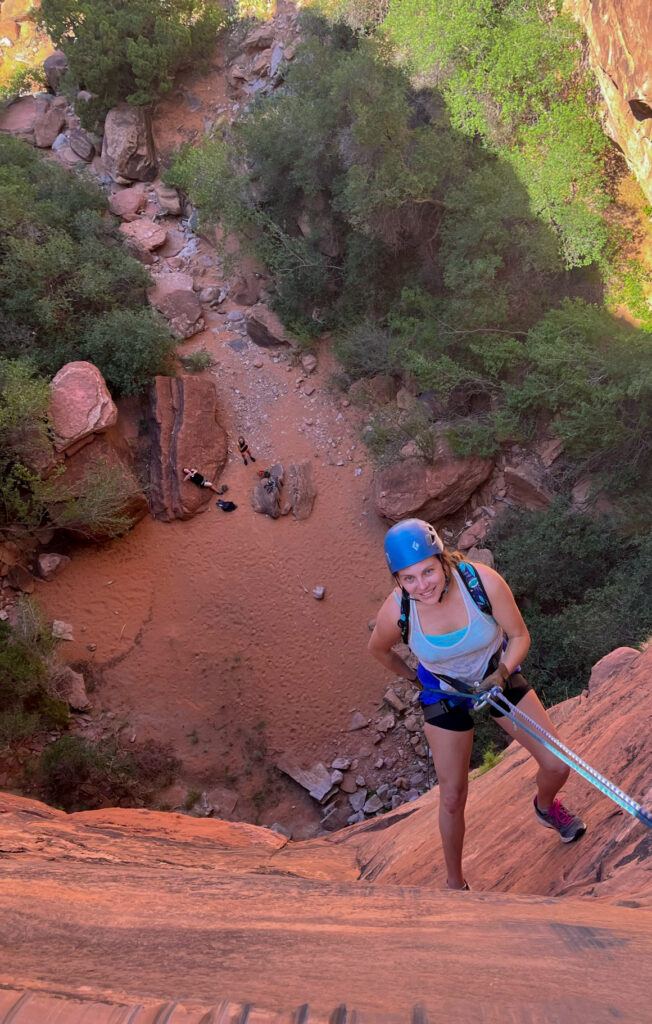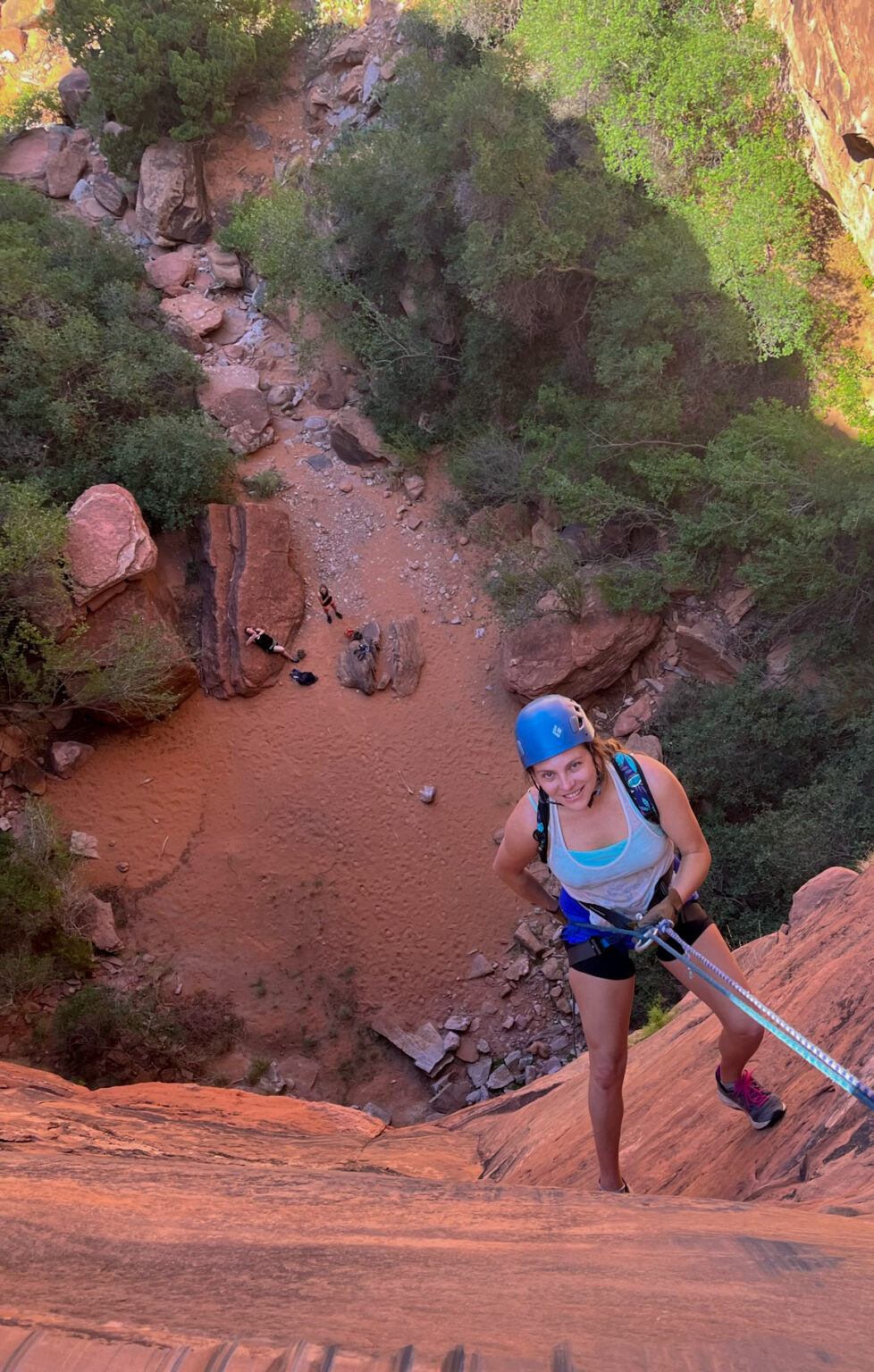 While it's possible to do this in certain areas of Arches, I chose a guided tour just outside of Moab, which ended up being an awesome experience. I highly recommend paying someone to take you: not only can it be dangerous to go on your own, but guides can show you unique routes you may not find yourself.
Although there are half-day and full-day options, I ultimately chose the latter. Around sunrise, our guide drove us to an area outside of Moab that was completely deserted. There's nothing quite like the silence of the desert. And not only was I part of a group of just four people, throughout the entire day, we never saw another soul.
But let me tell you: the eight-hour trek was no joke. I consider myself pretty fit, and this was by far the most strenuous hike I've ever done. Not only did we have backpacks with supplies, water, and food, but in some portions, we had to squeeze between tight spaces and scale up rocks sideways. It took us over three hours to hike to the top of the cliffs, and then we spent the rest of the day rappellingrepelling down three cliffs, the highest being over 120 feet high.
Half-day tours will be a little less taxing cardio-wise, and typically won't go above 50 or 60 feet, helpful for those who may be a little nervous about heights.
Whatever you do, watch out for poison ivy. On our last cliff, I rappelled directly into a patch: hilarious for my friends watching down below, not so great for me.
Wineries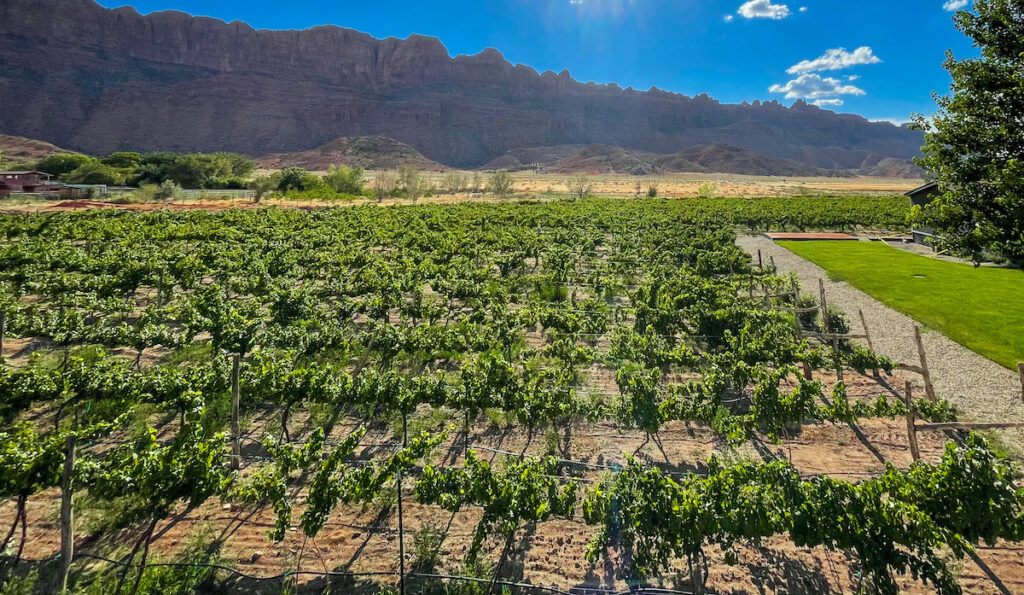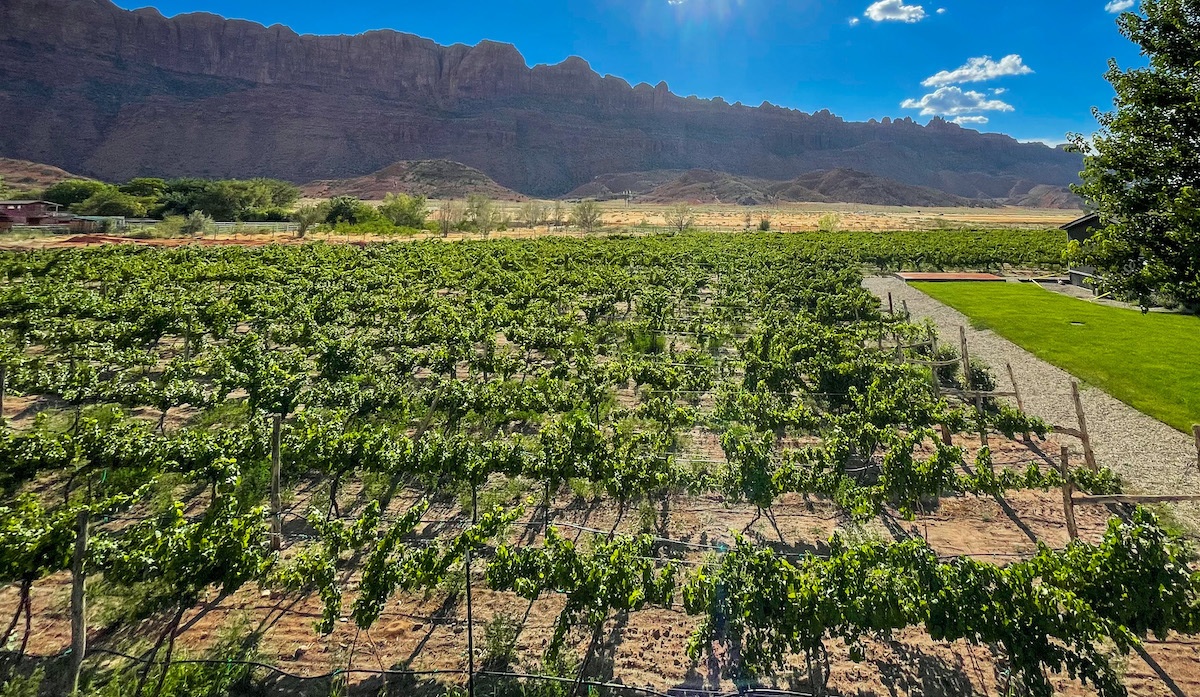 If you're exhausted and thirsty after a day of hiking, there's something you need to keep in mind about being in Utah. Alcohol laws in the state are strict and vary depending on the county. If you'd like to purchase alcohol at a restaurant, you must order food as well, and don't expect to find liquor on the menu. All beers will be under 5% as well. For anything stronger, you must go to a liquor store, and although they do exist, they are heavily taxed, with the wholesale cost marked up by 88%.
If you're like me and you're more fond of wine, well then, you're in for a treat. The desert is great for growing grapes.
There are two wineries in Moab. I visited Spanish Valley Winery, a beautiful place with a view of Canyonlands National Park on the horizon. Rows of grapes and vines surround the property — probably the most greenery I saw during my entire trip. It was also the only place I spotted wildlife: rabbits hopping around searching for food.
Places to Stay in Arches National Park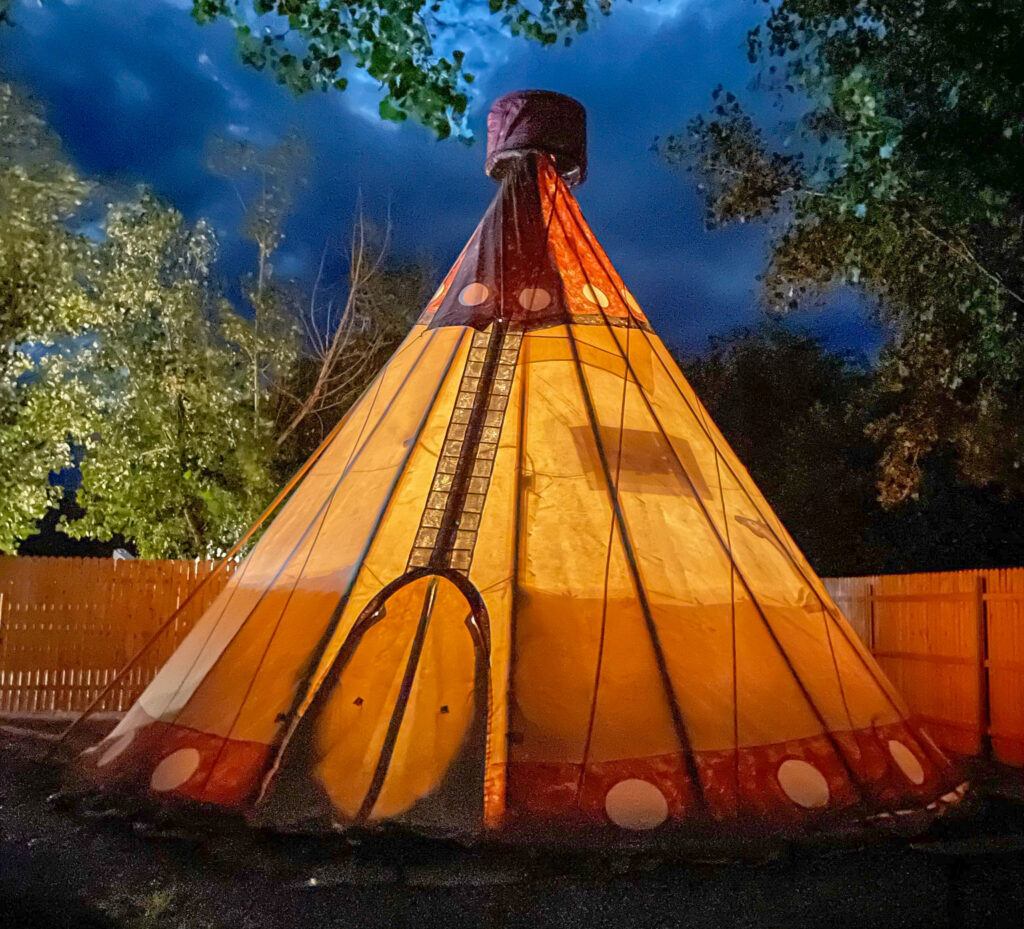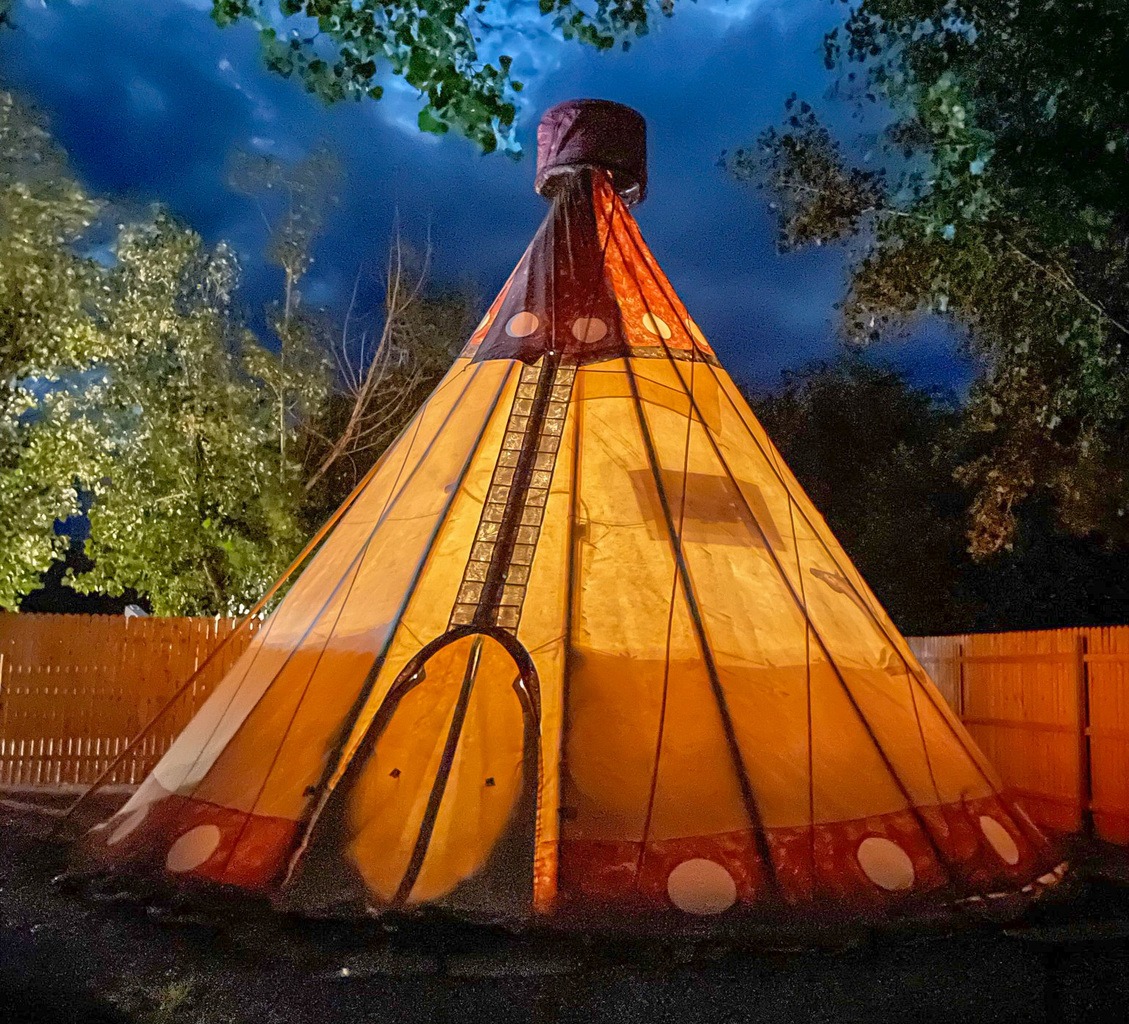 The one road in and out of town has dozens of hotels. But if you'd like to experience the desert in a unique way, I highly recommend staying in the teepees at the OK RV Park campground. My accommodation came with two queen-sized beds, two massive air conditioners, and a mini fridge.
The campground also has a washer and dryer, which will come in handy after you're covered in orange dust from hiking.
With prices starting at $130/night, it's an affordable and unique way to stay in Moab, especially if you plan to be out and about most of the day, as even with the air conditioners, it can get hot inside.
If you'd like a more upscale camping experience, check out this glamping option three miles outside of Arches: Under Canvas Moab, where prices start around $250/night for one bed.
Keep in Mind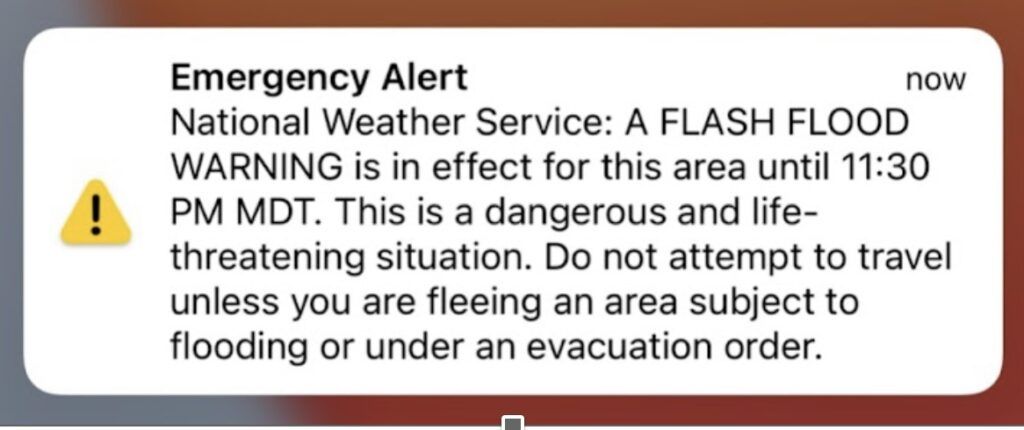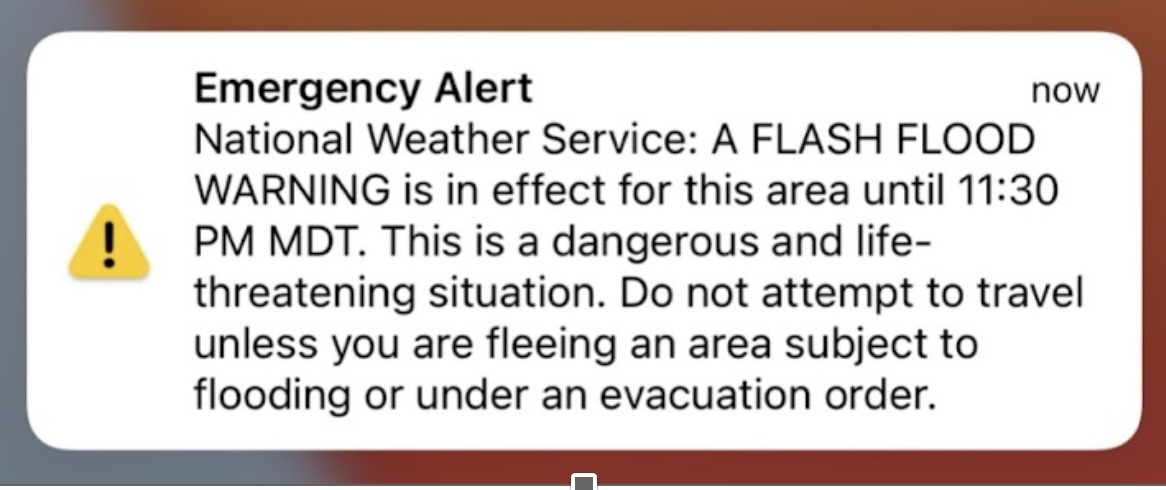 My first night in Moab, my phone started buzzing, and an emergency alert popped up on my screen: a flash flood warning. Although Moab has a 1-in-100 chance of flooding in a single year, those like the one I experienced are more common. Since I grewGrowing up in Florida, the wind and rain reminded me of a Category 1 hurricane, although of a much shorter duration.
This can be a dangerous experience if you find yourself in the cliff valleys, where hiking is popular. The ground is stone instead of soil, so there's nowhere for the water to flow, and in less than 30 minutes, dried creek beds can overflow.
Although this storm didn't flood the streets, a week after I left, a "hundred-year flood" struck Moab, inundating much of the town.
When you're not finding cover from flash floods, you're going to be in the sun 99.7% of the time (even if it's significantly cooler in the shade) and drenched in sweat, so make sure you bring a good day pack and stainless steel water bottle to ensure you stay hydrated. And definitely don't forget sunscreen and good hiking shoes (for the latter, I swear by Merrel!). 
***
Overall, this trip blew my mind. I've always preferred the beach and forest, but this trip offered a unique perspective on the beauty and power of nature that the desert can offer.
What would you like to experience when visiting Moab and Arches?