When planning my Azores trip, I became excited about the variety the islands offered, and at such a great value. From whole vacation homes with a charming feel to a hot spring resort and a home from the 1700s with its own waterfall, these are the best places to stay in the Azores:
1. Octant Furnas on São Miguel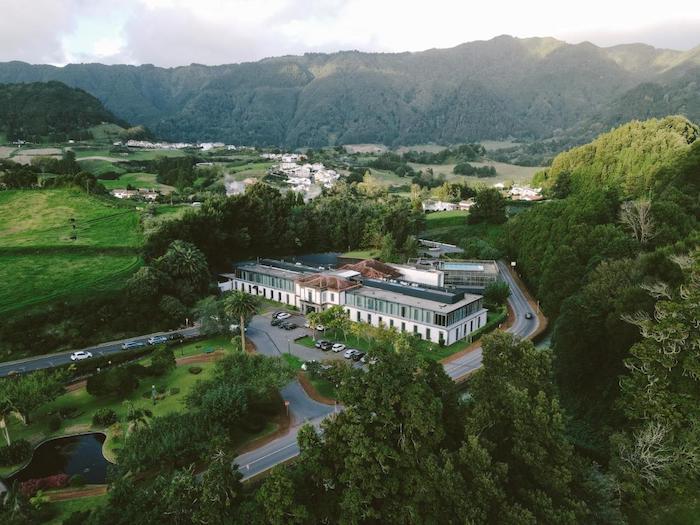 The Octant Furnas on São Miguel is a design and spa-lover's dream. Set in a bubbling, subtropical town on the southern part of the island, this area is famous for its steaming volcanic activity. Octant harnesses this for their natural hot springs. I loved that they were open 24 hours per day, plus they had an extensive spa menu.
It's also a feast for the eyes – the heavy contrast of the white and black building style with the lush green of the environment made it feel chic but like it belonged. Speaking of feasting, the breakfast spread took up several counter tops all around the dining room, with extensive pastry, savory, cheese, fruit, coffee, juice, and bread options in a dining room full of ferns.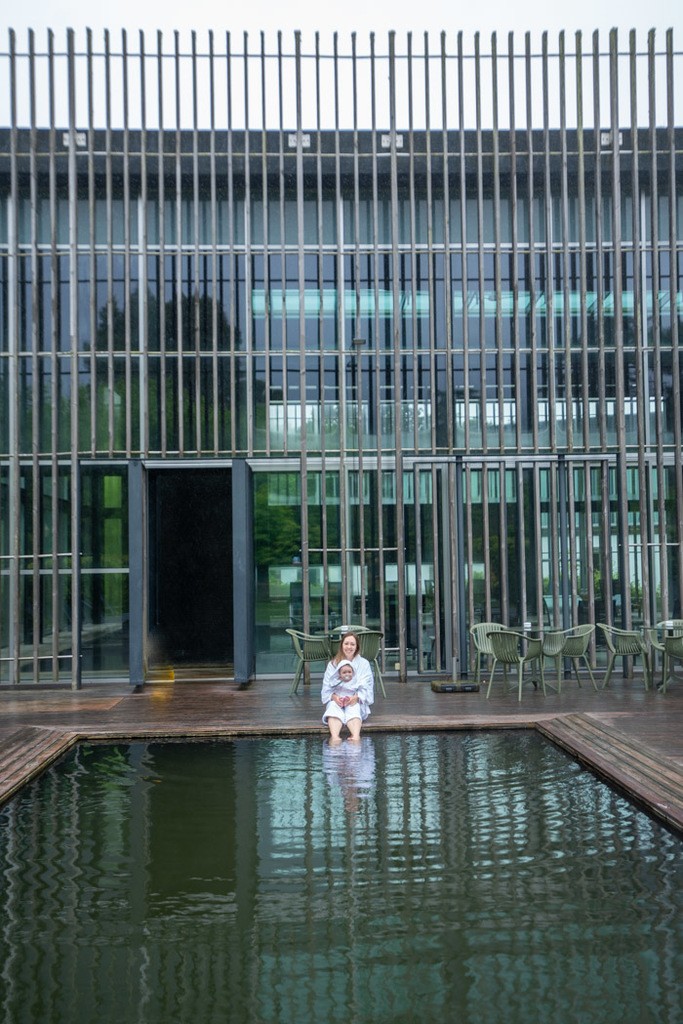 They were also incredibly baby friendly, providing us a full luxury soap and lotion package, rubber ducky, and a mini bathrobe for our baby! For what you get, this higher end stay felt like an incredible value to me. I recommend spending at least a couple of days to enjoy the spa and surrounding waterfall and lake hikes.
2. Casas da Chamine Eco Country Lodge on São Miguel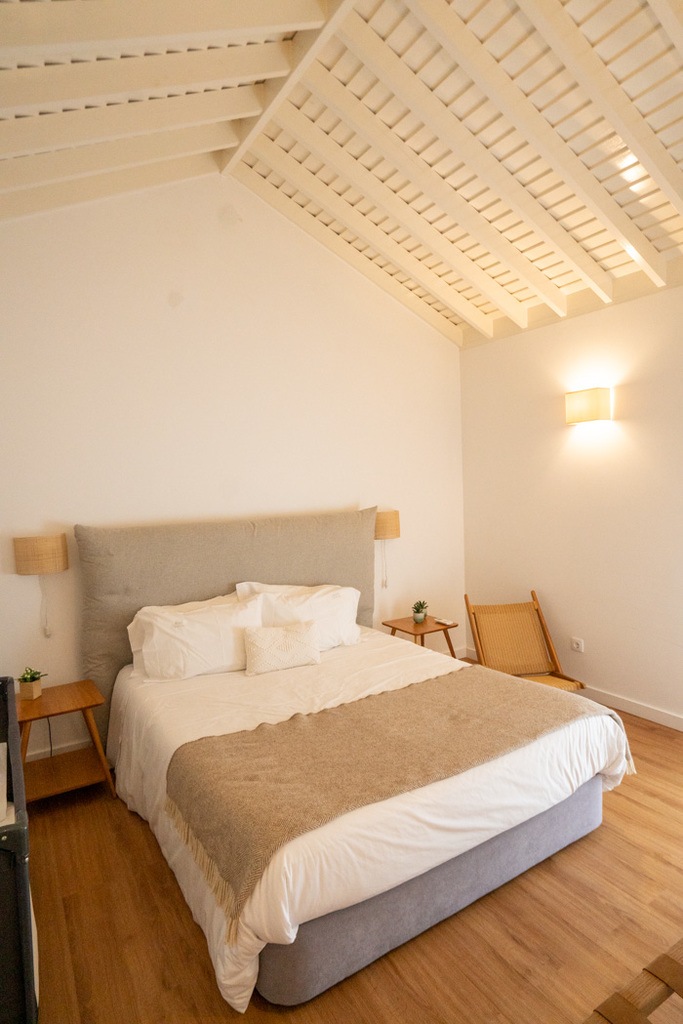 On the northeast coast of São Miguel sits a dreamy ocean-view escape with its own pool, wood-fire oven, full kitchen, two bedrooms, a garden that guests are welcome to take from and contribute to, and what feels like a completely new renovation. Everything is sparkling clean and new, yet it retains the rustic charm of the original building's architecture.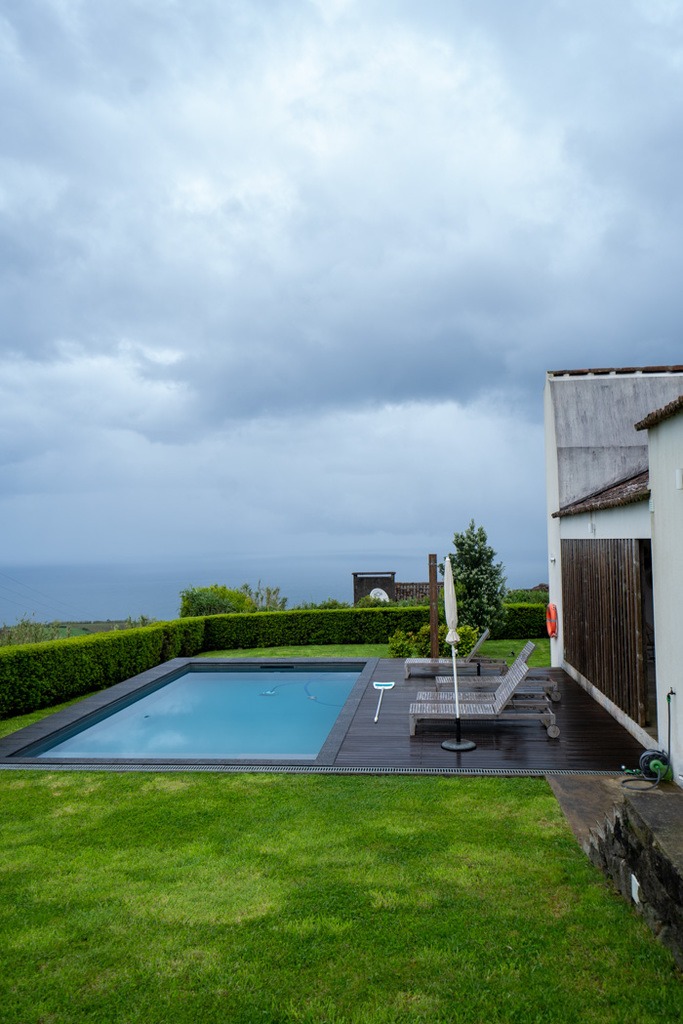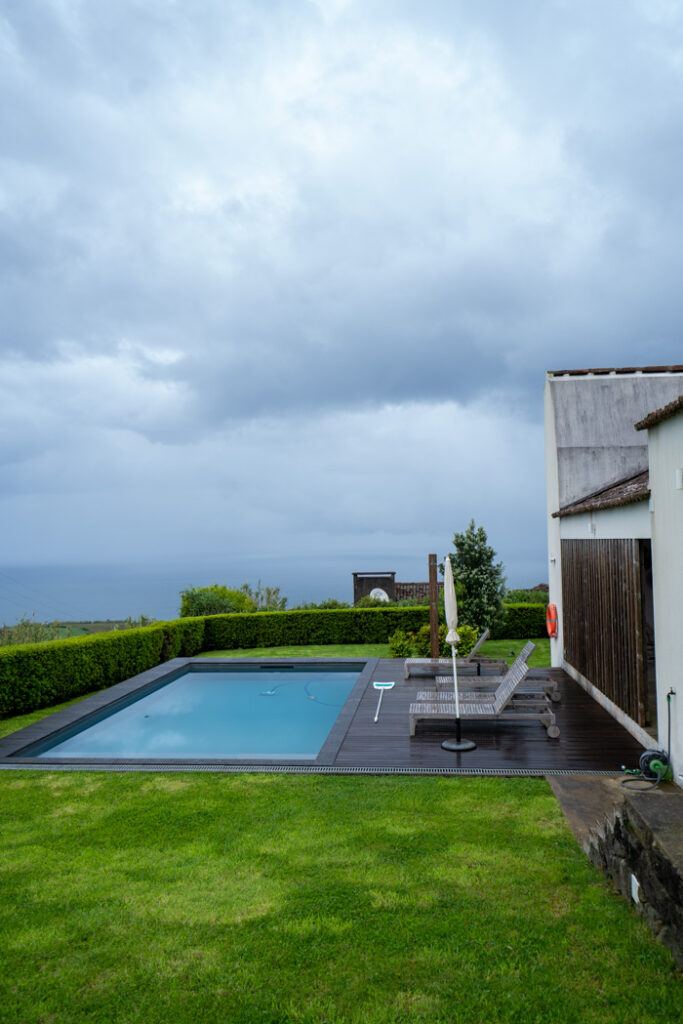 We only had one night there, but I wish that we could have stayed for longer! The provided breakfast basket was full of local delicacies including tropical fruit, jam, butter from the local dairy, and a loaf of bread cooked in the woodfired oven. This is a little slice of paradise near the design-dream town of Nordeste. The vacation home easily sleeps a family of four.
3. Moinho da Cascata on Flores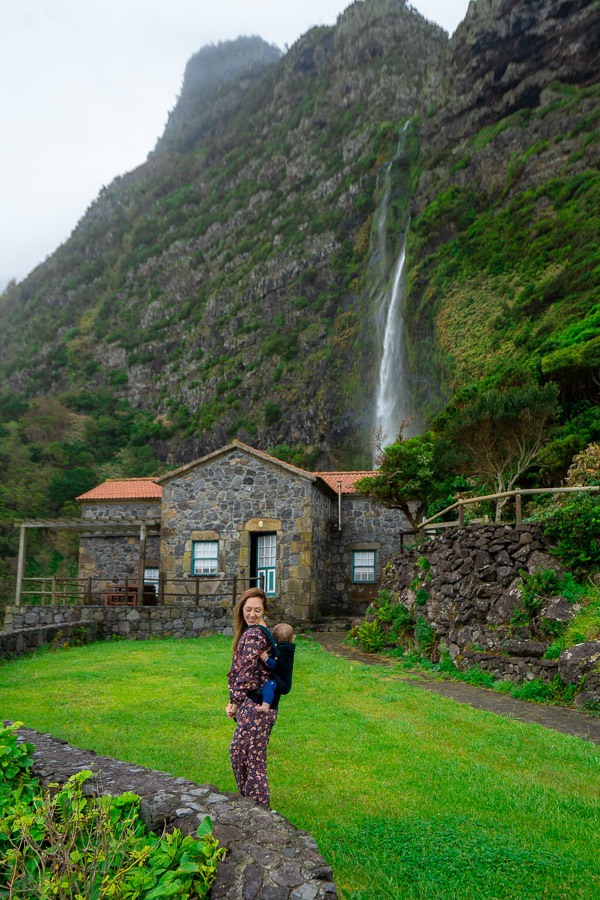 Imagine staying in a vacation rental that was built in the 1700s, formerly operated as a mill, and has its own waterfall and ocean view? Near the dreamy town of Faja Grande on the westerly island of Flores, it's possible.
Though now outfitted with a modern kitchen, electricity, and no longer functioning as a mill, the home truly feels like going back in time. It has its creature comforts, but the rock of the wall construction is still fully visible, the mill equipment is still in the room, and staying there feels like going back to the 'olden days.'
This one has enough beds for six people and books out far in advance! Book here.
4. White Exclusive Suites & Villas on São Miguel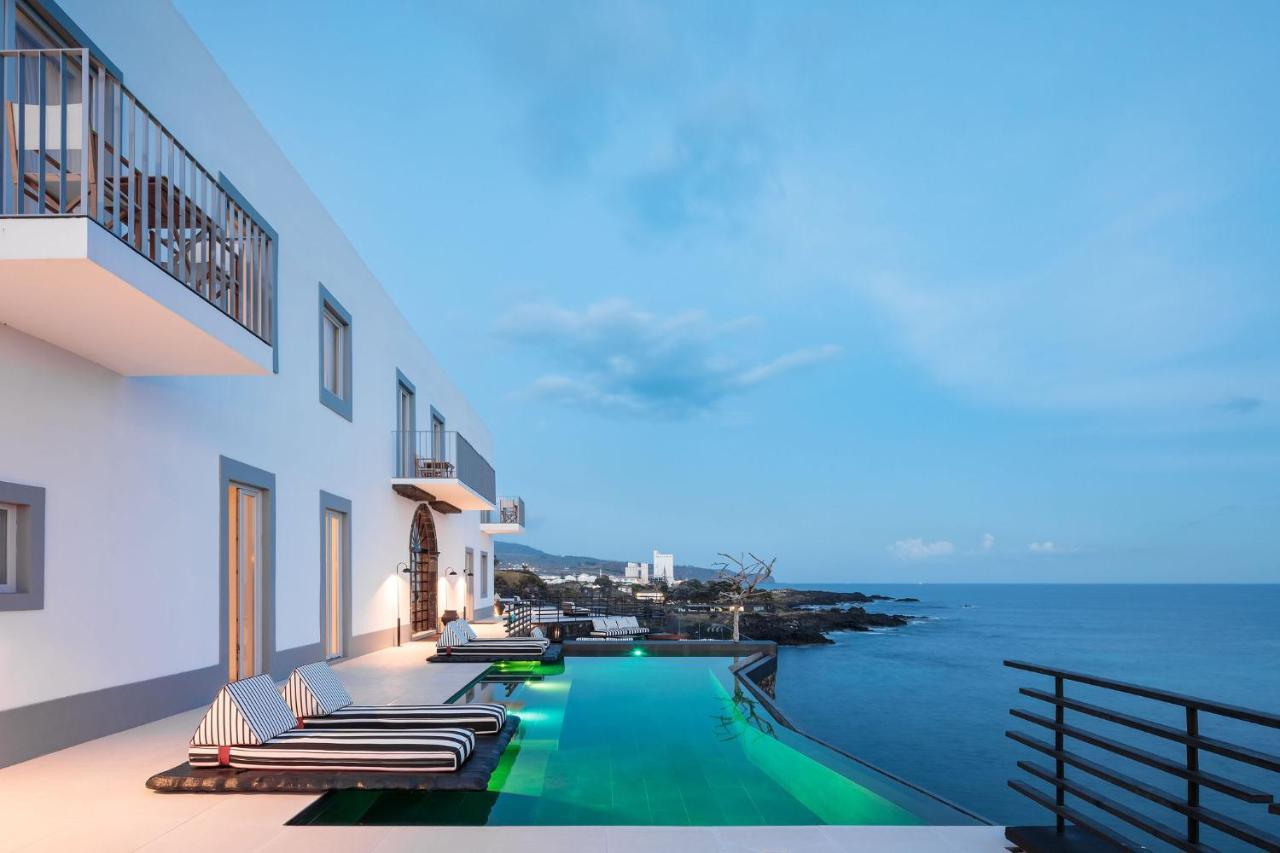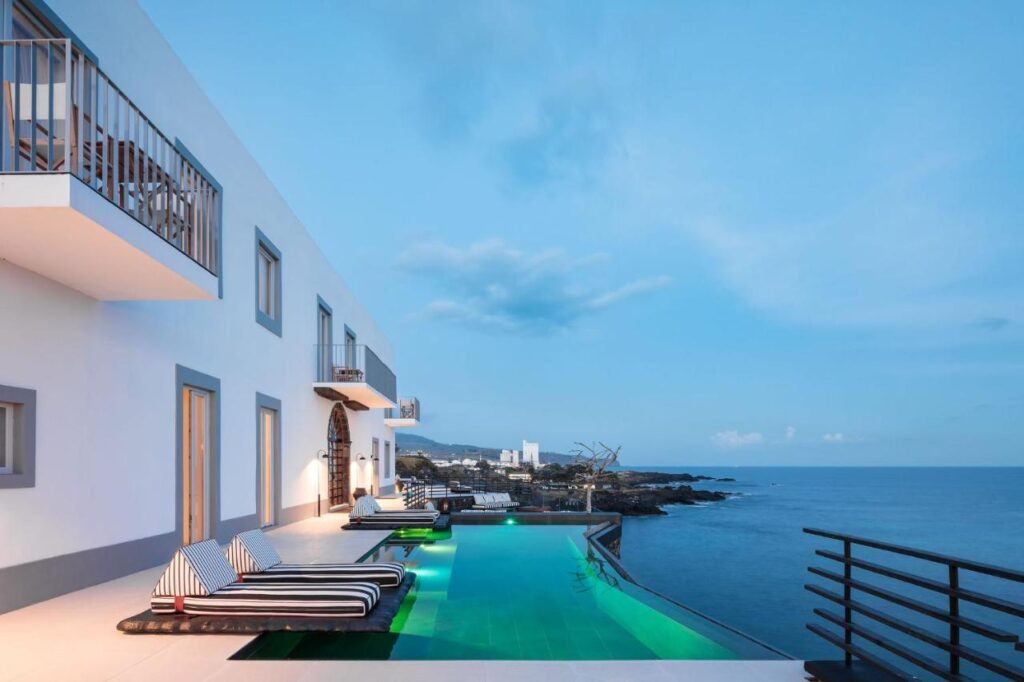 If you're looking for a luxurious and exclusive place to stay on São Miguel, look no further than White Exclusive Suites & Villas. This beautiful property offers guests spacious and stylish suites, as well as private villas with their own pools. The location is perfect, too – it's just a few minutes' walk from the beach and the town center. Plus, the staff are incredibly friendly and helpful and will do everything they can to make your stay enjoyable. Whether you're looking for a romantic getaway, a family holiday, or a relaxing retreat, White Exclusive Suites & Villas is the perfect choice.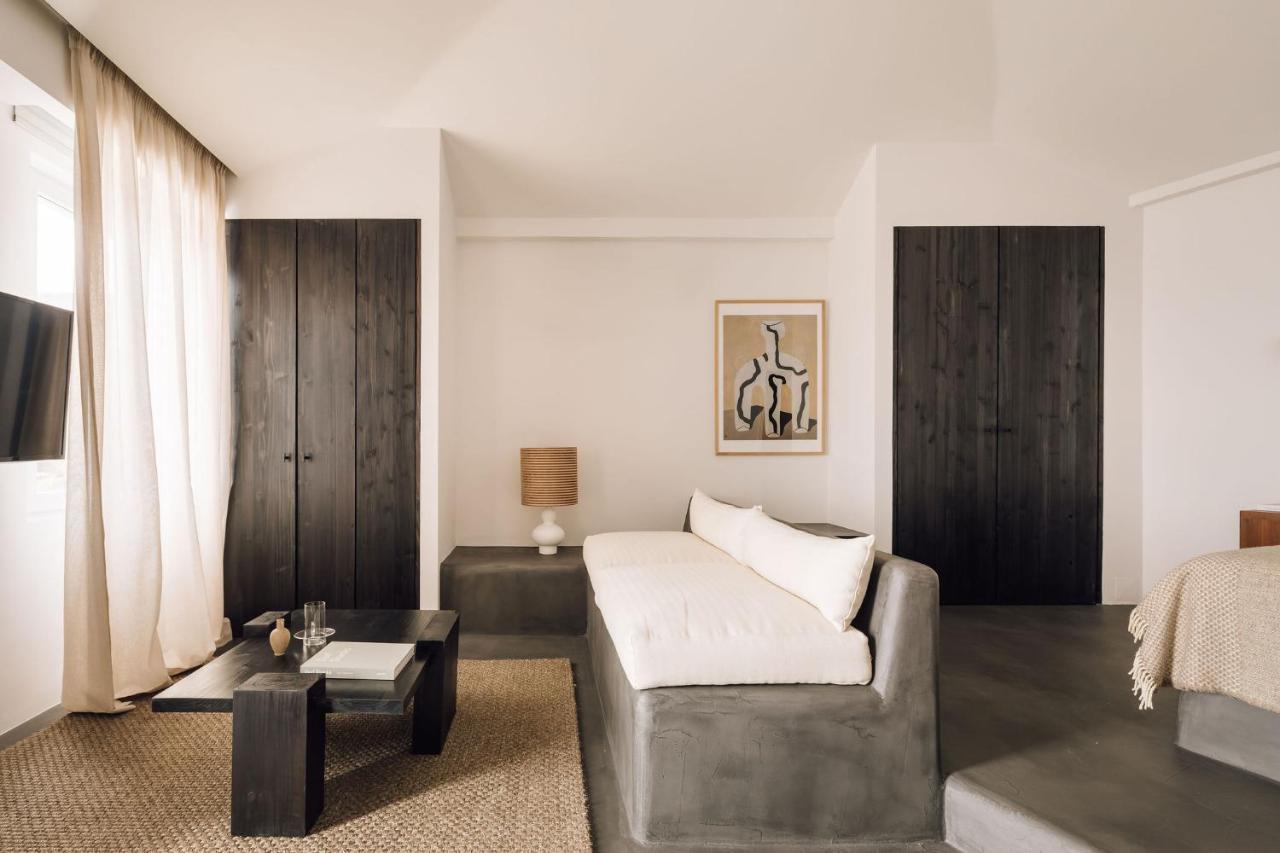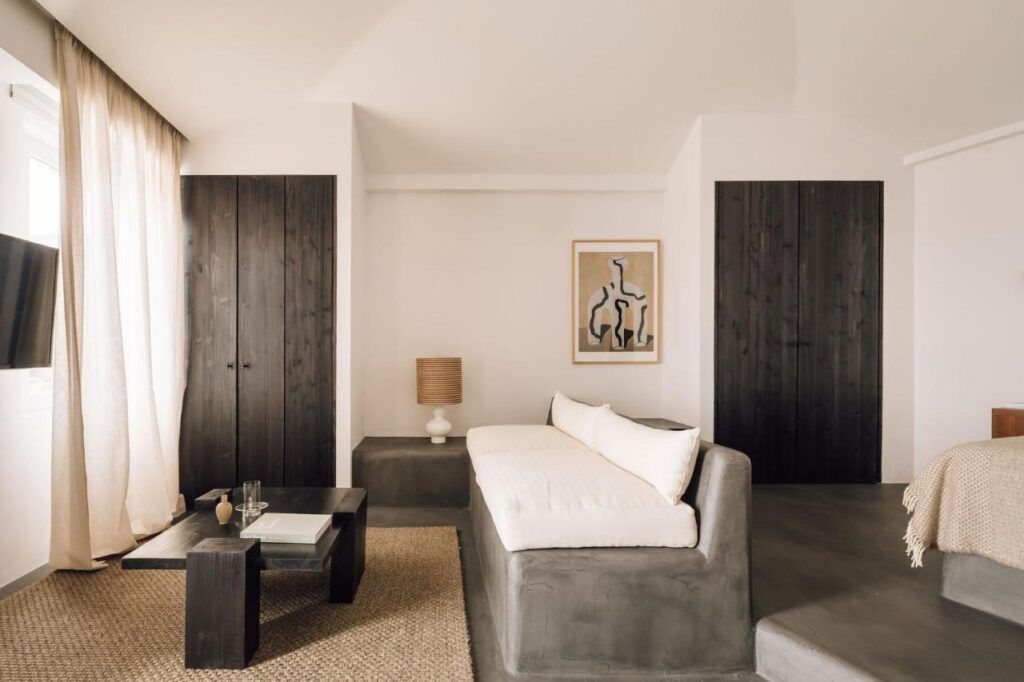 The reviews of this boutique hotel are truly next-level. People love this place! Recent guests even report that the hotel staff provided them with their own cell phones to use during their stay in case they needed anything. That goes to show how much they prioritize super service.
Book White Exclusive Suites & Villas here.
5. Casa Da Lava on Pico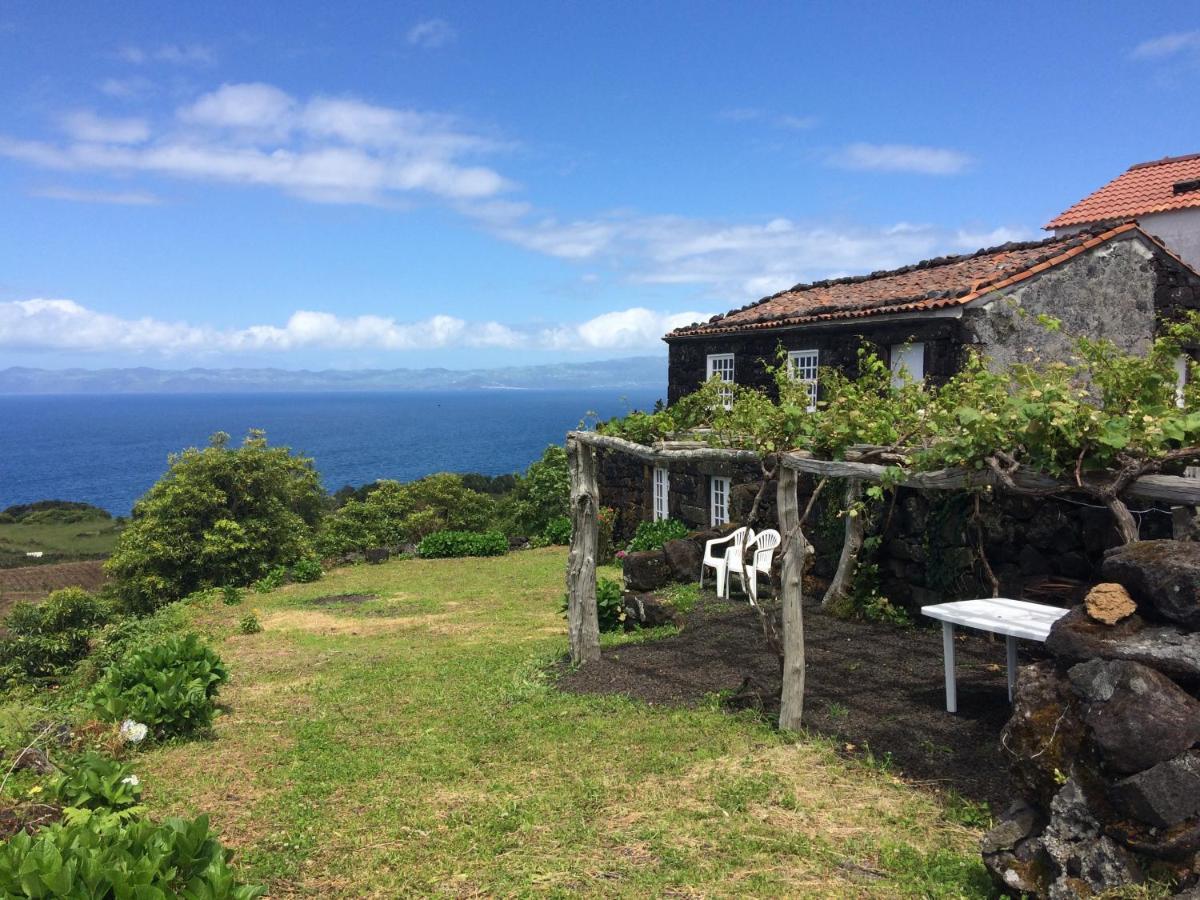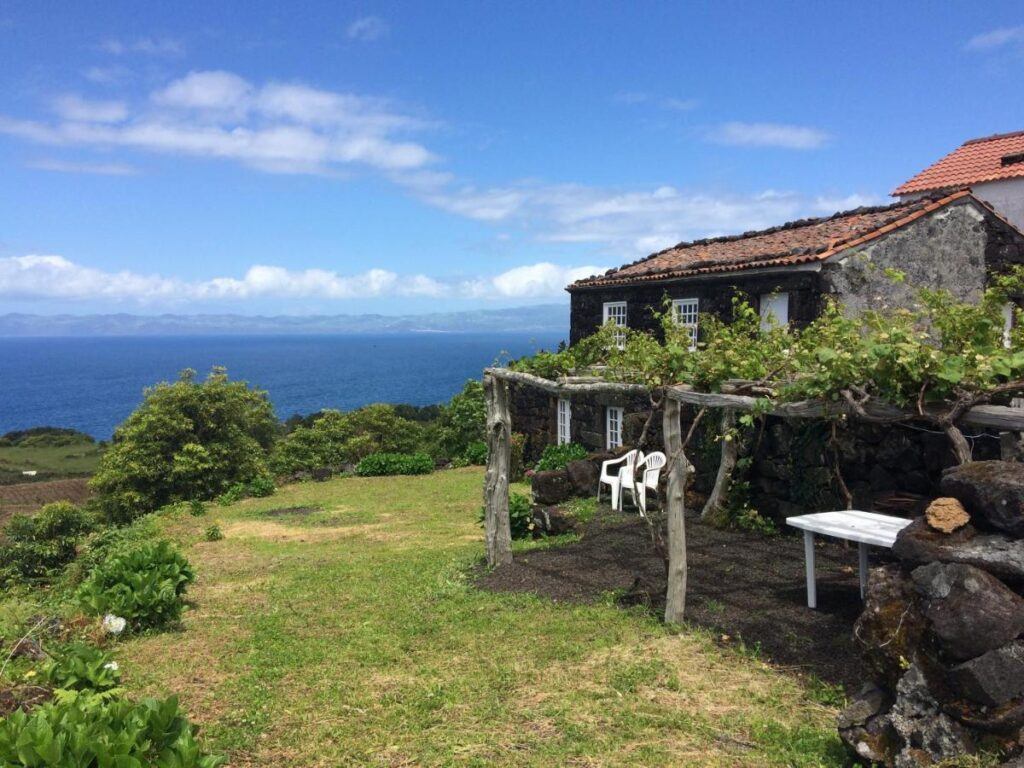 Casa Da Lava on Pico Island in the Azores is a hidden gem that truly captures the essence of a perfect island getaway. Nestled amidst breathtaking volcanic landscapes, this enchanting accommodation offers an experience like no other. From the moment you arrive, you'll be captivated by the rustic charm and tranquility that surround you.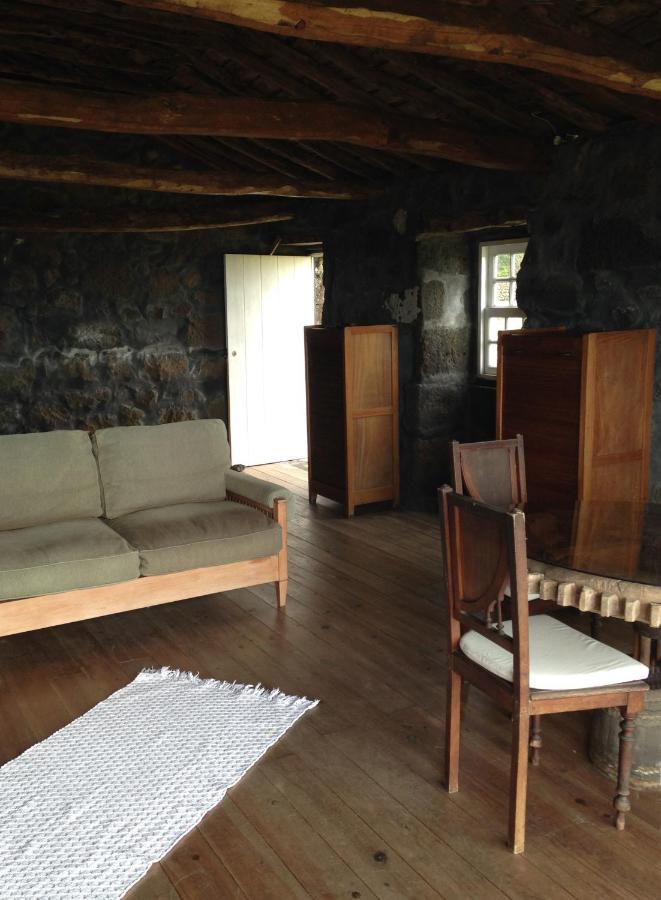 Recent reviews from guests attest to the magic of Casa Da Lava. One recent guest described it as a "paradise on Earth," praising the stunning views of the Atlantic Ocean and the majestic Pico Mountain. Another guest highlighted the warm hospitality of the staff, who went above and beyond to ensure a memorable stay. The tastefully decorated rooms and cozy atmosphere were also commended, creating a home-away-from-home ambiance that is perfect for relaxation and rejuvenation.
What sets Casa Da Lava apart is its prime location, providing easy access to some of Pico's most awe-inspiring natural wonders. Whether you're exploring the mysterious lava tubes, embarking on a thrilling hike up Pico Mountain, or simply indulging in the island's renowned cuisine, you'll find endless opportunities for adventure and discovery. As one visitor noted, Casa Da Lava is "a haven for nature lovers and adventure seekers alike."
Book your stay at Casa Da Lava here.
6. Aldeia da Cuada on Flores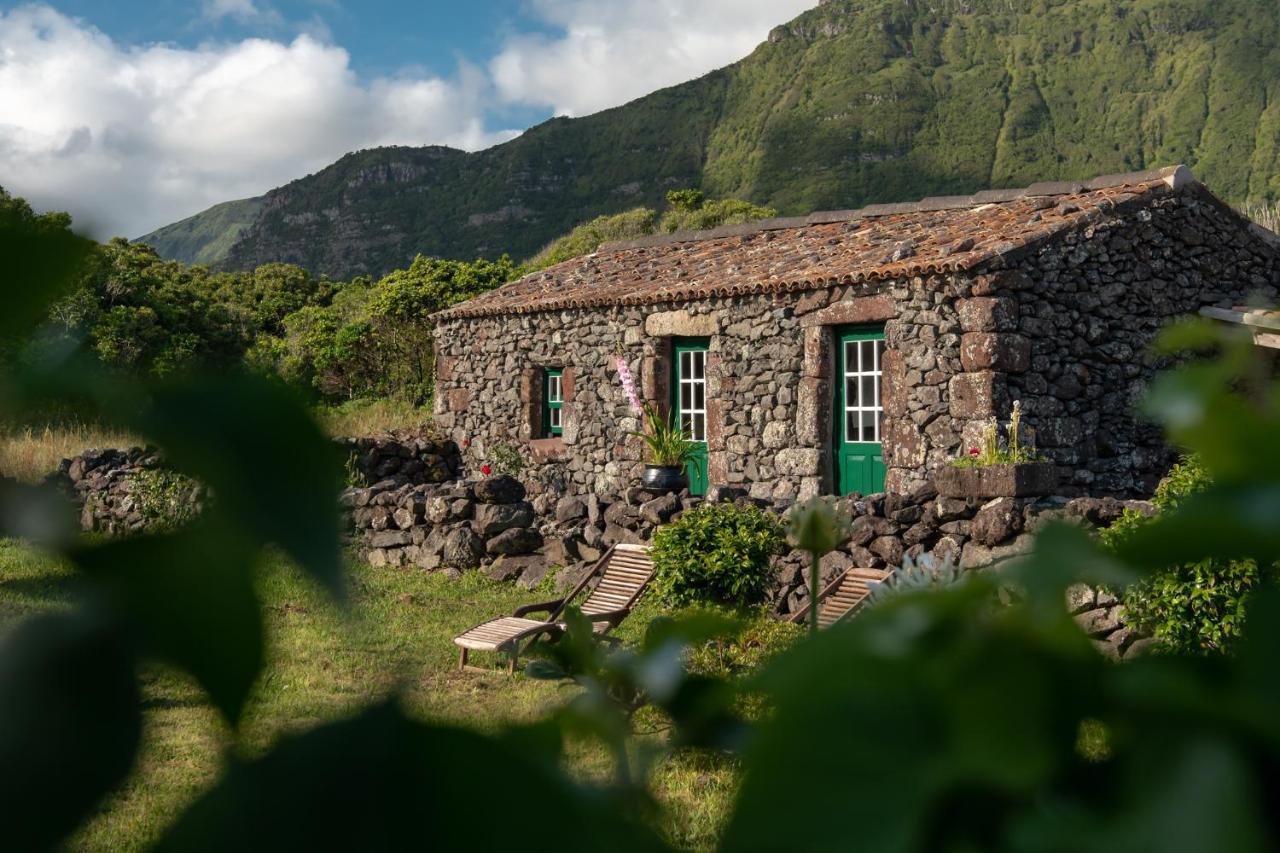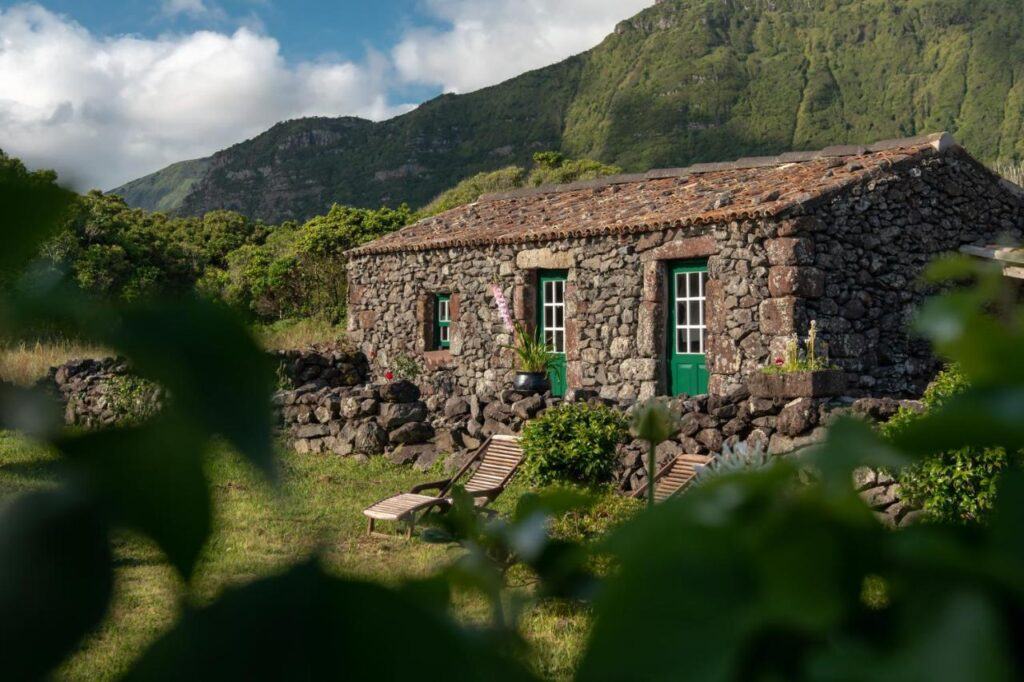 Aldeia da Cuada on Flores Island in the Azores is a hidden oasis that immerses you in a world of untamed beauty and beguiling charm. It's in a remote corner of the archipelago, and this extraordinary retreat combines nature's artistry and the Azorean spirit beautifully. Prepare to be swept away by the allure of this enchanting destination.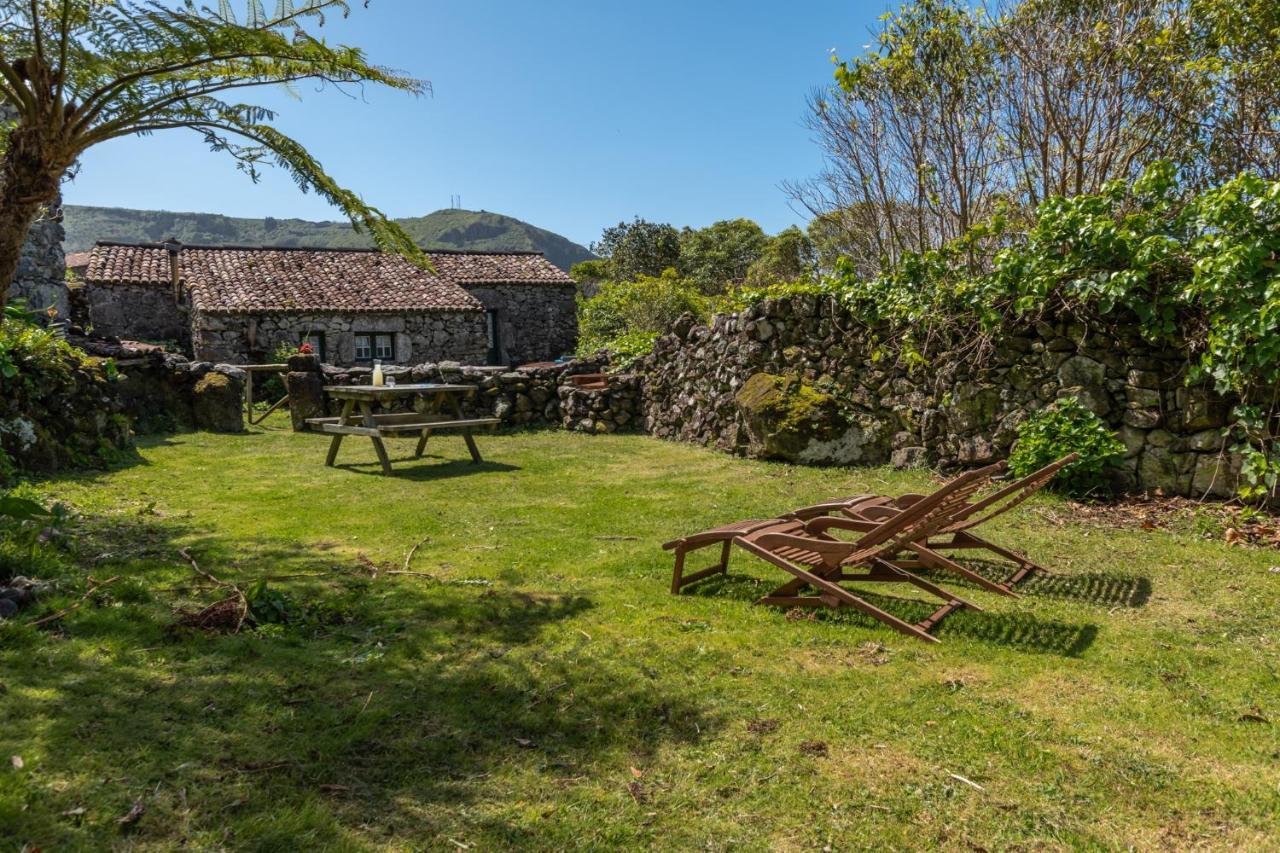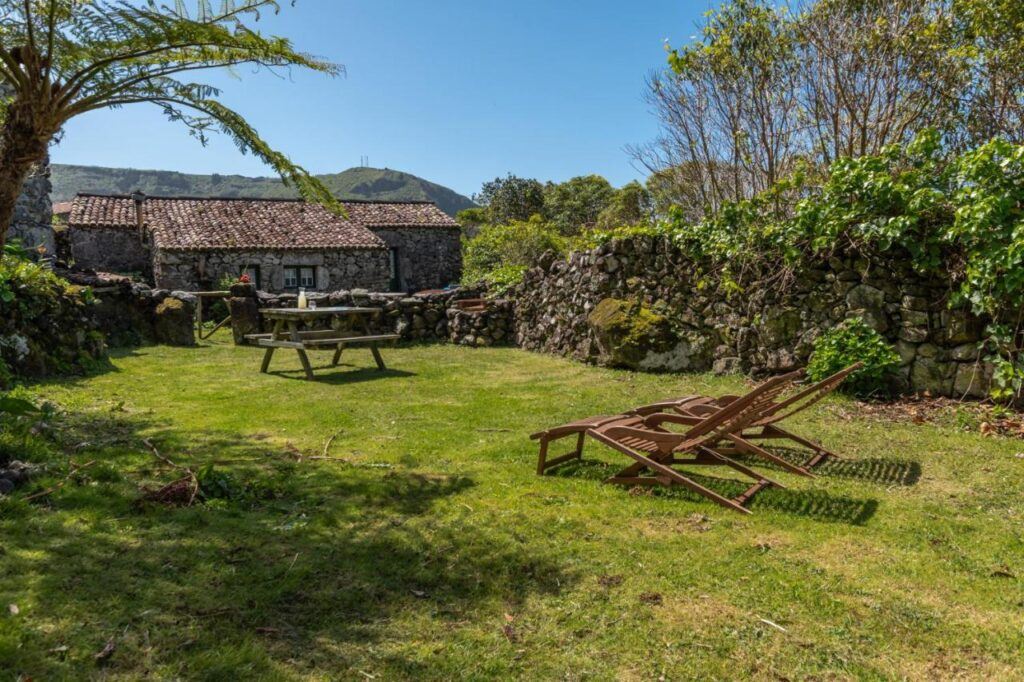 Delving into recent reviews, guests unanimously describe Aldeia da Cuada as a "sanctuary of serenity." Nature lovers are captivated by the breathtaking vistas that unfold before their eyes, with one reviewer boasting, "Every moment feels like a suspended dream." The meticulously restored traditional houses provide a unique and immersive experience, evoking a sense of timelessness and authenticity that resonates deeply with the island's spirit.
But it's not just the stunning surroundings that leave visitors in awe – it's the genuine warmth and care of the hosts at Aldeia da Cuada. Recent guests praise the hosts' dedication to creating unforgettable experiences, ensuring every guest feels like a cherished friend. The unique ambiance, infused with the spirit of Flores, allows you to connect with the island's rich culture and storied past. Yep, sign me up!
Book your stay at Aldeia da Cuada here.
7. Terceira Mar Hotel on Terceira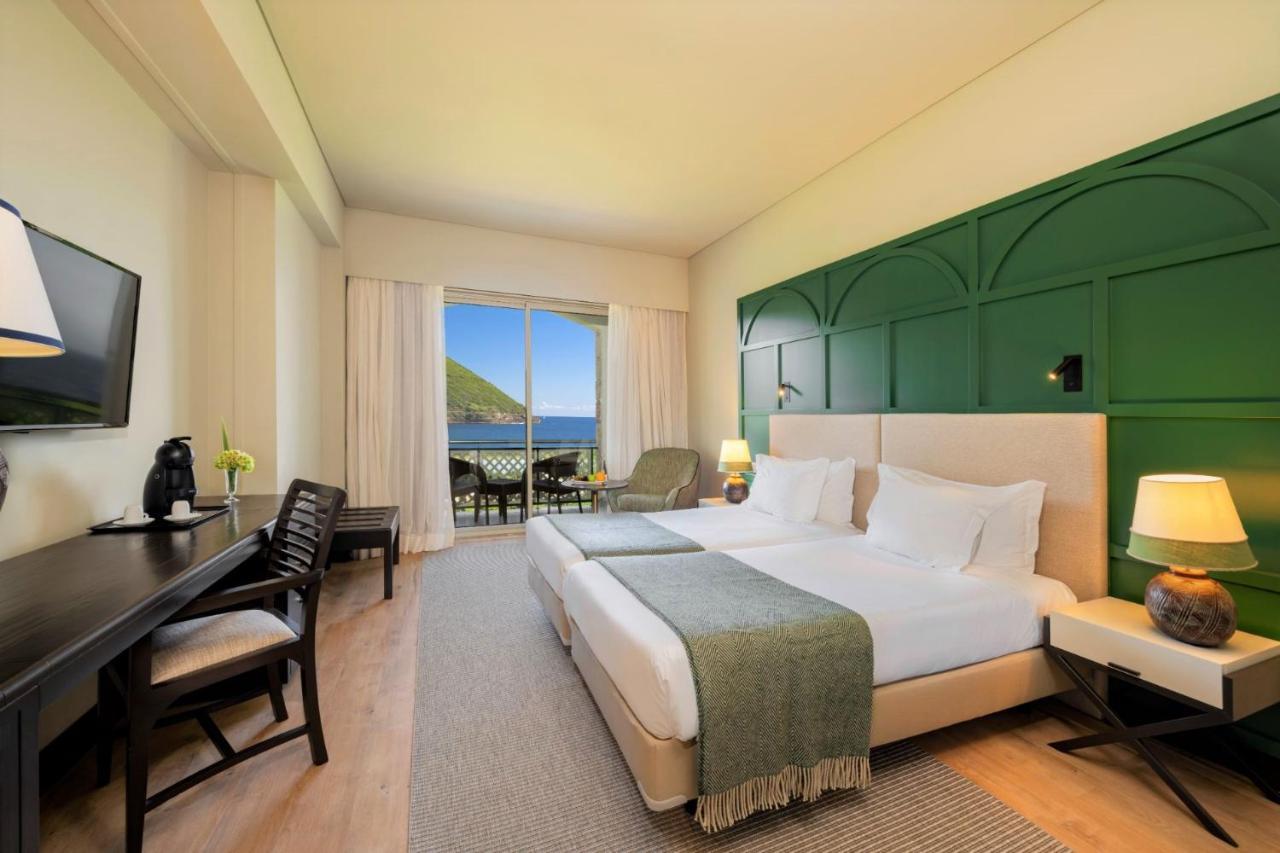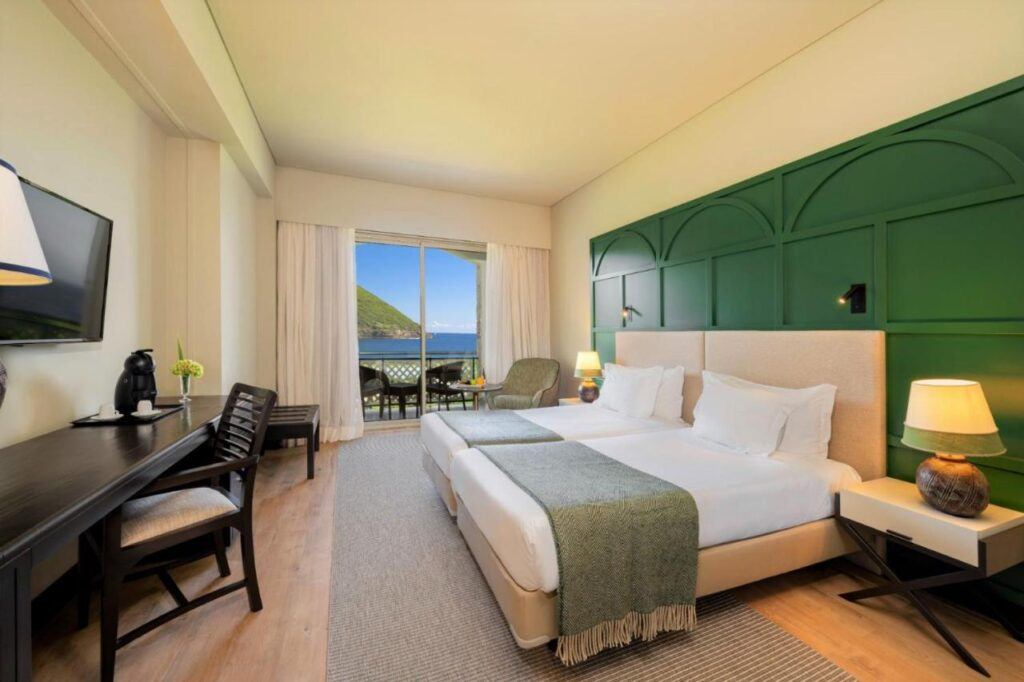 Terceira Mar Hotel on Terceira Island is a delightful coastal spot that seamlessly blends modern comfort with the island's captivating spirit. As you step into this beachfront retreat, you'll be greeted by an atmosphere of relaxation and rejuvenation, where every detail is meticulously curated to ensure a truly remarkable stay.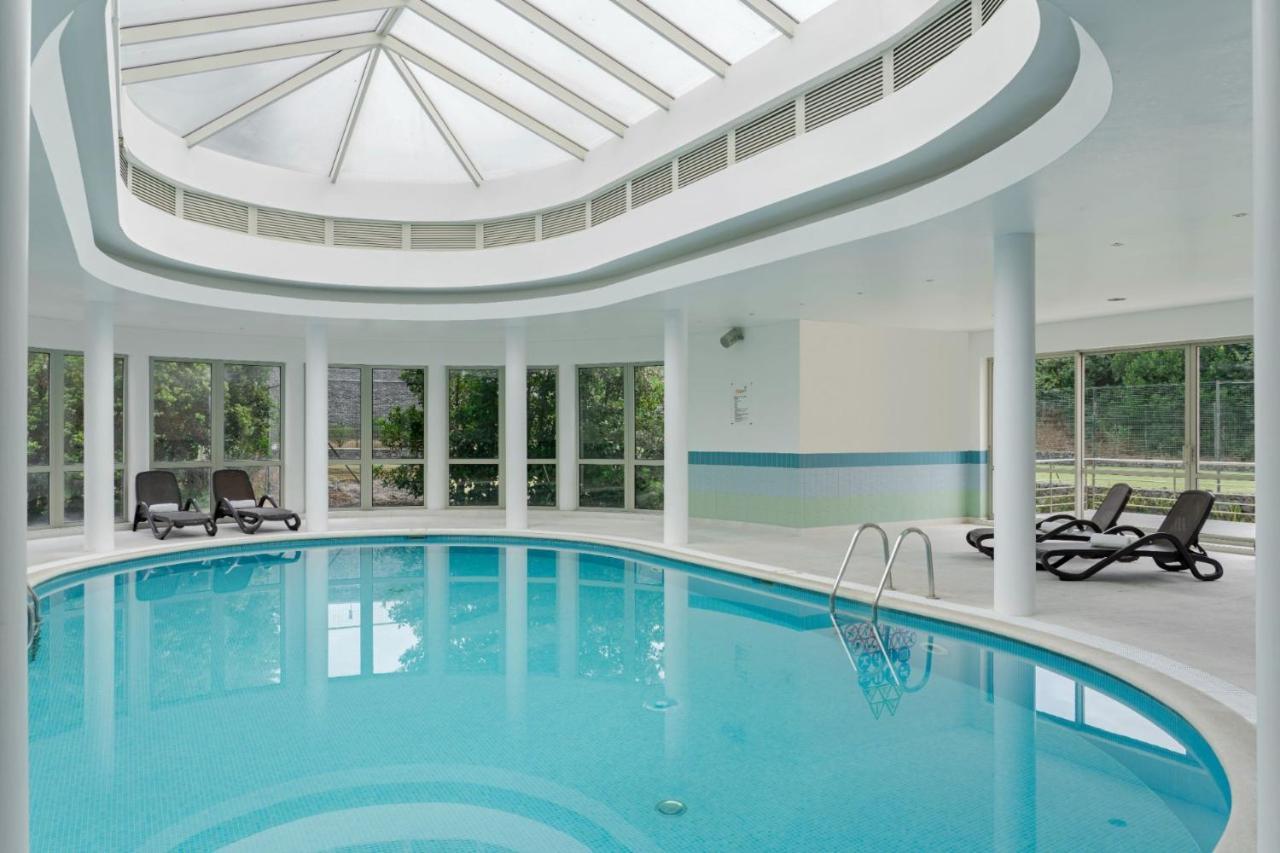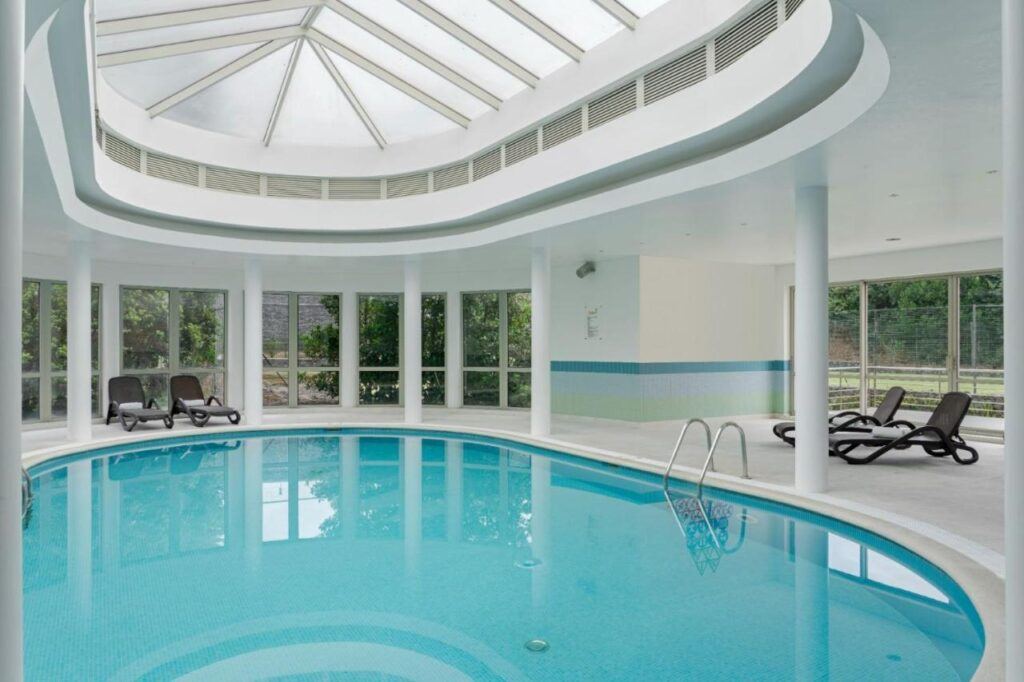 Guest reviews offer a glimpse into the exceptional experience that awaits at Terceira Mar Hotel. From the moment of arrival, visitors receive warm hospitality and attentive service provided by the dedicated staff. One reviewer raves about the "breathtaking ocean views," while others love the hotel's prime location, allowing easy access to the island's enchanting sights and vibrant culture.
Whether you're unwinding by the poolside, exploring the island's historical treasures, or savoring a delicious meal overlooking the ocean, every aspect of your stay is thoughtfully designed to create an unforgettable experience.
Book your stay at Terceira Mar Hotel here.
8. Quinta da Magnolia on São Jorge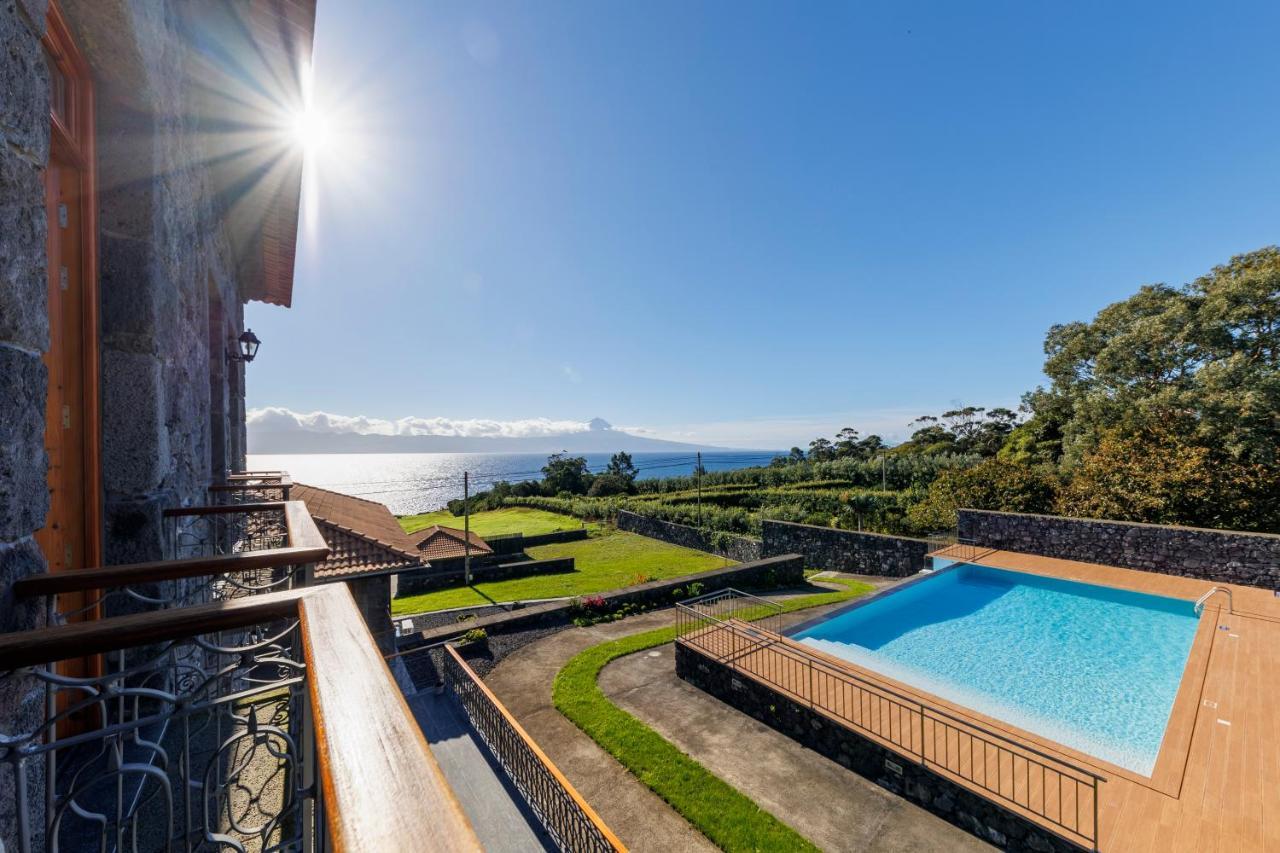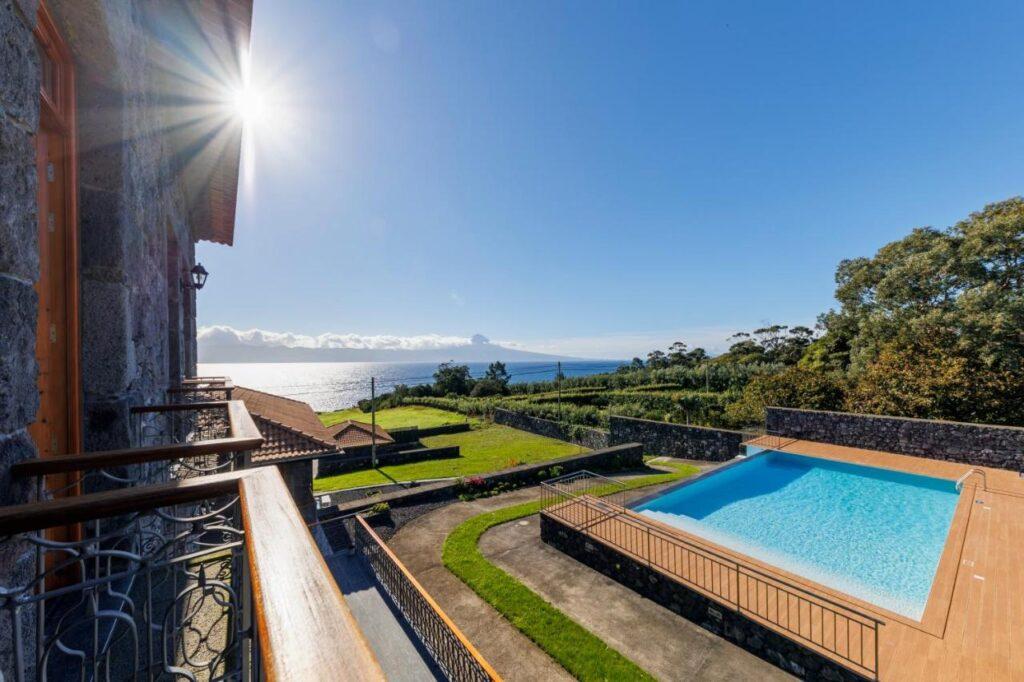 This stay invites you to embark on a captivating journey where tranquility and natural beauty are supreme. Quinta da Magnolia is a haven of serenity amidst the rugged landscapes of São Jorge.
Recent reviews emphasize the allure of Quinta da Magnolia and praise the peaceful ambiance and picturesque surroundings, describing it as a "hidden gem" that offers a true taste of island living. The attentive and friendly staff go above and beyond to ensure a memorable stay.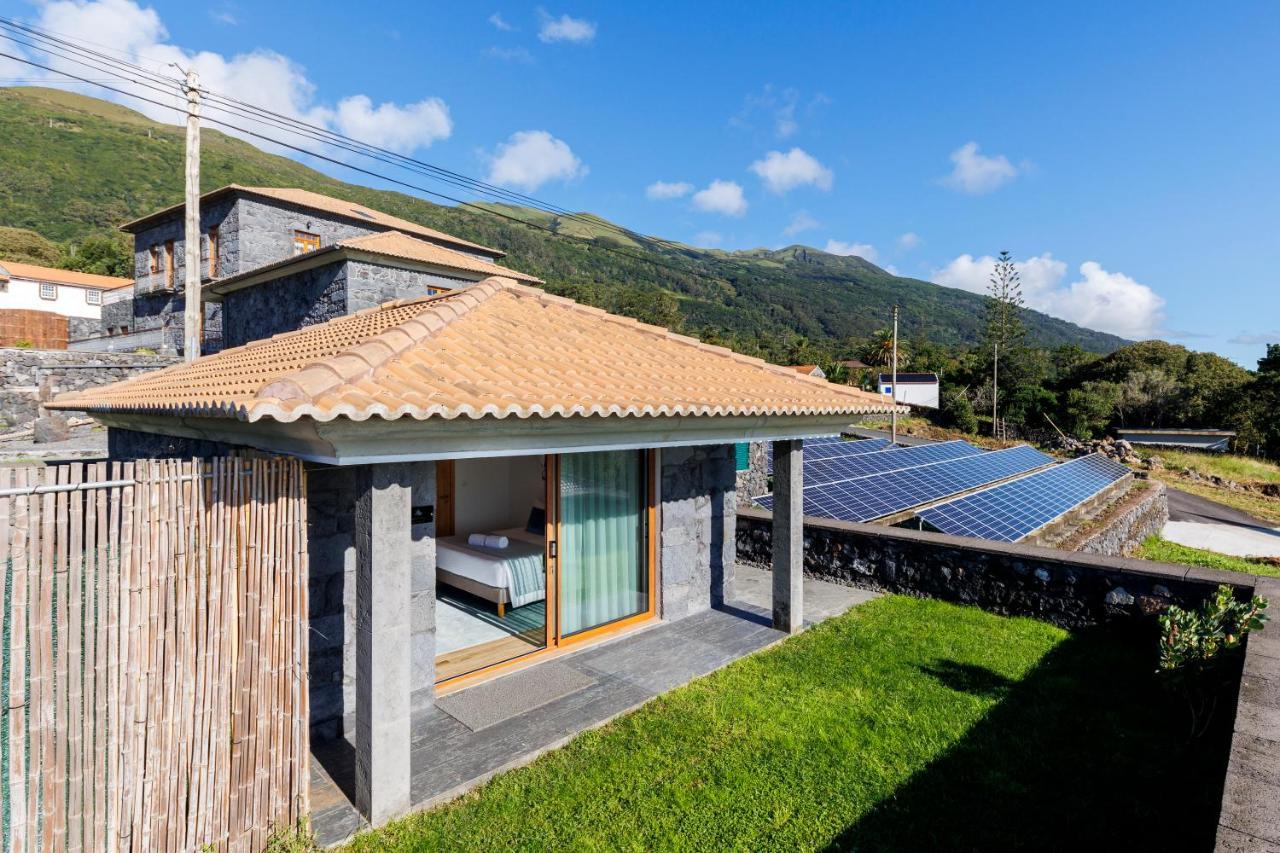 Quinta da Magnolia is your gateway to exploring São Jorge Island's lush landscapes and rich cultural heritage. Whether you're embarking on a scenic hike along the island's verdant trails, discovering hidden coves along the coastline, or indulging in local delicacies, each day presents an opportunity for adventure and discovery.
Book your stay at Quinta da Magnolia here.
9. Pousada Forte da Horta on Faial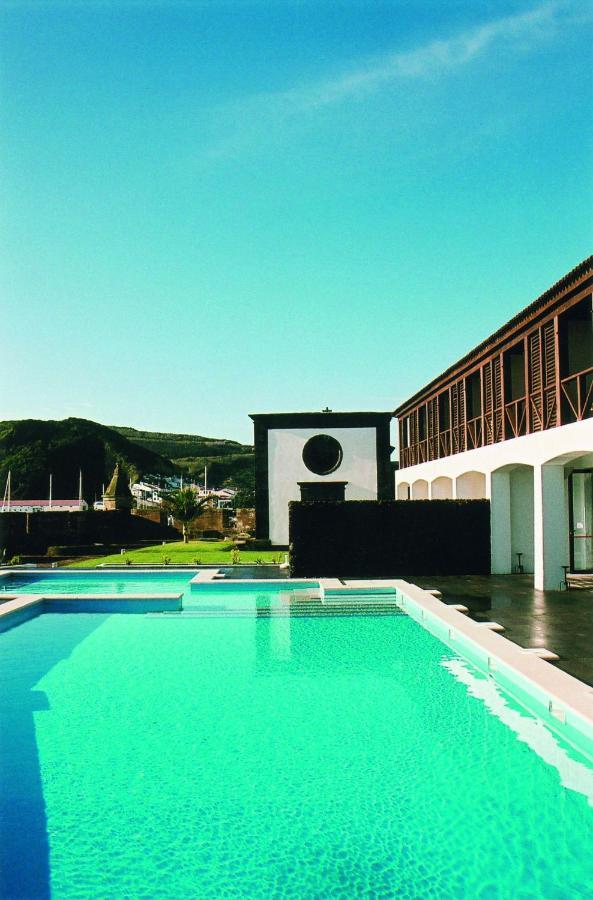 Pousada Forte da Horta on Faial Island lies within the historic walls of a 16th-century fortress, so if you've ever dreamt of sleeping in a piece of history, this is your chance! This unique accommodation showcases the vibrant heritage of the Azores while providing modern comfort, offering guests an enchanting experience. Prepare to be transported to a bygone era as you soak in the breathtaking views of the harbor and immerse yourself in the island's vibrant culture.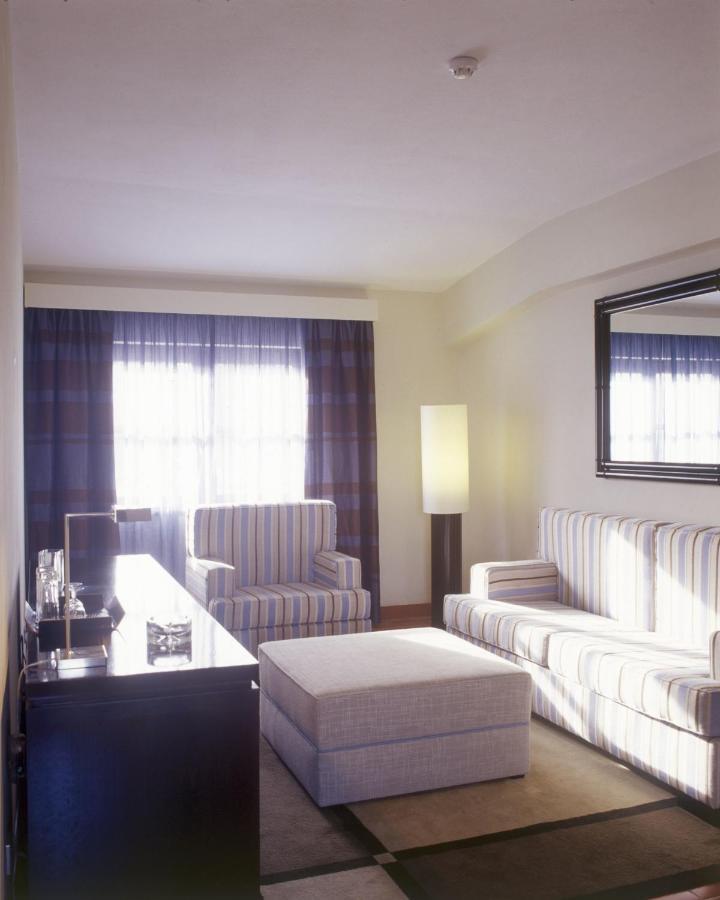 Guests love Pousada's exceptional location and unparalleled charm. Prepare to be enchanted by the historic ambiance and the fortress's panoramic vistas, leaving rave reviews.
This is the ideal launch pad for exploring Faial Island. Stroll through the vibrant streets of Horta, marvel at the volcanic landscapes, or embark on a boat excursion to the iconic Capelinhos volcano. This is also the perfect place to immerse yourself in the rich history and natural beauty of the island, while savoring the comfort and unique ambiance of Pousada Forte da Horta.
Book your stay at Pousada Forte da Horta here.
10. SENSI Azores Nature and SPA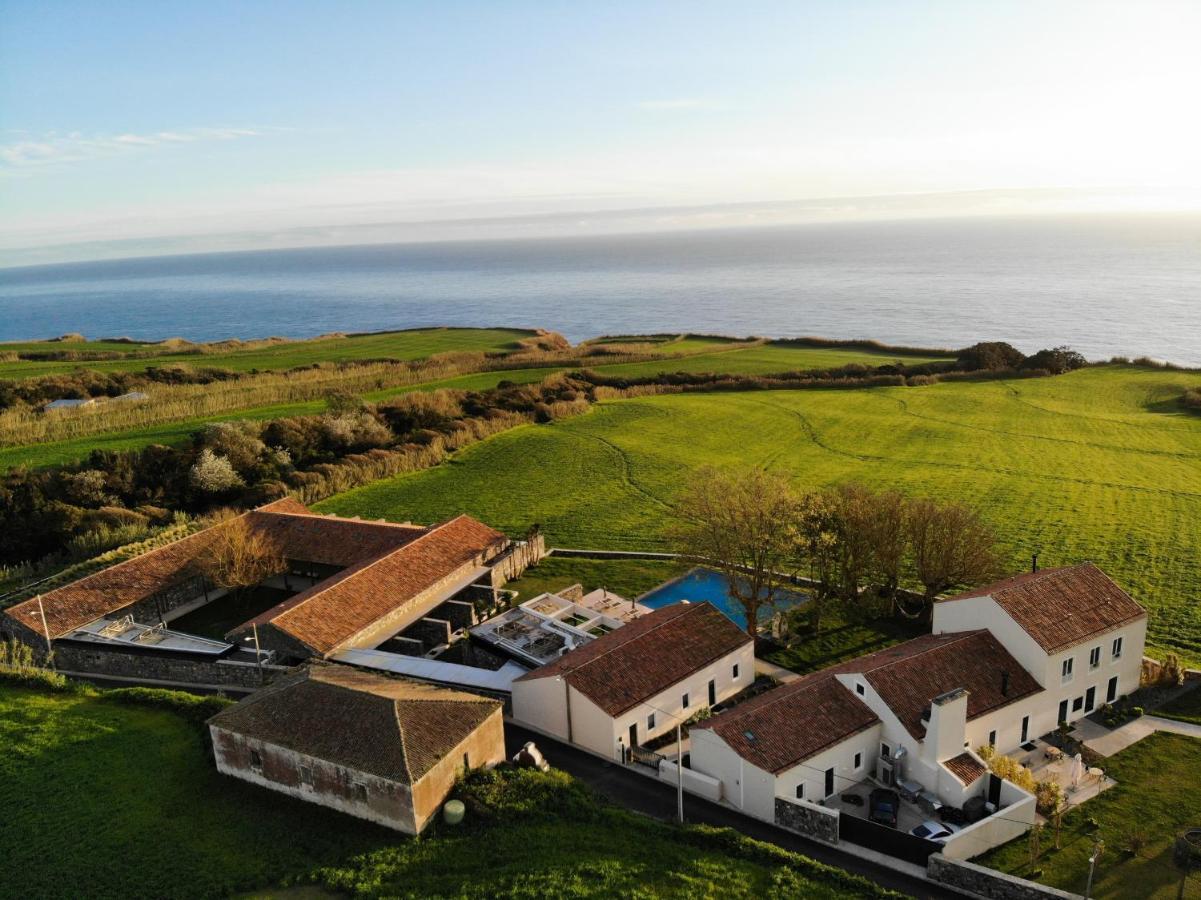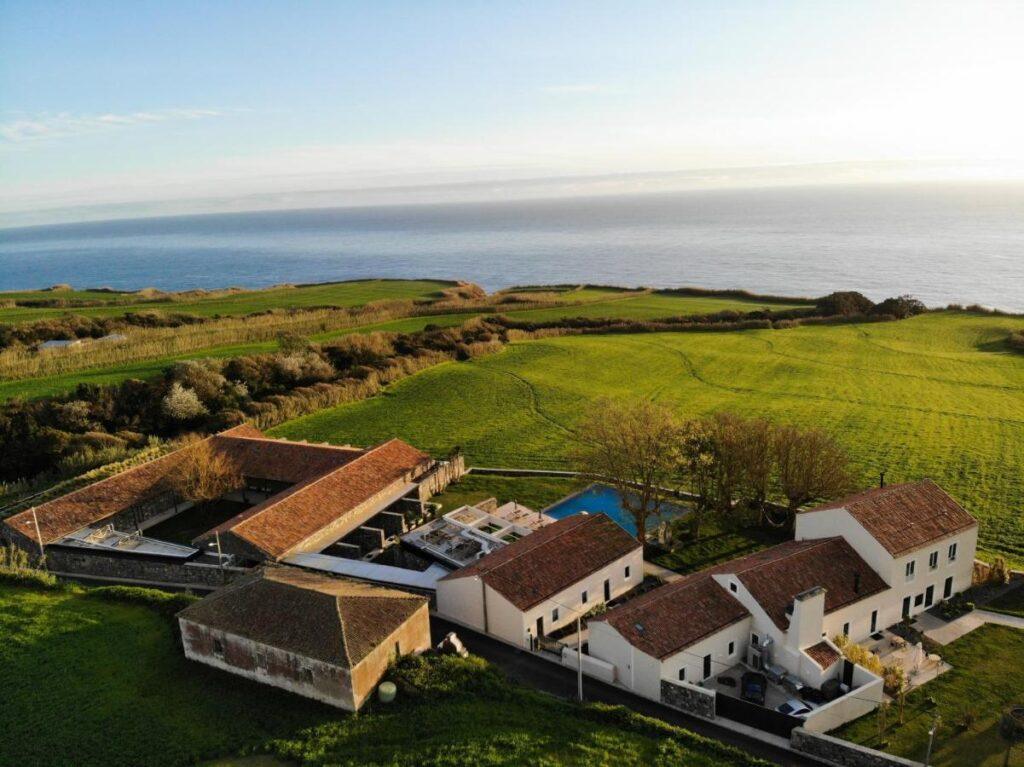 SENSI Azores Nature and SPA stands out for its deep connection to the natural surroundings of the Azores, allowing guests to immerse themselves in the pristine beauty of the islands. The retreat has a commitment to sustainability and eco-conscious practices and strives to preserve the fragile ecosystem of the Azores.
This stay is ideal for travelers who are all about holistic wellness, as SENSI Azores Nature and SPA goes beyond traditional spa experiences by incorporating elements of nature, energy healing, and indigenous practices into its treatments and therapies. Guests have the opportunity to reconnect with themselves and find inner balance through a range of mindful activities and experiences, such as yoga sessions overlooking breathtaking landscapes or guided meditative walks in serene natural settings.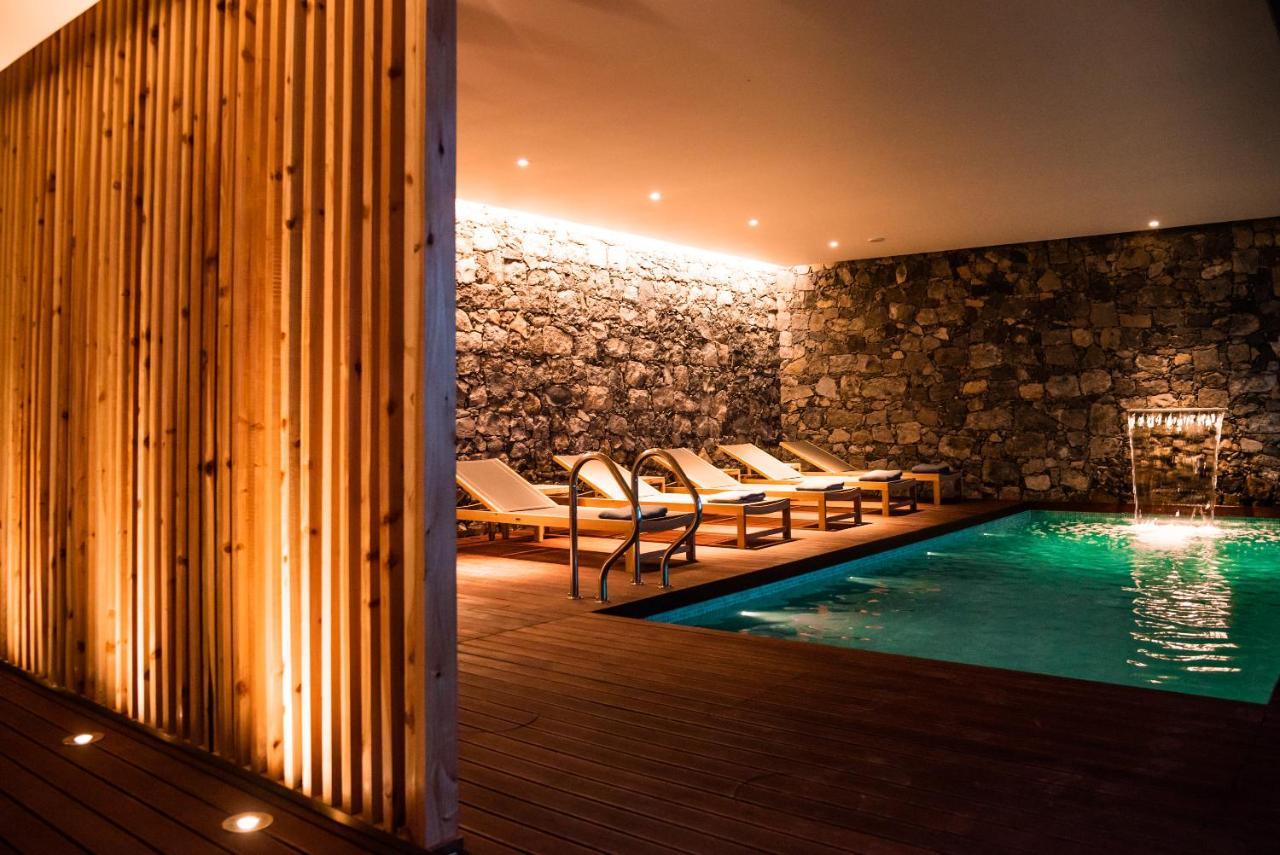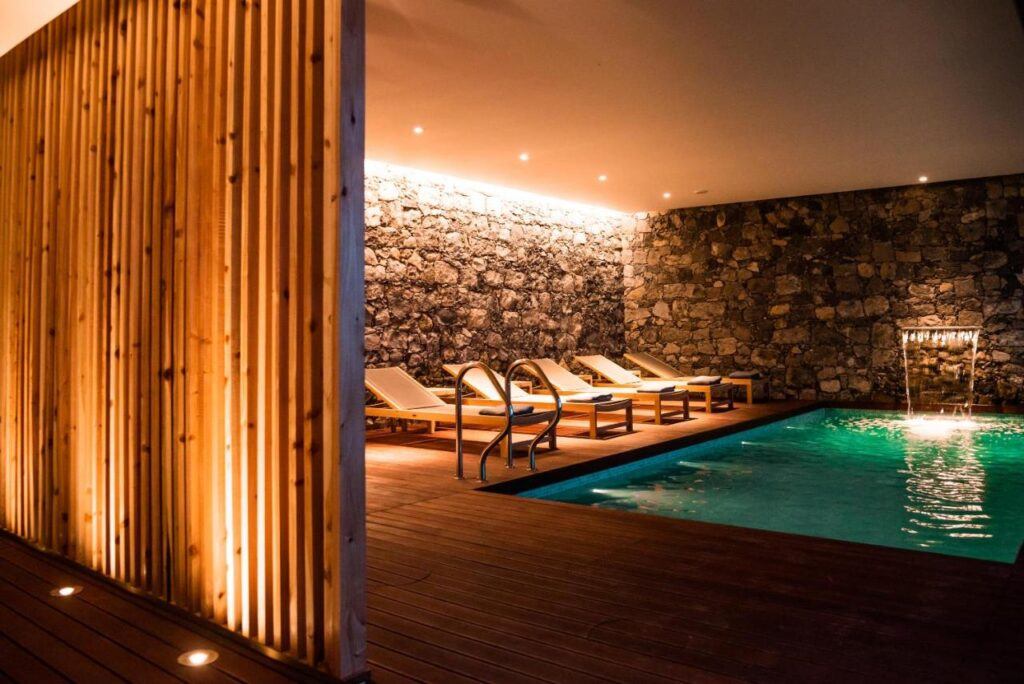 The team at SENSI Azores Nature and SPA is passionate about creating transformative experiences for guests, ensuring that each visit is tailored to individual needs and preferences. One look at recent guest reviews, and you'll see that they've met their mark many times over.
Book your stay at SENSI Azores Nature and SPA here.
*Some links in this post are affiliate links to hotels that I personally stayed at and would love to stay at in the future. Any booking you make through them supports us at no extra cost whatsoever to you. Thanks for your support!