This post was written by Ashley Yap, BMTM's Malaysia-based writer.
With the push for sustainable tourism in Bhutan comes a "high-value, low-impact" strategy, a controversial policy by the government to promote "carbon-neutral tourism while building a more sustainable tourism sector."
Bhutan introduced its new daily sustainable development fee (SDF) in September 2022, which shocked the world: USD 200 per tourist per night, triple its previous fee of USD 65. According to the government, the SDF is used to offset tourists' carbon footprint, and improve the overall standard of the tourism industry, including guides, accommodation, food, hygiene and so on.
Before 2022, travelers planning a trip to Bhutan were expected to purchase a package for USD 200–250 per night, with USD 65 of that being the SDF. The rest would go to travel costs, like accommodation, transportation, activities, entrance fees, food, and a guide. But this is no longer the case.
My husband and I recently spent one week traveling in Bhutan, and here's everything we learned about the costs of traveling in the Kingdom of the Thunder Dragon in 2023:
Bhutan Visa (Sustainable Development Fee)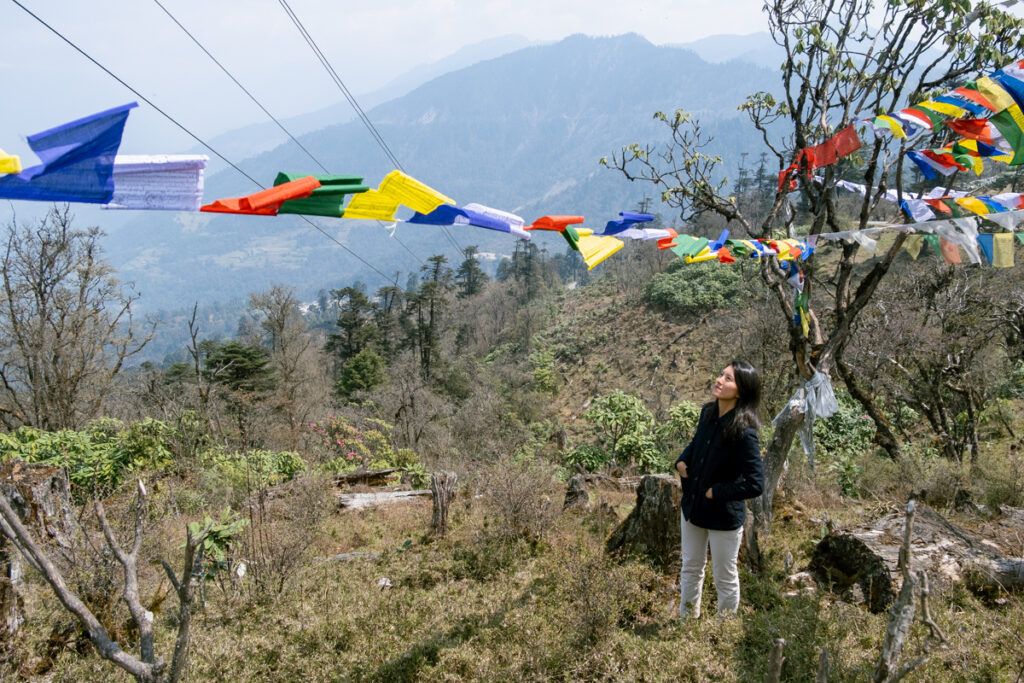 As mentioned, all travelers to Bhutan, except for Indian nationals, are required to pay a USD 200 SDF per night. For families, there is a 50% discount for children below 6 years of age and a 100% discount for children below 2 years old. In addition to the SDF, there's also a one-off visa processing fee of USD 40 per person.
The new development fee is in line with the government's sustainable approach to tourism. Your holidays in Bhutan may be one of the greenest trips you have made, as the fee offsets the carbon footprint of tourists. The government also invests the fees into improving the travel industry's services and facilities.
Most tour operators will apply for a visa on your behalf. A passport-size photograph and a copy of your passport is required for the application. Upon arrival at Paro International Airport, you are required to present the SDF clearance letter at immigration.
How to save money: We spent seven nights in Bhutan and wish we had had longer. However, if you really want to see the country on a smaller budget, I suggest limiting your visits to Paro, Thimphu, and Punakha, and pack everything into a 4-5-day itinerary. You may also combine your Bhutan trip with a visit to neighboring India, which is one of the cheapest countries in the world to travel in.
Flight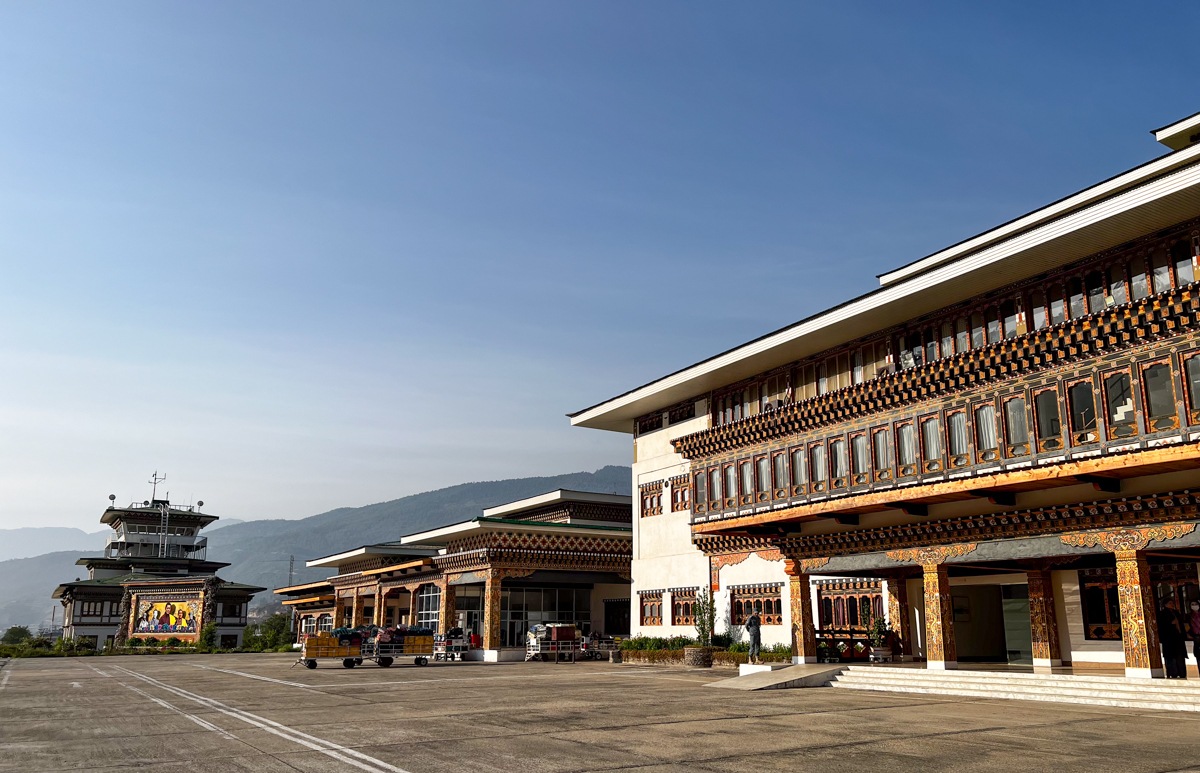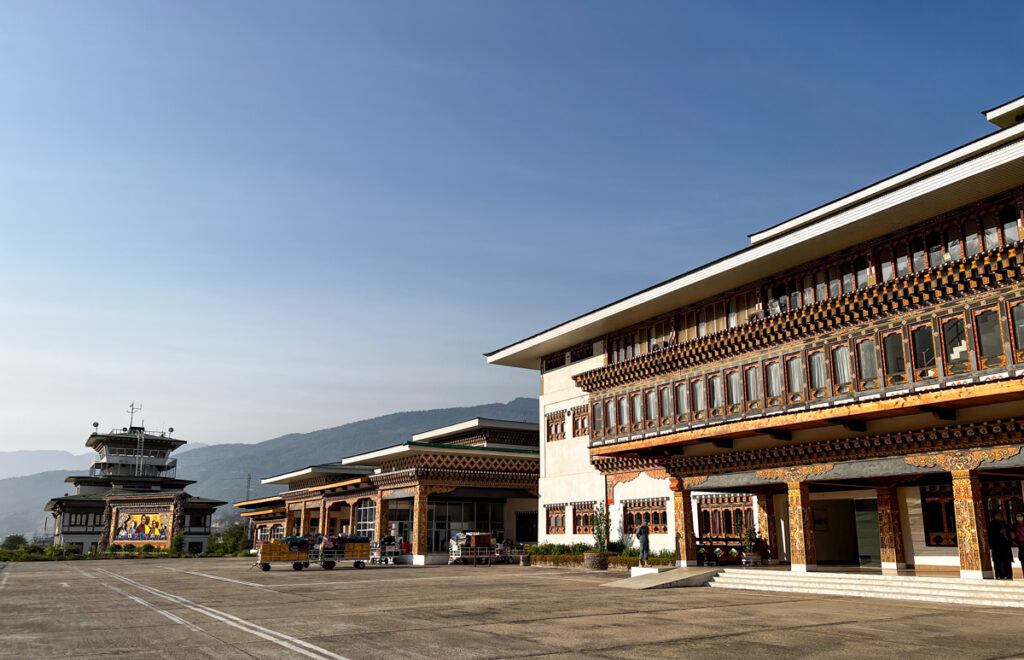 Only two commercial airlines operate flights to and from Bhutan, namely Drukair and Bhutan Airlines. Direct flights are available from Bangkok, Singapore (where a round-trip ticket costs about USD 950-1,000), and several cities in India, Nepal, and Bangladesh. Your tour operator can help you arrange your flights.
How to save money: Fly in from India, Nepal, or Bangladesh, where flights are about USD 350-550 cheaper than flying from Bangkok or Singapore. You may even consider entering and exiting Bhutan via Phuntsholing and through West Bengal in India by car. Some tour operators, including Breathe Bhutan, can pick you up from Phuntsholing for an additional cost.
Tour Guide and Driver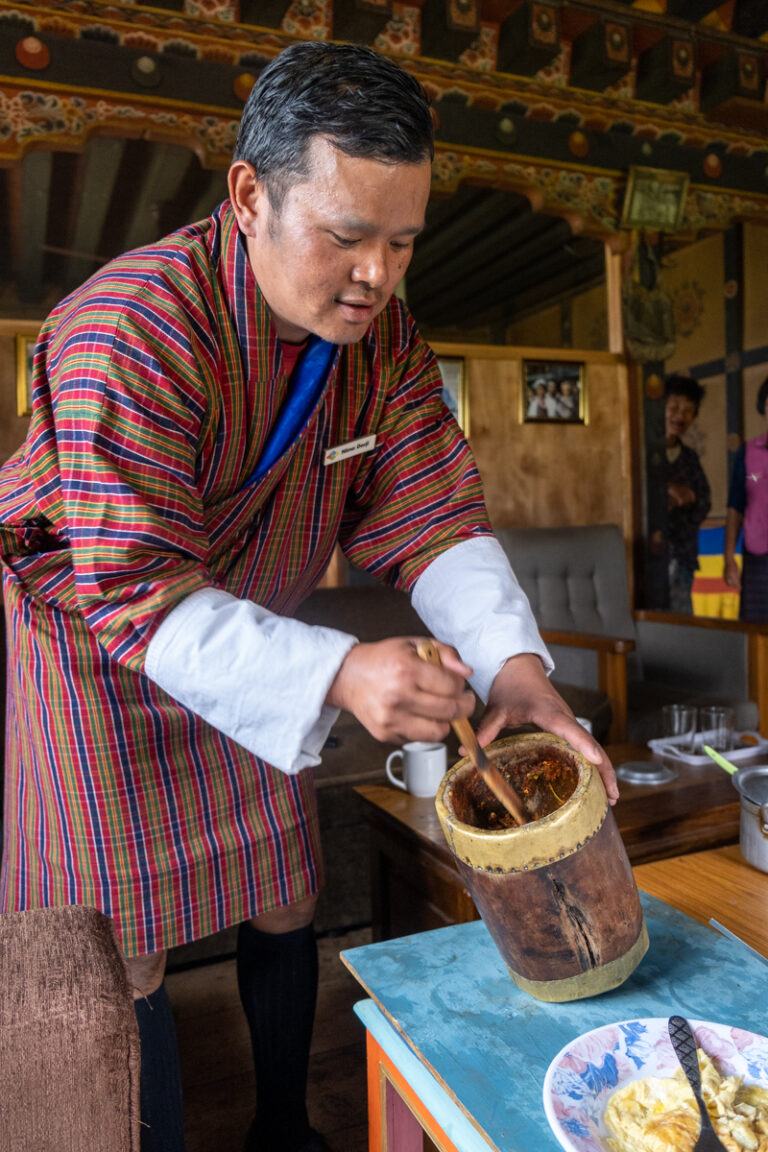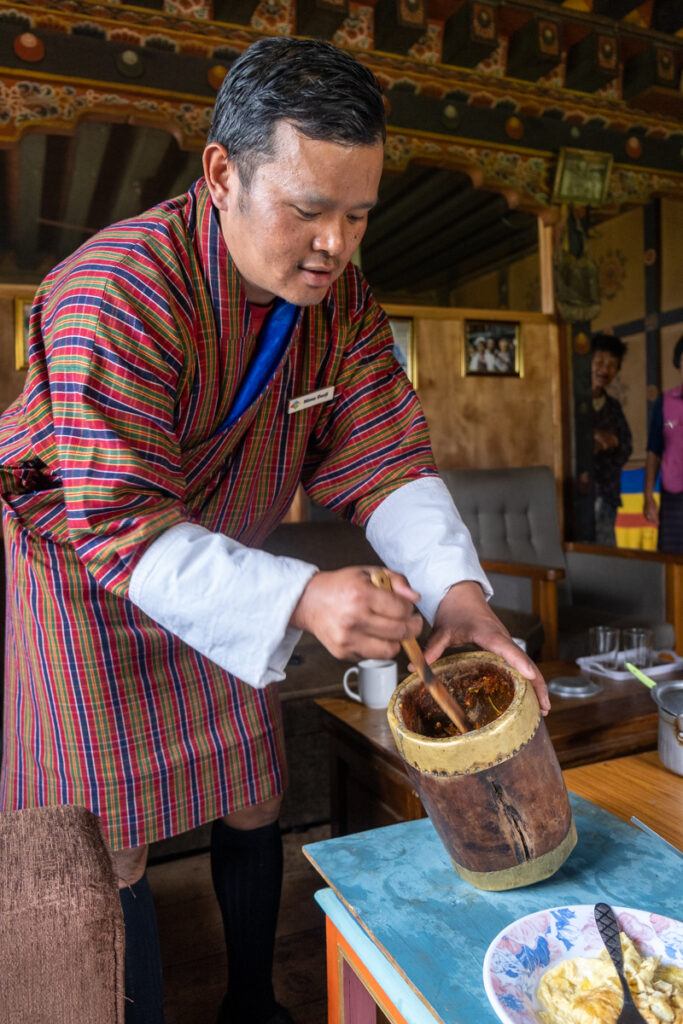 With the revised sustainable development fee, travelers may now travel independently in Bhutan, or at least in Paro and Thimphu. However, I highly recommend traveling with a tour guide, as they provide interesting insights into the culture, offer meaningful conversations, and facilitate engagements with locals.
A driver is absolutely necessary when traveling in Bhutan. The distances from one place to another can be long — we spent an average of three hours per day in the car during our trip. There are no traffic lights in the entire country, and you share the cliffside highways with cows, dogs, yaks and the like. In short, I would not want to drive myself in Bhutan (I am not sure if it's even possible!).
We wanted a personalized and unique Bhutan experience, and so engaged Breathe Bhutan, who tailor-made an itinerary for the two of us. The cost of our tour, which included all meals, a vehicle, a driver, a guide, and taxes, amounted to USD 2,200 for two persons for one week, or about USD 160 per person per day. This does not include the SDF.
How to save money: Join a small group tour, or gather a small group of friends to travel to Bhutan together. Most tour companies offer a discount for group trips.
Accommodation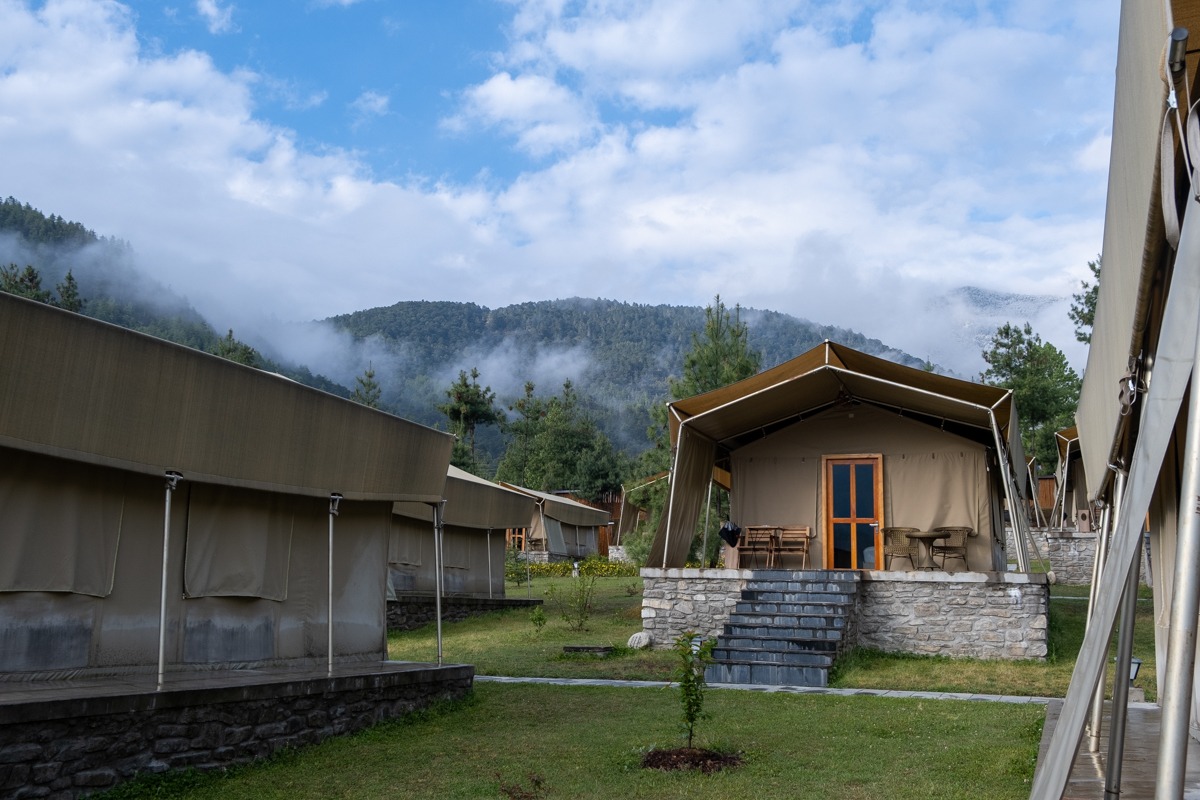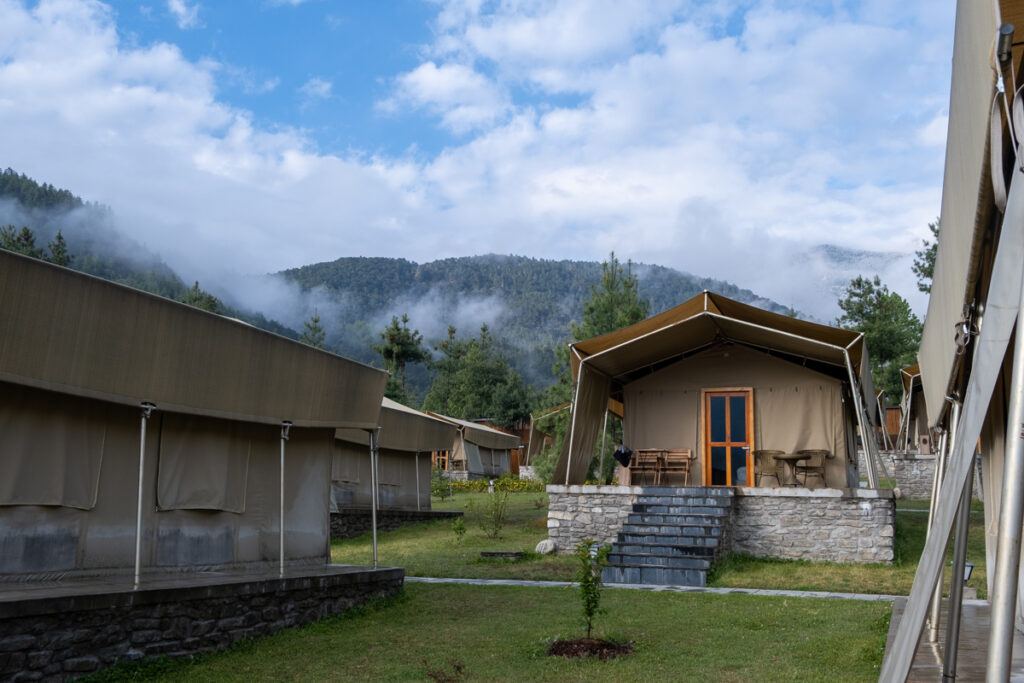 I requested for a range of different accommodation experiences during our stay in Bhutan, and we were able to experience an eco-lodge, a farm resort, a glamping tent, and a four-star hotel. The lodging options in Bhutan are surprisingly abundant!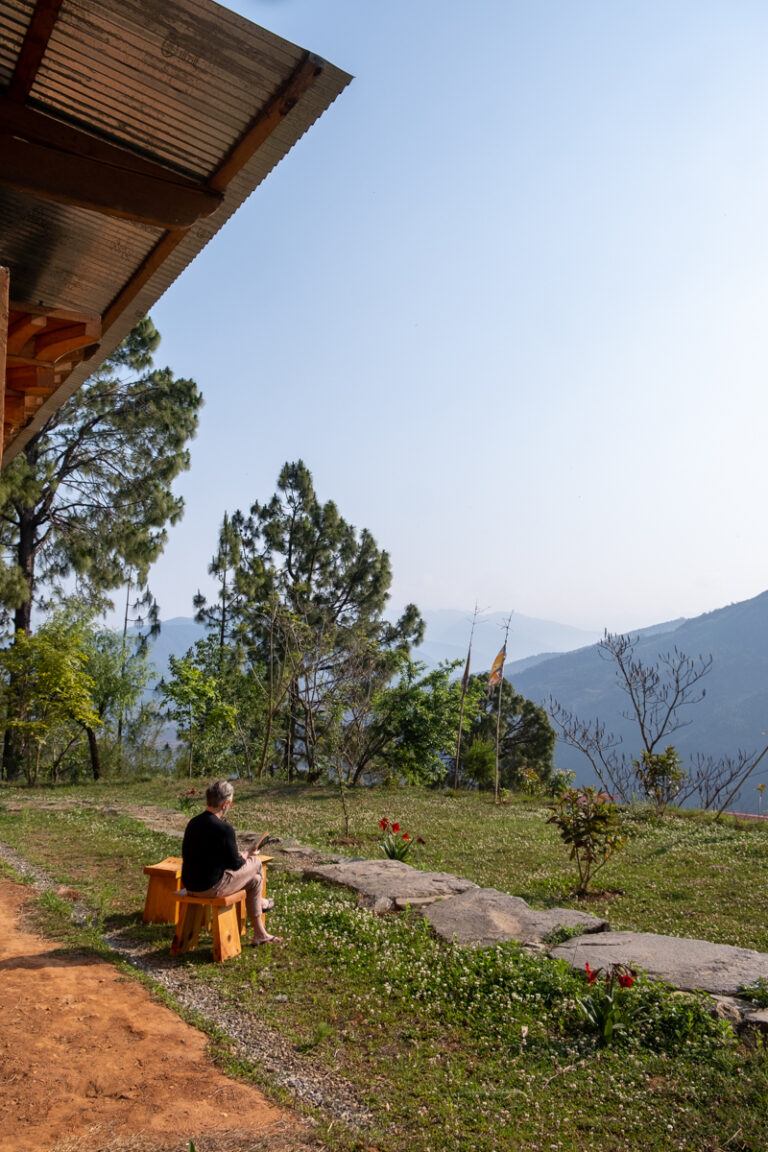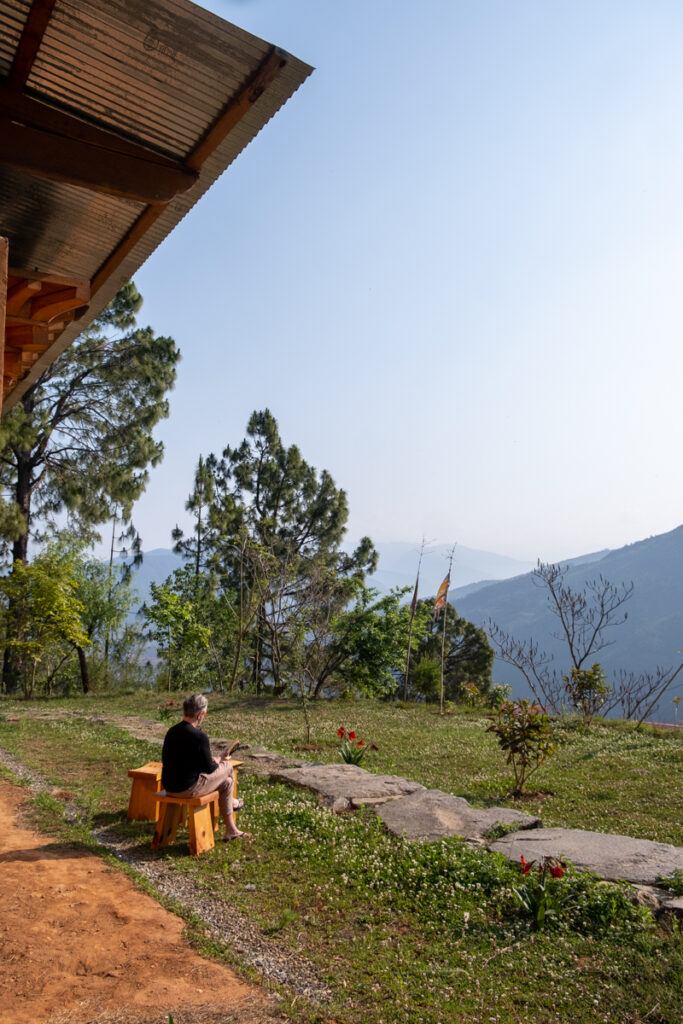 Here's how much each of our stays cost:
The Pema, Thimphu (four-star hotel): USD 150 per night
Dhumra Farm Resort, Punakha (women-run): USD 140 per night
Gaselo Eco Lodge, Punakha (family-run): USD 75 per night
Dewachen Hotel & Spa, Phobjikha Valley: USD 85 per night
Tiger's Nest Camp, Paro (glamping tents): USD 130 per night
How to save money: Request local home stays! They are much cheaper than hotels and offer a unique experience. It was unfortunately not possible for us during our trip, but I'd definitely try staying at a farmhouse the next time we visit Bhutan.
Food and Drinks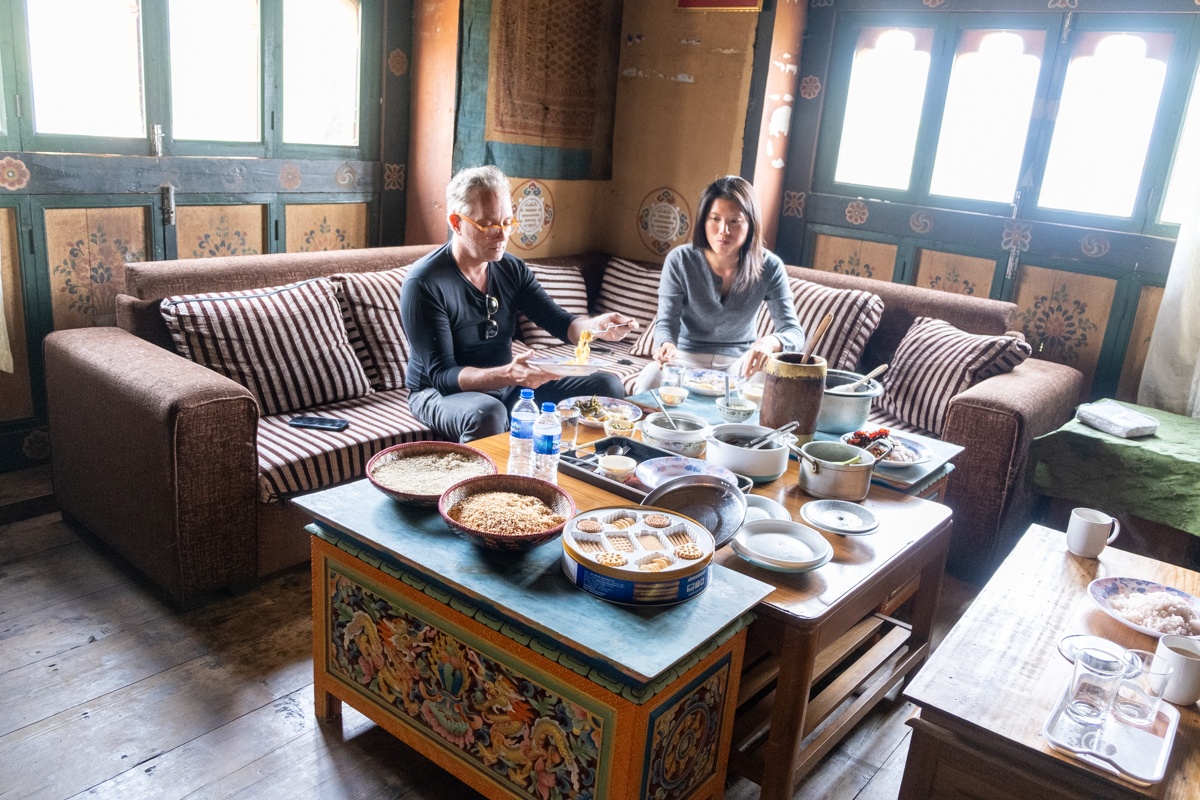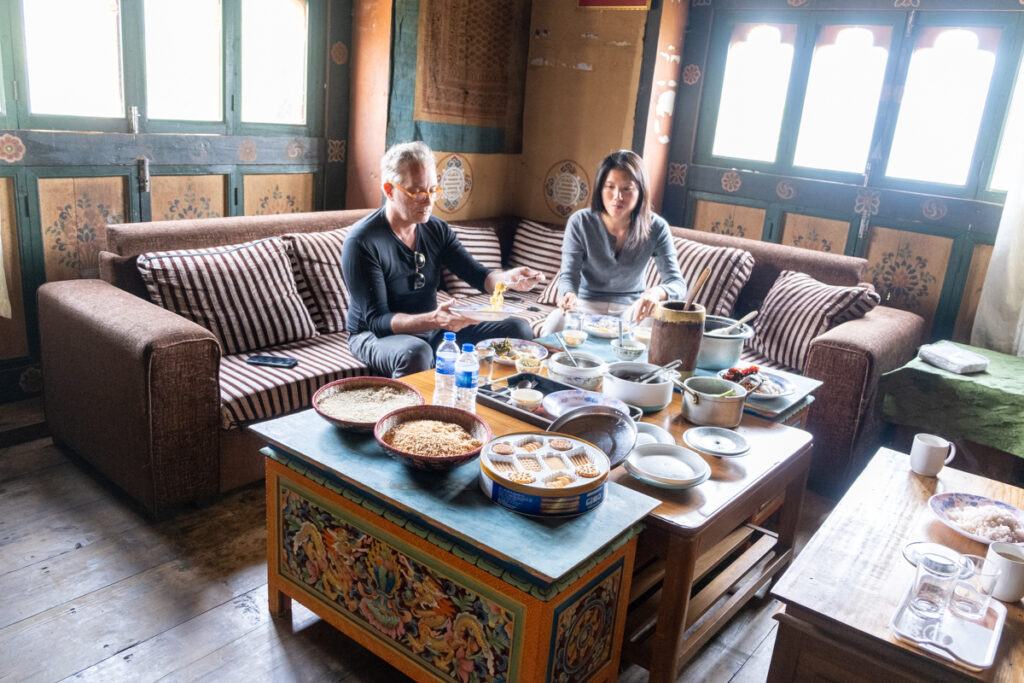 Since this is covered by most tours, you won't really be spending money on food and drinks. On our trip, we found Bhutanese food to be simple and delicious. Most meals include 3-4 vegetable dishes (chili and cheese are constants), 1-2 proteins (eggs or chicken), and rice. The Bhutanese tend to eat the same things for breakfast, lunch, and dinner. Most hotels offer complimentary Western-style breakfasts.
As for drinks, I enjoyed the local milk tea, whereas the butter tea can be an acquired taste. You can also find local beer and wine at restaurants and convenience stores.
I read on other blogs that Bhutanese food can be bland, but my husband and I enjoyed everything that was put on our table. I especially loved yak cheese!
Entrance Fees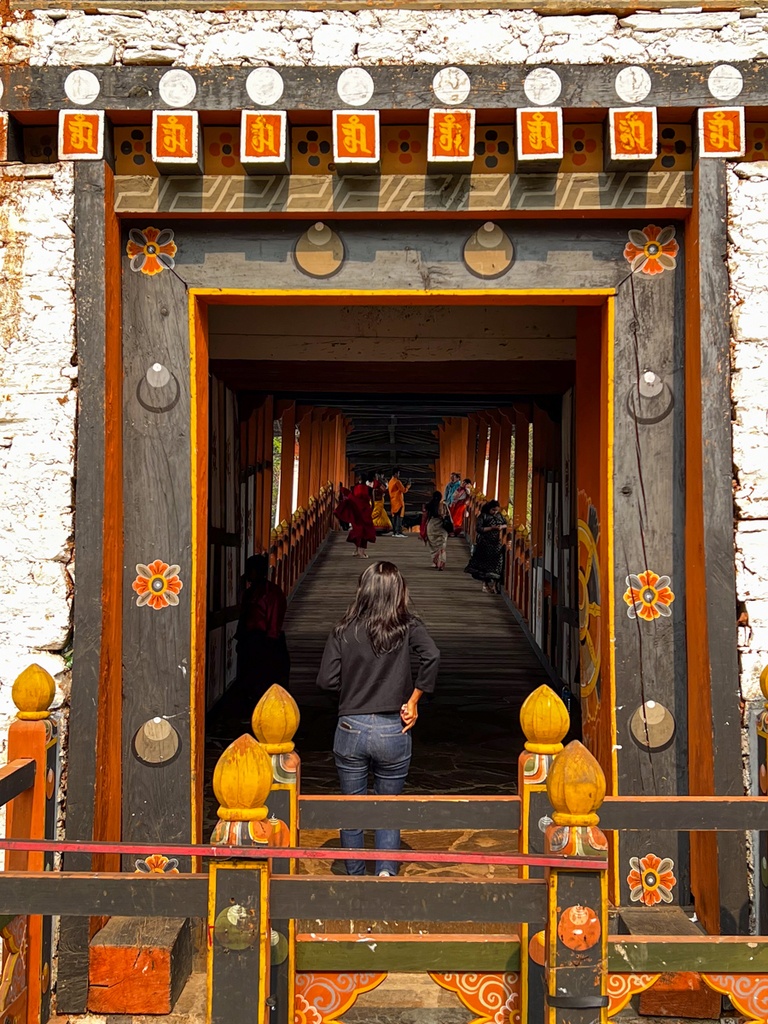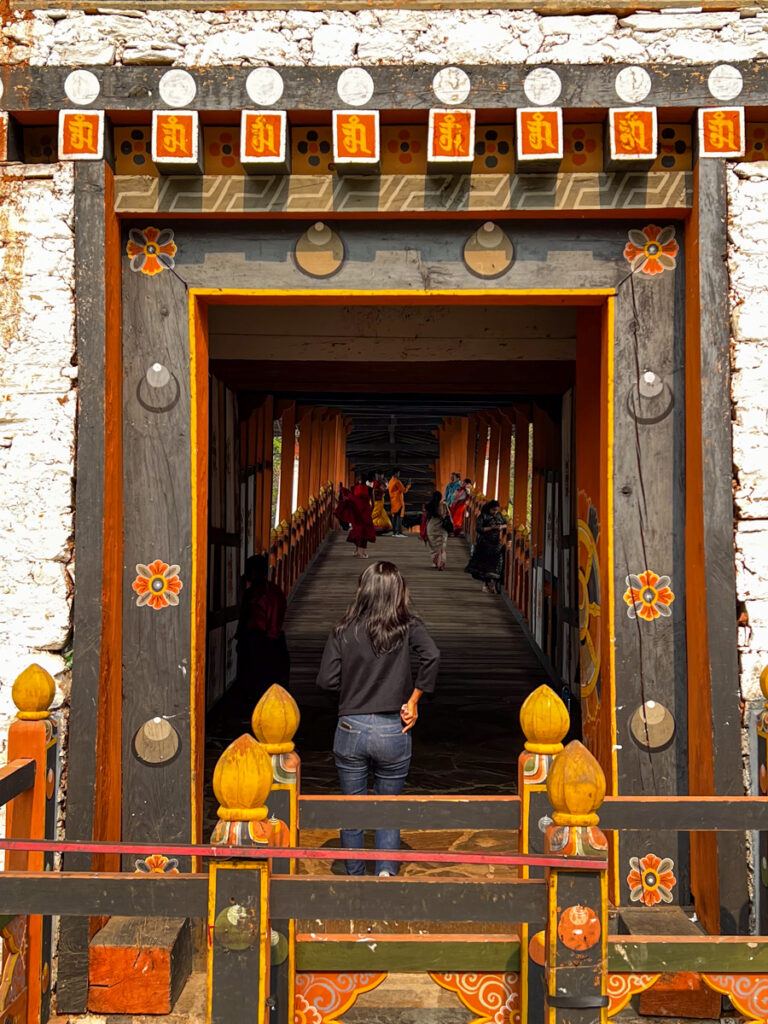 Most sacred sites in Bhutan, including the dzongs (fortified monasteries) and the Buddha Dordenma, require an entrance fee of about USD 13 per person. The Tiger's Nest entrance fee is about USD 25 per person. Since our tour included entrance fees, we did not have to worry about them.
Shopping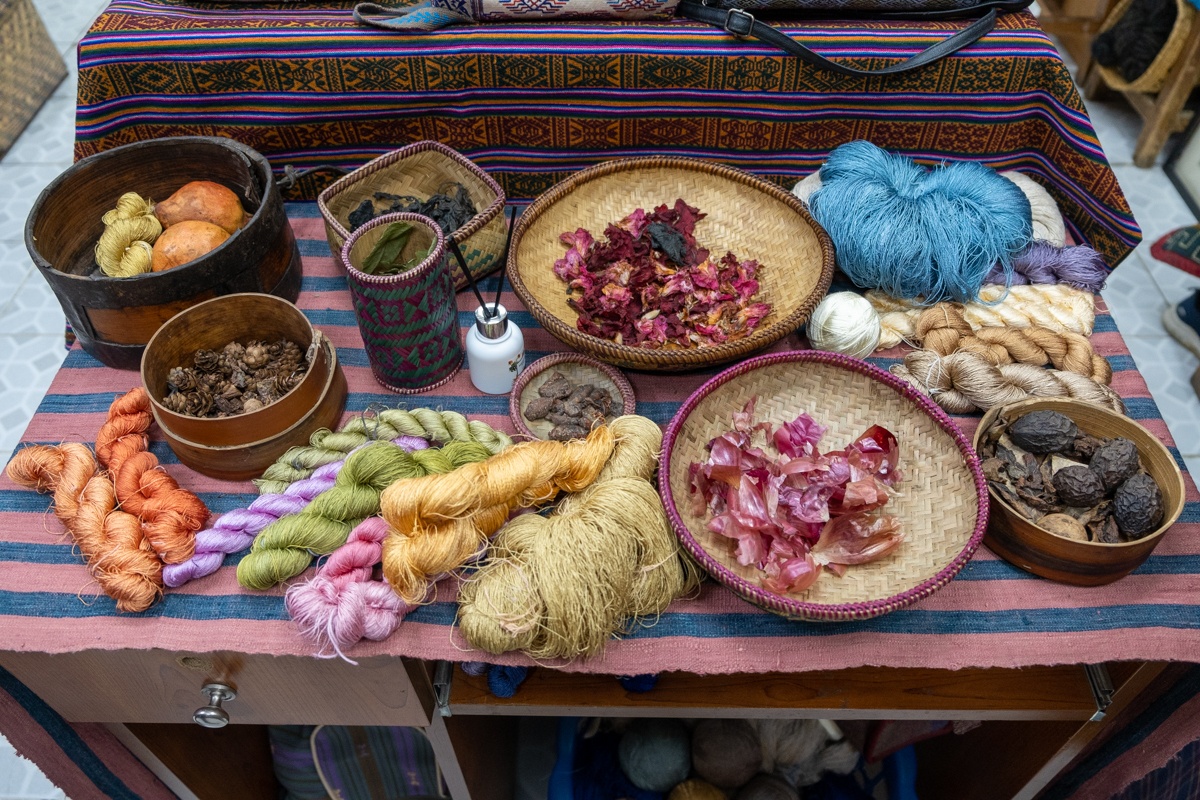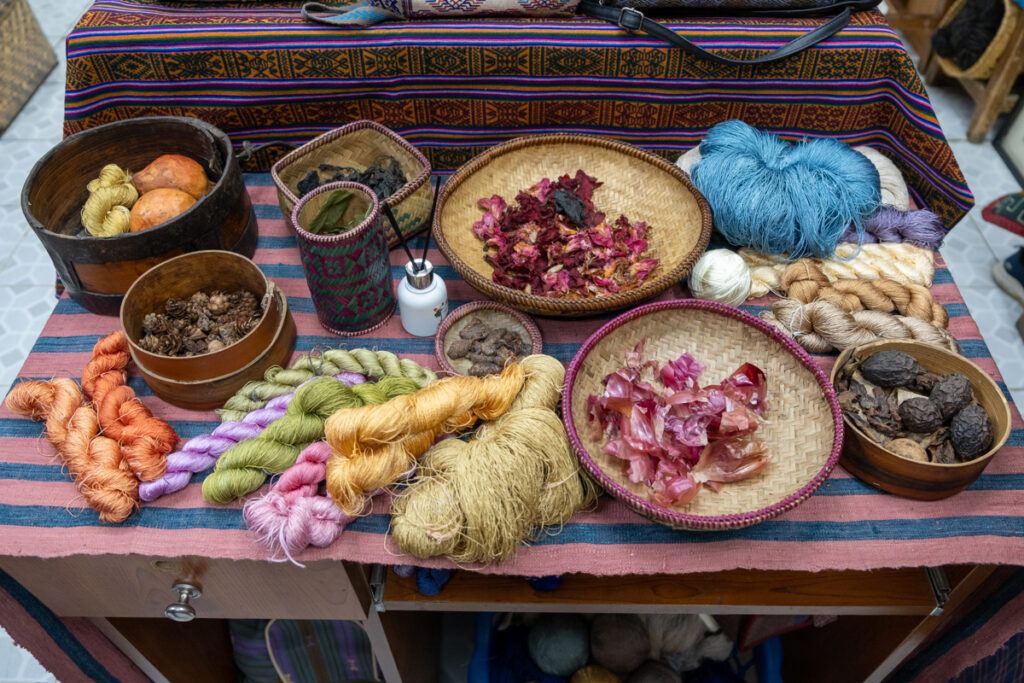 Whether it's paintings, scarves, bags, or wood sculptures, the attention to detail in Bhutanese art and crafts is very impressive. If you plan to shop for souvenirs, be sure to visit the shopping street in Paro Town before going home.
For art lovers, you may be interested in investing in a thangka, a Tibetan Buddhist painting made with natural pigments. Each thangka takes weeks or months to complete, and while there are several specific themes, it is up to the artist to interpret in his or her own way. Because of this, a thangka painting can cost from a few hundred dollars up to the thousands.
Unfortunately, there are many shops in Paro selling machine-produced thangkas, and it can be tricky to differentiate a hand-painted one from a machine-made one, so definitely consult your guide, who would be able to advice.
Other Activities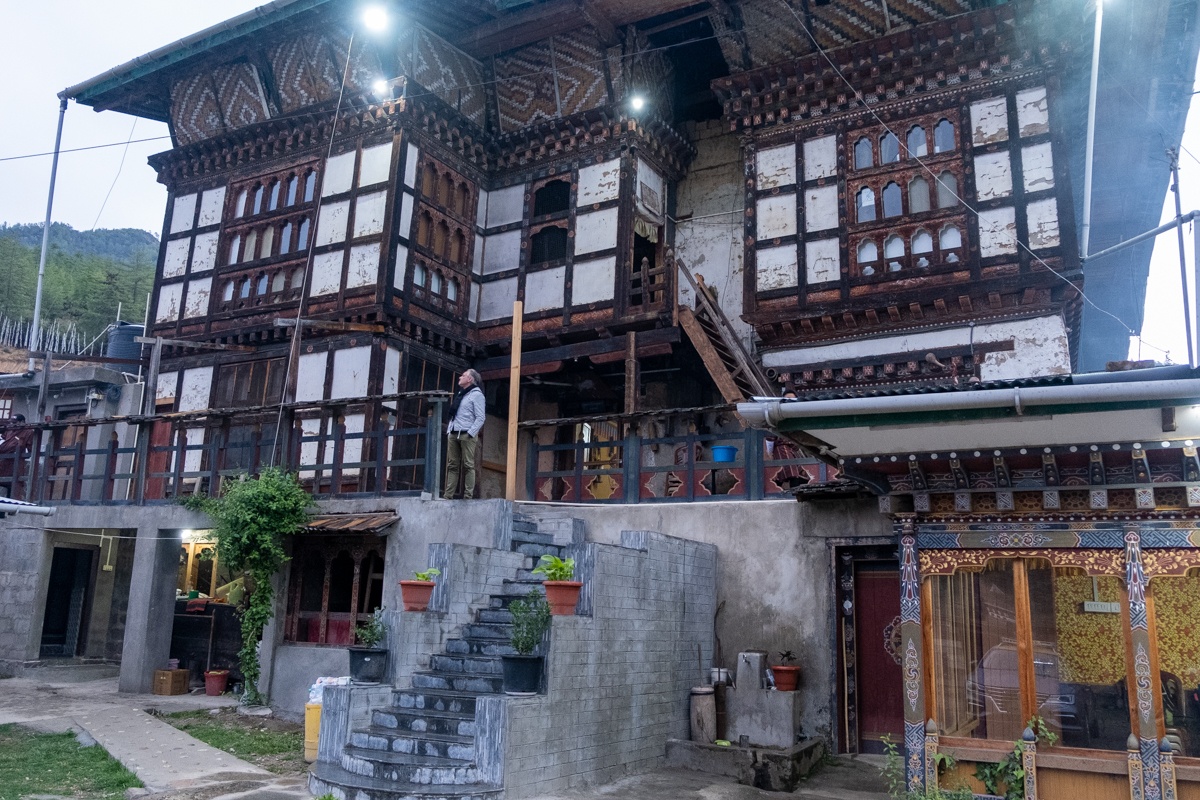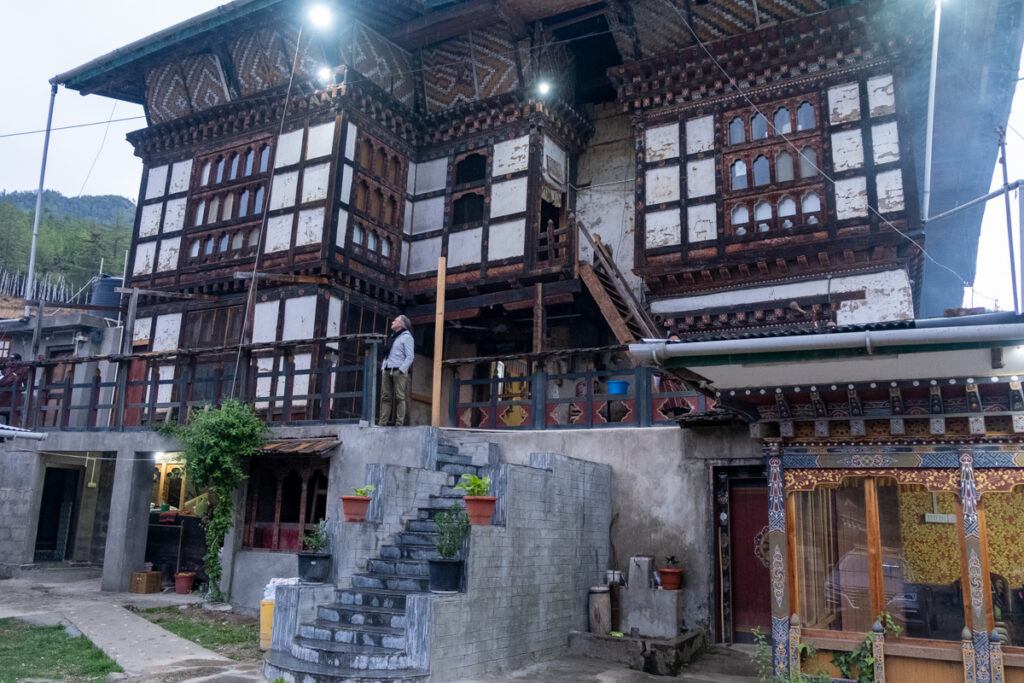 A popular activity to do after the Tiger's Nest hike is a hot stone bath, which consists of fresh water mixed with Artemisia absinthium leaves, heated with roasted river stones. You will spend about an hour soaking in a wooden tub, and it's the most relaxing thing to do after a long day of hiking.
Some hotels have their own hot stone bathhouse, which I recommend booking for the evening after your hike. It costs about USD 10 per person for an hour. For a more traditional experience, you can visit local bathhouse (like the one in the picture above), which costs more, about USD 18 per person, but offers an authentic experience.
Another fun thing to do is whitewater rafting in Punakha, along Mo Chhu (Female River) and Pho Chhu (Male River). We did not get to try this, but this blog post gives you the full rundown. A raft costs USD 150 and can take up to six passengers.
Tipping in Bhutan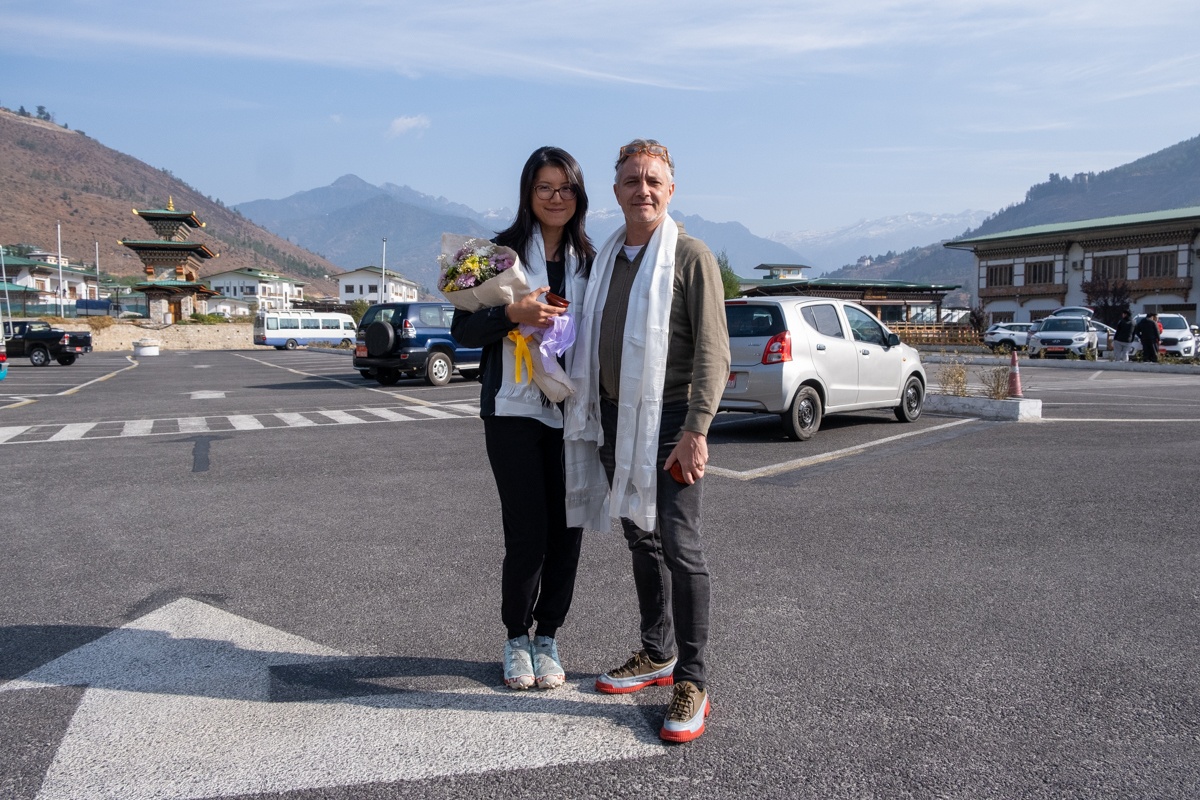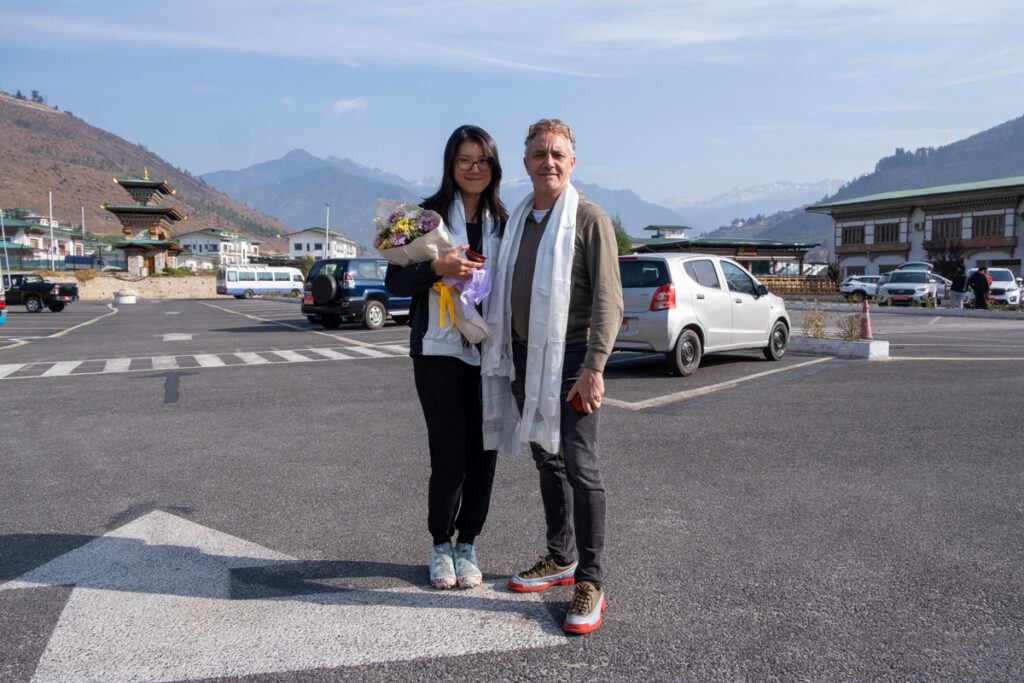 Tipping your tour guide and driver is customary. I was very grateful for our guide and driver, Nima and Phuentso, who took such great care of us and generously shared the beauty of their country with us. While there's no specific tipping rate, it was recommended to us to tip about USD 20 per day. Considering that they spent over 10 hours with us and frequently went out of their way to make sure we got to make the most of our trip, I think the tip was well deserved.
In total, our trip to Bhutan cost about USD 7,500, or about USD 535 per person per day, including the USD 200 daily fee.
I hope this post is helpful to you. Comment below if you have any questions about budgeting for your Bhutan trip!
*This post was brought to you in partnership with Breathe Bhutan. All opinions on the tour operator and the Kingdom of the Thunder Dragon are my own. Your trust comes first!