When you see photos of the Azores, and even more when you see it in person, the incredible green and lushness of the subtropical environment almost makes it feel like a movie set – like it couldn't be real.
But it is. It just needs a lot of rain to look that incredible.
The Azores are sometimes referred to as the Hawaii of Europe, except that Hawaii is warm, beachy, and tropical. These islands are unlike anywhere I have been before, almost like a combination of Iceland and Hawaii with a Portuguese flair.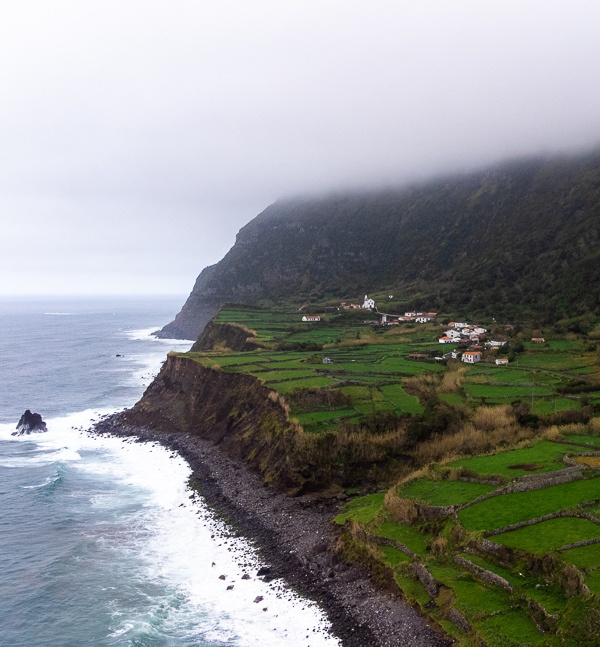 They can also be prone to heavy wind, rain, gloom, and several seasons in one day. Thinking of visiting? Here's what to know:
Azores Temperature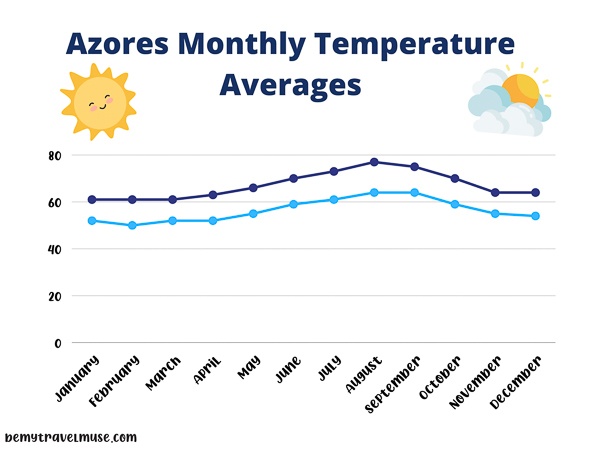 The Azores have a mild temperature that doesn't vary that much from season to season. It's never all that hot, and it's never all that cold.
Since the Azores' latitude is in line with Portugal's southern mainland, it would seem like they should be warmer, however given their location in the Atlantic Ocean rather than Mediterranean sea, they maintain a mild temperature year-round.
Although temperatures as warm as 32.1 °C (89.8 °F) have been recorded on Pico, neither of the Azores' two largest cities have ever been warmer than 30 °C (86 °F). There has also never been a frost, snowfall, freeze or even temperatures below 5 °C (41 °F) recorded at sea level on any of the islands.
It is, however, humid, so the warmer temperatures can feel quite warm, and cooler temperatures can feel quite cool, especially when accompanied by the frequent wind.
Azores Rainfall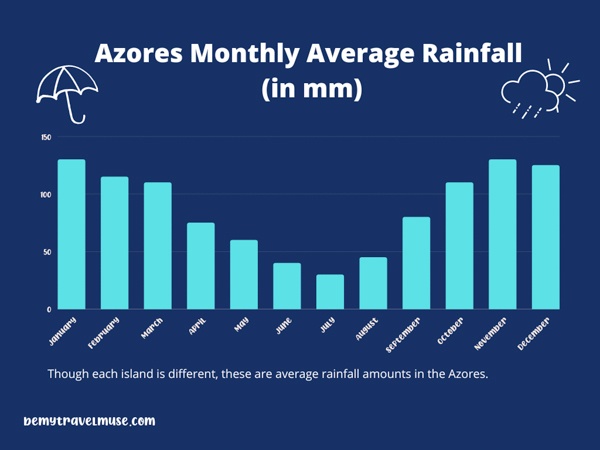 Unless visiting in July, you can almost count on rain, and even then, it would be very uncommon for there to be no showers whatsoever during your visit. Given it's a tropical island, it's quite rainy and wet. But the great thing about tropical islands is the storms can pass quickly. Even when we visited at the end of April and early May, almost no day was truly rainy the whole way through. We didn't have a single day without at least some rain, either, though.
If visiting in the winter, you're much more likely to experience not only rainy weather, but fog at many of the higher viewpoints. This is part of the reason why, although I love off-season travel, I probably would not visit the Azores in the winter.
Azores Sea Temperature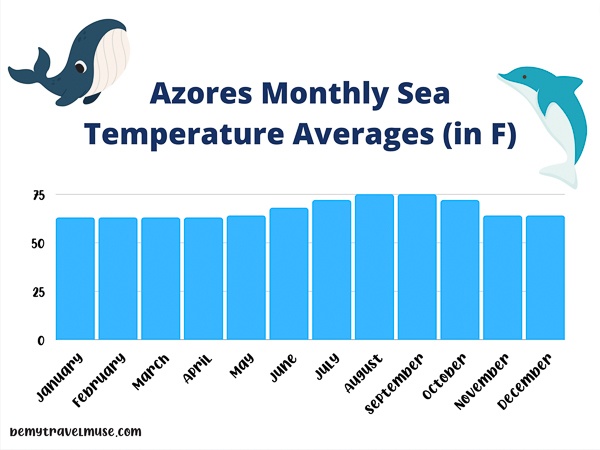 Although the Azores aren't the kind of tropical destinations that offers abundant beaches and heat, there's still plenty of reasons to get in the water. There are natural swimming pools created by the volcanic rock on most islands, and there are several species of dolphin that only exist in the Azores. It's possible to swim with them, but it's definitely more enjoyable when the water is warmer.
When we visited in the end of April/early May, it definitely didn't feel warm enough to get in the water, but I would love to go back during the summer and have the summery experience!
As a California girl with colder water in the Pacific, the August and September sea temperatures sound downright balmy to me!
Azores Cloud Cover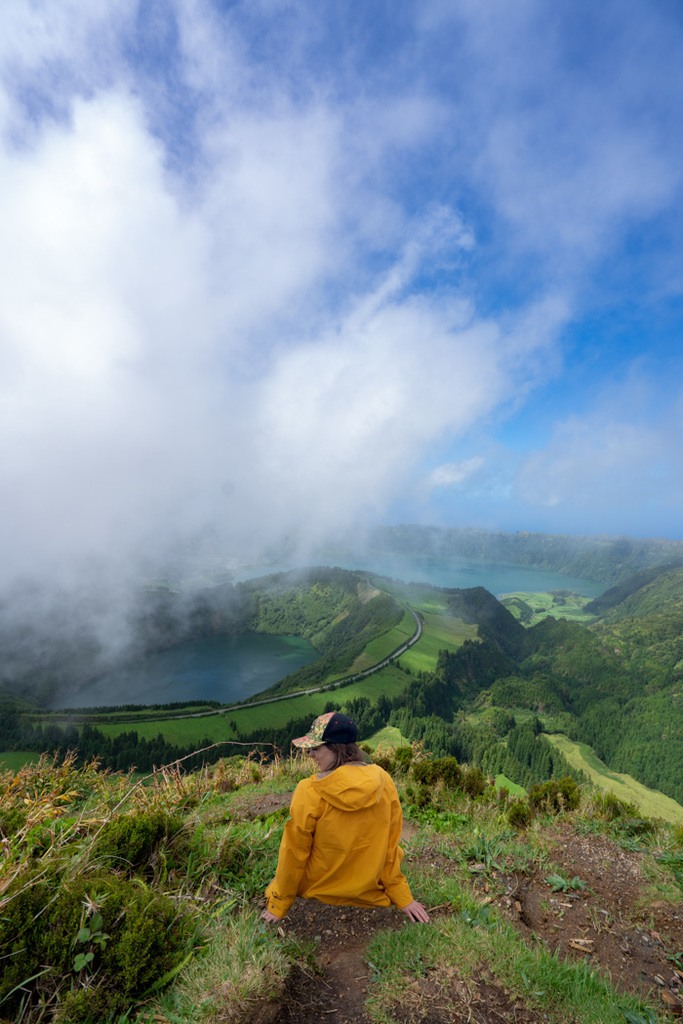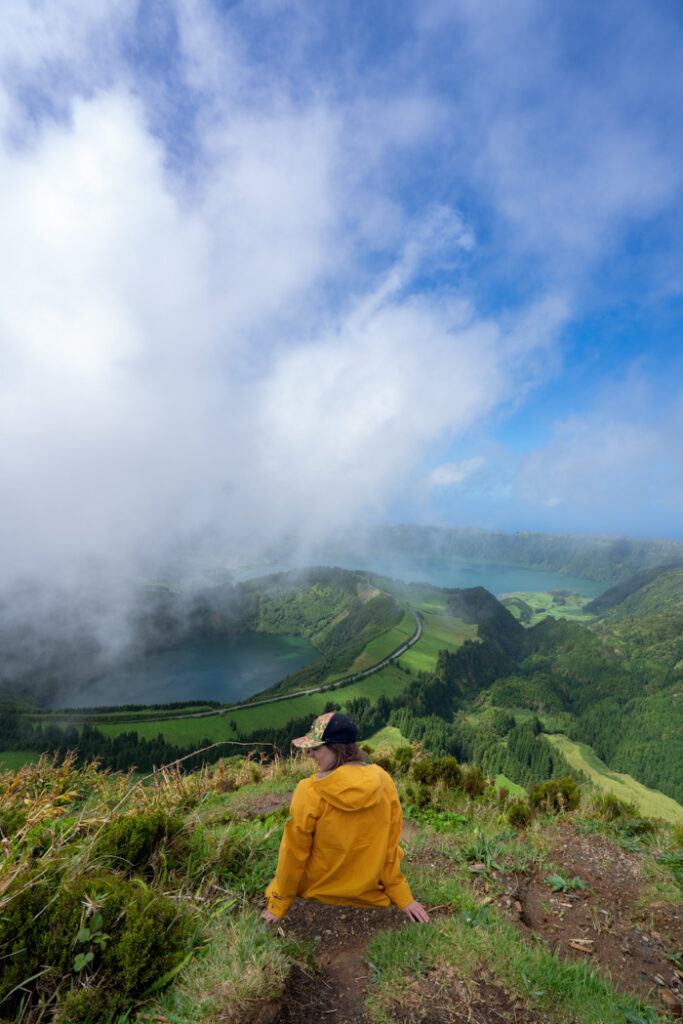 I did not realize before we went to the Azores how big of a consideration cloud cover and fog would be for many of the viewpoints. Some of them are located higher up in the mountains, especially one of the most famous ones in Sete Cidades, pictured above. We had to go three times just to get the brief opening pictured above. Going in the summer does not guarantee you will be able to see it, but it gives you a better chance.
There's also the possibility of weather delays due to the heavy winds. They can be intense at any time of year, but the weather can be more variable during the cooler months. We had a trip delay due to heavy winds when making our way to Flores, and only got lucky enough to see its famous waterfall on our last day.
Azores Seasons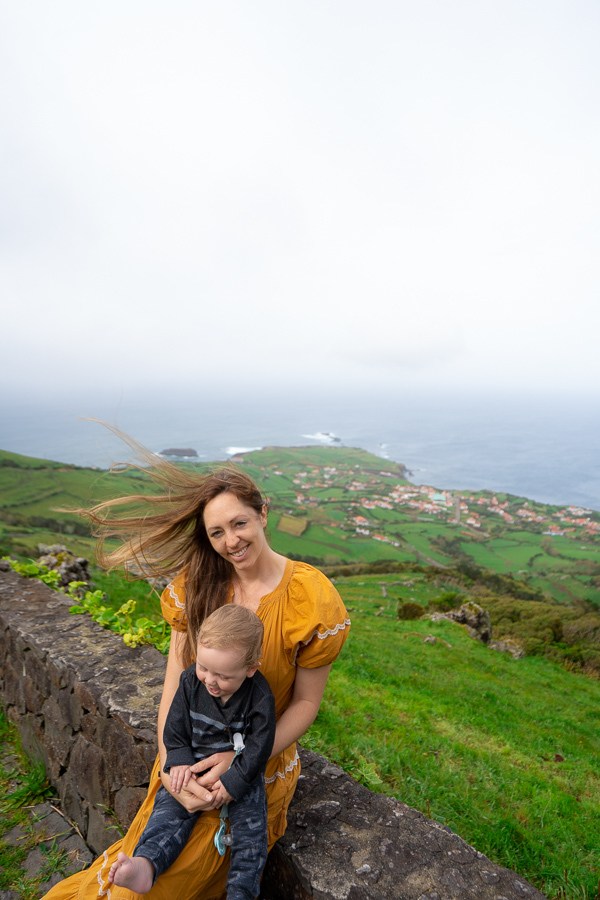 Depending on the season, you'll get a unique experience. Here's what to know:
Winter: December – January – February
This is the rainiest and coolest time of year, though even winter isn't anywhere near as cold as other destinations can be! Still, it can be missing out on seeing some of the more famous geological features, particularly the mountain lakes.
Some of the westerly islands — Flores and Corvo — can also experience extreme winds and colder temperatures.
Spring: March – April – May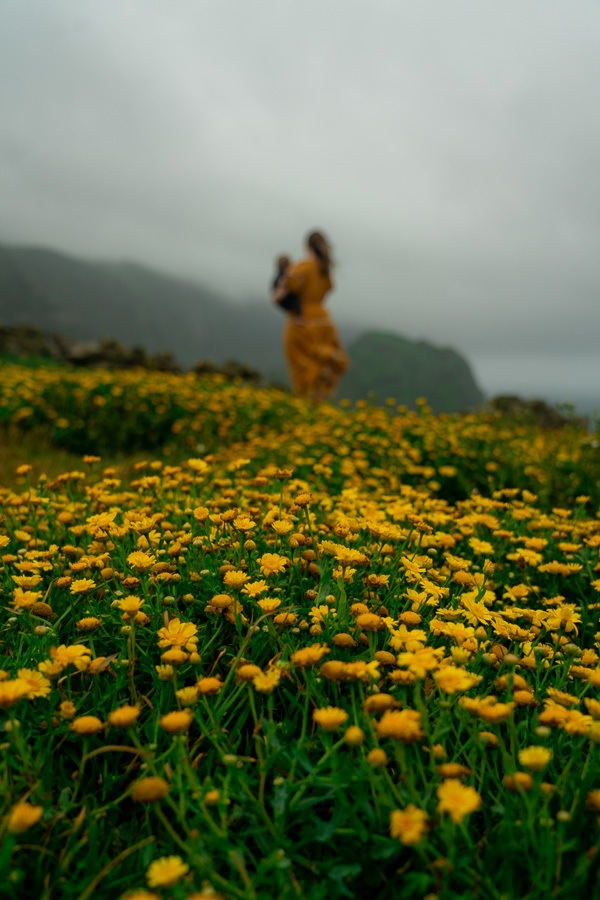 Spring can be a variable time to travel to the Azores. March will still feel cooler and rainier, and April can be similar, however moving into May, especially late May, you have much less cloud cover and temperatures start to warm up.
We chose to travel during late April to early May because accommodation is easier to book, everything is less expensive, and less crowded, too. When we do it next time, we will probably shift more towards late May/early June.
Summer: June – July – August
The warmest and least rainy time to visit, summertime in the Azores offers the best weather. Still, plan on experiencing at least some rain, wind, and cloudiness. It's the Azores after all!
This is also the busiest time of year for tourism, and many islands only have a few places to stay. Be sure to book well ahead of time if visiting in the peak summer months.
Fall: September – October – November
The fall in the Azores can also be quite variable, with early September still having summery temperatures, but things quickly get cooler and rainier from there on out, depending on the year.
The weather can also be beautiful at this time of year. Like spring, it can be hard to predict, though you'll experience fewer flower blooms at this time of year, which are beautiful.
Overall, although I tend to travel to a lot of destinations when other people avoid them (I'm a big fan of Alaska in the winter and enjoy Southeast Asia during the rainy season), the Azores are one of your destinations that I truly think is probably best visited in the summer, just so that you can get a chance to see all of the beautiful things without the dense fog and clouds. It will be more people and competition for accommodation, but if you plan ahead, I think it's worth those small downsides.