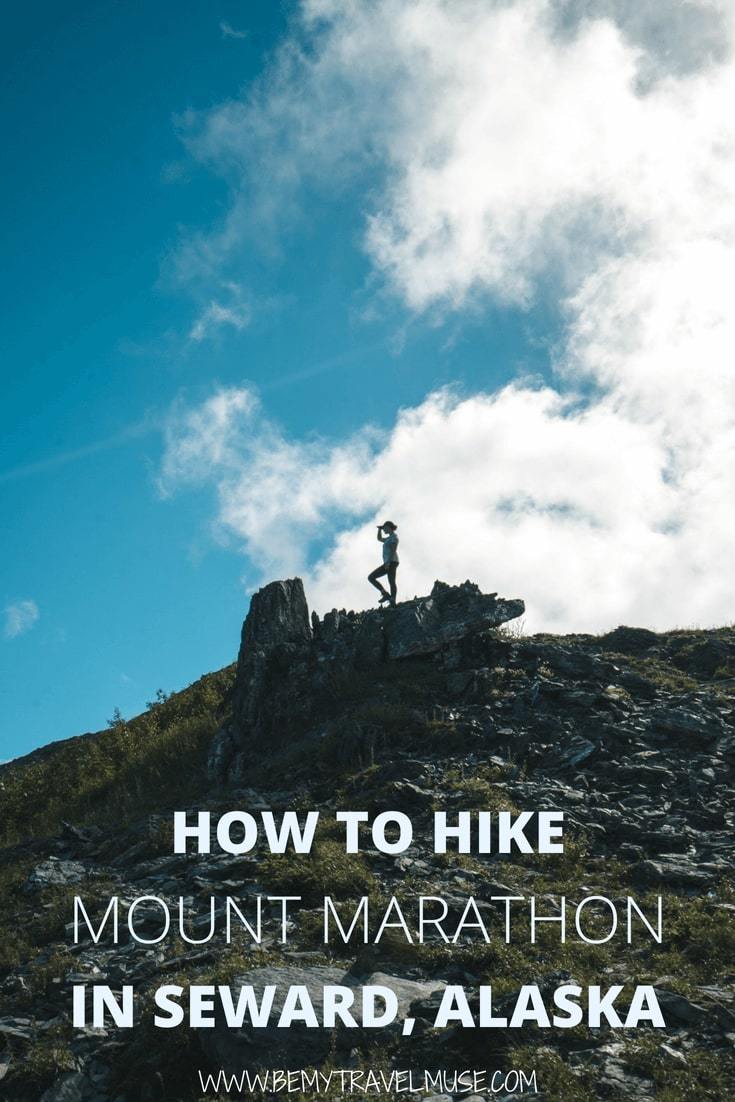 Seward, Alaska is famous for being the gateway to Kenai Fjords National Park, one of the most popular places to visit in Alaska. It's also one of the stops for major cruise lines when visiting Alaska. However there's a little hidden gem that receives far fewer visitors but gives you a stunning view over the Resurrection Bay on a clear day: The Mount Marathon hike.
The hike is so-named for the marathon that takes place on it every Fourth of July. The trail begins at sea level and climbs to 3022 feet in less than 3 miles of distance. Yes, it's a bit steep and yes, it's a bit of a challenge, but it's so worth it! Here are my best tips on how to hike Mount Marathon:
Choose your Mount Marathon hiking route: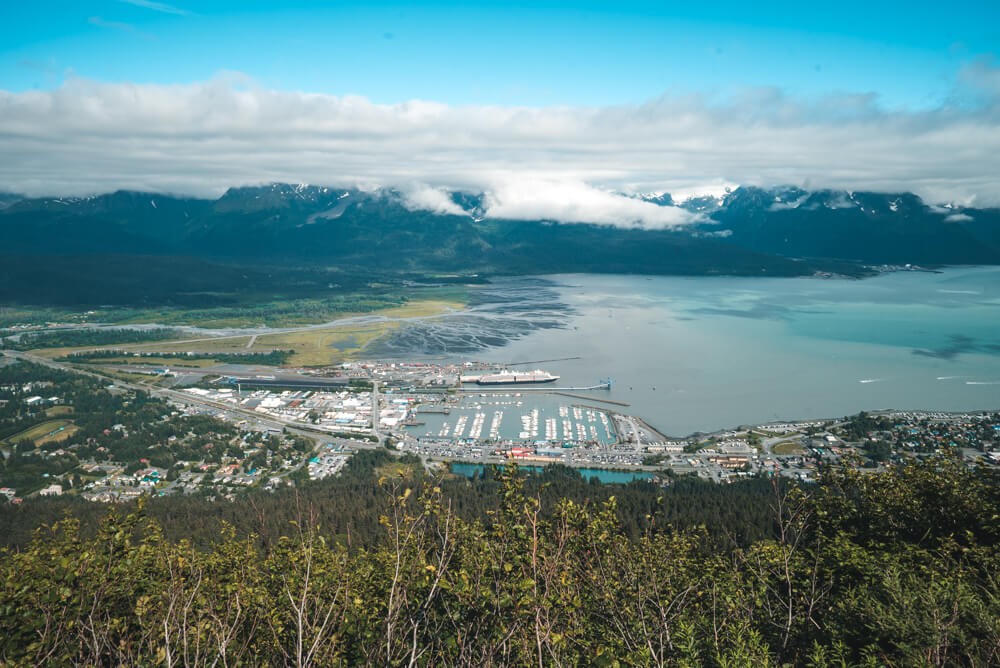 There are two routes for climbing Mount Marathon: the runner's trail and the jeep trail. If you're a trail runner in the mood for training and you want to try to beat the fastest time, which is 41 minutes, go for the runner's trail.
For the rest of us, the jeep trail is less strenuous and goes uphill gradually with only a few very steep inclines. It's a 4 mile loop and takes about 4 hours if you like to stop and take pictures as much as my group and I did!
The trail is pretty well-marked though it does fork in a few places. I'd keep a map or a maps.me GPS handy.
What to expect: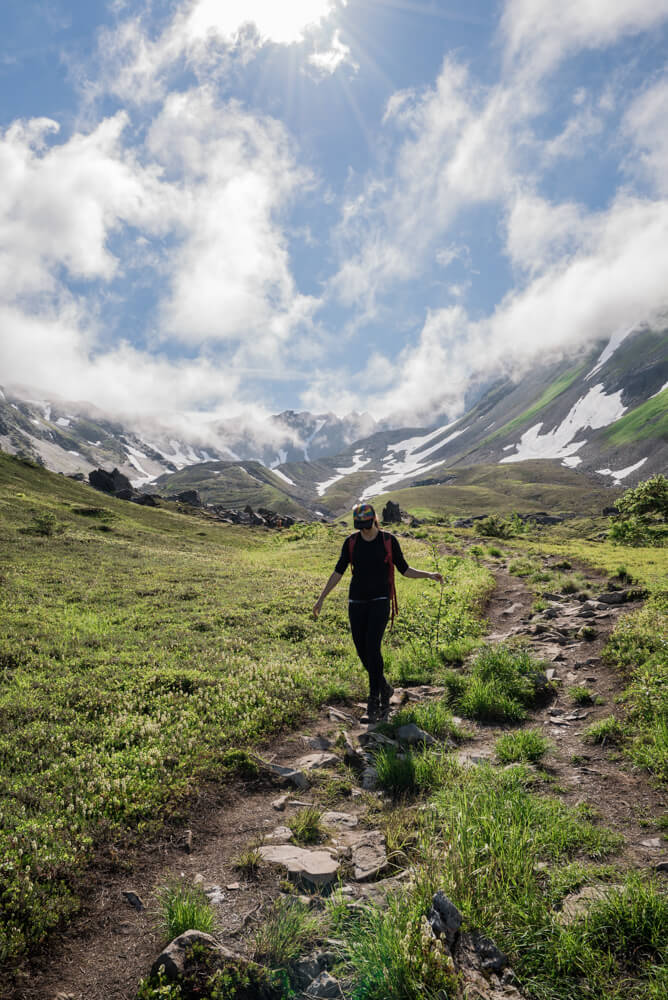 The beginning of the hike is a bit steep until you get above the tree line. Then you'll head into a meadow as you loop around to get to the bowl, pictured above. If it's a clear day, this is spectacular in its own right.
From the bowl, the trail heading up that winds to your right will take you to the summit. This gives you incredible views all along Resurrection Bay. What my group and I found the most striking, apart from the landscape of course, is how incredibly huge the cruise ships look in comparison to the buildings down below. You can really see the scale from up there!
You should also expect to encounter some wildlife during your hike. We saw two moose who thankfully were just as surprised and freaked out as we were, and retreated quickly in the other direction. It was pretty cool after we got over the initial shock, but let's not forget these are huge beasts. Your best bet is to make noise as you hike, which isn't hard if you're with a group.
Difficulty of the hike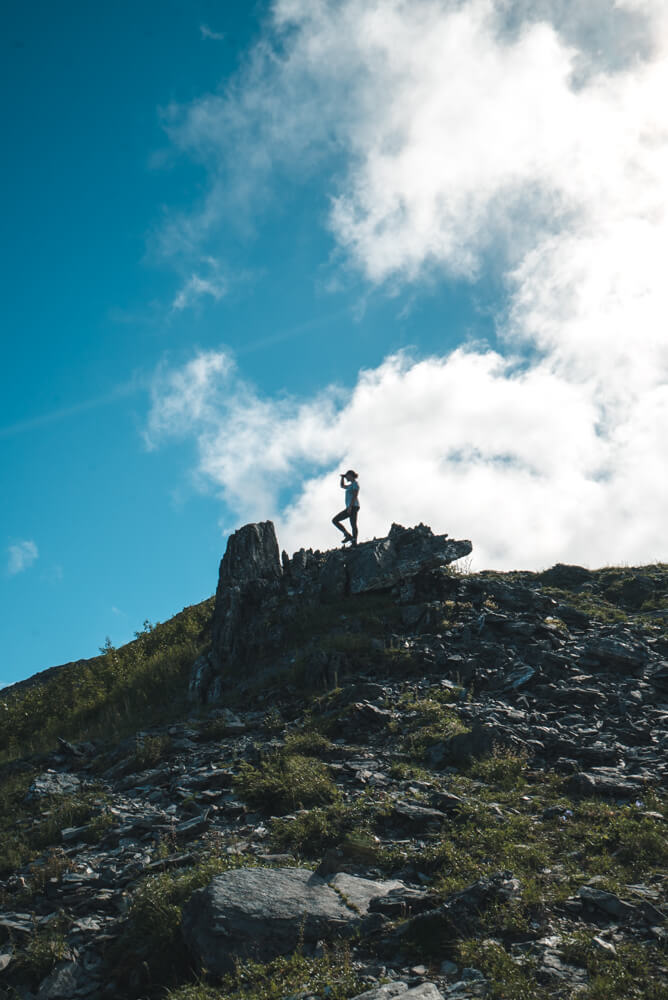 I find it hard to rate difficulty of a hike because it's subjective, but in a nutshell, this hike is steep and strenuous in places but overall pleasant and doable if you're fit and are free from injuries. Thankfully it's a short one and regardless of where on the trail you make it to, you're going to see some beautiful views.
That said, it would be made much more difficult by heavy rains. If it's been raining, the trail will be muddy and if the view will be obstructed by clouds, see if you can wait and go on a clear day. Your experience will be that much better.
Also be sure to bring ample water and dress in layers. It can be quite windy at the top and you never know when it might rain.
If you're somewhat new to hiking and want some more tips on how to prep, check on my article on hiking for beginners. And don't worry if this is your first mountain, it was for one of the girls on my trip too and she totally rocked it!
Though Marathon Mountain is a bit of a challenge to hike, the amazing views you get for the amount of time and effort invested is well worth it.
If you find yourself in Seward, treat yourself to this awesome hike!