Vietnam is an essential stop for most people who are backpacking across Southeast Asia. If you want a destination where your money will go far, and where you can get access to jungles, history, beaches, and gorgeous natural areas with ease, then Vietnam is an excellent choice.
Vietnam is also very special when it comes to food. It's interesting to see the way that it changes from region to region, and yet how cheap and delicious it is, and generally healthy too!
Here's my guide to many of the best spots in Vietnam, in the direction that I took from South to North. This can easily be reversed if you're coming from the other direction:
Ho Chi Minh City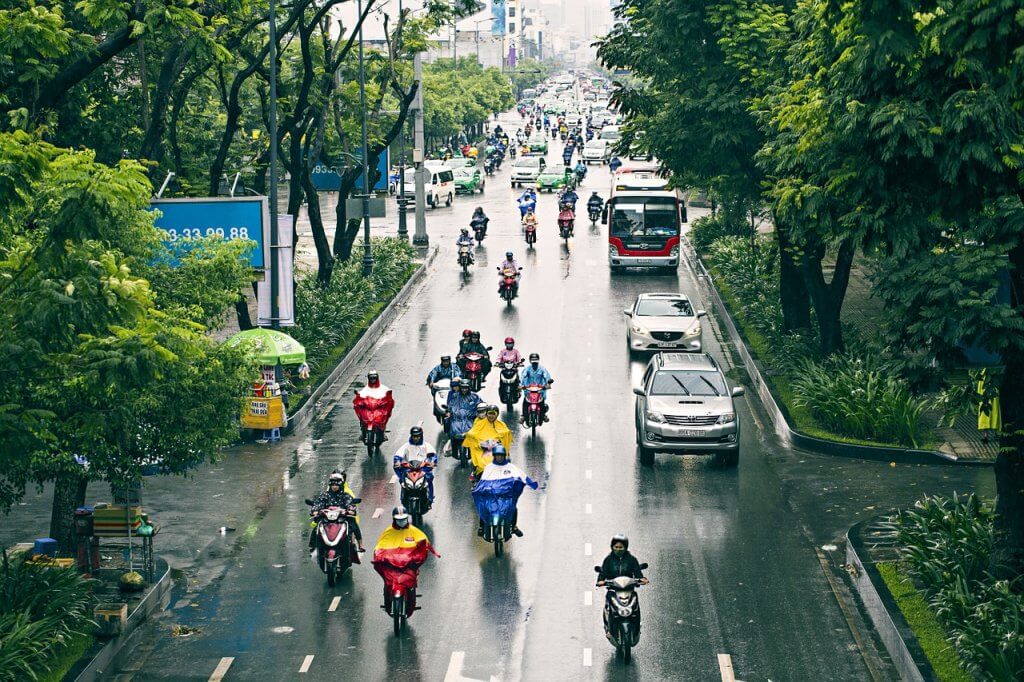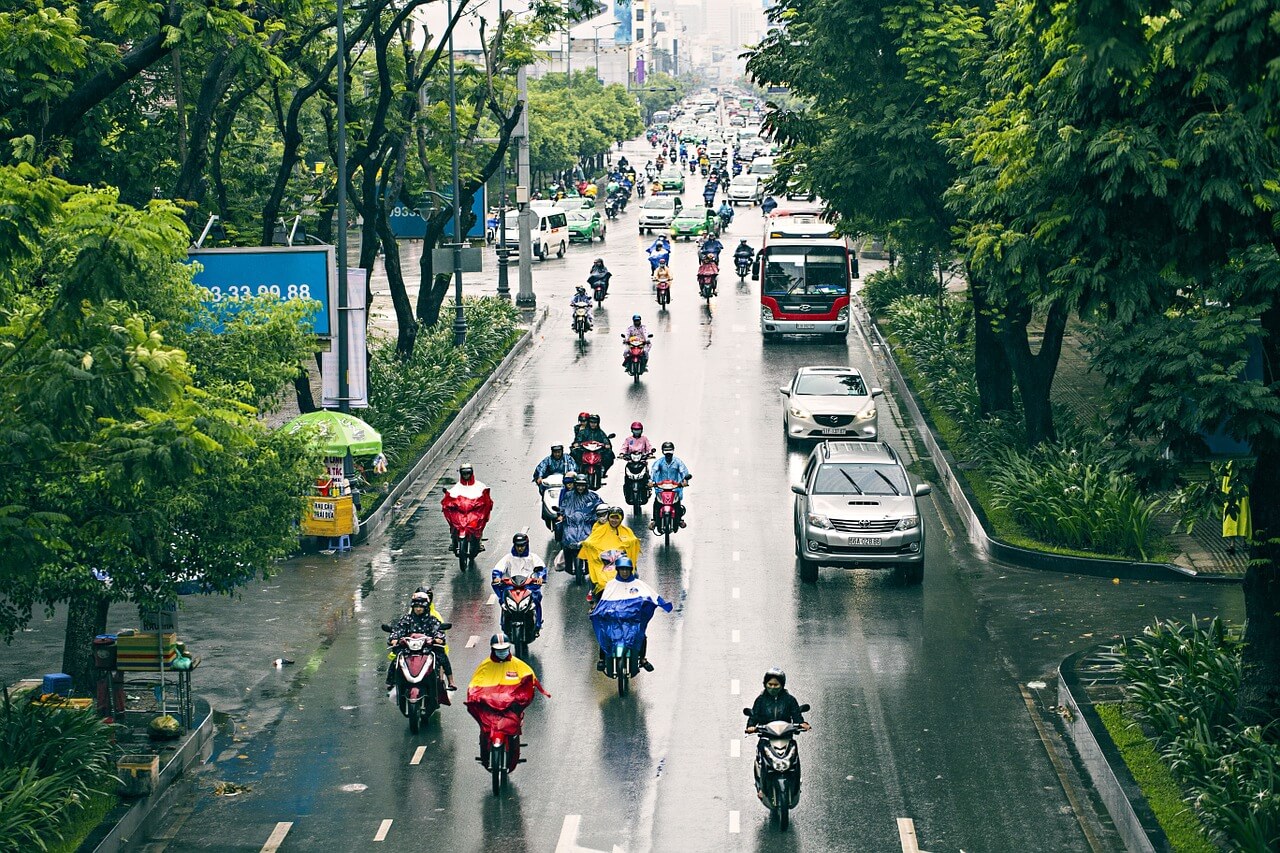 Whenever I see a stop motion film or time lapse of Ho Chi Minh City I'm reminded of how crazy it was simply to cross the street there. Everything seems to run in a sort of organized chaos of motorbikes and roundabouts in a city that still has some hints of French colonialism in the architecture and even in the food (Banh Mi in a French roll, anyone?).
Formerly Saigon, Ho Chi Minh City is a very common first stop in Vietnam. For me, it was primarily a foodie adventure and my introduction to Vietnamese cuisine, which must be some of the freshest, most flavorful, and light food I've ever tasted.
Apart from stuffing one's face, there's a lot of history to explore especially for those interested in visiting the Củ Chi tunnels and the War Remnants museum. Both activities help to give a better understanding of the Vietnam of today. Check out more things to do here.
Stay: Townhouse 50 – walkable to the backpacker area but a nicer part of town, with included breakfast!
Beware: bag snatch thieves are all over HCMC, particularly in the backpacker area. Never take your phone out on the street and if you are walking with a bag, make sure that it has a strong strap it is not easy to slash or you could become a target. I just took my money out in a pocket that buttoned when I left for the evenings so that I wasn't an attractive target without a bag or a phone.
Mui Ne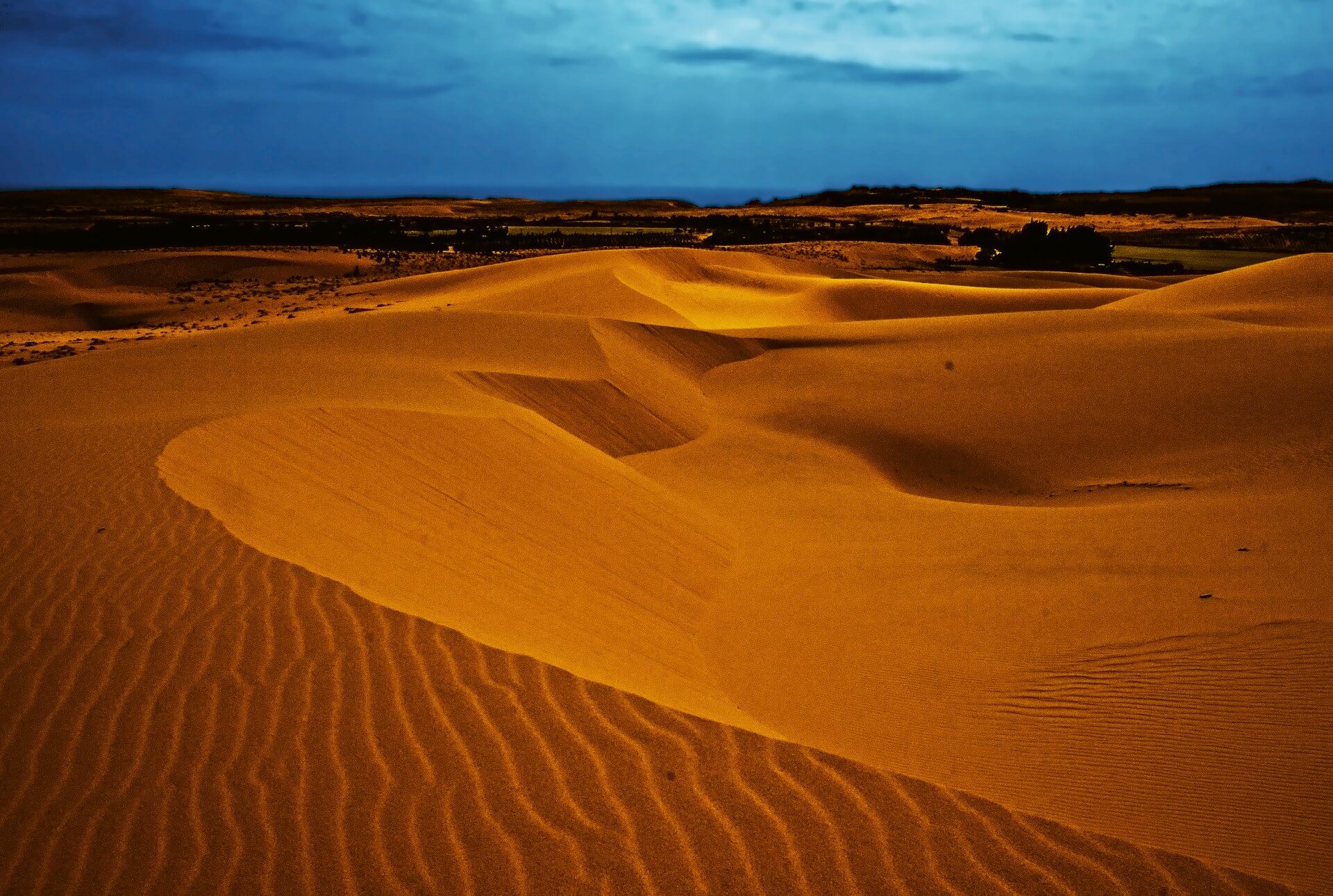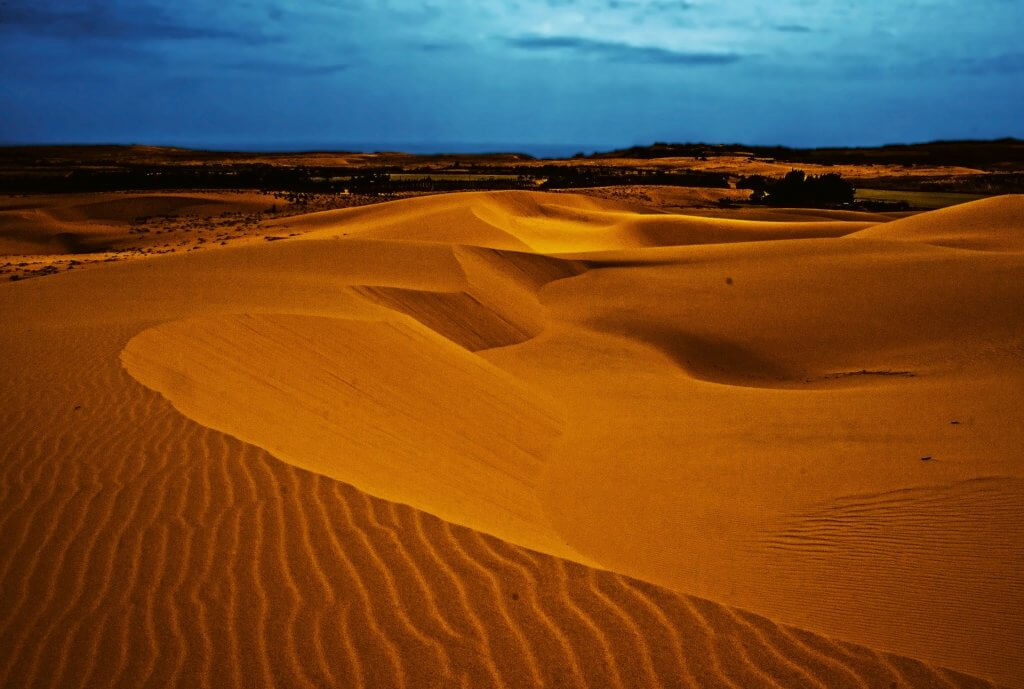 Mui Ne is a higher end beach destination with oceanfront resorts. It's a popular spot for kite surfers and has sand dunes to play in as well.
This is a resort town with less of the debauchery that you'll find in Nha Trang. If you're looking for a spot to unwind, Mui Ne is one of the nicer beachy areas in Vietnam.
Da Lat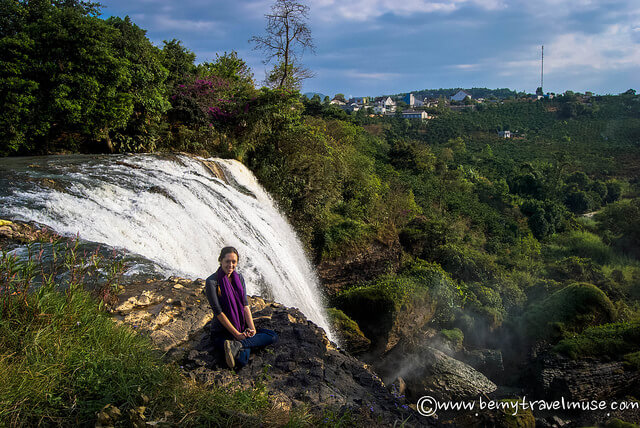 Beautiful and quirky Da Lat is actually an area where you will find more Vietnamese than Western tourists. It's a popular local spot which is part of what makes it so cool. The town has great night markets, and an especially festive atmosphere if visiting around lunar new year. The monastery and elephant falls excursions are must-dos. More on how to do them here.
Nha Trang
This is another popular beach destination but though it tends to have more of a party vibe. There are some nice beaches around Nha Trang, but for the most part I thought it was a pretty touristy, somewhat seedy alternative to the much nicer Mui Ne and Hoi An.
Stay: Mozjo Inn has the friendliest staff and it's a fun place to meet other backpackers to head to the beach with.
Yok Don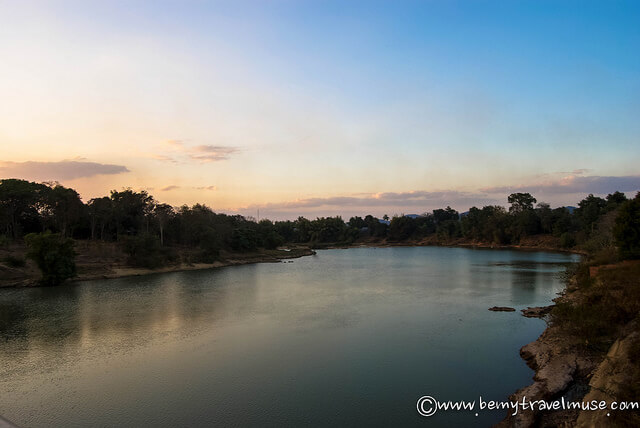 I ended up at this park simply because I wanted to find one place in Vietnam that was truly off the beaten path. I can say that Yok Don fits the bill, and receives very few tourists each year. It's a little tricky to get to, but once you do you can get some peace and solitude away from the backpacker crowd and much of anything at all!
Stay: The accommodation is tied to the park, so ask in the HQ when you arrive. It is slightly expensive for a solo backpacker, so bring a friend!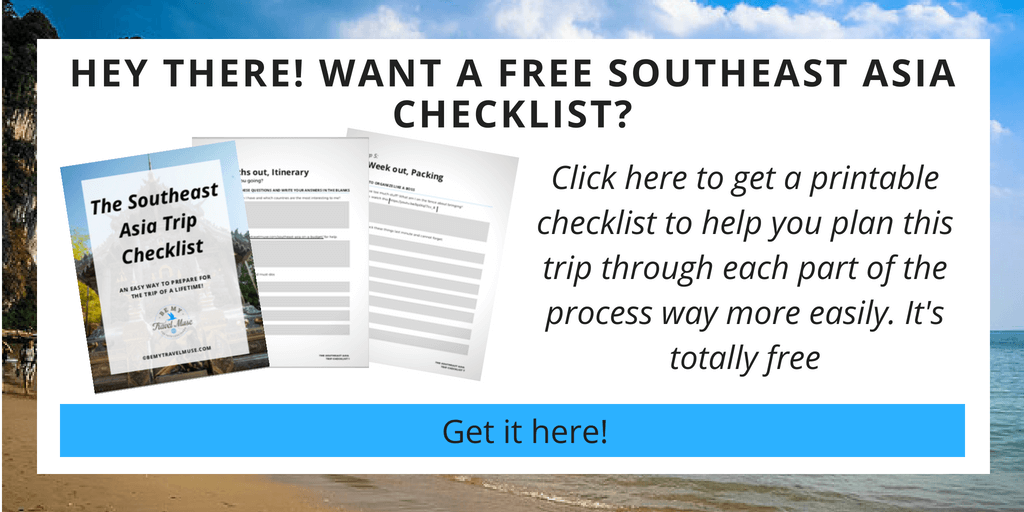 Hoi An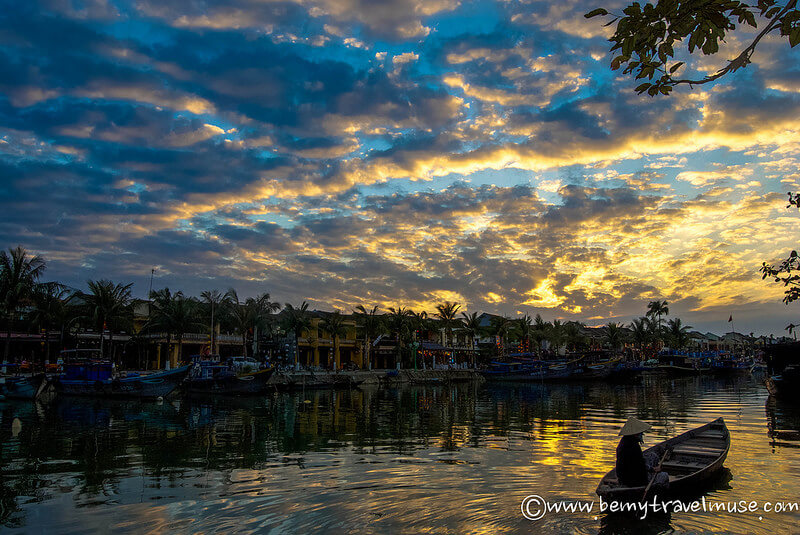 Hoi An is my personal favorite city to visit in Vietnam because for me it's a triple threat – it's photogenic, it's on the beach, and I can get custom made clothes and shoes there. What's not to love?
Apart from wandering around the old town, checking out the Chinese temples and getting awesome handbags, suits, rompers, dresses, and shoes made, you can enjoy some rest and relaxation as well as this spot is much less crowded than Hanoi or Saigon.
Click for different accommodation options in Hoi An depending on your budget. There are some beautiful options!
Phong Nha Ke Bang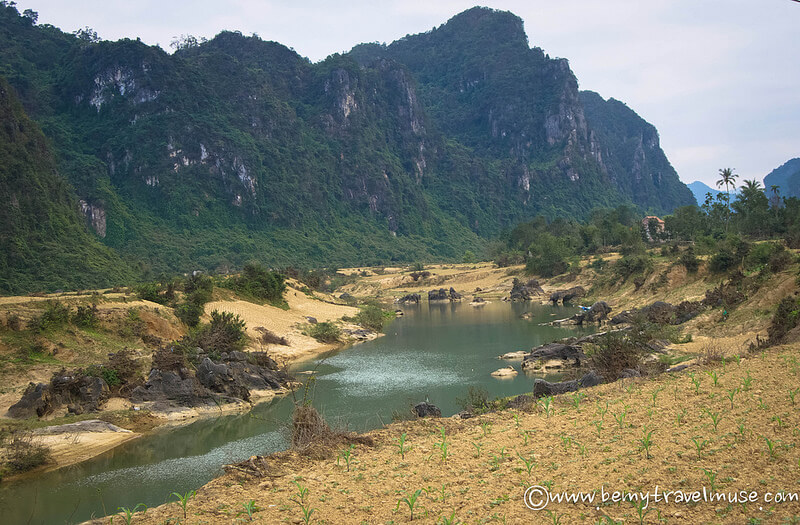 While Hoi An was my favorite city, Phong Nha is my favorite non-urban area in Vietnam. The undulating, unique rock formations and the idyllic rice patties all around this tiny little town just makes it all so dreamy. The locals were friendly and welcoming, flashing peace signs, and there were caves to play in and swim in too. It's a little slice of paradise.
Not as many backpackers make it here, and that has made all the difference in a positive way. If you love nature, definitely stop in this park, rent a motorbike for a few days, and go have adventures. More on how to do that here.
Hue
Hue primarily entered my itinerary because of bun bo Hue, a soup I was very keen to try. What I found was a quiet city (mostly because it was just after Tet, or Lunar New Year), full of ancient history. It was almost haunting in a way.
I didn't stay for long, but I highly recommend Jodi's guide to anyone looking for more on Hue and what to eat there.
Hanoi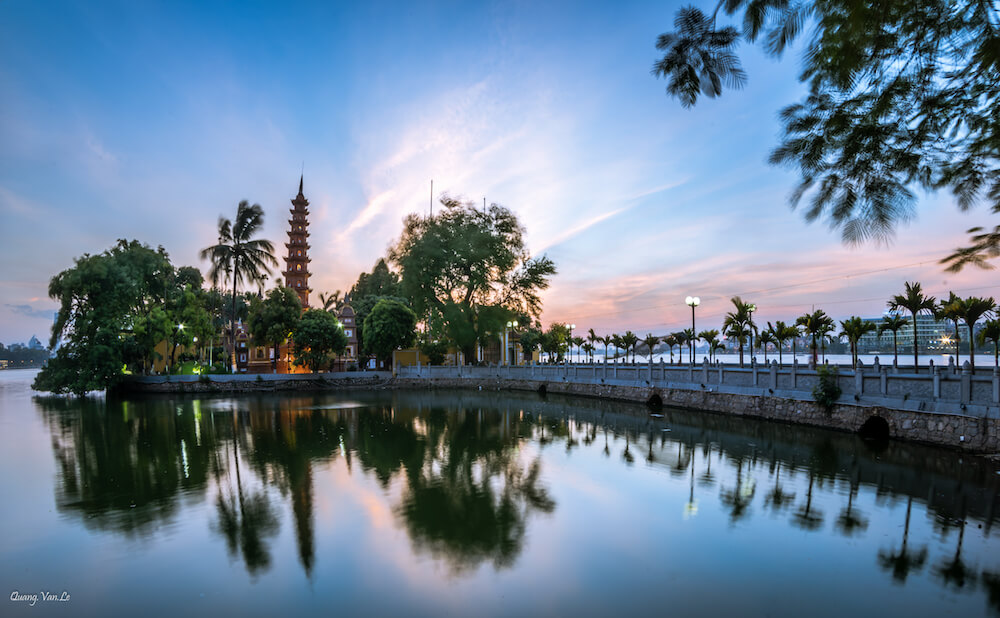 My favorite memory of and Hanoi circled around Cafe Giang where I tried the famous Hanoi egg coffee. Please, if you find yourself there, stop everything you're doing and head to this café. I know it sounds like a gross concoction but egg coffee is like a Cadbury creme egg and a cup of coffee met in heaven and spawned a beautiful love child.
Apart from that, Hanoi is known for its is shopping in both high end shops and excellent markets all around town, and its interesting mix of East and West as the French influence is also still present in the quaint tree-lined city streets and old buildings. It's also the jumping off point for Halong Bay and Sapa in the north.
Halong bay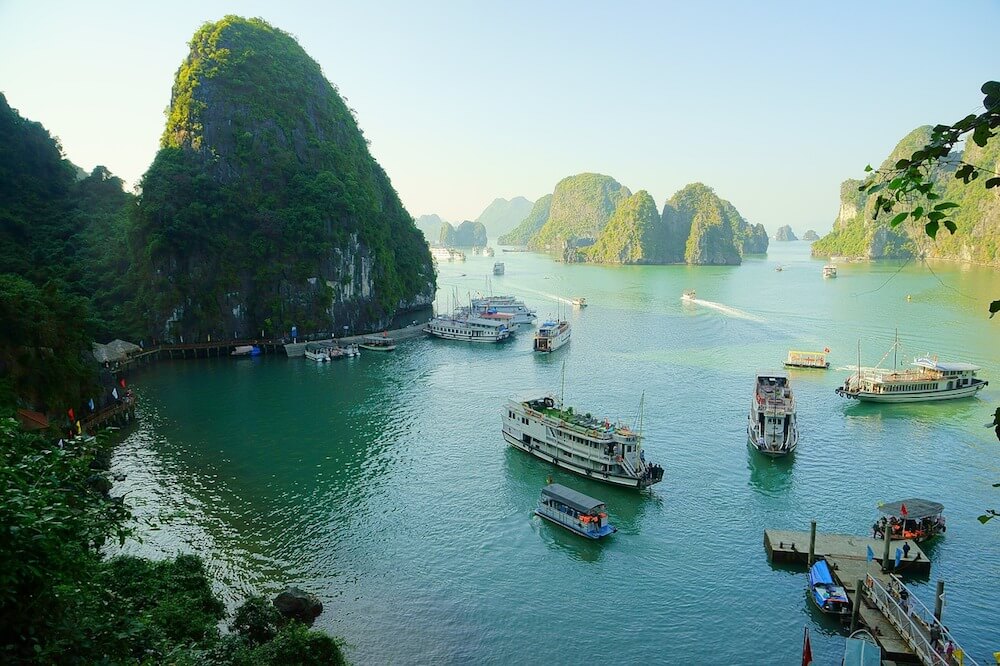 All around Hanoi, you're bound to see signs advertising 2-3 day trips out to Halong Bay, famous for the magical landscape of limestone rocks shooting right up out of the bay's waters.
The trips usually involve at least one night on the boat and one on an island, and can vary in luxury and price point. The party option is the Castaways Tour which is more of a booze cruise than nature excursion. For something higher end, visit a few tour operators in Hanoi and see who can give you the best price on the tour that suits your desires best. Get a few different prices and negotiate.
Sapa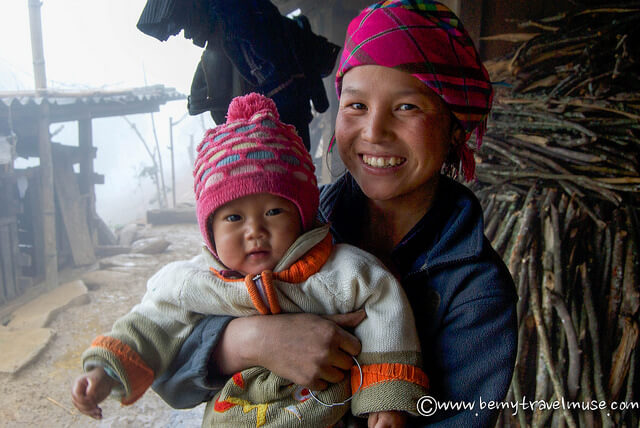 Spending the night in a Hmong village in Sapa is kind of a must when in Vietnam. It's a chance to get a local experience as well as seeing some of the most beautiful rice paddies in Vietnam.
I went with a group of 14 other backpackers, taking the overnight bus up from Hanoi. We did a hike, had a few meals around a camp fire, and enjoyed an overnight in the home of our host in the rural area around Sapa. More on how to book here.
Honorable Mention: Phu Quoc
Phu Quoc is an island in the South of Vietnam, closer to Cambodia. I haven't been, which is why I can't wholeheartedly recommend it. However, I want to add it here because it's apparently very laid back, and probably has the best beaches in Vietnam. Judging how close it is to Cambodia and how incredible that coastline is, if you have time, add it to your itinerary (then please come back and comment on your experience!).
Here's a map to help you plot your points. Actual travel time will be much longer on buses, motorbikes, and trains, but this can give you a sense of distances:
Transport tips:
Getting in:
Vietnam requires that most tourists have a visa. For Americans and most other nationalities, the best way is to obtain the 30-day visa ahead of time in the capital city of a nearby country at the Vietnamese embassy or consulate. You can also buy a visa online (I used myvietnamvisa.com), print the approval letter, bring along passport sized photos, and pay a $45 stamping fee when you arrive. Definitely bring USD to pay the fee, as any other currency will cost more! The ATM in the airport also rarely works.
Transport-wise, there are several easy ways to get around Vietnam:
Buses: I mostly took buses, which usually provide a snack and are quite comfortable, with flat beds for longer or overnight journeys. They are also easier to book on short notice than the train during lunar new year
Trains: This is the most popular method for getting around Vietnam and also quite comfortable, but it's important to book in advance during holidays like Lunar New Year.
Motorbike: It's also popular to buy a motorbike and take it from top to the bottom of Vietnam, or vice versa. The upsides are, of course, the adventure and the freedom. It's impossible to imagine coming out of an experience like that without more than a few good stories. However you can also plan on hanging out at the mechanic, spending a lot of time in Vietnam, and potentially crashing. Sometimes people give up and saw their bikes partway through, so you might get lucky and be able to buy a bike in Hoi An.
Taxis: In cities, taxis are a good option if and only if you take the right companies. To avoid scams, always insist on the meter, including to and from the airport, and take a Vinasun or Mai Linh taxi. Those two companies do not rig the meter nor scam tourists. The others often do!
Vietnam is an adventure, and it can be a ton of fun and delicious too. Plus, with the ease of getting around and the cheapness of the country for visitors, it's a no-brainer for those backpacking around Southeast Asia.