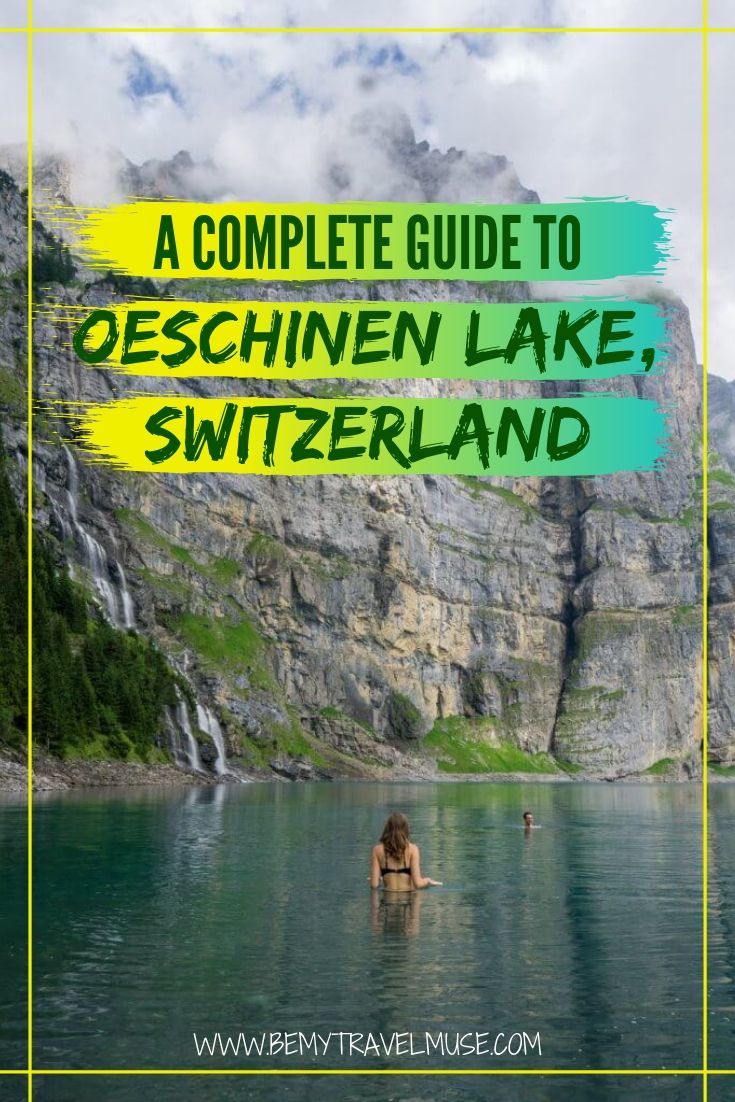 There is no lake in the world quite the color of Oeschinen Lake (Oeshinensee in German), I'm sure of it.
I don't even know what color to call it, because to say 'blue' wouldn't be getting it right. When you think about how many things in nature are 'blue', it seems we've failed to come up with enough words to describe this varied color that shows up in millions of iterations.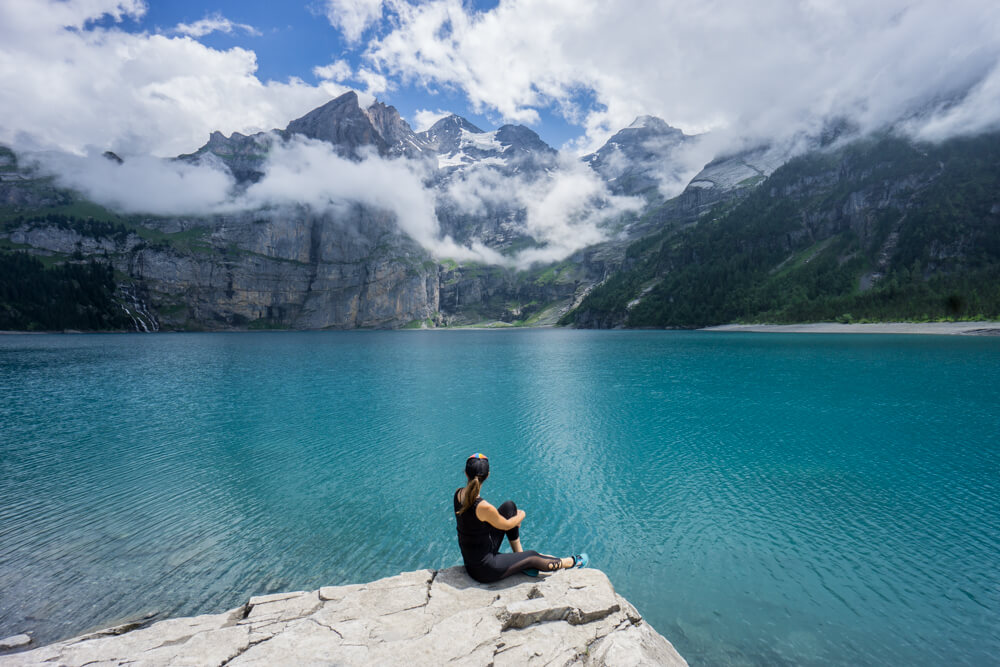 Red is red, and purple is purple, but blue? Gosh there are so many shades, depths to the color, and different ways it can appear based on the mood of the sky.
Sometimes blue is that light, bright color that we put on baby bassinets, and other times it's an alpine lake that has a hue I think you can hardly satisfactorily describe by just calling it blue.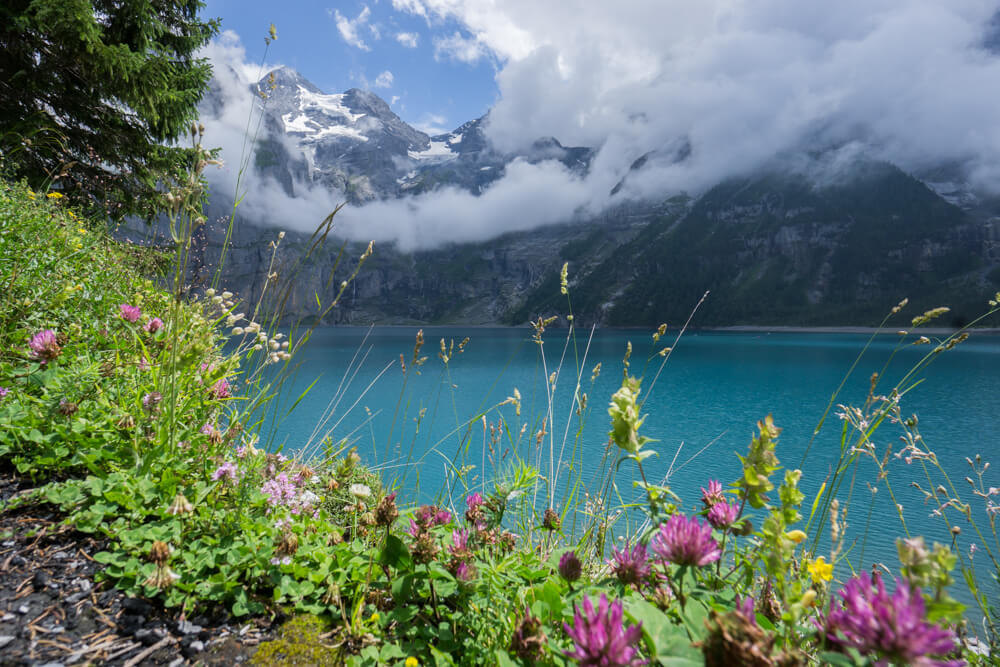 This is Oeschinensee in the canton of Bern, Switzerland. It's not just a blue lake, though. It has at least a dozen waterfalls, beautiful flowers, swimming options, and row boats for rent as well.
Though this lake is popular with locals and tourists, there are still ways to spend most of it uncrowned and even secluded.
My goal was to get as close to the waterfalls as possible, as this is also the spot with the fewest other people, and because waterfalls are epic.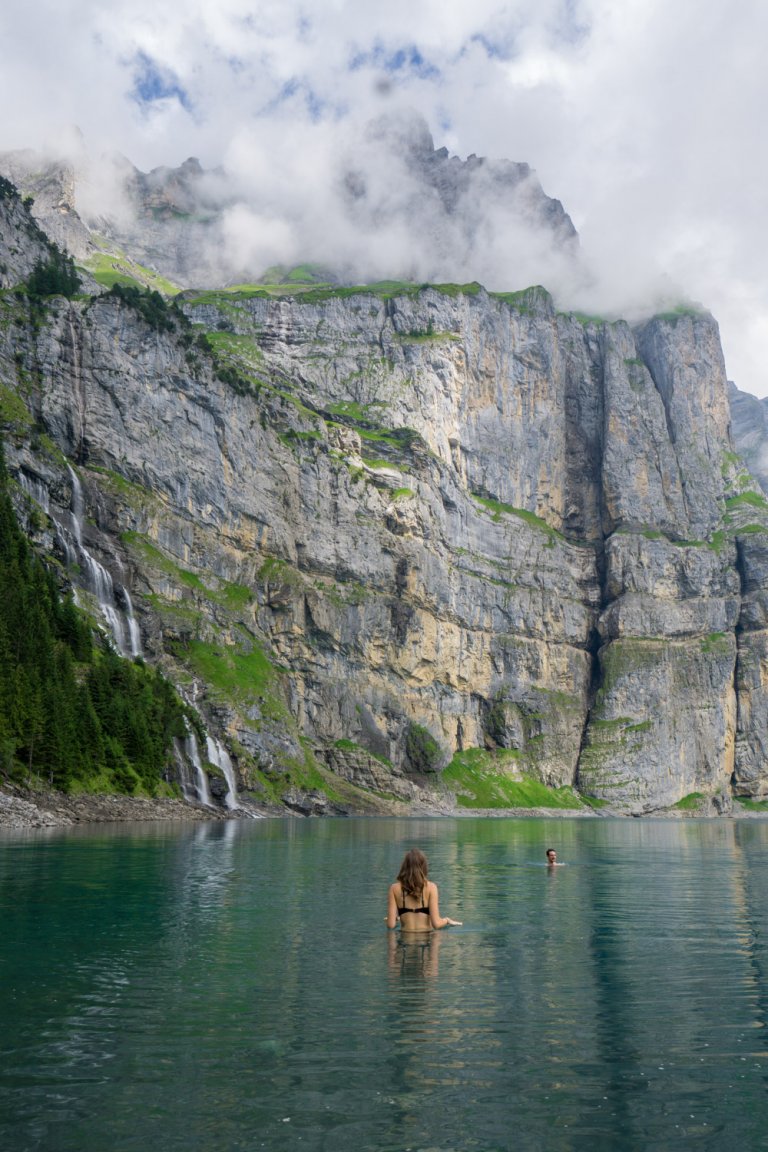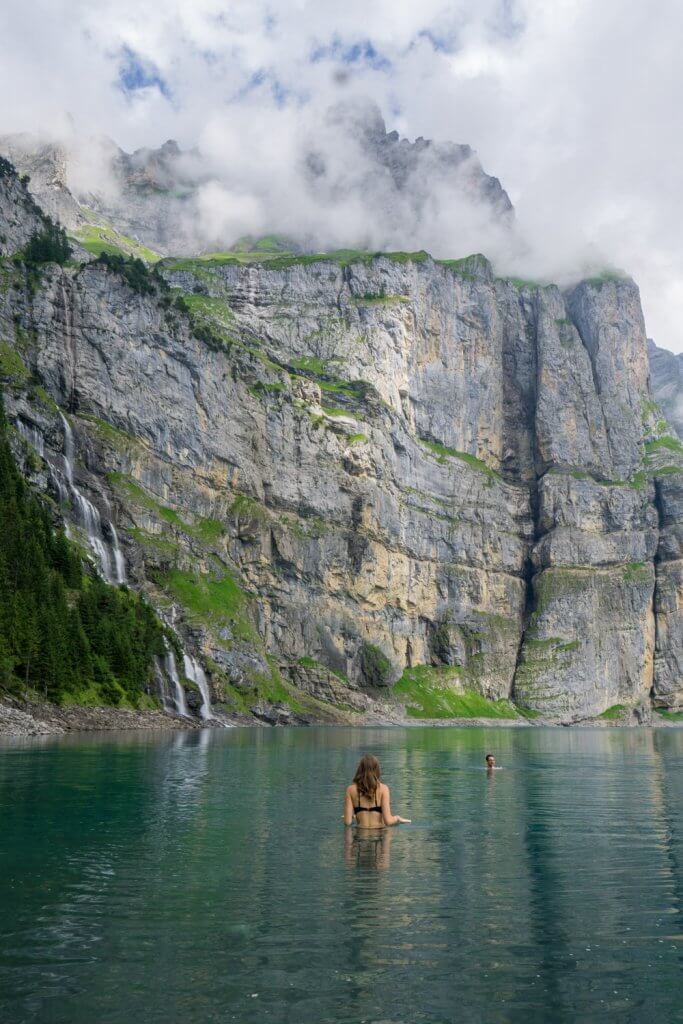 there are a few marked trails beginning from the huts that sell ice cream. There's a beach that most people swim in along the shore there as well, though you could jump in anywhere.
There are also little boats for rent for 26 francs, I assume per hour, but if given the choice I like to take my feet.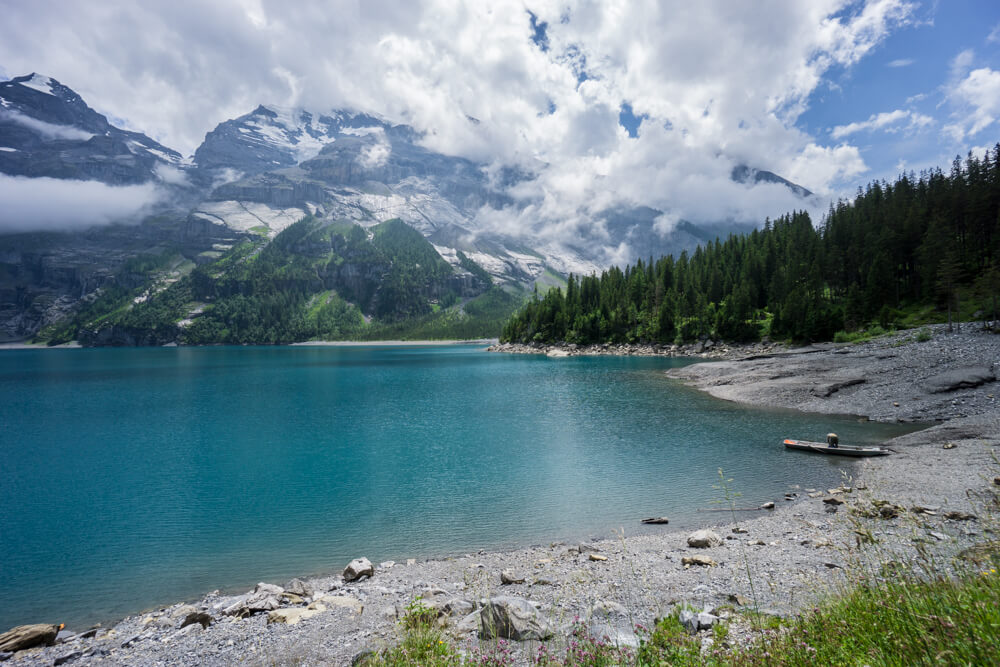 First, if facing the lake take the foot path to the left, walking through the forest and then along the lake on the rocks.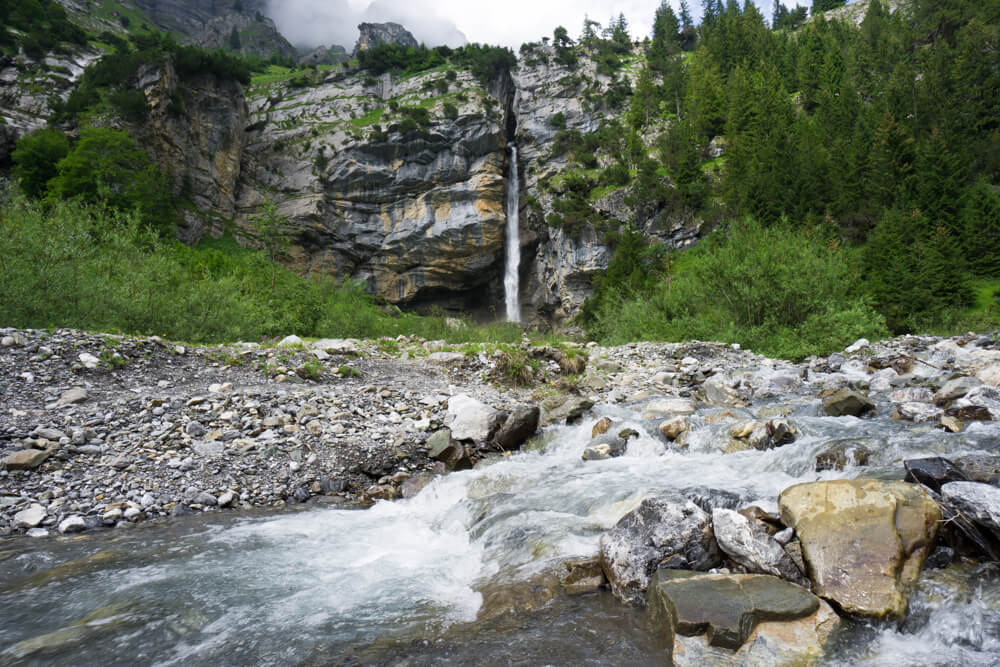 And there are waterfalls along the rocky beach trail, marked with rock cairns, that you can walk under, and around, and in.
Keep in mind this isn't really an official trail so it's best if you have proper shoes on, and are willing to climb on rocks a bit, and even to cross the cold rivers barefoot to keep your feet dry.
But if you're willing to do that, then the best part is waiting.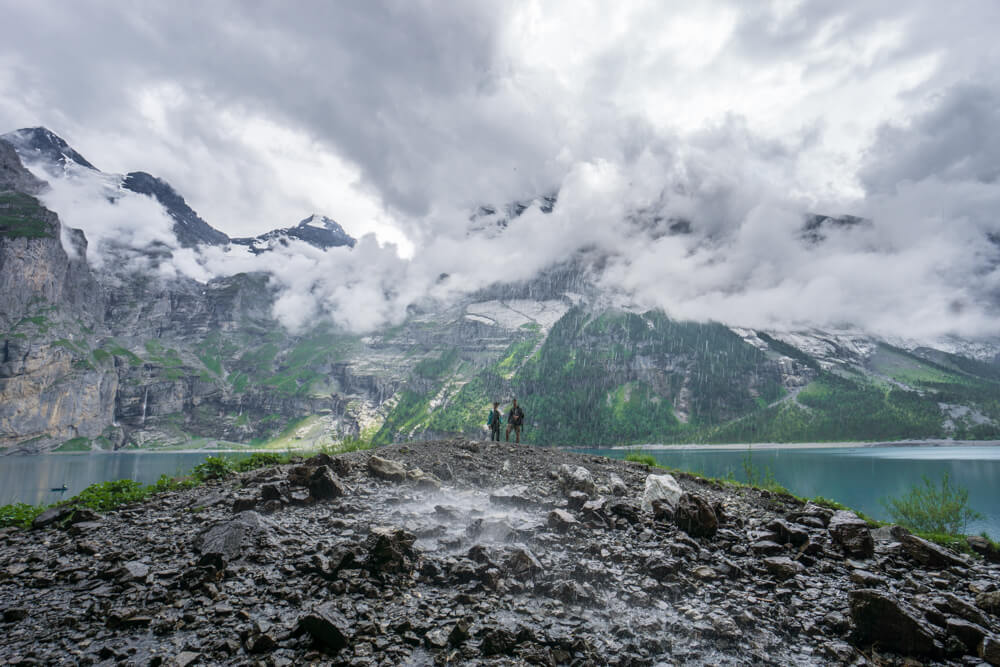 The water was frigid, stabbing me with little needles as I slowly made my way in. I'd broken my own rule – one that had served me well growing up in California where the water is also cold – run in, dunk immediately. Don't give yourself time to think.
Yet without waves there's nothing to force a dunk, so I crept in slowly, realizing that we'd chosen what must be the coldest part of the lake for a swim. It's where all the glacial runoff is feeding the lake, after all.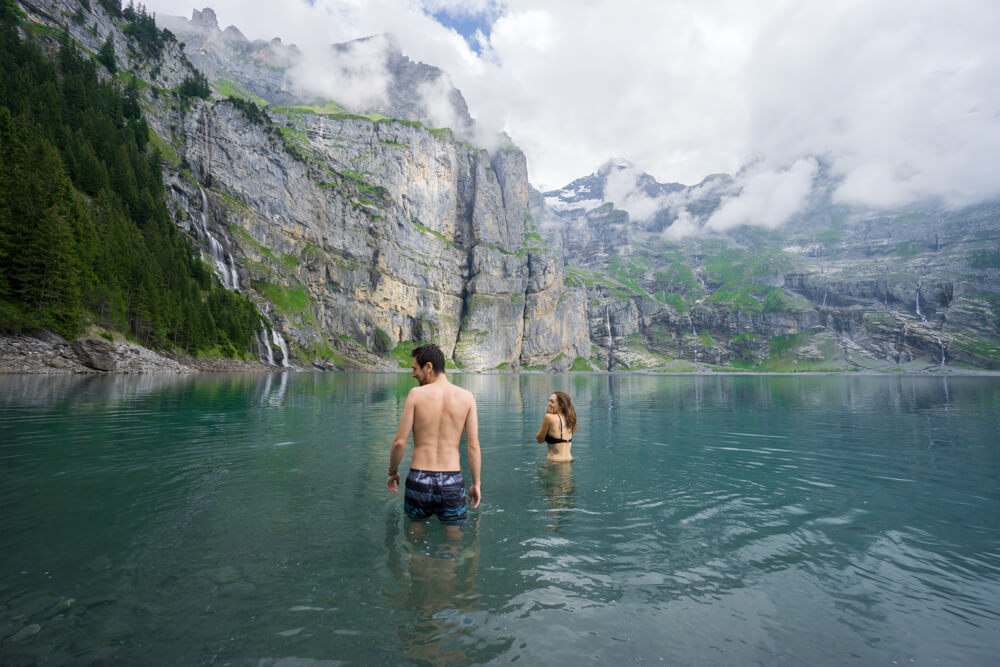 Regardless, the brisk and fresh water is so clean, thanks to meltwater that is tens of thousands of years old, plus the nice filtration system provided by the rocks. It's lovely to think that you could just take a gulp of the water as you swim.
That's the kind of blue it is – clear enough to drink, bright enough to look unreal, and crisp enough to go a step beyond refreshing.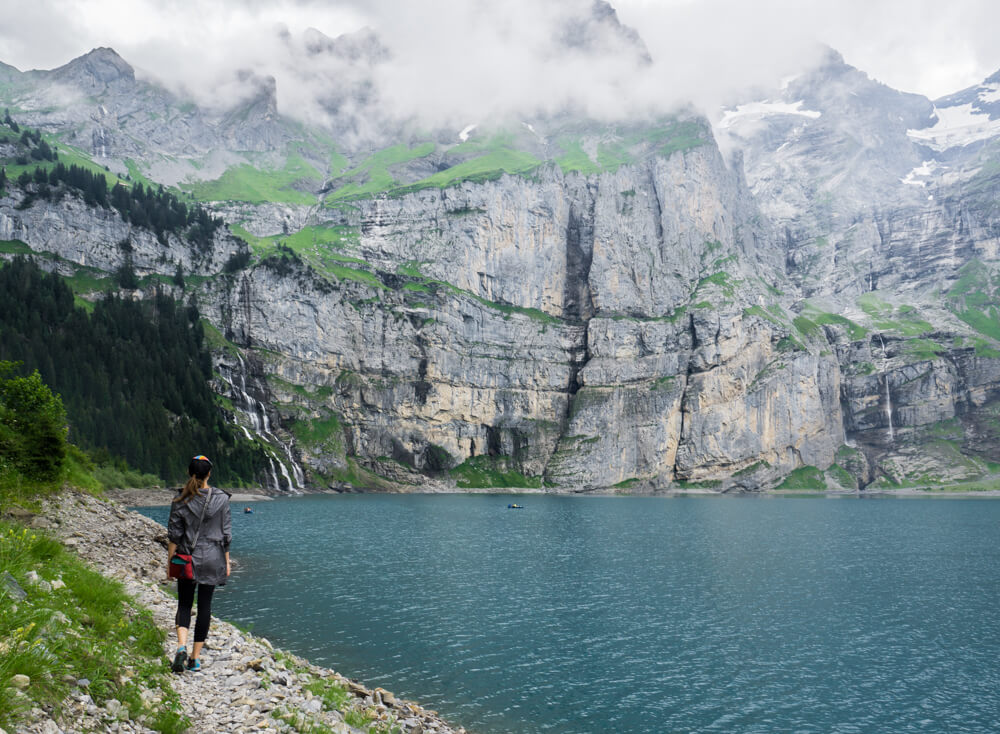 If you want to visit yourself, click here for directions and timetables.
But be forewarned: The ongoing problem I, and so many others, have with Switzerland is the more I explore, the longer my list of must-sees grows. The more I visit, the more I am dying to see what other valleys and regions might have to offer. I'm hard-pressed to think of a country that is more organized, cleaner, more beautiful, and nicer to travel through than Switzerland. It's addictive.
All that said, I think that heading to Oeschinen Lake is probably worth the risk.