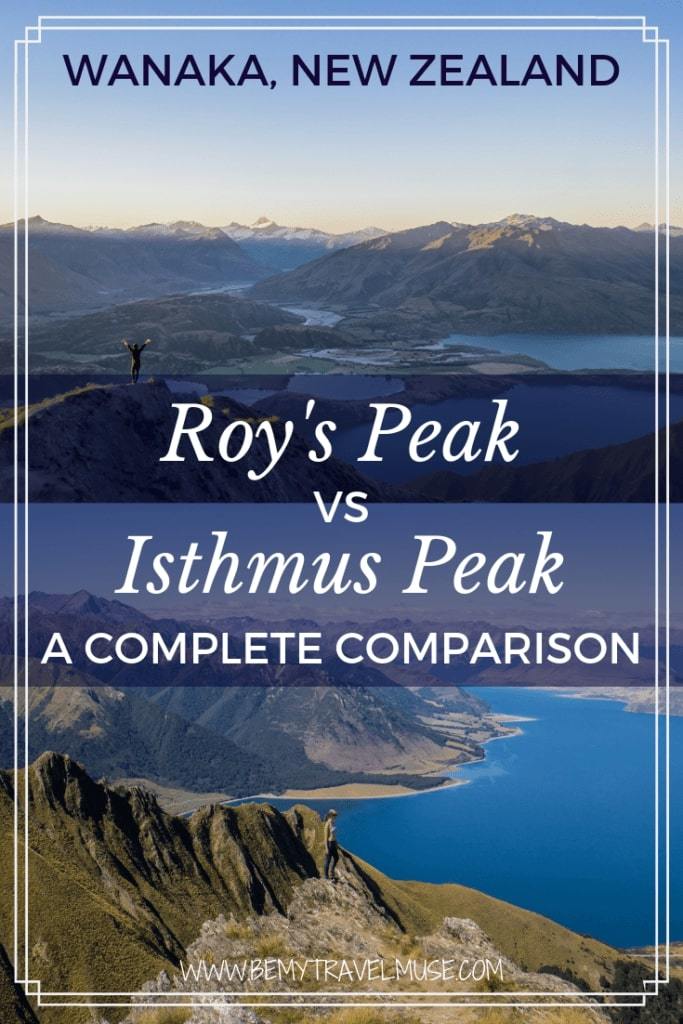 There are plenty of incredible hikes in Wanaka but two stand out as particularly beautiful with breathtaking views: Roy's Peak and Isthmus Peak.
Both are a relentless uphill climb without shade or more than a fleeting flat part. You might be asking yourself as you trudge ever upward, "Why do I even like things like this?!" only to reach the top and remember as you gaze out at the view you've earned.
So which one is better? Which one should you do? I climbed both, back-to-back, because I'm insane and also so that you don't have to. If you're trying to decide which is right for you, look no further. Here's the comparison of Roy's Peak vs. Isthmus Peak:
Roy's Peak: 1,251m climb over 15.6km trek (4104 feet over 9.7 miles)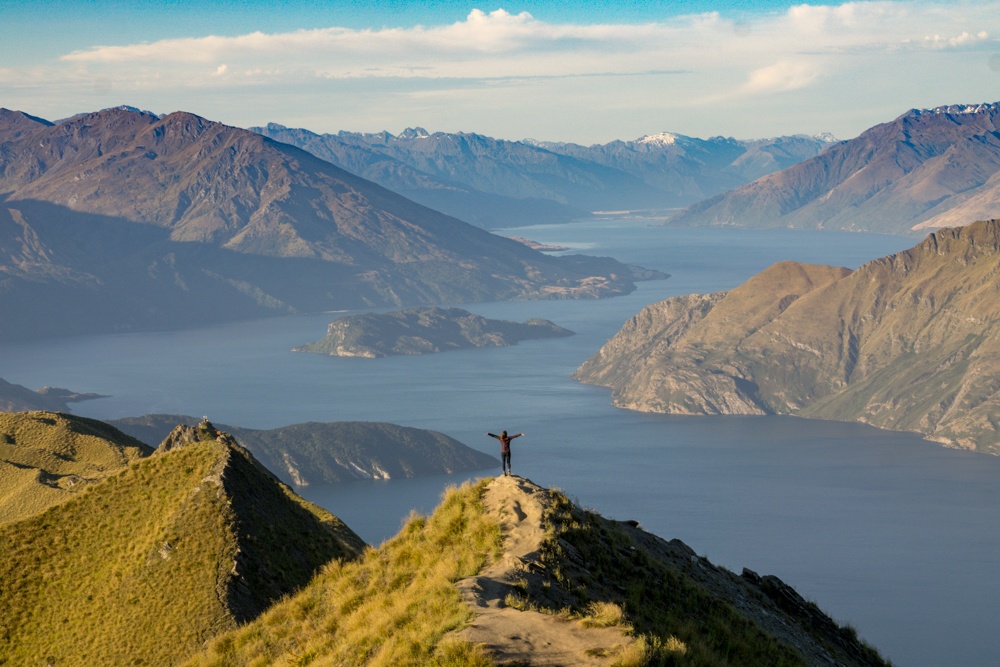 The Pros:
By far the most famous and popular of the two hikes, Roy's Peak delivers in terms of views. Not only do you have the famous viewpoint, but the peak at the top as well with a straight-on view of Mt. Aspiring.
It's also slightly closer to Wanaka if you don't have your own transport. Many hostels organize transport as well, particularly for sunrise.
That brings me to time of day – Roy's is stellar at both sunrise and sunset. I'm not sure if there's a big enough edge of sunrise over sunset for me to feel motivated to wake up at 2am to start hiking considering that the sunrise and sunset both illuminate the mountain from the side. The sunset bonus is it's a bit less crowded and you'll see Mt. Aspiring turn pink as the sun sets on a clear day. Of course, at sunrise you'd be doing the toughest part of the hike without the sun beating down on you. It's a completely uncovered hike, after all.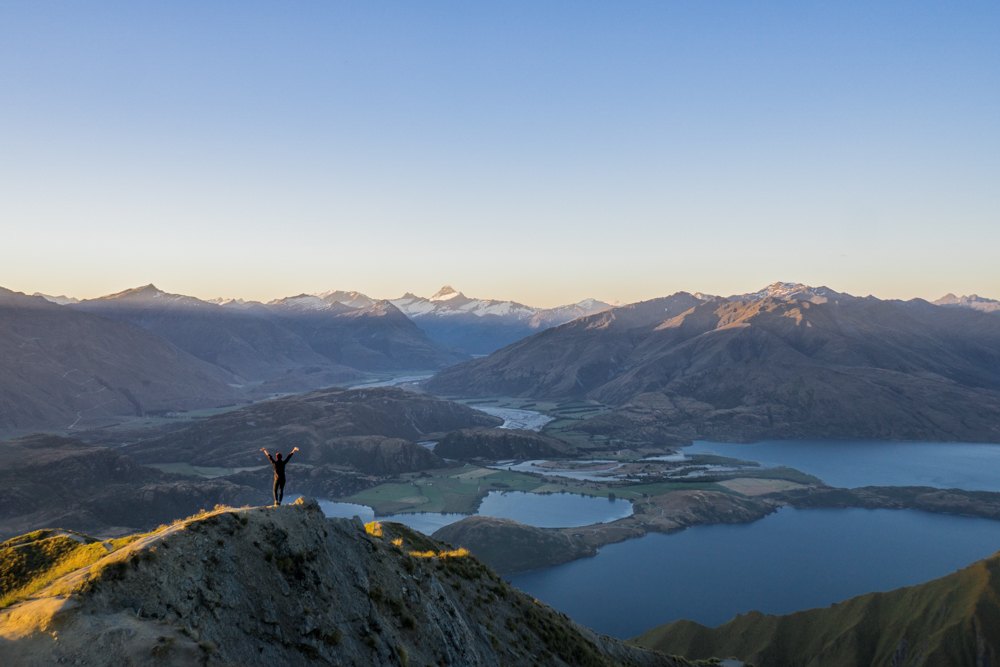 I personally started at 5pm in January and by 6:30 half of the track was shaded due to the positioning of the sun, though the first hour was hot. This turned out to be perfect timing, based on my pace, for golden hour at the viewpoint and sunset at the peak. If you do this be sure to bring warm layers and a headlamp.
Cons
The rumors are true that there are queues at the top for photos at the peak. When you see it for yourself you'll appreciate why – it's breathtaking. This didn't bother me all that much but it's annoying to others who don't want a crowded hike. My queue was also shorter which I attribute to going at sunset.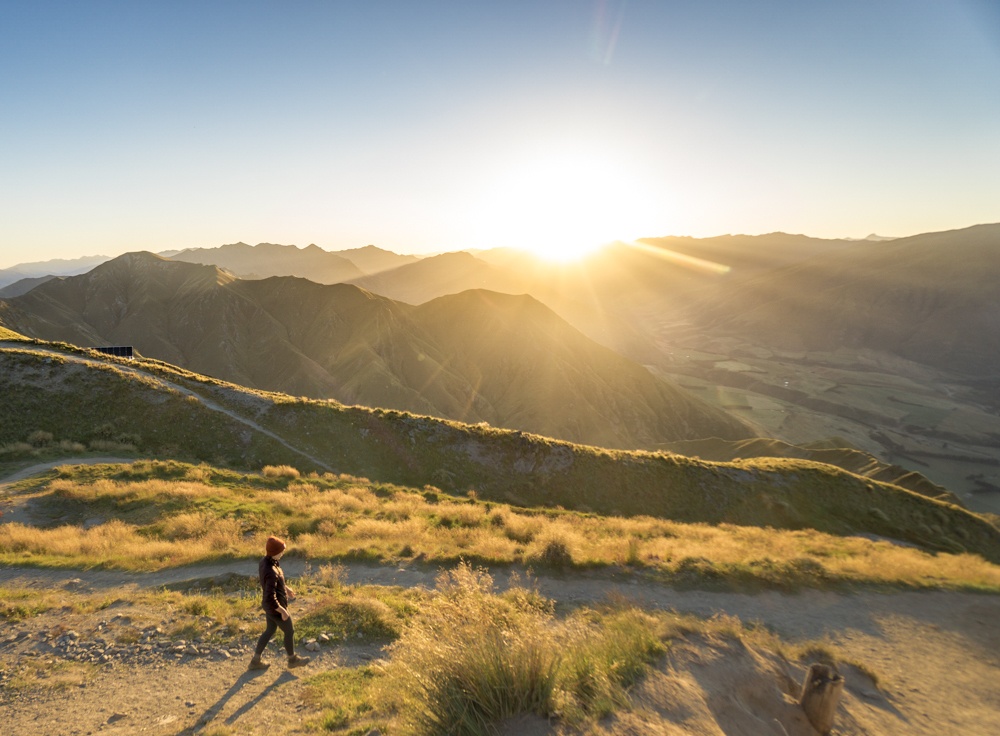 Though this isn't that big of a deal, it bears mentioning that Roy's asks a $2 entry fee. Not a big deal but it's not totally free like Isthmus.
Isthmus Peak: 1133m climb over 15.9km trek (3717 feet over 9.9 miles)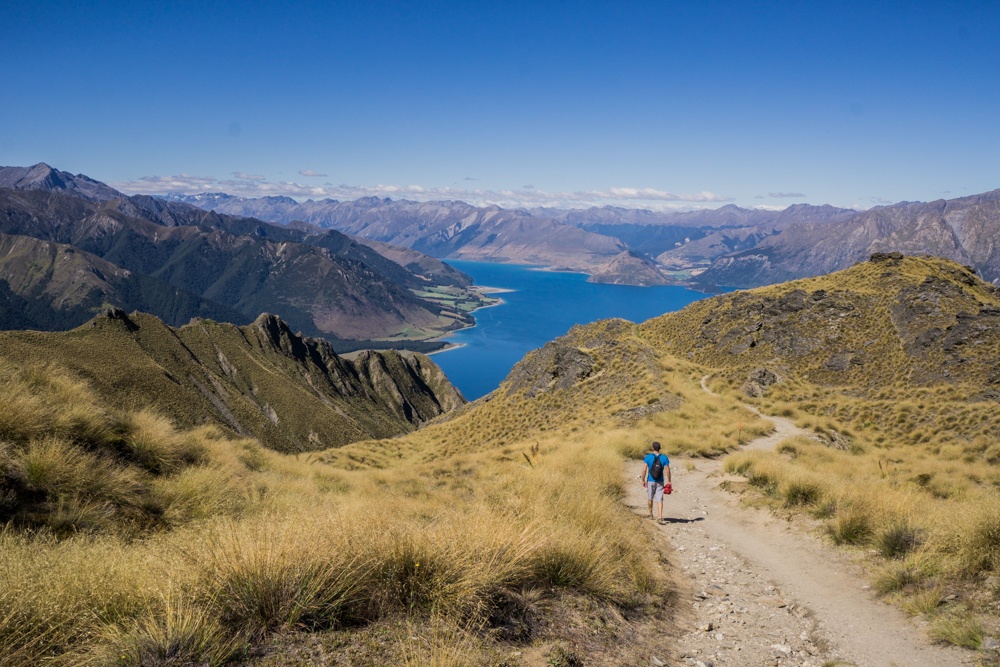 Pros
Isthmus gives you a beautiful 360-degree view of both Lake Hawea and Lake Wanaka. The layers of mountains and rock formations provide impressive photo ops all along the way.
This hike also receives much less traffic than Roy's. I think this is because it hasn't become as insta famous, even though it's so beautiful in its own right. Plan on no queues for photos, and fewer people in general, particularly if you go for sunrise, which I wish I'd done.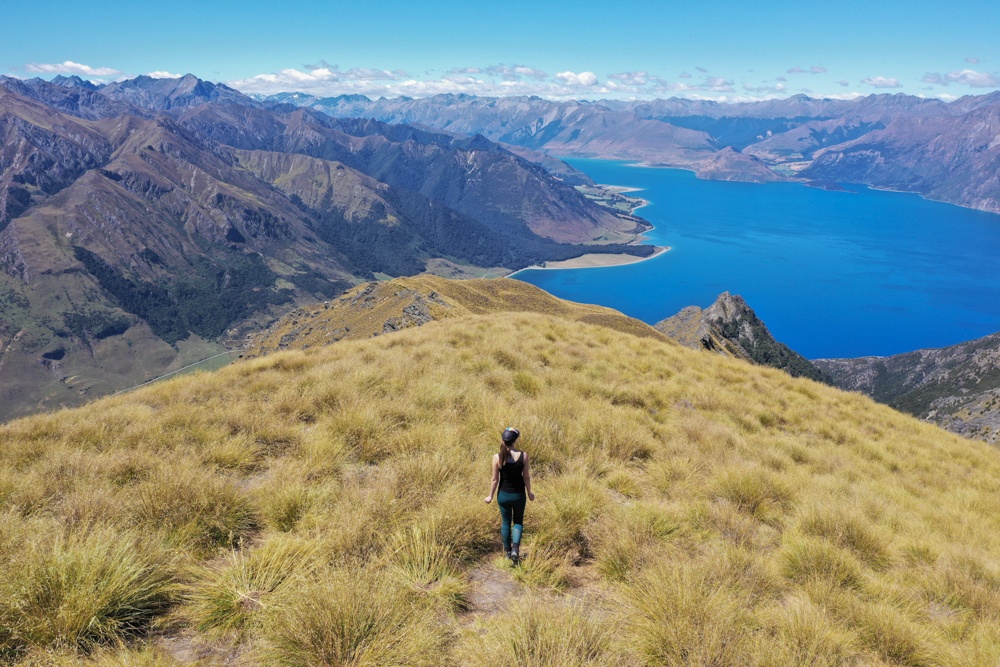 Cons
This hike was tougher on me because of all of the 'false peaks'. It keeps looking like you're about to be at the end then NOPE! Another curve and another few hundred meters to climb. If you know this going into it, then no big deal. But in the middle of the day when I went, under that relentless sun, it was demoralizing.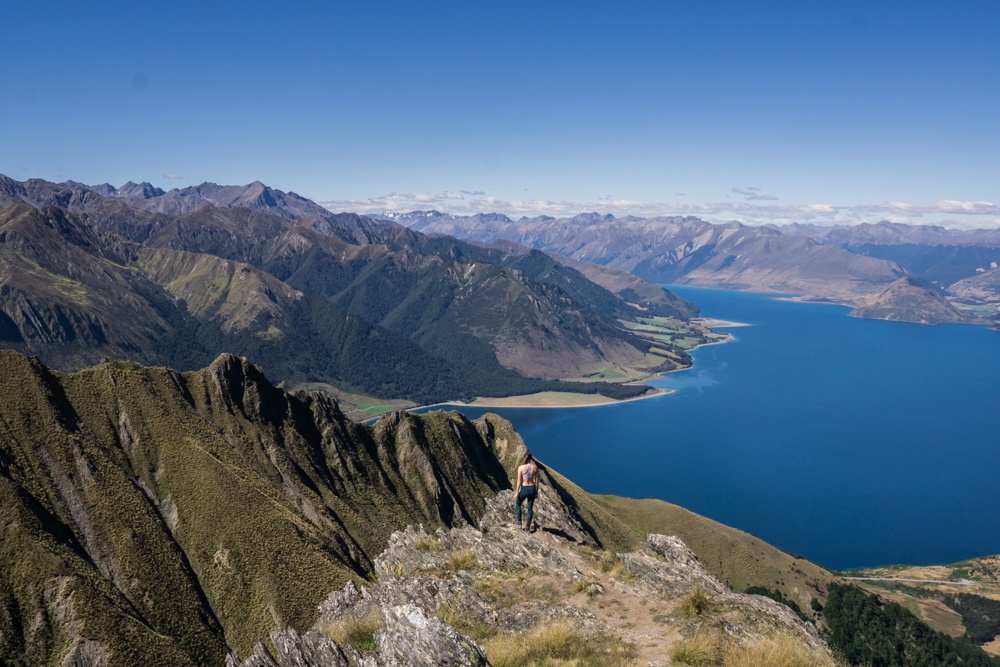 This one is also a bit outside of Wanaka – about 20-25 minutes by car. It's a lovely drive and no big deal if you have wheels but you might struggle to get there if not.
Similarities
Both hikes are almost the same in terms of elevation gain and distance. Which is to say, both are a relentless uphill on switchbacks. The trails are wide dirt tracks that are ridiculously easy to follow for both.
Neither hike has any shade and both have limited water refill opportunities. Both have lots of lambs on the trail, which are cute, but neither is what I'd call a wilderness experience.
Both hikes have some of the most beautiful viewpoints I've seen, plus plenty of great views as you make your way back down. Both gave me a great sense of accomplishment and fantastic photo ops. Both would be better as sunrise or sunset hikes to avoid the midday sun. Both would also be stunning at any time of year.
My Pick: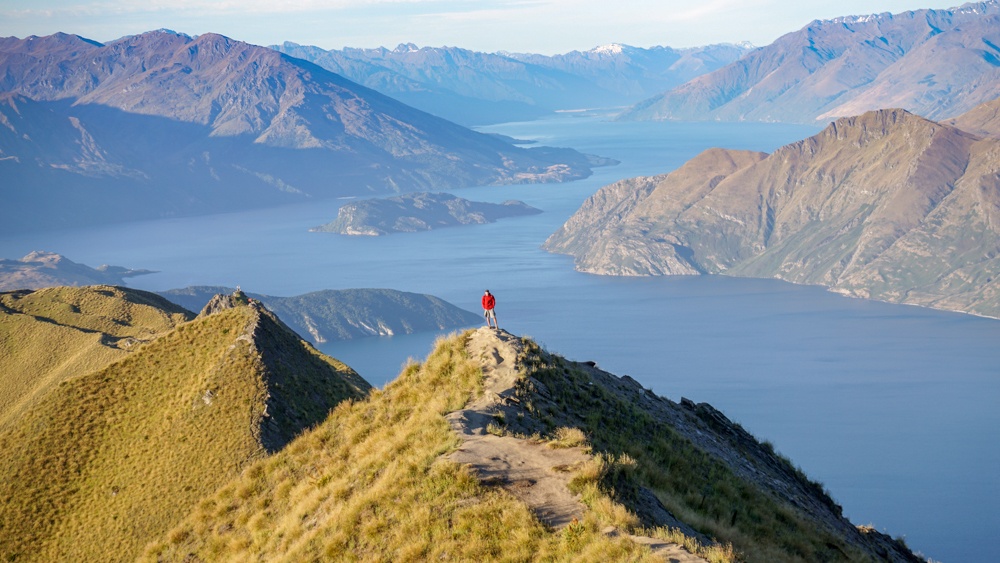 Though both were incredible hikes, I have to give the edge to Roy's Peak. Yes, it was more crowded and yes, I did have to wait for a turn to take my photo, but by going at sunset, and especially if you hiked it at any season other than summer, it would be less crowded.
That said, if you want no crowds at all, I suspect Isthmus at sunrise would be your best bet. I can just imagine how breathtaking it would be at sunrise in the winter or late spring while there's snow on the peaks as the sun lights them up.
That's a strong enough reason for me to come back, and truth be told I'd do them both again in a heartbeat.