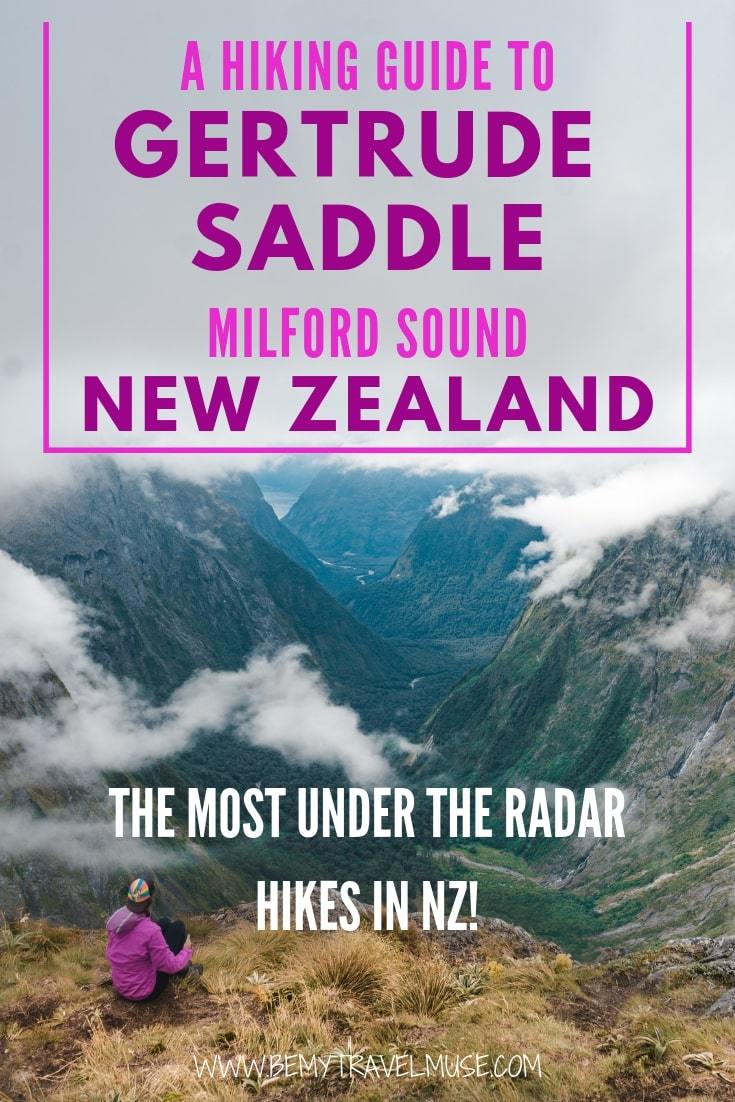 The Gertrude Saddle track in Fiordland National Park on New Zealand's South Island was a highlight of my time driving around New Zealand. It was a unique experience in the Milford Sound area that deviates from the typical boat cruise.
Prior to attempting the hike, I scanned the DOC info and kept reading how advanced the route was and how dangerous it could be. It really seems like they're trying to scare everyone away from trying it. And yet, the photos online looked so incredible, I couldn't be swayed. When I finally saw the view for myself, I was so glad I did it. The reviews online were right – it's an insanely gorgeous view and hike in general.
Was it as crazy as the online info said? Yes and No.
What the Route is Like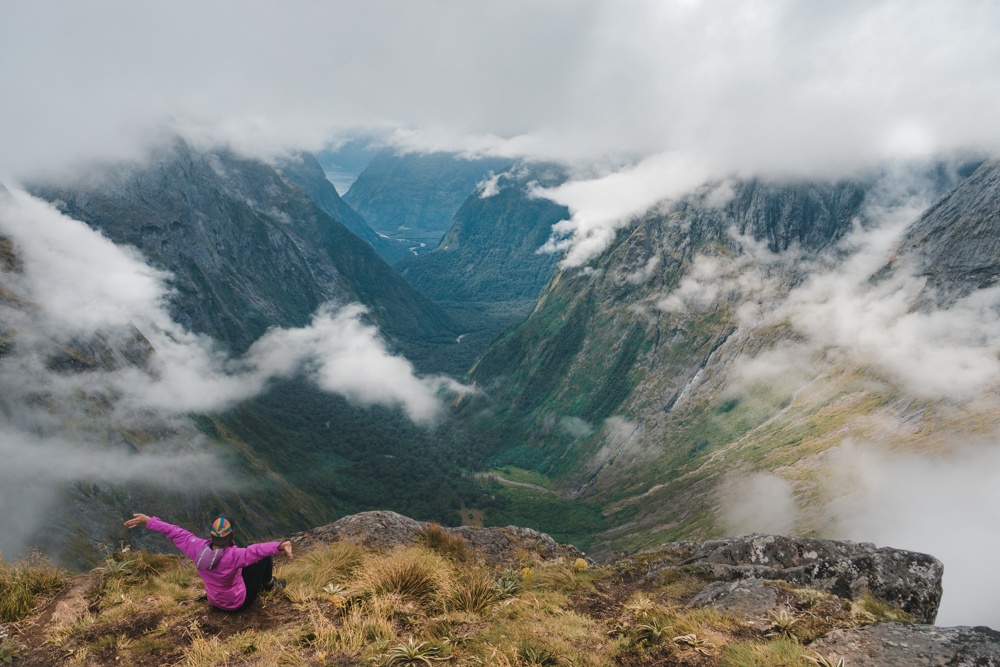 Gertrude Saddle is an out and back trail that starts flat and turns sharply upwards. It's only 7km (4.3 miles) in length but it can take time due to the steepness of the route to get up to the Black Lake and the saddle thereafter. Give it at least 6 hours, just in case.
In all honesty this route gets sketchy AF in certain places. It gets very steep on rocks that would turn slick if wet. I heard a rock fall while I was there and understood why they say not to climb when there's snow. Avalanche danger is very real there, but is it really an 'expert route'?
Upon entering the hike, you'll see signs warning you of the dangers and telling you that several people have died on the route – which is believable if one were to go off-trail on accident. Since then, they've marked it better with more orange poles and triangles. The biggest issues will be getting off-trail and going at the wrong time.
Plan on seeing these morbid signs over and over as you progress. They really, really only want those who are fit and capable to attempt it.
I've done some hiking in the desert and route finding with a map and compass in Alaska. I'm not the most spatially aware person but this trail is pretty well-marked. I don't know that you really need to be an 'expert' because at any given point, you can see where the next marker is. If you don't see it, just keep looking. There's always another one visible.
On the rare occasion that it's not, look for the rock cairns (stacks). That said, I'd be careful of following them blindly coming down. A few led me to an area that would have been a pretty steep climb down, which made me wonder why they were there at all. Instead I suggest looking for the orange arrows and poles, which will always steer you in the right direction. I also followed the route on my maps.me offline map.
Once you get to the top, there will be cables to hold onto to climb up and back down again. Stick near them because in some cases you might be glad to have them there for assistance. I didn't always use them since they're so close to the rock and I had to bend so far down to hold on, but in some cases I did need them.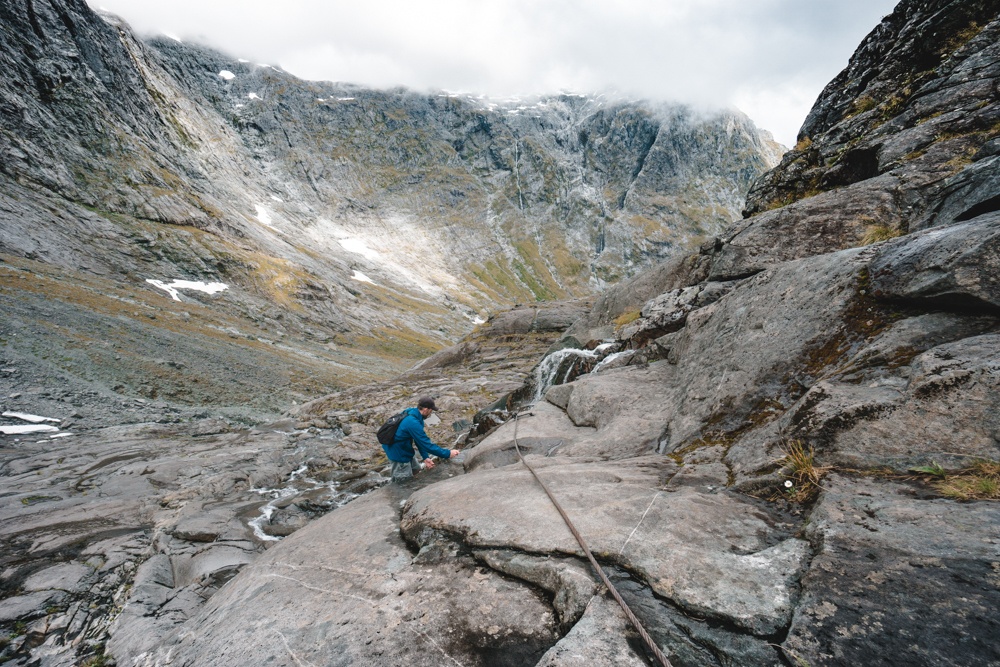 Conditions to Look Out For
The online directions and the posted signs will warn to only attempt the hike on a clear day. This is sound advice, because if it does rain, the trail, which is already steep and slippery, would turn lethal.
It had been raining on and off on the day that I went. We decided to drive all the way to the end of the road and check out Milford Sound to let the weather clear up first, and I could see some blue sky peeking out of the clouds when we started the route in the afternoon.
Everyone coming down as we headed up reported that they couldn't see anything. The cloud cover was too thick at the top. At that point I realized why it's such a bad idea to go when the weather isn't clear – not only could you lose the route coming down due to fog, but there's really no point because you won't see anything at the top.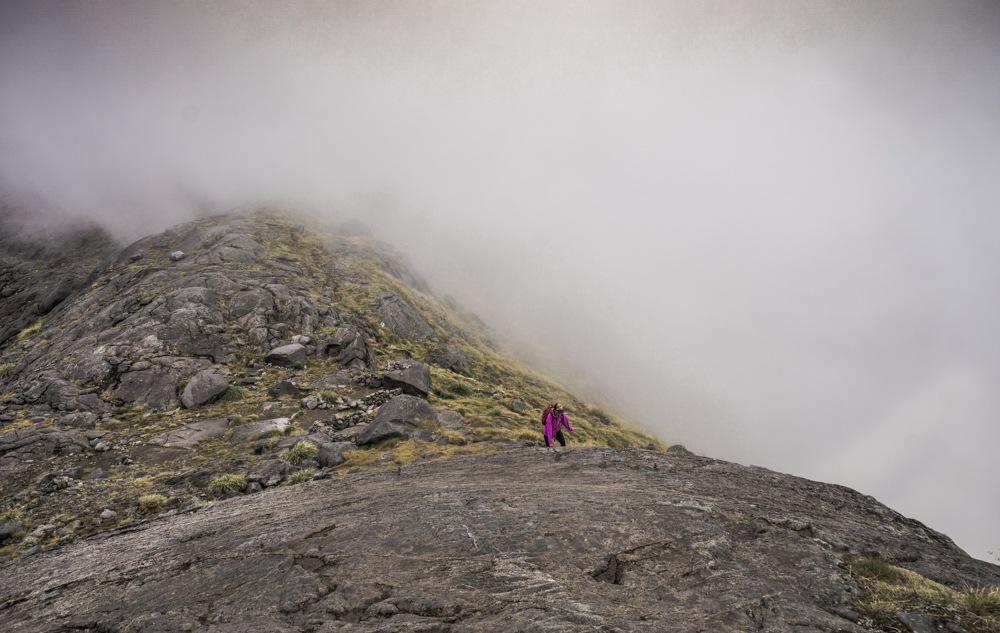 We were the last to attempt the route on the day, and as luck would have it, got a few moments of clarity as the fog parted. It didn't sound like anyone else actually saw the view all the way to the sound who went on the same day.
In hindsight, we were pretty lucky to have seen anything at all, to have been able to find our way back down, and to not get rained on again. We should have followed the DOC's advice, yet it's hard to say I have any regrets given the views we had. Everyone has to make their own call on what they think is safe and be honest with themselves about their abilities.
As a commenter below noted, search and rescue is often volunteer-run and not always immediately available in sparsely-populated New Zealand, so only attempt this if you really know what you're doing and have experience with route finding and rock scrambling.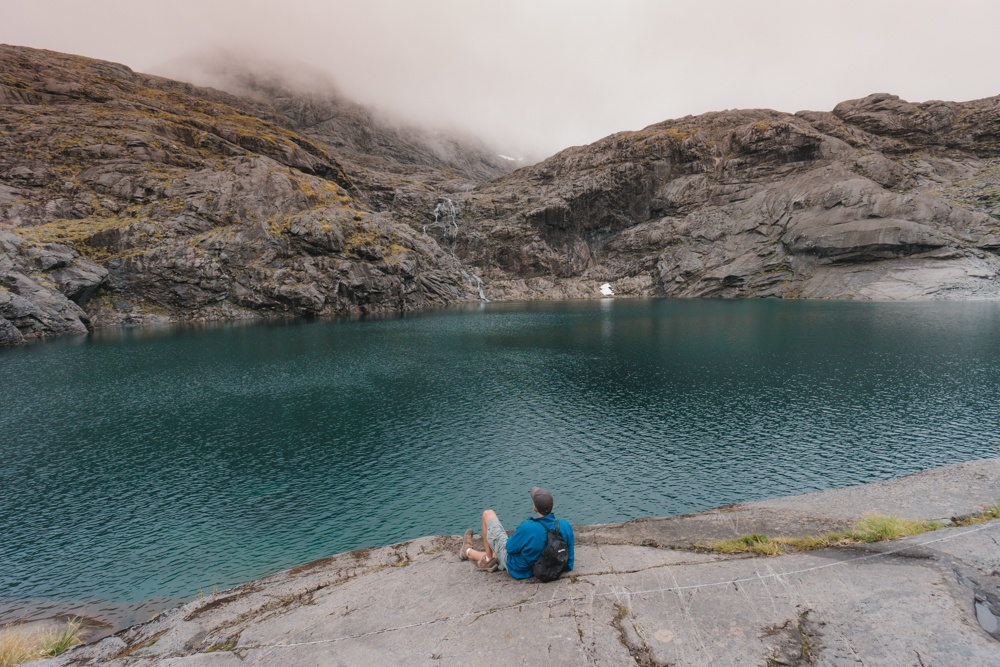 Things to Note
Be sure to bring along plenty of water and food for the trip. You can refill if you bring some kind of filter as you'll be hiking along and crossing a waterfall, plus coming up to a lake.
Make sure that your shoes have ample tread (I love these). You'll be walking on rocks without any grip. This is absolutely essential.
If you have a place where you can strap hiking poles to your pack once you get to the rock, I do think they would have been helpful for part of the hike up and wish I'd had them to stabilize myself on my way back down.
Make sure that you're not doing any part of this hike in the dark. It's essential that you can see the markers and the cliff drop-offs. This is not a sunrise or sunset hike prospect.
Finally, take the warnings seriously, be honest with yourself about your abilities, and watch the weather forecast. If it looks like rain, check out Lake Marian or the Key Summit Track.
If all of those things are in your favor, this has to be one of the best under the radar hikes in Fiordland National Park.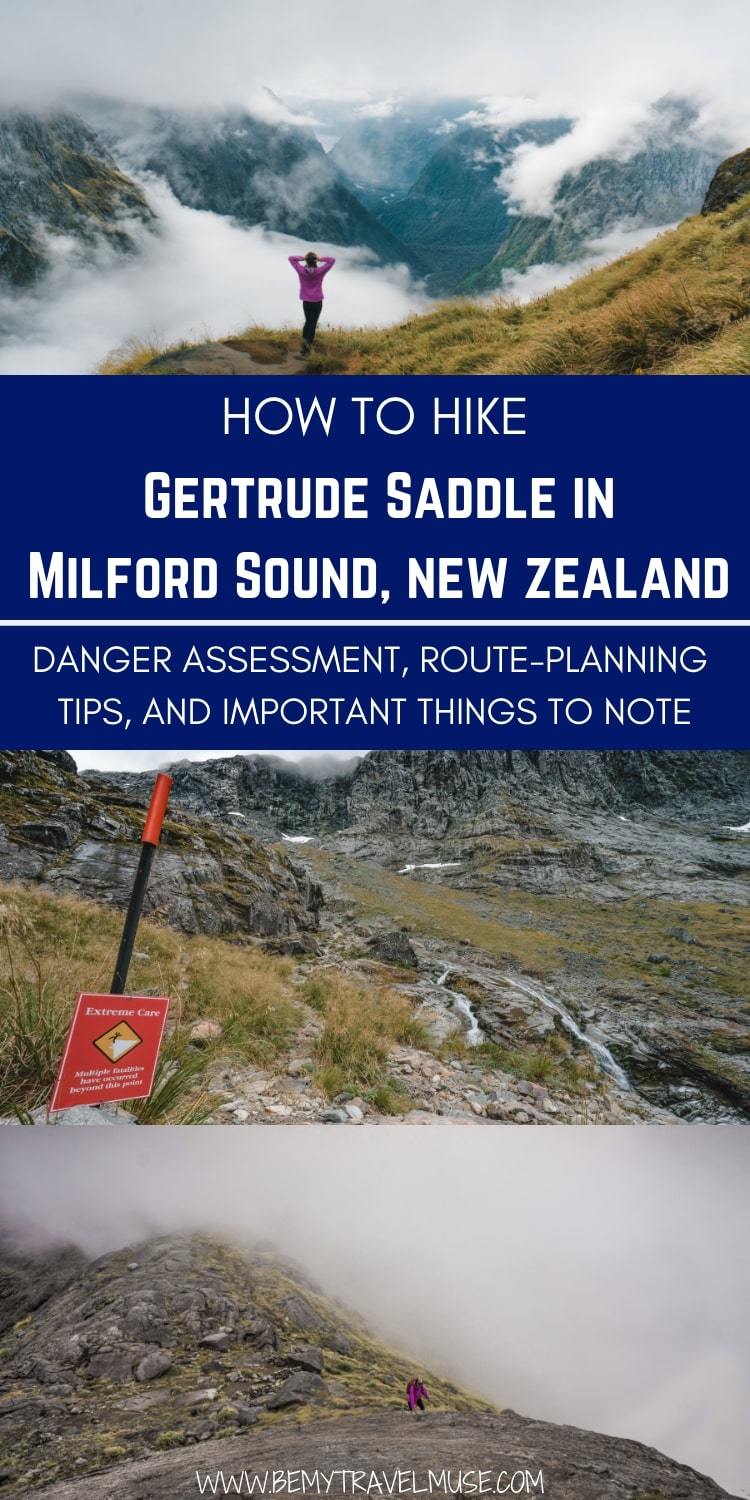 READ NEXT: