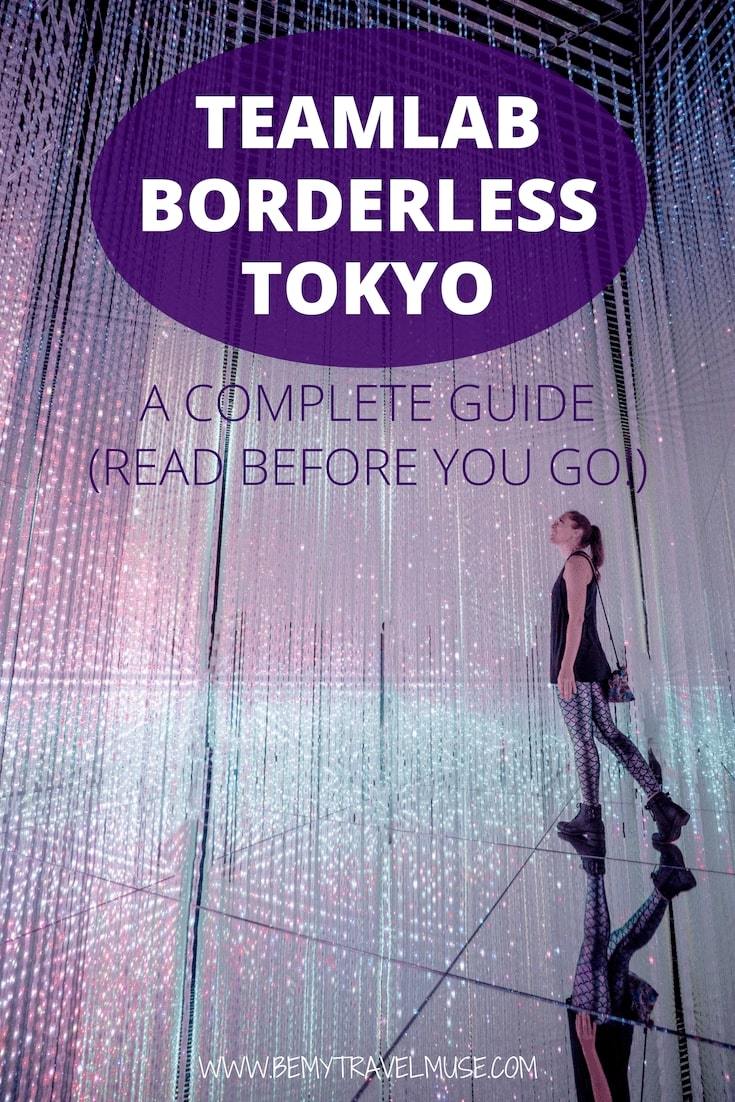 If you enjoy art museums, interactive science museums, pretty lights, music, or the pleasing effect of symmetry, the Mori Building Digital Art Museum Epson teamLab Borderless (what a mouthful!) delivers.
teamLab is a consortium of artists, programmers, engineers, CG animators, mathematicians, architects and graphic designers. They pool their talents to create interactive works of magic straddling the line between the beautiful, the captivating, and the technology needed to create it.
teamLab has two installations in Tokyo: Planets and Borderless. This article covers the Borderless museum at the Mori building, more than 10,000 square meters with digital art that's constantly changing, morphing, and interacting with spectators.
I visited in October 2018 and these are my best tips for getting the most out of it:
Buy Tickets Ahead of Time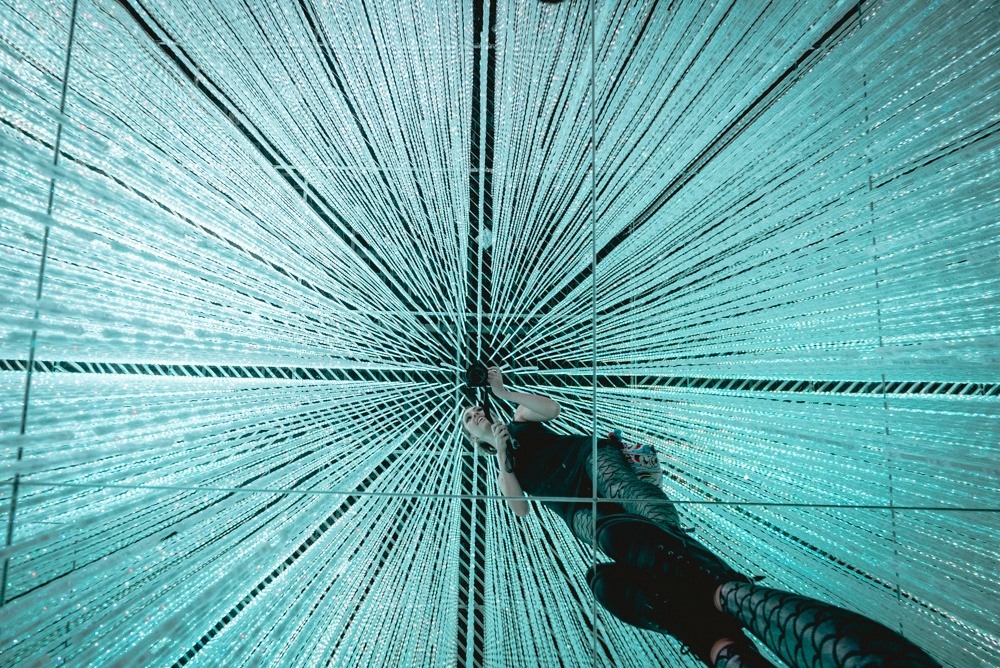 Word has gotten out about how amazing this place is and like most famous works of art, it is popular. In most cases, you'll need to buy tickets ahead of time or risk them being sold out on the day that you want to go.
Tickets cost ¥3200 per person and can be purchased here.
Budget Lots of Time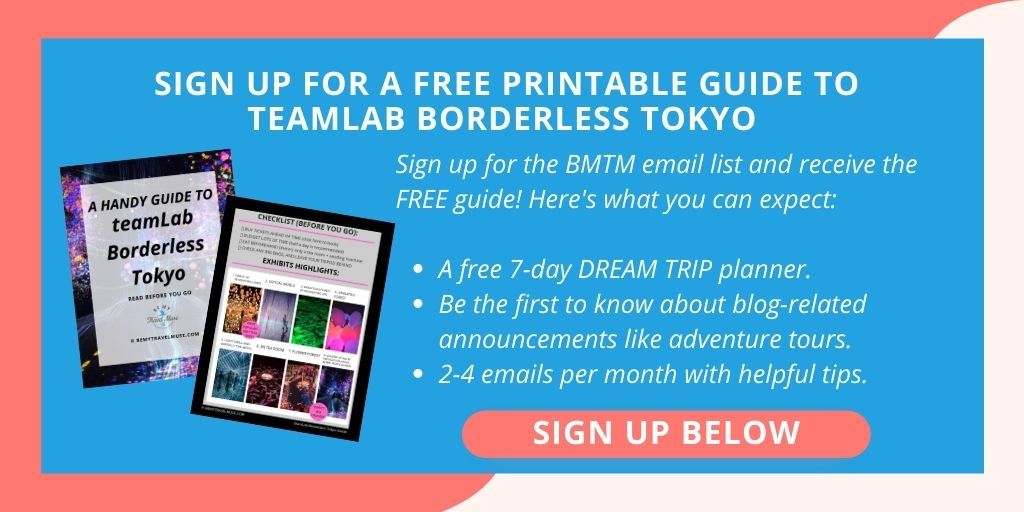 I spent about four hours exploring the exhibits at teamLab and had I not been so jetlagged, I probably would've stayed for even longer. Each room constantly changes and might be a completely different experience at one time of day than another. Part of this is because of who might be in there and how you might interact, and how the colors and sounds change in each room.
Whether you go in early, right after it opens, or later in the afternoon, allow yourself at least a few hours to see all of the exhibits and to not feel rushed.
As of now opening times are:
Mon – Thu 10:00- 19:00
Fri, Sat & Holiday Eves 10:00- 21:00
Sun & Holidays 10:00- 20:00
*Last entry 1 hour before the museum closing time.
*EN TEA HOUSE opens 1 hour after the museum door opens. Last order is 30 min before closing.
*Hours may vary depending on the season.
*Closed on the 2nd & 4th Tuesdays of the month.
Visit the Popular Exhibits Early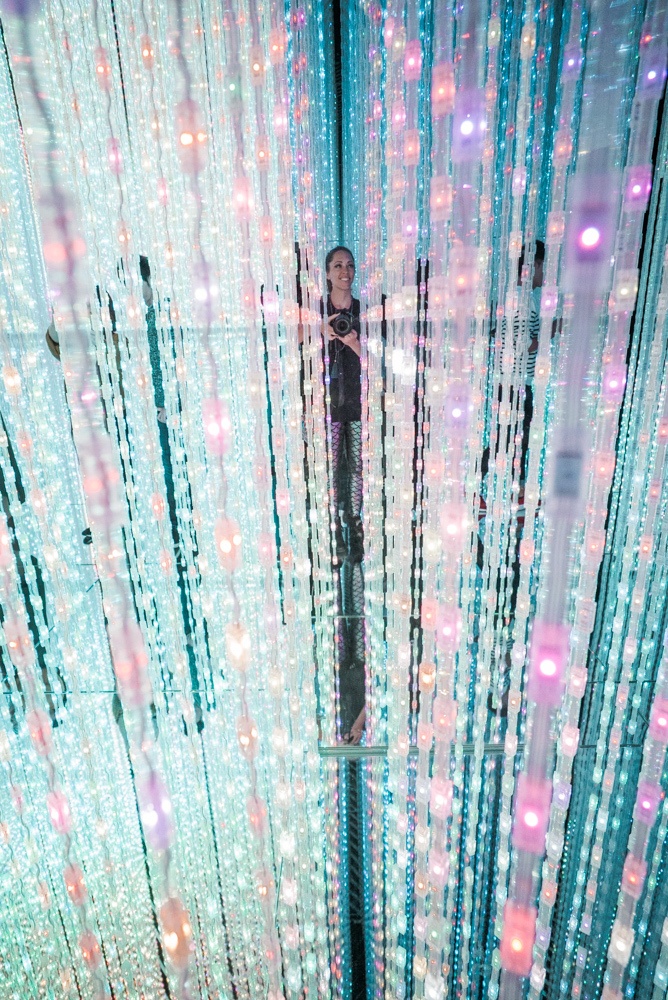 Many of the famous photos that you might have seen of teamLab Borderless with only one or two people in the photo were taken by teamLab itself. Make peace with the fact that there will be people in your photos.
If you do see a short line for one of the more popular exhibits, and you'll know because there will be a queue set up, go in while the getting is good!
I was also unsure of how best to time my entry to the building. I went close to opening time and stayed until the early afternoon. In an email from teamLab on the day of my visit, they suggested coming after 2 PM in order to have smaller crowds or to spend less time waiting in line.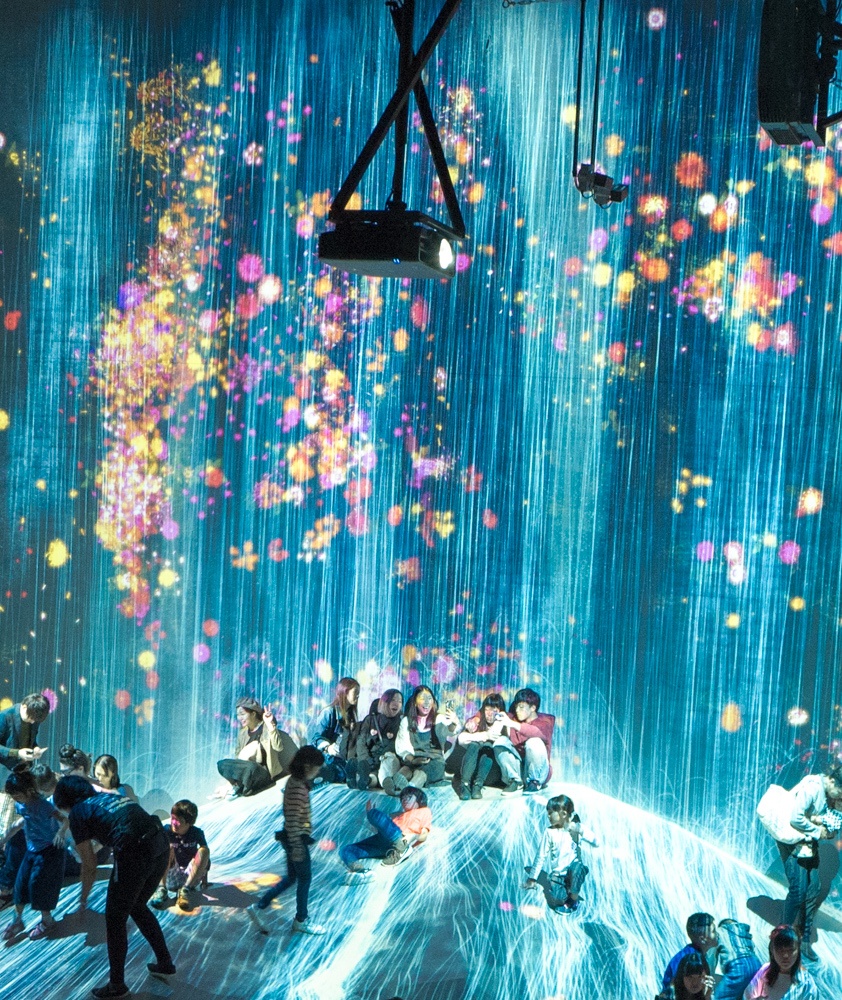 You can encounter lines entering the building for up to 90 minutes or in queues to enter the more popular exhibits. That said, Google told a different story as I scrolled through for the popular times. So basically, plan on sharing the experience with others no matter when you go, although if you wait until closing you might be able to get one or two photos without others in them.
Although you will be exploring with plenty of people, I found that Japanese culture is polite and not pushy, which made it a more pleasant experience.
teamLab also encourages seeing other people as part of the art. In an interview with designboom, they say that unlike in a traditional museum where being alone is a blessing, in Borderless you may pay more attention to the action of the viewer next to you, since the art is interactive, than you would looking at a traditional painting. teamLab wants visitors to experience the art together and to interact with it both individually and as a group. They view this as an important unifying factor both of art and of the effect of people living in cities. If only there were interactive art all over the subways and crowded streets, perhaps we play with each other a bit more!
Also, make sure you eat beforehand.
Apart from a tea room, there is no food or drink at the museum. There are little rest areas with vending machines but that's about it. Make sure you eat before you go!
Get familiar with the exhibits so that you don't miss anything:
In the video above, I take you through each room and each sensory experience. Below I've listed each place so that you can make sure you don't miss anything!
Crystal World: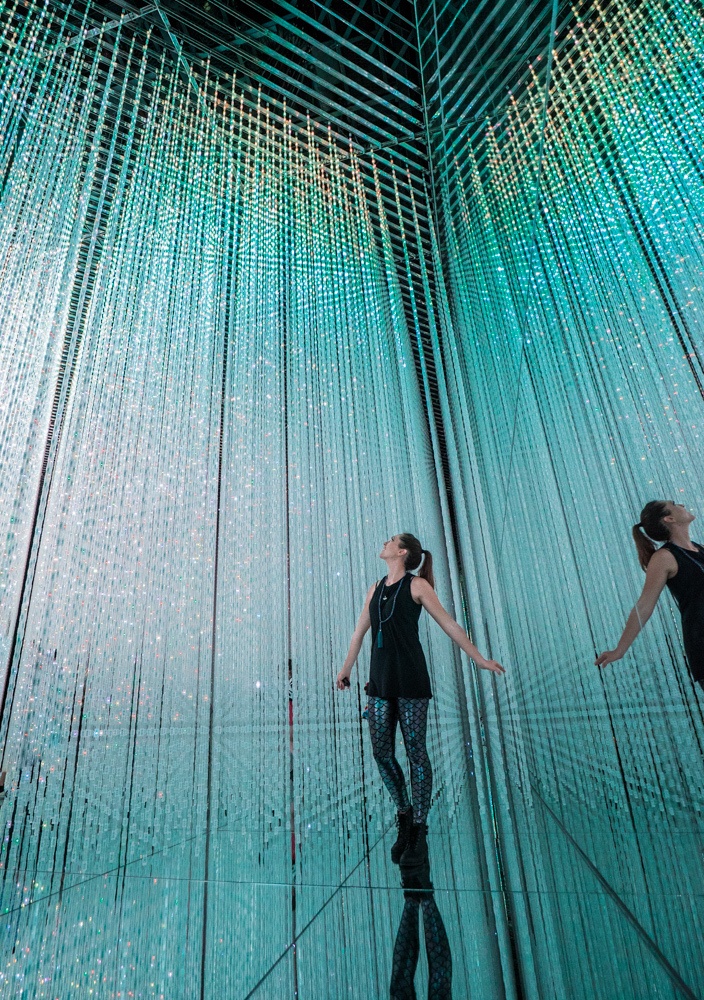 These dazzling lights look like falling crystallized rain, constantly changing colors and framed with mirrors on the walls and floor. Spend some time in here and wander through the corners and you just might get lucky and find a spot where you can get a photo without too many other people!
Forest of Resonating Lamps: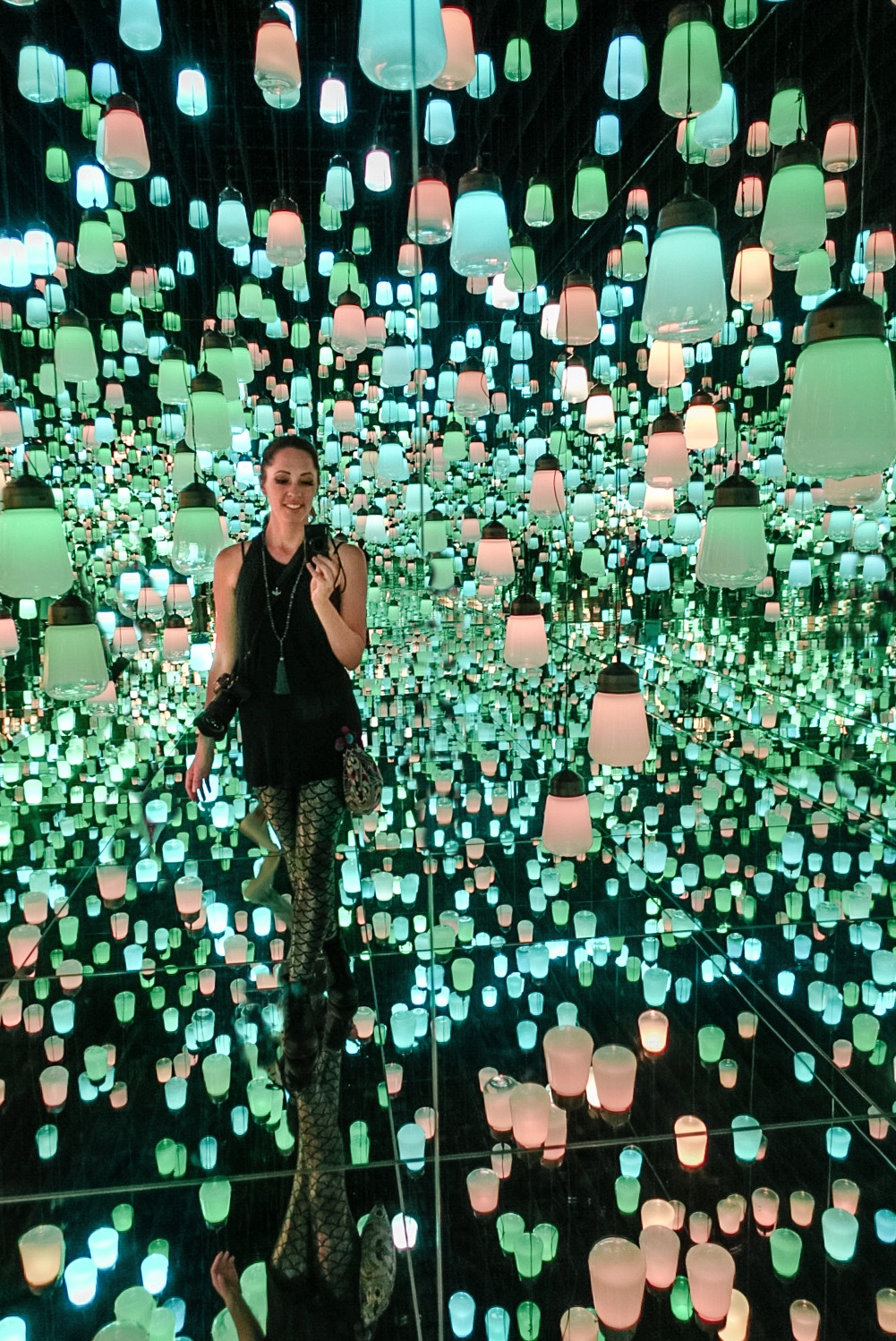 This is the most popular exhibit and the only one with a time limit when I went. The lightbulbs change color if you come near them, and the whole room goes from yellow to pink to blue. About 30 people are let in at a time and only for a minute, and you may wait for about 20 to 40 minutes to get into this one.
Flower Forest: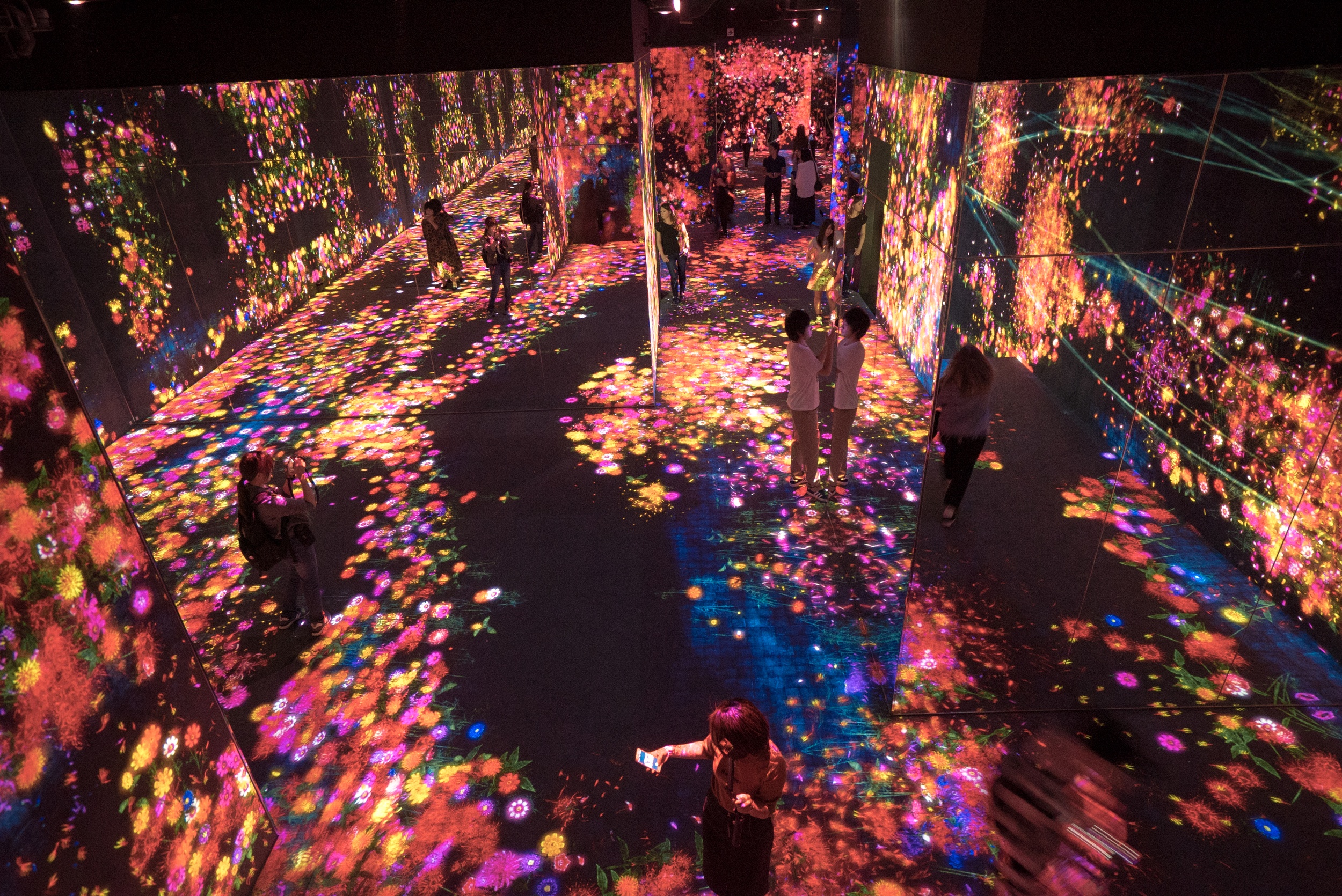 This will probably be the first room that you come into. There are little standing rooms within this giant room with additional installations inside, but the main feature are the flowers that are blooming, wilting, and sprouting up as you step on and tap on them.
En Tea House: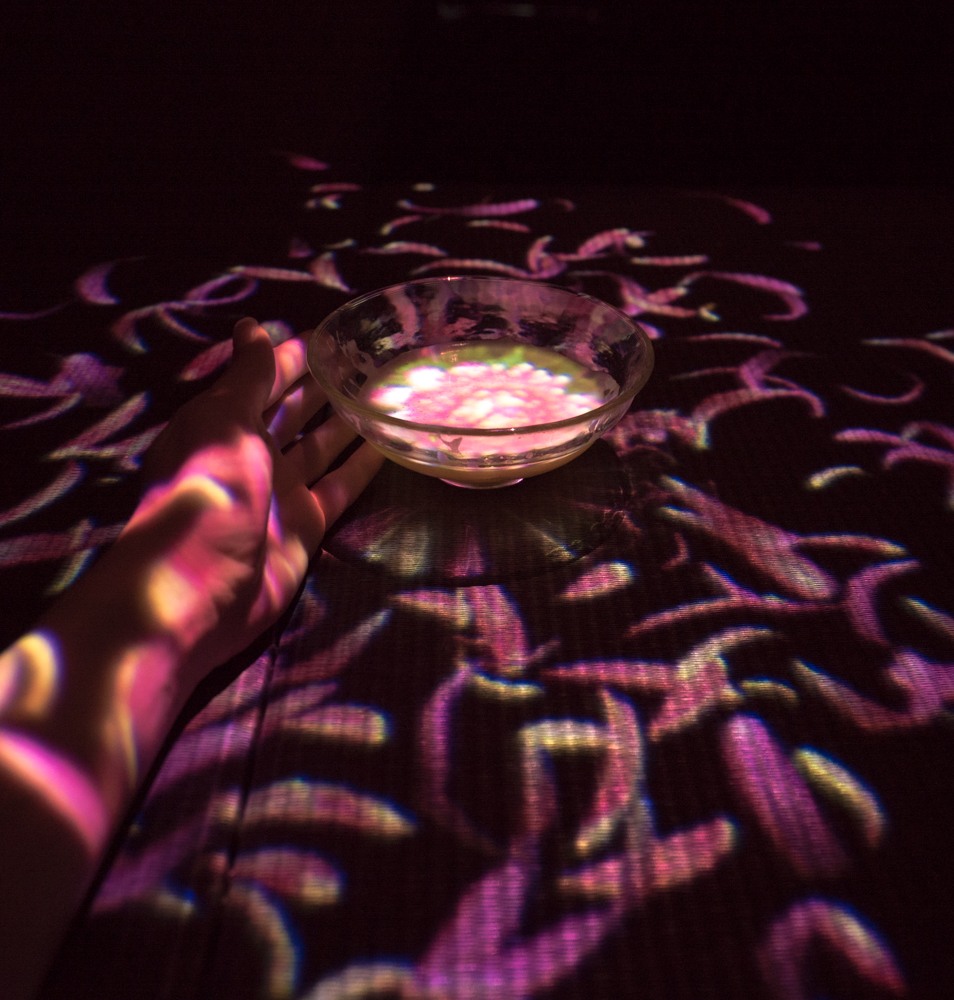 I really liked this experience, drinking the blooming tea and watching as the pedals scattered as I drank more. There's an additional charge for this one of ¥500 which allows you to select from an array of green teas (I picked Yuzu).
Memory of Topography: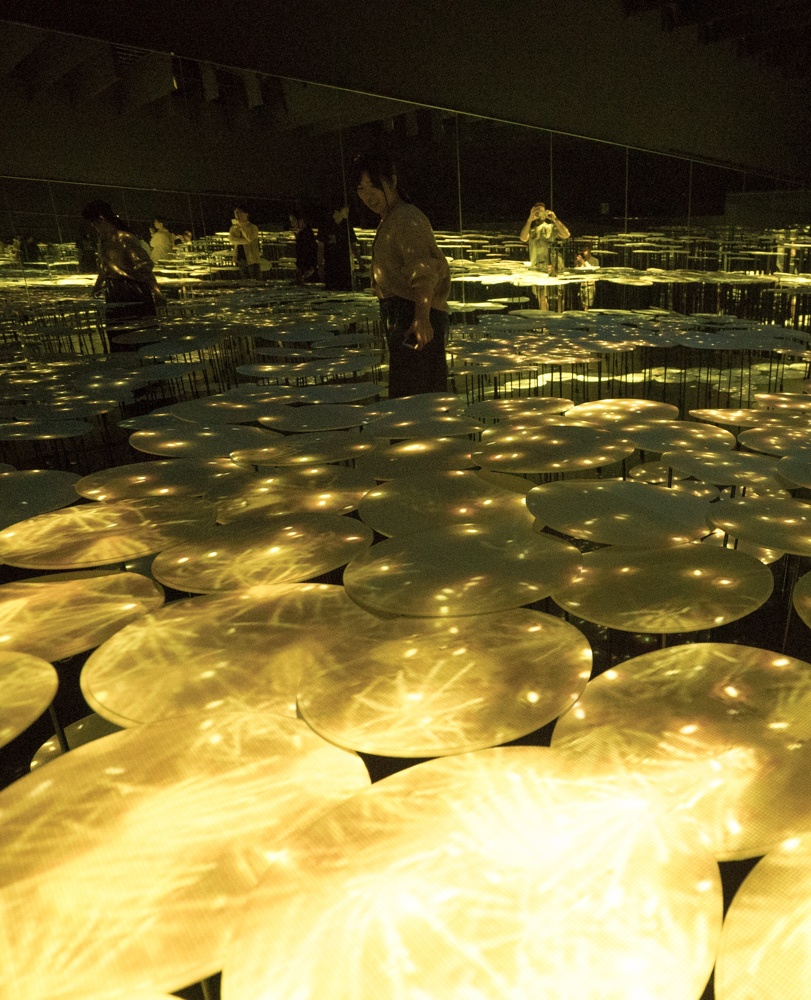 First this room starts off with stalks high above your head and the sounds and colors change to symbolize the different seasons. As you walk through the room you can come above the rice paddy. The combination of lights and music in here were so beautiful I almost cried. It may have had to do with my extreme exhaustion from flying all night but it was beautiful just the same.
Black Waves:
This reminded me of the famous Japanese waves painting, animated and come to life. It's calming and stormy at the same time. There are some pillows in the middle of the room if you need to take a load off.
Athletics Forest: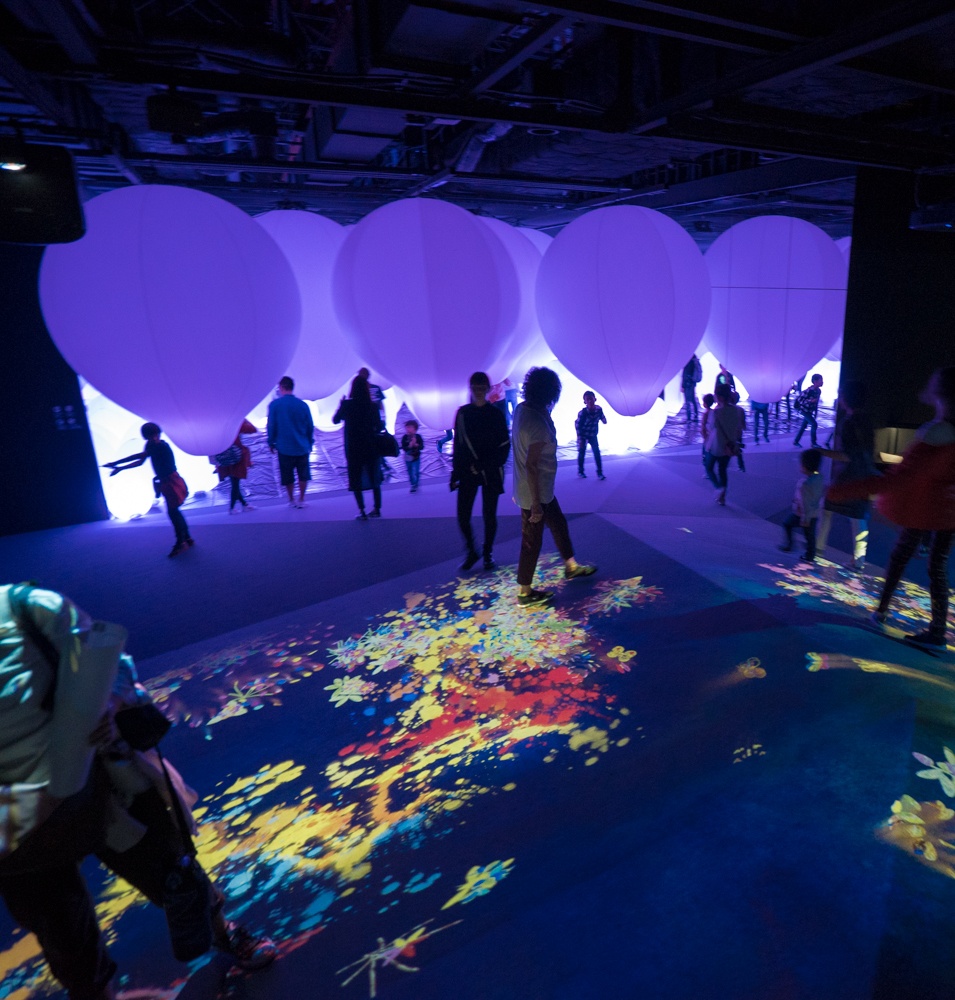 If you want to double over from the cuteness overload head to the Athletics Forest and watch the kids interact by jumping on the trampolines and stomping on the flowers. You'll see flowery humpback whales swimming by under your feet and across the walls. You can also find some exhibits to climb on and a little drawing area too.
Weightless Forest of Resonating Life: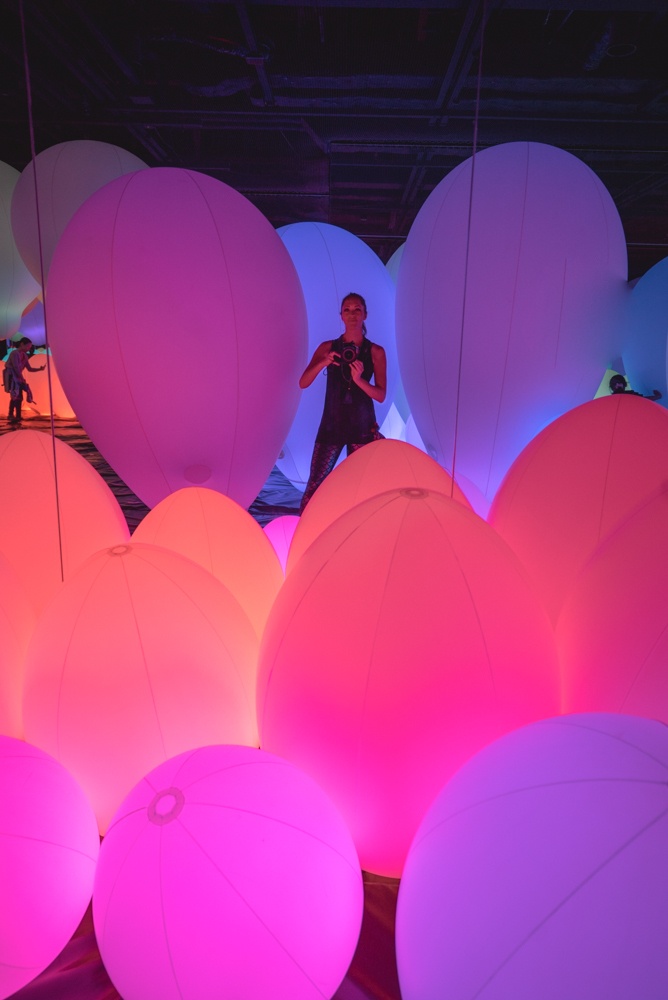 Just through the Athletics Forest you'll see these floating balloons which reminded me of little hot air balloons of various sizes.
Animals of Flowers, Symbiotic: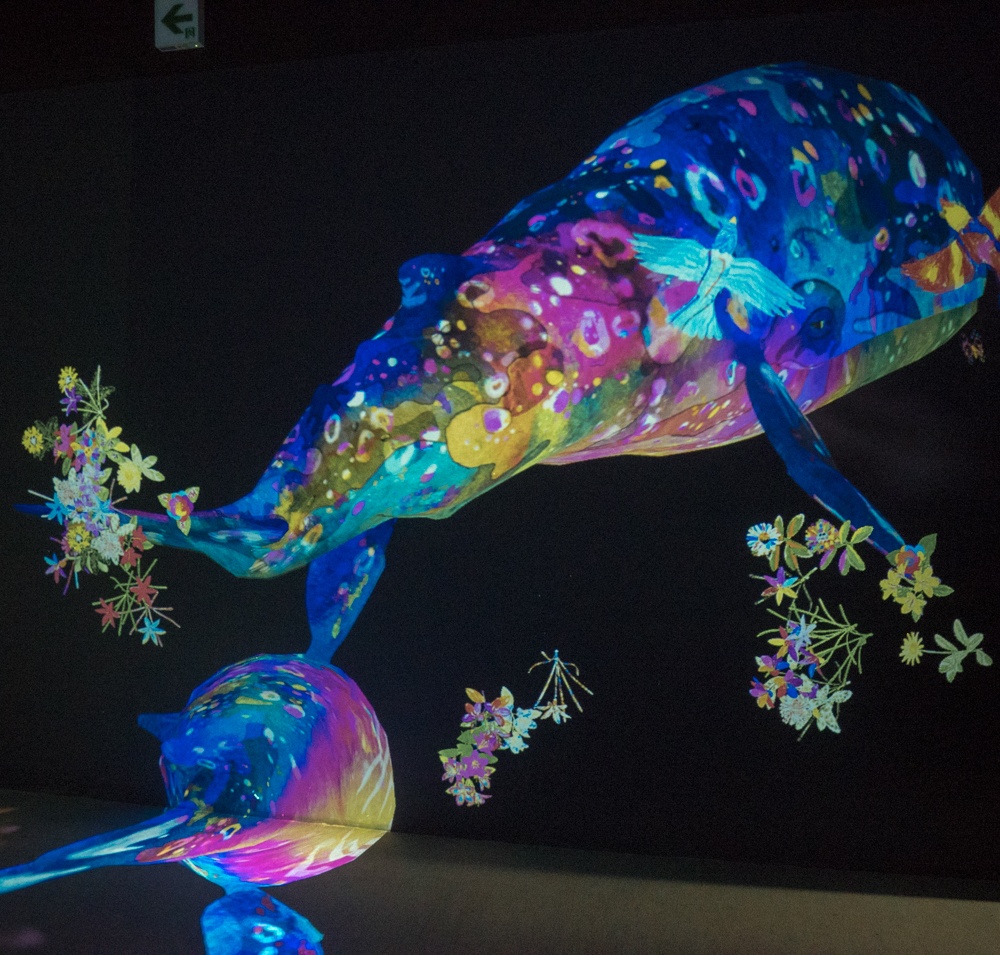 While each room is interactive, the hallways are tons of fun, too. There are marching bunnies and flower animals on the walls, most of which are interactive as well, so hop along with them and touch them.
The Nest:
This double decker art show is visible from a net suspended in what seems like the middle of time and space. Lie down and watch as the lights and sounds swirl above underneath and around you.
Light Shell and Vortex: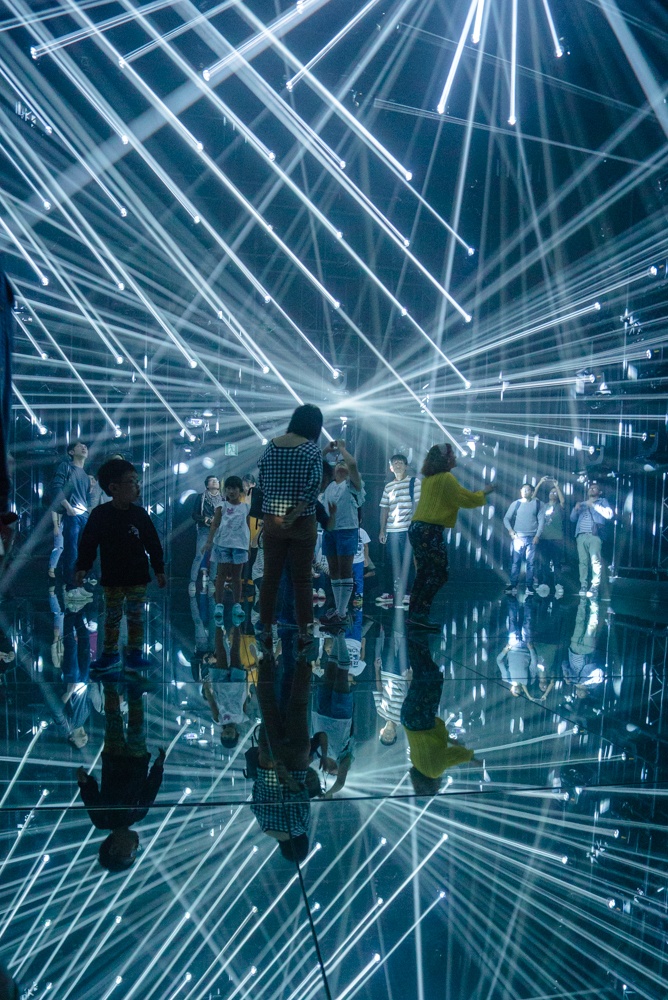 To feel like you're in a nightclub of lasers, head into this room and dance!
If you get lost, connect to the free Wi-Fi and load the pictures from this article to show to the attendants and they will point you in the right direction.
Check any Big Bags and Leave your Tripods at Home
As you go through the exhibits it will become clear why they don't want tripods, selfie sticks or big backpacks – some of them have narrow areas and for some you'll be climbing, jumping, and walking through hanging lights.
I was a little bit bummed that I couldn't bring a tripod since I was there alone and wanted to get some photos with me in them, but I was able to use the mirrors for selfies, and in a couple of cases was able to ask someone nearby to take my picture for me. Problem solved!
Getting There
Thankfully teamLab borderless at the MORI building is easy to find. Get off the train at the Aomi stop and turn left as you exit the train. You'll see a mall with a Starbucks downstairs and the Toyota showroom to your right. Walk through the showroom and you'll soon come to the entrance of the exhibit.
I hope this guide helps you to enjoy the experience at the Mori Building Digital Art Museum Epson teamLab Borderless (say that ten times fast. I'll wait). If so come back and let us know!