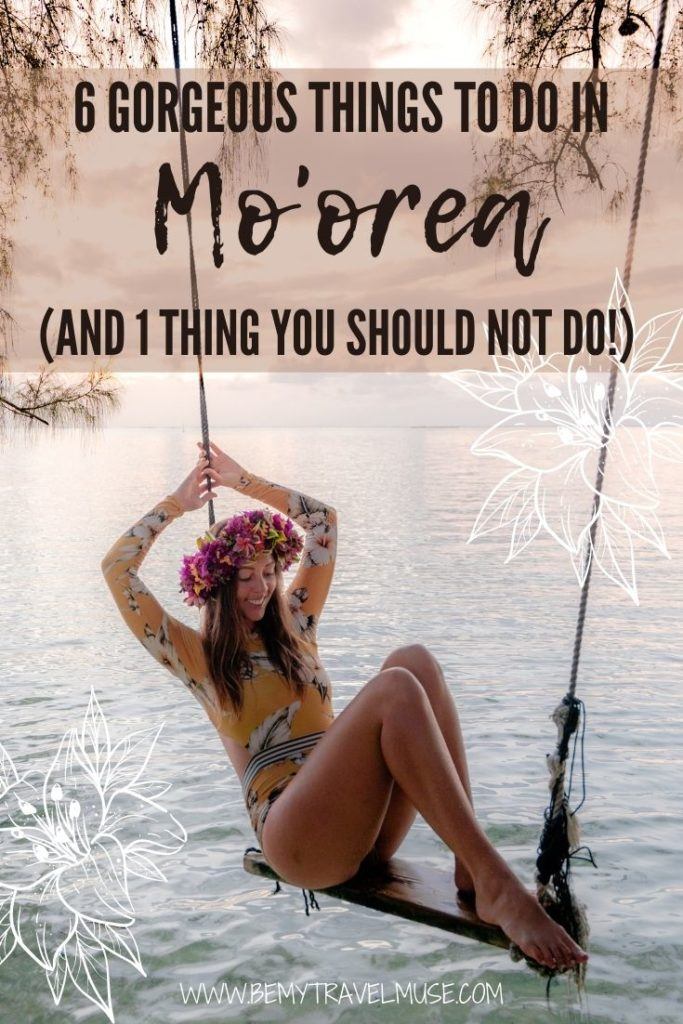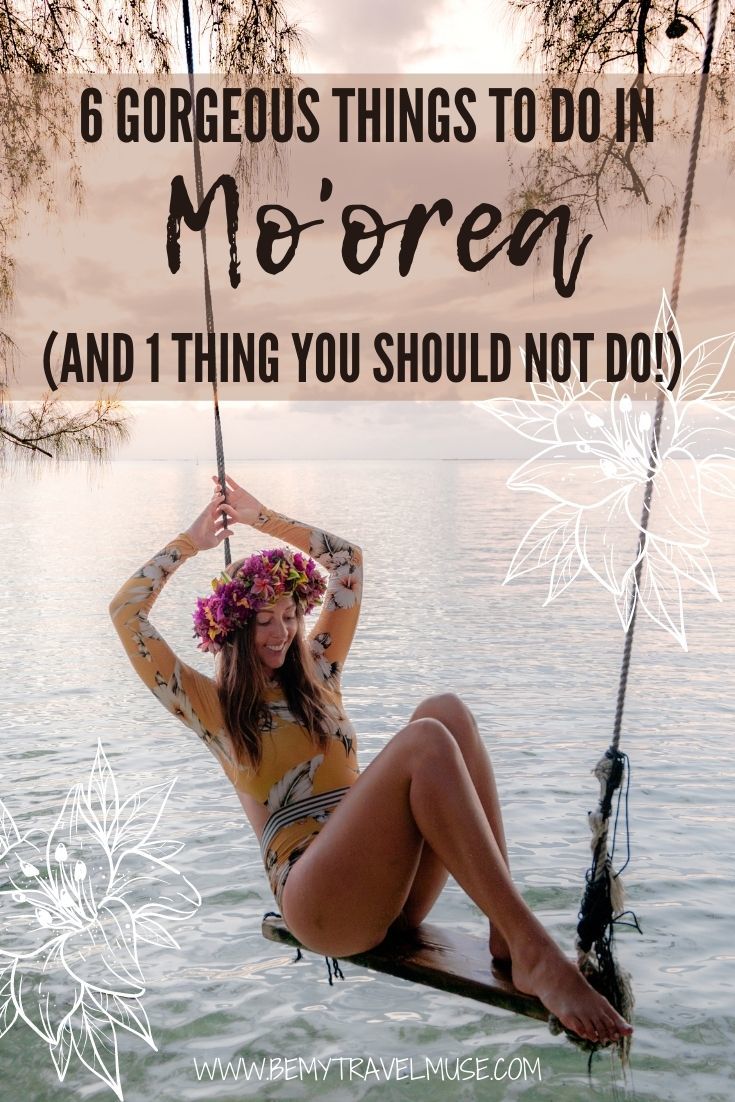 Sometimes life blows my mind a little bit. Just a week ago I was swimming in turquoise water with docile stingrays and reef sharks, and then came home to fall colors in Reno and binging on The Great British Baking Show (and I don't even bake!), wondering if it was all a dream.
Mo'orea in French Polynesia is the stuff of fairytales, and I believed my very friendly cab driver when she told me that the movie Moana took heavy inspiration from the island.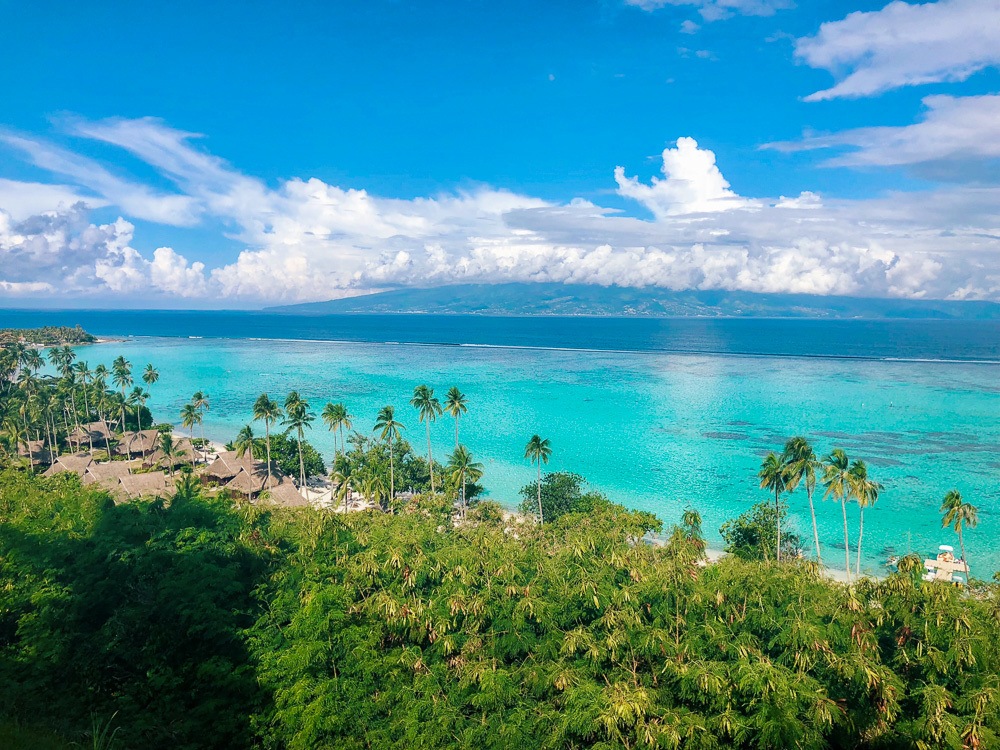 The land formations are dramatic and jungly, almost like Pandora (Have I peppered this with enough pop culture references yet?), all encircled by a glimmering baby blue bay.
If you're lucky enough to visit Mo'orea, these are some of the best things that you can do on the island, plus information on how to get there, how to get around, and where to stay:
Swim with Humpback Whales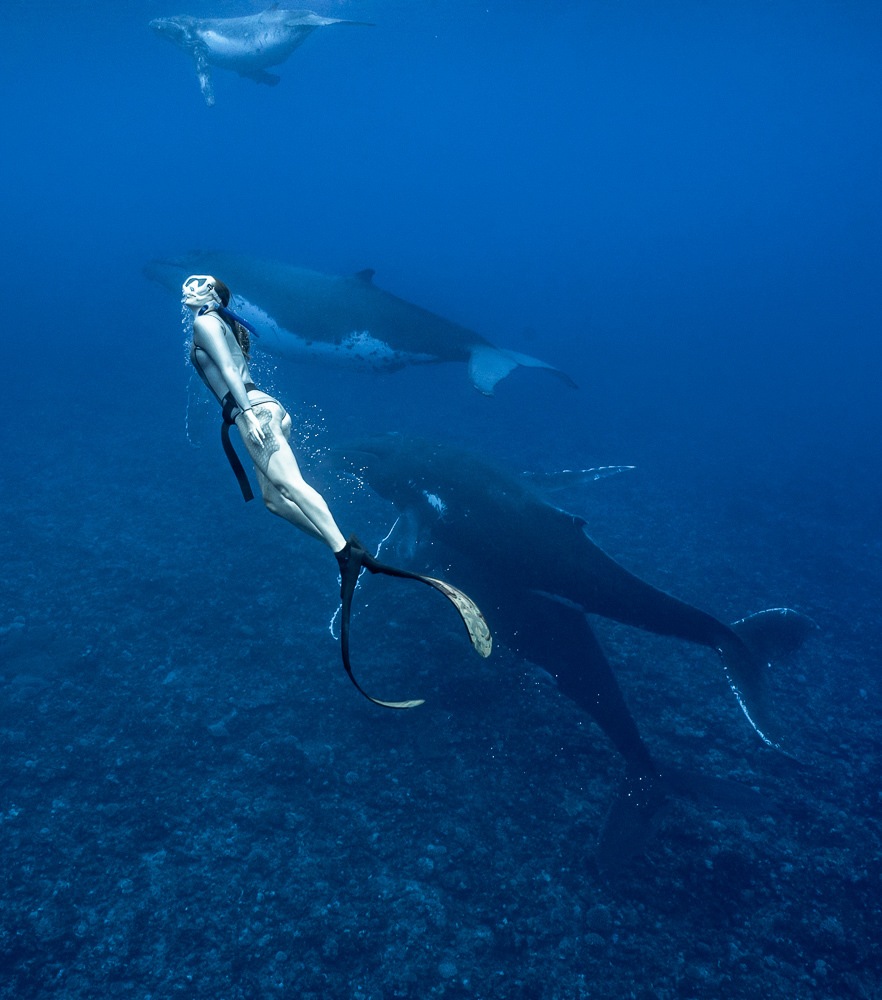 From the end of July to the end of October each year, humpback whales migrate out from Antarctica to mate and birth their young in the waters of French Polynesia. Although there are hundreds of islands in the country, Mo'orea and Tahiti provide the perfect conditions for the baby whales, attracting hundreds each year.
French Polynesia is one of very few countries that allows swimming with whales. Do keep in mind that the waves can be big, the current strong, and the days can be long. The whales are truly wild, so there's never any guarantee of swimming with them, and it must be done respectfully, never cutting off or chasing them with the boat. But when you do it those magical moments, they truly are mind-blowing!
I have, candidly, not swam with whales on Mo'orea (I run trips on a different island each year), however this is the most popular place to do it, and there are many day trips to choose from. If you do it on Mo'orea, tell me what you think!
Swim with Rays and Reef Sharks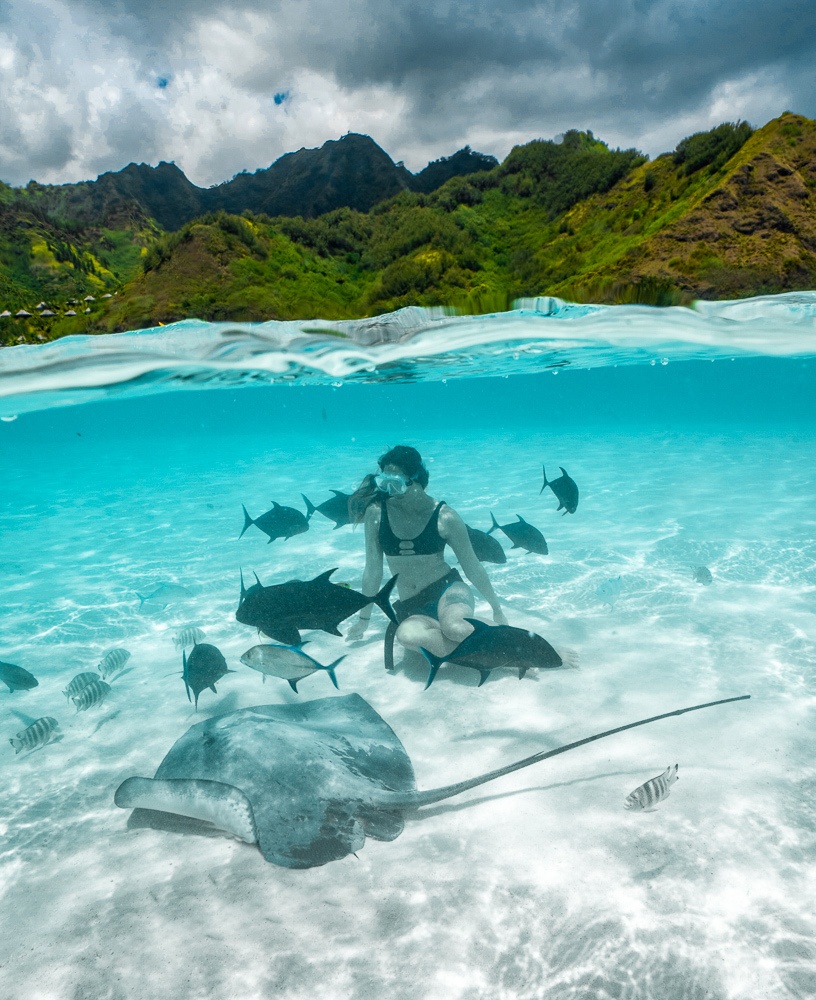 OK you guys, we need to talk about the best way to do this activity! Initially, I wasn't sure how to find the rays and sharks, so I booked a boat tour.
Normally I don't like this kind of thing, but since I was there with a group of 10, we decided to just hire our own boat. But then after seeing how easy it would be to just head out there independently, we did that the next day too.
Here's the thing – you really don't need to take a tour to see the rays and the sharks. In fact, the location the tours take you to is even listed on Google Maps and is very easily accessed from shore.
You can't swim to it because you would be going through a watercraft zone, but you can rent a kayak, or 4-person hourly rental boats if you're confident driving your own.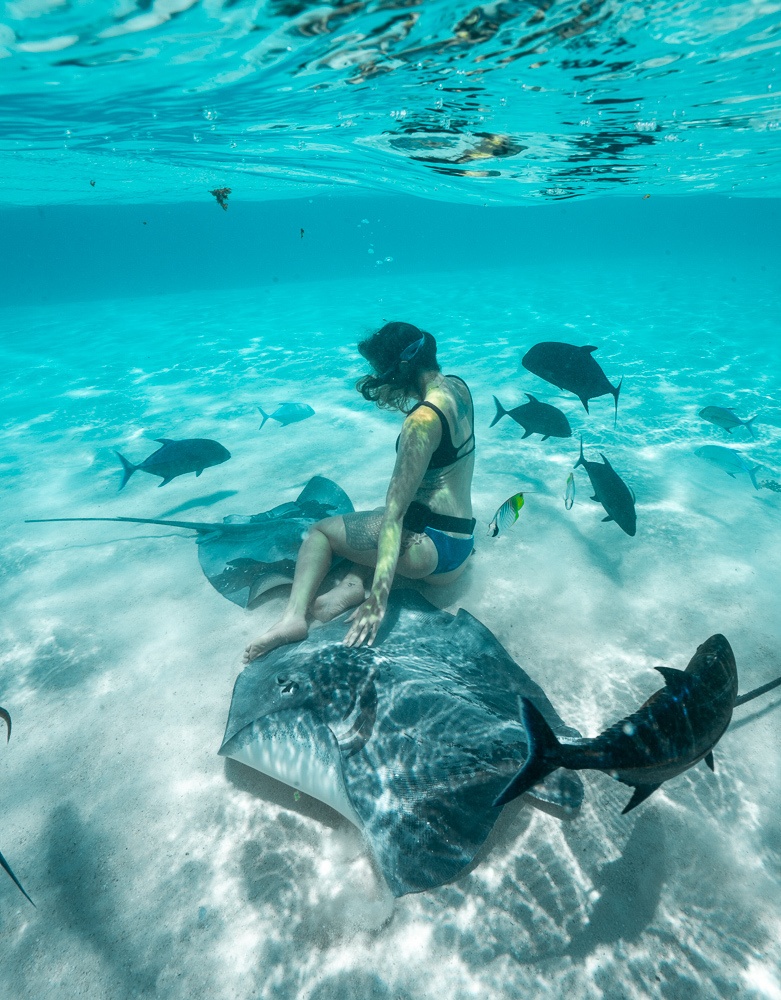 If you're comfortable with it, I would recommend just doing this independently because it is much cheaper and we really didn't benefit that much from taking the tour. Instead of $80 per person, we paid $80 for four people in one rental boat the following day and just motored over ourselves in the rental. You can rent them right in front of the Hotel Les Tipaniers.
There's also some benefits of not going when all of the other boats are there. Namely, not having tons of people in the water with you! Of course, this lagoon is not the only place to see stingrays. I saw them swimming around when snorkeling off of the beach at our accommodation at the old Club Med as well (more on that later).
Although the tour guides are not allowed to feed the rays anymore, they do still bait them with pieces of fish. Also for a little dose of reality, don't expect to have dozens of rays swimming all around you like you sometimes see on Instagram – it's not exactly like that. I suspect Photoshop might have been involved in some of those!
That said, it is still a cool experience to check them out independently. They will sometimes check you out and swim up your legs! They're quite docile, so I wasn't worried about the stinger, though it's important to make sure you don't surprise or step on them.
Belvedere Lookout + Hiking or 4×4 Excursion
Those incredible mountain formations I spoke of earlier are easily accessible at the Belvedere lookout.
It's a paved road all the way to the top with various hiking rails that lead up to the lookout. One can simply drive up and stop at various points along the way — I highly recommend the ice cream at the agricultural school — hike it, or take an ATV tour.
We chose to drive up and though beautiful, I think it would've been just that much more magical if we had gone with early morning or late afternoon light and had a rare cloudless moment.
Other notable viewpoints include Magic Mountain ($2 entry fee).
Northwestern Tip Sunset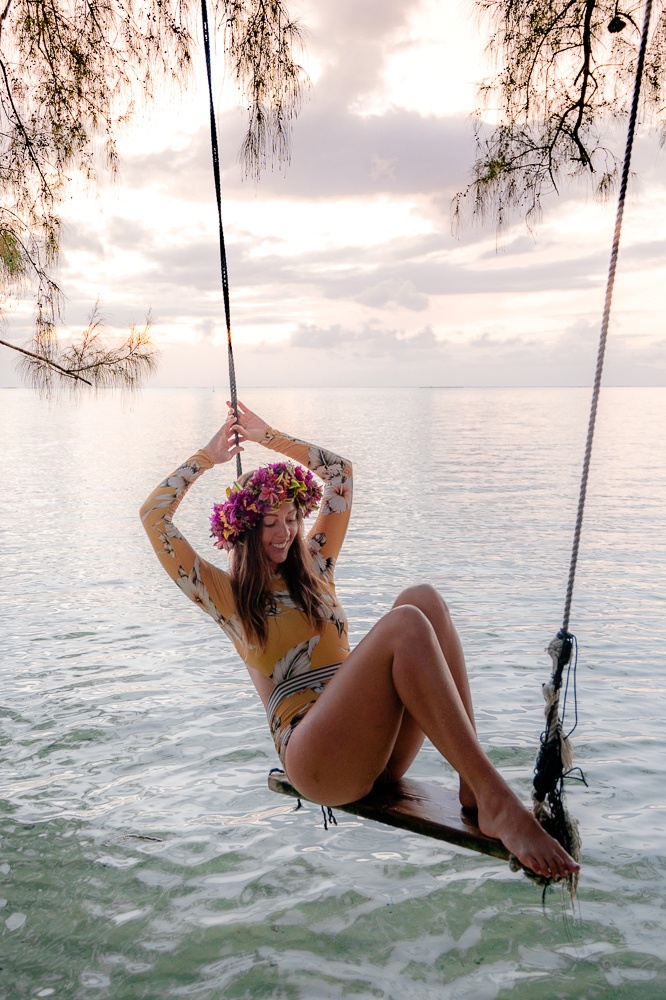 Mo'orea's famous lagoon looks beautiful at any time of day, particularly with the sun shining down on the color scheme of blues.
But if you're a sucker for a gorgeous sunset — and who isn't? — head to the northwestern shore for some gorgeous sunset views.
There's a 'sunset beach' at the Hotel Les Tipaniers, but if you want something more secluded, I recommend staying at Fare Club and enjoying their rustic but beautiful sunset spot. You might just get it all to yourself.
Eat at a 'Snack'
French Polynesian cuisine is some of my favorite, almost always involving raw or cured fresh caught fish (which is line fished in French Polynesia!) sometimes taro, or sometimes sandwiches and fries.
In French Polynesia, some of the most delicious food and be found at the 'snacks', which are small, often pop up restaurants that serve cheaper and no-frills fare. These are my favorite places to eat for the affordability and the authentic flavors.
Sorry I don't have pictures of the food, because you can never trust me to remember before I'm halfway done eating.
They tend to only be open during daytime hours and lately due to the 'rona, opening times are not guaranteed. However when you get lucky, the results are delicious. These are some of my favorites:
Snack Mahana
A favorite on the island, at least in the tourism zone, Snack Mahana serves up fresh seafood. Be sure to try poisson crue, which is raw tuna cured in coconut milk with carrot and sometimes other veggies – a local favorite.
A L'heure du Sud
Think sandwiches, burgers, and fries. This snack has delicious and surprisingly affordable food!
La Macaroulotte
Unfortunately due to Covid the snack was closed, much to my chagrin because can you imagine a snack that specializes in macarons!? Sign me up!
Coco Beach
I'm not sure if this is considered a snack so much as an experience, but Coco beach's picnic table cuisine is one of the highlights on Mo'orea. You'll need to get a water taxi or motor over yourself to the Motu Tiahura. Be sure to make reservations ahead of time (and be sure they're open!).
Bay Views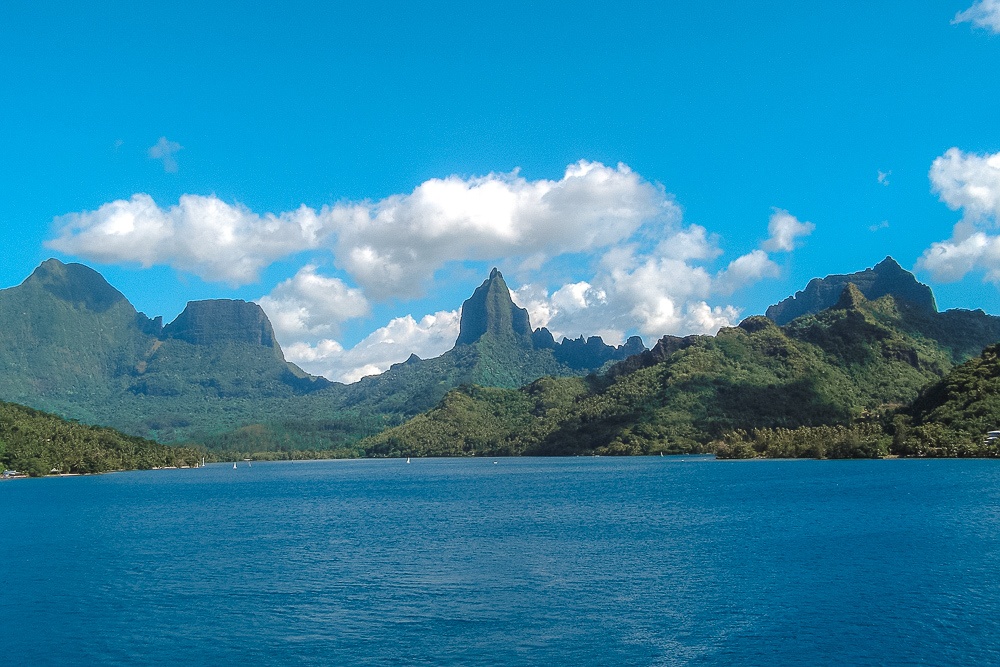 The two famous bays on the north side of Moorea, Cook's Bay and 'Ōpūnohu Bay, give a gorgeous perspective of the island from the sea.
It is possible to see the bays on the aforementioned ray and shark tour, which is one benefit of doing one, as the smaller personal rental dinghies are not allowed to go this far. Some whale swim tours may also include checking out the bays, just ask when you book!
Beware The Dubious Lagoonarium and Dolphin Encounters
I'm including these on here as more of a do-not-do. Since the Intercontinental Hotel has shut down on Mo'orea, I don't know what has happened to their captive dolphins in the dolphins swim enclosure. However if they do get back up and running, please don't support swimming with captive dolphins!
Another popular attraction is the Lagoonarium, which does get rave reviews, however if you show up there outside of their normal hours you'll see that it's just a spot in the lagoon where they attract the animals by feeding them. This will give you a chance to see the animals, pretty much guaranteed, but it's not exactly an authentic animal experience.
Getting to Mo'orea
Most people take the ferry from Tahiti, where the international airport is, to Mo'orea. It's only about a 45-minute ride on the ferry. You can access the ferry pot in 15 minutes with a taxi from the airport.
Hours for the ferries are always changing, so check before you go. Tickets run between $11 and $15 each way.
It's also possible to fly to Mo'orea on Air Tahiti, which could make sense if coming in from an island other than Tahiti.
Where to Stay on Mo'orea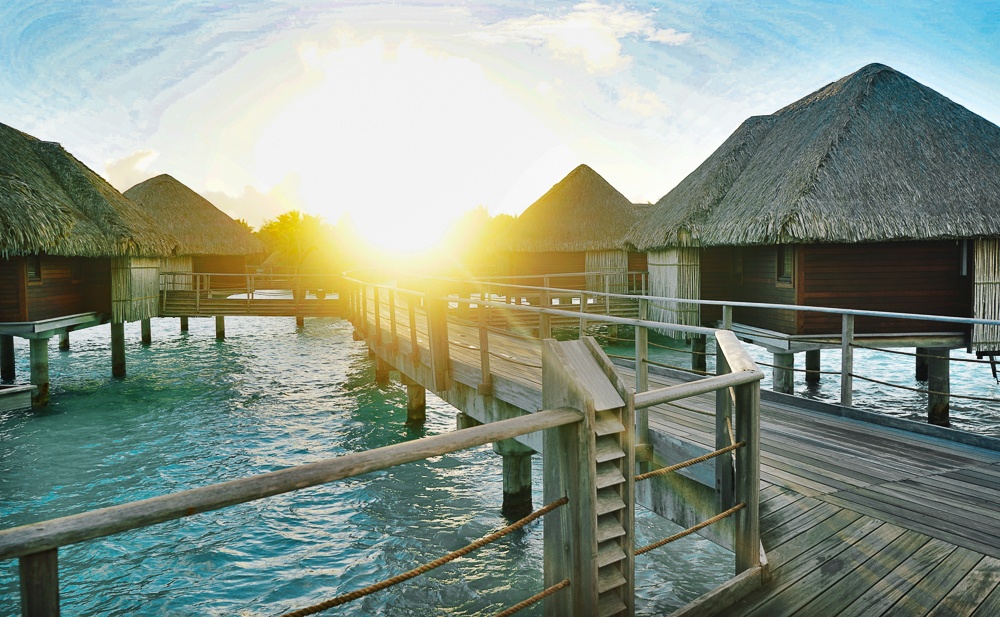 Overwater Bungalows
If you've always wanted to try an overwater bungalow, Mo'orea has beautiful options that are a fraction of the price of the ones on Bora Bora. Though Covid forced the close of the Intercontinental, there are still several options:
Local Guesthouses
My personal favorite in French Polynesia are the local pensions and guesthouses. I've had such lovely experiences with the people there, often being invited to meals with them and sitting and chatting as though you're one of their dear friends. People really make a place, and there's no better way to get to know French Polynesia than through staying with locals.
I loved Fare Club (get $40 off your booking through this link), a set of a few basic bungalows on the former grounds of the Club Med (you can read more about why Club Med is no more in my IG post here).
It's also possible to organize tours through the family's son, Tama, which I highly recommend for a more authentic and better timed ray and shark experience!
How to Get Around Mo'orea
How to experience Mo'orea has a lot to do with your activity desires and location on the island. If you're staying in a resort with restaurants and want to enjoy an overwater bungalow and a few ocean tours, then taking a taxi to and from the ferry port to the hotel area (usually around $45 per car each way) is probably the best way to do it. I highly recommend Mareva, who gave me permission to list her number here: +689 87286554. Whatsapp her for a ride – she's super sweet and a polyglot!.
However if you want any flexibility to explore the island on your own, taxis add up very quickly. There's a Europcar and Avis at the ferry port, though the organization is a bit odd and it seems pretty informal. It's best to rent ahead of time if you can, and you'll have an easier time getting a car if you can drive manual. Locals recommended Albert Transport as the cheapest option. If traveling solo, you can also rent a scooter to get around.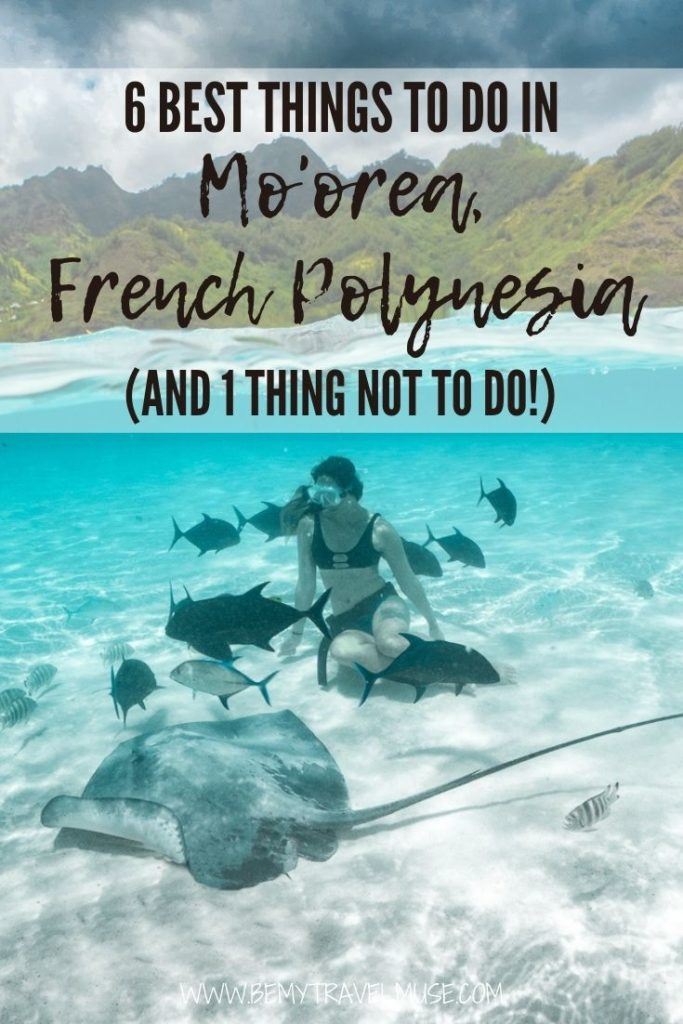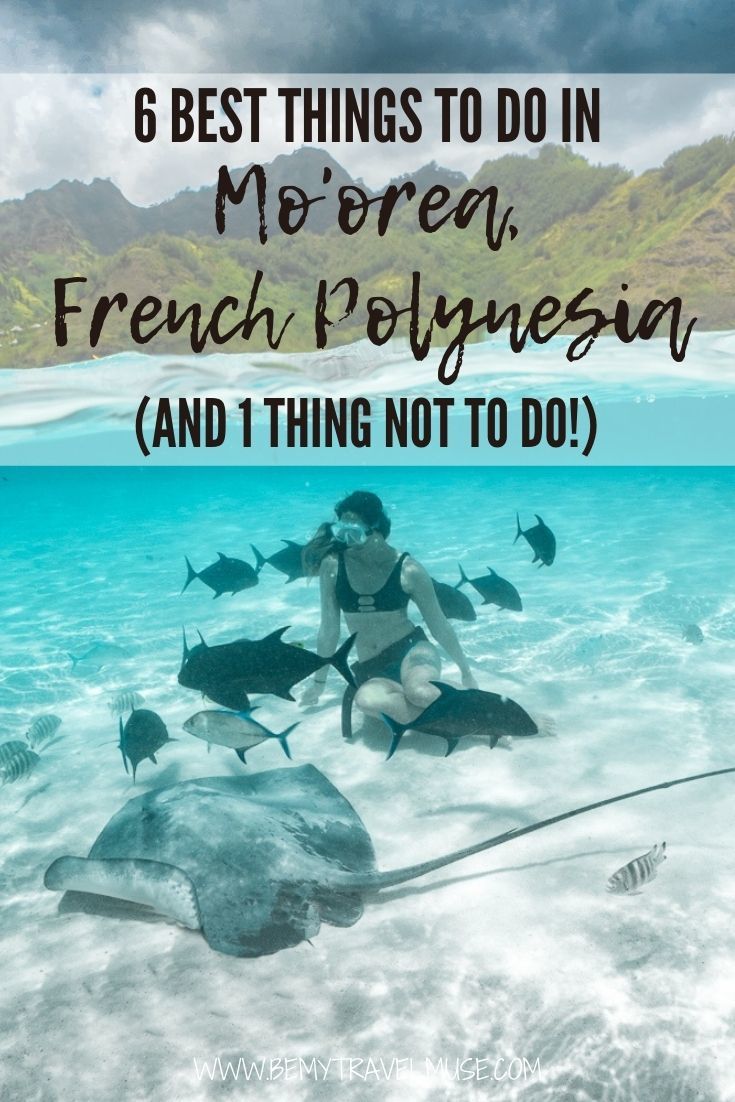 I hope this post gave you some ideas for exploring Mo'orea that you hadn't had before, and opened up some new possibilities on this beautiful island. Enjoy paradise!
READ NEXT:
*Some of the links in this post are affiliate links, which support us at no extra cost to you. Thanks for booking through us!