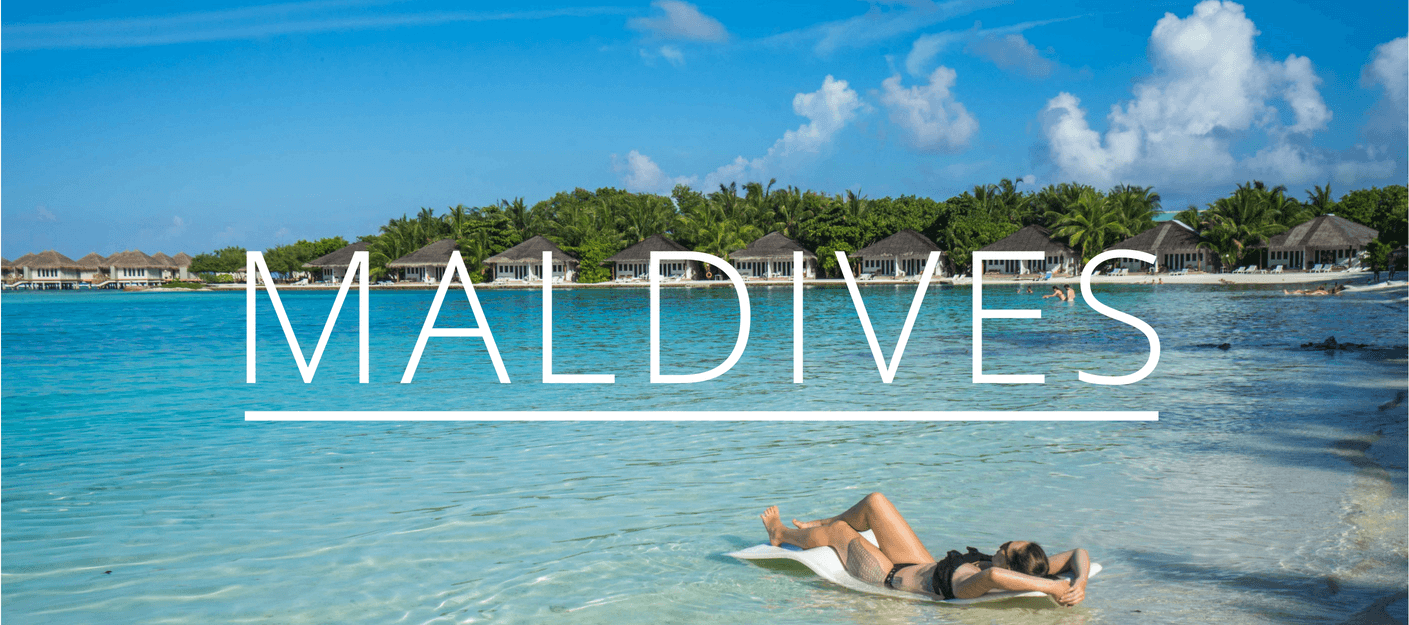 The Maldives is a dream destination for many. With all of those islands with little huts on top over crystal clear water and white sand, who doesn't dream of visiting this idyllic island paradise?
I used to think that it was prohibitively expensive to visit the Maldives, and that it was likely out of my reach. Then I took a chance on a cheap flight out and realized that between affordable resorts and locally-owned guesthouses, it's completely possible to have a Maldives vacation that doesn't cost an arm and a leg. 
With amazing underwater life and over 1,000 islands to choose from, there's tons to do in the Maldives for those who love to be in the water. It can also be a unique cultural experience if you want a vacation that's a little different than what your friends are doing. These guides are here to show you that the Maldives can be within reach. 
Where in the Maldives?

Maldives
Quick Tips
'Hello' and 'Thank You' in Maldivian

: "Assalaamu Alaikum" and "shukuriyyaa"

Currency

: Maldivian Rufiyaa (

click here

 for current conversion rates)

Visa

: 30-day visa on arrival for everyone

Solo Travel Friendliness:

As tourism on locally inhabited islands continues to grow, local guesthouses make a good spot for solo travelers to not only rest their heads at night, but also meet and mingle with other solo travelers. The locals are friendly and I loved having the chance to get to know them on the local islands

Climate

: Warm and humid year-round. Monsoon season runs from May to October, peaking in June

Best SIM cards:

 Dhiragoo which you can buy at arrivals at the airport

Modesty Considerations

: On the resort islands, there are no dress code restrictions. However, bikinis, pork, alcohol are not allowed on the local islands

Random useful tip

: If you want to be around Maldivian people, you're unlikely to meet many at a resort, where the staff is typically foreign. This is because the locals are not allowed to serve alcohol and most resort islands sell it. Since the Maldives is a Muslim country, it's also not possible to wear bikinis on the local islands. Surprise! 
Accommodation
Budget Solo Travelers ($20 - $50): First of all, yes, it is possible to do Maldives on a budget. Since Maldives opened up the possibility of tourism on locally inhabited islands in 2009, guesthouses and budget hotels mushroomed and you can now get a budget private room on the local island for about $20-$50 per night. The best place to book a room is through Airbnb or Agoda. I stayed in an amazing BnB called The Amazing Noovilu at $100 per night. My travel buddy and I shared a room big enough to accommodate a small family, and our host and his family cooked 3 meals per day for us. We also went on snorkeling and diving trips that felt like exclusive private tours. The bottom line is that in order to visit the Maldives on a budget, your best bet is on the local islands.
Mid-Range Budget Travelers ($70 and up): The second time I visited Maldives, I stayed at an affordable Maldives resort called The Cinnamon Ellaidhoo, that was all-inclusive of food, drinks, and most importantly, diving. During off season, the rooms are available at discounted rates. There are also many other affordable, mid-range hotels and resorts available on the island. My advice is to look for a place that provides food, drinks and diving so you can save money on them. Keep in mind, on resort islands, you'll most likely be surrounded by couples.
Food
While most accommodation options take care of your meals, there are local markets on Male, the main island, and some small local restaurants on the local islands that serve local and Sri Lankan food. Items on the menu are fairly limited to seafood and fruit. If you are staying at a resort, you will very likely be served a continental breakfast, and have feasts of fresh seafood or curry for lunch and dinner. Alcohol is expensive unless you're at an all-inclusive, and only available on the resort islands.
Transportation
Similar to your meals, your resort would take care of getting you around. If you are staying on the local islands, you can go on snorkeling trip that costs about $30, and ferries between islands are fairly cheap, starting at about $5 for a single trip.
The only international airport on the Maldives is Male Ibrahim Nasir Airport. Some hotels offer a transfer service, while others may not. You can get a ferry from the airport to Malé itself which is a few dollars and leaves when full.  From there, take a taxi to the ferry station that services the rest of the islands.  Be forewarned that not every day offers a local ferry (which ran at about $20 for Mahibadoo).  Check the ferry schedule when considering your flight bookings.
Things to Do
Diving: Diving in Maldives is amazing! I remember seeing a reef shark within a few minutes in the water. On the same day, some divers I met told me they saw a whale shark - you can easily spot some seriously impressive underwater creatures here. Diving is possible all year but visibility may be slightly poorer during the rainy season between May – November. Try to find a resort that allows you to take scuba gear out anytime you want so you can squeeze in as many dives as possible.
Snorkeling & Other Activities: Snorkeling is just as amazing as diving in Maldives. I went on manta and whale shark watching tours and was not disappointed. The Maldives also offers all kinds of activities on the water, such as surfing, water skiing, paragliding, and so on. Just make sure to slather on sunscreen!
Stay at a Local Guesthouse: Even if you have enough budget for a resort, I'd still suggest experiencing staying with a local guesthouse for a few nights if possible. This is mainly because it is difficult to meet Maldivian people on the resort islands, as they are not allowed to serve alcohol. The locals are kind and friendly, and staying with them normally comes with great conversations, awesome home cooked food and a real sense of how Maldivians eat, live, and love life.
Visit the National Museum: Go beyond the beach and visit the 3 storey national museum in Male that preserves the Maldivian history and culture. Admission is about $6.5.