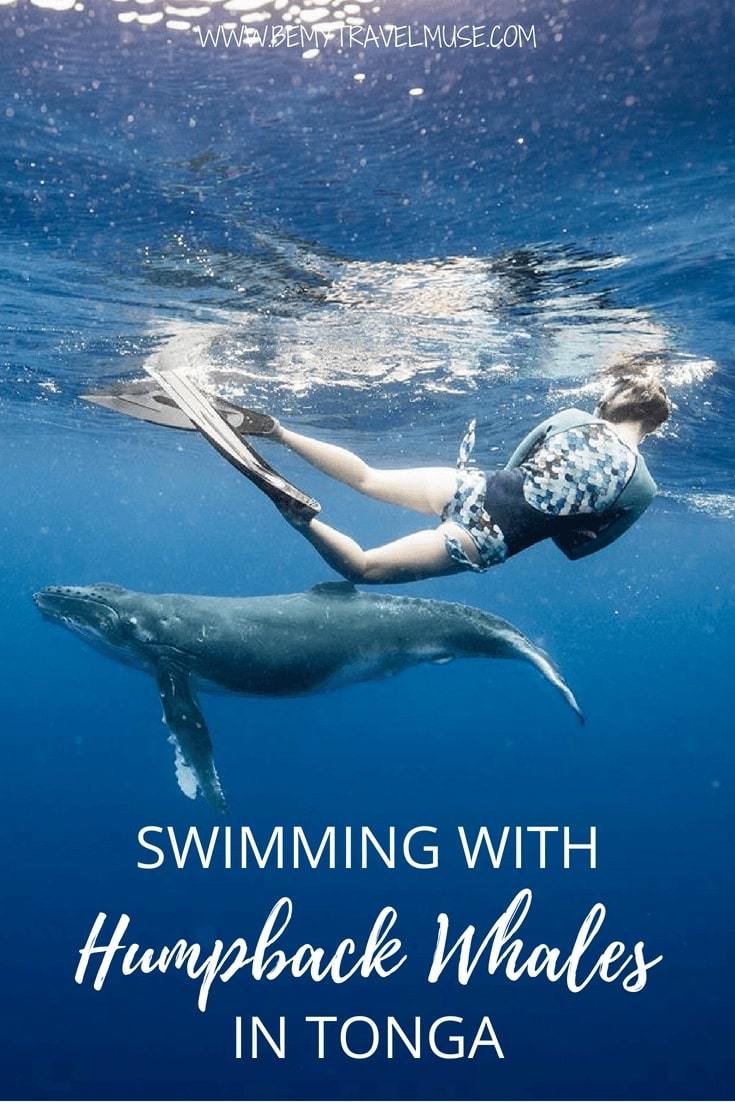 "Kristin, this is the first sunrise on Earth," Eliza said while she drove me from the airport to what would be one of my most life changing experiences thus far: Swimming with humpback whales.
The sun was gradually rising in Tonga, nestled up against the International Date Line. It was only day one and already the trip was off to an inspiring start.
The next day, seven of us headed out on a 29-foot speed boat off of the island of Vava'u, Tonga. We were one of only 10-15 boats out on the water that day, and each of the six days that we spent swimming with the whales.
Excitement bubbled in my chest as the boat captain announced it was time to get ready. I fastened the weight belt around my hips, pulled my mask on, and slipped into my long freediving fins. We'd spotted our first whale and it was time to swim into the blue.
Five of us, including the guide, slipped quietly into the water and kicked until we were right on top of a sight that would change my perception of being human – in the most humbling and beautiful way.
Two full grown whales appeared to dance below me, swirling and twirling while one's belly faced up and the other rolled to the side. They swam in circles with each other, aware of our presence but with no qualms.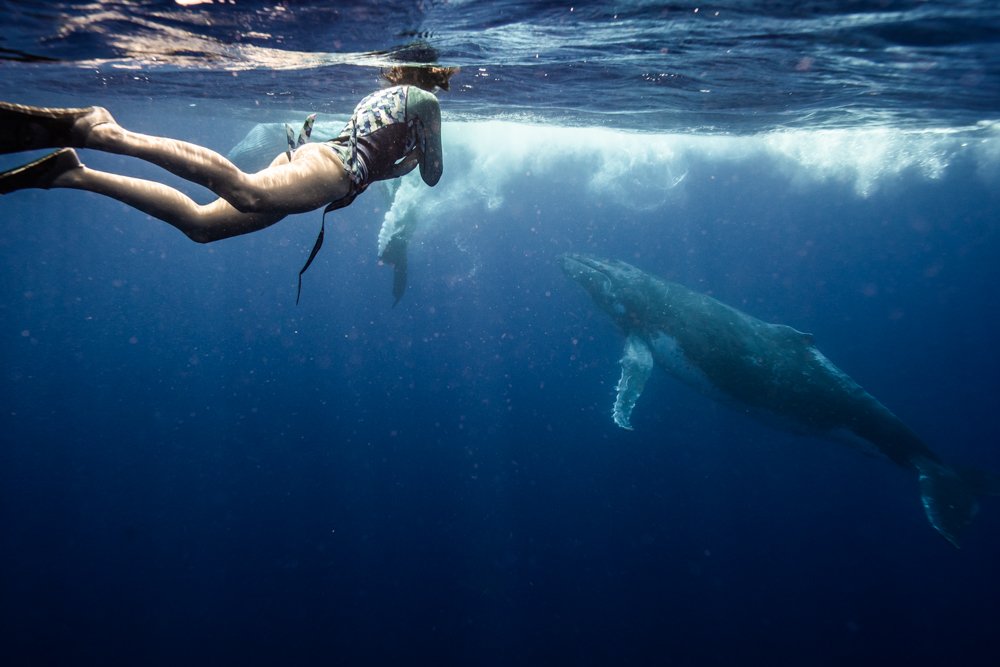 Awe filled my body and tears spilled out of my eyes and into my mask. It was mesmerizing. I wasn't just admiring this animal from afar or from behind glass walls. I was there with it!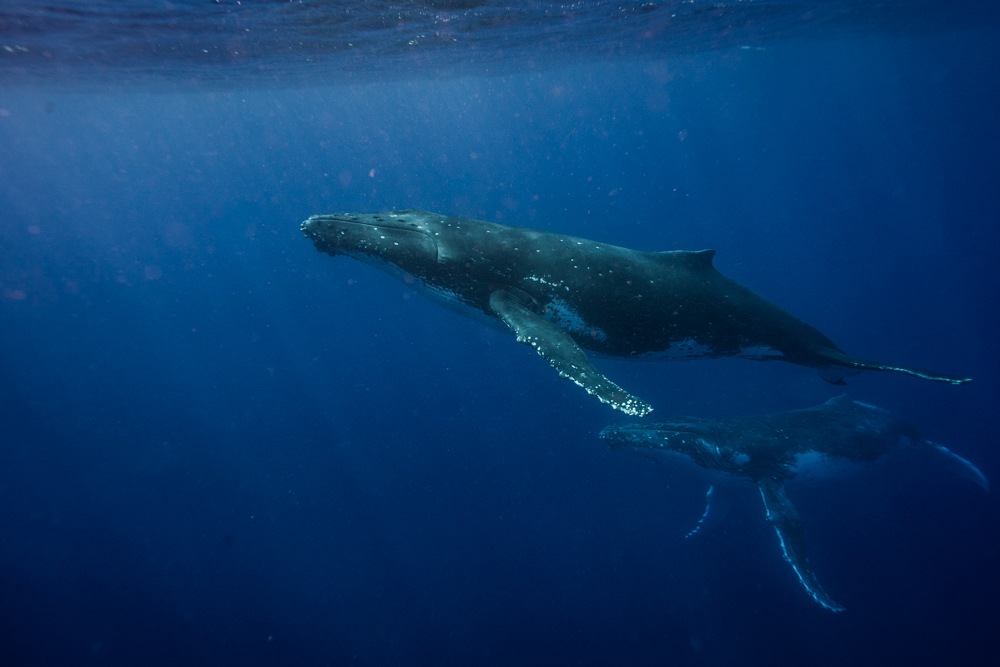 As the week progressed I'd come to feel a kindred connection with these creatures. There were so many different kinds of whale interactions.
The mothers with calfs were the gentlest. We stuck together, remained at the surface, and didn't move towards them. The mother would then feel comfortable enough to let the calf play and interact with us while she rested below. Though we never touched the whales, sometimes they'd come close and inspect us.
The first calf I encountered came close, made eye contact, and jumped around playing at the surface, swimming back to check us out then diving down to see Mom and coming back up again.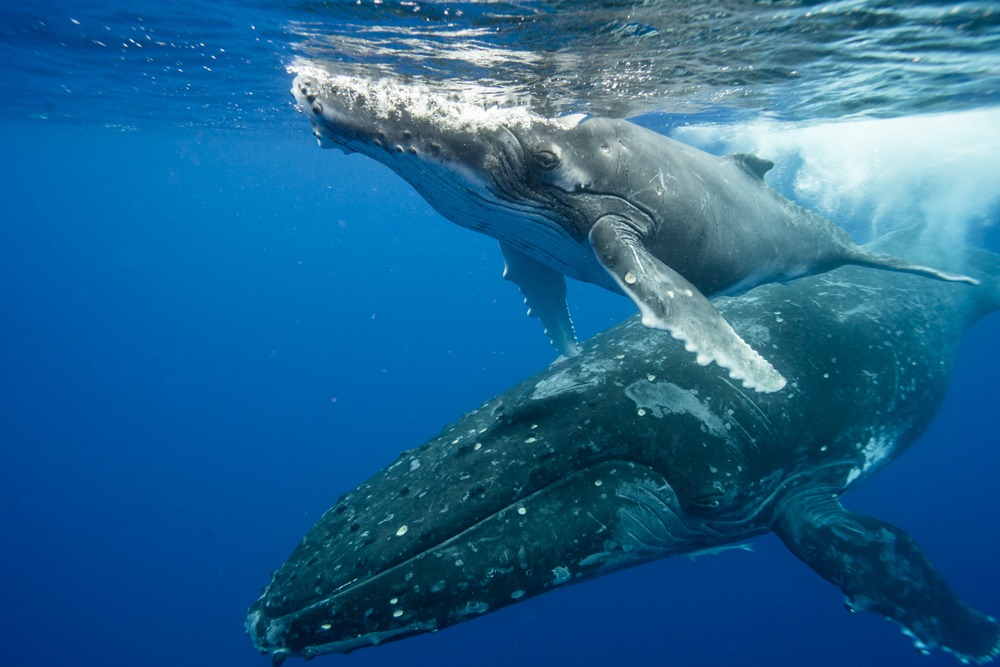 Then there were the singers – male whales that sing while facing downwards, half asleep in a meditative state. We could free dive down to them, which intensified the vibrations of the songs in my chest. It felt profoundly spiritual, peaceful, and connected.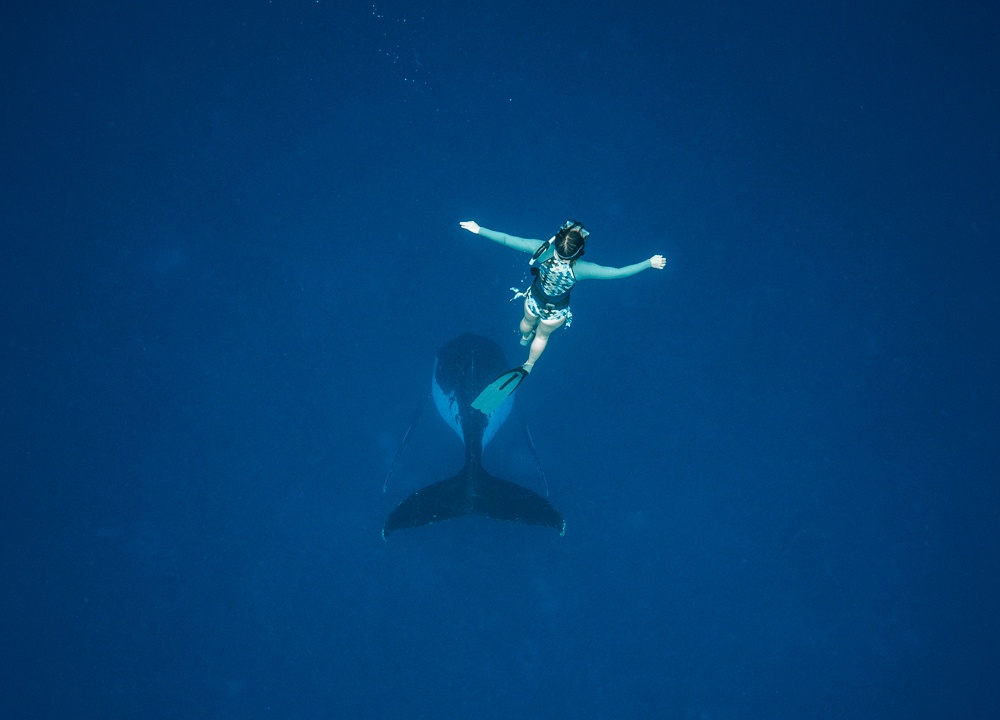 The most exciting were the heat runs, led by a female in heat and involving several male whales all vying for a chance to be the last man standing, er swimming, to mate with her.
These were quick. We had to jump in the water at a moment's notice and for those who knew how (and I did – I'd gotten certified two months prior for that specific purpose!), immediately free dive down into the action. As long as we observed and didn't swim directly towards the whales, they were happy to just swim on by with far more important things to do.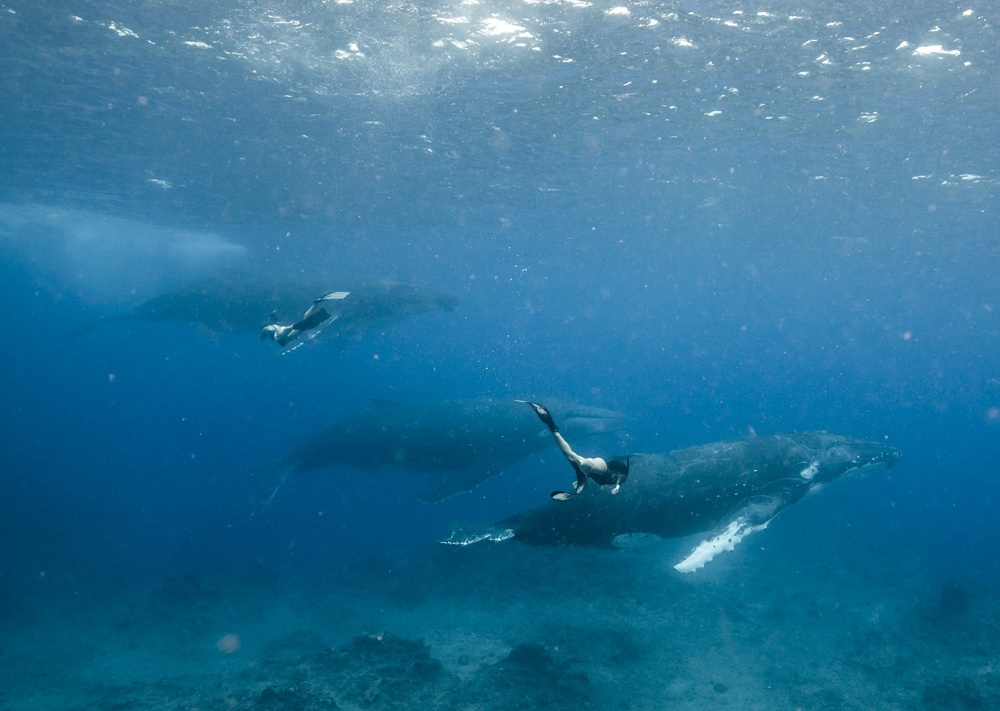 My favorite was a heat run where dolphins got in on the action. Not only did I swim with several whales, but four dolphins as well. My proverbial cup was overflowing with joy that day. I had no question in my mind about it – there was nowhere better to be.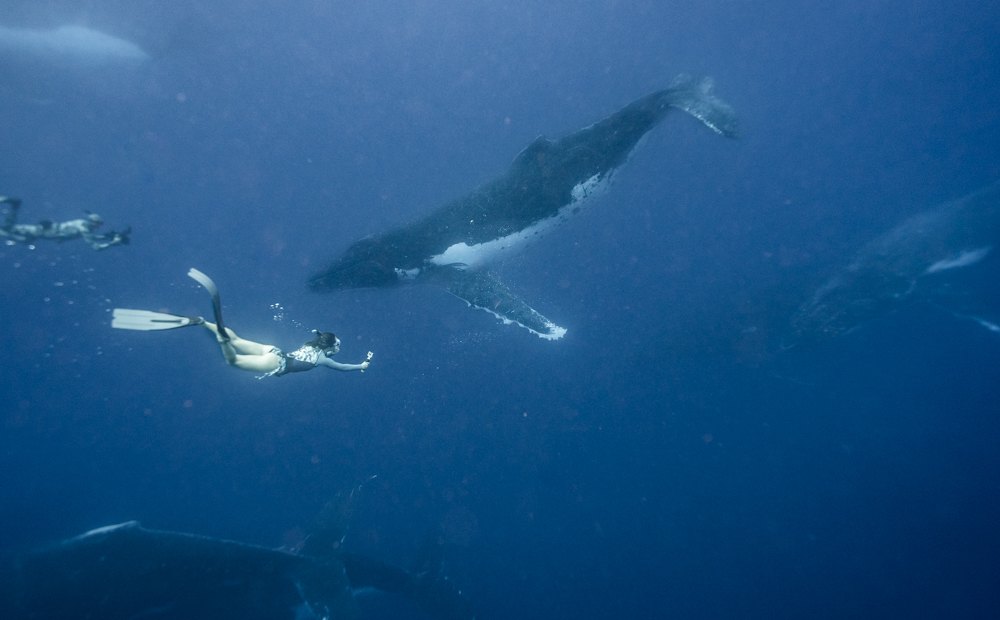 The grand finale was a swim with what we lovingly call a 'crazy whale' which is a playful adult who spins and swims and even tries to pick you up with its fin.
I think we probably seem like incredibly slow, uncoordinated dolphins to them, because there was no question about it being personal when he'd pick someone to play with. He'd lock eyes with us, then head directly for one of us. It was slightly terrifying and exhilarating at the same time.
I was struck by how gentle it was regardless. These whales in theory have the option to be destructive or to swim away, and yet they tend to play and interact. After hundreds of years of whaling in the past, I wouldn't blame them for being mistrustful, and yet they didn't just tolerate us, they often engaged ever so gently. It's enough to make me tear up typing this now.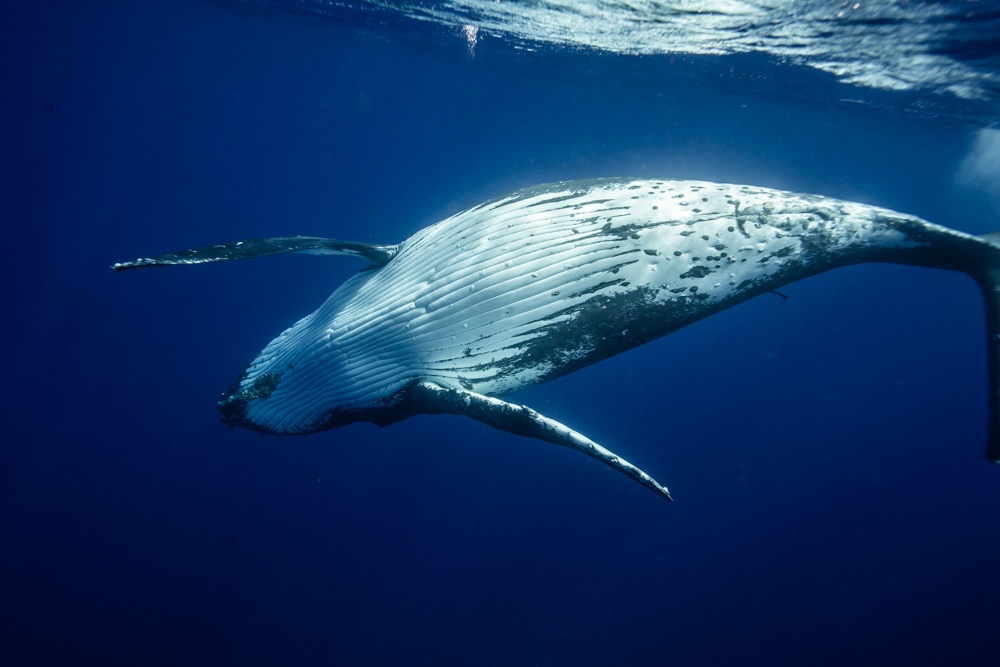 The trip finished with a beautiful swim in a crystal clear cave full of tiny, glittering fish.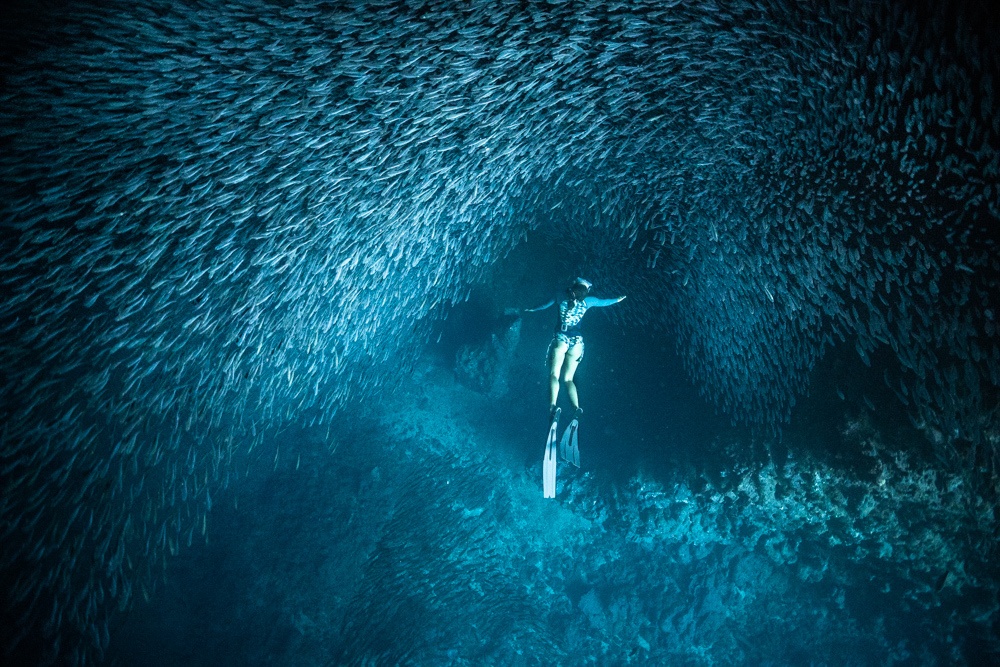 I'm forever changed after this experience. I can't think of another time when I interacted with something so purely that was so huge and majestic and yet so gentle with me, as though I was just a little puppy.
I've rarely felt so small with such a rush of adrenaline, and at the same time a feeling of wonder and calm. Mix that with the vibration of the humpback's song and it's an indescribable feeling. Truly, I'm at a loss for words.
I'm so grateful this kind of thing exists, though it is rare and limited. Tonga is one of the only countries in the world that allows swimming with humpbacks and even at that, permits are super limited. This is, of course, for the best. We have to preserve these gentle giants and respect them while admiring them.
Tonga, thanks for making this a possibility and sharing this amazing gift with the rest of the world. I'll be back for sure.