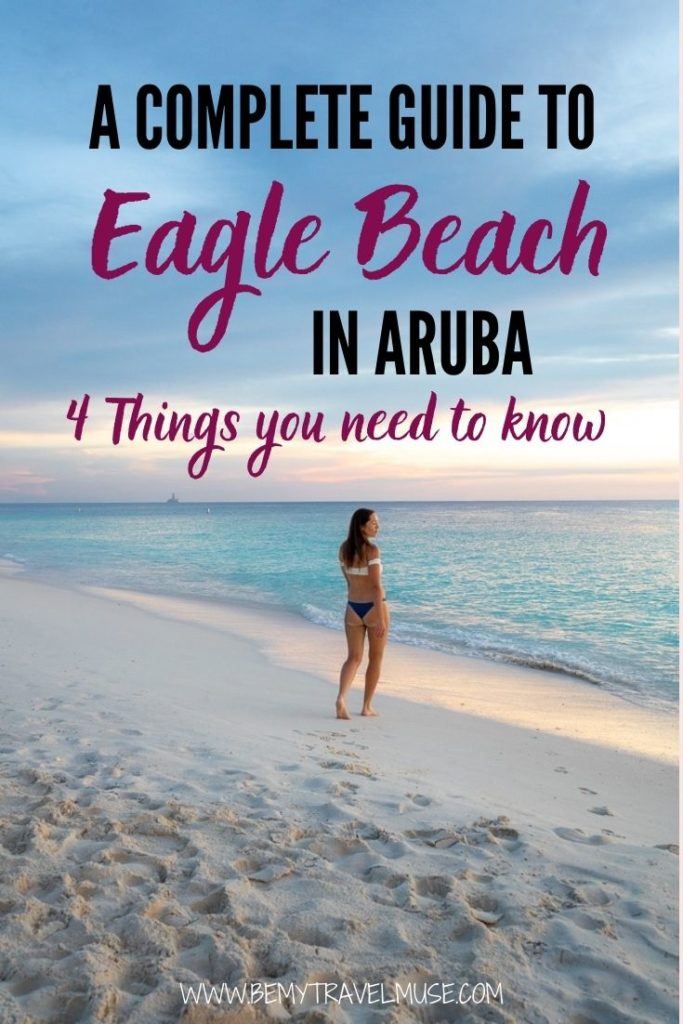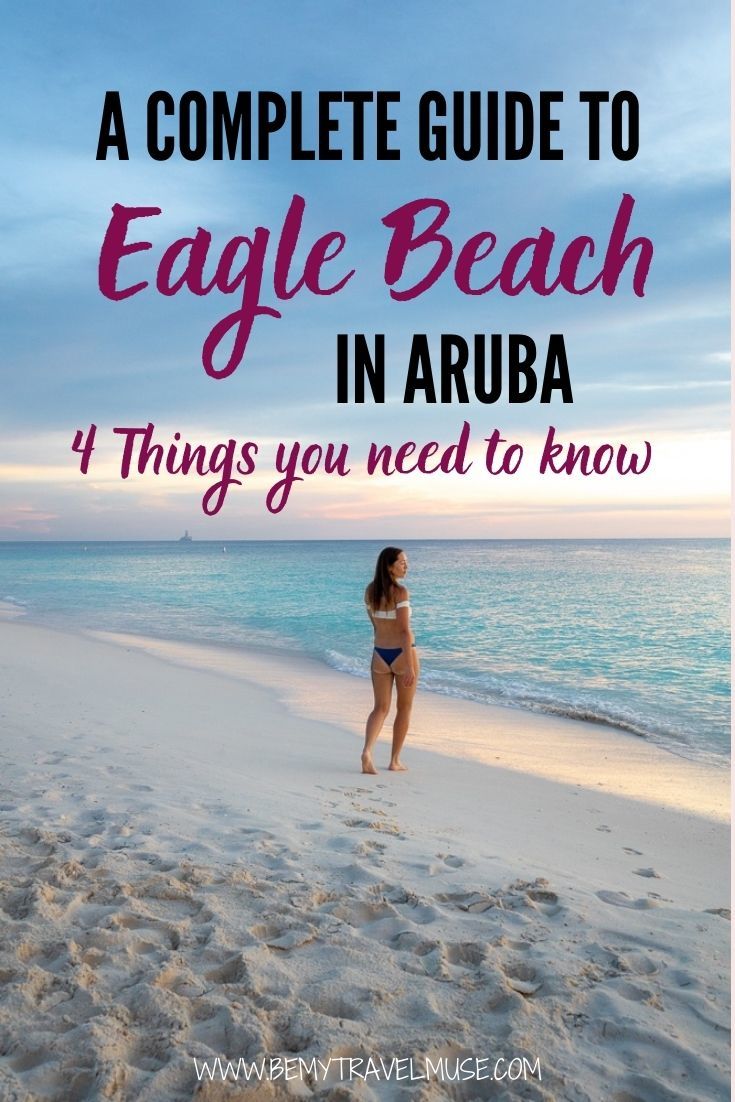 Eagle Beach in Aruba is considered one of the most excellent beaches to visit on the island. In 2019, it was ranked as the third best beach in the world by TripAdvisor Travelers' Choice Awards.
The pristine white shoreline meshes with turquoise waves, creating a scene similar to a Hollywood interpretation of paradise.
This post has everything you need to know about visiting Eagle Beach in Aruba, including how to find it, what to do there, and where to stay:
How to get to Eagle Beach: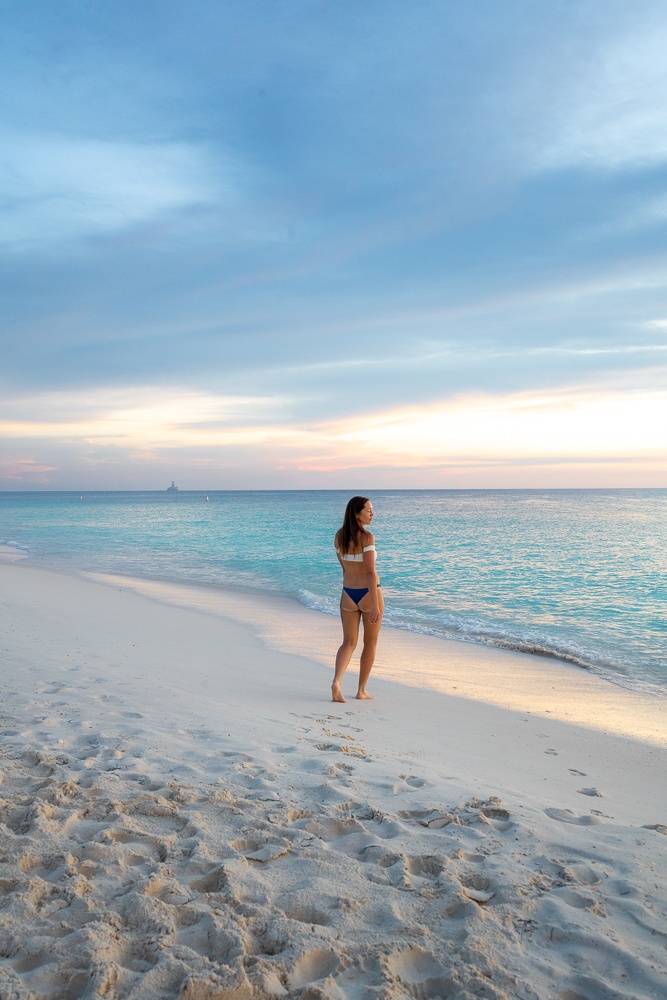 Eagle beach is easily accessible, with plenty of free parking options in a lot near the beach and parallel parking throughout surrounding streets. Public transportation is also another way to go. Arubus offers options for getting to and from the beach at around $2.60 per trip, or taxis can be hired from many local companies, including Aruba Taxi Company.
If you plan on getting a taxi, be sure to check with the company you choose about passenger requirements. Some refuse to take passengers from the beach if they are wet, so it's better to make sure beforehand!
Eagle Beach is next-door neighbors with Palm Beach, which I touch on in this post. If you're staying near Palm Beach, you can take a short walk or bike ride to Eagle Beach.
Why it's worth the visit to Eagle Beach: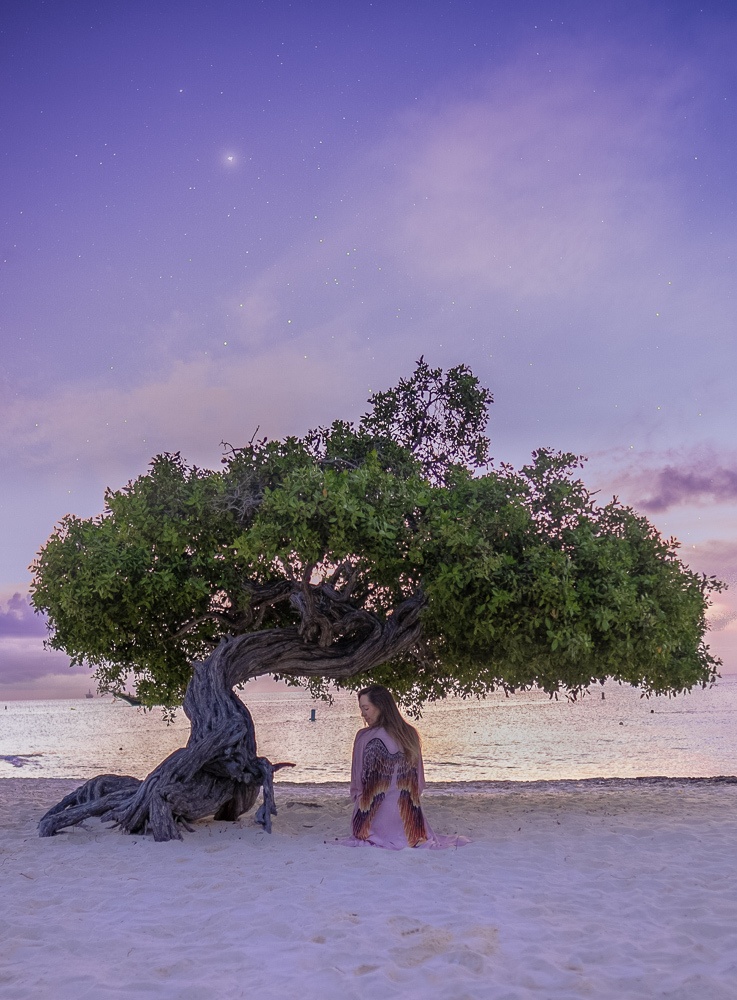 Eagle Beach is unique for a variety of reasons, one of them due to its western direction, making it perfect for sunset. Another draw is the calm water and white sand.
Another is the Fofoti tree. The Fofoti tree mimics the look of the trademark Divi Divi (Watapana) tree, which grows exclusively in Aruba and always points in the southwestern direction, due to trade winds that blow across the ocean from the north-east. The Fofoti trees on Eagle Beach are some of the most photographed in Aruba and are one of the reasons that the beach is so well known. They make the perfect photo-op for anyone who happens to be a plant enthusiast like me!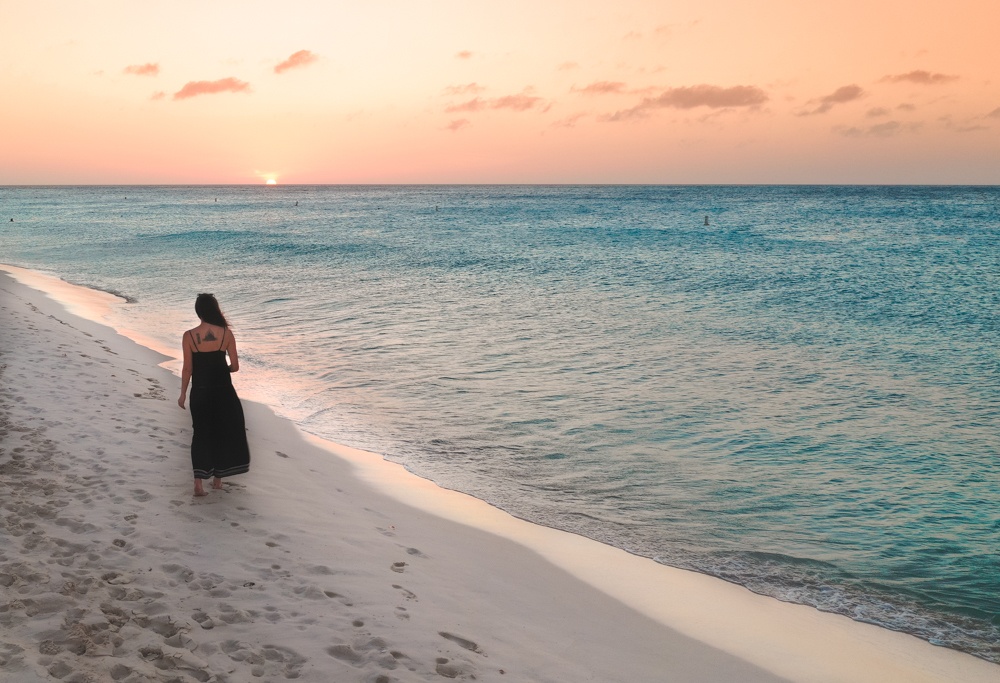 Speaking of photo-ops, Eagle Beach provides a great place to catch the sunset. It faces west, which means you can soak in every ray of the sun before it goes down.
Eagle Beach isn't just a favorite for humans. The shore is frequented by sea turtles. Aruba is home to four species of these sea creatures, and the majority of their nests are found in the sands of Eagle Beach.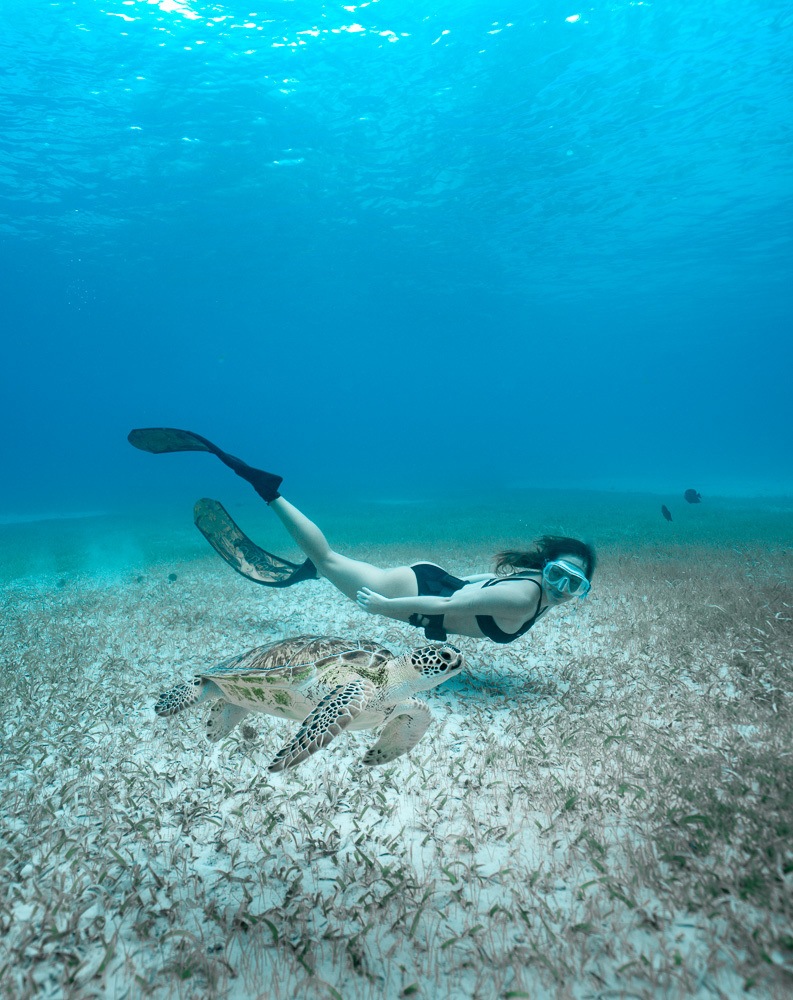 Another selling point of Eagle Beach is the abundance of available activities. While the beach is perfect for those who prefer to sunbathe or relax in the huts dotting the shore, the water provides ideal conditions for swimming and snorkeling. There are also options for watersport rentals on the beach with Julio's Watersports or Frank's Place Watersports.
Where to Eat Near Eagle Beach:
Many low-rise hotels and restaurants are within walking distance, so it's easy to find accommodations and dining nearby this Aruban wonderland, no matter what you're looking for.
Because of the close proximity to the ocean, nearby restaurants reliably feature seafood specials, but there are also options within one mile of the beach for Italian: Terrazza Italiana, Peruvian: Así Es Mi Peru, and general dining: Screaming Eagle and Chalet Suisse.
For a more on-the-go eating experience, a food truck on Eagle Beach is also available for lunch. Fittingly named "Food Truck Eagle Beach," it features dishes of chicken, steak, pork, and grouper fillet at a price of around $8.00 for a large helping.
Where to stay near Eagle Beach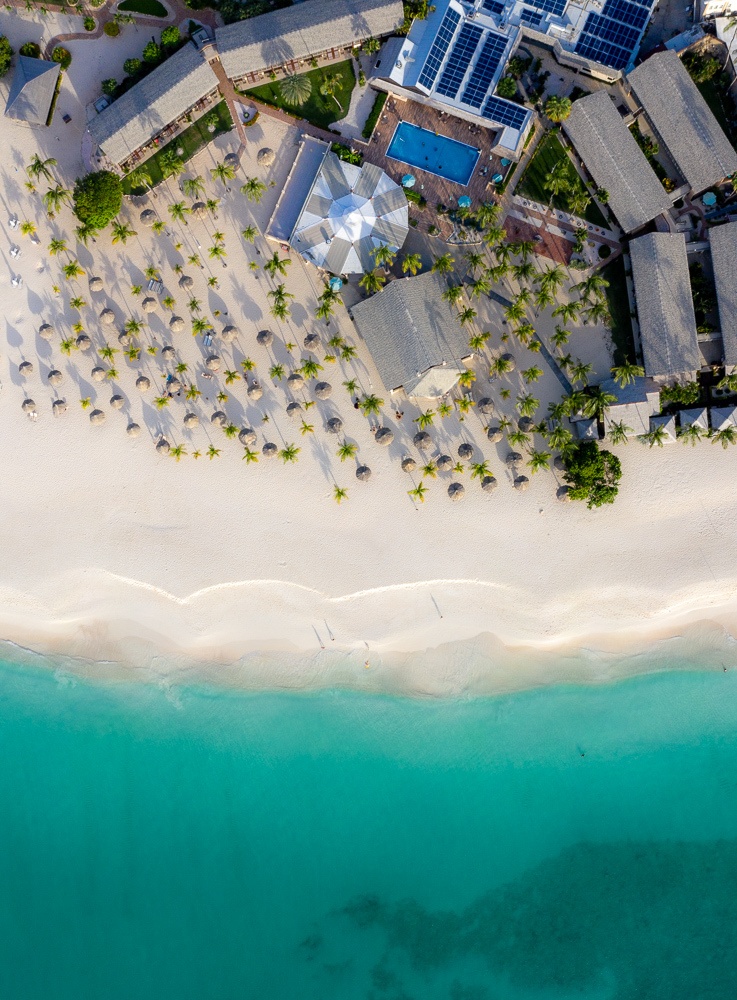 While Eagle Beach is a bit busier than others on the island, it is much less crowded than nearby Palm Beach, where the high-rise hotels are located.
You'll also find more boutique and low rise hotels in this area. My personal favorite is the Manchebo Beach Resort and Spa, just south on Manchebo Beach. It has all of the draw of Eagle Beach, but is even quieter and more peaceful.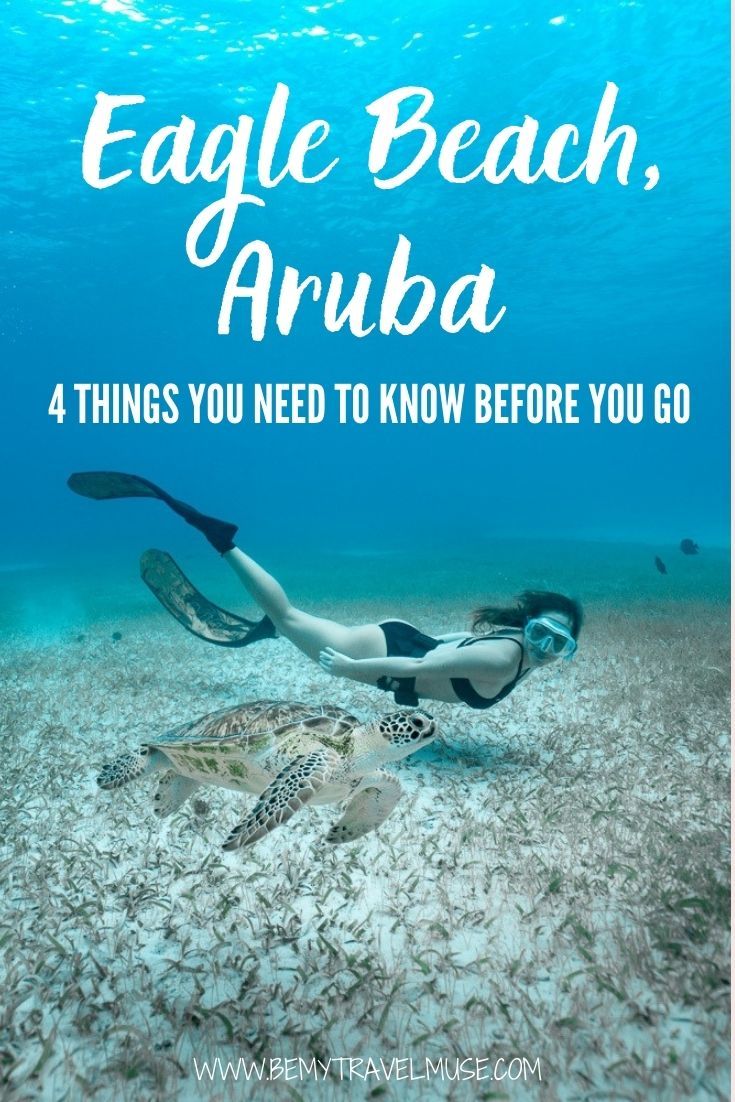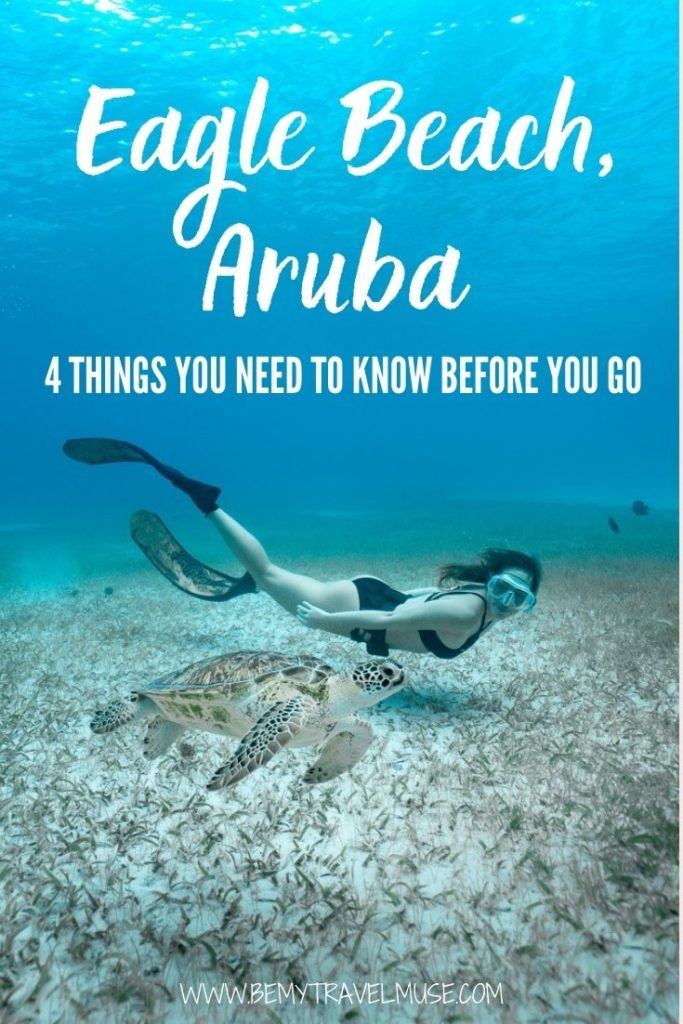 Overall, Eagle Beach provides the ultimate seaside experience for every beachgoer. The beauty is breathtaking, and if you have the chance to catch the sunset while you're visiting, you'll never want to leave!
If you're looking for more suggestions on how to spend your vacation in Aruba, I recommend checking out 26 Awesome Things to Do in Aruba. I've had the pleasure of solo traveling here 3 times, and these are some of my favorite local and adventurous suggestions.