When I first embarked on my solo travels in 2012, I landed in Bangkok and five days later, boarded a train and headed straight to Siem Reap. The temples, thanks to Tomb Raider, had long enchanted me and it just seemed right to see them with my own eyes.
Cambodia ended up being my favorite country to backpack through during my first 10 months in Southeast Asia. In fact, this country had me completely smitten. The kids made me feel like a superstar, the food was delicious, and the temples and other incredible places left me in awe.
Now that I am back in Southeast Asia, I realized I never really put together a Cambodia itinerary for you, so here it is! This works for different lengths of stay, as you can pick and choose what to hit and what to miss, starting from the capital, which can be easily reversed or switched up depending on your entry point:
Phnom Penh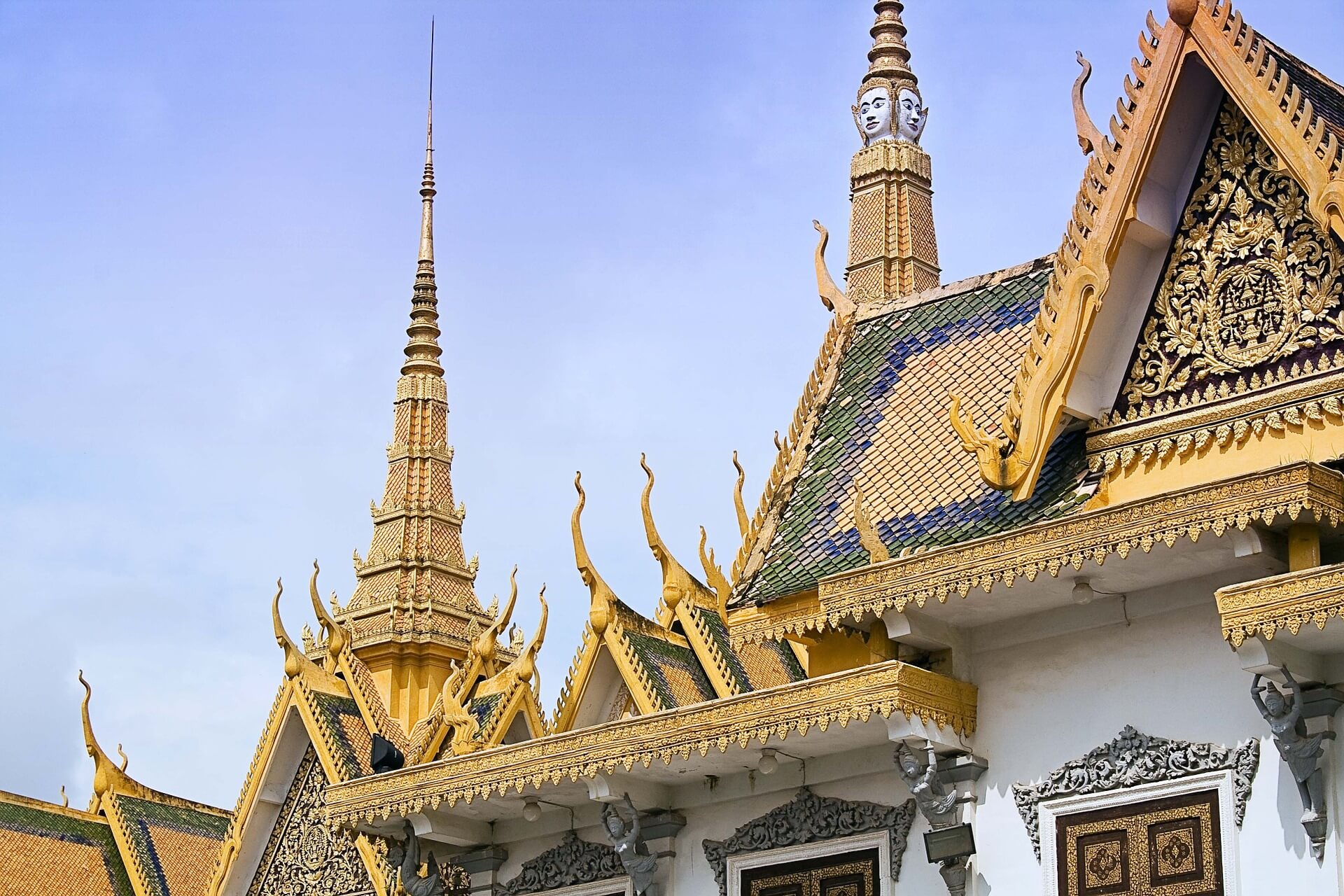 The country's capital is a good place to start your journey in Cambodia, especially if you are flying in. A wide range of food and accommodation options are available for travelers of all budget levels. I'd suggest spending 2 to 3 nights to get a feel of the capital, its people and the country's history and culture. Here are a few things to do in Phnom Penh:
Tuol Sleng Genocide Museum & The Killing Fields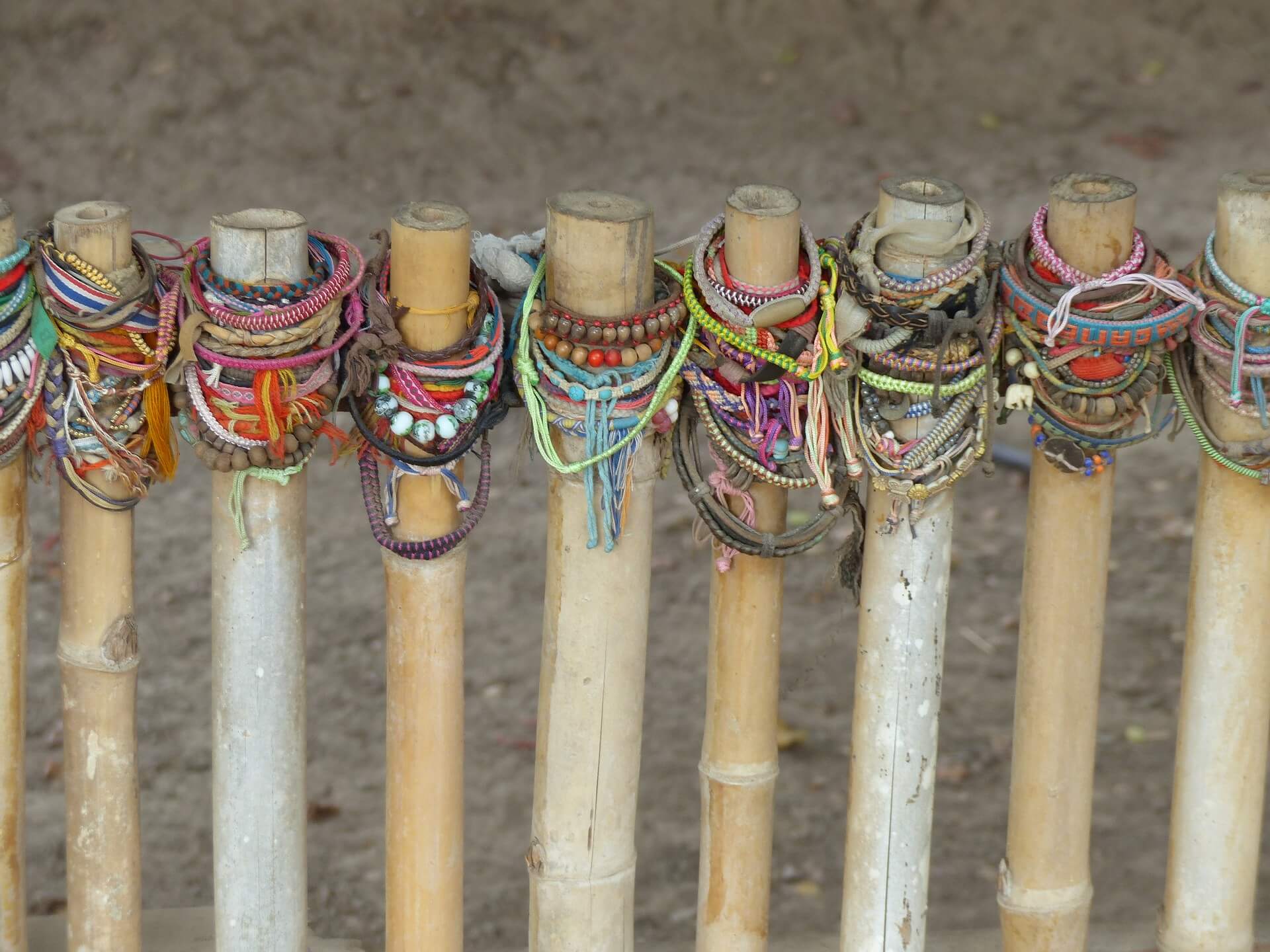 Be mentally prepared before you visit the Tuol Sleng Genocide Museum (known as the S-21 Prison) and The Killing Fields – it's a time traveling experience to a dark time in Cambodia that may leave you in complete shock and disbelief that such genocide has taken place fewer than 40 years ago, during which more than one million people lost their lives in vain under the Khmer Rouge regime.
At the S-21 Prison, photos of some of the victims are lined up on a board, displayed in the rooms that were used to imprison, torture, and kill them. Walking through the rooms, imagining what went down there, is a feeling that words cannot describe. At The Killing Fields, I highly recommend paying the extra to rent the headphones and follow its instructions to tour the area.
Royal Palace & The Silver Pagoda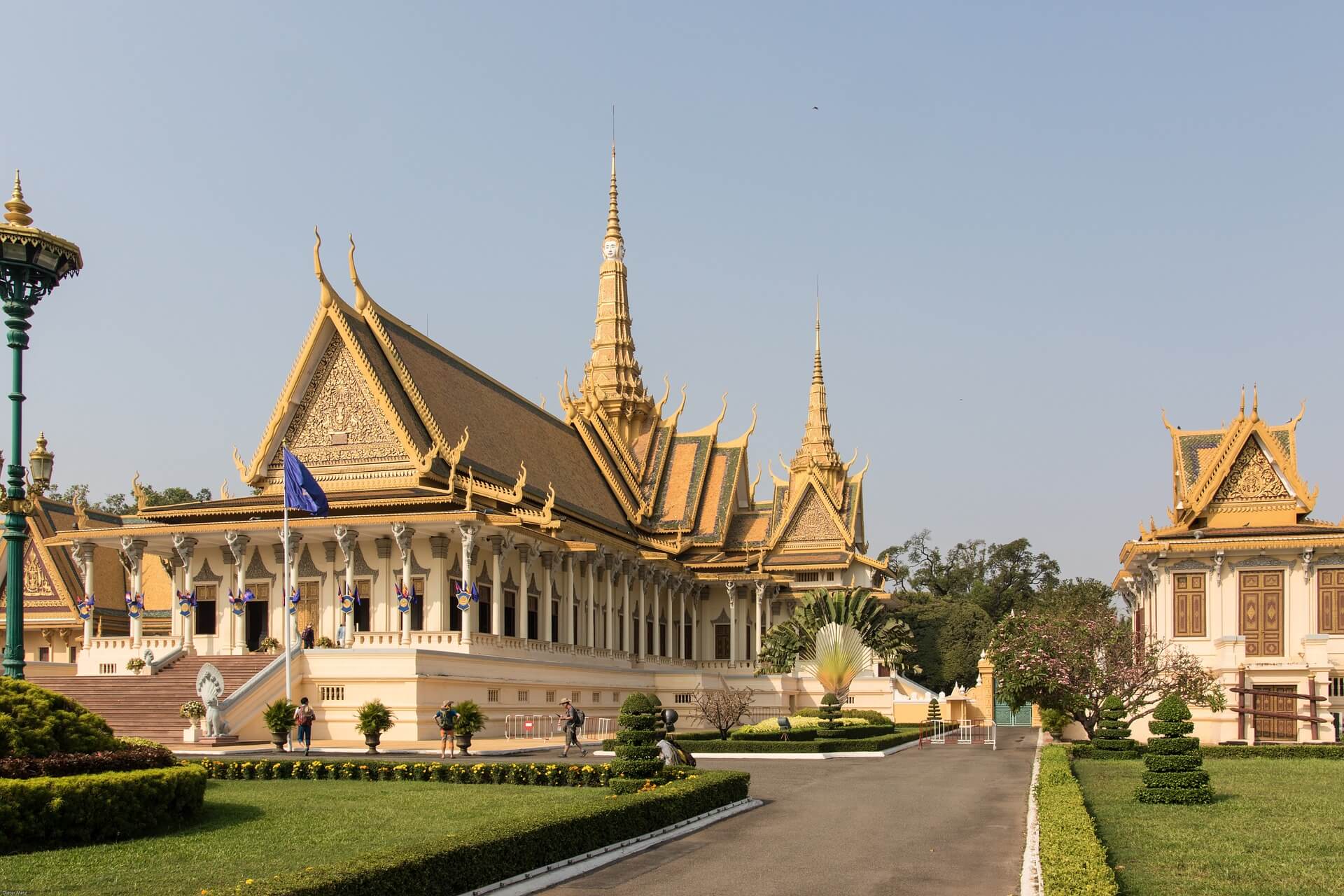 For a lighter Phnom Penh experience, check out the beautiful Royal Palace and the Silver Pagoda, which are conveniently located next to each other. If you are not ready to pay to enter, the entrance itself is a beautiful place for photography or simply people watching.
Russian Market
I wouldn't recommend shopping here as prices are highly inflated. However, this Phnom Penh icon is definitely worth a visit to get a feel of the Cambodian market scene. If you want to get some shopping and street food hunting, consider heading to the Kandal Market – you can even get a hair wash and a manicure for less than $5!
Stay: Mad Monkey Hostel or Saravoan Royal Palace
Sihanoukville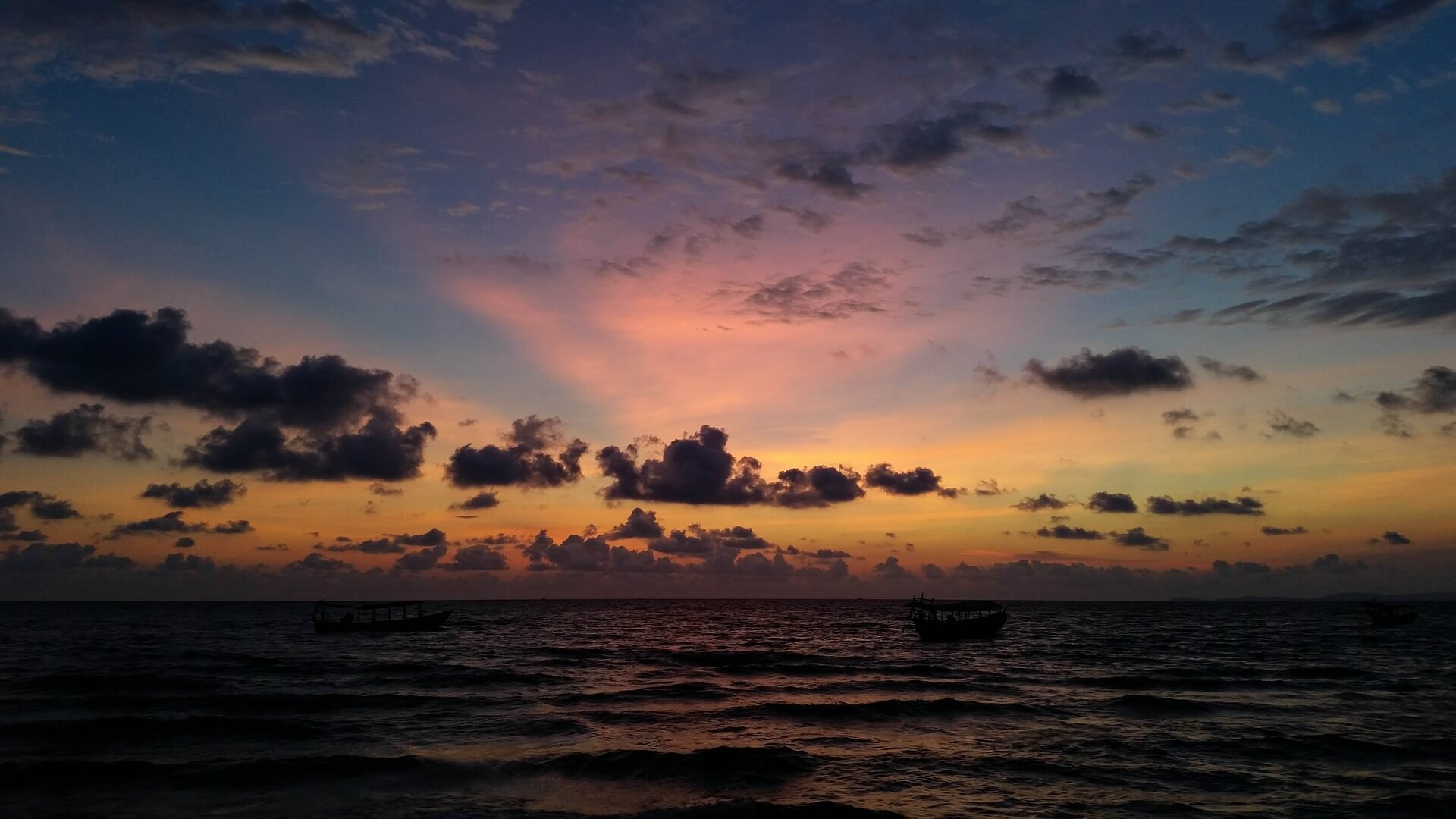 From Phnom Penh, take a bus to Sihanoukville, the gateway to the beautiful island, Koh Rong, and my favorite Cambodian beach, Otres. Sihanoukville has established itself as a party and gambling place that I'm not a huge fan of, but the surroundings are worth staying a few nights, or weeks, in.
Stay: Onederz Sihanoukville or Patchouly Chill House
Otres Beach
Otres is one of my favorite beaches in the world, and in my opinion, one of the chillest places in Asia. Unlike the buzzing Sihanoukville, Otres is laid back and quiet. I remember staying on this beach for more than a week, losing track of time and intention to leave. It's the place to let go and relax.
That said, it's been more than 5 years since I was there, and from what I've gathered, Otres has indeed developed more, but it is still so very beautiful.
Stay: Taste of Paradise
Koh Rong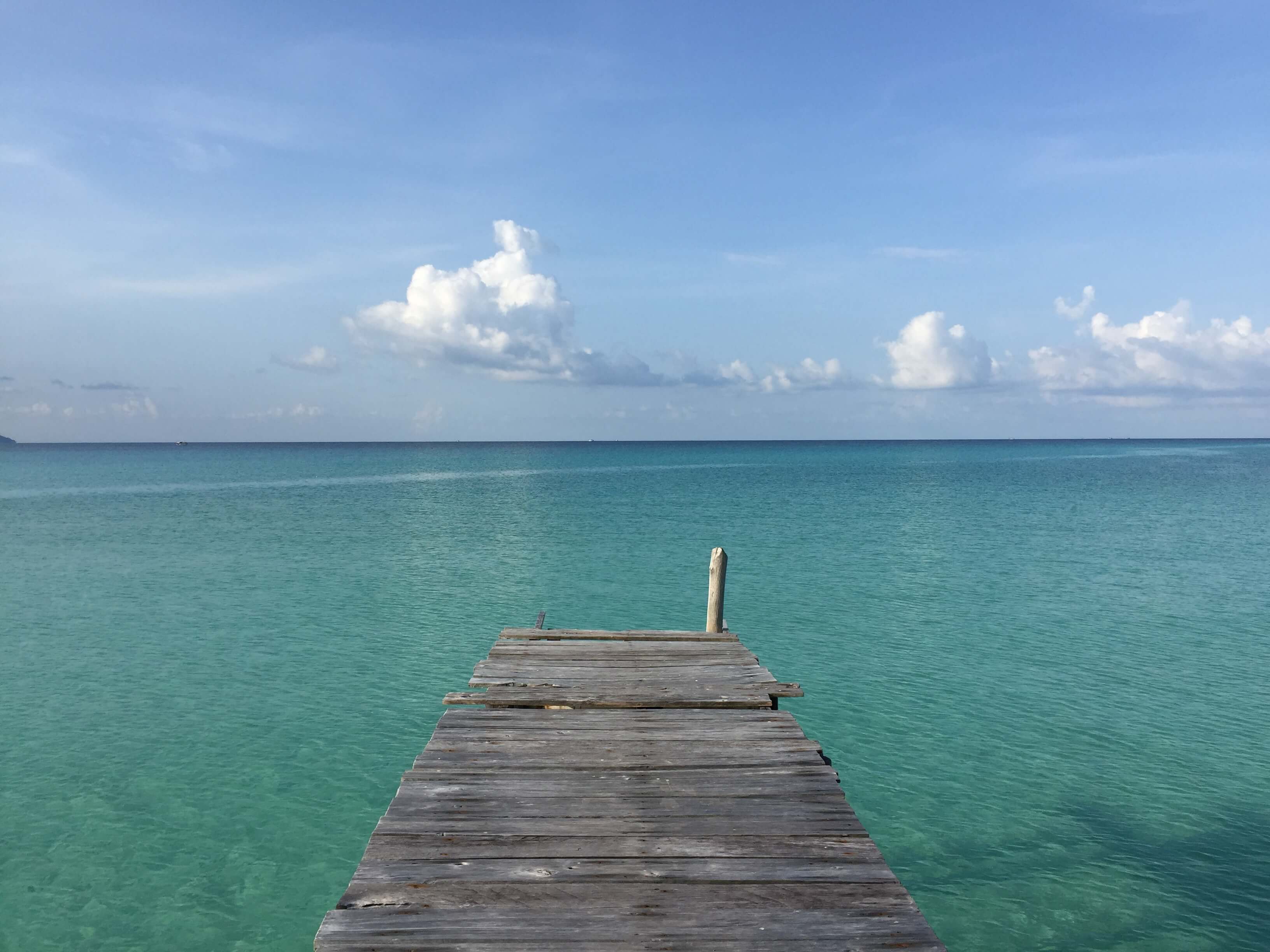 I was pleasantly surprised by how dreamy Koh Rong was, though I've heard now Koh Rong has turned into a party island. That being said, like any party islands I've been to, one can always find a quiet, peaceful spot that no one else seems to go.
For Koh Rong, that spot is Sok San Beach. There are basic (we are talking about no fan, no heater, one light bulb that works for a few hours per day kind of basic) bungalows that are right on the beach, facing some of the clearest waters, with bioluminescence painting the sea with neon lights at night. You might sometimes find yourself the only person walking on the beach. That sounds like a paradise to me.
Stay: Sok San Beach Bungalows
Koh Rong Samloem
Koh Rong's little sister, Koh Rong Samloem, is even more secluded and off-beat. There are only four beaches on this island: Sarancan Bay, which is the most popular out of the four, with better facilitated resort options; M'Pei Beach, located in a fishing village with great diving opportunities; Sunset Beach, with more backpacker-friendly accommodation options; and finally, Lazy Beach, where crossing a jungle is required to gain access. It is many off-beat lovers' favorite out of the four.
Stay: Sweet Dreams Samloem or Saracen Bay Resort
Kampot
Perhaps it's a Cambodia thing, but Kampot is another place that many travelers end up staying in much longer than intended. While the frequently-seen retired expat men and extremely young local companion-combo made me feel uneasy, Kampot itself is a charming place to forget about everything else and get lost on a bike.
Other than the slow-paced lifestyle and architecture with a mix of French and Chinese influence, the town is also popular for pepper, which has truly elevated the culinary palette in Kampot. Though I'm not a shellfish lover, I hear that the Pepper crab is a do-not-miss. Go to a local market, haggle with the local Khmer saleswomen, and pay to get your crab cooked to perfection with that delicious kampot pepper sauce.
Stay: Mad Monkey Hostel or Sabay Beach
Kep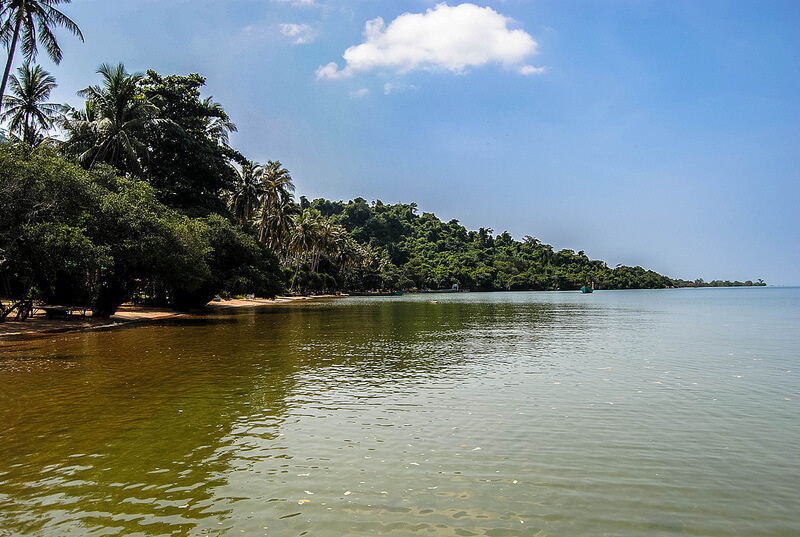 A sleepy town close to the coast, Kep has a similar atmosphere to Kampot.
Just about a 20-minute boat ride away lies Rabbit Island, also known as Koh Tonsay, which is yet another laid back destination that is often overlooked by tourists. I don't remember seeing any rabbits during my stay, but I certainly remember hopping around happily like one, lost in my own world watching the sunset on a quiet beach with nobody in sight. If you are looking to be completely off the grind, Kep is for you. Most people are here on a day trip from Kampot, but I'd totally recommend staying a few nights. I mean, why not?
Stay: Khmer House Hostel
Siam Reap
From the coast, head back towards Siem Reap, which might require an overnight in Phnom Penh again.
I'd suggest NOT going to the Angkor Wat right away, but spend your first day soaking in the beauty that is Siam Reap. It's so dynamic that one blink could result in missing something really interesting. I remember smiling and waving at a motorbike that drove by with two adults and three children packed on, haggling with 5 Tuk Tuk drivers at the same time, and watching women doing their laundry by the river with babies strapped on their backs. While the city is fast developing with resorts, malls and restaurants, at every corner you can still find the Siam Reap of old.
Pub Street
Buzzing with neon lights at night, Pub Street is an awesome place to hang out after exploring the temples. Just about everyone traveling in Siem Reap goes there, so it's also a great place to meet people and potentially plan the next few days' adventures together.
Shopping requires strong haggling skills as prices are definitely inflated here. The party scene is great though, just drink with caution as it's really easy to knock one too many back when the beer is only 50 cents. If you are riding a motorbike in, make sure you remember where you parked the bike, because the last thing you want is to spend hours looking for your bike in the confusing streets (they all look the same!).
Markets
Siem Reap is not short on markets and they're all worth exploring. My personal favorite was the Old Market, where you can see old Cambodian ladies squatting next to their products for sale, which could range from vegetables, live seafood, meat, to clothes, household goods and toys. It gets pretty chaotic with locals and tourists squeezing their way through, so it's always a good idea to carry a theft-proof bag, just in case!
Other awesome markets include the Made In Cambodia Market, which offers a refreshing change from the repetitive Angkor Wat t-shirts and elephant pants. Everything in this market is made in Cambodia by local artisans. If you are looking for something unique and would like to fully support the local enterprises, this is definitely the right market for you.
For a good bargain, go to the Angkor Night Market. Whether you will end up with an actual good bargain or not depends on your haggling skills, but $2 massages will always sound like a great bargain to me, and there are plenty of them in the Angkor Night Market!
Angkor Wat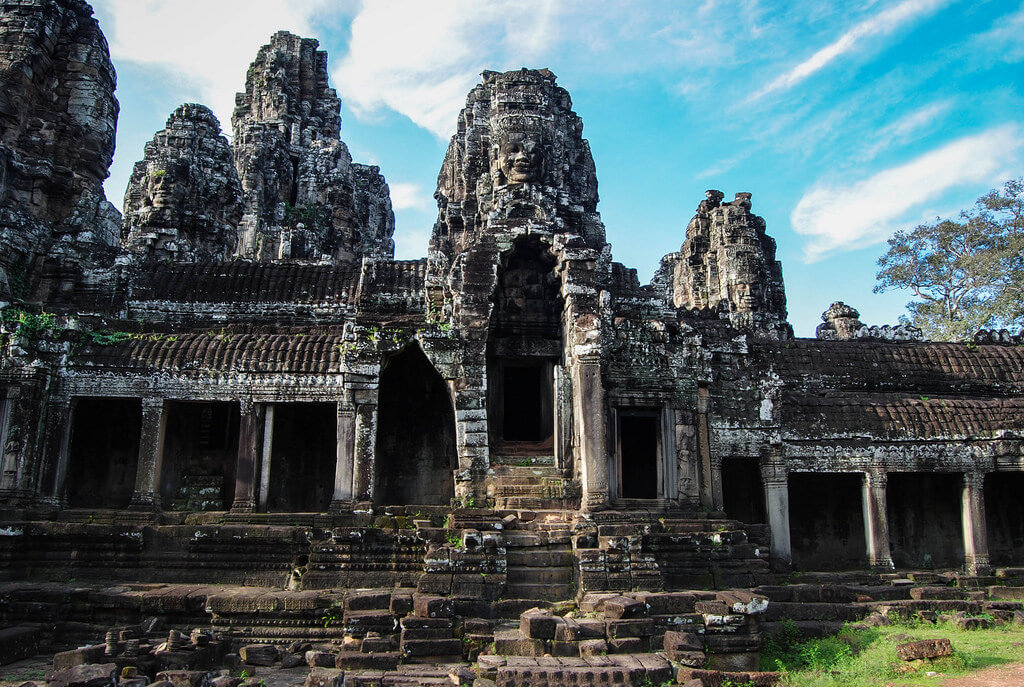 I don't say "you can't come here without visiting/doing/eating this" very often, but you can't go to Siem Reap without visiting the majestic Angkor Wat! It's one of the most awe-inspiring things I have ever seen in my life. After all, it is often called the "Eighth Wonder of the World"! Entrance fees have gone up several times since I was there in 2012. The latest prices are:
1-day: $37
3-days: $62
7-days: $72
It is a substantial amount when on a backpacker budget, but I'd still highly recommend going for more than one day. You can save on transportation and food by renting your own bike and bringing in your own street food from town. A tuk-tuk driver for a day typically costs about $10 – $15, whereas a bike costs about $2 per day. The restaurants around Angkor Wat are incredibly expensive, sometimes costing twice as much as the restaurants in town! Packing a snack and a big bottle of water and taking a push bike will definitely help save some money on your Angkor Wat adventures, plus it's more fun!
Stay: Mad Monkey Hostel or Bliss Villa
Battambang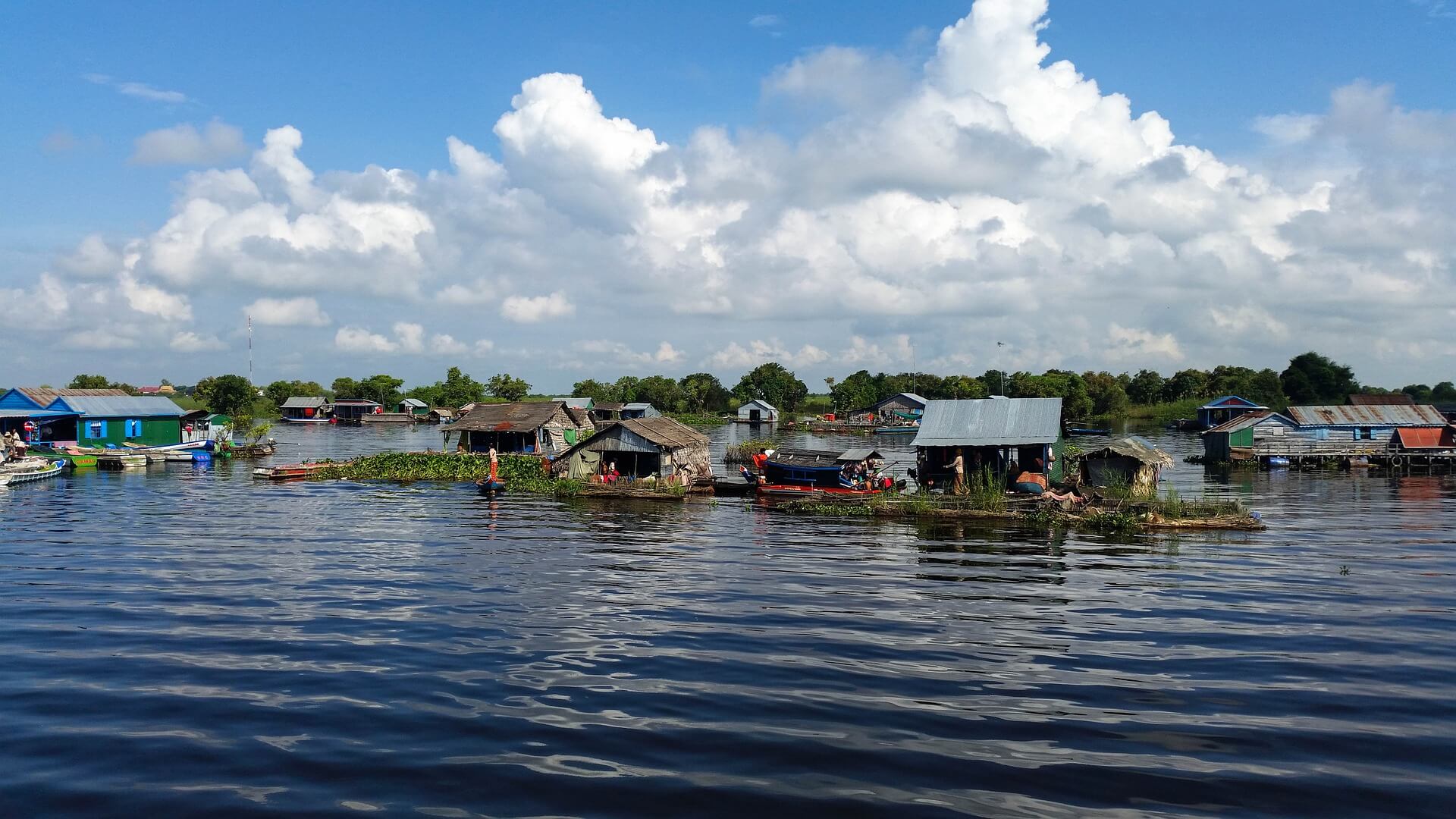 I am not done with the laid back towns of Cambodia! Battambang is not as off-beat as the ones mentioned above, but it's a good getaway from the hustling Siem Reap for a day.
Located just 3 hours away from Siem Reap by bus, Battambang offers a unique bamboo train experience to visitors. The local government has previously closed down the station for refurbishment, and now the train has been rebuilt at another place and is up and running, according to a reader who was just there (thanks, Elvira!). There are also other places worth checking out, such as the bat cave and the Killing Cave, a place that was used to kill and dispose of bodies during Khmer Rouge. The piling of human skulls remind me of the Killing Fields in Phnom Penh, though with less historical information available. It's also possible to hike up to the summit and imagine what went down there.
Other than that, there are also smaller temples and local markets in Battambang that may seem less impressive than the ones you saw in Siem Reap, but possibly much more authentic and affordable. I recommend spending a day out here before heading back to Siem Reap.
Back to Phnom Penh
After a few days (or few weeks, I really wouldn't be surprised at all) spent away from it all and playing Tomb Raider in the temples, it will be a good time to head back to Phnom Penh, enjoy the street food markets and get a good night's sleep on an actual bed. Take a bus the next day towards the northeast to Kratie and Banlung.
Kratie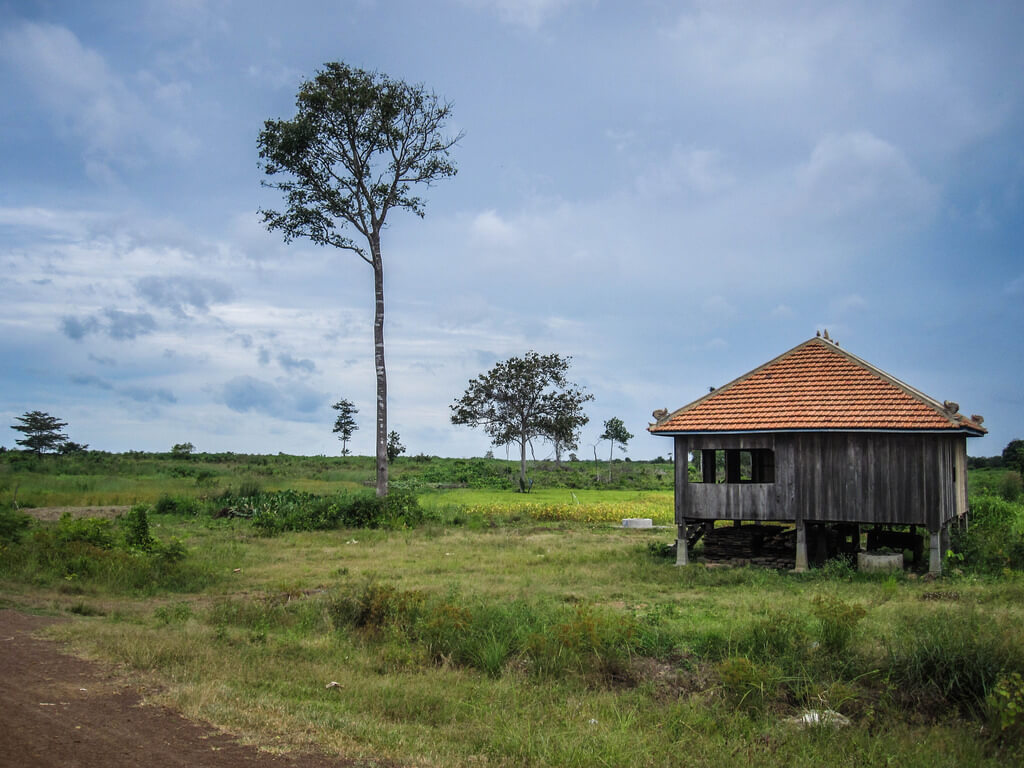 Now if you ever dreamed of becoming a celebrity when you were a child, Kratie is a good place to realized that dream, even just for a while. I rode a bicycle around, surrounded by jungle-like flora, cows, and kids who would run out of the wooden shacks to say "hello" gleefully. It was an endless sea of 'hello!' all day from the kids, who wanted nothing more than to hear hello back.
The ride itself was also enjoyable, with colonial architecture to admire and occasional nice breeze coming from the Mekong river, which is always welcome in the ever so warm Southeast Asia.
Kratie is also popular for Mekong Irrawaddy dolphin spotting, but it has definitely done more harm than good to the dolphins as no proper regulations and protections are in place. I am not one to push my opinions on anyone, but as tourists, we vote with our dollars, so it's always helpful to do some research and think twice before participating in animal tourism.
Stay: River Dolphin Hotel
Banlung
Yet another unruffled town that's wonderful to get lost in. I am starting to sound a little repetitive now, but honestly, it's hard to find so many laid back places in one country in Southeast Asia.
While everywhere else is booming in development, somehow Cambodia, outside of the main cities, is keeping things relatively nice and slow. Banlung is about 4 hours north from Kratie, and there are minivans available on a daily basis. To be honest there's not much to do in here, but that's sometimes the whole point! When you are done day-dreaming in a hammock, rent a motorbike and head for the volcanic lake and pretty waterfalls close by. If you're heading north into Laos, this is the perfect place to finish out your Cambodia itinerary.
Stay: Bee Bee's Chalets
Those are a few of Cambodia's more beautiful and special places, though like most of Southeast Asia, it's always evolving with new places popping up all the time, just ripe for adventure and discovery.

I hope this is helpful for you. Let me know in the comments if you have any other destinations in Cambodia that I should check out next time.