These days, there are millions upon millions of blogs. Of those, a good number are travel blogs, and new ones are constantly emerging. There's a pretty obvious way, as I see it, to tell the really golden ones from the duds that won't last for long.
It's the writing, the level of authority on the subject, the conversational tone, and feeling that I'm now let into their world, how they think, and what they really like to experience when traveling. Those are the blogs I keep coming back to over and over.
In some cases, I came to meet and get to know the person writing it after already having discovered the blog, but for most, I don't know the writer at all. Yet I search out their blogs before I even look in Google when I want travel ideas or need to be uplifted.
The following are the best blogs you should be reading if you love travel as much as I do. Both old and new, popular and up-and-coming, and drawn from a large range of niches and focuses, these are my favorites:
Solo Travel
1. Alex in Wanderland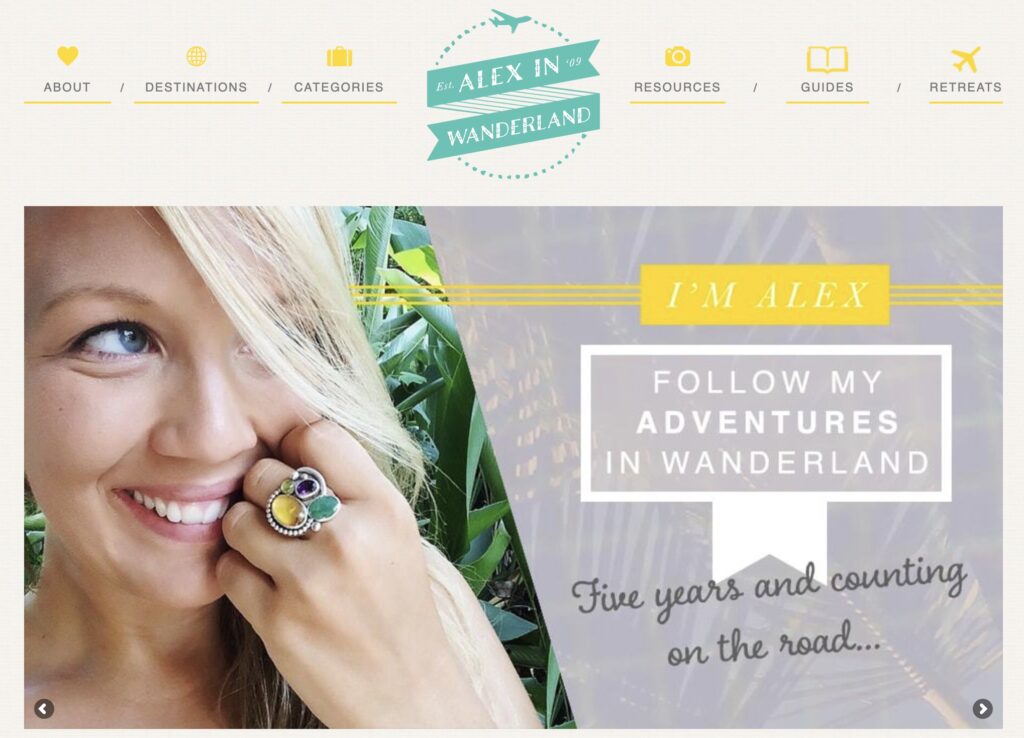 I knew about Alex's blog when I first started traveling and blogging, and even emailed her when I had questions about scuba diving (she spends a lot of time as an underwater videographer on Koh Tao in Thailand). However, it wasn't until relying on her post about Elephant Falls in Da Lat, Vietnam, that I started to read her regularly, after realizing that we had a similar travel style.
We are now friends and have even gone on trips together! Her personality shines through in both her writing and her pictures. She manages never to come off as anything but kind and lovely rather than authoritative and commanding. Her post "Gratitude at Twenty Five" so eloquently describes the amazing years she's had traveling and is a great way to get to know her blog if you don't already.
2. Fueled by Wanderlust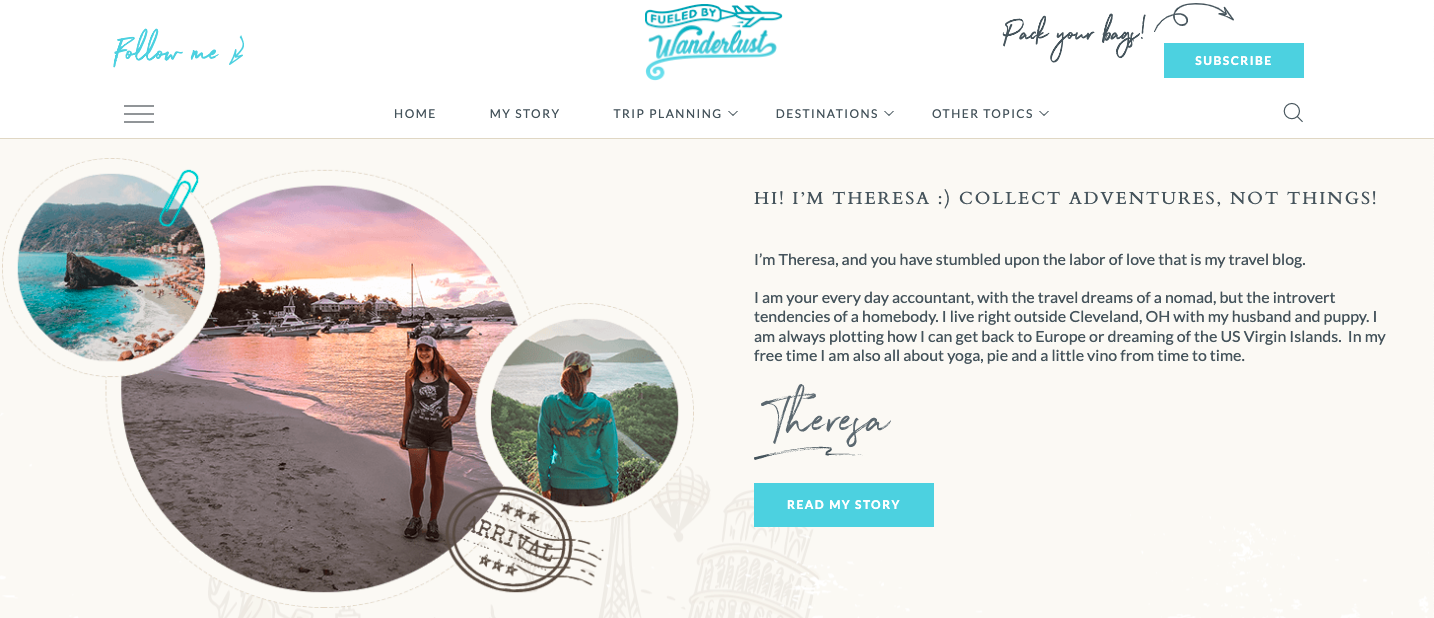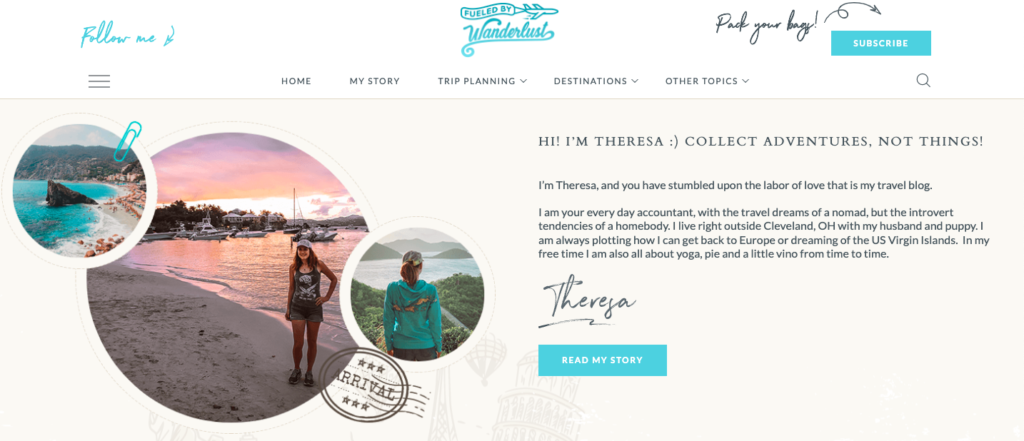 Focusing on locations in the USA, Caribbean, and Europe, Theresa from Fueled by Wanderlust provides detailed travel guides that are super handy for solo travelers. Although she doesn't always travel solo, each post has plenty of tips for you if you're heading out alone.
Since Theresa works full time as an accountant, her content is especially relatable for travel enthusiasts who balance their career with frequent trips. Her budget guides are a gold mine and post like this one about the best time to visit the US Virgin Islands are full of advice that make planning a solo trip so much easier.
3. Bacon Is Magic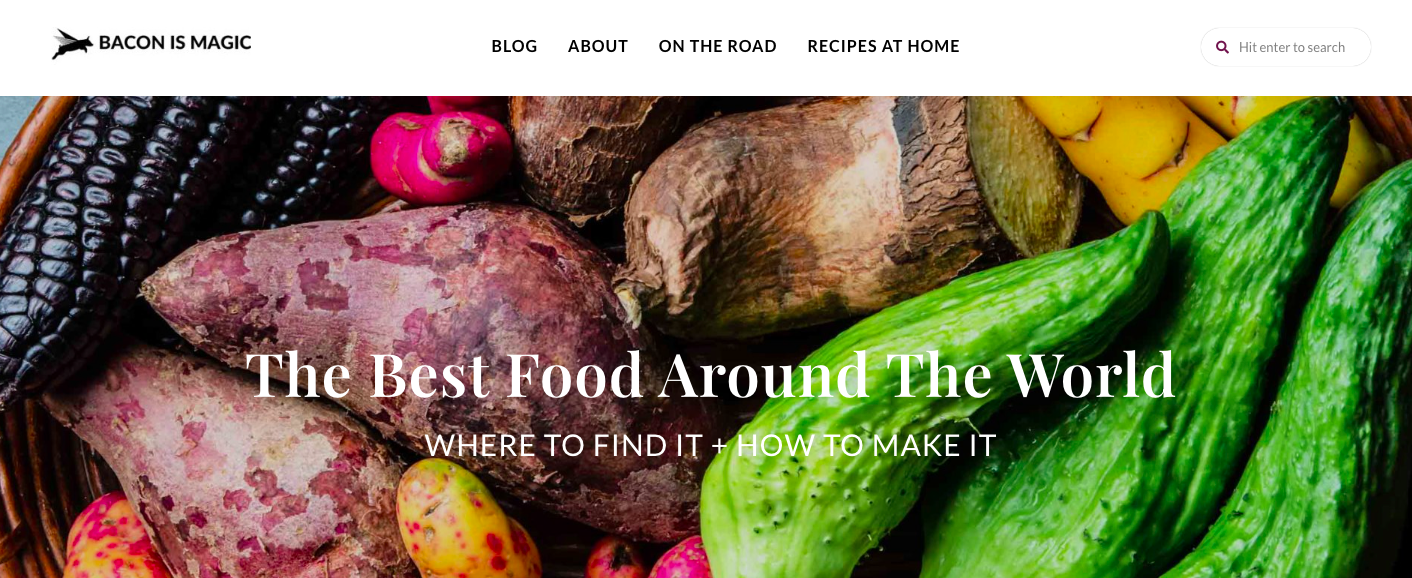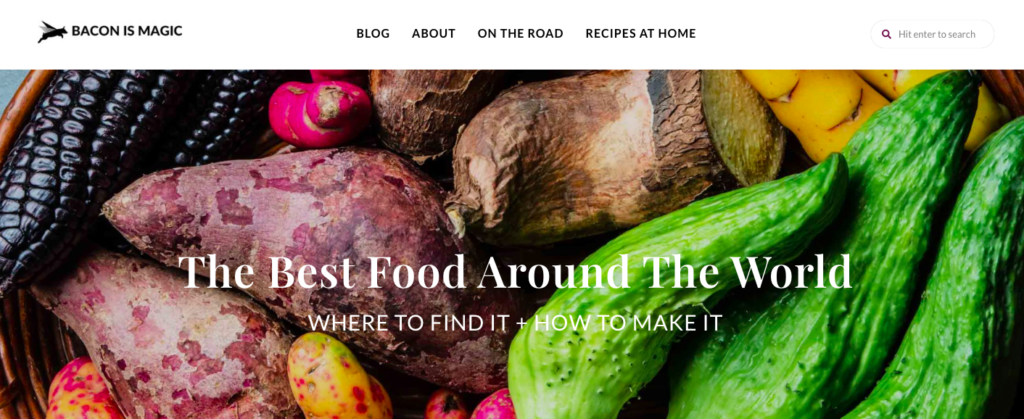 Ayngelina is another one of those writers who keeps it real. Completely real. She left a stable career and boyfriend at 30 to travel solo for a year in South America. Apart from liking her because she seemed like a total badass, I gained a lot of my solo traveling courage from her words.
She's also refreshingly honest, open, and full of love and loss that just about everyone has experienced, so I love reading her blog partially because it guided me through some of the toughest times I had at home and on the road.
4. Wandering Earl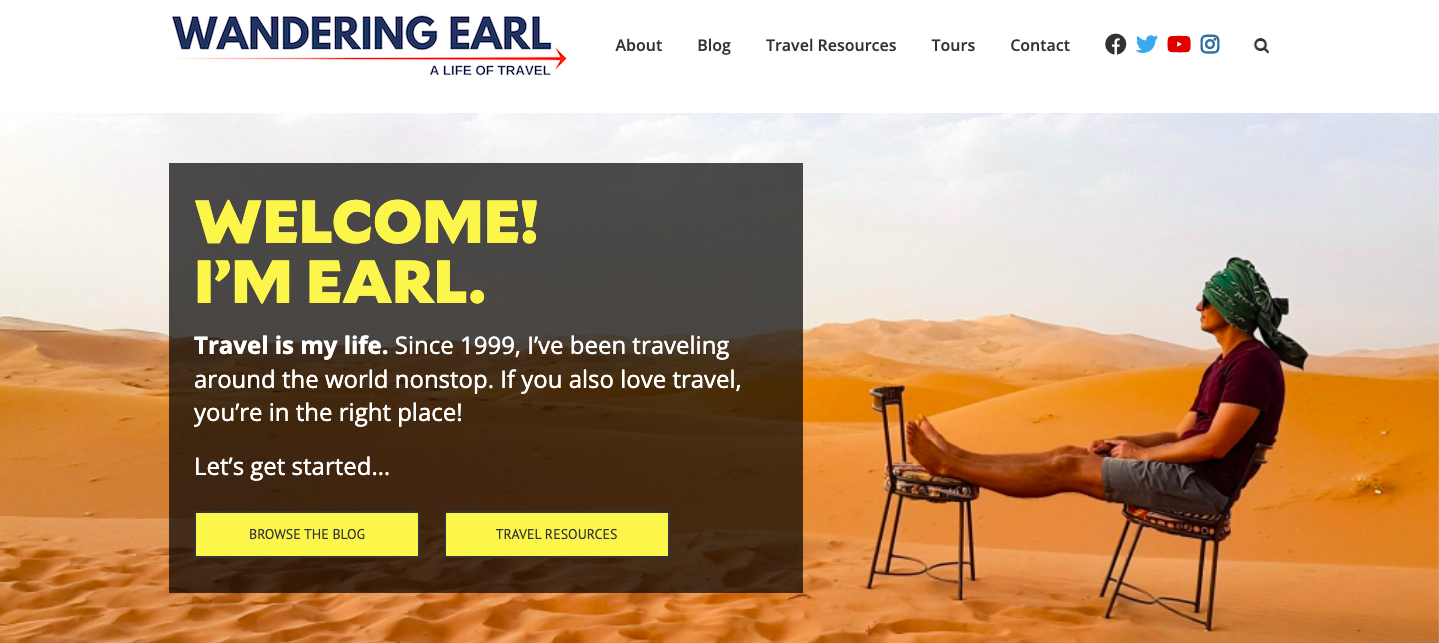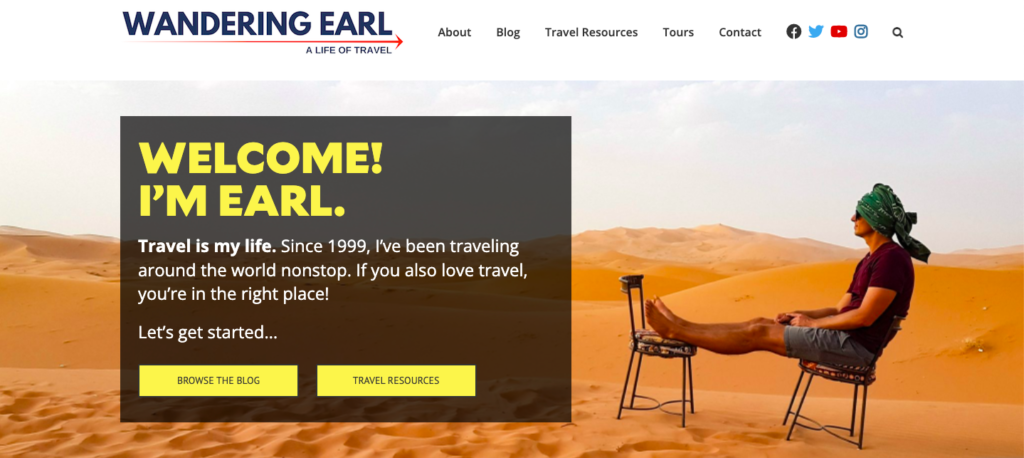 If you read travel blogs at all, then you're probably familiar with Wandering Earl. His is one of the first I ever read and became hooked on after the post "Please Don't Be Afraid to Travel On Your Own." I have reread that post — and sent it along to friends who are on the fence about traveling — many times over the past few years. That post truly made a big impact and was hugely important for me to read during the early days of my travel planning. He let me know this lifestyle is possible solo and showed me how easy it is to meet people on the road. For that, I'll always be a fan.
5. Young Adventuress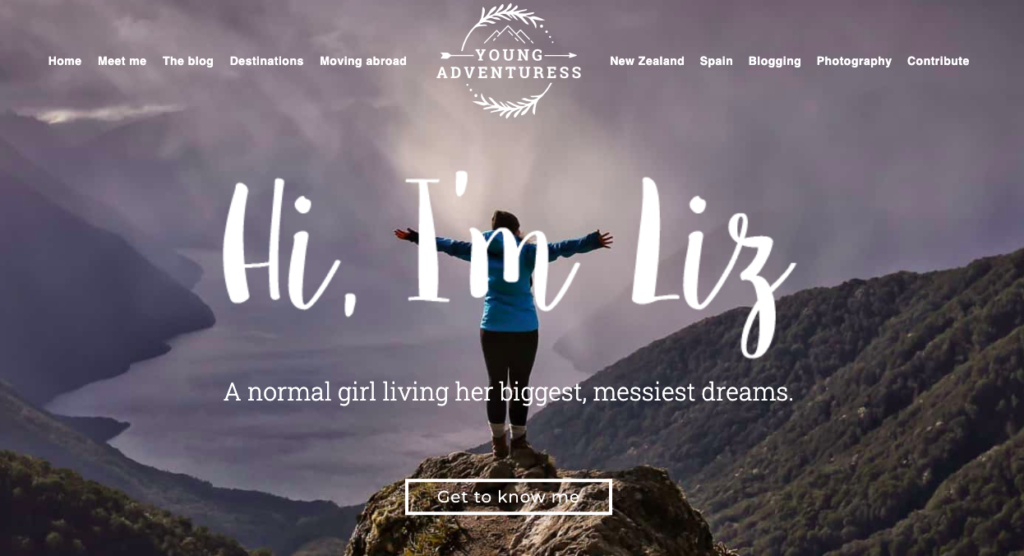 Liz is one of the most down-to-earth travel bloggers out there, making her content a joy to read. Not only are her travel guides detailed and informative, but she isn't afraid to share her unique and brutally honest opinion. As a solo female traveler, I find this helpful and insightful.
Young Adventuress includes a plethora of outdoorsy locations, trekking guides, and more, while also having a neat balance of luxury travel recommendations as well. Her storytelling style really draws the reader in, and her sense of humor comes through perfectly in her writing. If you want a good laugh and a reminder of the ever-so human side of traveling, definitely give her a read.
Budget Travel
6. Expert Vagabond


Simply put, Matt does cool stuff, and he goes to really cool places. As far as those who travel off the beaten path in a genuine way, I look to Matt for new ideas for destinations and for his awesome photos. He's adventurous and outdoorsy, and I was delighted to get the chance to hang out and accidentally rock climb with him when we happened to be in Thailand at the same time.
A few months ago, he surprised me again with the post "My Caveman Experience: Squatting with Gypsies in Spain." He tends to shine light on the things society is scared of or doesn't know as much about, and that's why I keep reading, because I know he'll make an awesome discovery and illustrate it with really well-captured photos.
7. Nomadic Matt

Nomadic Matt's blog seems natural for me to mention here, particularly because I am now a regular monthly columnist on his site, but his is actually the first travel blog I read. When I first started researching long-term travel online, Matt's was the first one that opened my eyes to the possibility of doing this as a lifestyle. I had no idea before reading articles like "The Ultimate Guide to Traveling When You Have No Money" that I could do it, too.
That's why it's such a pleasure to be more involved with his site now, but I genuinely would recommend consistently checking Matt's site regardless of that. He's unquestionably the expert when it comes to budget travel.
Luxury Travel
8. The Blonde Abroad


Truthfully, The Blonde Abroad could be categorized as a solo female travel, budget travel, or even a couples travel blog because of how much she has packed onto her site. For real though, this girl is killing it with her range, making it a great one-stop place for many different kinds of travelers.
Recently Kiki, the blog's founder, has upped her game when it comes to luxury travel, which is why she's in this category. From her tips for upgrading your Emirates flight to first class with points to the best eco-hotels out there, she's got you covered for your next splurge-worthy adventure.
9. ZeebaLife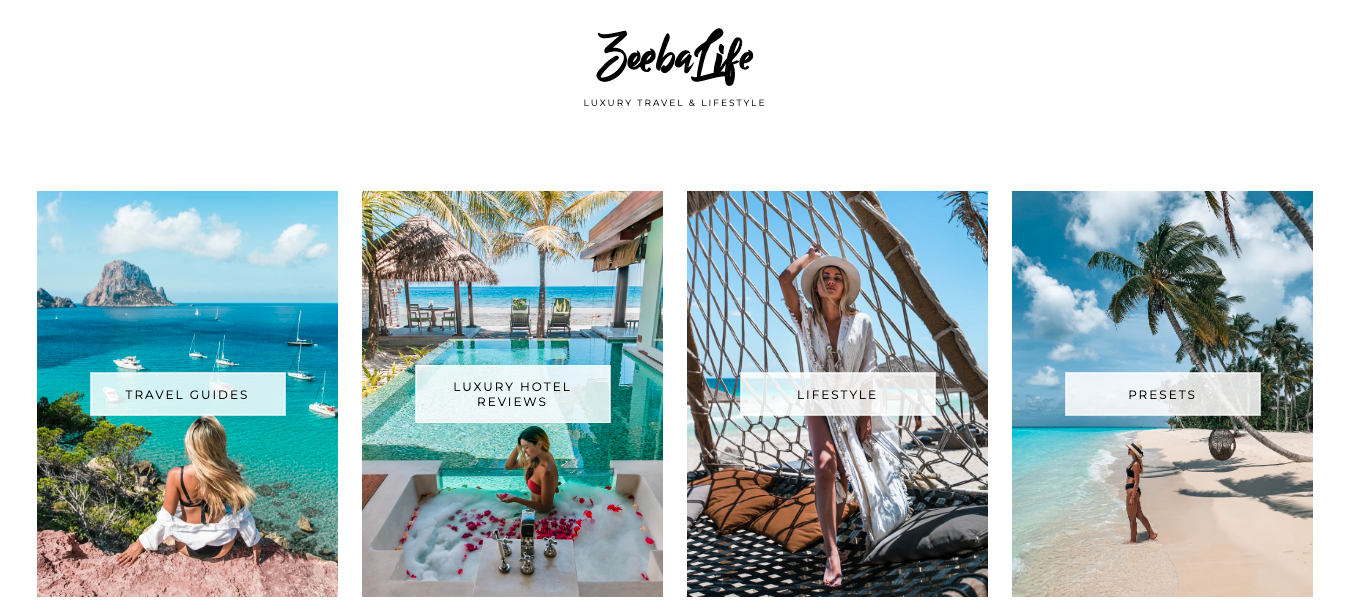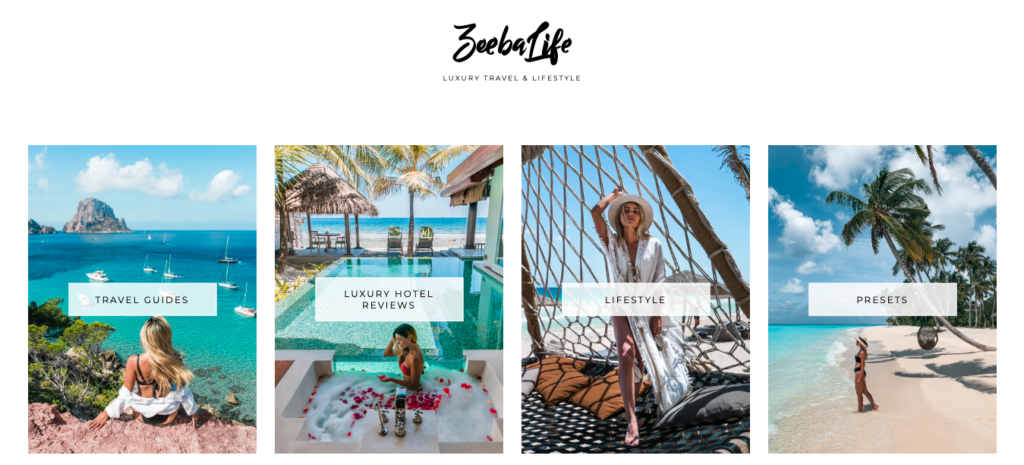 Including luxury destinations all over the world, Claudia of ZeebaLife has mastered the art of enticing her readers to visit far away lands to see the very best that these places have to offer. My favorite thing about her blog is her commitment to balancing luxury travel and sustainability, something we value here on our corner of the internet as well.
Not only is ZeebaLife all about finding the absolute best places to stay, excursions, and food in a given place, but she also provides awesome tips on traveling with a family. Sure, we could put ZeebaLife in the family travel category, but she's definitely a luxury lifestyle queen and one of the best sources for this kind of travel.
Couples Travel
10. Dots on a Map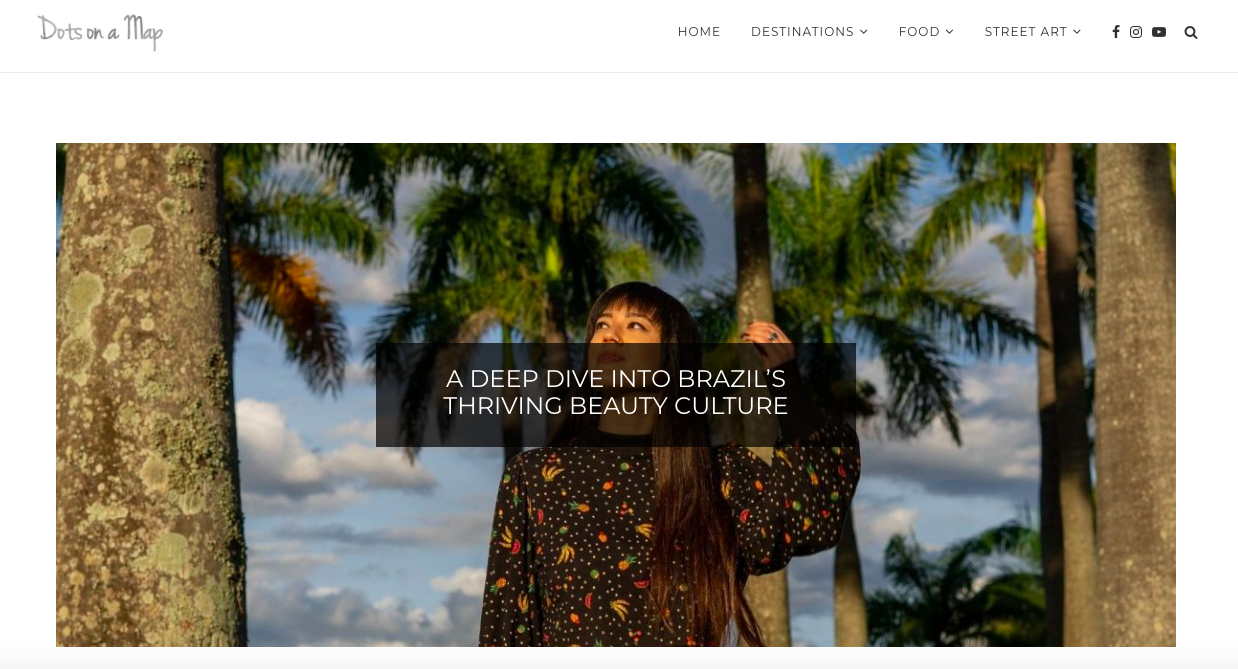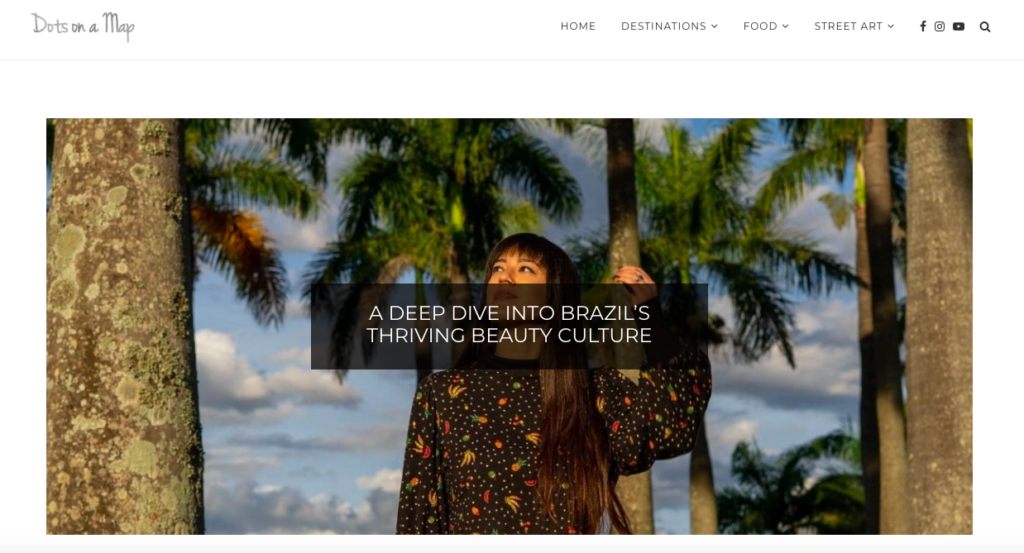 You might recognize Dottie from her post on BMTM about Oaxaca City. She and her partner Lenza are a multi-cultural, multi-talented duo who make diverse content ranging from excellent food recommendations, to neat historical posts about specific places, like this comprehensive History of Carnitas in Mexico City.
Dottie's brilliant writing paired with Lenza's photography skills make for a glorious picture of the places they visit. A big bonus is that their blog includes detailed descriptions of the street art scene in different places, which is a unique take on travel and culture.
11. Atlas & Boots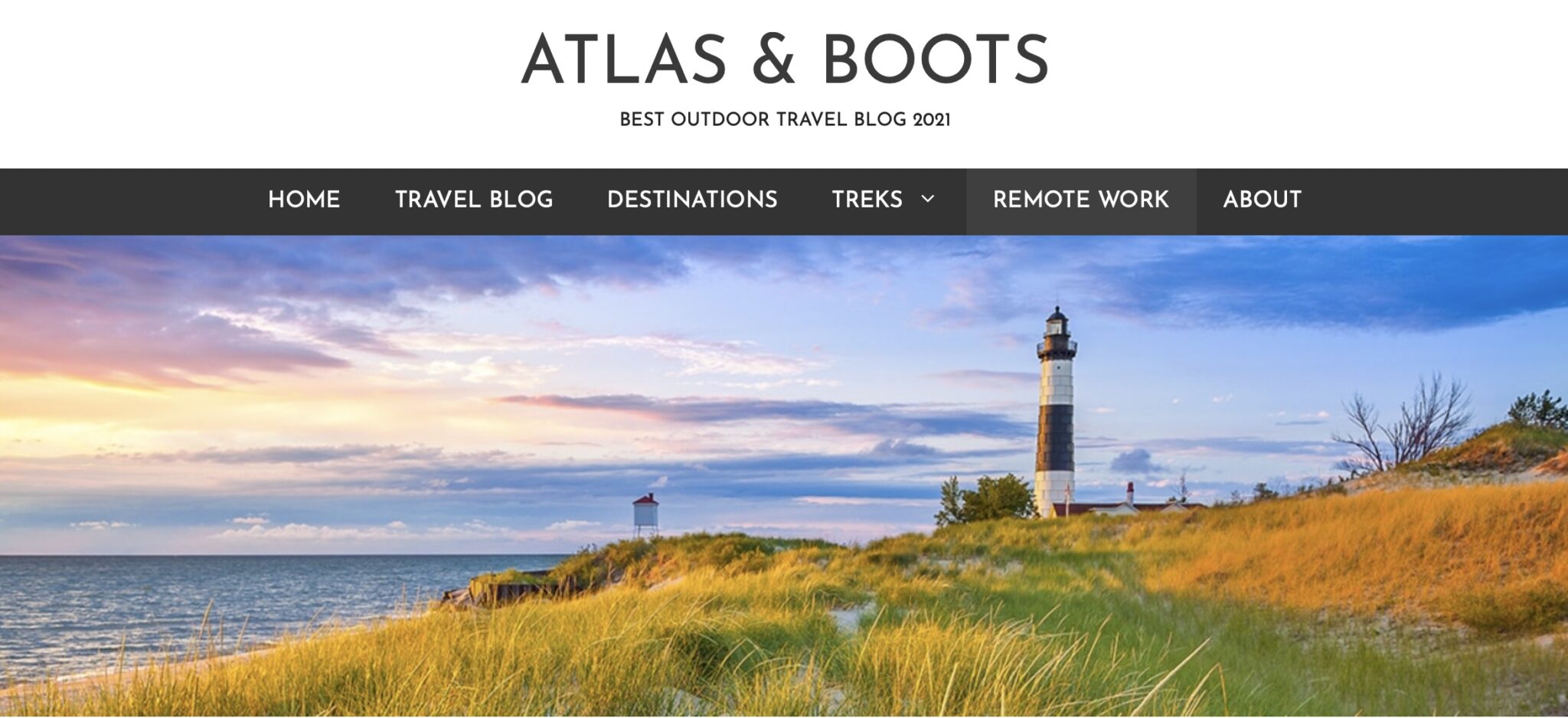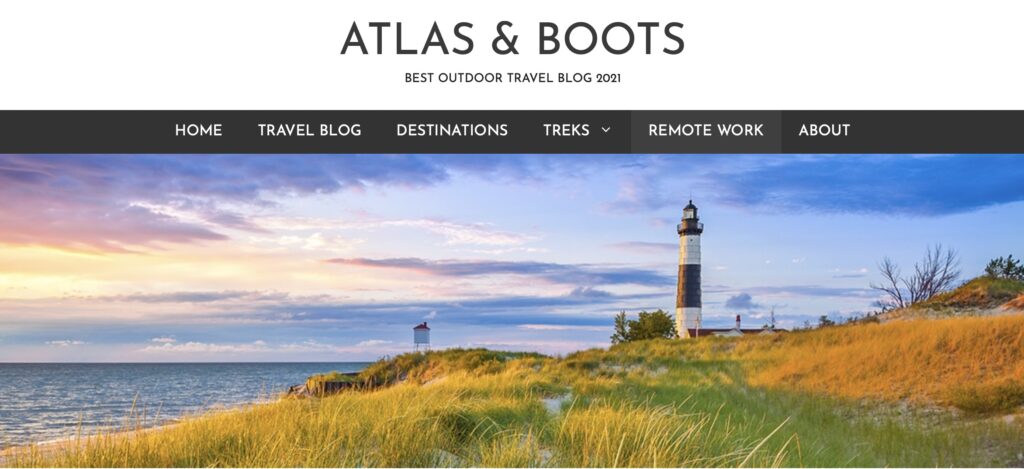 Kia and Peter are outdoors travel extraordinaires, providing all the details on some amazing hiking, trekking, and backpacking destinations. Their photography skills are on point too, making for some beautiful blog posts that are sure to make any couple want to book a ticket and start exploring far away places.
For digital nomad couples, Kia and Peter have an entire section of Atlas & Boots dedicated to remote working. They're a great example of a couple who embraces the unknowns of traveling with an open mind and willingness to cast off their daily routine for a more adventurous lifestyle.
Family Travel
12. 2TravelDads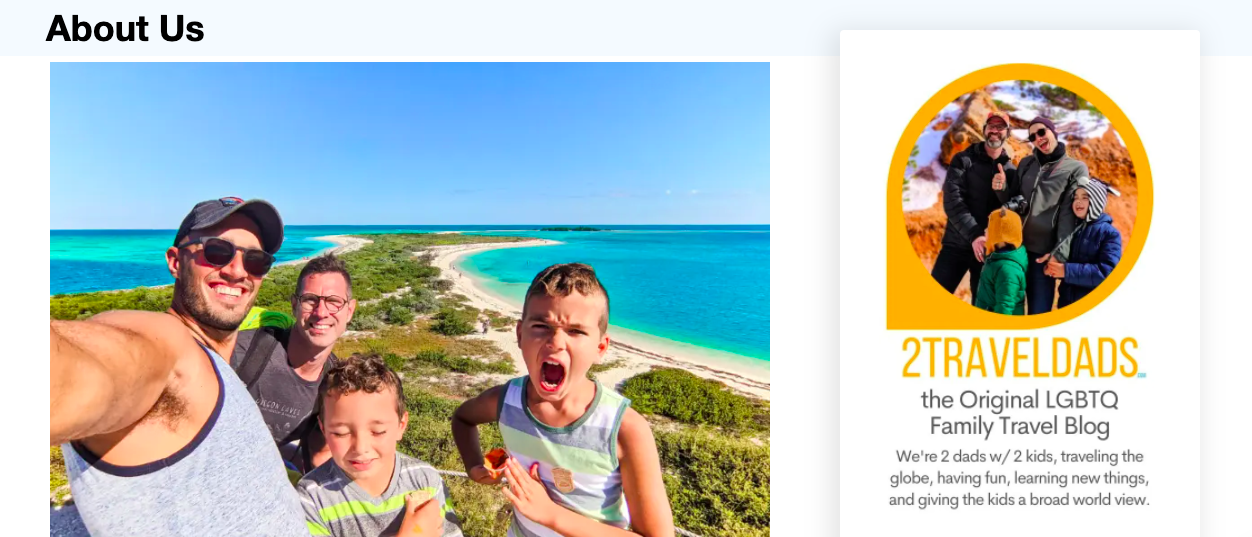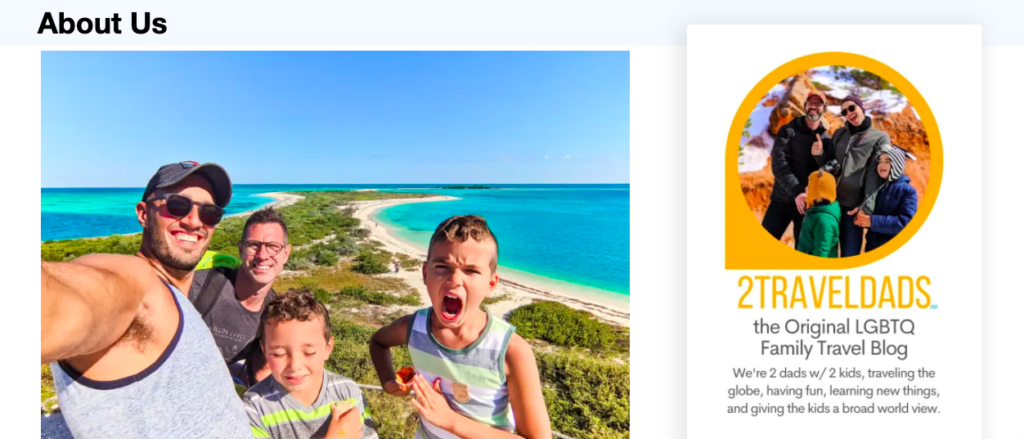 This family travel blog is wholesome and sweet, offering a unique perspective on traveling as an LGBTQ family. Chis and Rob Taylor, the blog's founders, focus on traveling as education for their two sons. The blog is full of travel tips for how to make trips into a memorable and educational experience for children of all ages.
As this is the first ever LGBTQ family travel blog, you'll find loads of information about visibility while traveling, which is difficult to find. Even if you aren't an LGBTQ family, the travel guides like this one on California are applicable for anyone with children.
13. Y Travel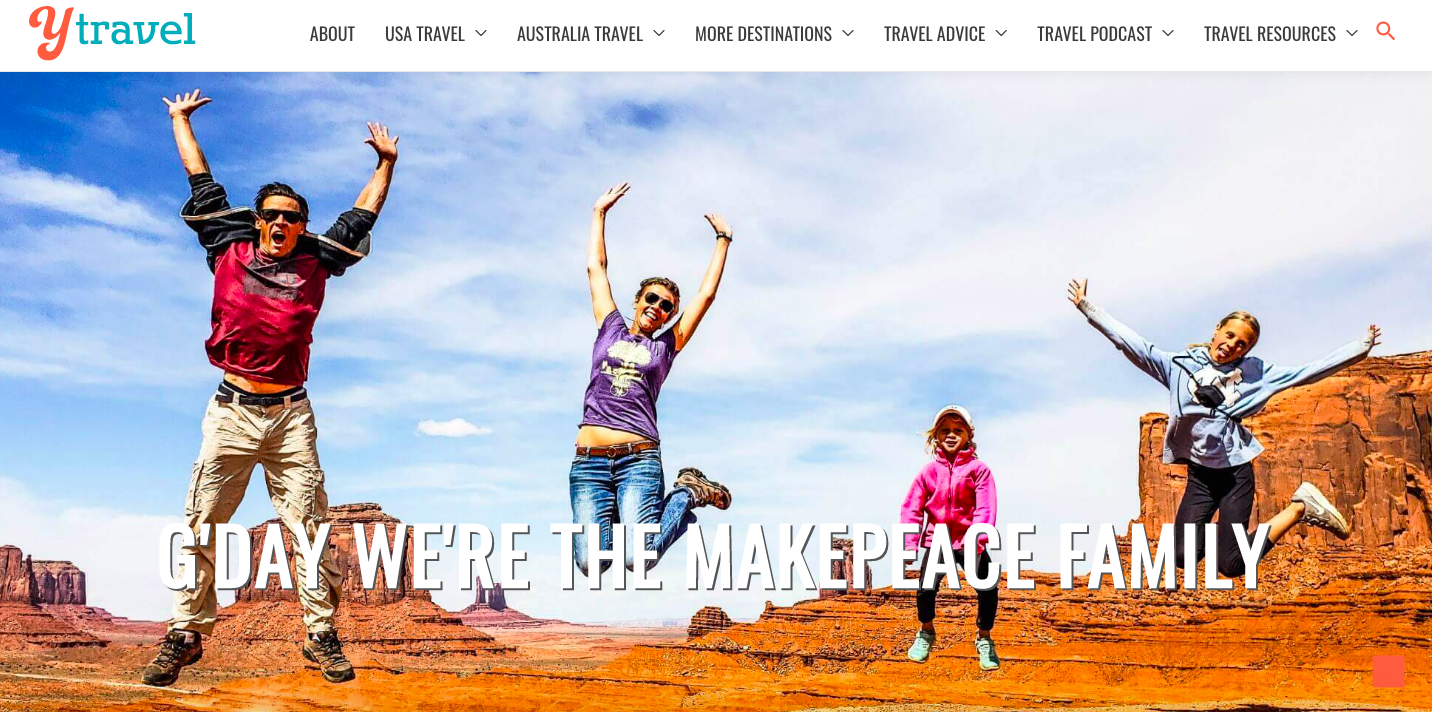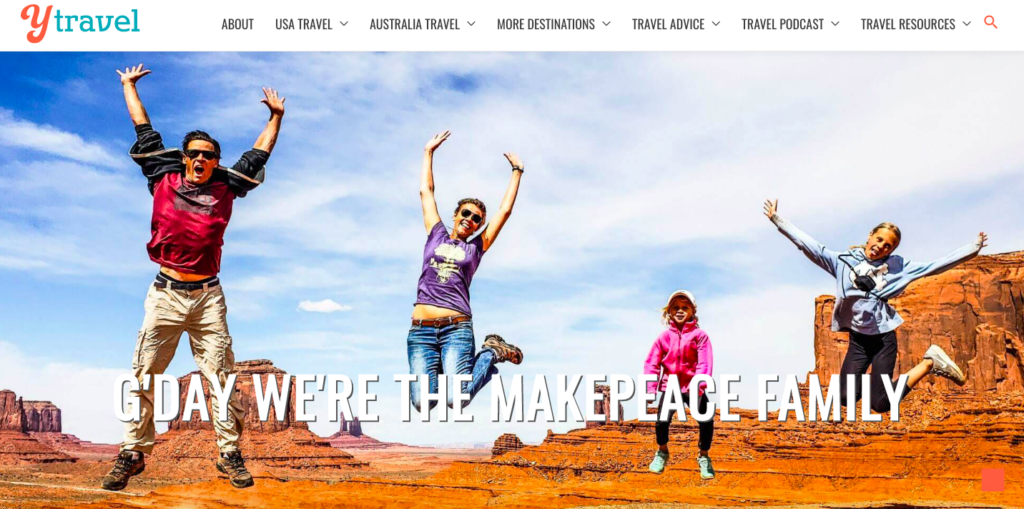 When it comes to family travel blogs, Y Travel is about as well-known as it gets. For good reason, too! This nomadic family has been on the road for decades, sharing valuable insight to the places they've been. A huge bonus for reading their blog is that they've lived in 5 different countries, meaning they provide more in-depth insight into those places than a regular traveler can.
Although the Makepeace family has settled a bit since their longer trips, like their 18-month road trip around Australia, they're still doing shorter trips and writing along the way. Not only can you follow along on their blog, but they also have a great podcast which is loaded with travel tips for families.
Miscellaneous
14. Mark Manson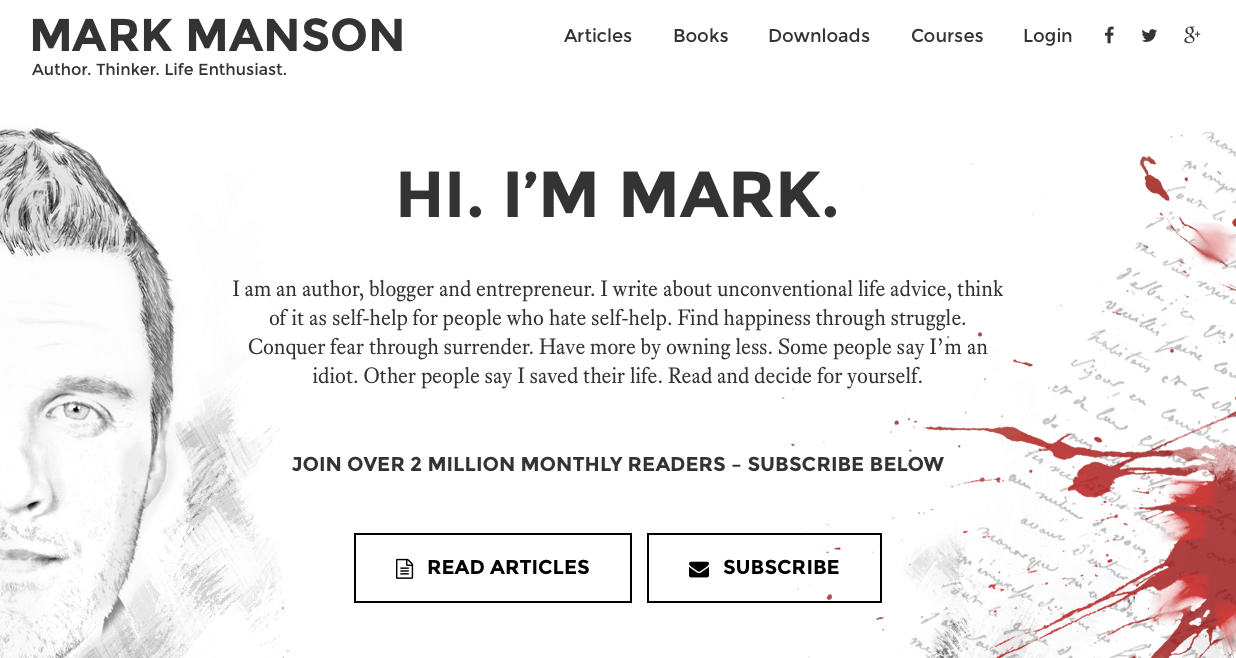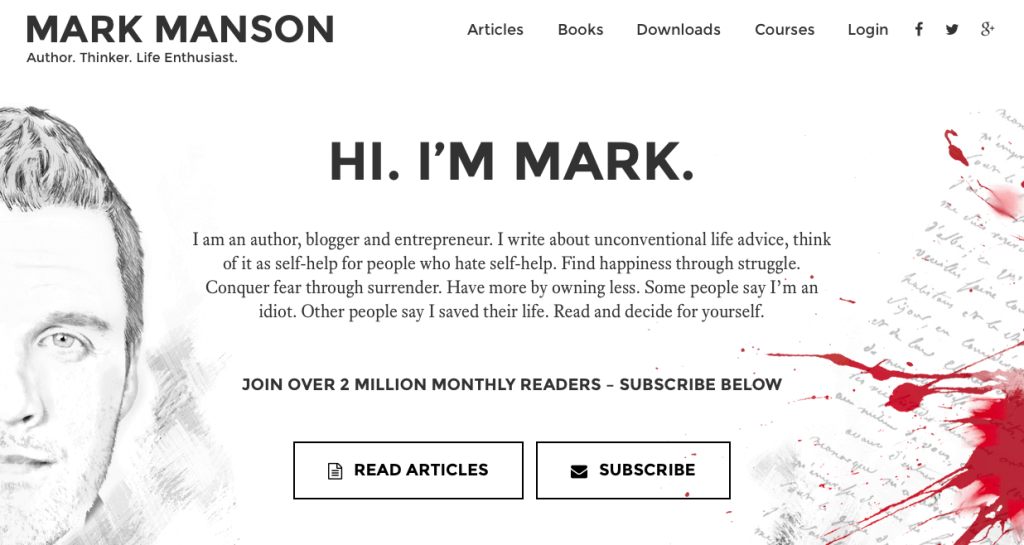 Mark was a location independent world traveler for over five years. While his blog does not focus on travel, per se, it focuses on ambition, self-worth, discipline, and becoming a more effective communicator, leader, and human being in general. I read almost every single blog that Mark puts out, but his 7 Strange Questions That Help You Find Your Life Purpose is a recent one that really stood out for its look at finding what makes you tick.
For a lot of people, pursuing a passion or creating a life they're happy to live every day is the one thing they're most afraid to do. I know, I was one of them. But reading blogs like this reminds me of why I'm doing what I'm doing and reaffirms my choices to pursue a location independent lifestyle, even if it's not as lucrative as what I did before.
15. Zen Pencils

Zen Pencils is not a travel blog, but rather an inspirational series of comics that Gav expertly chooses and illustrates perfectly. A lot of what he chooses to illustrate could be considered controversial and it's almost always unexpected. He chooses notable people who talk about breaking the norm, questioning the institutions that put forth ideas we often take for a given throughout our lives, and push the idea of following one's passions.
Though so many of his are amazing, and the perfect pick-me-up when I need inspiration or a reminder that I'm still on a path to growth even if it's not meteoric, my favorite is his illustration of Bill Hicks: It's just a ride.
***
Though there are a lot of awesome blogs out there that cover relevant things and are written by super talented bloggers, many of whom I consider friends, these are the ones in my heavy rotation at the moment. There are also a lot of lifestyle, marketing, and business blogs that I love to read, but more on those another time.