Berlin is the kid in high school art class who always wears black and manages to look so effortlessly cool, you kind of wonder if you can sit at the same table (but you can because you're cool too, damnit).
There are so many layers to this city and if you spend any measure of time here, you'll see why it has drawn artists and creatives in for decades. The city is all about counterculture and the best part is you don't have to look that far to find it.
When you're here, typical things like the hop-on-hop-off bus, a visit to the parliament building, a walk along the East Side Gallery, and museum hopping on museum island are what you're likely to hear about, but that's not what you came here for, is it? You want the info on the cool stuff to do that tourists don't typically know about. You want to rock up to the places in torn black jeans, not strappy sandals and a sock tan!
Don't worry, as a 2-year resident of the city, I've got you covered. These are my top 10 best alternative things to do in Berlin for those who like to head off the beaten path:
Klunker Kranich
Do you love live music? Do you love playing in the sandbox and sitting in the summer sun while drinking a fairly economical Moscow mule?
This is one of my favorite daytime bars in Berlin because it's full of random art that changes all the time, and it's got an incredible sunset view of the city. On a sunny day the decks and tables are usually packed with both locals and tourists out enjoying the views and vibes. While it may not be Berlin's best-kept secret, it's definitely one of the chillest ways to spend a lazy afternoon. When the sun is shining, you can often find me there.
To get there, head to the Neukölln Arcaden, enter at the post entrance, and take the elevator up to the 5th floor. It'll open to a parking garage. Turn left and walk up the driveway and you'll start seeing flower pots and cool little sculptures. Entrance is typically €2 and it's open until 1:30am.
Tempelhofer Feld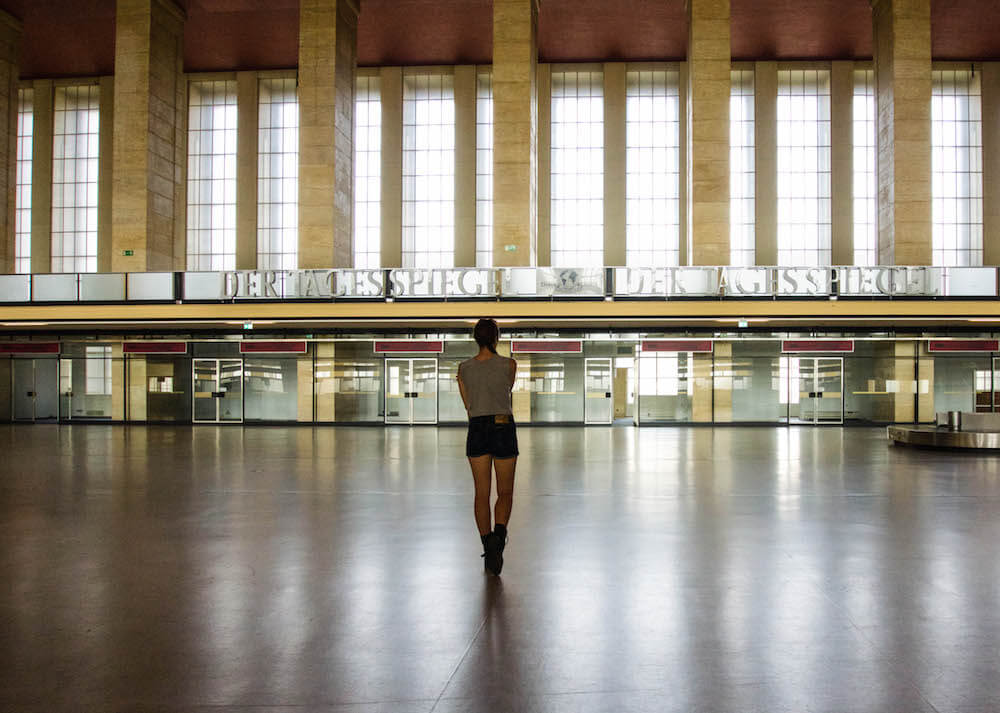 How many abandoned airports right in the middle of a city have you visited in your life? Tempelhofer Feld is one of those unique spots that is just so Berlin, and on a nice day, you'll see locals out BBQing, wind surfing on the tarmac, and even planting veggies in some of the communal garden spaces.
The airport best known for the Berlin airlift when this part of Berlin was under American control during the Cold War. Flights took off constantly to drop food to those in the walled-off Western Berlin. The history is fascinating and if you're a lover of old abandoned buildings (like me) you'll dig this.
Enjoying the outside of the airport is free and you can head there any time you wish, but if you want to see the inside of the airport, and you really should, book a cheap tour that allows you to learn about the history, jump behind the check-in counters, and transport yourself back in time.
Alternative Berlin Street Art Tour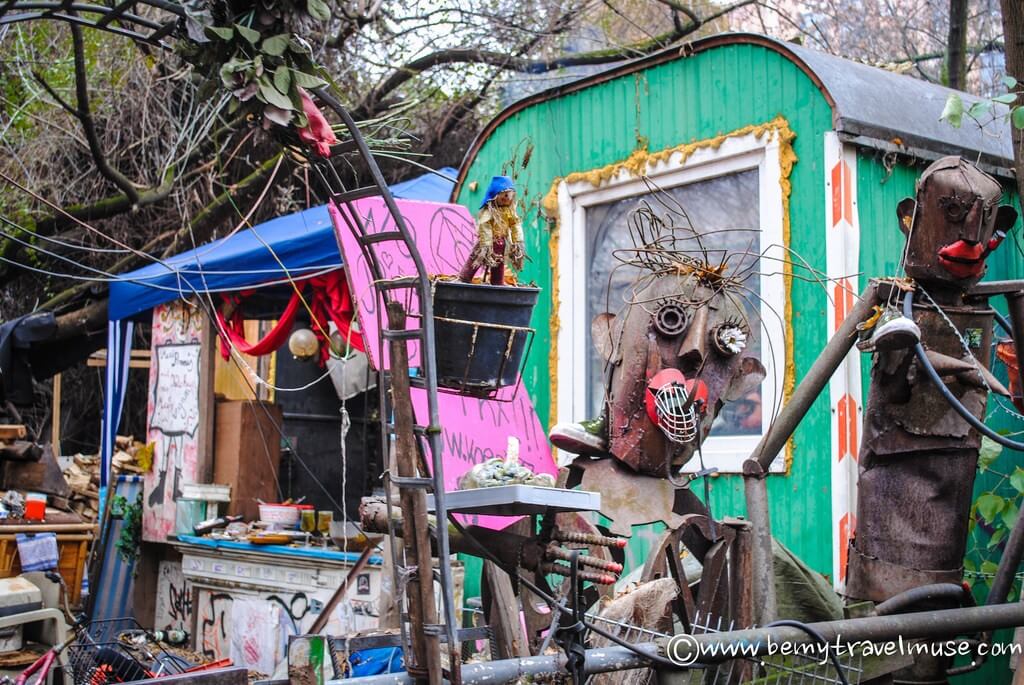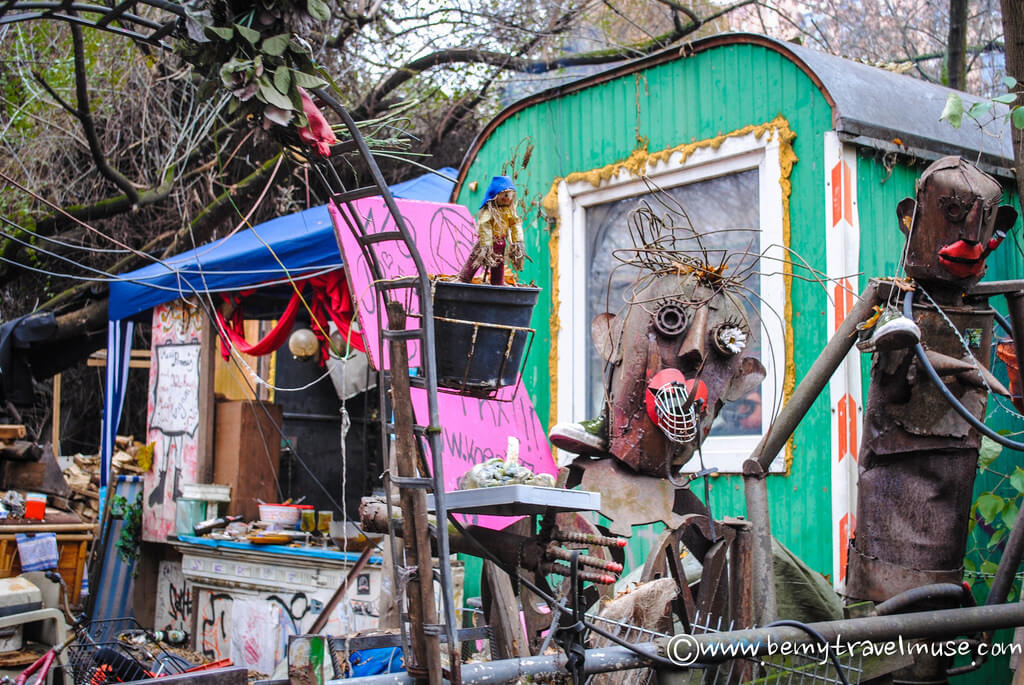 I'm usually not a tour person, but this walking tour really is excellent. The guides are not only sharp and well-versed in street art, they really seem to love it as well. To me it's like a two-for-one, because it's a history tour and an art tour combined into one, giving you a unique understanding of where Berlin has come from since it was a divided city.
I recommend this to every friend of mine who visits because it's a great way to get your bearings of the city, will see the art that's lesser known than the East Side Gallery, and also an opportunity to meet other travelers. Whether you know nothing about Berlin and street art or already know a fair amount, you're sure to walk away with some new knowledge.
Book it here (affiliate link. If you book this tour I get a small commission at no extra cost to you).
Teufelsberg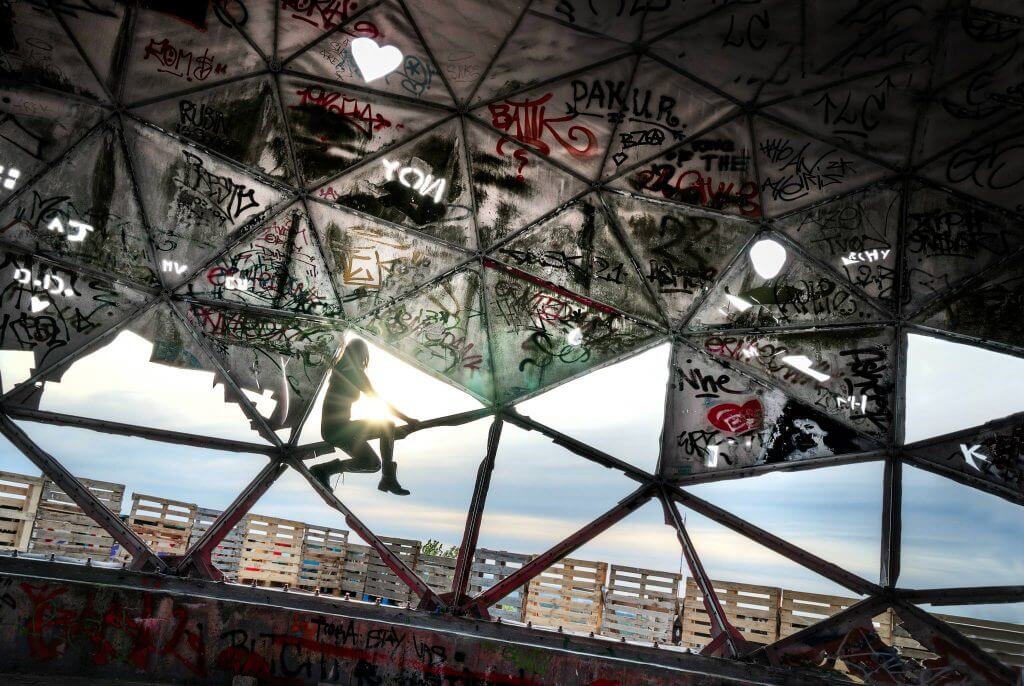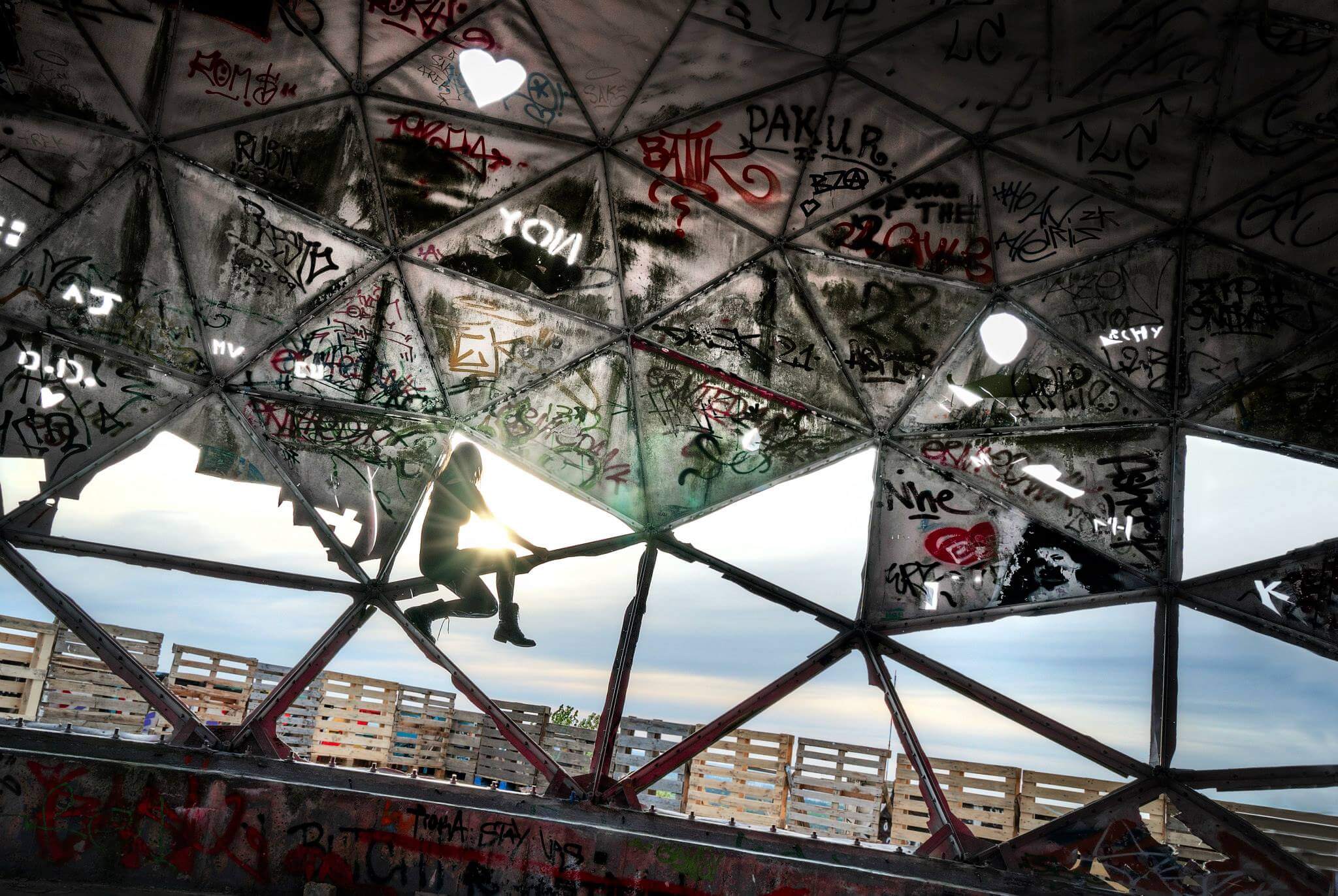 Teufelsberg, which translates to devil's mountain, is easily one of my favorite parts of this city (well, slightly outside the city, to be exact). It's built on top of a hill that used to be an under-construction Nazi military-technical college and rubble from the former east.
It was once a spy base for American soldiers during the cold war, as evidenced by the randomes, which are the huge, bubble-like listening domes pictured above. Though in tatters now, the spy base is still standing and is covered in street art. Some of the biggest names, like Jimmy C, have creations there. The whole thing is like some kind of weird, abandoned wonderland.
Unfortunately you can't just walk up and explore as it's now privately owned and there's an entrance fee. Book a half-day tour here which includes transport and a guide. It's worth it.
Thai park
Did you ever expect to find an authentic, street food-style Thai market in Berlin? I've got to tell you, it's a seriously strange thing to speak a mixture of German and Thai to someone when ordering food, but once you get over the initial confusion of stepping into a mini Chiang Mai your taste buds will thank you.
Outside of Thailand, this is the most authentic Thai food I've ever had. Everything about it is just like the real thing, except for the prices of course. Most dishes run at €5 so bring some friends and share everything around.
The market takes place over the weekends at Preussenpark when the weather is nice.
YAAM Beach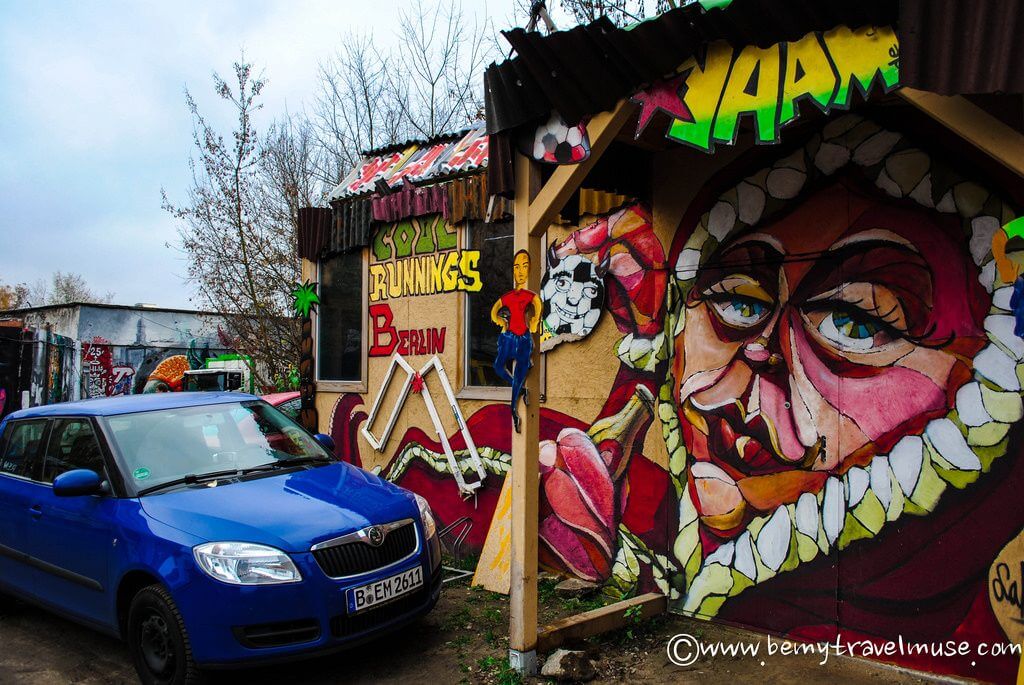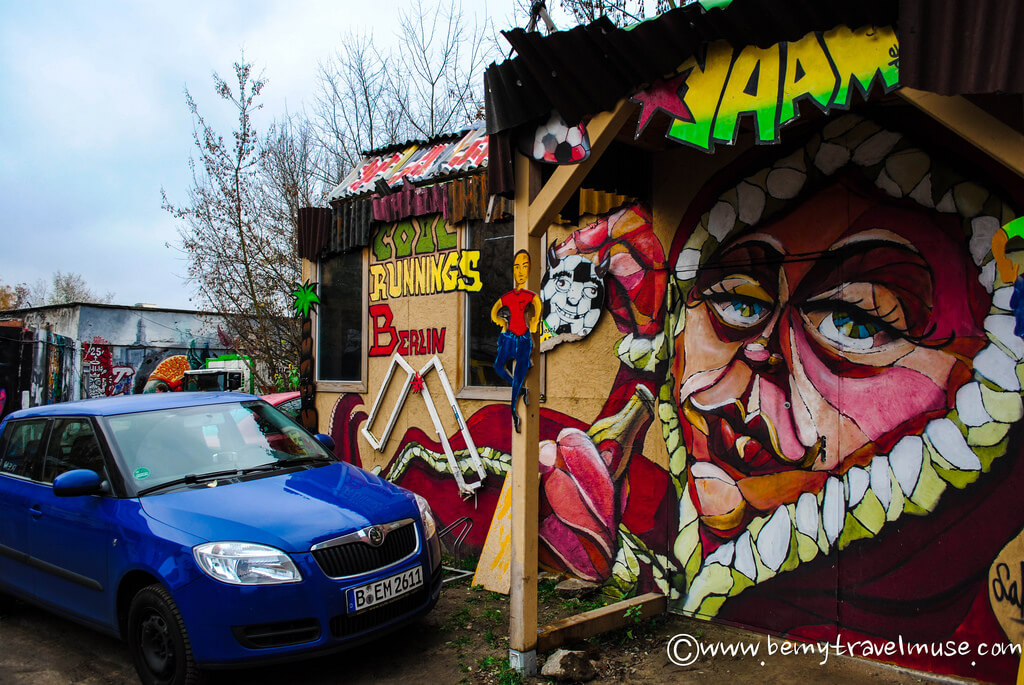 YAAM is an acronym for Young African Art Market and is a popular beach club in Friedrichshain, near the East Side Gallery and other tourist favorites. Beach clubs like this are popular throughout Germany, and apart from sand, I can't really tell you what makes it a beach club. The idea is that people of all ages and any ethnic background can come and hang out there, have a drink, and/or attend one of their many musical events.
There's a bunch of very cool street art inside of YAAM beach, and for those in this techno-obsessed town who prefer live music, trap, drum n' bass, hip hop, reggae, and Afro house, this is an awesome alternative place to come dance your heart out. Check out their calendar of events for yoga and musical acts.
Sunset on the canal
The canal that runs through Kreuzberg is a favorite for locals and visitors during the sunset hours. Buy a beer from the local späti (a small convenience store that sells drinks, candy, and the like) and take it over to the banks, especially in the summer months, and you'll find that you're in good company.
My favorite spot is at Admiralbrücke. Keep an eye open for the guy who peddles samosas, the swans, and the locals in blow up rafts selling beer.
Badeschiff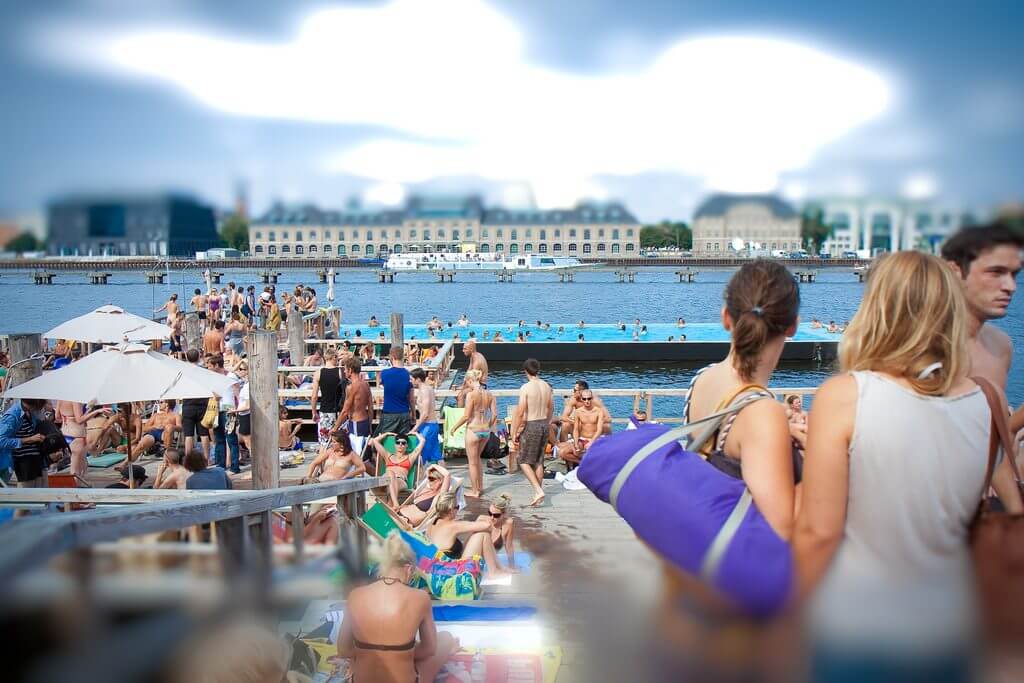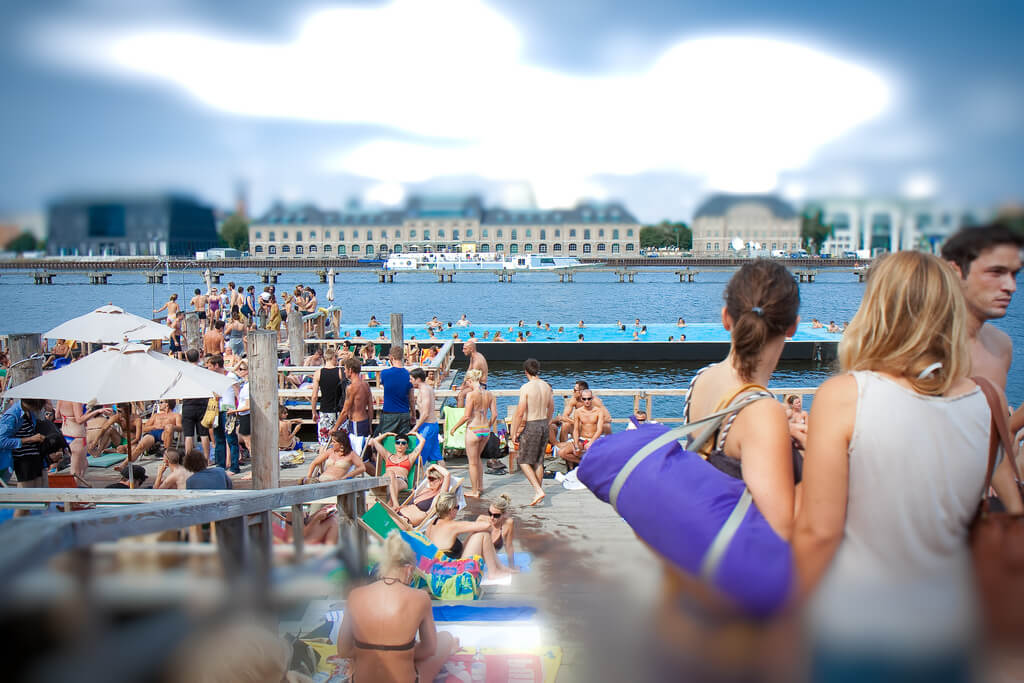 On a hot day during the summer in Berlin, this floating swimming pool on the river Spree is the place to be. Sure, it's known by tourists and has a €5 price tag, but if you're looking to meet cool people at the closest thing to a beach party that you'll find in landlocked Berlin, it's a great spot.
What many might not know is that it's not only open during the summertime. Badeschiff is open during the winter, too, offering saunas and heated pools.
Urban Spree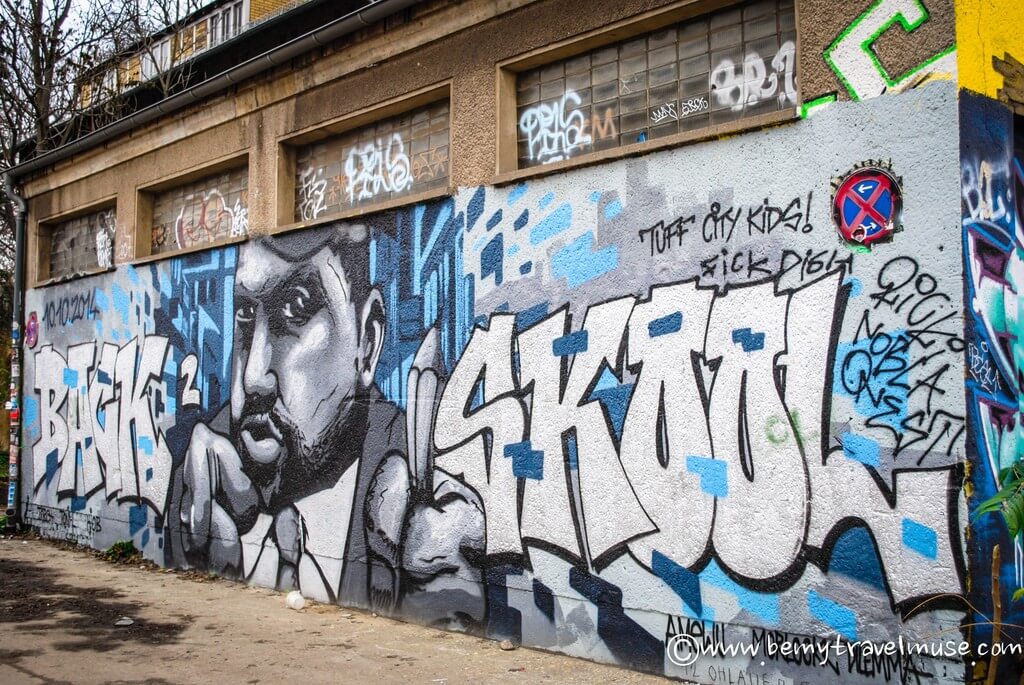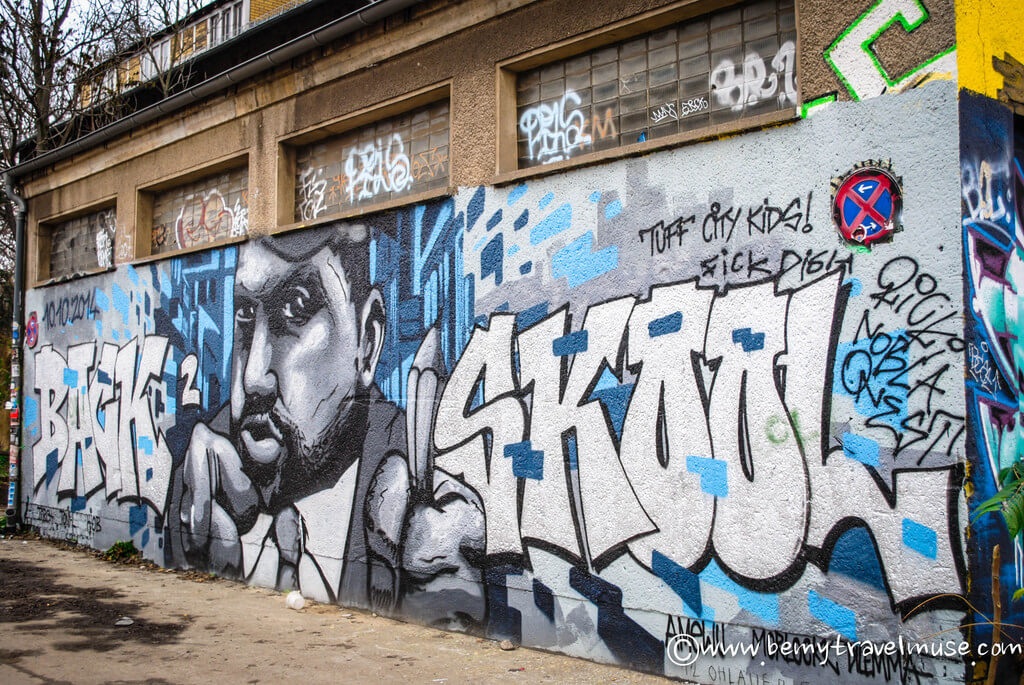 If you can't get enough street art (and really, who can?), this spot next to the Warschauer str S-bahn station is full of it. Plus, there's a lot going on there like musical events, nightclubs, a Sunday flea market, a rock climbing wall, movie nights, one of the biggest indoor halfpipes in Europe, and outdoor bars when the weather is nice.
It's one of my favorite spots for street art gazing and hanging out. Just be sure to keep an eye on your belongings, as pickpockets have a field day there (and that goes for all of Berlin).
Bite Club
Bite club is a summertime street food party that takes place every third Friday at Arena Berlin, which isn't too far from the Badeschiff if you feel like combining noms and pool time.
If you're here during the colder months and still want to find some great street food, check out the Markthalle Neun in Kreuzberg on Thursdays. It's super popular, so prepare for crowds.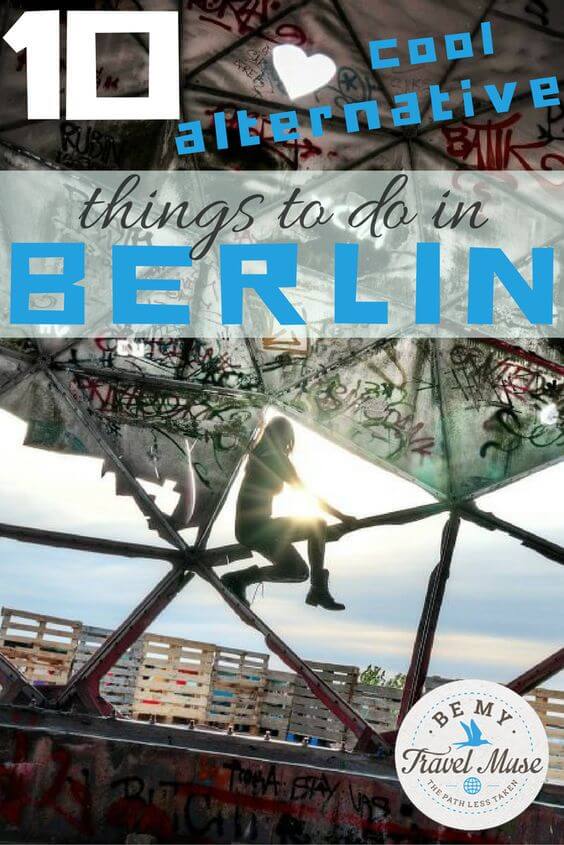 ---
Those are a few of my favorites in my beloved Berlin, a city I've been seriously slacking on writing about, apart from telling you why I moved here forever ago and what I love about the gritty underbelly of the city.
Feel free to share some of your favorite spots in the comments, and let me know if you end up checking any of these out and enjoying your time here!